An accidental snack that the ENTIRE family loved… Like I've said before, sometimes I go into my kitchen with guns and pot holders blazing.  I have a vision in my head of exactly what I want to make.  I know the exact ingredients I need.  I have a plan.  And I'm almost always positive the end result will be great.  Then there are other times I am in the mood to make something, but have no clue where to start.  I have a random itch to cook or bake, but have zero vision of an end result.  The latter case is exactly where this cooking adventure lead me.
The only thing I knew stepping foot in my kitchen was I had a bag of eggplant that was about to go from fresh to bad in a hot second AND I was craving something Italian, something with marinara sauce preferably.  Since my husband bought that eggplant with the intention of making eggplant parmesan, I figured I would go ahead and tackle that but was definitely in the mood to do something a little less 'traditional'.  I would normally bread the eggplant with flour, eggs, and bread crumbs, but wanted to step things up a notch.  I was already snacking on my World Peas Snacks (those are my go to nibble when I'm in the kitchen) and then it dawned on me.  Why not just throw these in the food processor and bread the eggplant with these?  The perfect pairing for an Italian snack, HUGE flavor, and if I could process them down just enough, then it would give the PERFECT crunch and texture!  Plans were now made and settled!  OK, let's do this!
First things first.  Slice my eggplants and prepare my breading!  I like to place my cut eggplant on paper towels and also pat them down after a few minutes.  This just draws out some extra moisture so you aren't left with soggy eggplant!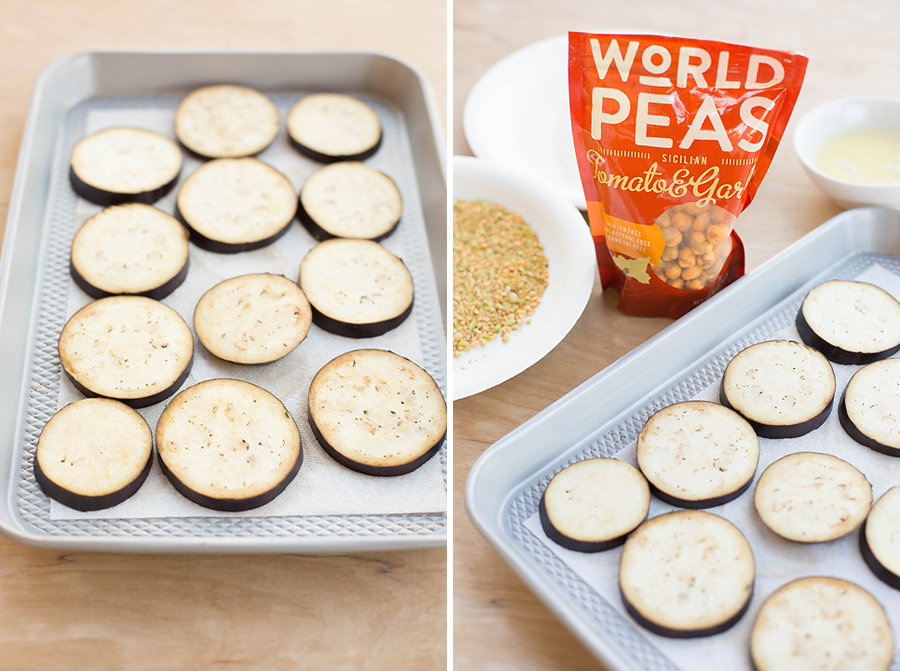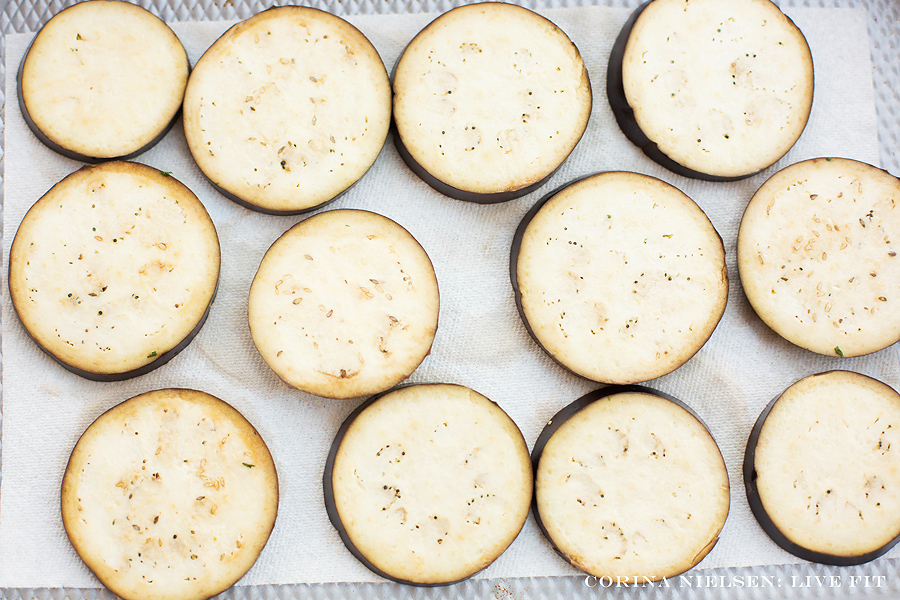 Next, try to find a way to get my 'Tomato & Garlic' World Peas Snacks into the food processor WITHOUT eating them all.  Such a difficult task.  These guys are ADDICTING.  Kinda like a potato chip (but worse), you CANNOT eat just one or two.  In my case, I need at least a handful AND with those ingredients and nutritionals… even one handful is not enough!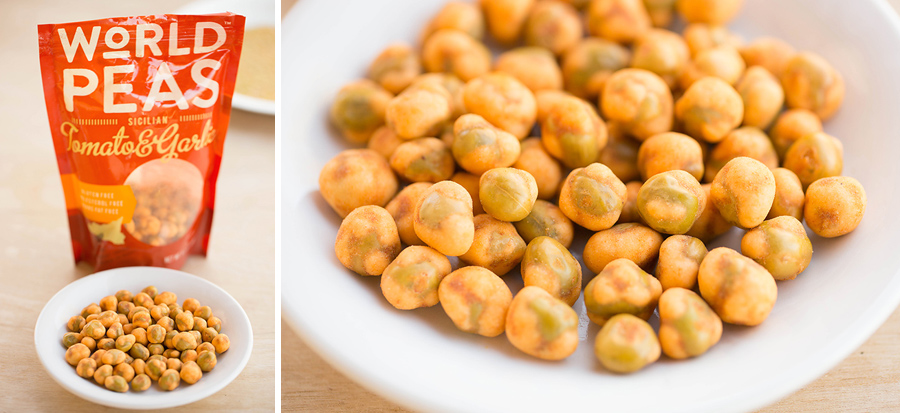 Yup, after about a minute in the food processor, the texture was exactly where I needed it to be!  I LOVE how coarse it is BUT you can still see all those spices!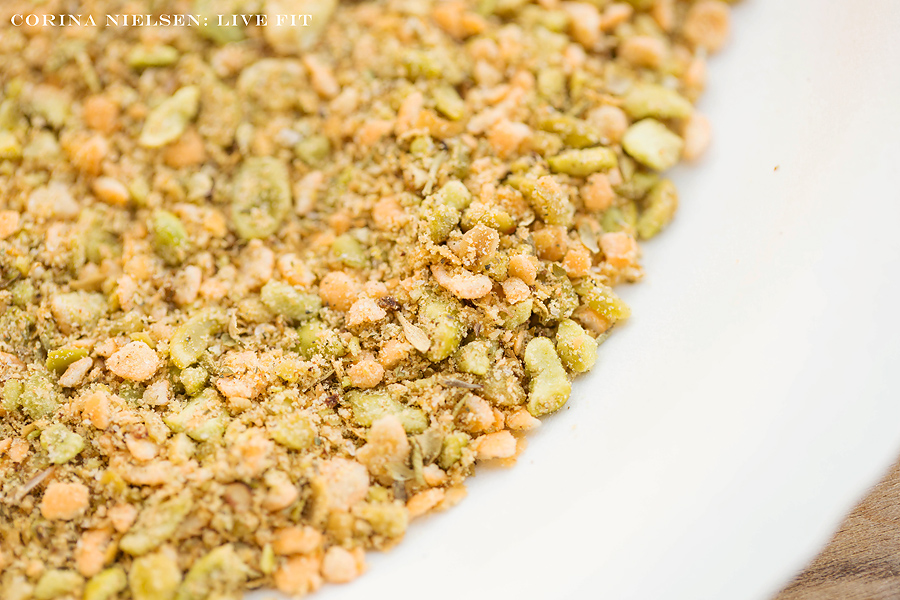 Time to "bread"!  Prior to last year, I usually did the traditional breading of flour, egg, and bread crumbs.  However, I started using Kodiak "Power Cakes" as my 'flour' and it works GREAT!  I like it because it's whole grain and has a bit more protein.  So Kodiak, egg, food processed World Peas snacks… end result? MMMM.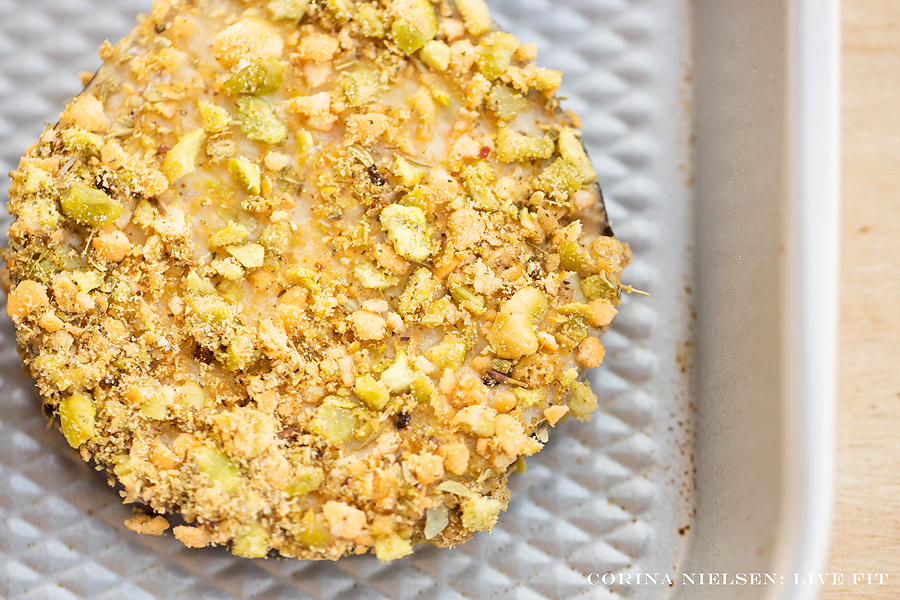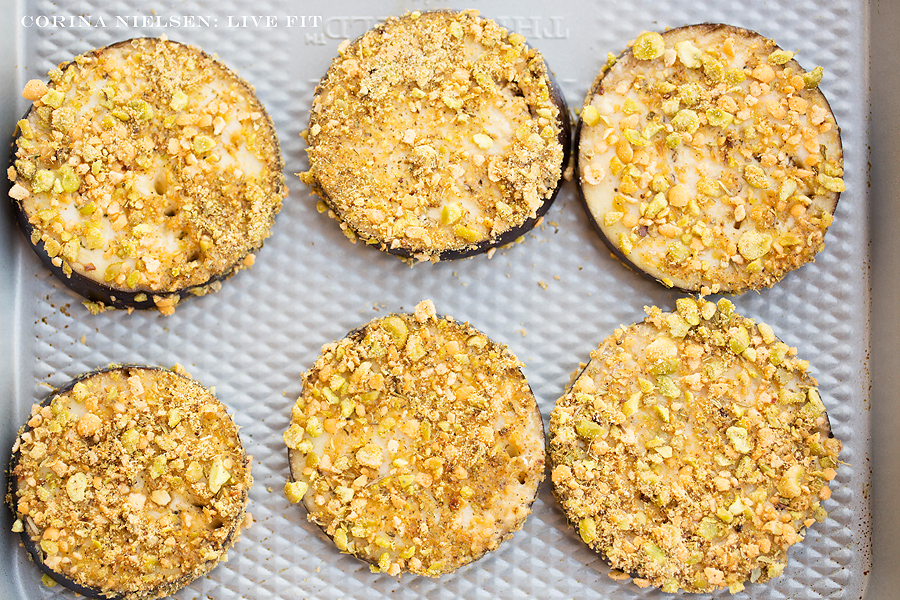 Next step, is going to be the most 'difficult' part.  You heat up a sauté pan and add in a little olive oil (or coconut oil).  I also use a little non stick spray ON each of the breaded eggplants since I only use a little oil in the pan!  Cook on each side for 2-3 minutes until golden brown.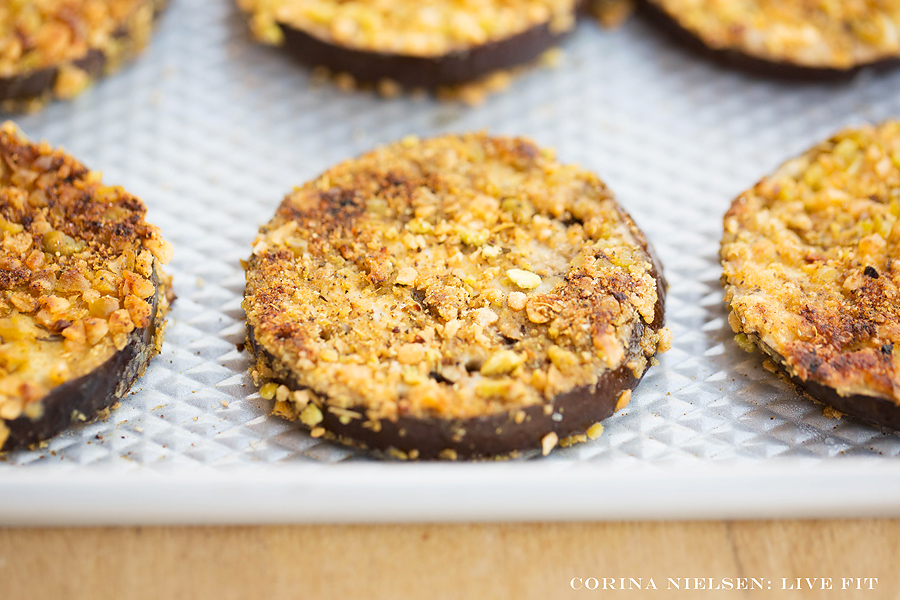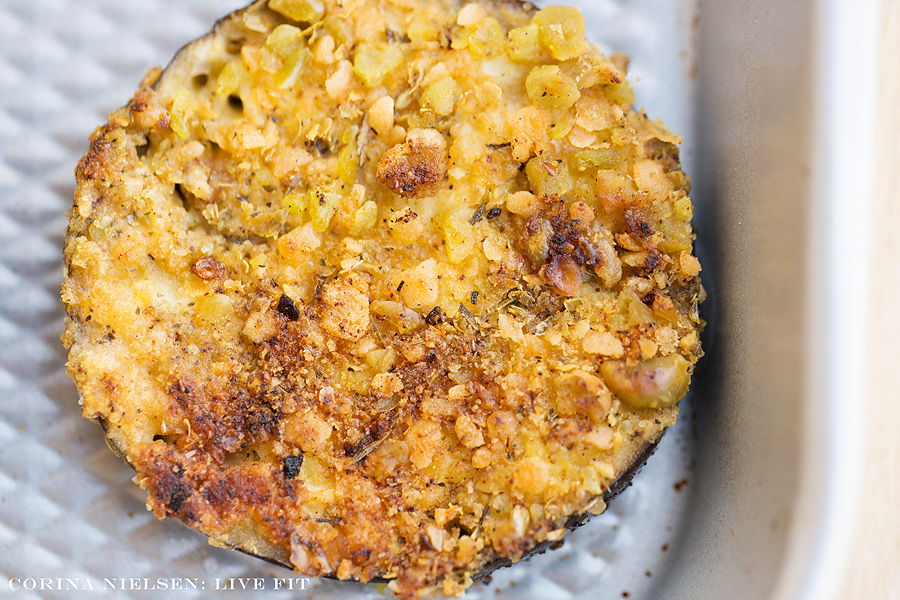 Once you pull out each of the breaded eggplants, you can either top them now and eat like that OR you can do what I did.  I placed them back on a sheet pan, added a couple of tablespoons of marinara, and some shredded mozzarella cheese.  Then I put them under the broiler for a couple of minutes just to melt the cheese!  Pull them all out, add a little cut basil, and viola!  Perfect little mini eggplant parmesans!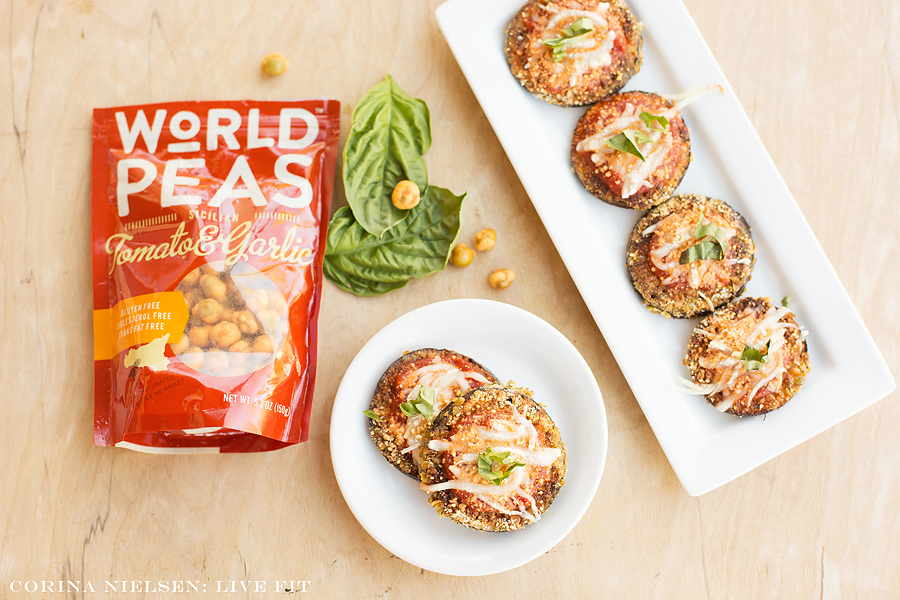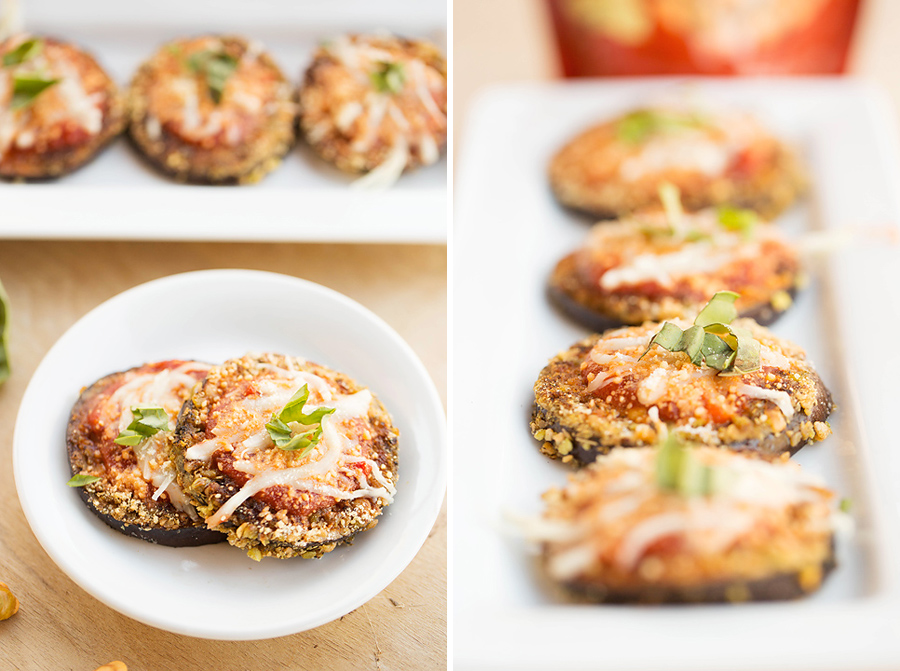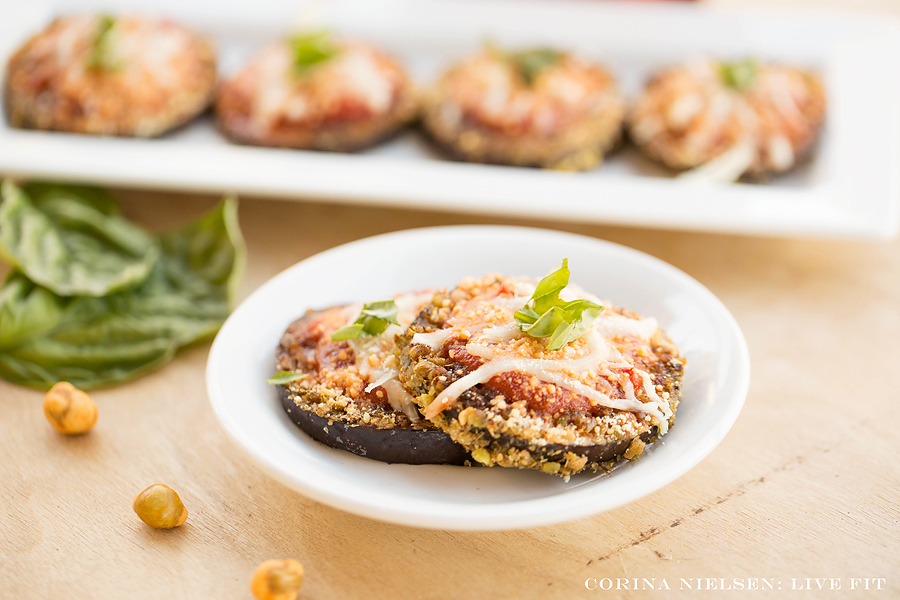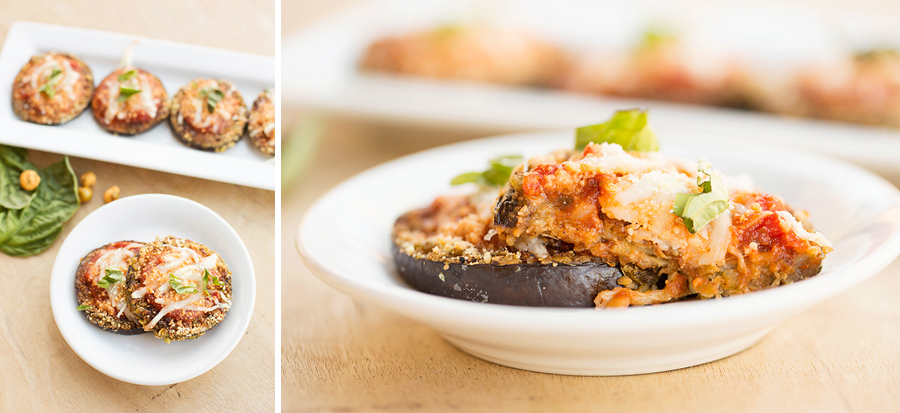 Mini Tomato Basil Eggplant Parmesans

Print recipe
| | |
| --- | --- |
| Serves | 12 |
| Prep time | 10 minutes |
| Cook time | 10 minutes |
| Total time | 20 minutes |
| Meal type | Appetizer, Side Dish |
Ingredients
1 Large eggplant
1/2 cup 'Sicilian Tomato and Garlic' World Peas Snacks (www.worldpeassnacks.com)
3 tablespoons Kodiak Power Mix
1/2 teaspoon garlic powder
1/2 teaspoon oregano
1/2 teaspoon Tomato Basil Mrs. Dash seasoning
1/2 teaspoon salt
1/4 teaspoon pepper
2 Large whole eggs
1/2 cup marinara sauce (** TOPPING **)
1/2 cup fat free mozzarella cheese (** TOPPING **)
2 tablespoons parmesan cheese (** TOPPING **)
5-6 Large basil leaves (** TOPPING **)
Directions
Step 1
Preheat oven 425 degrees and line a baking sheet with a silpat or parchment paper.
Step 2
Slice eggplant into 1/4" disks and place on a paper towel. Lightly pat eggplant to remove excess water.
Step 3
In a small food processor, add World Peas snacks and all seasonings. Blend for 1-2 minutes until fairly smooth and only a few small chunks remain. Place contents in a small shallow dish or bowl. Add Kodiak Cakes mix to another small dish. Add eggs to a final small dish and beat slightly. These will serve as your "breading".
Step 4
Begin coating eggplant by placing each disk first in flour, then in egg, and finally in World Peas & seasoning mix. Repeat with all eggplant disks.
Step 5
Add olive oil to a small pan and set heat to medium. Carefully place each breaded eggplant disk into pan and cook on each side 3-4 minutes until golden brown on both sides. Once cooked, place eggplant on lined baking sheet.
Step 6
Add marinara, mozzarella, and parmesan cheese to the tops of each eggplant. Broil for 2-3 minutes until cheese is melted. Add chopped basil to garnish.
Note
NUTRITIONAL INFORMATION (makes 12 small servings): calories- 83, fat- 4 grams, carbs- 8 grams (fiber- 2 grams, sugar- 3 grams, protein- 4 grams PER SERVING
15% OFF World Peas Snacks using coupon code 'corina15' at checkout on www.worldpeassnacks.com