Another week of EASY breakfast preps is now in the books!  Literally, this one took 5 minutes to prep then it baked in the oven for 1/2 hour.  I let it cool, portioned it out, placed it in containers, stuck it in the fridge, and use like that… FIVE days worth of breakfasts were ready to roll each morning!  The prep part was done live on Periscope a couple of weeks ago and I ended up spending the majority of the time talking about macros because this took no time at all to explain and get in the oven!  I had created a similar recipe for MuscleEgg last month also, but instead of hash browns I used Kodiak 'Power Cakes' for more of a quiche type recipe.  Both are delicious and GREAT options for breakfast prep!!!
What I love about this one is the texture the hash browns have.  Normally if I'm ever eating hash browns, I will ALWAYS mix them in with my eggs anyways to get them nice and mushy and then sprinkle crispy bacon on top for some texture.  Thats why I LOVE casseroles… you kind of just throw a bunch of things together in a baking dish and let ALL of the flavors and textures combine together.  MMMMM.  They are also very forgiving when it comes to ingredients.  Don't have bacon?  No problem!  Use ham, sausage, or even sliced deli meat.  Need to hide veggies a bit better?  No problem!  Add yellow squash, riced cauliflower, or a peeled zucchini.
For this breakfast casserole, I used eggs, egg whites, hash browns, bacon, cheese, and broccoli.  It was a great combination and my daughter didn't mind having it every day that week!  To change things up a little bit so she wasn't totally bored with breakfast, I gave her a side of fruit each day.  A couple of days of mandarin oranges, one with 1/2 an apple, and two days with cantaloupe!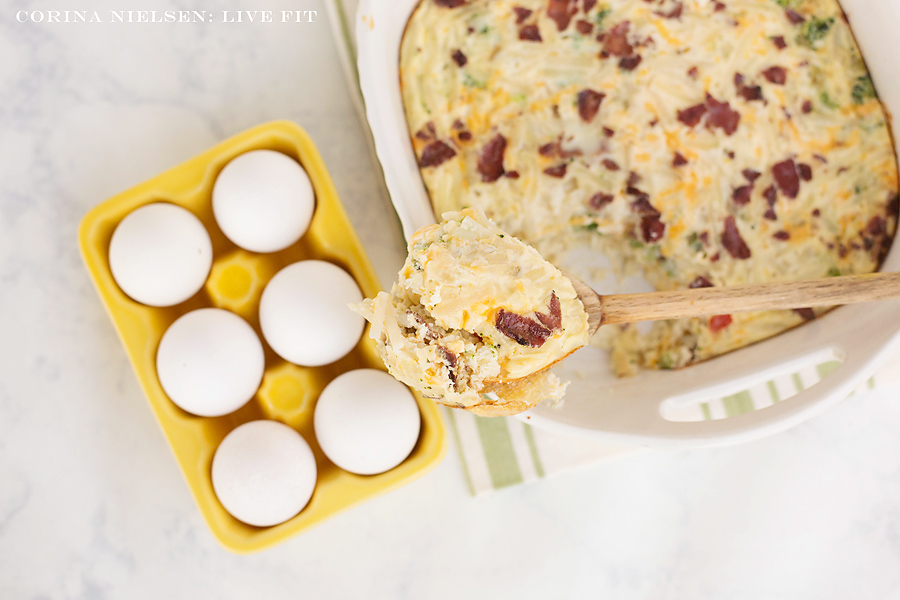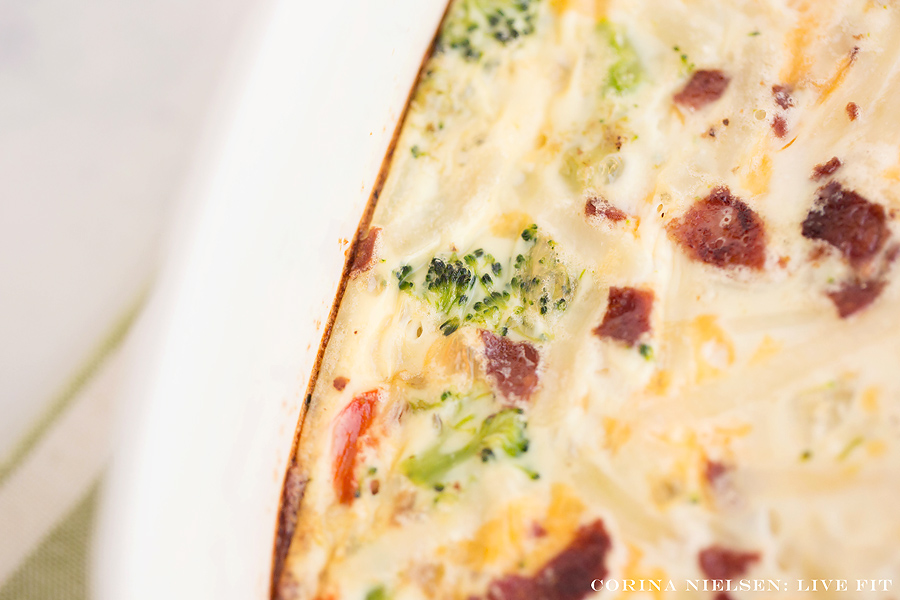 Bacon, gooey cheesy goodness….
I typically don't like the corner pieces on any of my baked dessert goods, BUT on savory dishes?  YES please!!!  I LOVE the bottom bits where they are all crispy and the cheese has dropped into the corners!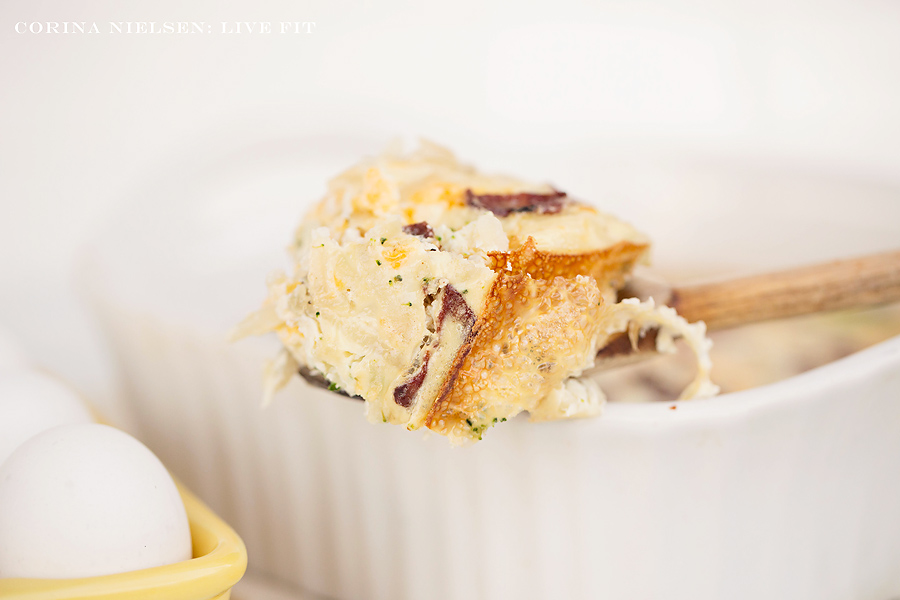 All lined up and easy to access in the fridge!  My daughter or I can grab one container each morning, pop it in the microwave for 30-45 seconds, add the fruit, and hop in the car (since our drive to school is 25-30 minutes, she eats en route)!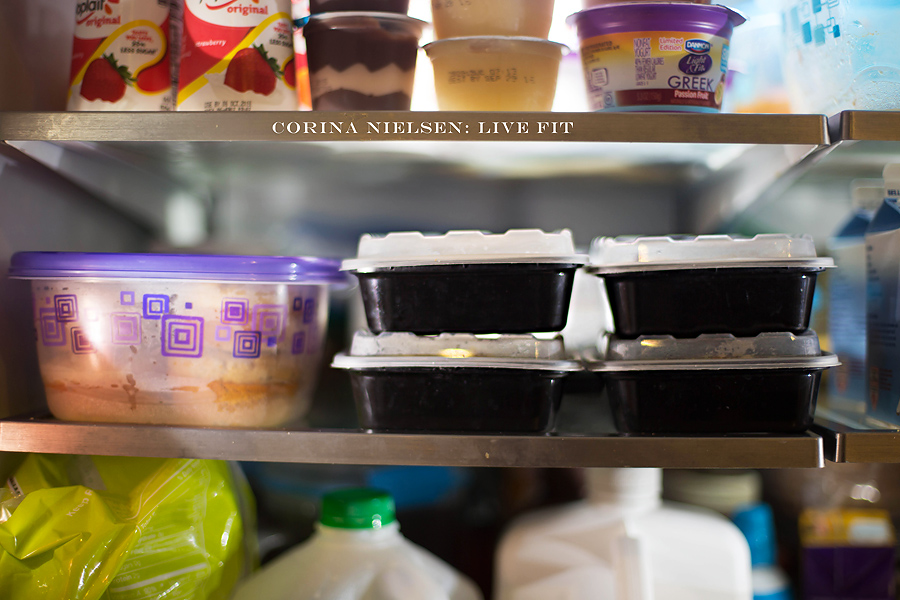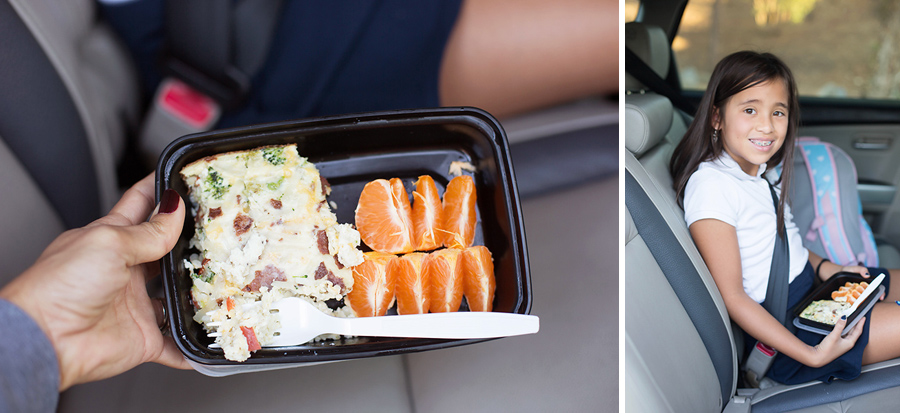 FIT KIDS: Hash Brown Breakfast Casserole

Print recipe
| | |
| --- | --- |
| Serves | 5-6 |
| Prep time | 10 minutes |
| Cook time | 30 minutes |
| Total time | 40 minutes |
| Meal type | Breakfast |
Ingredients
1 cup frozen & thawed hash browns
1/2 cup shredded cheddar cheese
1 cup finely chopped frozen broccoli
2 tablespoons finely chopped red bell peppers
1 tablespoon finely chopped onions
1 1/2 cup organic MuscleEgg plain egg whites
2 Large whole eggs
3 pieces cooked bacon
1/2 teaspoon salt
1/4 teaspoon pepper
1/2 teaspoon garlic powder
1/2 teaspoon onion powder
Directions
Step 1
Preheat oven to 350 degrees and coat an 8x8 dish with non stick spray. Place bacon in a small pan and cook over medium heat until slightly crisp, set aside and let cool. In same pan, lightly sauté veggies until tender.
Step 2
In a large bowl, beat eggs, egg whites, and spices.
Step 3
Add 1/2 hash browns and 1/2 cheddar cheese to 8x8 baking dish. Sprinkle with 1/2 crumbled cooked bacon. Add veggies evenly. Slowly pour in egg mixture. Sprinkle remaining hash brown and cheddar cheese over eggs.
Step 4
Bake for 30-35 minutes until edges are golden brown and top is set.
Note
NUTRITIONAL INFORMATION (makes 5-6 small servings): calories- 104, fat- 2 grams, carbs- 5 grams, protein- 15 grams PER SERVING