So excited to share this recipe!!!  This is one of those extra special ones I had a very clear vision about which turned out to be even better than I could have imagined.  Seriously.  These little protein 'truffles' are so amazingly delicious, extremely rich & flavorful, HEALTHY, and one of the BEST cures I can think of for ANY sweet tooth!
At first I wasn't sure if pumpkin and chocolate would marry well together, but I was pleasantly surprised at just how amazing they are together.  The canned pumpkin not only adds flavor and nutrients, but also provides such a smooth velvety texture.  And like always when I'm working with any type of beans in my baking… I'm ALWAYS hesitant because I HATE beans.  Yet anytime I ever use them like this, I would never even know they were there.  Beans are an amazingly healthy alternative that I find myself using more and more regularly!  So please don't knock it until you try it… I knocked it for 35 years and now I'm kicking myself for giving them a try much sooner!  They are awesome in baking!!!
OK, on to the recipe…
This first step doesn't get much easier. Grab your large food processor and throw in low sodium/no salt added black beans, PEScience 'Milk Chocolate' protein (30% oFF coupon below), coconut flour, canned pumpkin, pumpkin spice, cinnamon, sun butter (of your favorite smooth nut butter), vanilla extract, and my secret weapon… Pumpkin Spice MuscleEgg egg whites!  OMG.  Hands down my favorite MuscleEgg flavor of all time.  I could drink it by the gallon.  So. Good.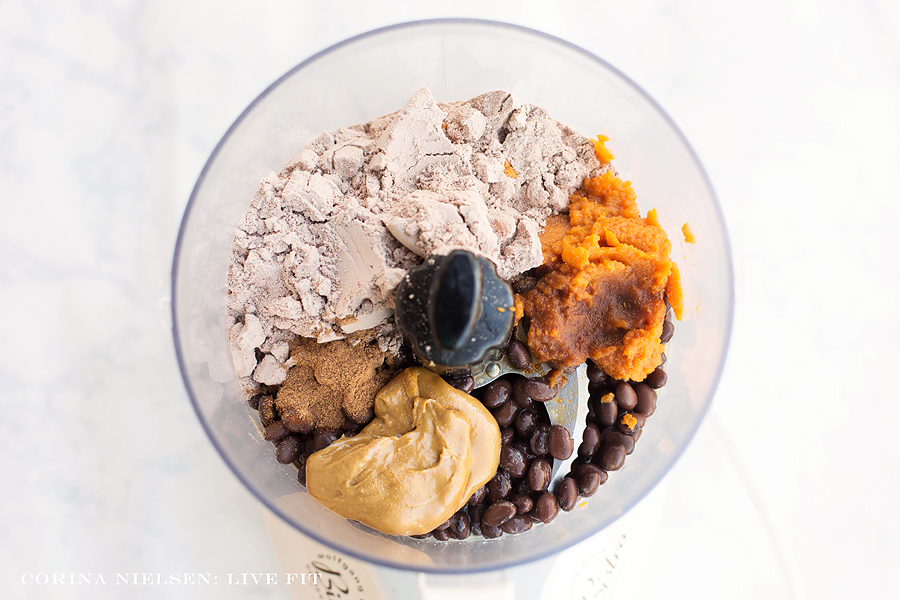 Blend blend blend until smooth.  I let my processor run for at least a minute straight.  Then I wiped down the sides and let it go again for another 30-45 seconds.  You need to make sure its very very smooth.  Absolutely NO lumps.  It should resemble a very fluffy and stiff mousse.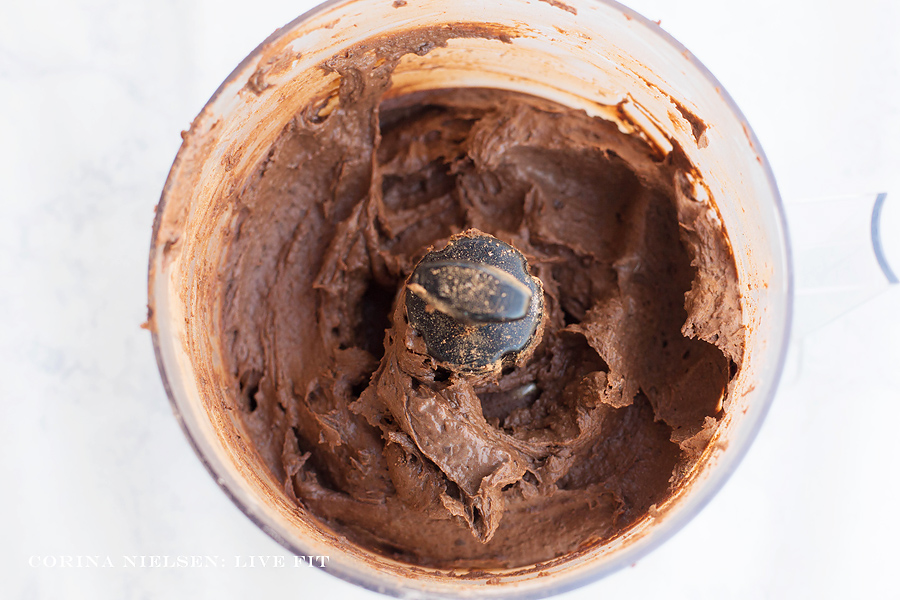 The batter is going to be a little loose to roll into truffles/balls at this point so you can either move on to the next step and refrigerate OR eat as is… seriously, it's amazing just like this!!!  I mean really though, just look at it.  It's thick, it's fudgey, and I don't blame you for being impatient.  Personally, I probably would have gotten more truffles made if I kept my spatula away from my mouth.  I lost at least 3-4 truffles at this point alone… batter went right into my belly just like this!!!  I promise… it's going to be hard to stop yourself here!!!  However, if you have your heart set on making 'truffles' though, move on to the next step!  That extra chocolate and sprinkles will be well worth the extra time!
I popped the entire thing in the freezer for a bit while I got everything for the next step ready.  Do NOT leave them in the freezer for more than 20-30 minutes though.  The texture won't stay as fluffy and perfect!  Ideally, if you have more time and/or can split the steps up cover with plastic wrap and place in the fridge for a few hours or even overnight preferably.  Once the batter is a little more stiff, its time to ball & roll them up!
I used a scooper to make sure every truffles was relative the same size.  I'm a little anal & OCD when it comes to uniformity.  After you scoop them out, just gently roll them in the palm of your hands.  If you find the batter getting too loose again from the heat, pop them in the freezer again for a few minutes.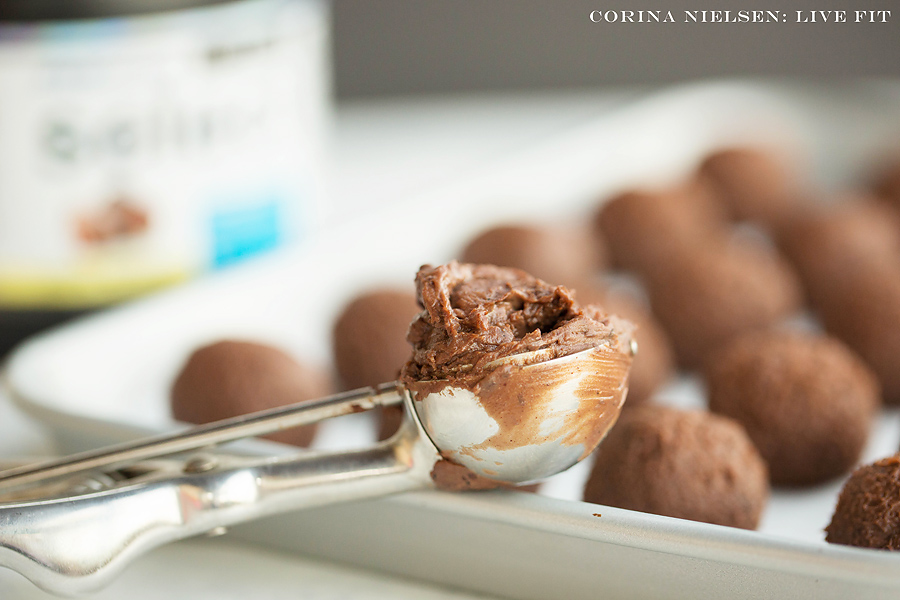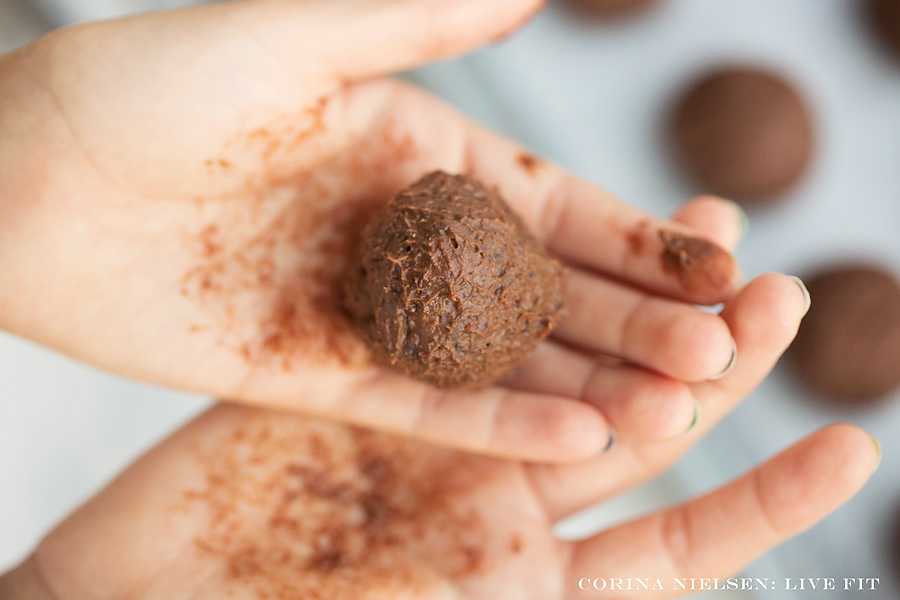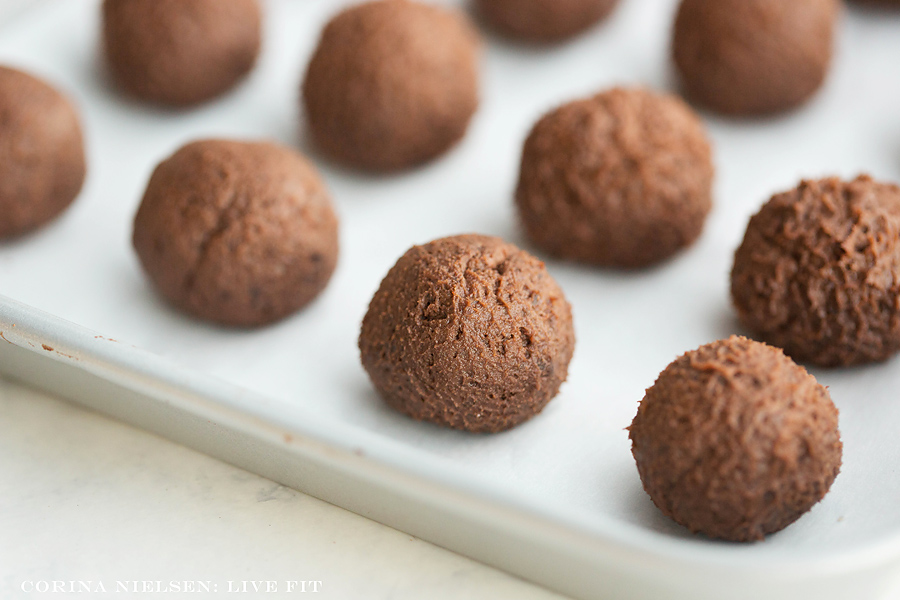 Once you have them all portioned out, pop the tray into the freezer for 10-15 minutes while you prepare all your coatings and toppings!
Since I like variety, I decided on a few different options.  I already knew I would be eating these ALL to myself over the course of the week so depending on whether or not I had more/less calories to spare, there would always be something for me to nibble on.  For times I didn't have a lot of wiggle room, I had this simple option…  Truffles rolled in a light dusting of cacao powder!  I just rolled it and then put the truffle in the palm of my hand and bounced it a bit up and down to shake off the excess powder!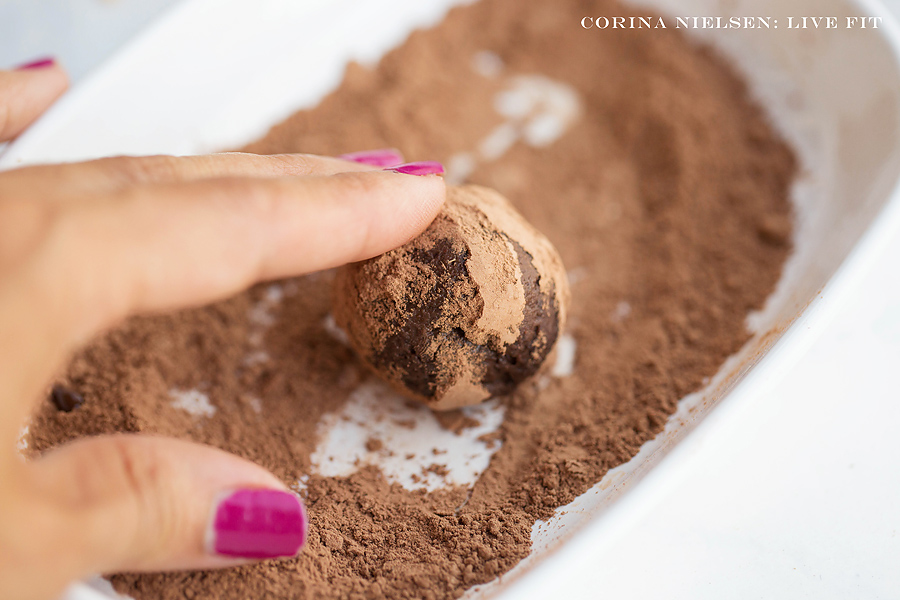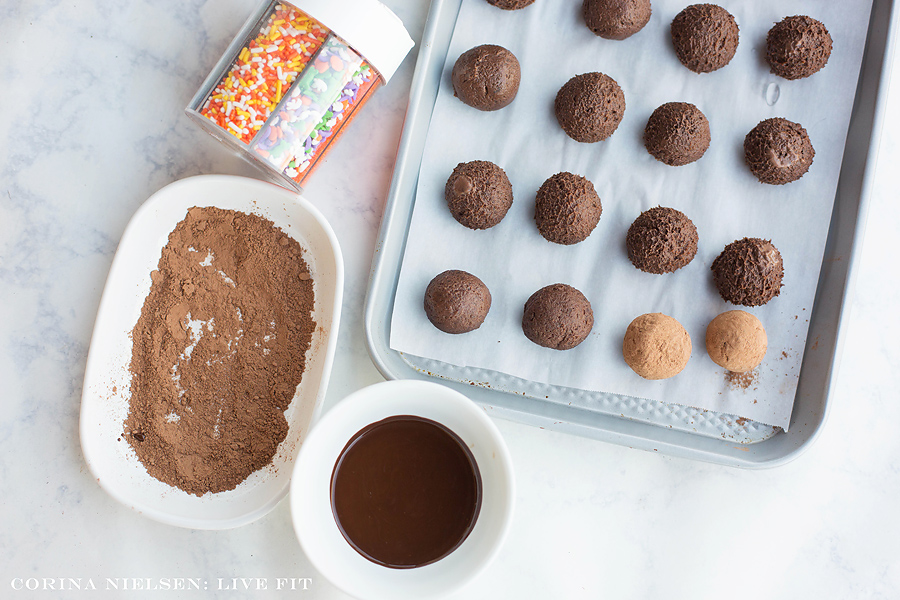 Next option for days I had a few extra macros/calories to spare was dipping only half of the truffle in melted chocolate (mini chocolate chips and coconut oil melted in the microwave in 10 seconds increments until smooth).  This will give a HUGE burst of yummy chocolatey richness!  It's the perfect amount of extra chocolatey goodness.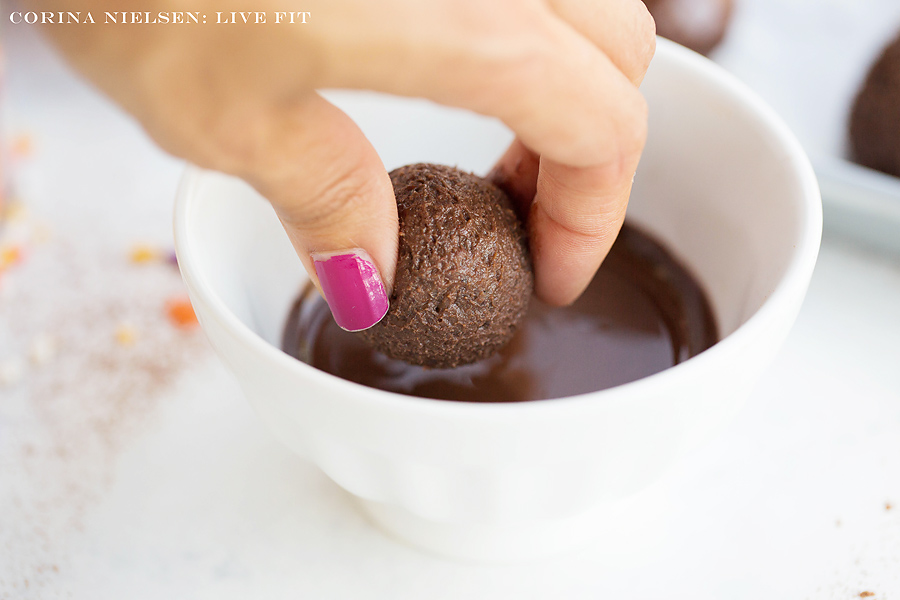 And for times that I had the most amount of extra calories to spare, I had the choice of the ENTIRE truffle being dipped chocolate!!!!  So so rich!!!  Just place the truffle in the melted chocolate, roll it around to coat, use a fork to pick it up, then tap on the sides of the bowl to remove excess chocolate.  Place each truffle on parchment paper.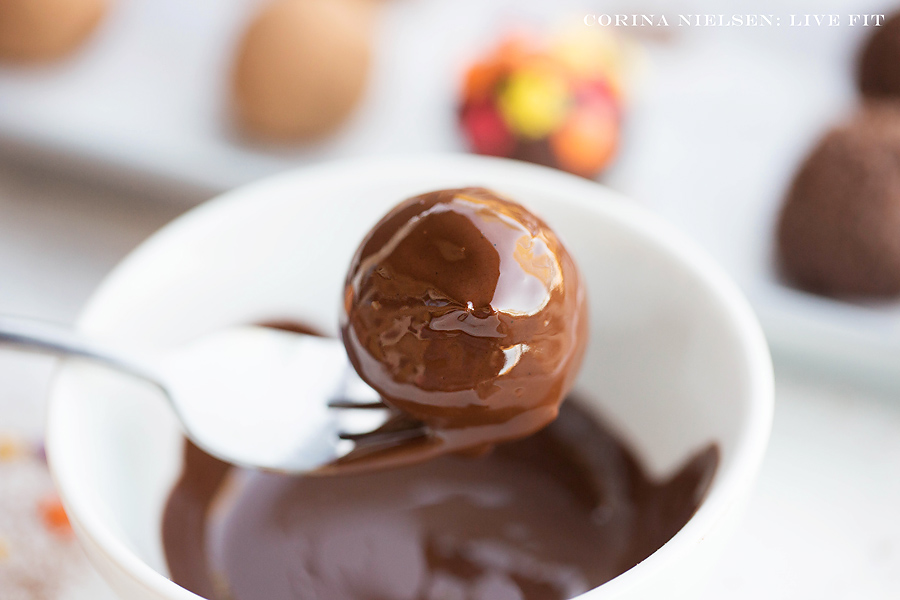 To make these extra special and festive, as soon as you dip them in chocolate (just the half or the whole truffle), add some fun sprinkles right on top!  I even went a step further and melted a little white chocolate to drizzle over them as well!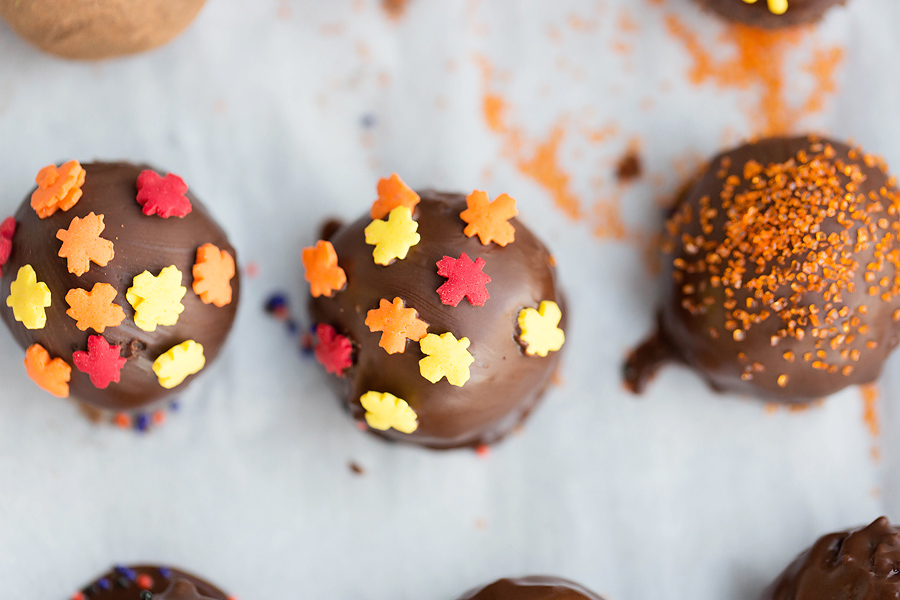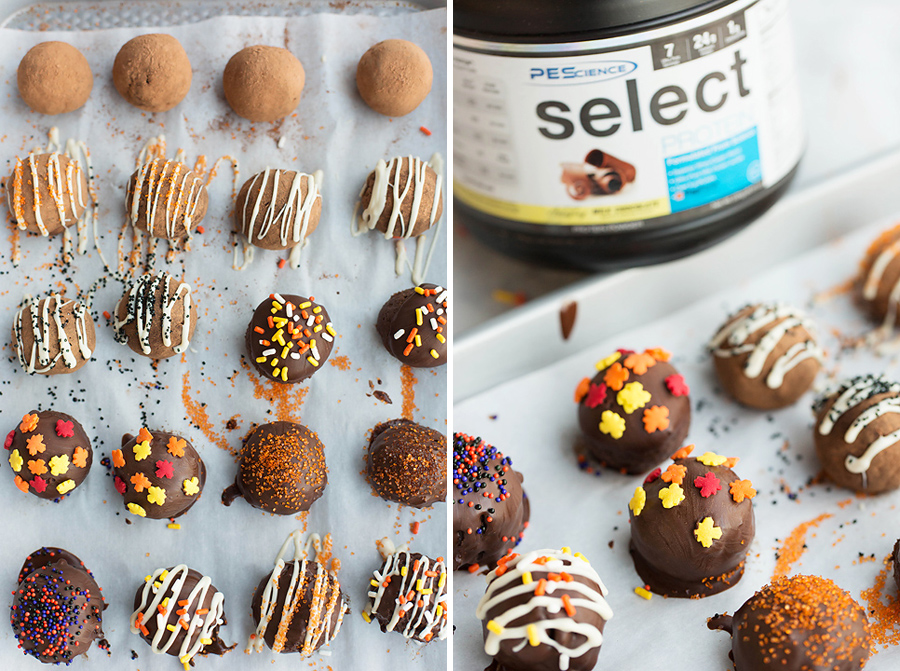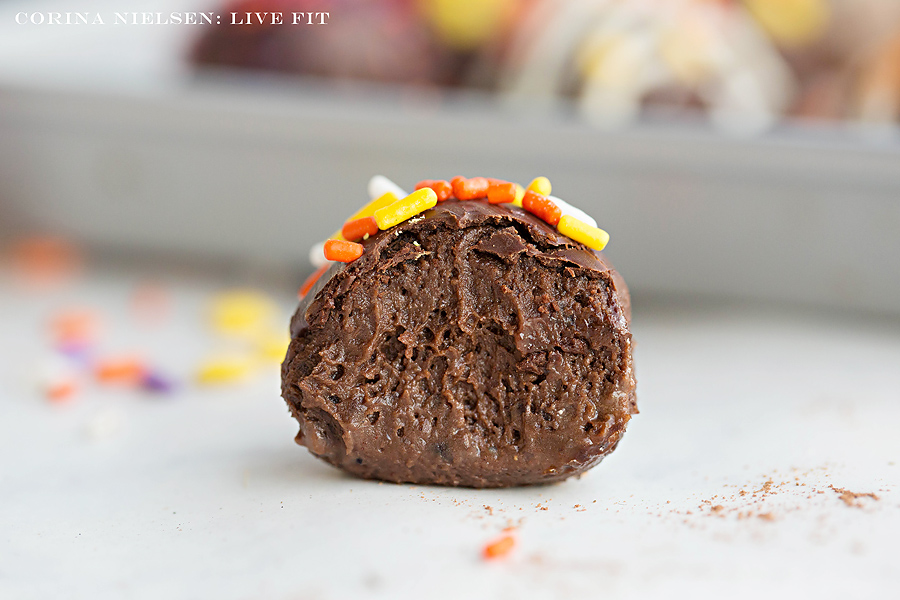 These will NOT disappoint you whatsoever.  One bite and you will be hooked… that's a guarantee!!!
Fudge Brownie Pumpkin Truffles

Print recipe
Ingredients
15oz black beans (no salt added)
2 scoops 'Milk Chocolate' PEScience Select protein (30% OFF coupon below)
1 tablespoon coconut flour
3 tablespoons cacao powder
2 teaspoons pumpkin spice
1/4 cup Pumpkin Spice MuscleEgg egg whites (www.muscleegg.com)
3 tablespoons canned pumpkin
1 teaspoon vanilla extract
2 tablespoons 'Pumpkin Spice' BuffBake nut butter (or nut butter of choice)
60 drops Pumpkin Spice Sweet Leaf Drops (or sweetener of choice)
Directions
Step 1
Add all ingredients to a large food processor and blend until very smooth. Remove blade and refrigerate for 2-3 hours until firm. Divide dough and roll into balls. Place back in fridge for 1 hour.
Step 2
To coat truffles, place 1/4 cup of chocolate chips and 1/2 tsp of coconut oil in a small bowl. Microwave on high in 15 second increments until smooth. Dip each truffle in chocolate and add sprinkles if desired. To make white chocolate drizzle, add 2 tbsp of white chocolate chips and 1/4 tsp of coconut oil in a small bowl. Microwave on high in 15 second increments until smooth. Drizzle over truffles. To make powdered topping, add 1 tbsp of cacao and 1/2 tsp of pumpkin spice or cinnamon in a small bowl. Mix well and roll truffles in mixture.
Note
NUTRITIONAL INFORMATION (makes 20 truffles): calories- 45, fat- 1 gram, carbs- 5 grams/fiber- 2 grams, protein- 4 grams PER TRUFFLE (no toppings)
30% OFF 'Milk Chocolate' PEScience Protein & Products using coupon code 'corina' at checkout www.PEScience.com
10% OFF 'Pumpkin Spice' BuffBake using coupon code 'corinabuffbake' at checkout www.buffbake.com