Another fun flavor combination coming at ya today!  I've been siting on this recipe for awhile now, but wanted to start this week off with a bang!!!  Chocolate and cheery aren't staple flavors that people would automatically want to combine, but it's something thats slightly outside of the box and it never disappoints!
When baking or preparing anything, you have to start with high quality ingredients that pack a big PUNCH of flavor!  I could have chosen to use  regular chocolate chips, but why do that when you have a box of fresh SquareBars at your finger tips?  I love all of the flavors, so having a variety pack to go through is PERFECT!  Obviously, the 'chocolate coated cherry' one is the optimal choice here…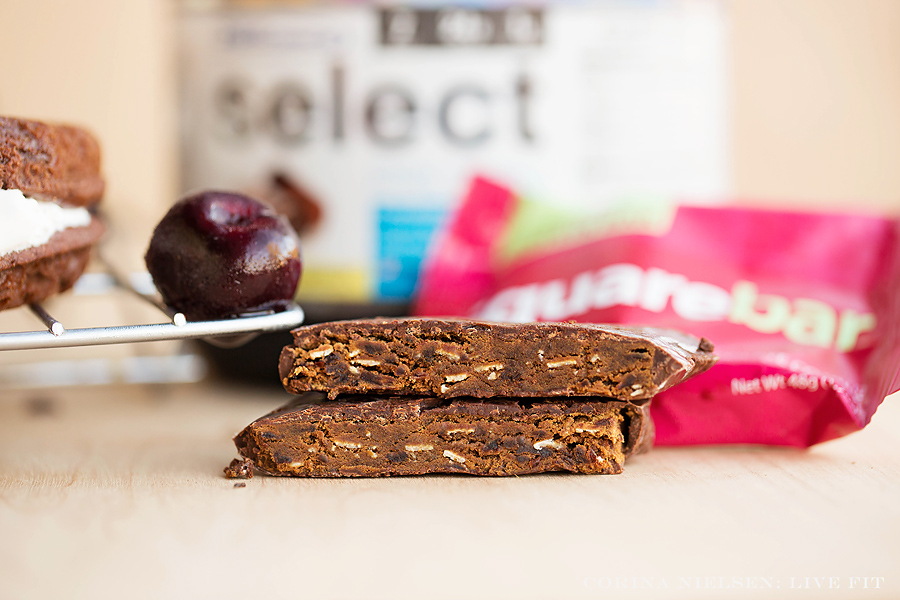 These bars are so delicious, so rich, SO chocolatey, AND are healthy!  They are great for those with food allergies or intolerances as well.  If I am having a serious craving for chocolate, SquareBars are something I always reach for.  Portable and ideal for throwing in your purse for on the go snacking!
USDA Organic & Non-GMO Project Verified
12g of Complete Protein (Sprouted & Whole Grain)
Gluten-Free Certified, Dairy-Free, Soy-Free
Made with Coconut Nectar (same glycemic index as an apple)
No Added "Natural Flavors"
Vegan
Then I rounded up all of my other favorite baking ingredients Kodiak Cakes (replaces all of my regular white flour in baking), MuscleEgg (my substitute for whole eggs and adds SO much flavor), and no protein treat is ever complete without my PEScience Select family (provides a much better nutritional profile balance, better texture, and flavor)!  And since I'm doing a chocolate & cherry combination, cherries would need to be in the line up as well!  I went for frozen dark cherries simply because they are typically juicer, sweeter, and always easy to find at the store!  Look at how big these are!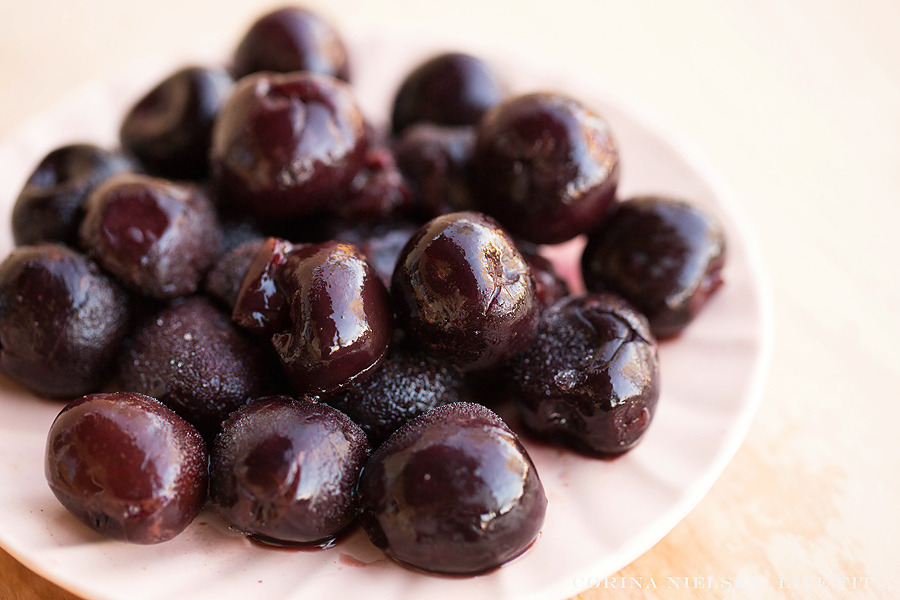 5 minutes of prepping, 15 minutes of baking, a little time to cool, assemble, and viola!  Treats are complete!!!  I kept it really really simple with the filling.  It's just fat free whipped topping!  You could also use Greek yogurt, protein pudding (protein powder mixed with a little water or milk to desired consistency), or even ice cream!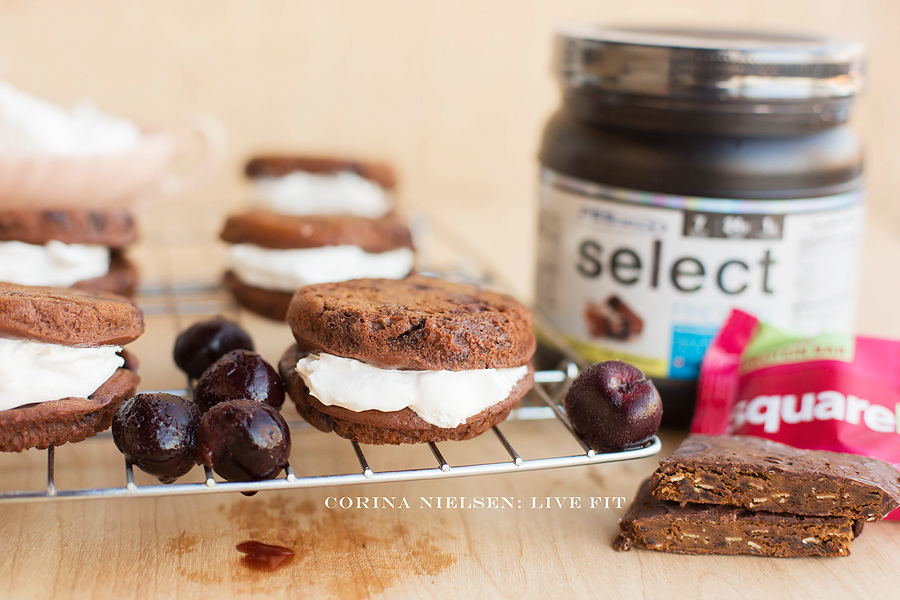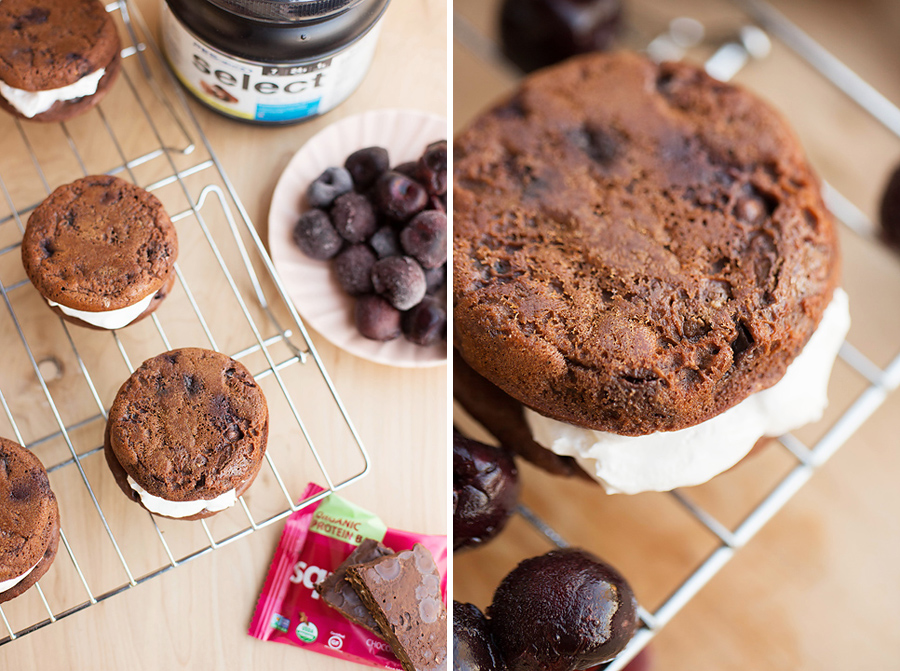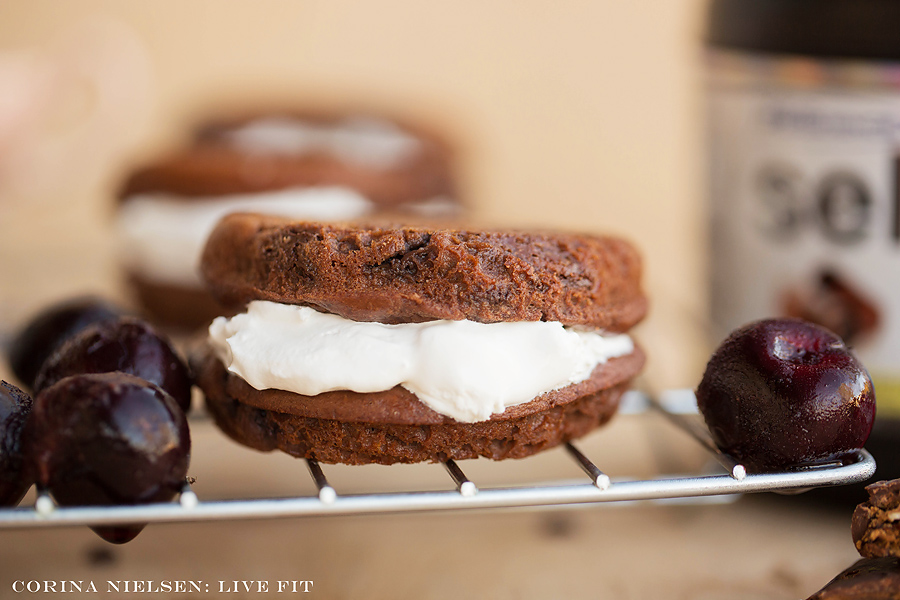 Black Forest Protein Whoopie Pies

Print recipe
| | |
| --- | --- |
| Serves | 6 |
| Prep time | 5 minutes |
| Cook time | 15 minutes |
| Total time | 20 minutes |
| Meal type | Dessert |
Ingredients
1 scoop PEScience 'Milk Chocolate' Protein (30% OFF coupon below)
1/2 cup Kodiak Power Cakes baking mix
1 tablespoon coconut flour
2 tablespoons cacao powder
2 tablespoons coconut sugar
1/2 teaspoon baking powder
1 teaspoon vanilla extract
3 tablespoons Chocolate MuscleEgg egg whites (www.muscleegg.com)
3/4 cups milk of choice
12 Large dark cherries (pitted)
1 'Chocolate Coated Cherry' SquareBar (www.squarebbar.com)
1 cup whipped topping
Directions
Step 1
Preheat oven to 350 degrees and coat a shallow whoopie pie pan with non stick spray.
Step 2
In a large bowl, combine Kodiak mix, protein, coconut flour, baking powder, coconut sugar, and cacao powder. Stir well. Add MuscleEgg, milk, and vanilla extract. Mix until smooth.
Step 3
Chop SquareBar and cherries into small chunks and stir into batter. Divide and pour into prepared pan. Bake for 12-14 minutes until edges have begun to pull away from the sides. Remove from oven and let cool completely. Layer with non fat whipped topping.
Note
NUTRITIONAL INFORMATION (makes 6 whoopie pies or 12 singles): calories- 142, fat- 4 grams, carbs- 19 grams/fiber- 3 grams, protein- 10 grams PER WHOOPIE PIE
30% OFF 'Milk Chocolate' PEScience Protein & Products using coupon code 'corina' at checkout