Alright blogging friends!  Seems like the new medical journey I am on is bringing out all sorts of changes in me!!!  My condition is something I will deal with for the rest of my life in some way, shape, or form and while I could sit around and EASILY slip into a depression like so many other chronic pain disease sufferers, that's not the route this gal is choosing!  Instead, I'm using whatever energy I have in me each day to find activities and ways to keep myself happy (and busy), other than lifting/working out!  I'm stepping completely out of my comfort zone and trying something entirely new here!
So, at some point during the course of my fitness journey, I began to think that wearing ONLY workout clothes 24/7 was entirely acceptable.  Because I worked from home, my daily wardrobe routine consisted of waking up and staying in my pajama's until around 12 pm.  Then I would change into my workout clothes, throw on a pair of tennis shoes, and train for a couple of hours!  Once I was done working out I NEVER changed though (luckily I don't have sweat glands so never got too "dirty")!  I had a quick minute to eat after working out, I would hop in the car to grab my daughter at school, run to the market, come home, start dinner, eat, then shower and get a fresh set of pajamas on.  On very rare occasions (AKA holidays or perhaps a date night), I would actually put real clothes on.  Those times were few and far between though!  It became so easy and 'normal' to simply wear yoga pants, tanks, and tennis shoes all day, everyday.  Comfortable and easy!  I fell into a vicious trap and never really had a good reason to change anything.
Aside from the sheer comfort of workout clothes, I have NEVER enjoyed shopping and am totally useless when it comes to putting outfits together.  I'm not sure if its because I'm #funsized or the way my body is built, but clothes (especially pants) just fit me strange.  Feeling like nothing works on my body type doesn't help when it comes to the enjoyment of shopping.  I also absolutely LOATHE trying clothes on so if I'm ever caught shopping its because I have something very specific in mind to buy and will always attempt to only hit 1-2 stores if at all possible.  Don't get me wrong though, I have a lot of clothes (lots of 'staple' garments like neutral sweaters, a couple of pairs of jeans, simple dresses, basic plain tops, etc.).  I just don't enjoy the process of shopping or putting things together.
However, now that I can no longer workout (as of right now), I have made the commitment to myself to wear "real" clothes at least five days a week!  As it stands now, there are still 1-2 days each week where I'm feeling like absolute crap and will end up in pajamas for basically the entire day… forcing myself to get dressed five times a week seems 100% doable and manageable though!  Last week I actually ended up in actual clothes SIX entire days straight.  It was nice breaking out of old habits and I actually enjoyed looking on Pinterest for ideas.  Furthermore, I gotta say that dressing up and looking 'presentable' on the outside (not like a gym rat) made me feel good on the inside as well.
The best way I know how to stay accountable with this new fashion venture is to say it out loud or in my case, post about it here on my blog!  Again, I am 100% fashion challenged and still have NO idea what looks good together, what clothing fits my body best, what the trends are, or whats considered 'in style'.  Hopefully, I can figure some things out before I make a complete fool out of myself!  Until then, I'm going to wing it… as well as track my fashion progress!
Here is my first week of wearing non workout clothes (and for the entire day might I add)!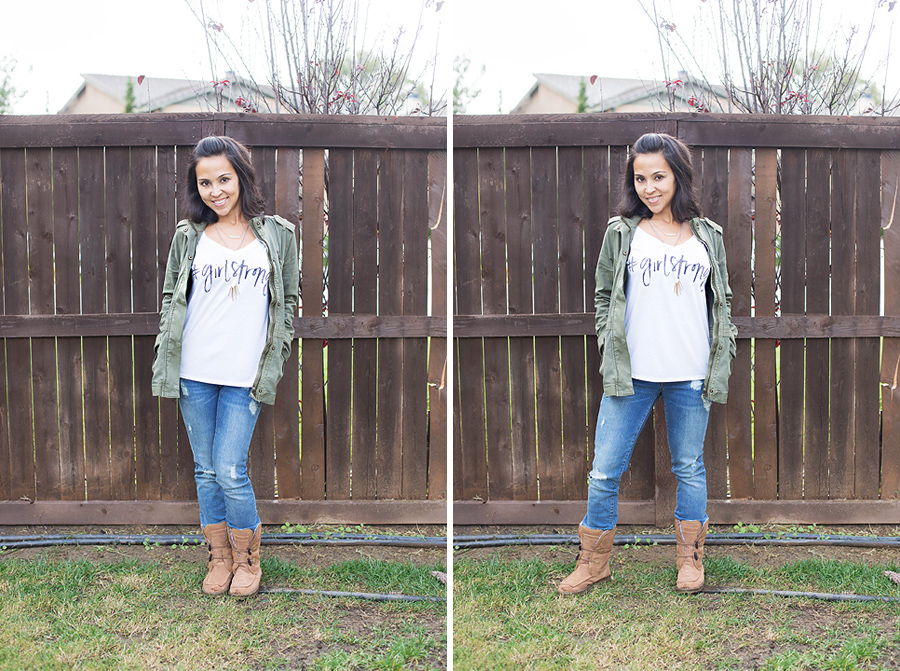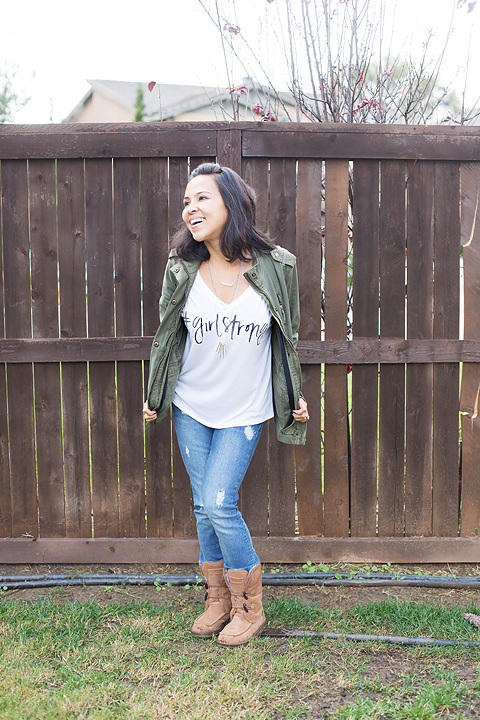 Jacket: Lucky Brand, Shirt: ShabbyApple, Jeans: American Eagle, Boots: Sanuks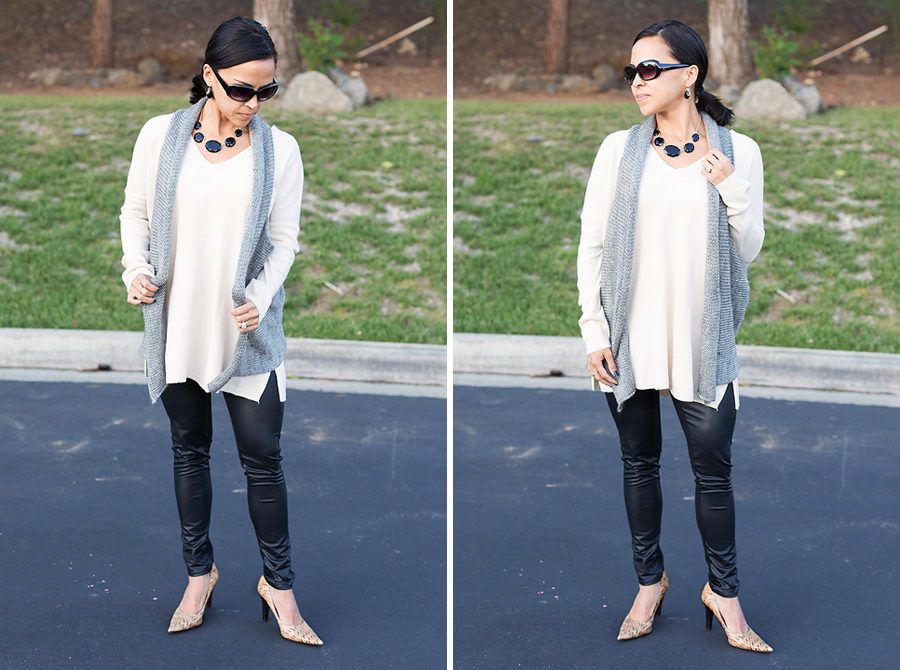 Cream Sweater: OllieMarie, Gray Vest: Forever 21, Faux leather leggings: Guess, Shoes: Cathy Jean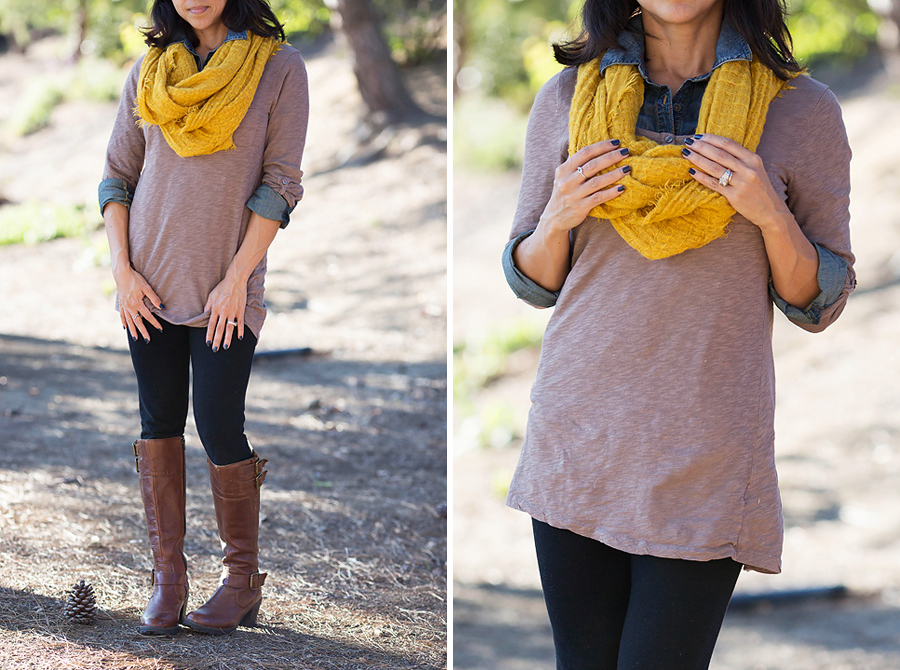 Brown Termal, Scarf, Leggings: Target, Denim Shirt: Forever 21, Boots: BOC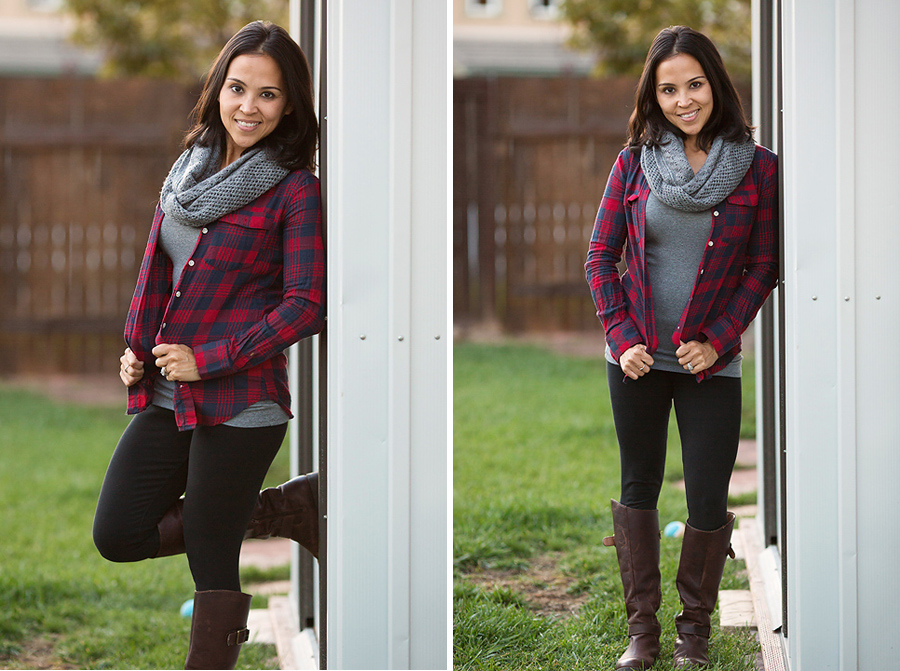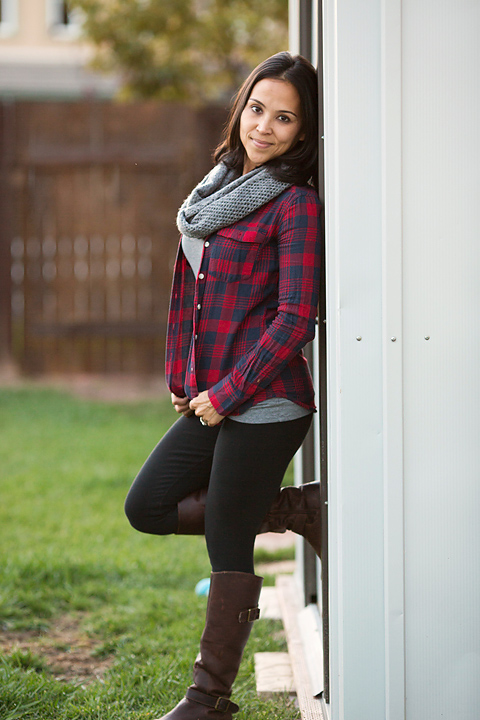 Flannel and Scarf: Forever 21, Tank and Leggings: Target, Boots: Lucky Brand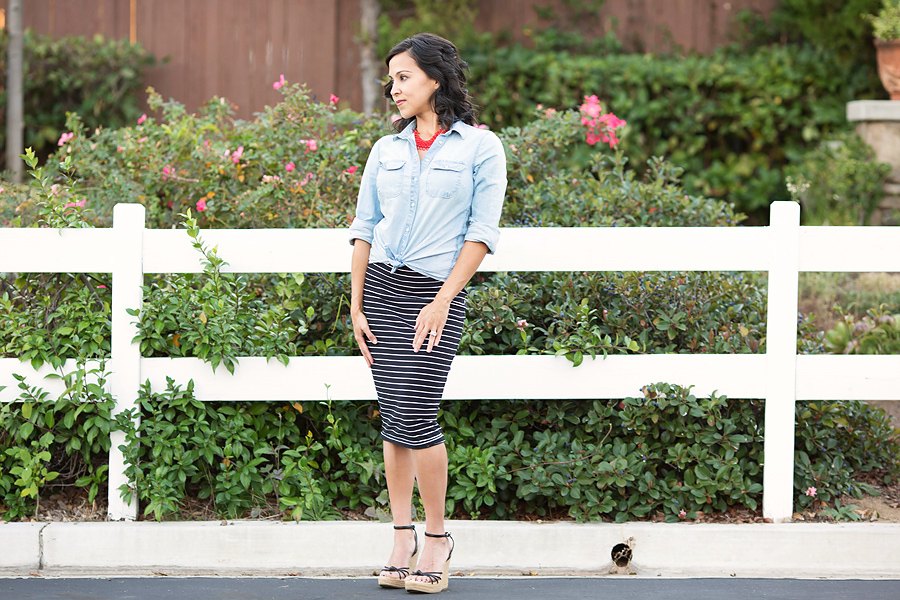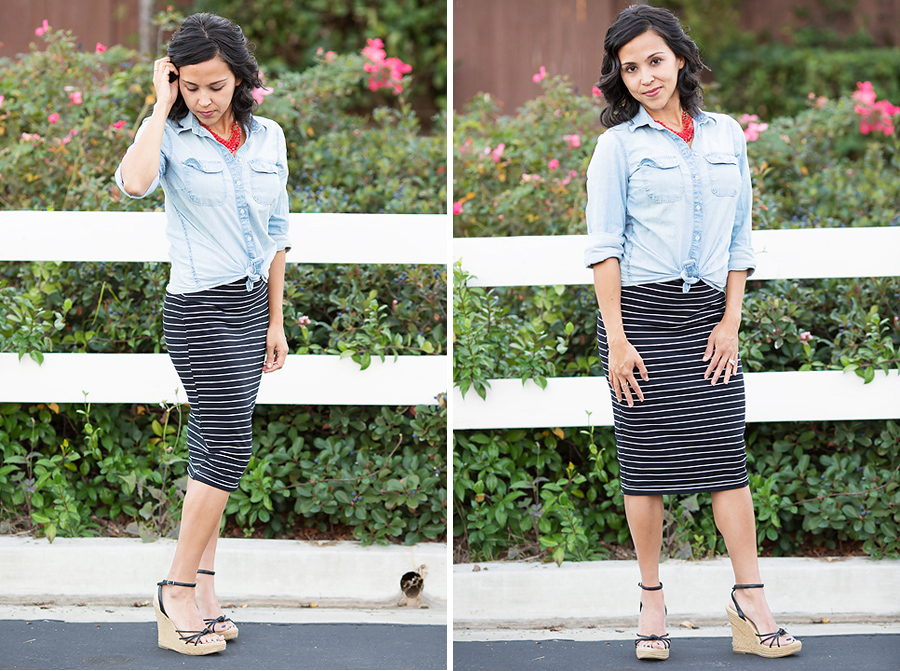 Denim Shirt: Target, Pencil Skirt: JCPenny, Wedges: Cathy Jean, Necklace: Nordstrom
And note to self… find a new photographer thats NOT my husband!  This is what I get when he's behind the camera and I'm not paying attention to what he's doing…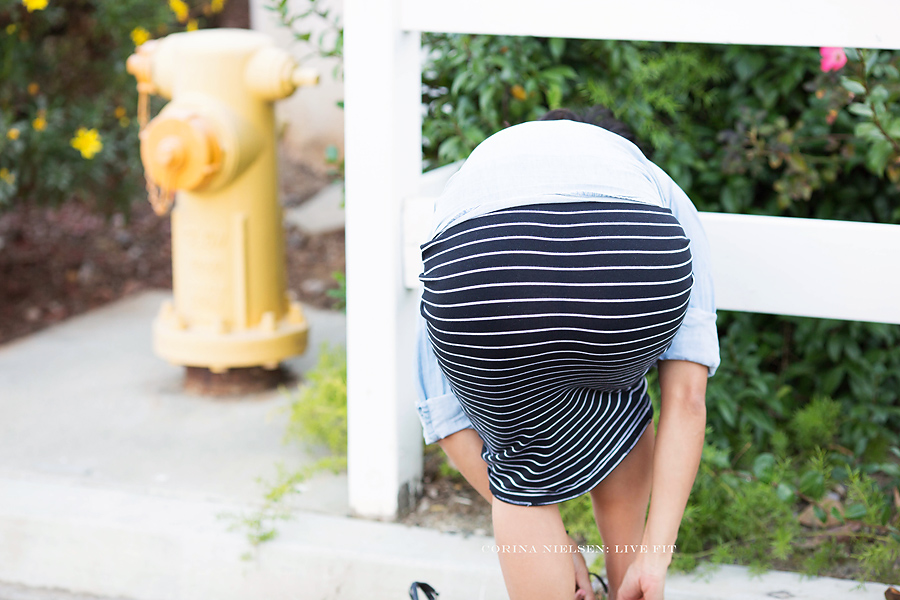 One full week of real clothes is officially completed!  I'm actually pretty excited about this new little adventure!  At this point I have no idea if I will keep up with things, but so far so good.  It's been fun going into stores and looking at clothes a bit differently than I did before.  Slowly but surely, I will break out of my mold and put pieces together I would have never thought belonged together.  Patterns, color, purses, accessories… I'm actually looking forward to it ALL!!!
Also, to help with my styling handicaps, I've enlisted StitchFix to help me out!  I actually just received my first "fix" yesterday and am looking forward to sharing the experience and what I received!!! Tomorrow I'm planning on trying everything on and take some pictures to help decide what I'm keeping and sending back!  I will also have a full review of my thoughts on the whole "fix" idea!!!  Stay tuned….