As I mentioned a couple of days ago, I am officially on a mission to clothe myself like the majority of the world.  Yoga pants, cropped pants, tanks, tennis shoes, and other workout clothes will always have my heart (oh the comfort….), but there is absolutely no reason why I would need to wear them every single day, all day long, 365 days a year.  And considering I am on an indefinite hiatus from training anyways, there is even less reason to be lazy when it comes to my choice in daily clothing.  And finally, while workout clothes are definitely comfortable and easy, I have found that if I look better on the outside, I tend to feel better on the inside.  I encounter so many days where all I want to do is stay in pajamas because I'm either dealing with my pain & symptoms and/or I'm just feeling emotionally defeated.  Looking cute and presentable should become a priority during these times especially!
My utter hate for the entire shopping experience AND not having a clue what looks good together anyways is a bad combination for fashion.  So, in addition to looking for cute outfits and inspiration on Pinterest, I decided to get some help in the fashion and shopping department.
Hello StitchFix…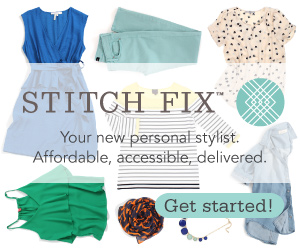 You pretty much have to be living under a rock if you haven't already heard of this 'service'.  You let your own personal stylist' know what styles of clothing and pieces you like and Stitch Fix sends out a box of five items that is custom tailored to your taste, budget, and lifestyle.  I've seen so many people sign up for it, but because I have been stuck in workout clothes for the past three years, I never felt like I needed anything like this.  Once I decided to step up my fashion game though, signing up for Stitch Fix was one of the first things I thought of doing!
Initially I was totally skeptical, but I reluctantly signed up for my first 'fix' anyways.  How bad could it be?  Spend $20 (that would be applied to anything I may want to keep), have someone do styling & shopping for me, and get sent a few neat ideas for outfits each month.  Worse case scenario was that I hated everything I was sent, lost $20, cancelled the subscription, and be resorted to shopping on my own from now on.  I figured I would go ahead and give it a try!  I only had to wait about 2 weeks for my first 'fix' to arrive and it was so much fun opening my package LIVE on Periscope!
It was hilarious that my viewers were guiding my through the process!  Other than looking at the actual clothing my stylist sent, I didn't know where to start.  Fortunately, I was told where to find the pricing information, clothing details, and what I needed to do next.  A couple of people told me to find the envelope with everything I needed to walk me through the box.  A note from my stylist, the pricing sheet (includes pricing for each item and a break down of costs that includes the $20 credit and a 20% discount if I wanted to keep it all), and the best piece of information… a Style Card that includes various looks for each item and ideas for additional outfits using items you may already have in your closet!
Before I share what was in my box, can I just say how FUN it was to open a surprised package and have ZERO idea about what you were getting?  I felt like a kid on Christmas morning!  So very exciting!!!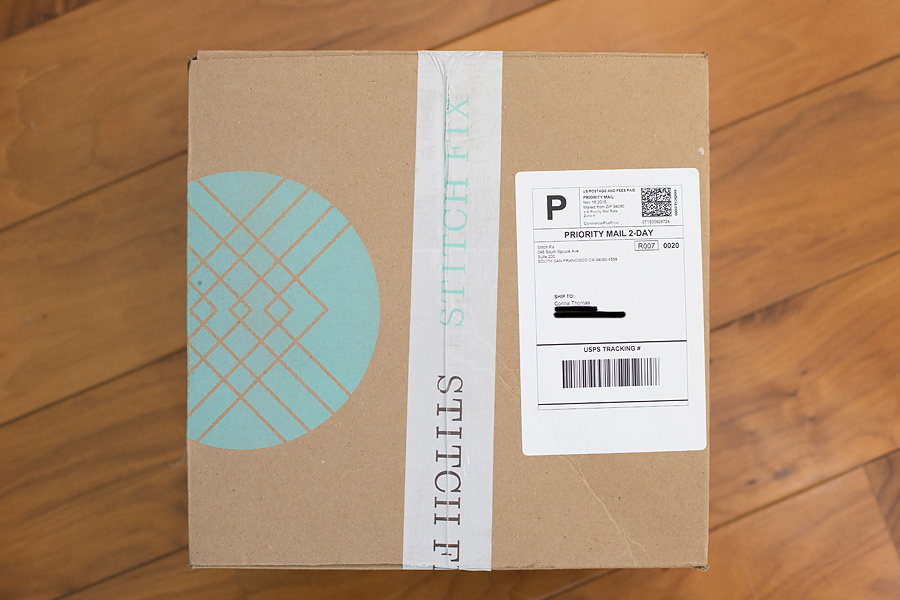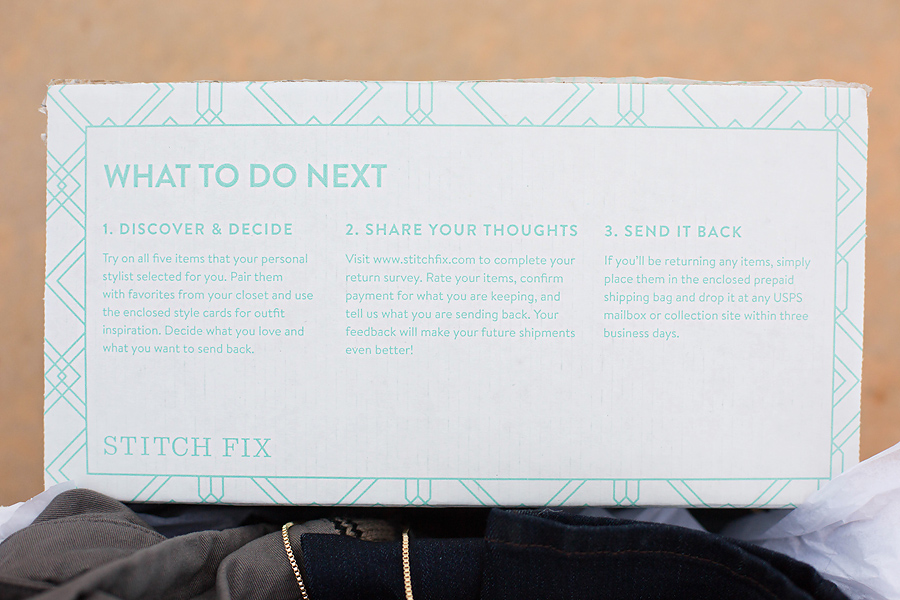 When I opened everything up live, I only took a quick glance at everything.  My first reaction went something like this "Oh this is so cute!  Mmm, I hope this fits!  Meh, I don't like this much, I will probably return it.  OMG, LOVE this!"  Once I got off Periscope though and took a closer look, I was even more excited and couldn't wait to try everything on!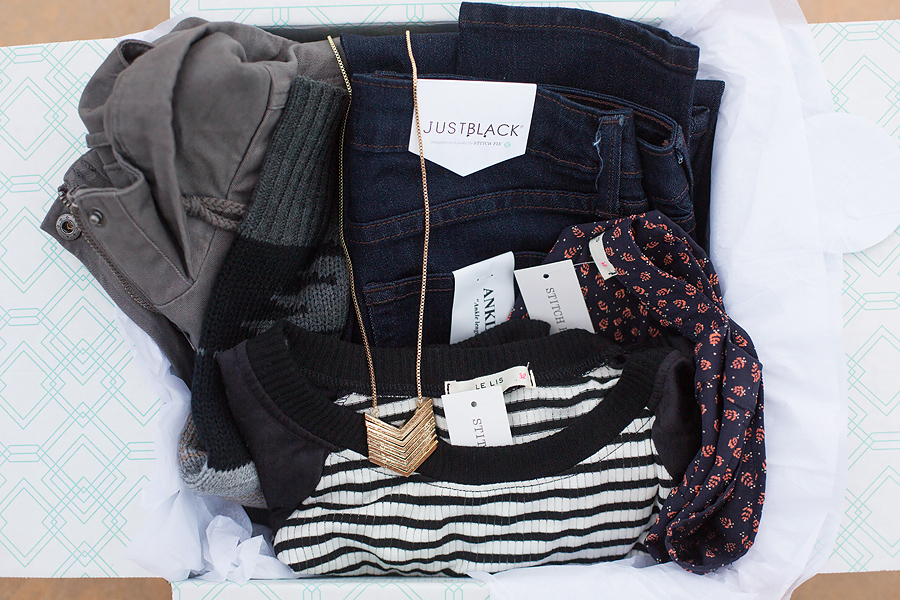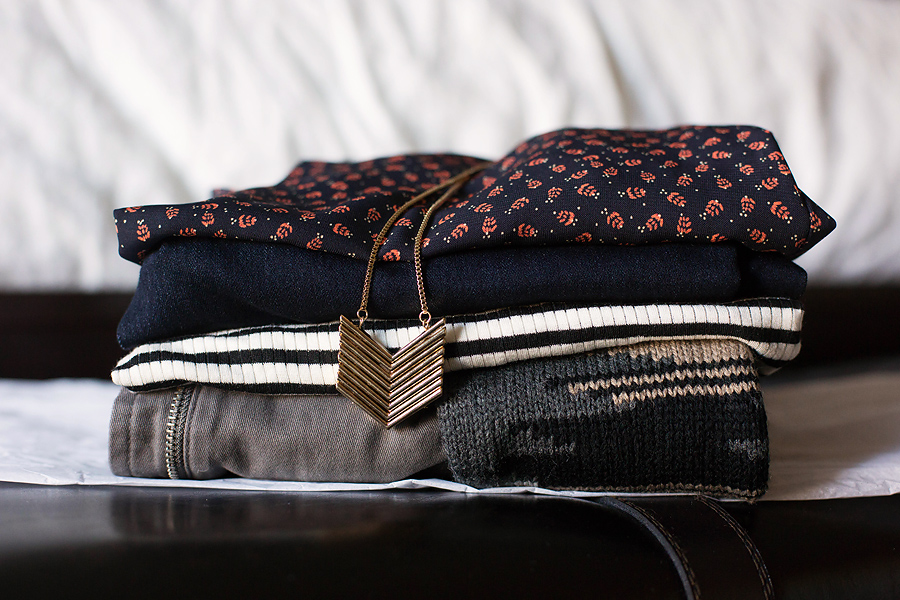 I made the mistake of not saving pictures from the 'fix' feedback, so next time I will definitely include that in my post!  For now though, I will share the Style Card and a couple of things I did find good pictures of.  LOVE this Style Card idea though because like I said, I have NO idea what pairs with what… if I were left to my own devices and sense of style, I would wear a pair of plain jeans or leggings with the tops and call it a day.  I would never think of adding accessories, different colored shoes, scarves, or cute purses to make an actual outfit.  Another thing I was very impressed with is the fact that my stylist had taken the time to look at a Pinterest board I had just created recently!  Such a great way to get a feel for looks and pieces I actually like and would rock!!!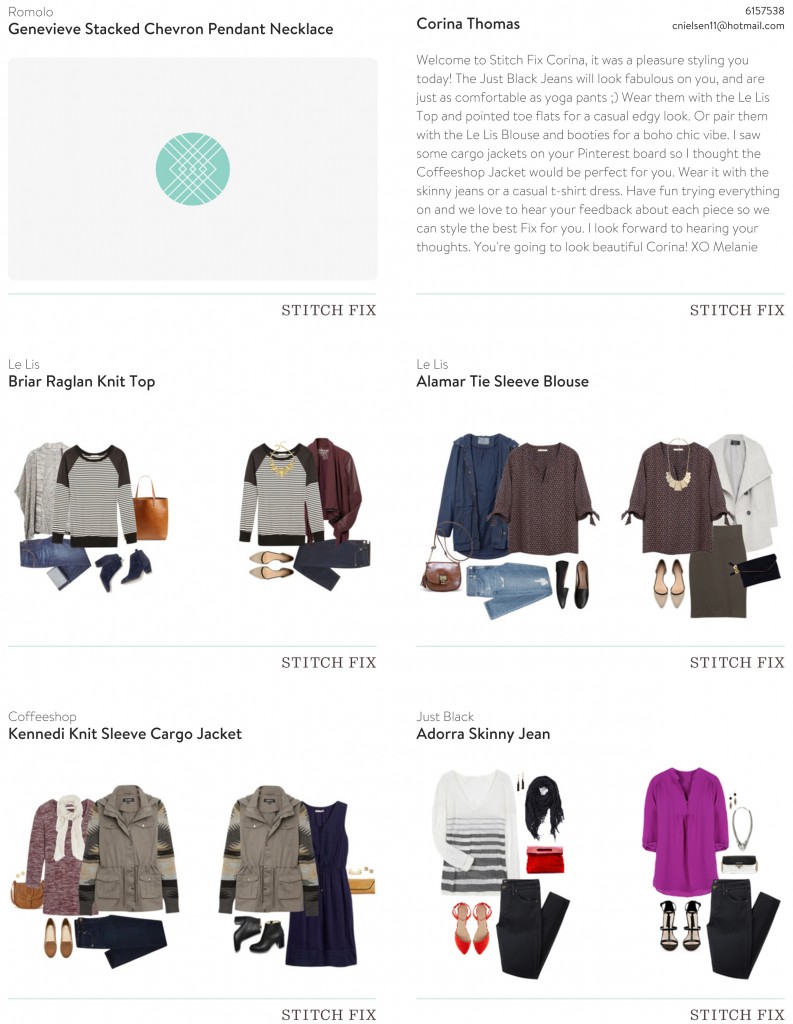 Prior to trying anything on, I was positive I would keep the Kennedi Knit Sleeve Cargo Jacket!  I love the cargo jacket I already have from Lucky Brand, but this one is so much more unique because of the knitted patterned sleeves.  Fun print, versatile, and SO cozy!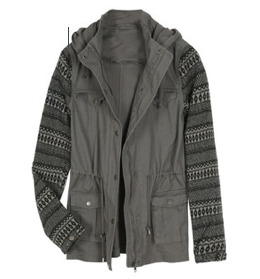 I also LOVED the necklace that was sent.  Trendy, yet still simple enough to wear with lots of different looks!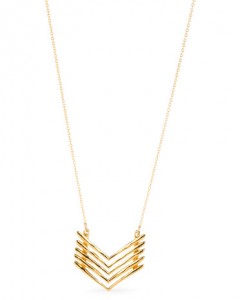 The jeans, blouse, and knit top were kind of up in the air for me.  I didn't care for the pattern or fit of the blouse and that was the one item I was sure I wouldn't keep.  I like the striped top a lot, but thought I had enough similar tops already in my closet that wouldn't justify keeping this one.  And then the jeans… oh these jeans.  Even before I tried them on, I wanted them to fit SO bad.  They felt just like my beloved yoga pants, BUT in a 'jean' form!  I was crossing my fingers that these 'jeggings' would fit!  I quickly threw them on after my Periscope.
The jeans were every bit as comfortable as I wanted them to be and I absolutely HATE jeans with a passion!  Although they were slightly big around my knee area, the waist and length on them was PERFECT!  Being #funsized, I already know how hard it is to find things that fit like a glove, but these are just too comfy to pass up!  In addition to the jacket, the jeans were going to be a keeper as well!  OK, I'm going to go ahead and just check out on the site and return the other items!  I went ahead and just 'checked out' on the site and said I would only be keeping the jeans and jacket.
BIG MISTAKE!
The total for the TWO items came to around $169.  Considering it was for jeans (that actually fit) and a high quality jacket, I thought the price was totally reasonable at the time.  However, the more I thought about it AFTER checking out, I realized that the 20% off for buying ALL five pieces was only around $200… let me think about this for a second.  I could pay $169 for two pieces OR pay another $35, get the necklace I LOVE, the striped top which I did like a lot and know I would wear, and an additional top I would probably wear 1-2 times and/or could possibly just gift to a friend who I KNOW will love it.
Not sure why I didn't bother to give ALL of the pieces a proper look to begin with, but the more I thought about it, the more I realized I NEEDED to actual try EVERYTHING on.  I will remember this for the future!!!  To keep things simple and painless, I just threw on two different boots I had in my upstairs closet.  Since I wear these so often already, I knew I would eventually be pairing stuff with them at some point!
#1 Striped top and jeans from my 'fix', boots and yellow scarf from my closet.
#2 Jeans, jacket, and necklace from my 'fix', simple gray shirt and boots from my closet.
#3 Blouse, jeans, and necklace from my 'fix', boots from my closet.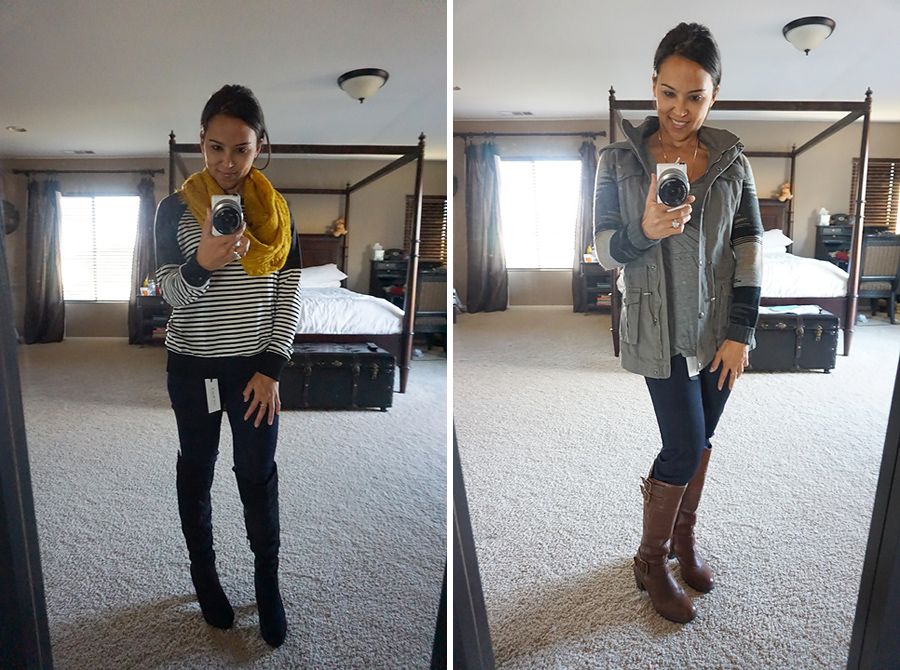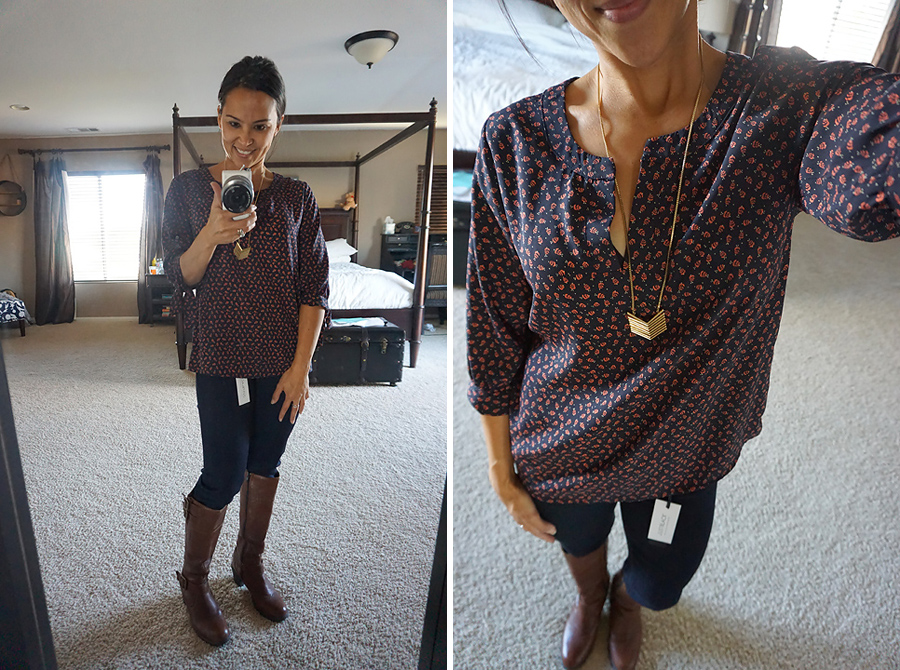 Still LOVED the necklace, even more so after trying it on with the clothes, but still had a hard time spending the $28 on it.  I'm used to spending under $20 on jewelry and thats IF I even buy any accessories.  I'm a "less is more" kind of gal when it comes to the 'bling'.  So I was on the fence about this even though I did adore it!
As for the tops, I was so surprised that I actually ended up liking the floral blouse!  Seeing it folded up or even on a hanger, I was kind of like "Eh, it has no shape to it and the pattern is kind of boring."  Once I tried it on though, I liked it so much more.  The shape wasn't ideal, but  I could totally see myself wearing it under a cute jacket or colorful sweater to brighten it up and give me some extra 'shape'.
OK OK OK… fine Stitch Fix!
In the end it just makes so much more sense to keep EVERYTHING!  I really wanted that necklace anyways after all right? Had I only loved one on the items in my 'fix', I would have just stuck with my first checkout for the jeans and jacket.  When you end up loving 3 or 4  pieces, it's far more economical to buy it ALL!  Thats my story and I'm sticking to it anyways 🙂
All in all, my first Stitch Fix experience was a success!  The entire process was different for me and more importantly, it actually made "shopping" and fashion FUN for me!  I enjoyed the anticipation of receiving my first 'fix', opening my package (live was even more exciting), trying things on in the comfort of my own room, AND having my closet a few feet away to pair my new items with my old items is a HUGE bonus!  Although I didn't absolutely adore everything in my box (only loved 3 items, liked the other 2), I'm convinced that the more feedback I give my stylist from now on and pin things for her to see, the better job she can do to give me FIVE items that I LOVE equally!!!
Next 'fix' is already scheduled and I can't wait to start wearing everything from my first shipment!!!  I think I may be hooked 🙂