Alas, the time has come.  All 'pumpkin everything' is slowly coming to a close as the first few days of December have arrived and peppermint everything is taking over.  Sniff sniff.  I'm a fan of both, but pumpkin and Fall will always have my heart.  Fortunately, I live in San Diego though and with this crazy weather, cool Fall temps have been few and far between.  It's been 80 degrees for at least a week straight now.  At this point, I'd settle for a 70 degrees to feel even the tiniest bit of "Fall'.  In any case, I thought I would go ahead and close the season out with a bang, a bang of "Maple Pumpkin Spice" waffles that is…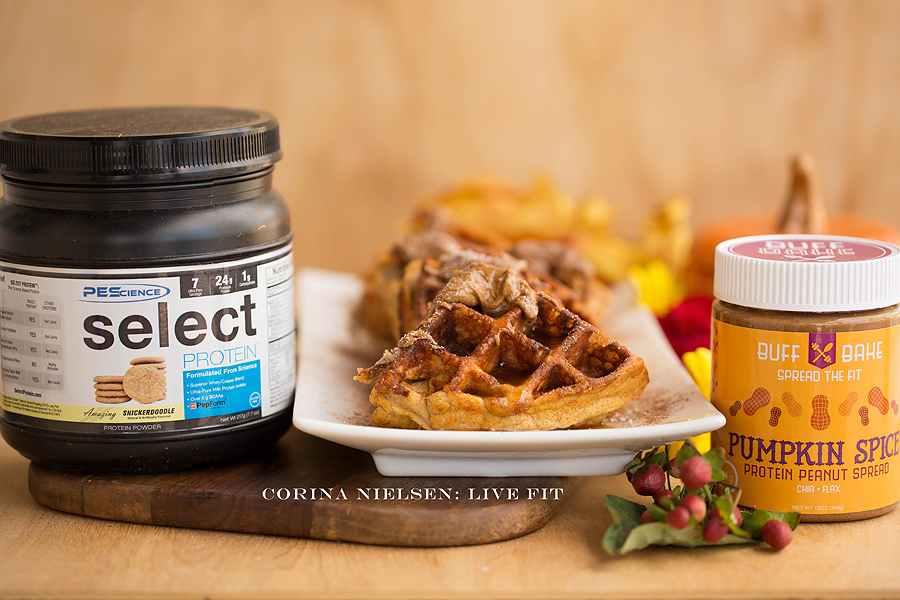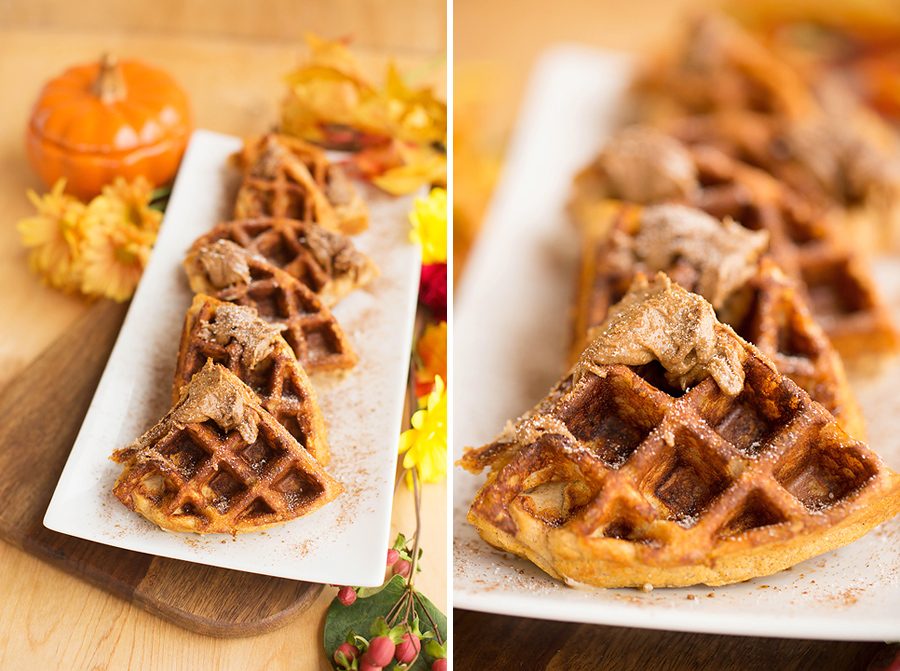 I don't care what any hater says about 'pumpkin spice'.  There is something absolutely so comforting about those rich, warm Fall flavors.  Each year as temperatures begin to drop (and by drop in San Diego, I mean go from 90 to 75-80), its kind of a must to break out the cans of pumpkin and make something that feels like a big warm bear hug.  That's exactly how I felt when I took my first bite of these.
Mandatory syrup shot is a must with pancakes and waffles, duh.  Here you have it.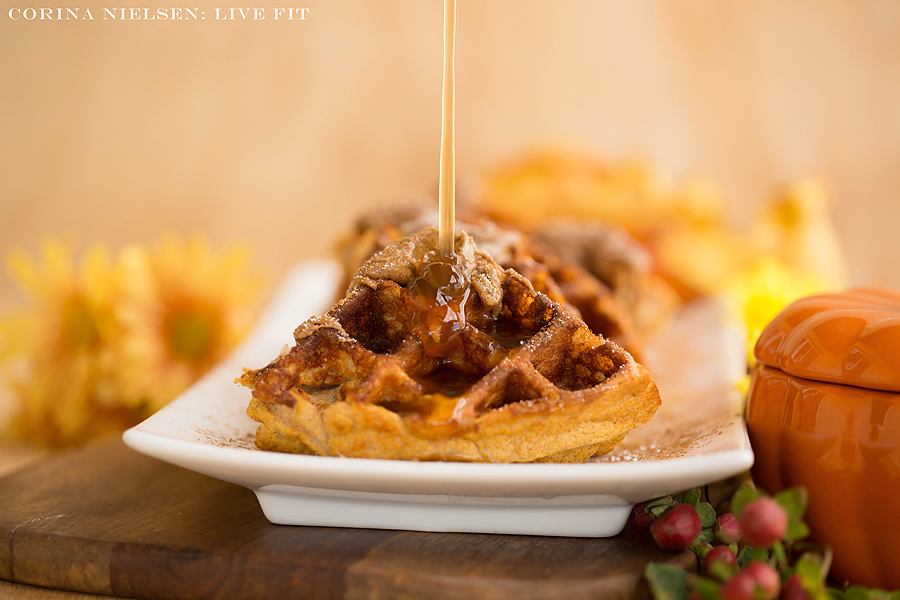 And some BuffBake nut butter porn never hurt anyone…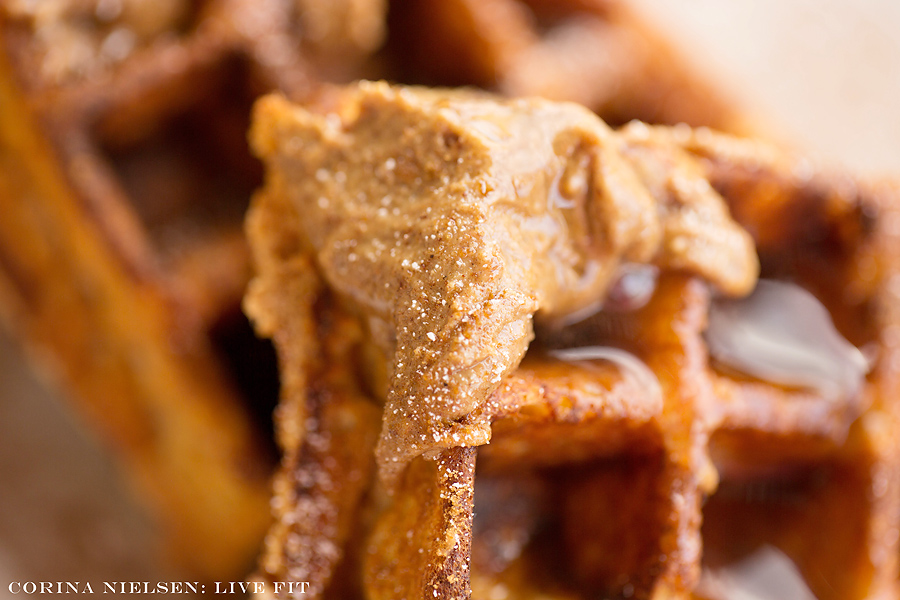 You can NEVER go wrong with waffles and when you make them healthy, throw in some pumpkin, maple, AND peanut butter?  Forget Winter flavors, I think I just decided Fall may stick around for a bit longer this year (and every other subsequent year for that matter).  These are definitely not your ordinary 'protein waffles' though.  100% with amp'd up taste, texture, and flavor!
I'm SO happy that I swapped out my old waffle iron for a Belgian one.  Protein waffle making went from about an 7 to a 10 real quick.  It may be awkward, ridiculous, and huge BUT I assure you, having any less thickness than what this waffle iron gives you should be against the law.  Each and every time I post one of my crazy protein waffle creations on Instagram, someone ALWAYS ask how I get my waffles SO thick. It never fails.  Well, here you have it… a Belgian waffle maker just like this one is how I do it!
Maple Pumpkin Spice Waffles

Print recipe
| | |
| --- | --- |
| Serves | 1-2 |
| Prep time | 5 minutes |
| Cook time | 5 minutes |
| Total time | 10 minutes |
| Meal type | Breakfast |
Ingredients
1/4 cup Kodiak Power Cakes
1 scoop PEScience 'Snickerdoodle' Protein (30% code below)
2 tablespoons coconut flour
1/2 teaspoon pumpkin spice
1/4 teaspoon cinnamon
1/2 teaspoon baking powder
2 tablespoons unsweetened apple sauce
1/4 cup Pumpkin Spice MuscleEgg egg whites (or plain egg whites and add 1/2 tsp more pumpkin spice)
3/4 cups milk of choice
1 teaspoon maple extract
2 tablespoons Pumpkin Spice BuffBake (or nut butter of choice)
Directions
Step 1
Combine all ingredients in a medium sized bowl and mix until smooth. Let sit for 5 minutes and restir.
Step 2
Preheat Belgian waffle maker and coat with non stick spray. Cook waffles until crisp and edges are golden brown.
Step 3
Top with optional 'Pumpkin Spice' BuffBake nut butter or nut butter of choice and maple syrup.
Note
NUTRITIONAL INFORMATION (makes 1-2 servings): calories- 167, fat- 3 grams, carbs- 15 grams/fiber- 5 grams, protein- 21 grams PER SERVING (without maple syrup or nut butter topping)
30% OFF all PEScience products using code 'corina'