When I first decided to get my fashion together (or lack thereof), I found myself on a constant hunt for cute new stuff.  I would spend some time on Pinterest finding cute outfits and then if I was feeling up to it the following day, I would head to a store or two in hopes of finding items similar to what I had pinned.  As a result, over the past few weeks, I've already spent more money than I probably should have.  What can I say, I'm a shopper at heart and have an addictive personality!  I get a thought in my head, a desire for something, and won't stop until its MINE!  And since I can't get my 'fitness' on at the moment and obsess over training like I have over the past three years, I dove head first into shopping!
Unfortunately (and fortunately for my husband and our bank account), my debit card somehow got demagnetized this week!  Oh, the horror!!!  I suppose I could have headed to the bank and grabbed cash, but really though.  Who am I kidding?  Driving to the bank, parking, getting out of the car to head inside a branch, standing in a line, and having to talk to someone to pull cash out?  Yeah, that's far too much work for me.  So this week when picking my outfits each day, I was forced to wear things I already owned!  Sigh.  This was definitely not as fun as my previous weeks, but I ended up happy with my outfits each day.  In the end, I suppose that's all that matters right?
LOOK #1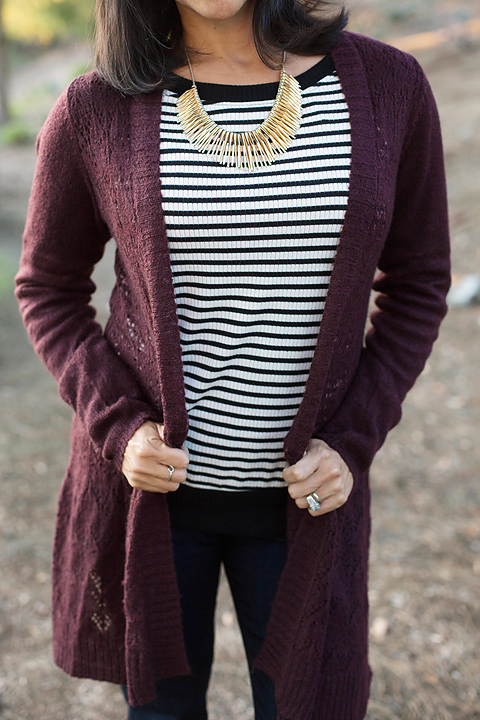 Inspired by my Stitch Fix #1 Style Guide: maroon sweater- Target, striped top & jeans- Stitch Fix, necklace- Nordstrom Rack
LOOK #2
Sweater and shoes- Target, blouse- Forever 21, Jeans- PacSun, Necklace- Stitch Fix
LOOK #3
Sweater- Target, Leggings- TJ Maxx, Knee High Socks- Tilly's, Knit Scarf- Forever 21, Boots- B.O.C
LOOK #4
Jacket- Stitch Fix, Peach Blouse- Forever 21, Jeans- American Eagle, Knee High Boots- Reflection Shoes
LOOK #5
Plaid Flannel Shirt- Abercrombie, Undershirt & Boots- Target, Sateen Jeggings- American Eagle
And there we have it folks!  I got dressed five days in a row (that has to be some kind of record for me)!  Unfortunately, then I ended up coming down with a little (or big) something that had me down for the count for the past 4 days in a row!  More on that tomorrow though… it's pretty damn nasty actually!  The first couple of days my skin was so bad I couldn't take ANY clothes touching me and then the past couple of days, I was just too drained to get out of my pajamas.  I swear if its not one thing, its something else these days!  I'm going to have to make up for the outfits over the weekend 🙂  Shopping will commence as well now that my new debit card has arrived!!!  That was one LONG week without it!!!!!