Porridge, oatmeal, PROATS (protein oatmeal), overnight oats, OIAJ (oats in a jar), Z-OATS (oats with shredded zucchini)… I don't care what you call them, just give me a serving (or two) every single day for the rest of my life and I'd be a happy girl!  I will never know exactly what it is about oatmeal, but regardless of what kind I'm eating my heart I'm happy from the first spoonful to the very last.  These Birthday Cake overnight oats are no exception.  They may in fact might make my top 5 bowls of oats to date!
Perhaps it's the plethora of colorful sprinkles…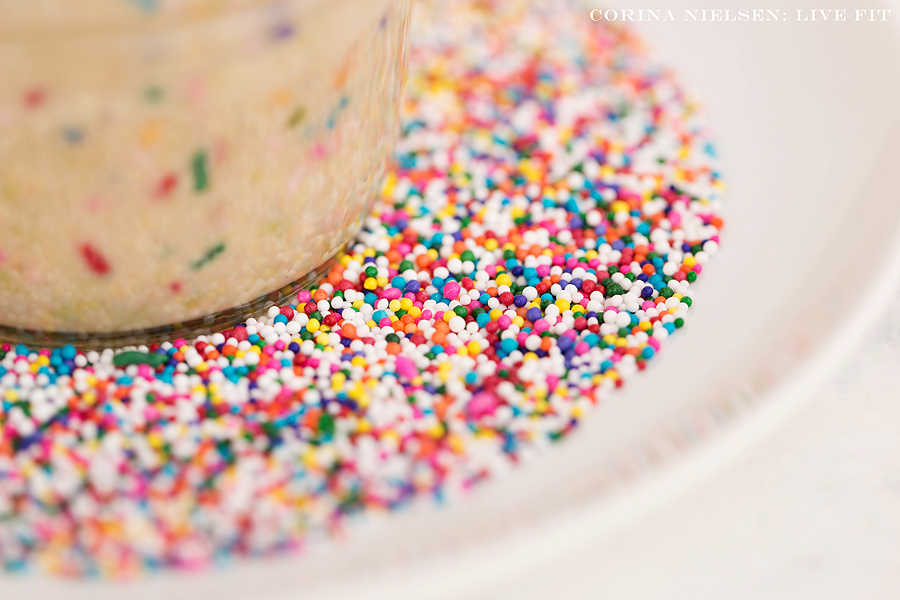 Or the You Fresh Naturals 'Birthday Cake' coconut/cashew butter…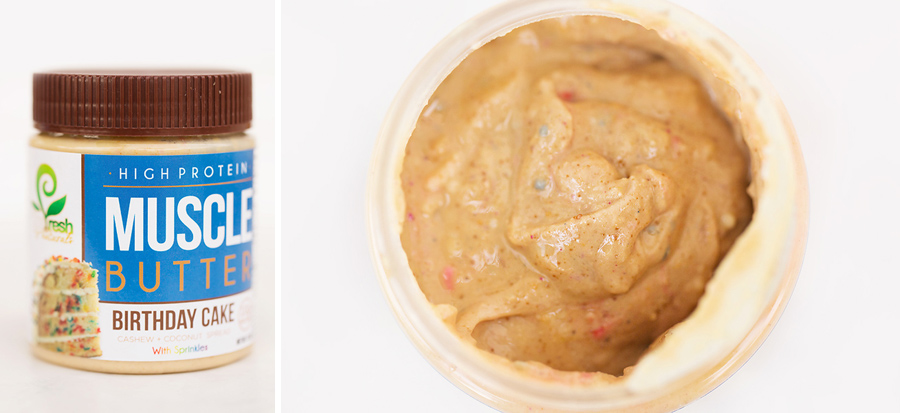 Maybe the special added touch of 'Cake Batter' MuscleEgg?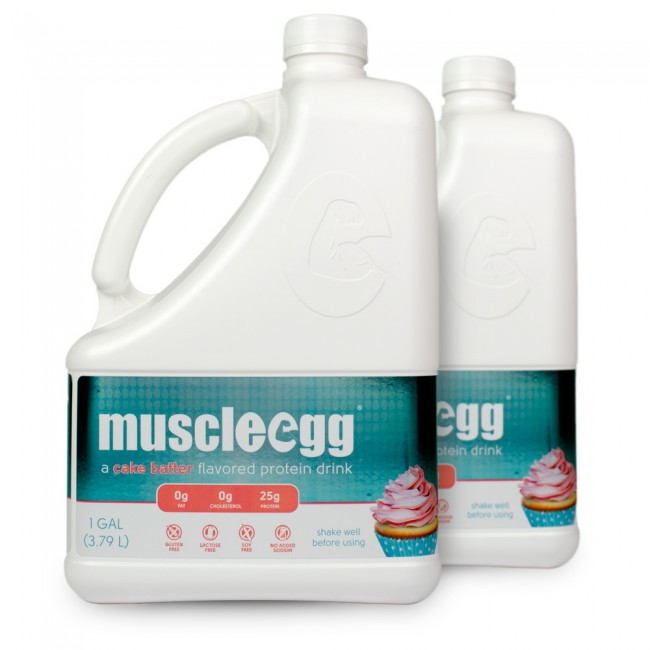 I'm going to go out on a limb and say it's a combination of it ALL though that make this oatmeal SO. DAMN. AMAZING.  When it comes down to it, 'cake batter'/'birthday cake' anything is pretty darn awesome.  It's absolutely no different when it comes to oatmeal!!!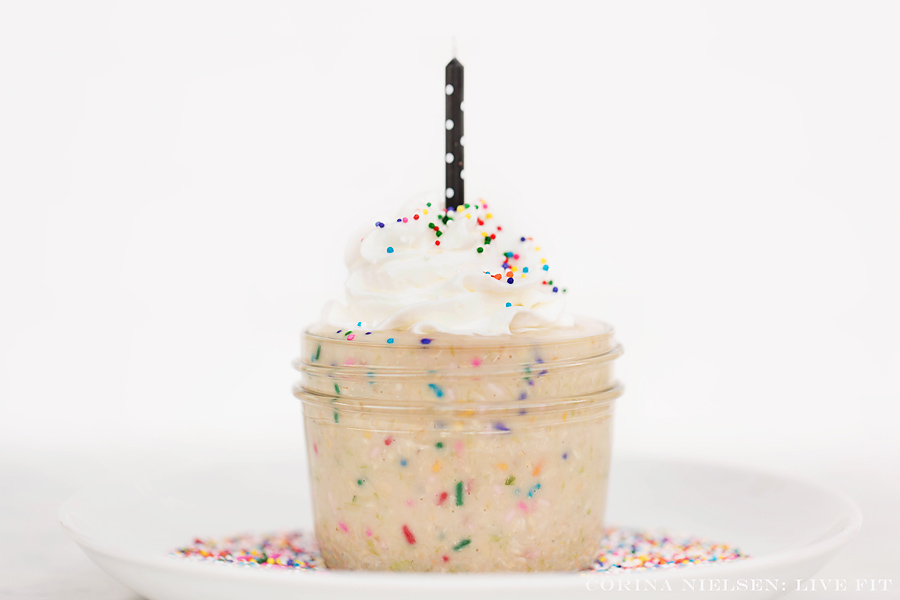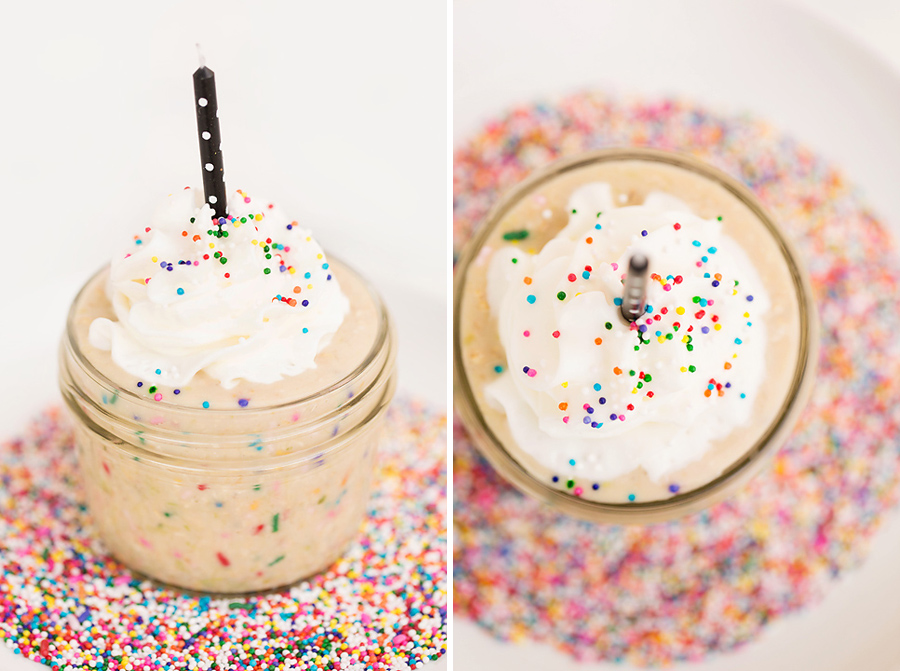 A few other things I love about oatmeal is that it's extremely versatile.  A few minor changes (protein powder, toppings, flavor extracts) and the skies are the limit.  Oatmeal itself is pretty easy and quick to prepare.  You can either throw all of your ingredients in a  jar the night (or two) before you want to eat it, make a big batch on the stove and portion it out, or you can even whip up your smaller batches in the microwave.  It honestly doesn't matter if its served warm or cold… protein oats are a winning meal!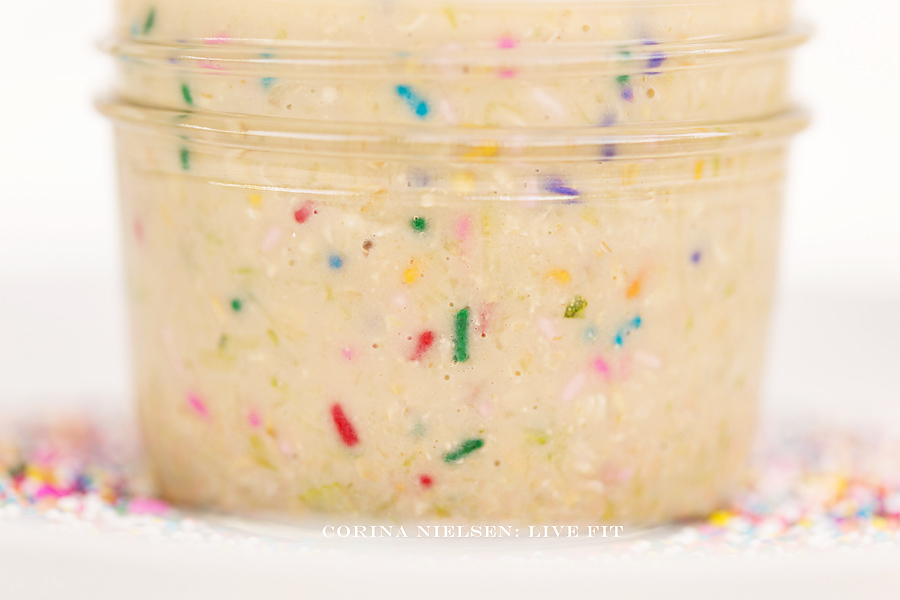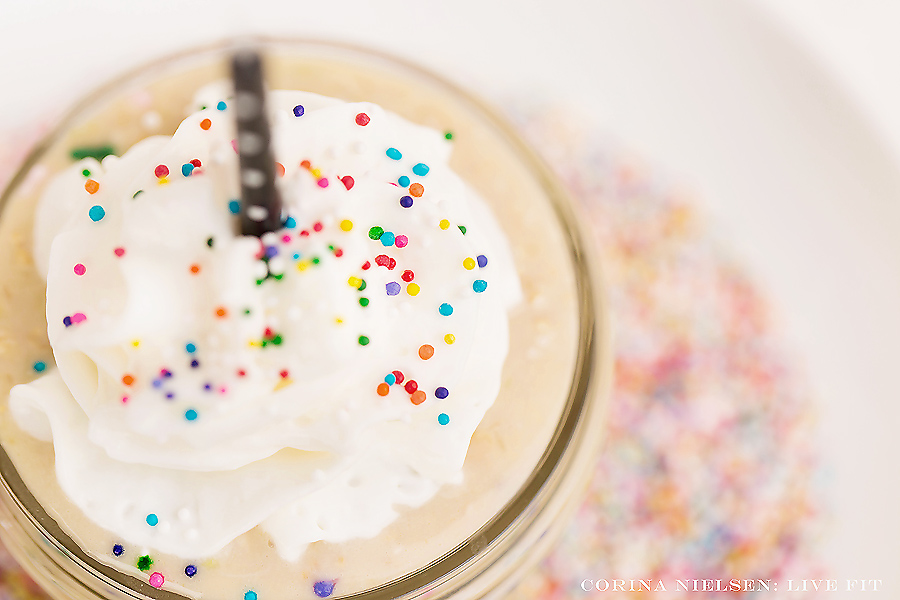 Sprinkles are like magic though.  They make ANYTHING better (food and/or mood)!  They have the ability to make you smile from ear to ear, especially when you are EATING them!!!
Birthday Cake Overnight Oats

Print recipe
Ingredients
1/3 cup quick cooking oats
1/4 cup 'Cake Batter' MuscleEgg egg whites
1 scoop 'Gourmet Vanilla' PEScience protein (30% off coupon below)
1/4 teaspoon butter extract
1/4 teaspoon vanilla extract
2 tablespoons milk of choice
Optional
1/2 Medium zucchini (shredded)
2 teaspoons sprinkles
Directions
Step 1
Place all ingredients in a small major jar and stir until well combined. Refrigerate for 3-4 hours or preferably overnight. Add additional milk/water for thinner oatmeal. Eat cold or heat in microwave for 45 seconds until warm.
Note
NUTRITIONAL INFORMATION: calories- 237, fat- 4 grams, carbs- 24 grams/fiber- 4 grams, protein- 28 grams (with sprinkles)
30 % OFF GOURMET VANILLA SELECT PROTEIN & ALL OTHER PESCIENCE PRODUCTS USING COUPON CODE 'CORINA' AT CHECKOUT