A healthy, protein packed citrus smoothie filled with key lime, mandarin orange, and lemon flavors!  Low in carbs, packed with Vitamin C, and loaded with soothing flat tummy benefits!
Introducing MuscleEgg's newest release…

Oh. Em. GEE!!!!  I can't even tell you how excited I was when I first heard this flavor would be available.  I could NOT wait to get my hungry little paws on it!  I'm a HUGE fan of all things 'citrus' and find myself using lemons, oranges, and/or limes every single day.  Whether it be to flavor my oatmeal in the morning, provide the base to my homemade salad dressings, or flavor my Greek yogurt at night… some form of citrus is guaranteed to be used (at least twice per day)!  So you can understand the anticipation of this KEY LIME PIE MuscleEgg.
Out of all the MuscleEgg flavors though, I wasn't exactly sure how this one would get pulled off.  Chocolate, vanilla, mint brownie… all standard flavors and simple enough to replicate.  Key Lime Pie though?  Thats pretty darn specific.  Would it be tart, too sweet, or taste even remotely like "lime"?  I was worried and skeptical when my shipment arrived, but the gallon could NOT thaw quick enough.  I completely understand why MuscleEgg arrives at your doorstep completely frozen, but when you have a low threshold for patience, the thawing process seems like an eternity!
Can you believe I had to wait an entire day to take my first sip of this???  It was torture waiting, but one tiny sip was all I needed.  SOLD.  The most PERFECT key lime pie flavor you can imagine… you know exactly what the flavor is the moment it hits your mouth.  I LOVE all of the MuscleEgg flavors, but I don't love all of the MuscleEgg flavors equally.  'Chocolate' over the 'Chocolate Caramel'.  Vanilla over Cake Batter.  'Strawberry' was always welcomed with open arms and 'Pumpkin Spice' above all others (yes, its THAT good)!  Key Lime Pie though?  It immediately became one of top 3 flavors.
After drinking about 1/4 cup still icy and right from the container (LOVE being able to get some delicious protein in so easily), I began to think of all the ways I could use my Key Lime Pie MucscleEgg.  A long list of desserts and baked goods danced around in my head, but for the moment while I gathered my shopping list to get going on recipes, a delicious smoothie was in order!!!
And it never fails.  Weeks (or months) go by without having a smoothie, I finally decide to make one, I fall in love, and then I kick myself for not drinking them more regularly.  Every. Single. Time.  Its not like smoothies take a lot of time or preparation to make, nor do they require a ton of ingredients.  Even though MuscleEgg is perfectly great to drink right out of the jug (my husbands favorite way), I actually prefer throwing it in the blender with a few other ingredients for maximum nutrition!  Not only does it help with the whole mental thing of drinking 'egg whites', but I can adjust the macros depending on where I am for the day and what I may need to fill in with.
On this particular day, I actually only needed protein and a small amount of carbs (I was saving a lot of my fat and big chunk of carbs for a big peanut butter and jelly sandwich for dessert… mmmm PB&J).  I didn't have any key limes (or even limes) laying around for that matter, but I did have some extremely juicy and delicious, home grown mandarin oranges and meyer lemons that my mother in law had given us!  Sometimes I feel like too much of the same flavor (especially in a smoothie/drink) gets a little boring and monotonous, so the addition of some other citrus will make things even more interesting!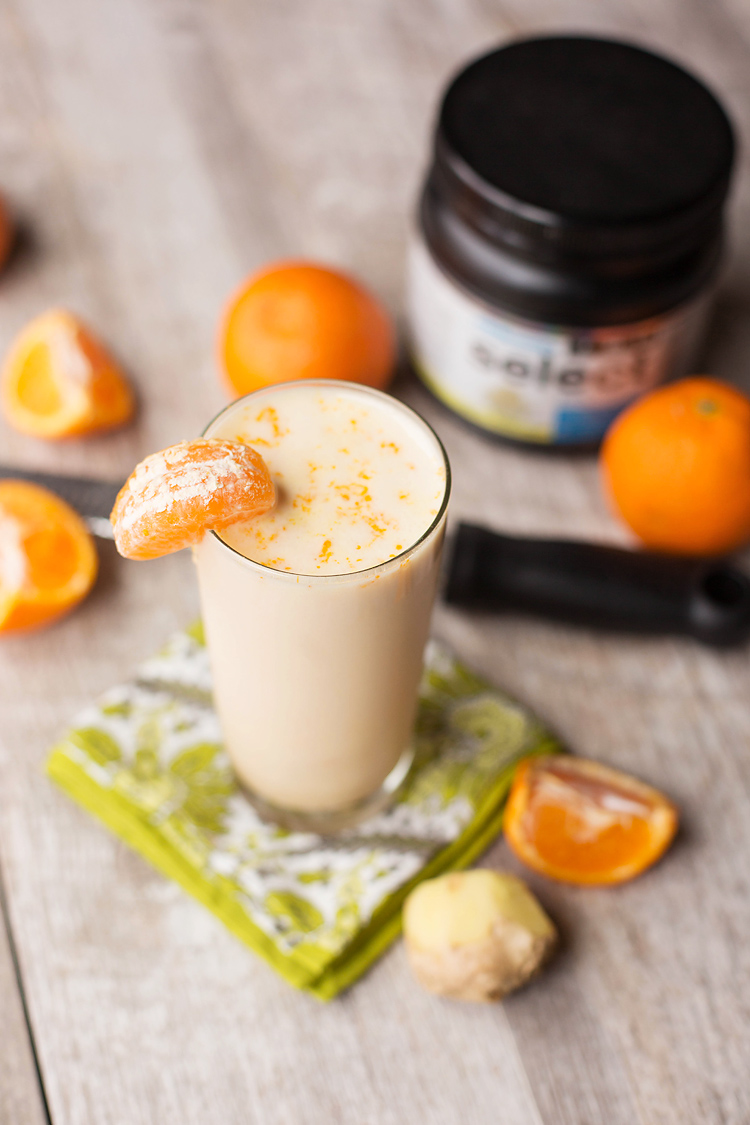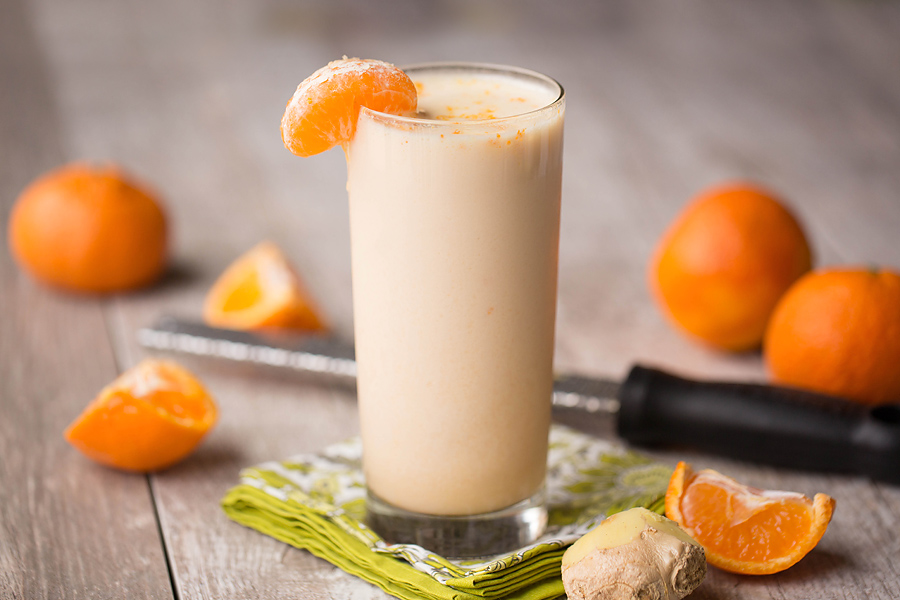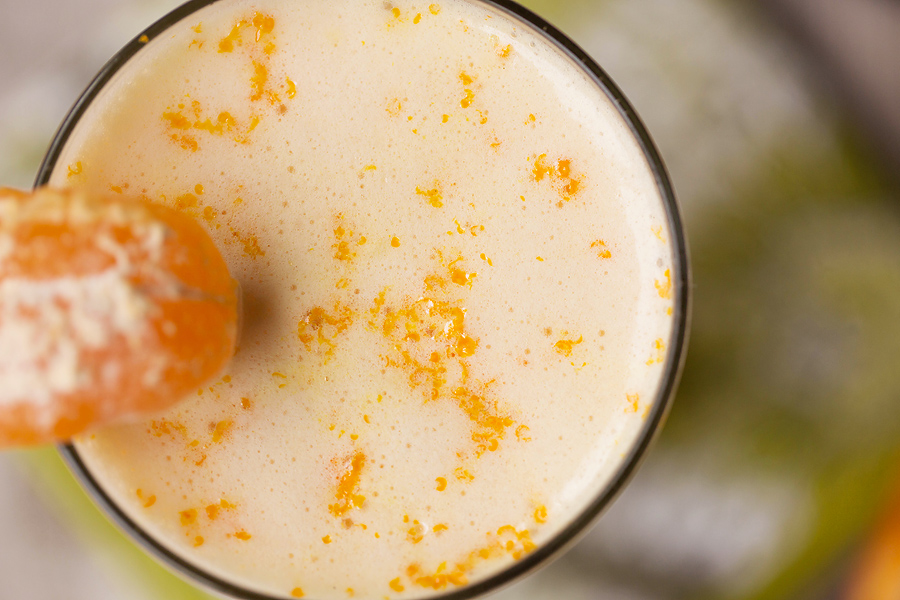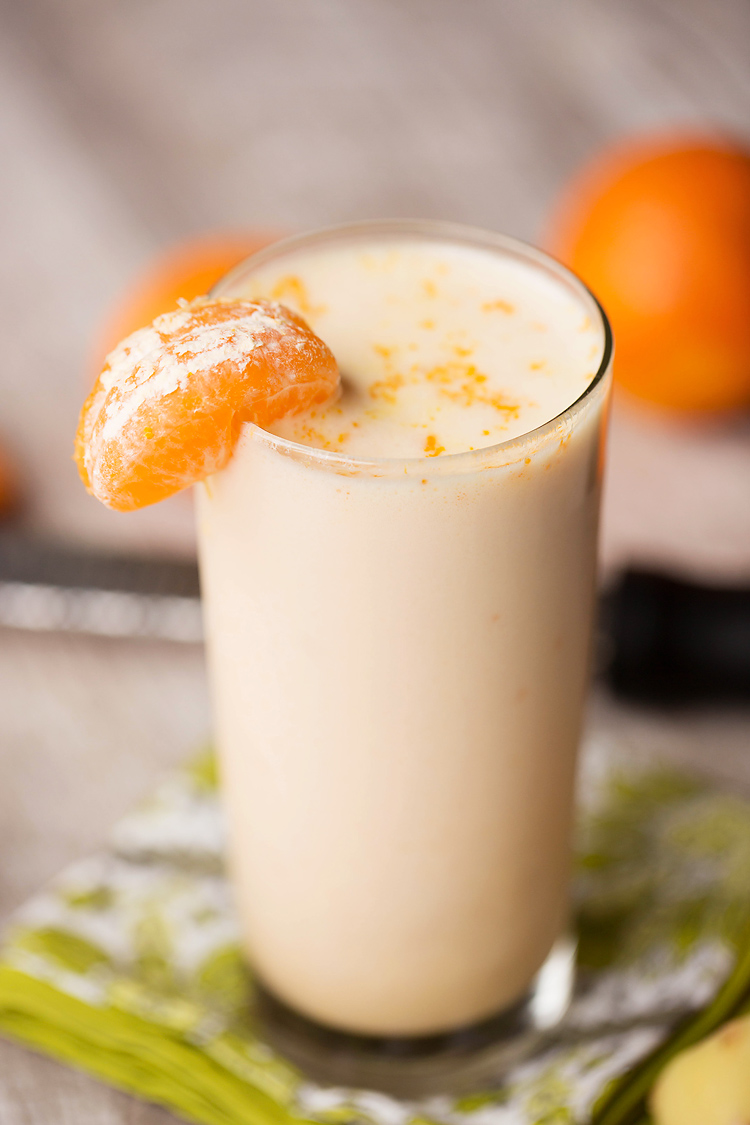 I was right.  The combination of Key Lime from the MuscleEgg, mandarin orange zest, and lemon juice packed quite a big punch of flavor!  Using the zest of oranges instead of the juice gives you the flavor you want, but decreases the carbs a bit.  Then you have the BIG perk of tartness from the lemon juice, zing and health benefits from the raw ginger, and subtle flavor and sweetness from the Key Lime MuscleEgg.  Turned out every bit as refreshing and satisfying as I anticipated!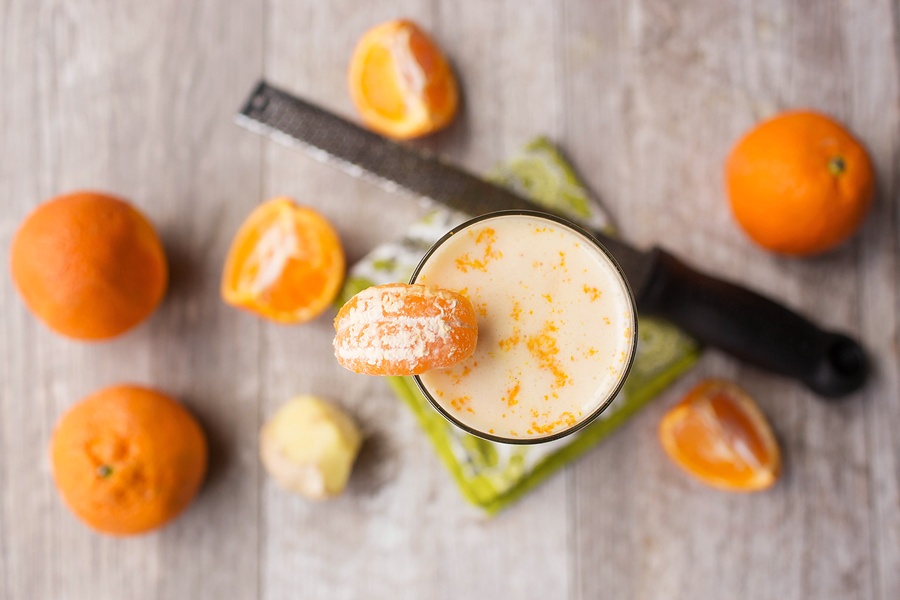 Once again, a love affair with smoothies has been rekindled!  I had the exact same smoothie every single for four days straight.  Then I realized I needed to slow down with the Key Lime MuscleEgg consumption because I still had all those recipes dancing around in my head!!!  Stay tuned for those… lots of new limey goodness coming your way!
Morning Riser Citrus Smoothie

Print recipe
| | |
| --- | --- |
| Serves | 1 |
| Cook time | 2 minutes |
Ingredients
1/2 cup milk of choice
1/2 cup Key Lime MuscleEgg egg whites
2 tablespoons lemon juice
1 teaspoon orange zest
1/4 teaspoon grated ginger
Optional
1/2 scoop 'Gourmet Vanilla' PEScience protein power (30% OFF coupon below)
20 drops Valencia orange Sweet Leaf Stevia (or 1 tbsp honey)
Directions
Step 1
Add all ingredients to a high speed blender and mix until smooth. Add ice if desired.
Note
NUTRITIONAL INFORMATION: calories- 189, fat- 2 grams, carbs- 19, protein- 27 grams
30% OFF Gourmet Vanilla Select Protein and all other PEScience products using coupon code 'CORINA' at checkout