"Whether you are a yogi or a bodybuilder, an elite athlete or a weekend warrior, rockclimber or runner, you deserve function and quality to support your highest fitness & heath goals.  Stay on track with a little meal prep and store it everything you need in the FitMark Transporter Tote bag!"
Despite the fact that I'm rarely able to train or doing anything very active anymore, fitness, nutrition & food/meal prep are still very very important to me.  I do what I can when my body allows, but for the most part exercise is no longer something I'm fortunate enough to be obsessed about.  That being said though, fueling and nourishing my body properly every single day is high on my priority list.  I may spend lots and lots and LOTS of time on the couch or bed laying down due to my medical condition, BUT when it comes to my daughters volleyball tournaments, you will NOT see me miss out!  I just need to ensure I'm bringing along everything I need!
Tournaments are nearly all day events (alarm set to 5:20AM most weekends).  Being a creature of habit, it would be impossible for me to jump in the car and head out for the entire day without a handful of daily rituals, supplements, some 'equipment', and of course some food.  My body may not be using much energy these days, but this girl can still eat AND if your smart… you won't make me wait too long for my next feeding :).  During my daughters earlier tournaments, I would throw a few things in my FitMark 'Class Backpack' and while I still love this bag, it's design, and all of the pockets (great for those with OCD and organizational issues lol) it wasn't necessarily ideal for times I needed to pack meals.  On a couple of tournament occasions, I used my FitMark 'LG Shield' bag which I ADORE and have talked about many times and while this bag was ideal for any and all food storage, it wouldn't allow me to bring along everything else I need to get through the day.
Instead of flip flopping between the two bags or bringing both of them, I decided it was time to add another bag to my FitMark collection…
The 'Transporter Tote'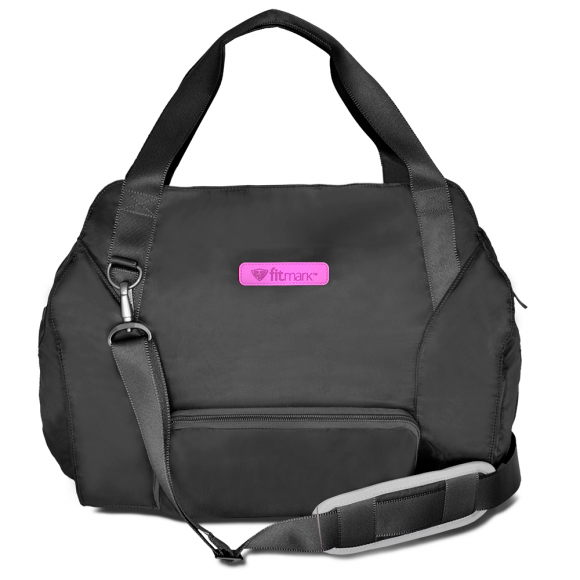 Also available in this fun lavender color (nearly kicking myself for not getting this one)!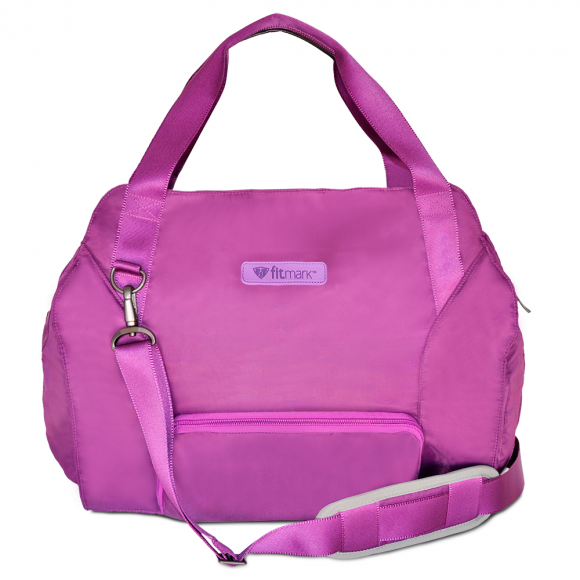 As soon as my package arrived and this baby came out of the box, I knew it would be the PERFECT bag for my daughters tournaments!  Not only that, I knew it would be also be an ideal option for her 2+ hour practices, any of my long doctor visits (I have quite a few of those these days), quick day trips with the family, or even while traveling.  From the outside, it appears to be a pretty straightforward tote bag with a large main area to hold clothes, sneakers, gym gear, wallet, phone, and keys.  However, the 'Transporter Tote' is SO much more and in true FitMark fashion… each bag (including this one) holds a TON of stuff!!!  Ready to take a peek at what I brought to my daughters most recent volleyball tournament???
Let's do it.
First and foremost, supplements!  These are things I take every single day without fail.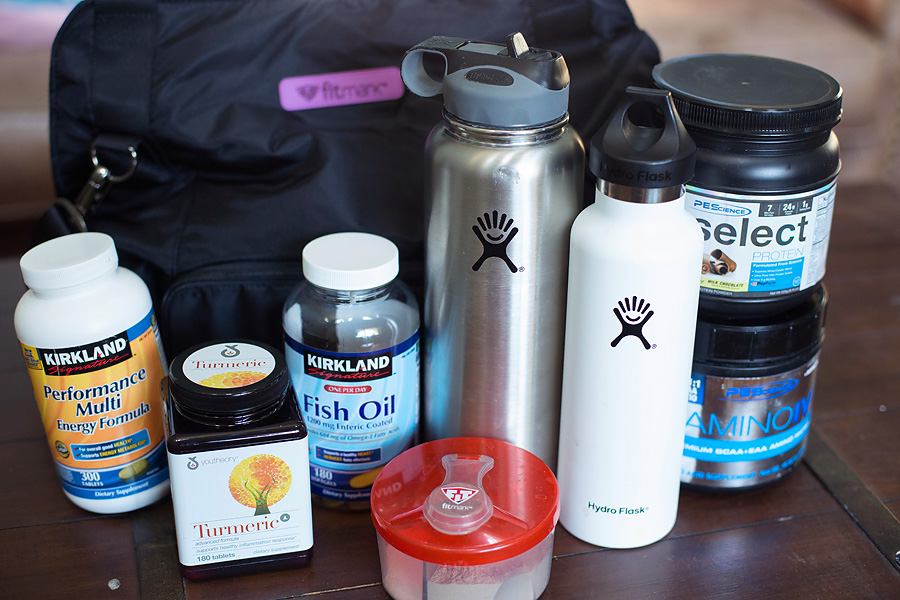 ** this powerful herb is said to help with inflammation, cognitive & brain function, supports muscle & joints health, promotes mood balance, increases antioxidant capacity, lowers risk of heart disease, fights depression, delays aging and delays chronic age related diseases **
** healthy fatty acids that are said to support healthy cholesterol levels, bone health, mood support, decrease cortisol/stress in the body, decrease inflammation, enhance body composition, improves insulin sensitivity, protects the cells in the body **
** ensures the body is receiving the proper amounts of micronutrients and minerals that may not have been achieved solely through food sources **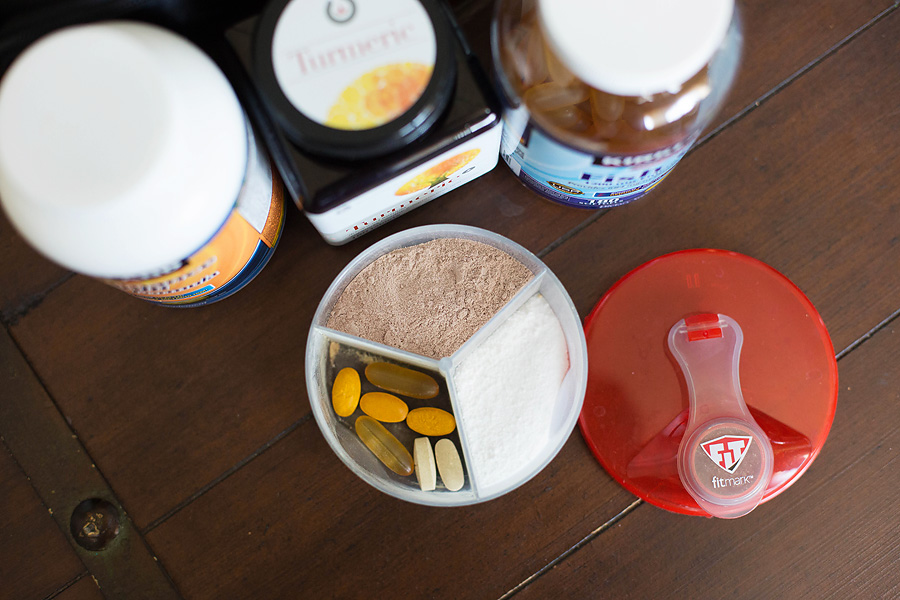 I start my EVERY single day with my BCAA'S.  Not only is this my main source of hydration each day, but it also helps to maintain muscle, support recovery, build lean muscle (when you are exercising of course), supports a healthy immune system, protects against amino deficiencies, and improves endurance!  As soon as I wake up in the morning, I use 1 scoop of PEScience Amino IV's (old packaging is shown here), 32 ounces of water, and a handful of ice.  The new Mango Splash is freaking ridiculous… I don't know how the company makes everything taste so good, but good God PEScience!!!!  My HydroFlask keeps any and all liquid ice cold for the ENTIRE day.  I LOVE this bottle so much and the fact it has something so delicious in it… it's empty before I know it!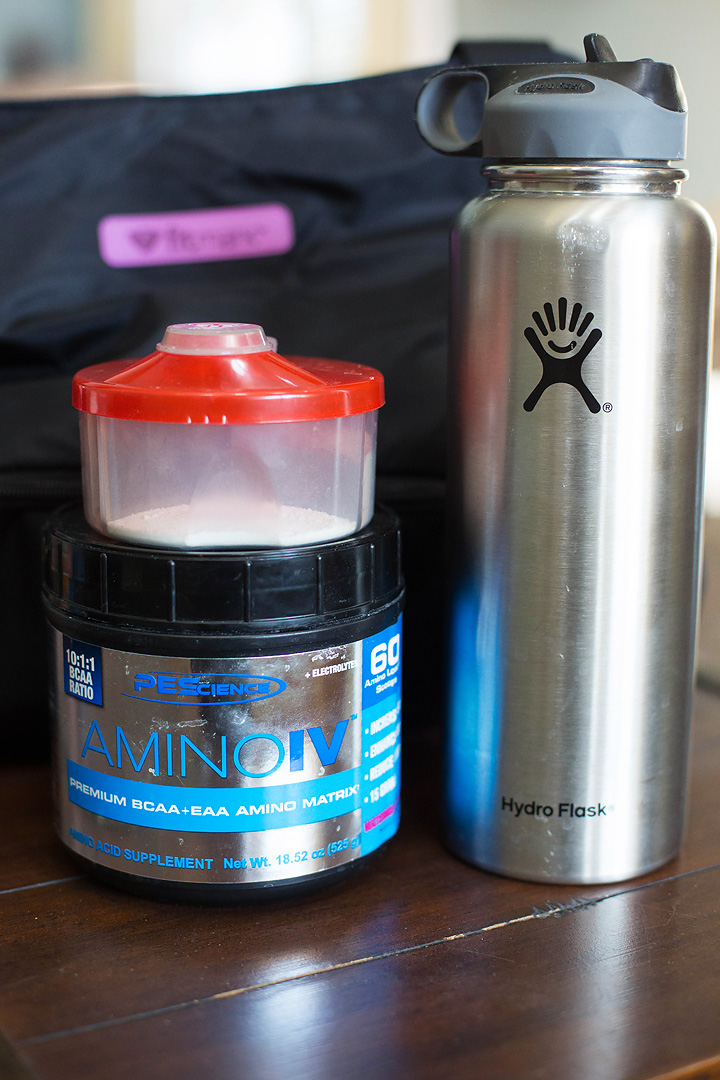 Once I get through 32 ounces of my BCAA's (usually only takes me about 1-2 hours total), it's time to caffeine myself up!  Smaller 20 ounce HydroFlask this time, but its filled with 10 ounces of Starbucks iced coffee, 8 ounces of water, 1/2 a scoop of PEScience 'Milk Chocolate' protein, and ice!  Easy peasy, cold, caffeinated, and delicious!  Taste like a healthy mocha frap 🙂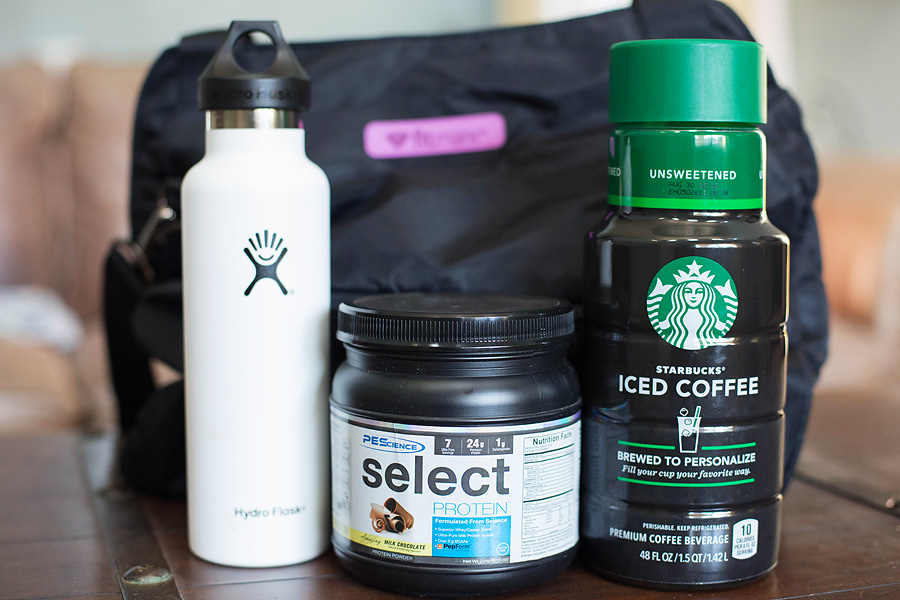 Now let's get to the bulk of what's in my new & fabulous 'Transporter Tote'!  Prepare to be amazed friends!  On the outside it appears to be a plain old standard tote bag right?  Cute and compact.  Never trust a book by it's cover!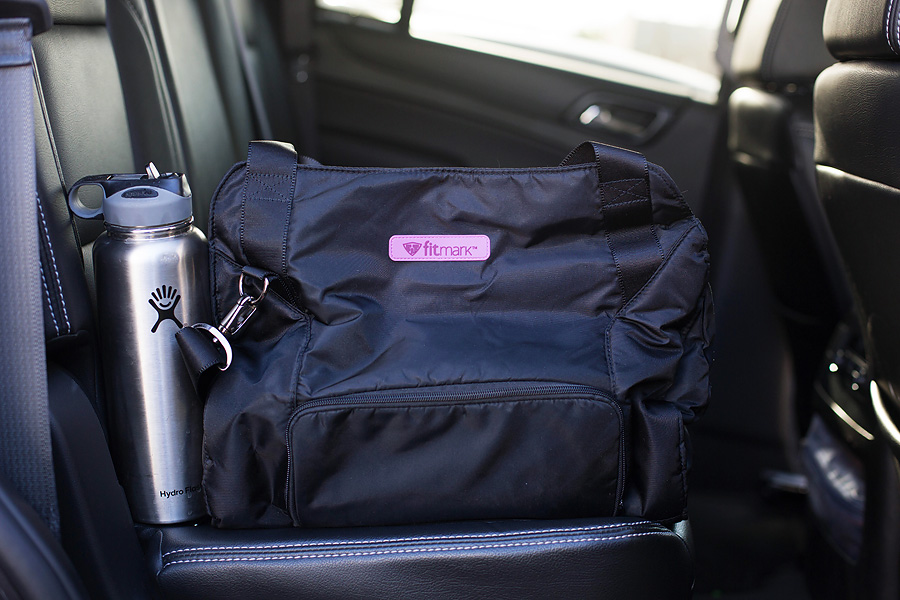 Check this out… built right into the bag is an area dedicated solely to meals!  ANOTHER bag!  It includes a removable BOX™ SM, two ice packs, and 2 oversized 4-lock seal-tight meal containers as well!  This BOX™ can be taken completely out of the 'Transporter' if desired or you can do what I normally do and simply open the front compartment and unzip when I'm ready to eat.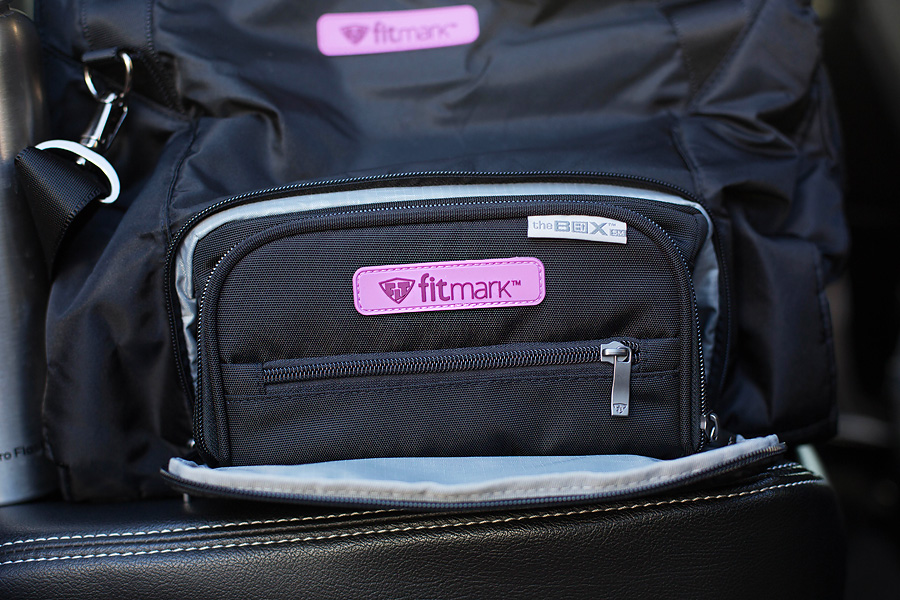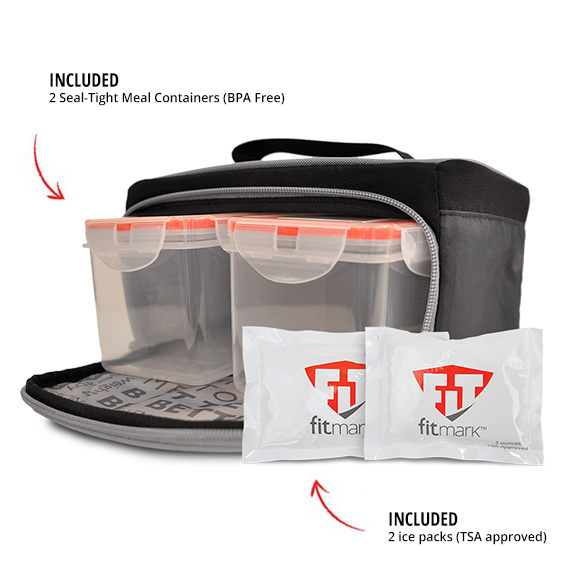 Here is a view of the front where the BOX™/food are and the main compartment.  I bet you would never guess the bag had an additional 'bag' within it huh?  Pretty awesome if you ask me!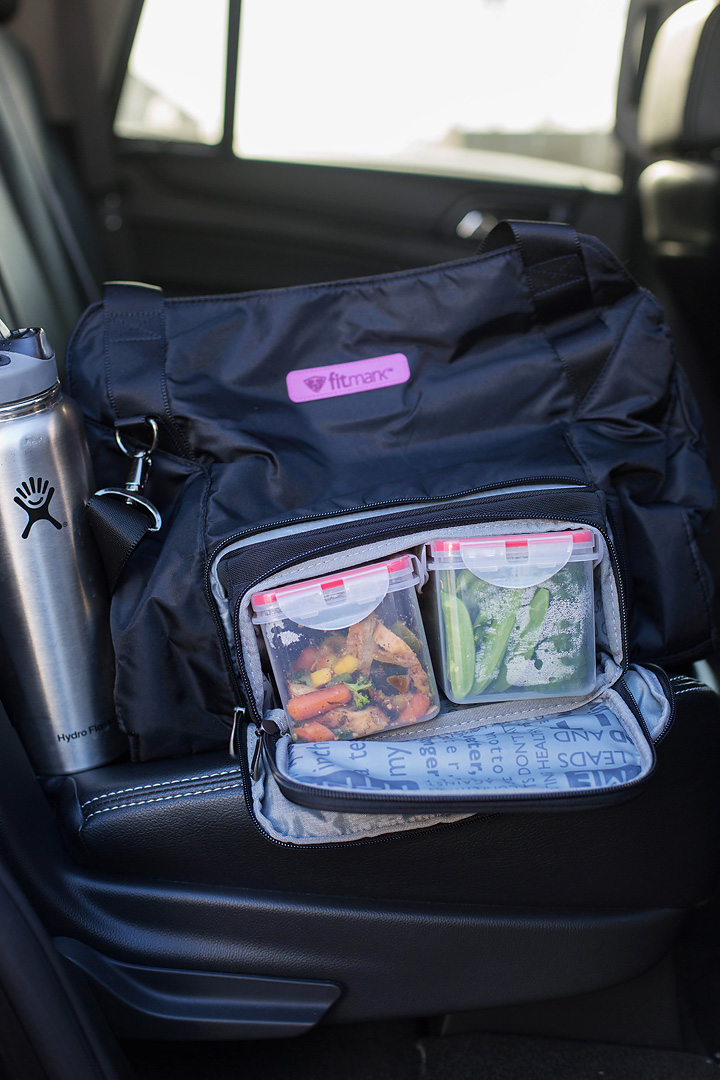 Main compartment view… didn't have much to pack but I could have easily fit in a sweatshirt or change of clothes, baggies of extra food, AND shoes if I wanted to!  These bags are so much roomier than they appear!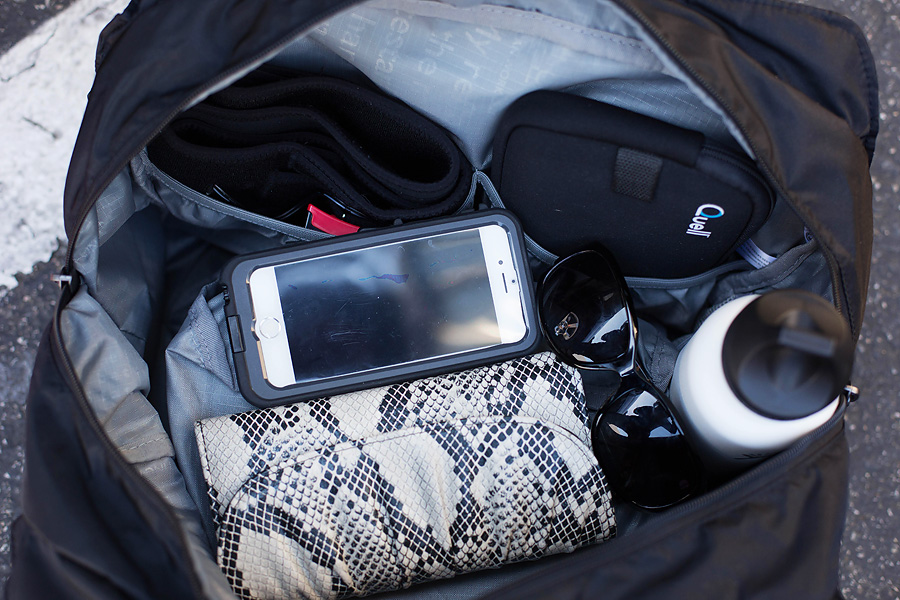 Another thing I absolutely ADORE about ALL FitMark bags is they truly are functional for a wide variety of activities, certainly not only fitness related.  Each and every bag has offered me all the bells and whistles WITH tons of interior pockets to organize any and everything you can think of!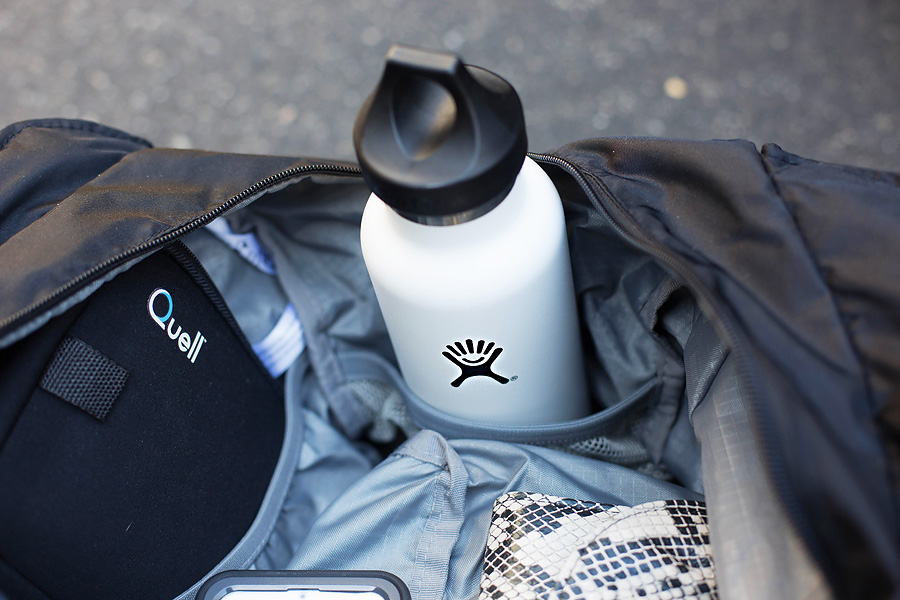 Two additional must have's for me regardless if I am home or away are items for my back.  #1 Quell to help manage some of my nerve pain & symptoms and #2 my portable heat pad by SunBeam.  If I'm not laying on my heat pad at home, you can almost guarantee this one is attached to me!  Some people find some relief with ice, but my back needs heat most of the time!  I keep at least 3 changes of rechargeable batteries on me for tournament days typically because the venues are usually very cold in the early morning hours.  I swear the built in pockets are the most perfect size for a ton of different items!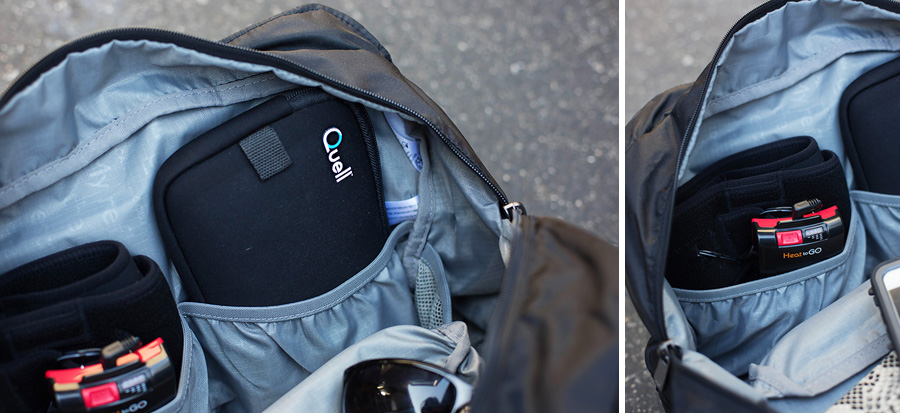 And last but not least, the back zippered pocket!  I hesitate to call this a 'pocket' because it's so roomy.  I fit all of these snacks in and still had room to spare!  These are my go to things to nibble on or share if my family is lucky and I'm feeling generous: SquareBar's, Detour Bars, Real Good Bar (macadamia chai… OMG, new obsession), That's It Bar , a slice of high fiber/low carb cinnamon raisin bread, and a BuffBake 'Snickerdoodle' almond butter to go!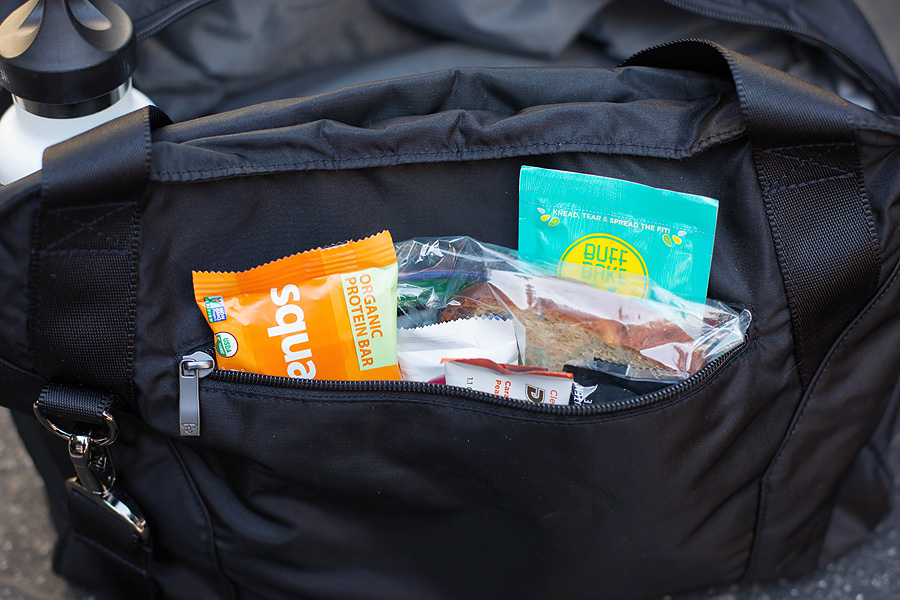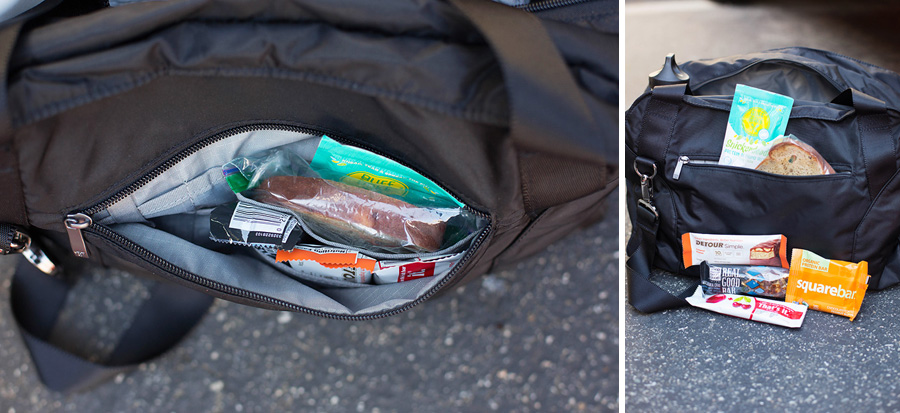 Action shot… eating is my natural habitat!  Prepped teriyaki chicken stir fry… seriously a very regular go to meal.  So easy and I always have chicken and veggies laying around.  I don't mind eating this cold, hot, or luke warm!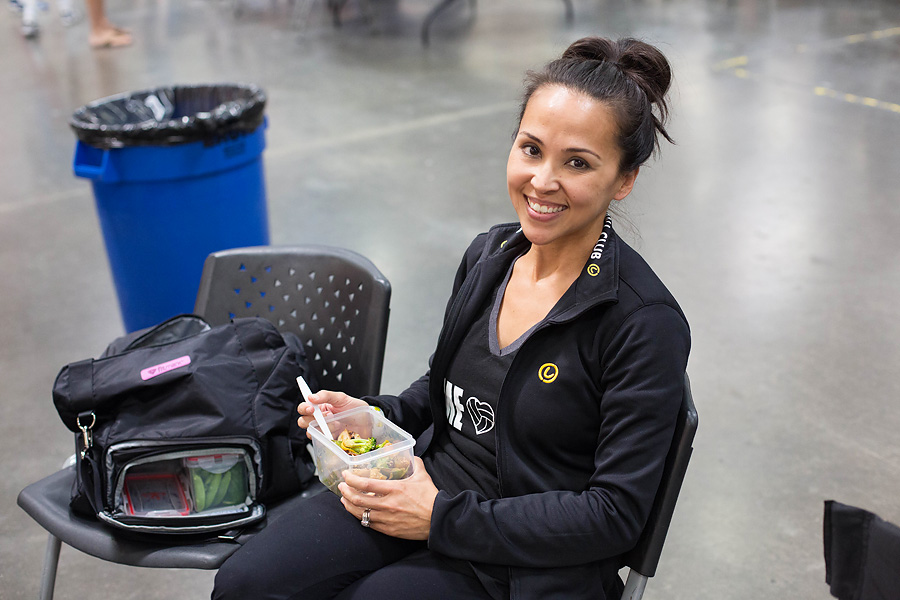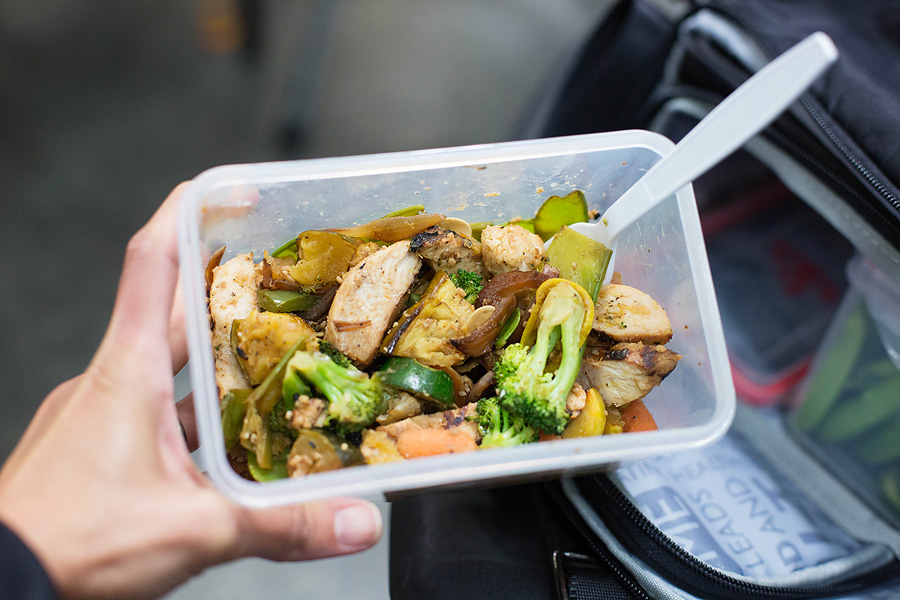 Usually, it works out that she has at least an hour break between some matches.  These are the times I head back to the truck to rest my back & body for a bit.  You can also find me digging into either another meal OR my snackage!  On this particular day it was veggies and I also had my bread & nut butter.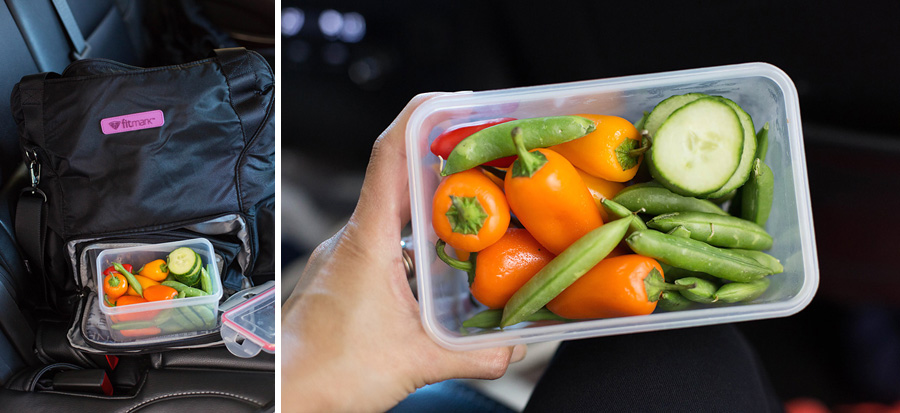 And me & my girl after a very long tournament day where she lead her team to a 2nd place finish!!!  These days always do me in and I usually put myself into a flare up, but I wouldn't miss them for the world.  Week long flare up's that result in being completely bed/couch ridden, pain, dizziness, limping… none of it matters.  Nobody could stop me from these moments!!!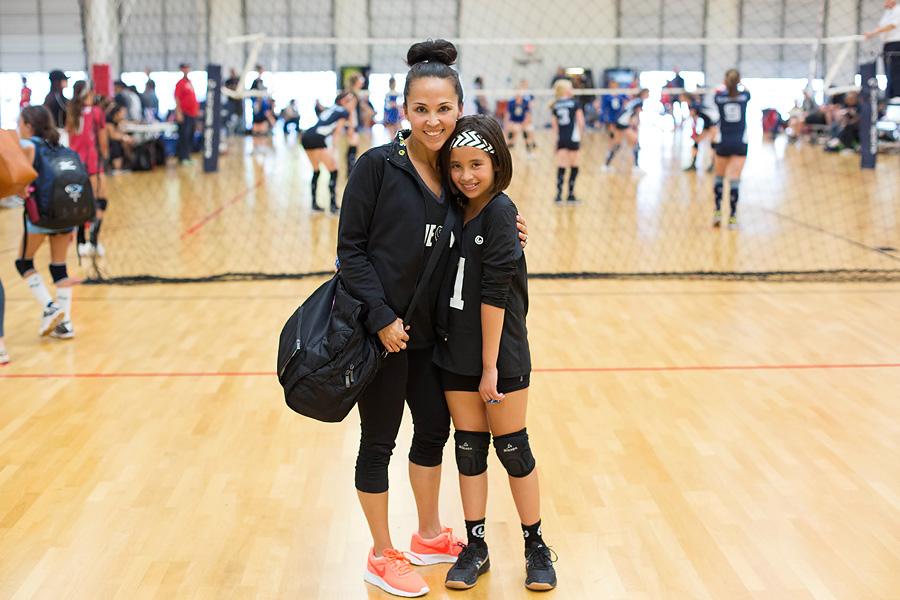 And last but not least… I wanted to mention the food I pack & eat for tournament days.  You may notice it seems a bit low carb (aside from the bars).  100% entirely on purpose.  I don't keep a low carb diet at all, BUT on days where I know we will be eating dinner at a restaurant… it's definitely a lower carb day until the evening!  Luckily for me, her tournaments are usually only 5-10 minutes away from one of our favorite restaurants of all time: Rain Forest Cafe.  This place is home to my favorite BBQ Chicken Wrap which is the only thing I ever get as well as this beauty standing at least 9″-10″ tall!
THE VOLCANO ICE CREAM & BROWNIE SUNDAE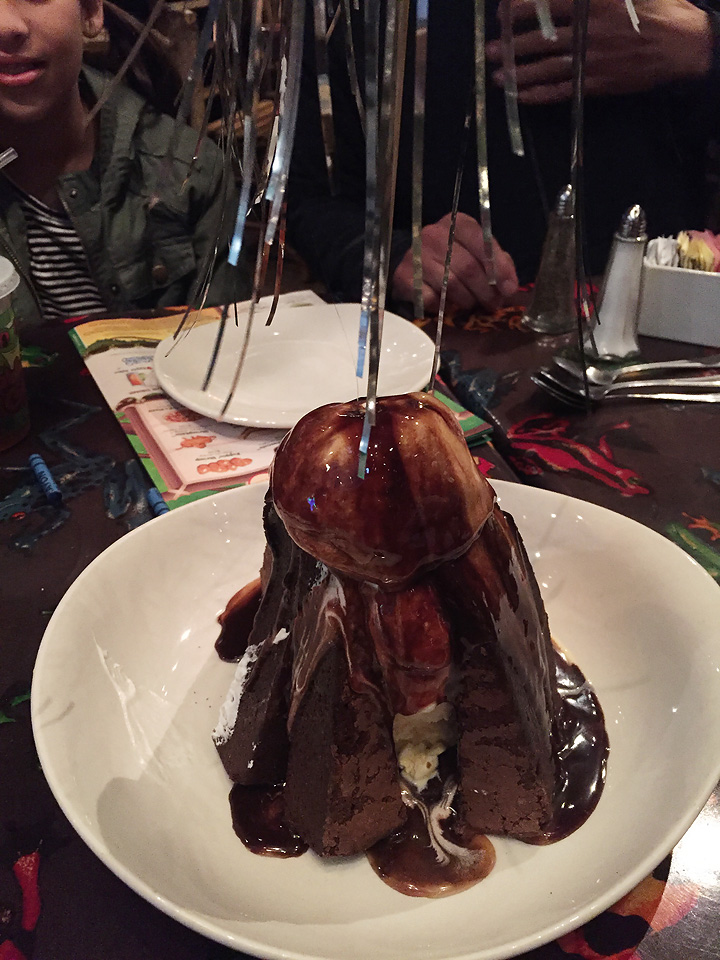 Yup, that's why I eat low carb on tournament days :).  4 slices of thick, rich, dense chocolate fudge brownie, 3 scoops of vanilla ice cream, whipped cream, and chocolate fudge.  Yeah, eating low carb the entire day is worth this!!!  And in case you are wondering… my family does make me share this.  Gone in under 3 minutes every.single.time!
And there we have it!  That's basically my daughters tournament days in a nutshell.  Minimal 'prep', necessities packed nice & neat, and always excited to be out of the house and off the bed/couch!  Despite the season coming to an end now, I know this new 'Transporter Tote' will not be collecting dust until Fall!  It won't have too much gym/exercise/fitness action, but it's a great option for any and all mommy's running around as well.  Great for trips to the park, beach, amusement park, or for occasions you need some food and other necessities stored all in the same place!!!
And FYI… word on the street is FitMark is having a big Father's Day sale going on right now!  Sure, this particular bag isn't optimal for men, BUT the company has so many other great options your man will LOVE & appreciate.  Or… just use the discount for yourself 🙂  Your secret is safe with me!!!
Use coupon code: DAD20 at checkout on www.FitMark.com

30% OFF PEScience Amino IV's, Protein & ALL Other Products using coupon code 'corina' at checkout www.PEScience.com