"These irresistible EASY BAKE chocolate salted peanut butter cookies are rich, thick, and delicious!  And with just just over 100 calories per cookie, you'll definitely be eating a handful at a time!"
Next to chocolate chip, peanut butter (anything) will usually beat out any other cookie option I'm presented with.  When faced with the choice between the two, I flip flop back and forth so I'm actually going to call it a tie for first!  And luckily for me, my daughter really has a disdain for all things peanut butter (weirdo), so batches of FRESH peanut butter cookies are almost all MINE (if my husband isn't around that is).  I usually seem to time my peanut butter cookie baking around my husbands schedule… if he's at work, I capitalize on it!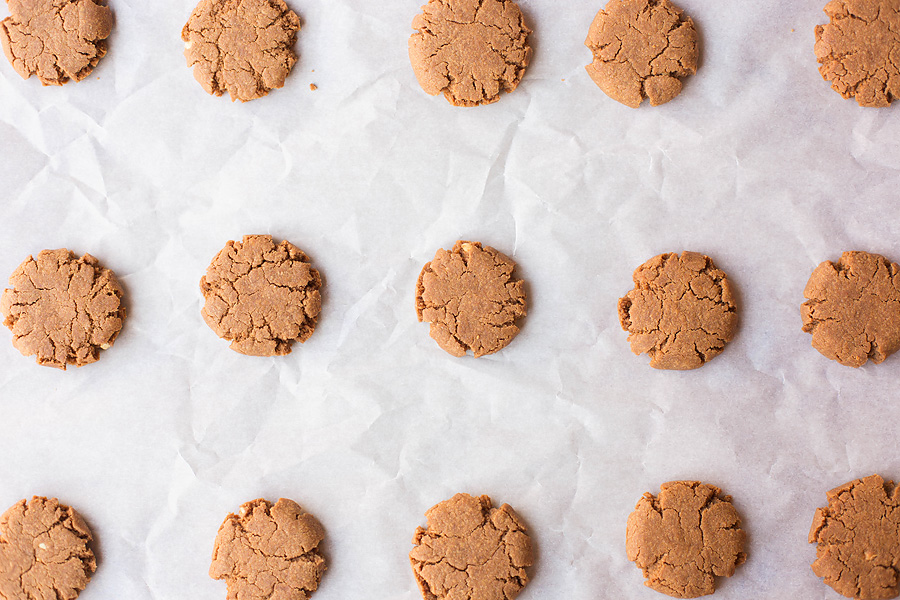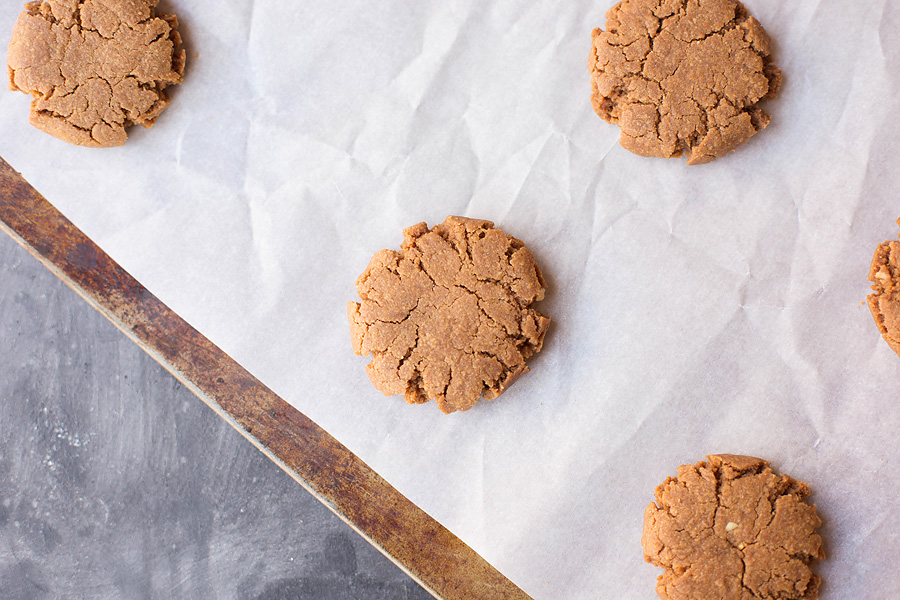 Although plain peanut butter cookies are delicious on their own with a tall glass of cold milk, I wanted to kick things up a notch and add some chocolate.  Oh glorious & beautiful DARK chocolate!!!  I could have easily thrown some chocolate chips into this batter, but knew it wouldn't give me that richness I was seeking.  I wanted something to linger on my tastebuds and get stuck to every millimeter of my mouth.
These cookies right here?  Yup, so rich it's almost like eating a spoonful of peanut butter and chasing it down with sip of chocolate heaven.  A fun drizzle on top would work also, but dipping is much funner because it's messier!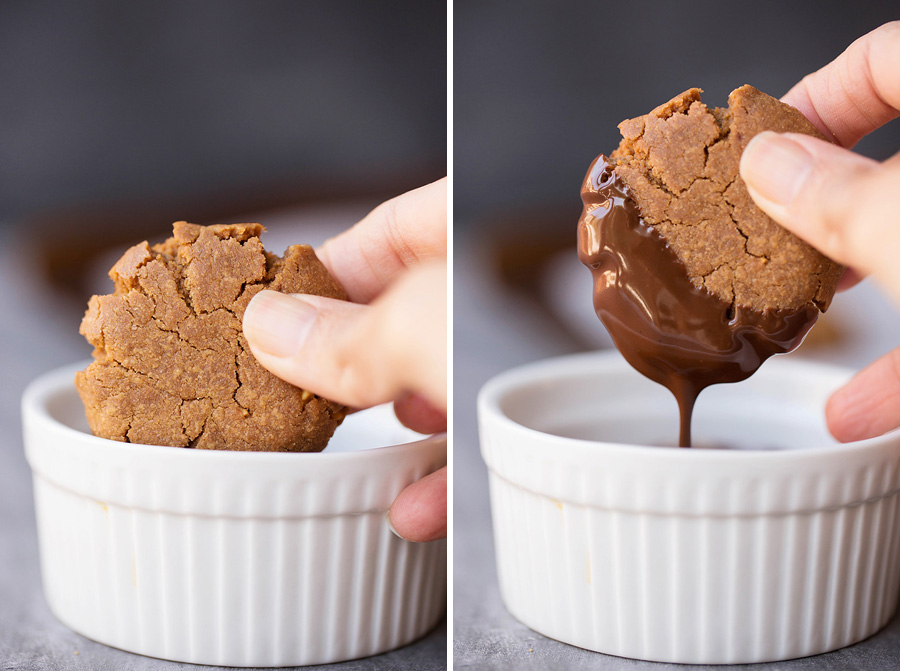 That's not all though.  Yet another kicked up notch.  Salt!  If you haven't had chocolate salted something, you are doing yourself a disservice my friend!  The little touch of salt not only brings an additional taste bud to the party, but brings out even more flavor from the peanut butter & chocolate.  It truly is a bite of heaven.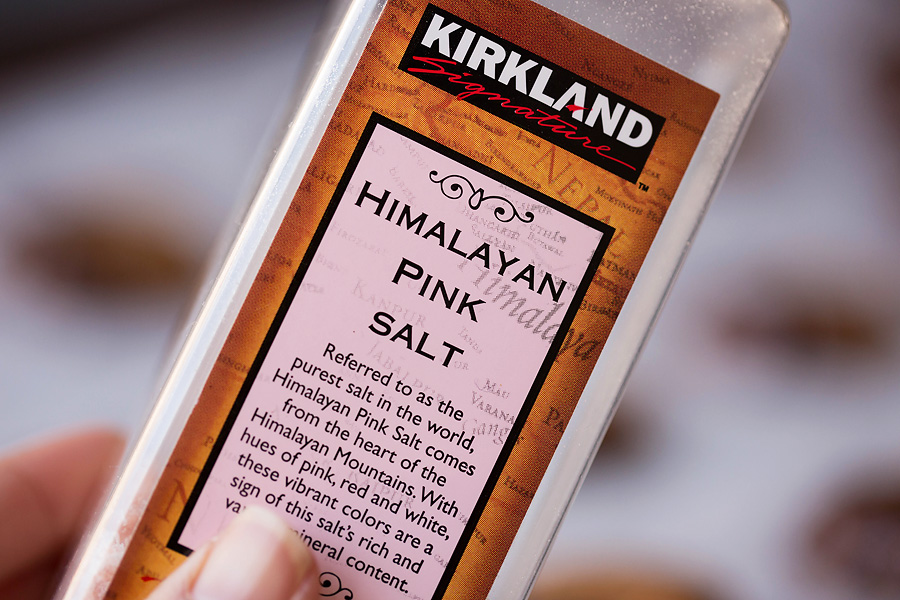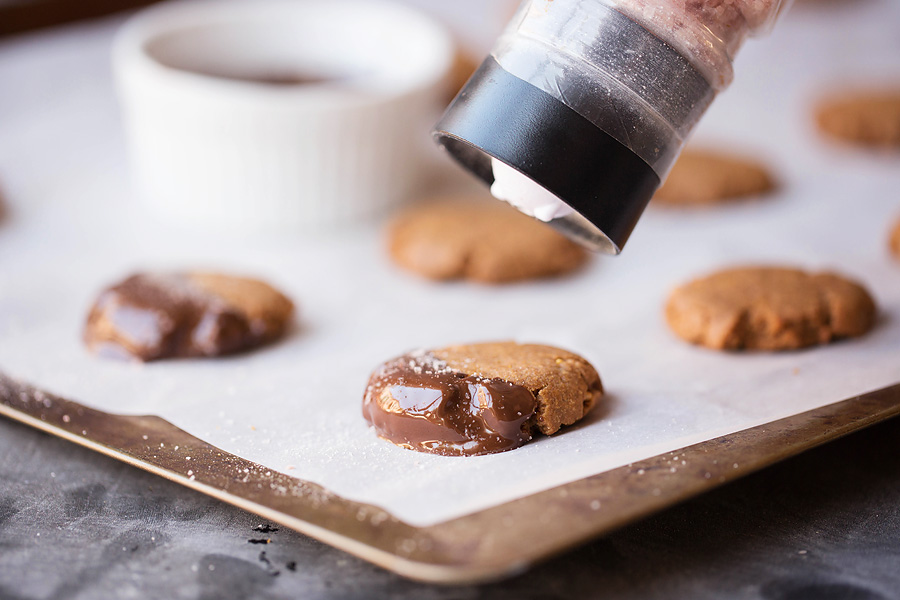 Don't go crazy with the salt though… you only need a teeny tiny sprinkle!  A little goes a long way here and the end result… perfection.  I couldn't even wait for the chocolate to harden on these before I shoved one (or two) into my face!!!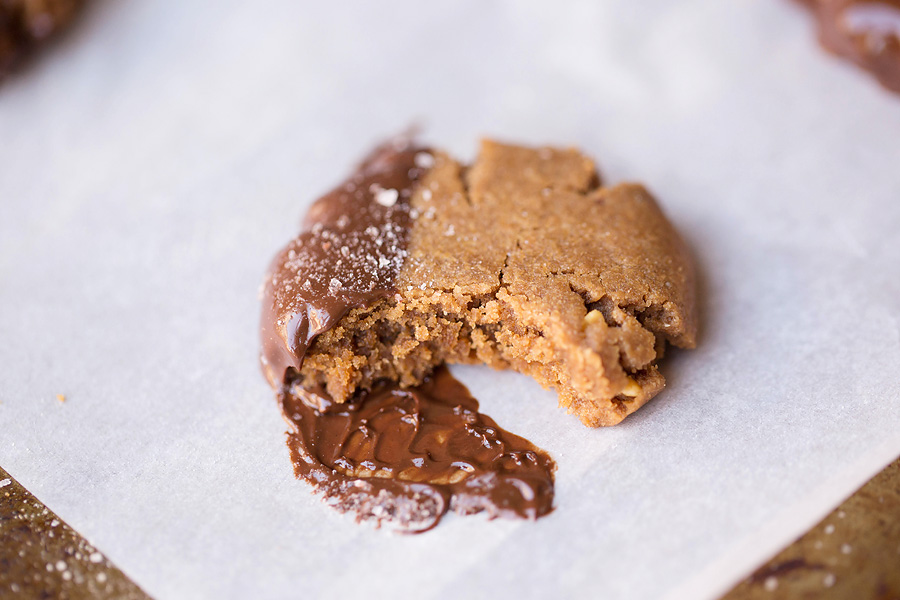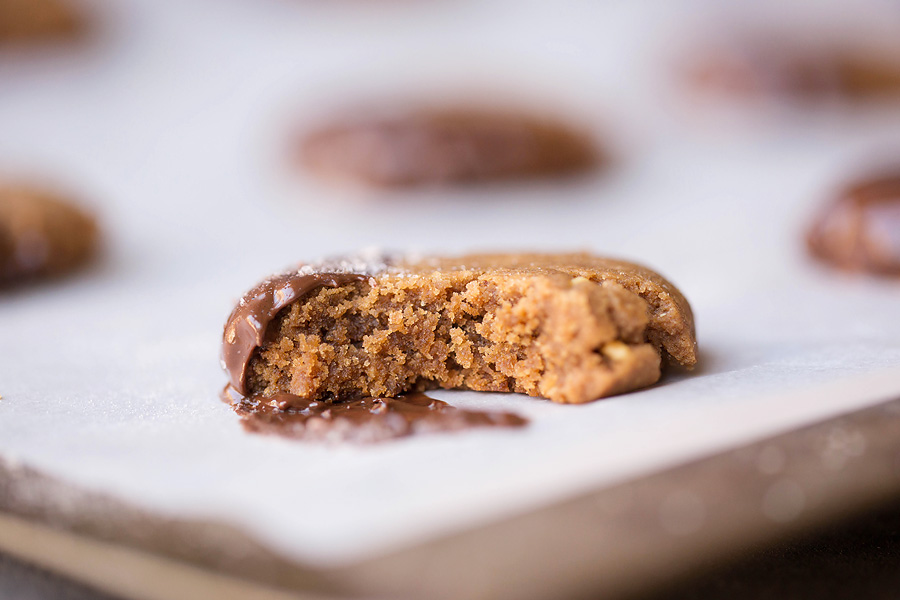 After a few minutes, the chocolate will harden and will be ready to store.  Good luck getting them into your cookie jar or storage container though.  It's going to be hard to contain yourself around these!  Really though, look at the texture on them.  Moist, rich, and utterly perfect!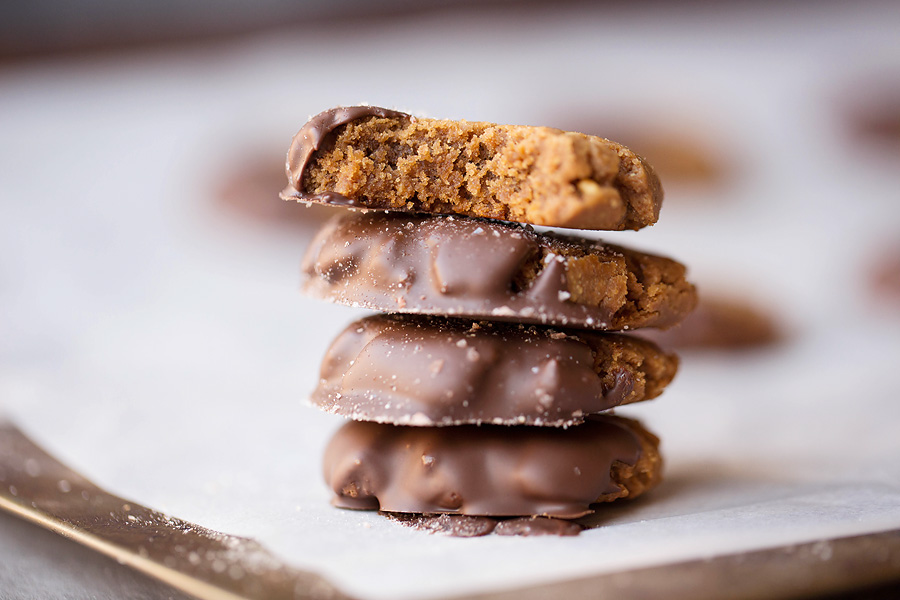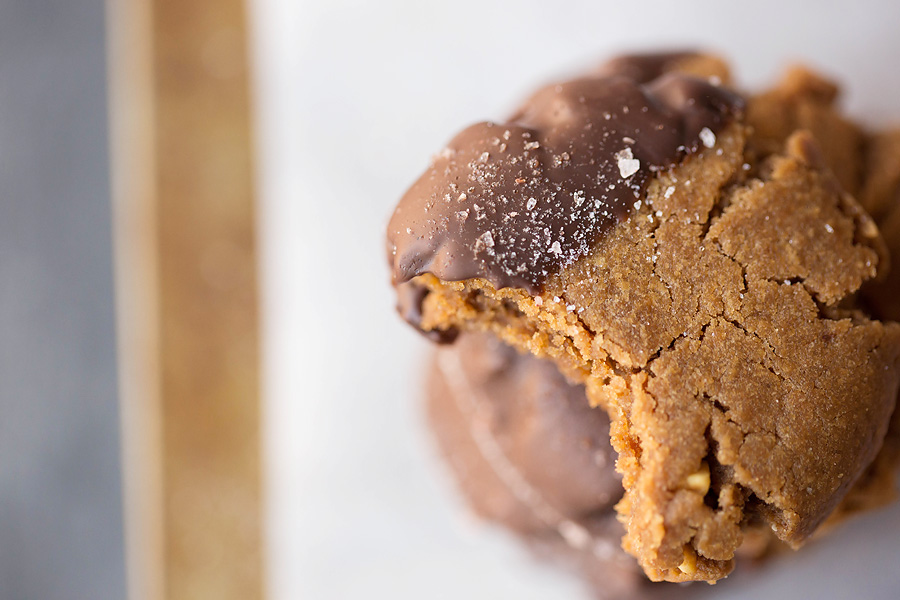 Salted Chocolate Dipped Peanut Butter Cookies

Print recipe
| | |
| --- | --- |
| Serves | 15-18 |
| Prep time | 5 minutes |
| Cook time | 12 minutes |
| Total time | 17 minutes |
Ingredients
1 cup 'Cookie' BuffBake peanut butter (or peanut butter of choice)
1/4 cup brown sugar or coconut sugar
1/4 cup 'Chocolate Caramel' MuscleEgg (or 1 whole egg)
1/4 cup 'Crunchy Peanut Butter' Kodiak baking mix
2 tablespoons milk of choice
100 drops stevia extract or additional sweetener of choice
1 teaspoon coconut oil
1/4 cup mini chocolate chips
1 tablespoon coarse salt
Directions
Step 1
Preheat oven to 375 degrees and line a baking sheet with parchment paper.
Step 2
Combine all cookie ingredients into a large bowl. Mix until thoroughly combined. Divide and scoop cookies onto parchment paper. Bake for 10-12 minutes until cookies are just set (cook longer for a crunchier cookie). Remove from oven and let cool.
Step 3
Prepare chocolate coating by adding chocolate chips and coconut oil in a small bowl. Heat for 30 seconds in the microwave, stir, repeat in 15 second increments until completely melted. Dip each cookie in chocolate and sprinkle with pink sea salt.
Note
NUTRITIONAL INFORMATION: calories- 111, fat- 8 grams, carbs- 8 grams/fiber-1 gram, protein- 4 grams PER COOKIE