'Make ahead kids breakfast ideas and lunches will change your life!  Give this chocolate French Toast a try for your next meal prep!'
Very excited to share my daughters breakfast & lunches for her second week of sixth grade!  She's always been a fan of my protein French Toast, but she said this version was EXTRA delicious.  Strawberries and TRIPLE chocolate all rolled into the most perfectly balanced French Toast!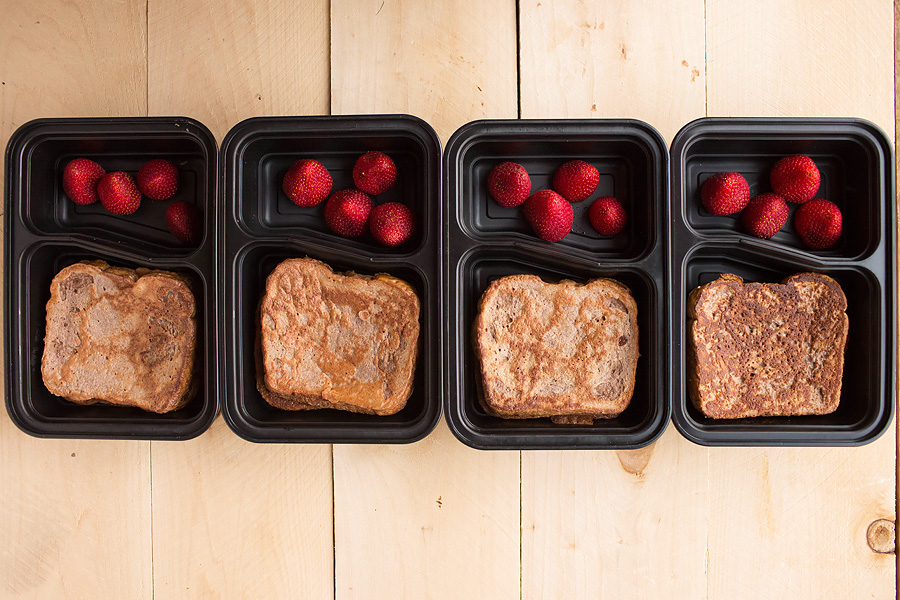 Sure, traditional French Toast is just as easy to make and store, but in this family we know how important protein is in EVERY diet!  They are the building blocks for our muscles, both young AND old.  Adding some protein powder to your egg batter boosts the nutritional profile giving kids (and adults) a much better balance of macronutrients.  Protein will help repair and build muscle as well as keep tummy's fuller longer.  KidzShake is my top choice for kids protein powders!  It has added essential minerals & vitamins, probiotics, digestive enzymes, omega 3's, and fiber!   Also, the flavors aren't quite so strong s adult protein powders and not at all detectable by picky palettes like my little one who HATES the taste/texture of traditional powders.

PEScience is the only protein we use because its the BEST tasting and all around AWESOME.  It's super versatile, great consistency, and also perfect for baking!  Each and every single one of their flavors is awesome and will work for whatever protein French Toast you wanna whip up.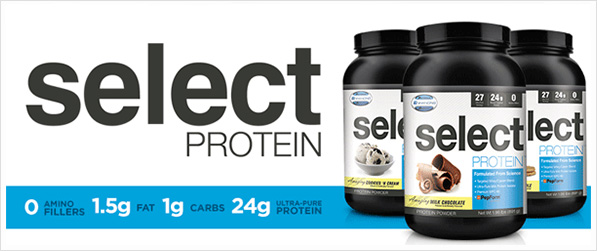 30% OFF PESCIENCE PROTEIN & ALL OTHER PRODUCTS USING COUPON CODE 'CORINA' AT CHECKOUT WWW.PESCIENCE.COM
Regardless of which protein powder you go with though, you MUST try making the French Toast.  It's pretty life changing, your (and your kids) breakfasts will never be the same!  Start to finish, FIVE days worth of breakfasts took less than 10 minutes.  All you have to do is blend your 'batter' up, pour into a shallow dish, soak each piece of bread, and then cook on a big griddle pan for 3-4 minutes per side!  Once its all cooked, divide in your containers, add some strawberries (or whatever fruit you like), cover, and pop in the fridge.  Each morning all you have to do is grab a container, reheat the French Toast in the toaster (low to medium setting), cut it up, add syrup (and whipped cream and chocolate chips), and serve!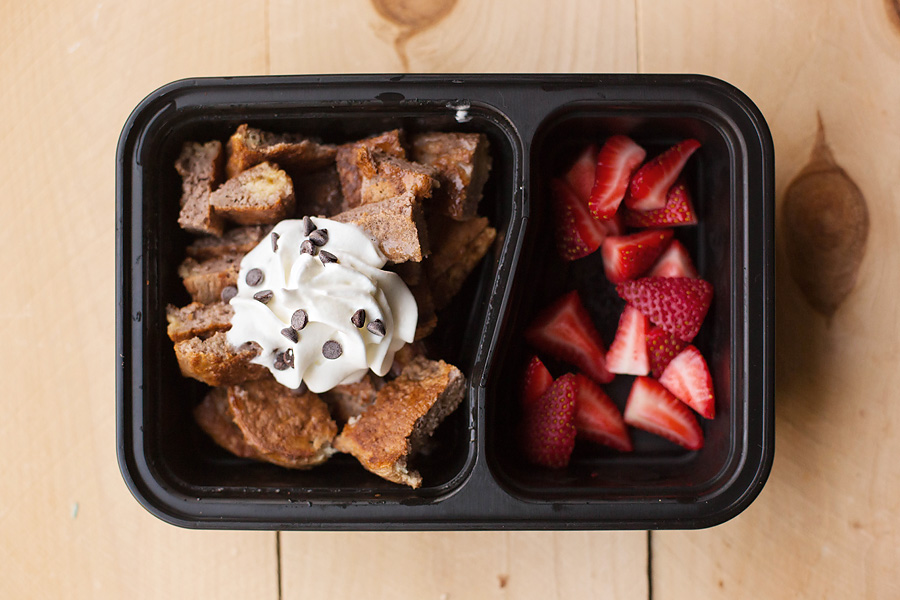 The surface of these gets so nice and crunchy, but the insides are so soft and fluffy!  We are TOTALLY addicted to protein French Toast around here.  If it were up to my daughter, she would easily pick a new variation/flavor to have EVERY week.  Lots of possibilities and as always…. a very versatile recipe!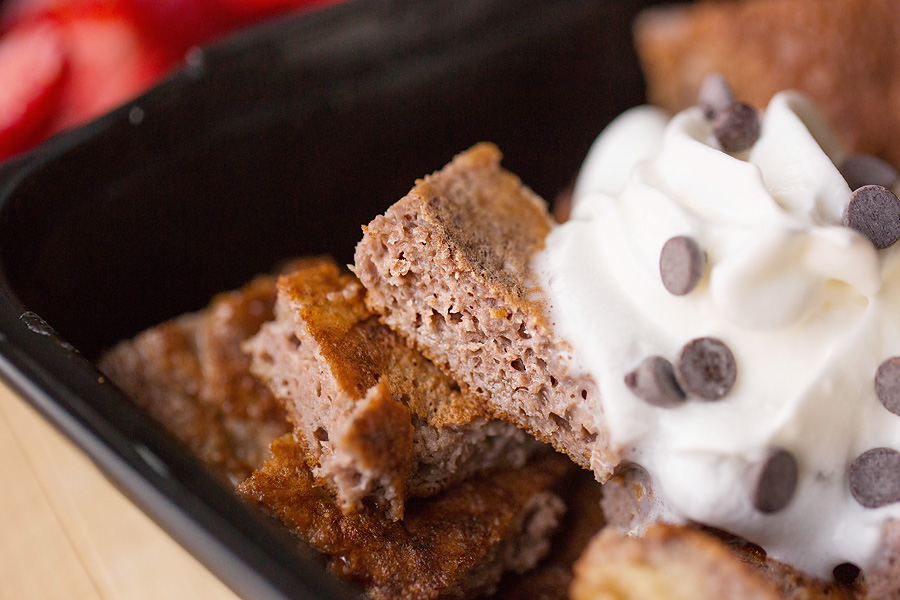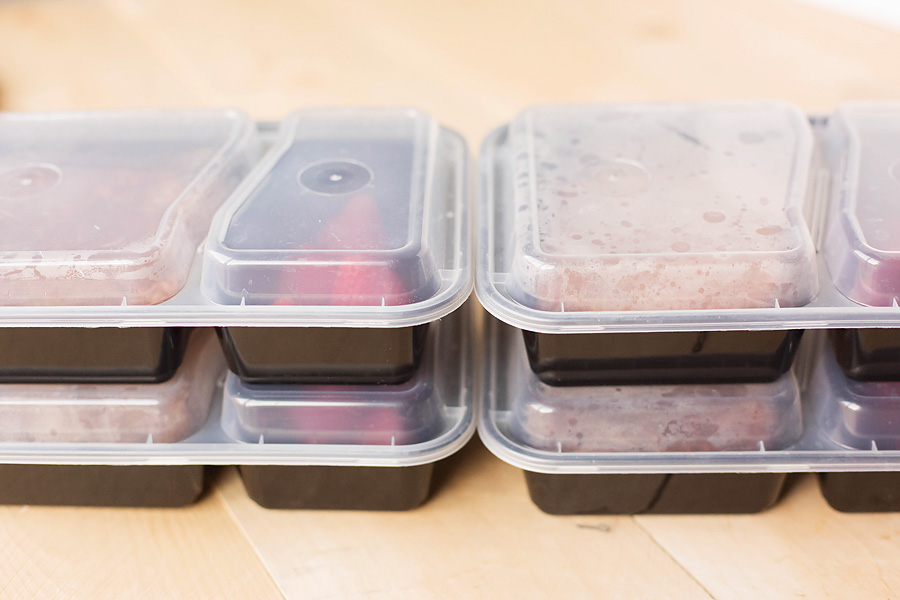 With her breakfast meals now shared, let's move onto my daughter's lunches for WEEK 2 of this school year!  As always, nothing fancy and these each took under 2-3 minutes to prepare.  Using leftover's for school lunches is a MUST!!!  No wasting of food, effortlessly prepared lunch, and healthy (usually) 🙂
MONDAY:
Leftover chicken fettucini alfredo, cutie mandarin orange, grapes, chocolate chip animal crackers, and snap peas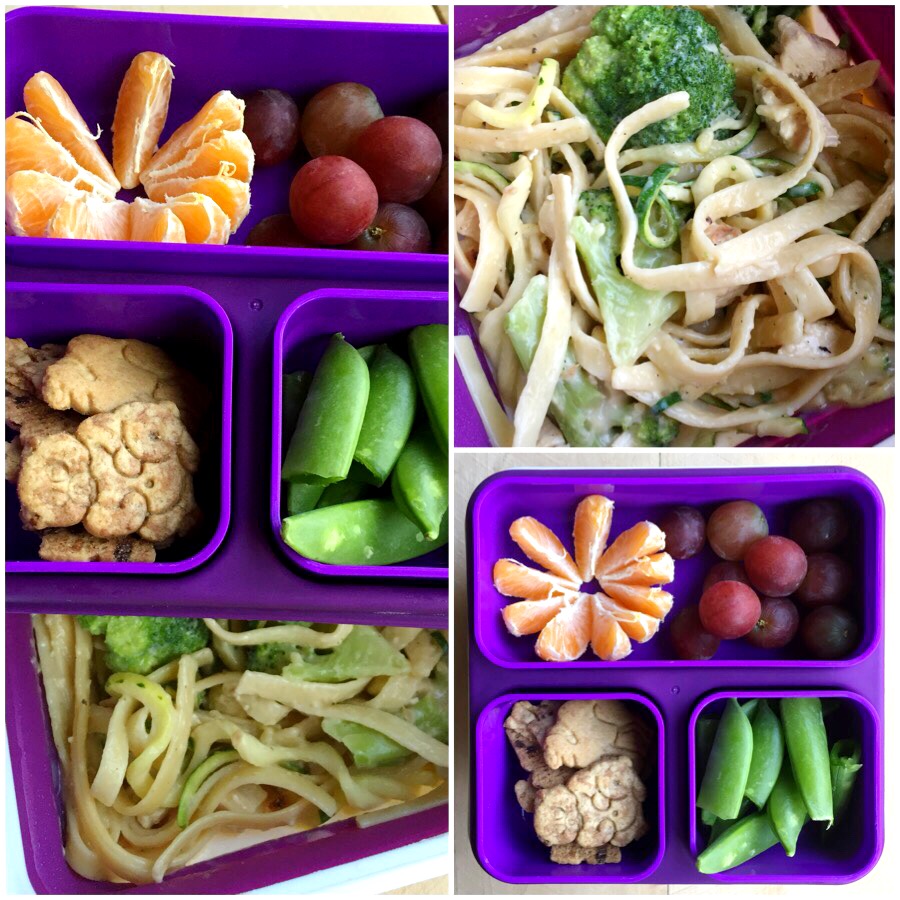 TUESDAY:
Leftover BBQ chicken made into a sandwich, plantain chips, mixed peppers, cucumber, and a small chunk of leftover pumpkin spice cake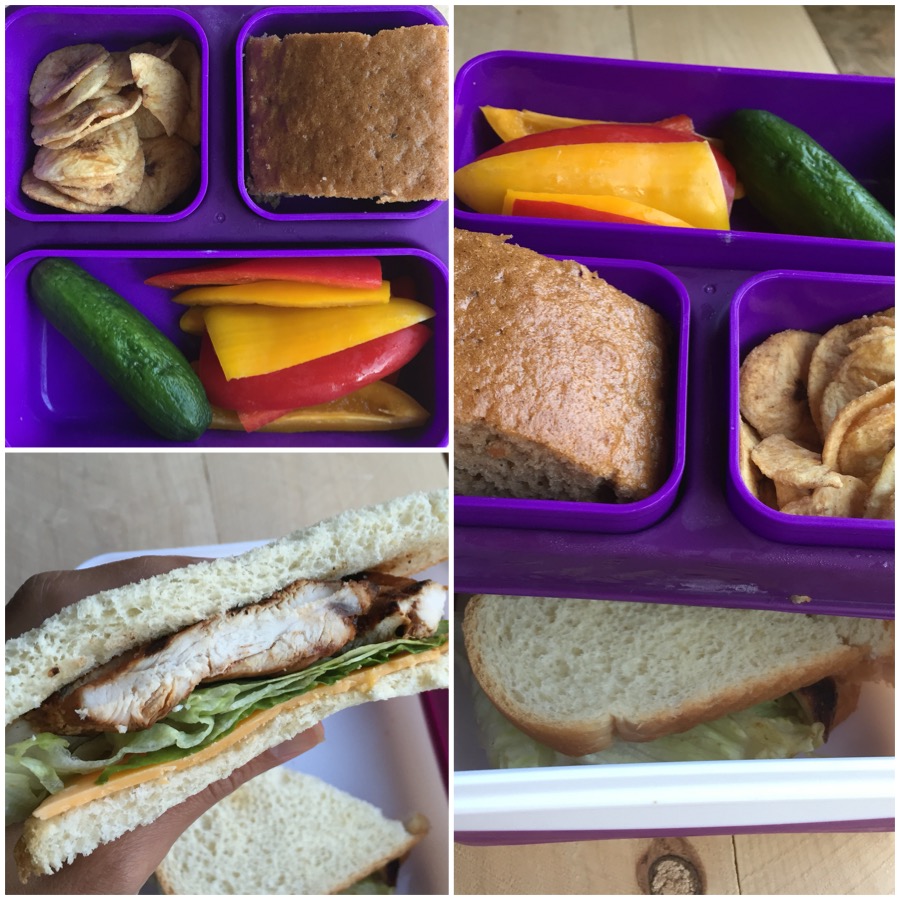 WEDNESDAY:
Leftover chicken enchiladas with spanish rice & guacamole, baby carrots, tomatoes, figs, rice crackers, and cheddar cheese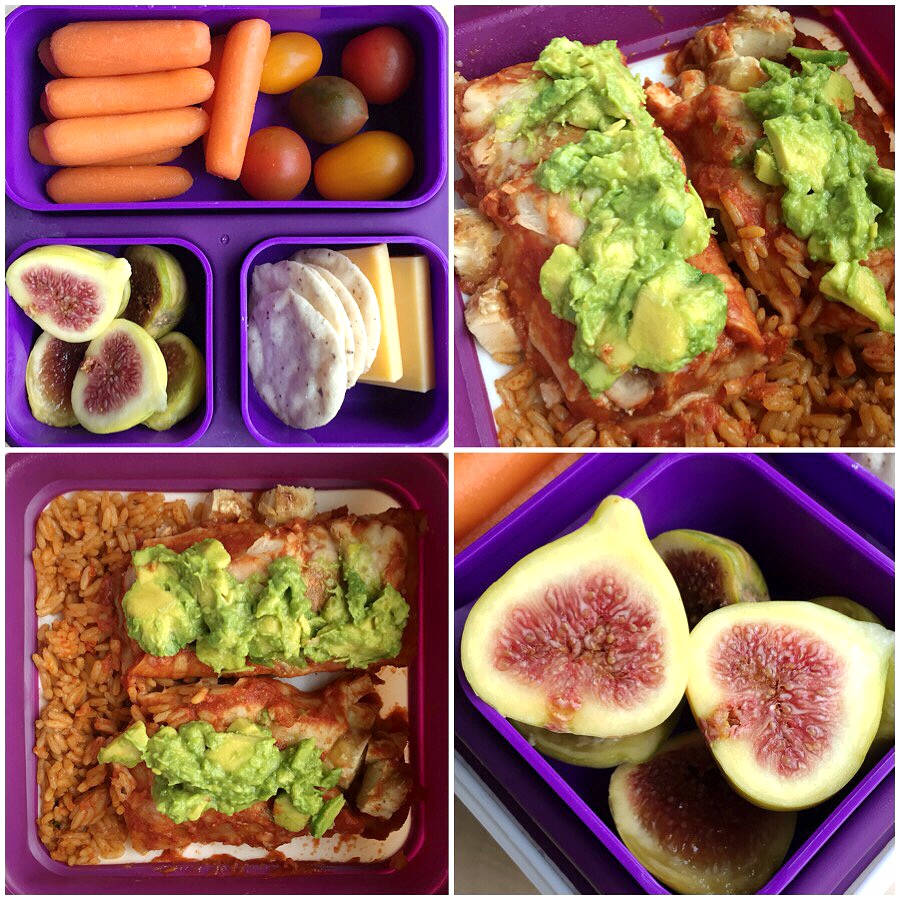 THURSDAY:
Leftover lemon chicken with white rice and grilled zucchini, apples, celery, and honey graham goldfish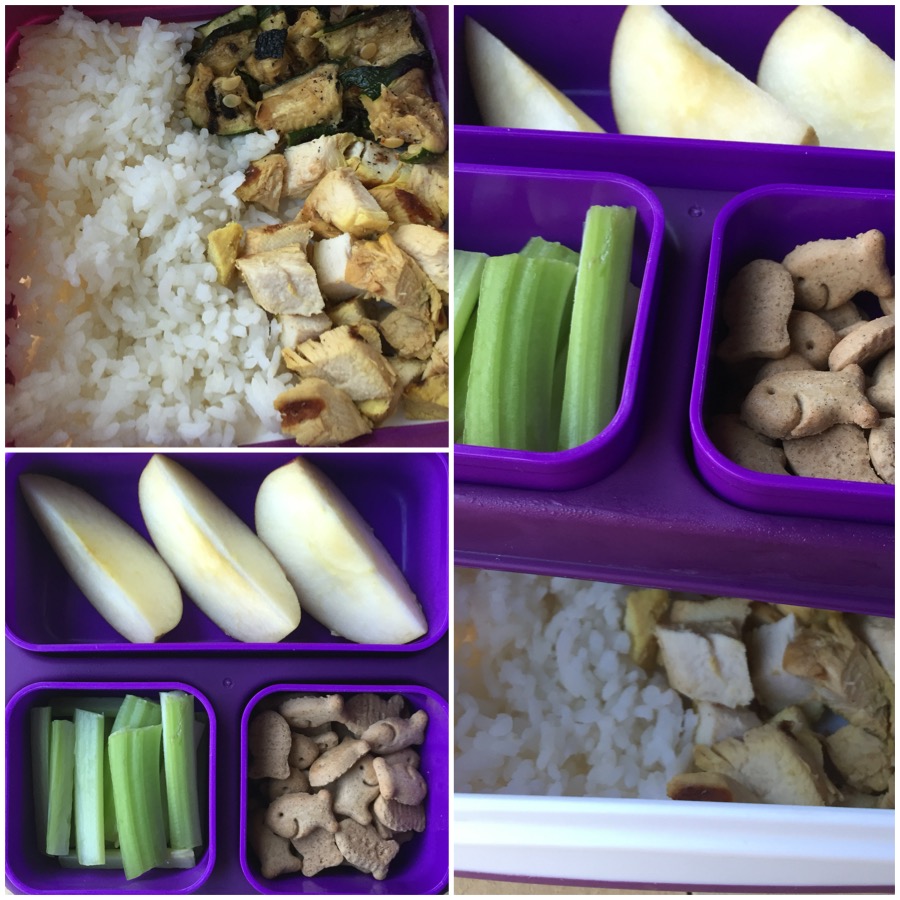 FRIDAY:
Leftover steak with roasted cauliflower, tomato slices, blueberry almond quinoa squares, mini chocolate rice crackers
And that's that!  Week 2 completed!!!  See you again next week for another set of HEALTHY prepped breakfast meals and five days worth of lunches!  Thrilled to be sharing all of these meals and ideas with you :).
Chocolate Covered Strawberry Protein French Toast

Print recipe
| | |
| --- | --- |
| Serves | 5 |
| Prep time | 5 minutes |
| Cook time | 5 minutes |
| Total time | 10 minutes |
Ingredients
1 1/2 cup Strawberry MuscleEgg (or replace with plain egg whites and fresh strawberries)
2 Large whole eggs
2 scoops 'Milk Chocolate' PEScience protein (or 4 scoops KidzShake protein)
1 teaspoon vanilla extract
4 tablespoons milk of choice
1 tablespoon cacao powder
10 medium slices bread of choice
Directions
Step 1
Add all ingredients (EXCEPT bread) to a blender. Mix on high until well blended and protein has dissolved. Pour into a shallow dish.
Step 2
Preheat a griddle pan and coat with non stick spray.
Step 3
Soak bread in egg mixture while griddle pan heats. Cook 3-4 minutes until golden brown on each side. Let cool slightly and portion into containers. Add strawberries, cover, and store in fridge.
Step 4
When ready to eat, reheat French Toast in toaster oven (low-medium setting) until crispy and warmed through. Cut and top with maple syrup, whipped cream, and chocolate chips.
Note
NUTRITIONAL INFORMATION (makes 5 servings): calories- 210, fat- 4 grams, carbs- 23 grams/6 grams fiber, protein- 23 grams PER SERVING
And here are all of previous prep weeks right at your finger tips:
Find me on Facebook:


Find me on Instagram for daily food inspiration, ideas, and tips: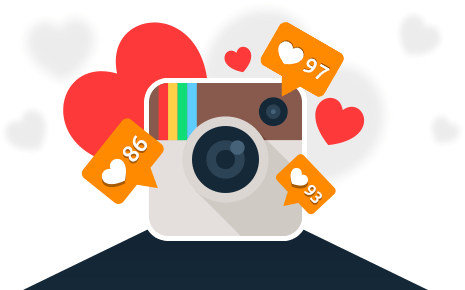 MY FAVORITE FOOD & MEAL PREP SUPPLIES