'Stress free make ahead breakfast ideas and prepped daily school lunches will change your life!  Make sure your kids get a healthy start each morning with a balanced breakfast and fueling nutritious lunches!'
I can already predict that I'll make the comment "This was one of my daughters favorite breakfasts" many many times over the course of this blog series.  I mostly attribute that to letting her pick her own breakfasts each week , not so much having anything to do with my cooking skills.  Having your kids pick out their own meals can save so much heartache and frustration because you are giving them EXACTLY what they've asked for which means less complaints, attitude, eye rolls, and tantrums.  If the nutritional profile of their requests are a little 'off', I can usually make them a bit more balanced with a couple of easy substitutions or additions (usually protein sources).
Fortunately last week my daughter requested breakfast burritos to eat each morning!  I love meals like this because the nutrition is already fairly balanced (tortilla, eggs, sausages, veggies, cheese, veggies).  Well distributed protein, carbs, and fat are already built right in without any additional tweaking or additions.   You could easily use any tortillas you like, but our favorite ones are the uncooked kind that can be found on Amazon or Costco… seriously so so so good!  This is what they look like: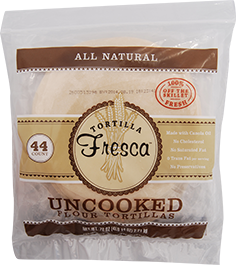 So after heating them up on a large grill/skillet pan and letting them cool while I prepared the scrambled eggs (1 1/2 cups MuscleEgg Organic egg whites + 2 whole eggs, cooked in coconut oil) and breakfast sausage, it was time to assemble!  Tortilla down, eggs in, sausages on, and sprinkle of cheese… roll making sure to seal one end for easy pick up/eating!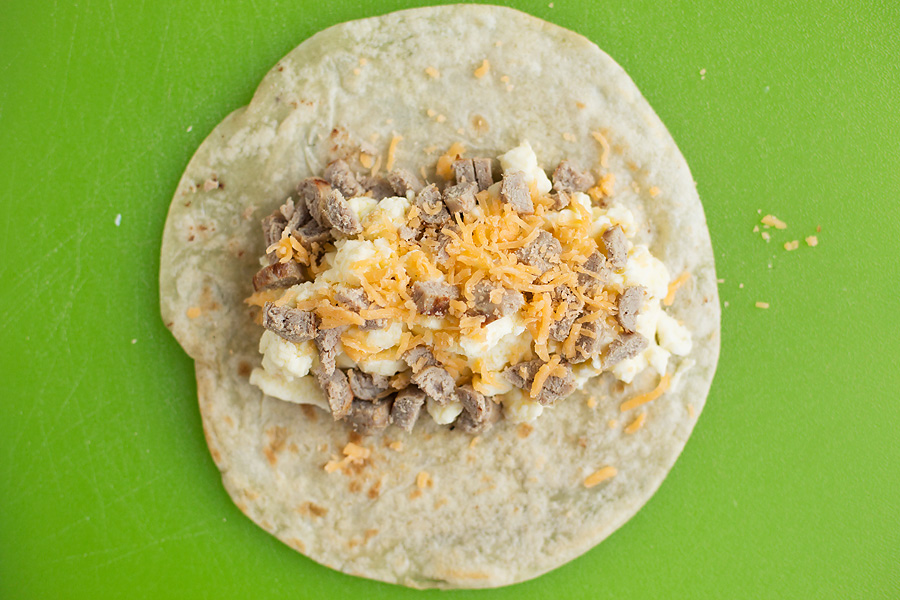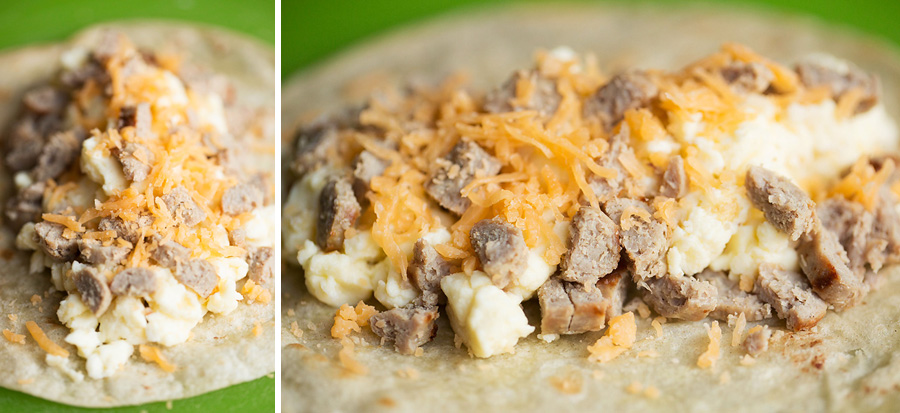 Once each of them was rolled as tightly as possible, I just put them in cut tin foil.  Keeping them wrapped up tight will allow them to cool completely in the same shape so once they are reheated, stuff doesn't fall out all over the place.  Here is a shot of one that was kept in the fridge already for a couple of days.  Still fresh, tightly rolled, and perfectly manageable!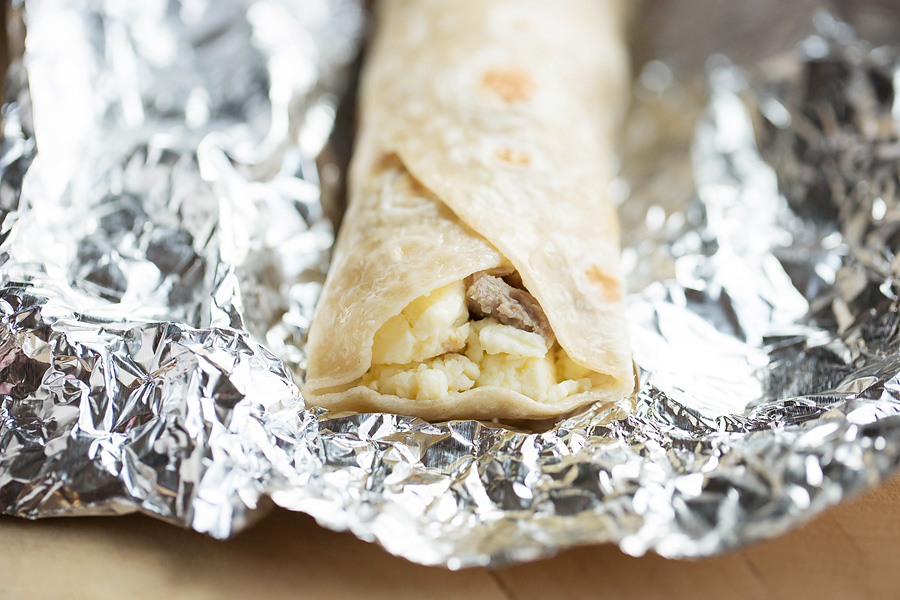 On Sunday nights when it comes to dinner, I always try and figure out something I might be able to make extra of that could be used in either her breakfast prep or even her lunches.  Last Sunday night we happened to have chicken fajitas so I just whipped up a little more Spanish rice to pair with these breakfast burritos.  I also added some grapes because we LOVE fruit in this house and eat it ALL day long!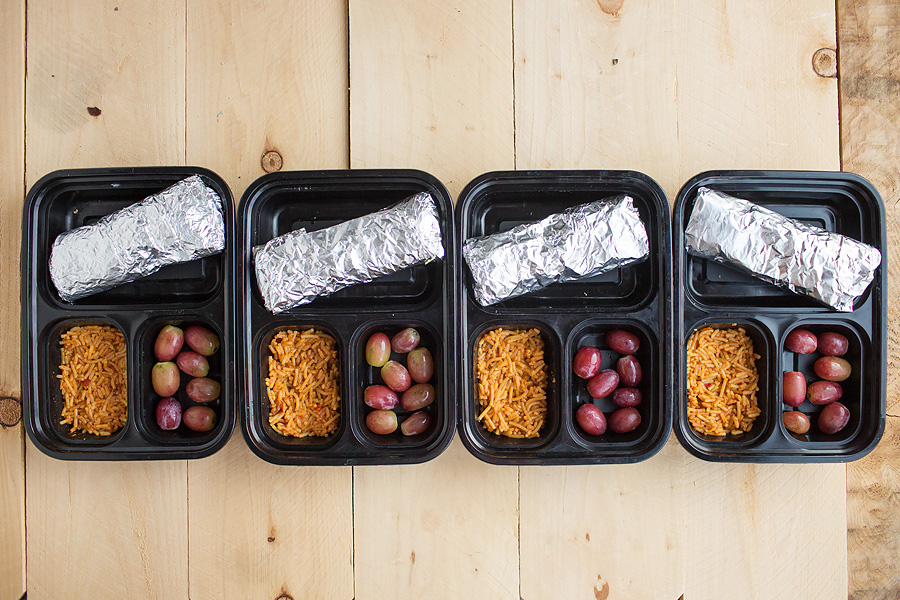 15 minutes of food prep for these on Sunday night easily saved me 45-60 minutes to sleep in a bit or the week.  Love love love my breakfast prep… have I mentioned that about a thousand times already?  Cooked, portioned, prepped, sealed, stored, and ready to go every single morning!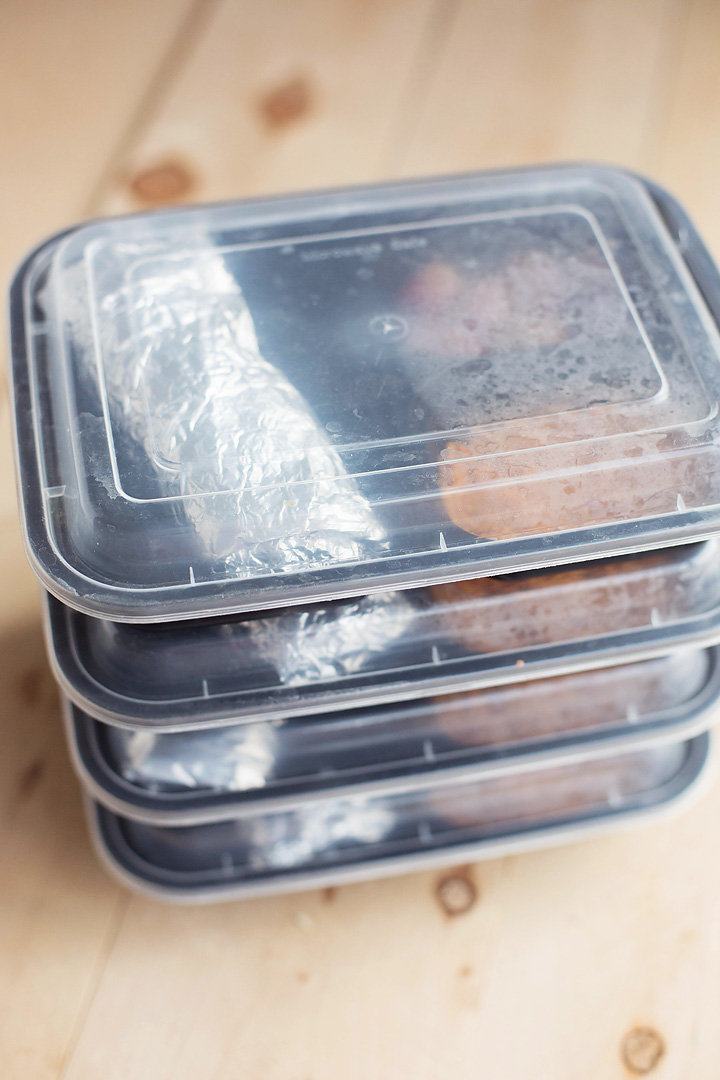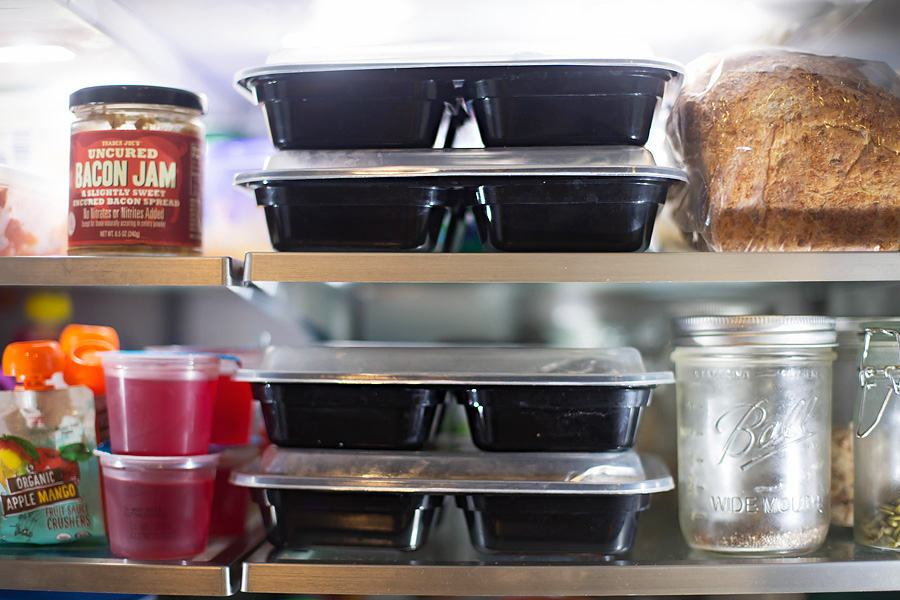 All we need to do for these each morning is unwrap the breakfast burrito, pop it in the microwave for 30-45 seconds (save the last 15 seconds to add the rice), place it back in the container and my daughter is ready to eat.
Breakfast.  DONE!
And here were her lunches for the week:
MONDAY:
Leftover chicken fajita salad, cutie mandarin orange, mixed veggies, lemon Oreo thins, and brown rice tortilla chips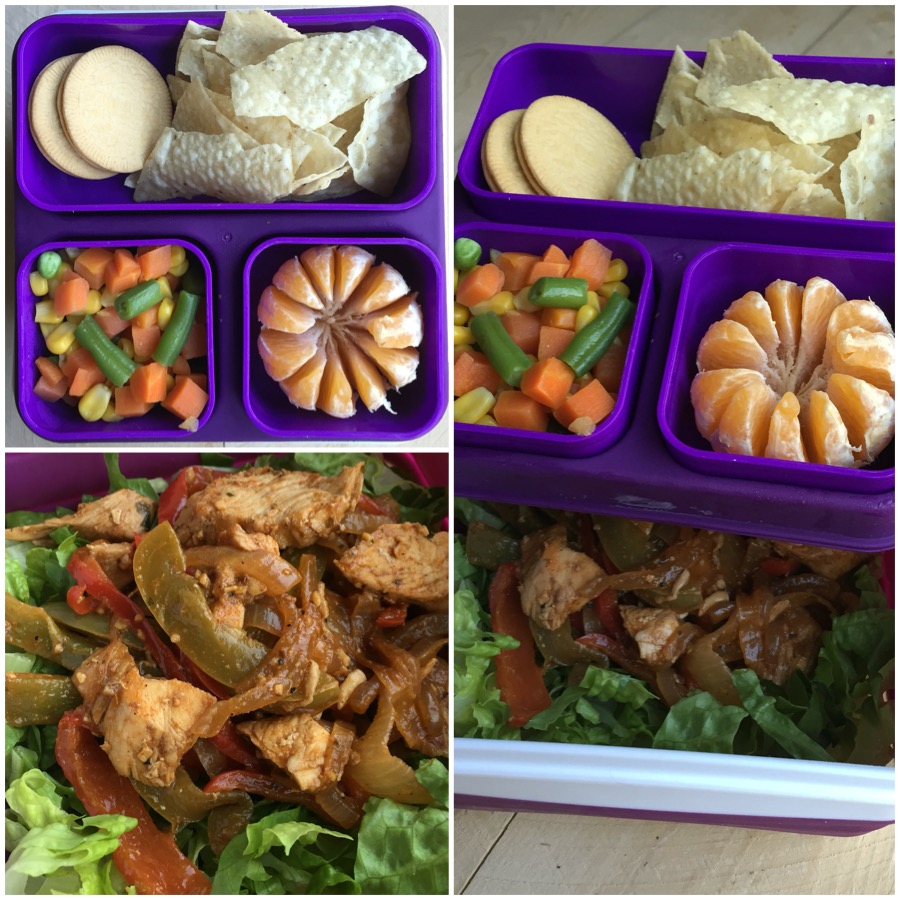 TUESDAY:
Turkey & cheese sandwich, Cheez Its, berries, snap peas, and plum tomatoes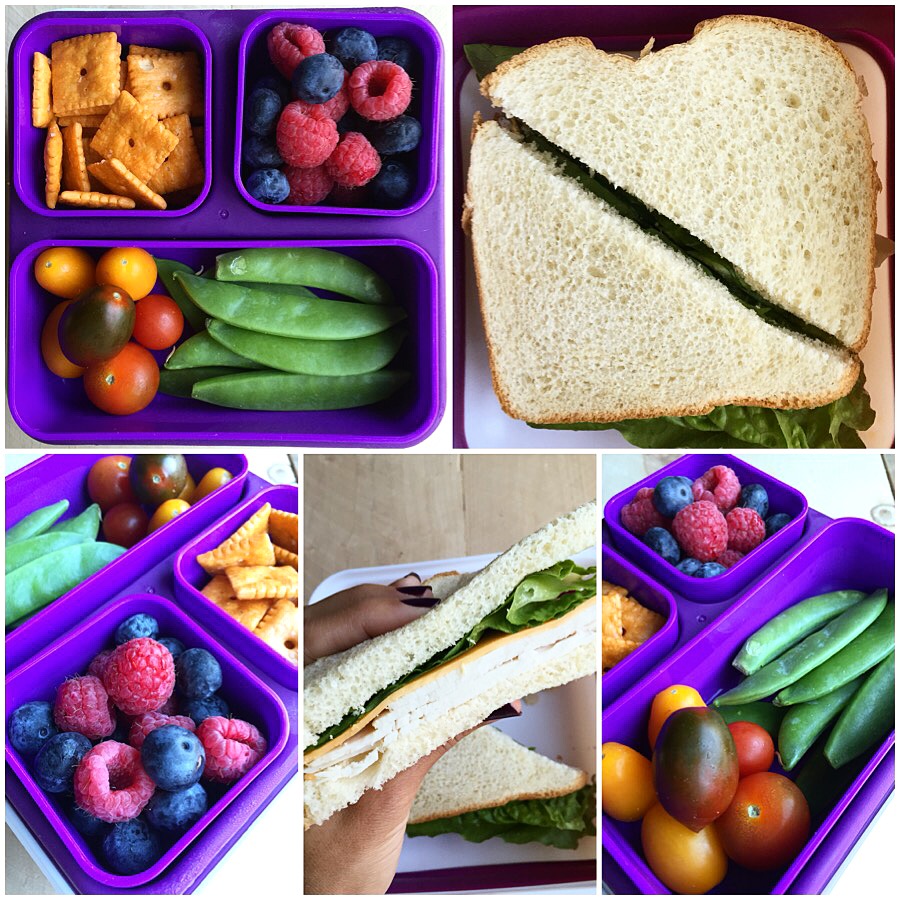 WEDNESDAY:
Leftover BBQ chicken wrap & fries from Red Robin, graham gold fish, mixed veggies, and kiwi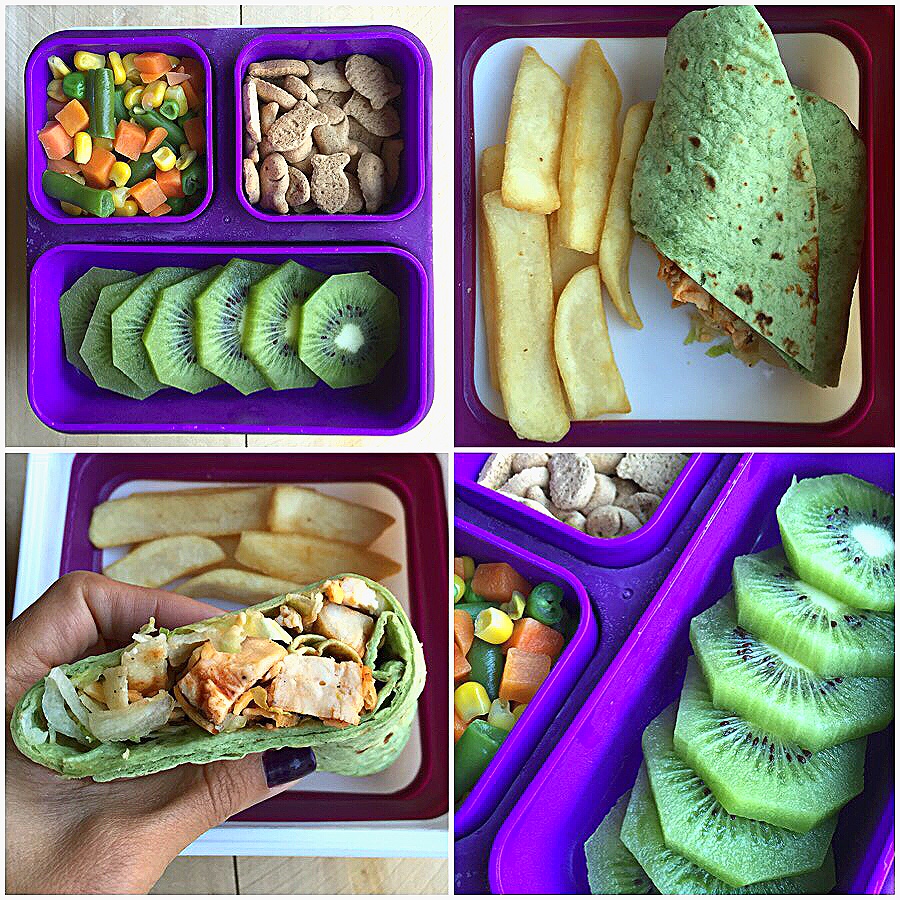 THURSDAY:
Leftover breaded chicken breasts, fries, crackers, peas, and Fruigees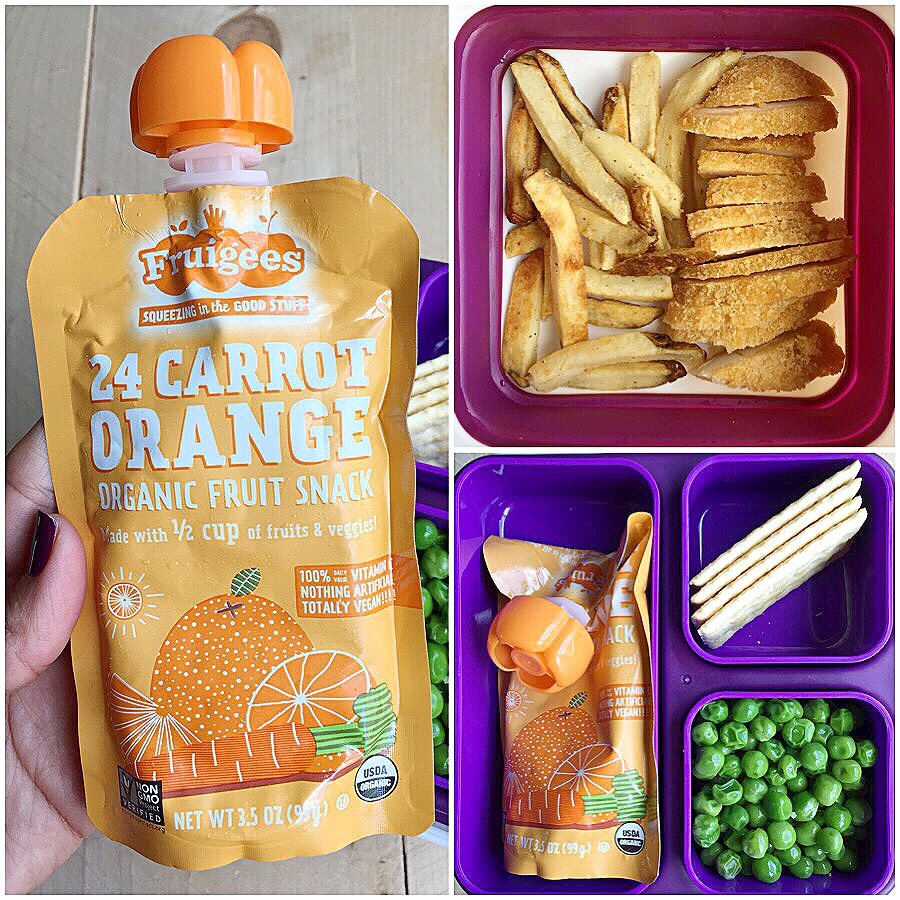 ** SIDENOTE **
We all LOVE these Fruigees fruit snacks!!!  Absolutely delicious, an full 1/2 cup of fruits AND veggies, no article anything, non GMO, and organic.  The 'Kalefornia Grape' is probably my favorite, but they are all wonderful.  These portable snacks are great for lunches, quick snacks, and on the go eating!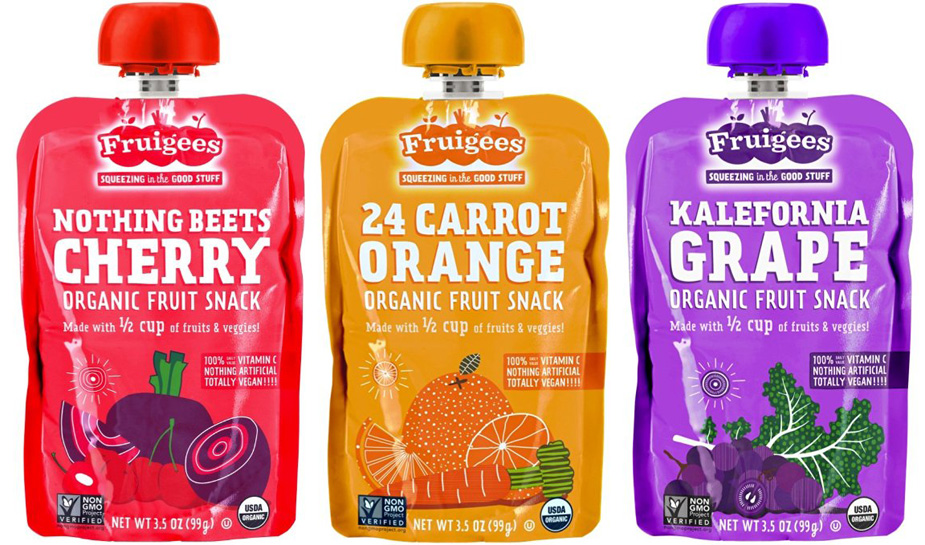 FRIDAY:
Leftover spaghetti with whole grain noodles/zucchini noodles/Italian sausages, Chocolate Chip Snackimals, berries mixed peppers, and Wholly Guacamole mini (from Costco)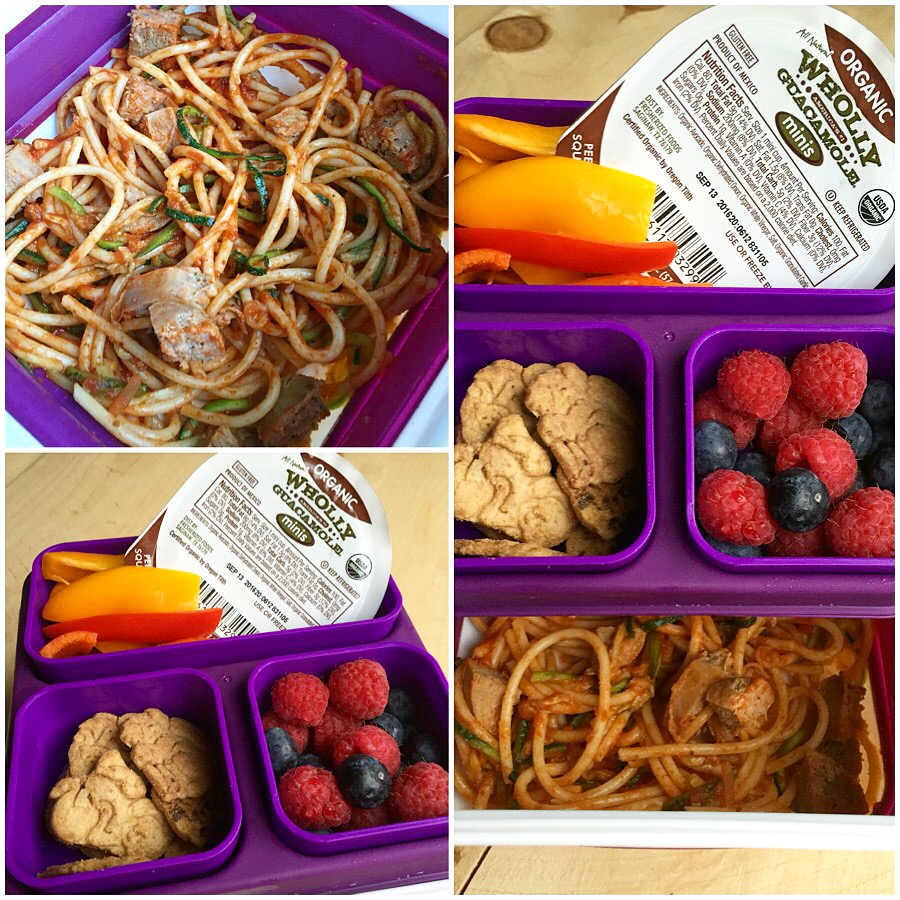 This week she's requested bacon & egg 'muffins' with tomato and spinach.  So fortunate to have a child who actually asks for vegetables!  Start them early and make veggies a staple in their diets… NO EXCEPTION!  It's already so ingrained in both of my kids minds that its 100% habit to make sure they are incoporated in their meals.  For those who struggle to get veggies into their kids diets, hide hide hide them anywhere and anytime you can (smoothies, zucchini noodles mixed with regular pasta, zucchini added to oatmeal and eggs, mix in mild veggies without a strong flavor like spinach, add cauliflower crumbles), but also don't neglect to tell them they HAVE to eat what you serve!  In our house if you don't like what I've cooked you go hungry.  NO EXCEPTION, NO SUBSTITUTIONS!
I'm such a mean and scary mommy huh????
And here are all of previous prep weeks right at your finger tips:
Find me on Facebook:


Find me on Instagram for daily food inspiration, ideas, and tips: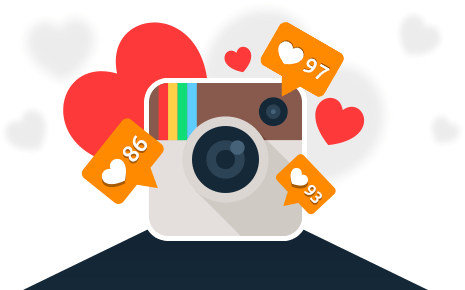 MY FAVORITE FOOD & MEAL PREP SUPPLIES