'Homemade soft pretzels made from whole grains finished off with savory herbs & a salty bite of parmesan cheese!  One bite and you will be hooked!'
We are a family of suckers when it comes to pretzels.  Every theme park, every carnival, every fair, every mall.  At least 2 pretzels must be purchased upon the first 20 minutes of arrival.  Warm, soft, chewy, fluffy, a touch of salt, a dip of this, a dollop of that.  It's all good when it comes to freshly made pretzels!
Unfortunately, our pretzel consumption usually ends at the locations we happen to be at.  In most cases I prefer not to buy the frozen variety (but we have many times) and hadn't ever attempted homemade ones either.  With no outings in sight and a full family craving for pretzels, I decided to give them a try in my own kitchen.  I even opted to add some extra flavor parties to this batch instead of making plain/salted ones.  Definitely went the savory route with fresh rosemary and grated parmesan cheese.
Mmmmm.  Cheese.

Why oh why had I waited so long???  Why had I avoided making them myself for so long? Why so intimidated???  All these years of infrequent pretzel consumption!  Never again will we our family go to long without fresh & warm pretzels.  This recipe was an immediate winner!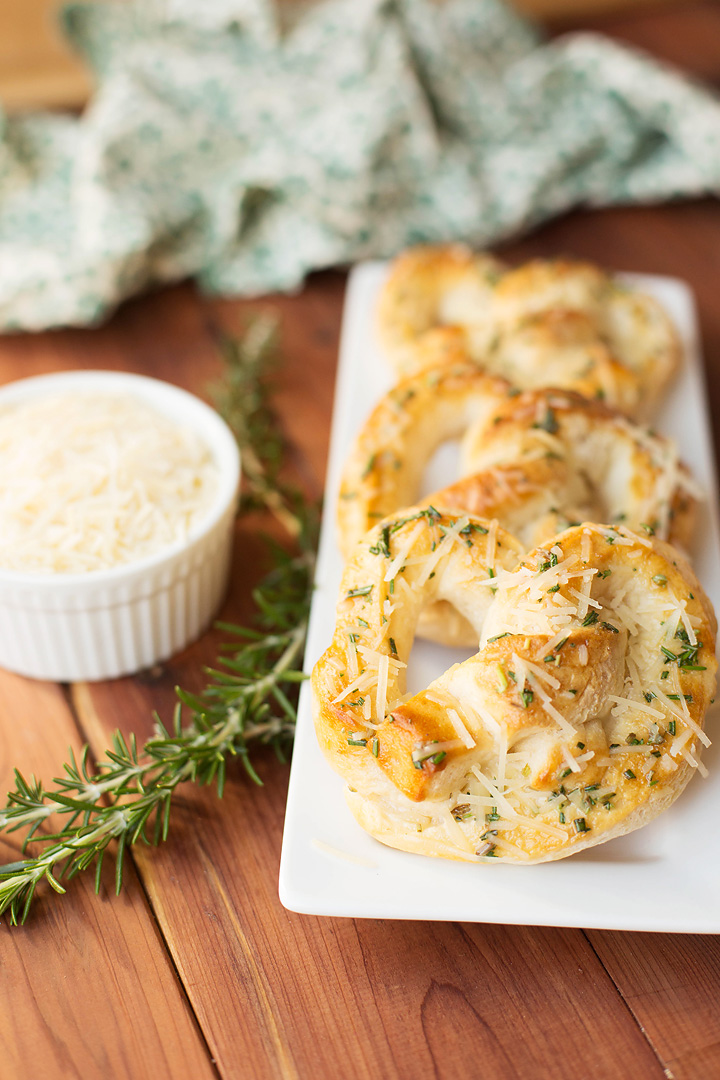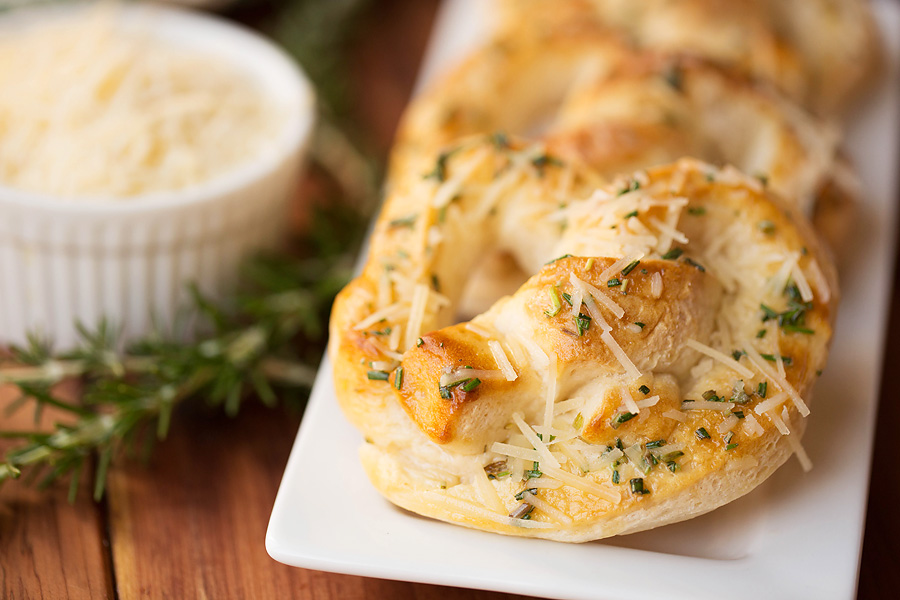 Can you even stand it???  Oh those salty bites of parmesan, the freshly chopped herbs, the crispy buttered bits, and chewy insides.  Pretty impressive if I do say so myself.  The family agreed wholeheartedly though!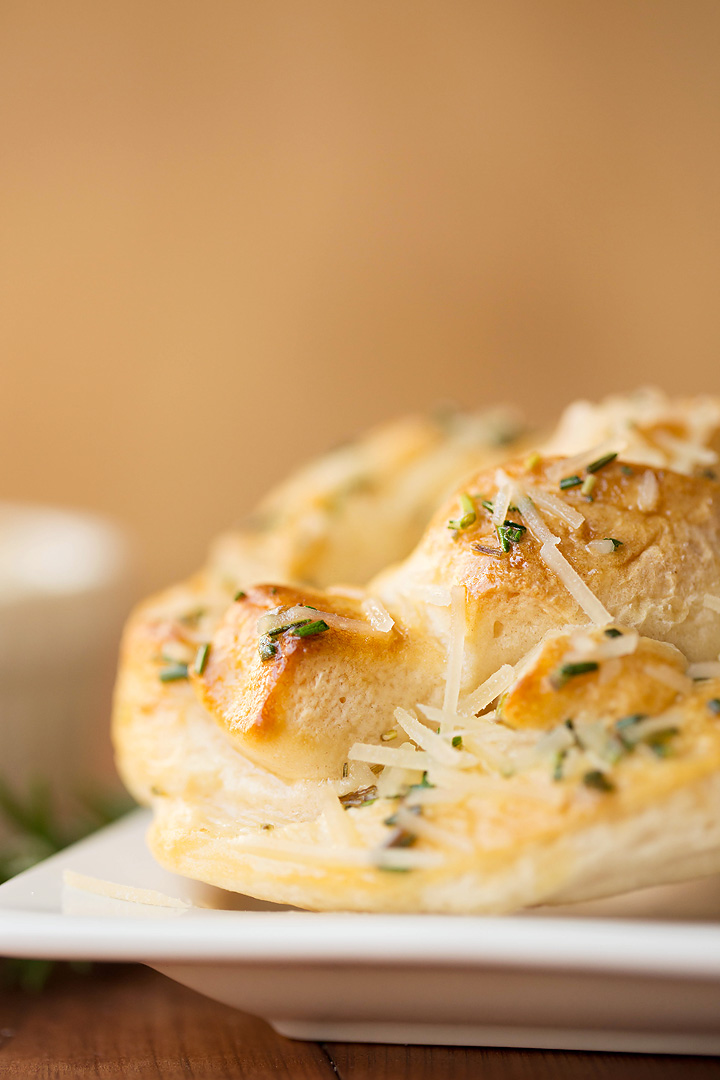 I mean does it get any better looking?  A new homemade staple treat for our home!  Cinnamon & Sugar is next on the agenda though because who isn't an absolute sucker for those???  Until I can come up with a bit 'healthier' version for those… these will definitely tame all of the pretzel cravings!
Gluten Free Rosemary Parmesan Pretzels

Print recipe
Ingredients
1 1/2 cup warm water
2 tablespoons coconut sugar
1 tablespoon instant active dry yeast
3 1/2 cups Kodiak 'Gluten Free' baking mix
1 teaspoon salt
1/2 cup grated parmesan cheese
2 tablespoons finely chopped rosemary
1 Large whole egg (* TOPPING *)
2 tablespoons water (* TOPPING *)
1/2 teaspoon salt (* TOPPING *)
2 tablespoons grated parmesan cheese (* TOPPING *)
1 tablespoon finely chopped rosemary (* TOPPING *)
2 tablespoons melted ghee (* TOPPING *)
Directions
Step 1
Combine water, yeast, and coconut sugar in the bowl of a stand mixer fitted with the dough hook. Mix until frothy and let stand for 5 minutes.
Step 2
In a separate bowl combine Kodiak, salt, parmesan cheese, and rosemary. Slowly add the flour mixture to the wet mixture. Knead for 5 minutes. If the dough is too sticky, add a little more Kodiak until it comes together into a smooth ball. Cover with a kitchen towel and rest dough for 15-30 minutes.
Step 3
Preheat oven to 425 degrees F.
Step 4
Turn dough onto a work surface and knead for 1-2 minutes. Divide dough into equal portions and form pretzels. Place on a baking sheet lined with parchment paper.
Step 5
In a small bowl combine egg and water. Brush mixture on each pretzel and then sprinkle with remaining salt, cheese, and rosemary.
Step 6
Bake for 10-12 minutes. Brush with melted ghee and bake for an additional 5 minutes until pretzels are golden brown.
Note
NUTRITIONAL INFORMATION (makes 6 pretzels): calories- 359, fat- 13 grams, carbs- 44 grams/ fiber- 6 grams, protein- 13 grams PER SERVING