'These healthy key lime pie parfaits are packed with protein, healthy fats, and loaded with flavor!'
Last time I did a count I realized I have approximately 30 recipes made, photographed, and ready to be shared.  These go back as far as MAY of this year!!!  Clearly I spend more time 'recipe developing' (and eating) VS actually posting & blogging.  Sigh.  Life with chronic disease is no joke.  I'm determined to get through everything though within the next couple of months though.  With the new dietary restrictions and nutritional changes I've made to help treat my conditions, I have yet another LONG list of NEW recipes and ideas to share!  For now though, I will be attempting to tweak the recipes that are in holding to better suit my new way of eating.
First up this week are these 'Key Lime Pie Protein Parfaits'.  I remember making these back in May of this year and seeing them again now, I absolutely know I need them back in my life… with a few minor tweaks of course to accommodate the new "diet".  Either way, it all starts with fresh limes!  Limes and lemons are something I have on hand every single day, week after week.  I use these citrus fruits on a daily basis for dressings, in my gallon+ of water each day, in sauces, on chicken, on salads, on raw veggies, and in marinades.  Such amazing little fruits that are packed with flavor (for virtually no calories).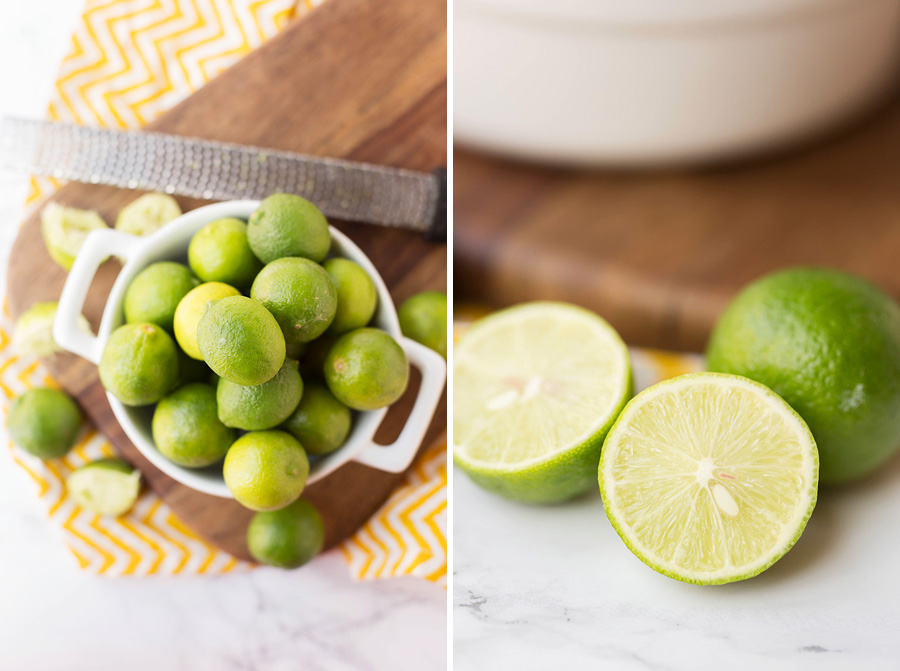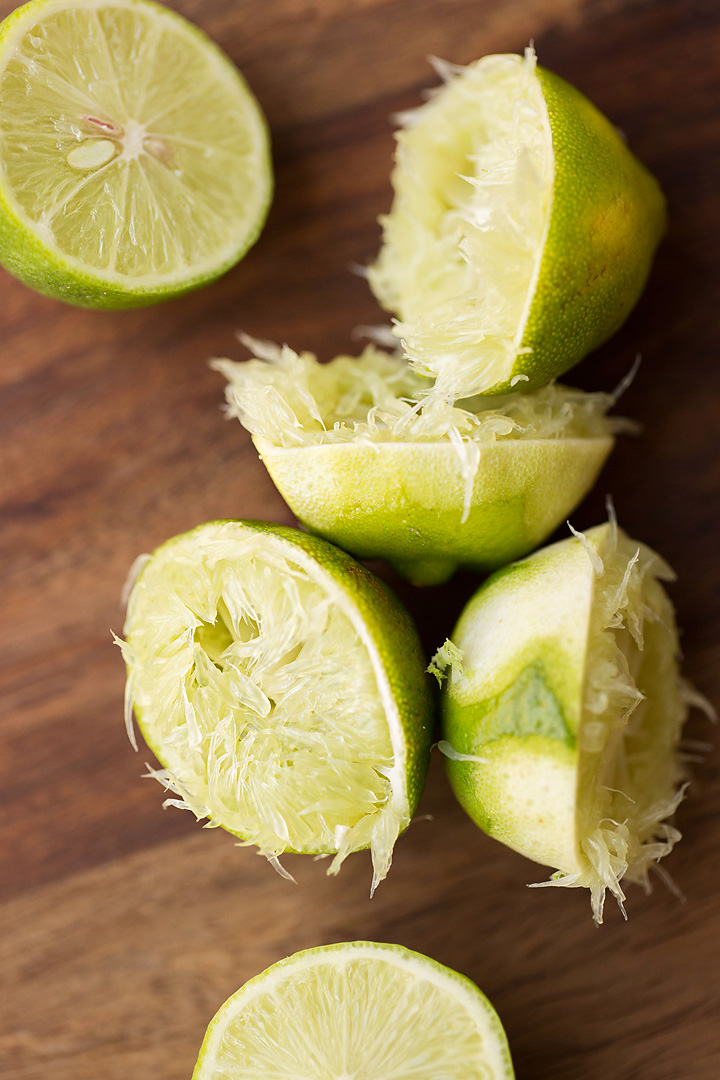 Citrus is a beautiful thing.  Limes zested and then juiced.
Once the flavor was decided on these delicious parfaits, it was time to put it all together.  Yogurt (I originally used 0% Greek, but switched to coconut milk instead because dairy is now out for me), protein powder ('Gourmet Vanilla' whey/casein from PEScience, switched to 'Vanilla Indulgence' vegan protein from PEScience), graham crackers (first made with regular, now made with gluten free ones found here, and whipped cream (homemade with heavy cream, swapped to coconut milk cream).
SIDENOTE: as difficult as dietary changes may be for someone, there is almost ALWAYS alternatives to your favorite foods!  Don't let dietary restrictions stop you from eating the foods you LOVE.  You just need to dig a little deeper and discover the easy swaps!
Back to my parfaits…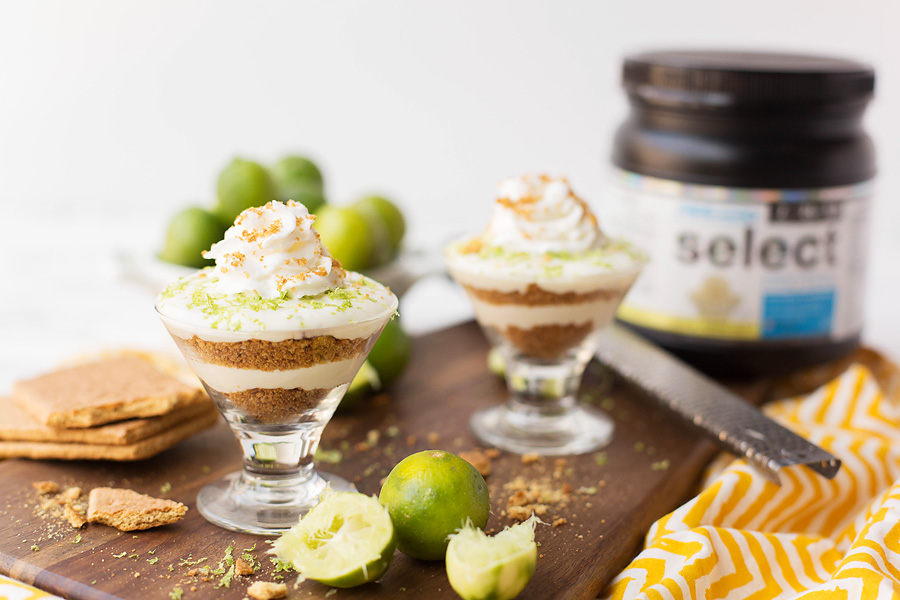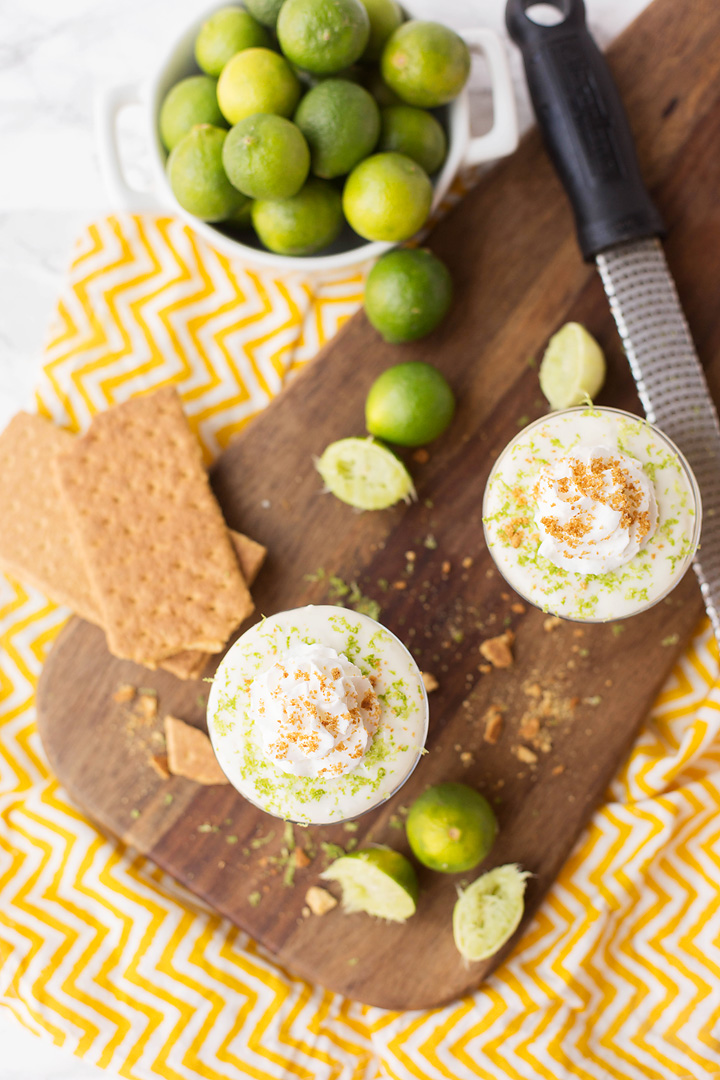 Don't they look wonderful?  I know Fall is already upon us, but here in San Diego its still 80+ degrees and so this refreshing dessert (breakfast or snack) is more than acceptable.  Actually any food, at any time, during any season, anywhere, eaten any way… is a beautiful beautiful thing!  Food is amazing isn't it?  I'm not sure anything excited me quite like food 🙂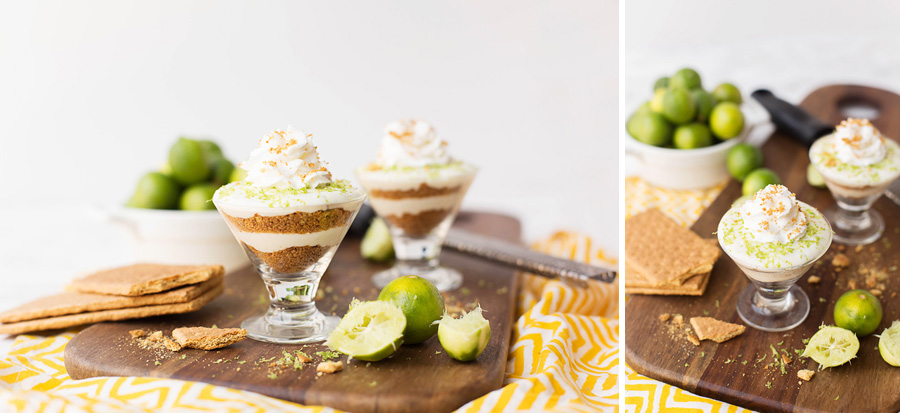 Yeah, I'm ready to whip up another big batch of this!  These would even work for a beginning of the week meal/food prep item!  Just whip up a double/triple batch of the protein yogurt, store in the fridge, blend the graham crackers and store them separately in a little container or baggie, and you can assemble anytime you need a snack or its time for dessert!  Genius.  Why didn't I think of that before???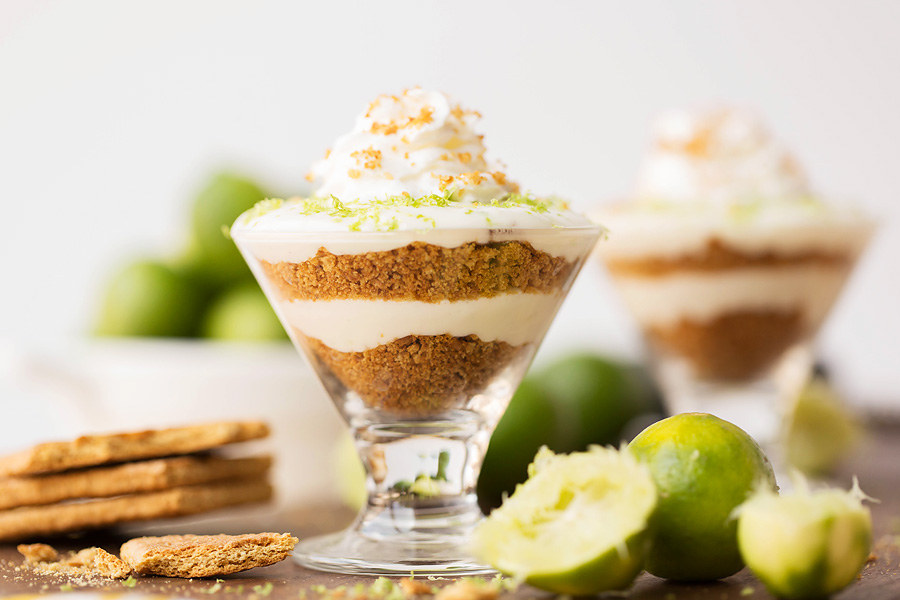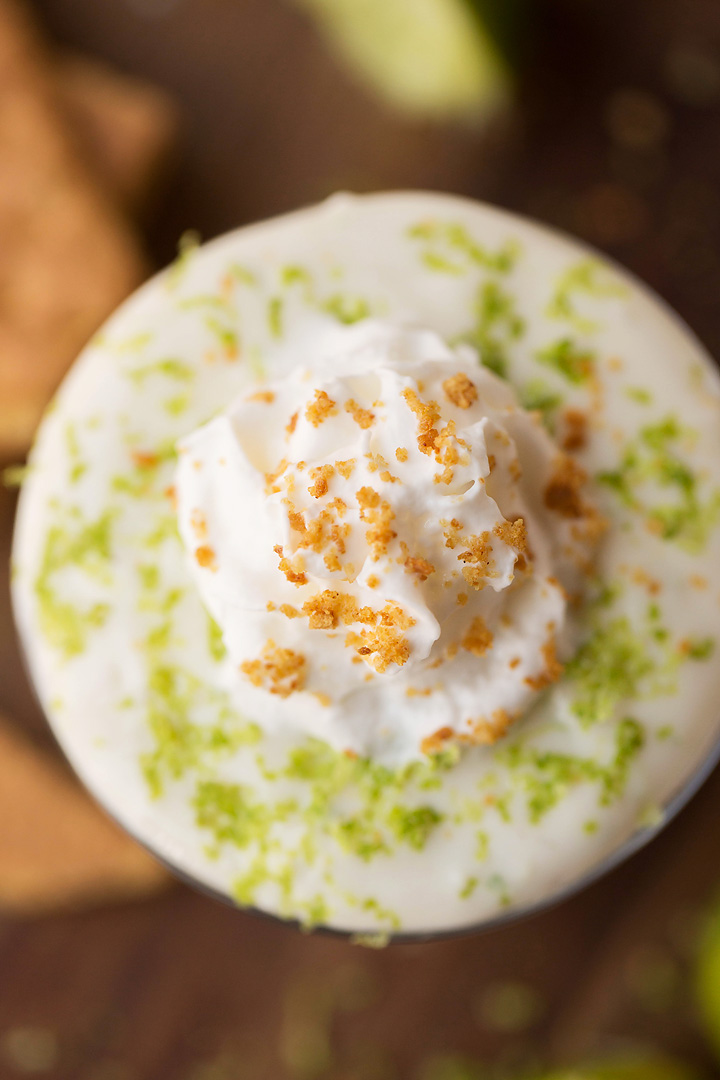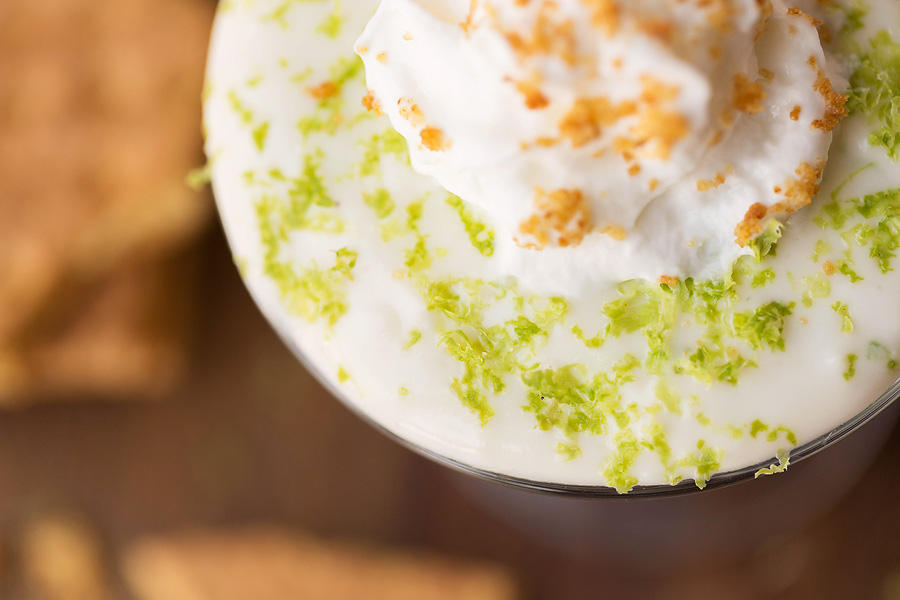 I will certainly be prepping these again soon (WITH the new changes of course)!  These are sweet, tart, tangy, and so satisfying.  The added protein will help keep you fuller, it's quick & easy, HEALTHY, and every bit as delicious as a real slice of key lime pie!
Key Lime Pie Parfaits

Print recipe
| | |
| --- | --- |
| Serves | 2 |
| Prep time | 5 minutes |
Ingredients
2oz softened cream cheese (or vegan cream cheese)
1/2 cup 0% Greek yogurt (or plain coconut milk yogurt)
1/2 cup Key Lime Pie MuscleEgg egg whites
1 scoop Vanilla protein powder
1/2 teaspoon vanilla extract
1/2 teaspoon key lime zest
1 heaped tablespoon key lime juice
2 sheets graham crackers (or gluten free graham crackers)
1 pinch cinnamon
2 teaspoons flax oil
Directions
Step 1
Add cream cheese, Greek yogurt, vanilla, MuscleEgg, juice, and zest of key limes to a stand mixer. Mix on high until smooth and fluffy.
Step 2
Place graham crackers to a small zip lock bag and crush with hands or rolling pin. Add crumbs to a small bowl, add flax oil and cinnamon. Mix until well combined.
Step 3
Layer yogurt mixture with graham cracker crumbs, garnish with whipped cream and extra lime zest.
Note
NUTRITIONAL INFORMATION (makes 2 small servings): calories- 252, fat- 6 grams, carbs- 20 grams/fiber- 2 grams, protein- 29 grams PER SERVING
30% OFF PESCIENCE PROTEIN & ALL OTHER PRODUCTS USING COUPON CODE 'CORINA' AT CHECKOUT WWW.PESCIENCE.COM