'These Cookies N' Cream protein donuts are gluten free, low carb, high protein, and a breeze to make!'
Even though I may no longer be on the donut train anymore, my family certainly still likes to enjoy those sweet, delicious, fluffy treats every once in awhile!  They probably only get purchased from the donut shop once every couple of months, but certainly request them much more often.  To curb their sweet tooth and donut fix in between "real" donut visits, I usually whip up a batch (or two) of my baked protein donuts for them!  These are also great for food prep, store nicely in the fridge, and can even be frozen (without toppings).
However unlike a traditional glazed donut which usually has upwards of 310 calories, 35-50 grams of carbs, 15-20 grams of sugar, over 15 grams of fat (and not the good kind), and minimal protein… my "pronuts" (protein donuts) have a MUCH better nutritional profile.  I do a huge variety for flavors simply by tweaking the base recipe and toppings are usually what accounts for the higher carb amounts.  Yet even with the crushed cookie topping on these Cookies N' Cream pronuts are only 142 calories and boosts a whopping 10 grams of protein (2.5 grams of fiber and under 3.5 grams of fat)!  Personally, eating multiple store bought donuts each and every single day probably isn't the most optimal fuel source, so it's nice having a more nutrient dense option available when the sweet donut tooth rears its head!
These were definitely a pretty big hit around here with my husband and kids.  Don't tell me for a second they don't look absolutely delicious!  Even my mouth is watering and I no longer have any kid of sweet tooth!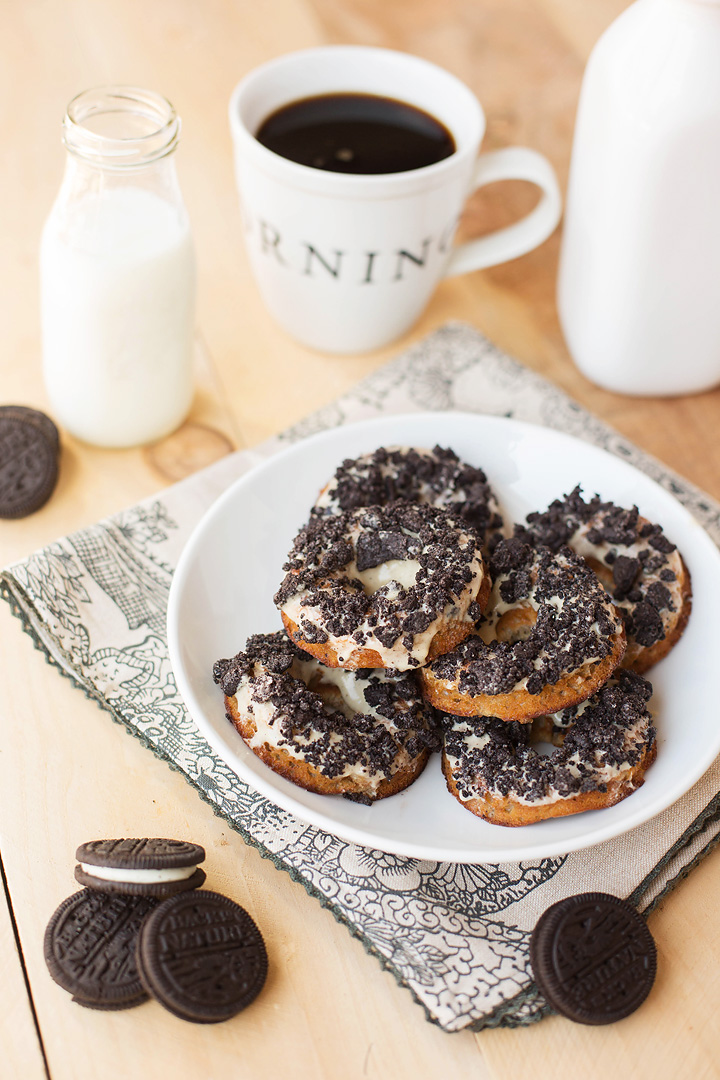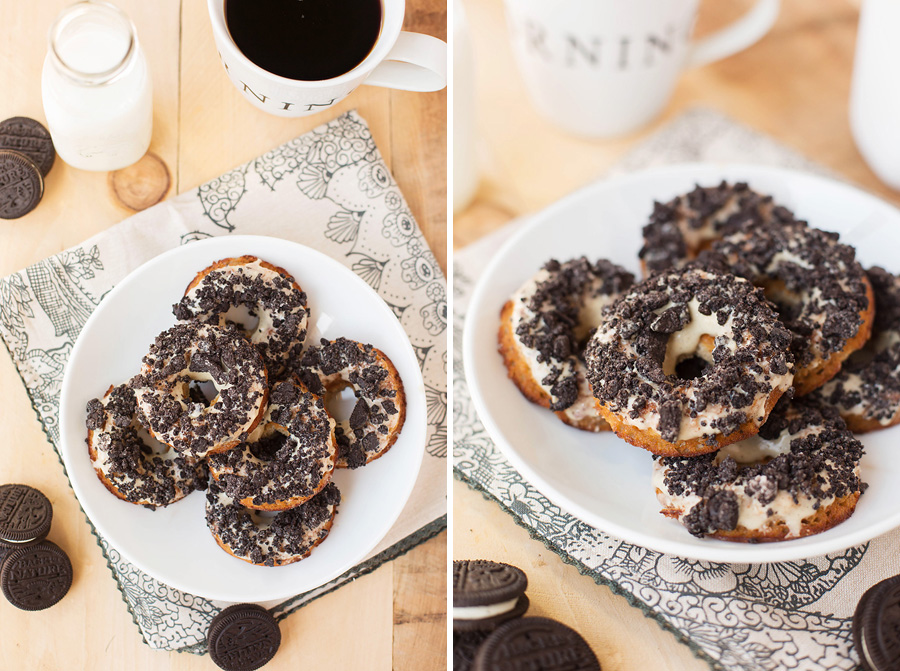 It's like a cross between an old fashion donut and an Oreo… but this one won't give you the sugar rush and then leave you feeling totally lethargic!  You'll feel energized, fueled, and definitely a bit more satiated with these!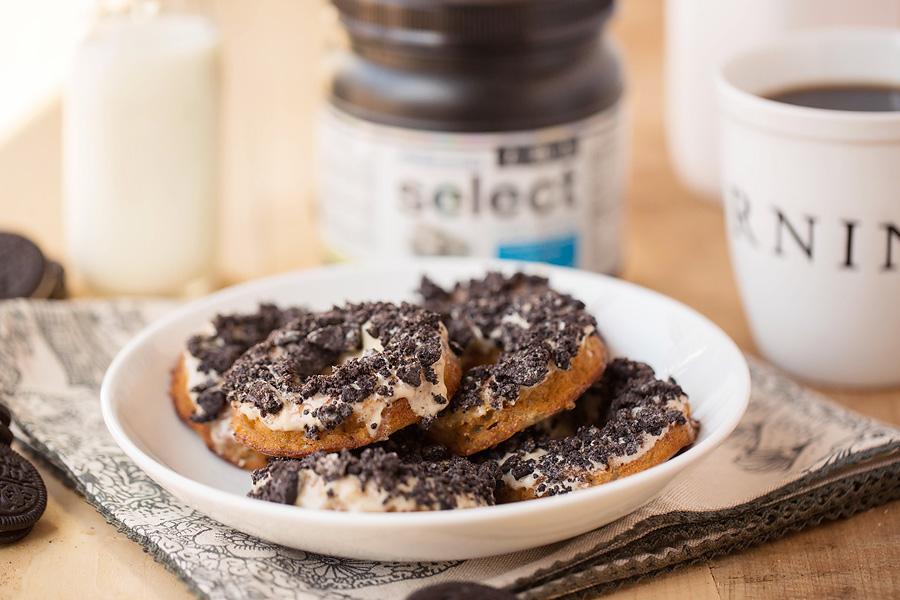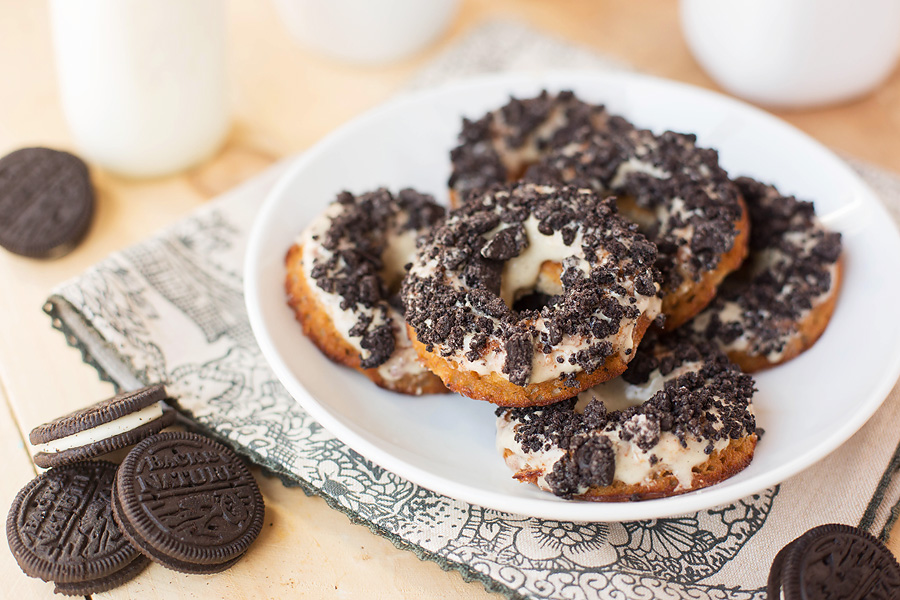 The money shot… oh that wonderful cookie goodness.  Almost makes me want to kick myself out of ketosis right this very second…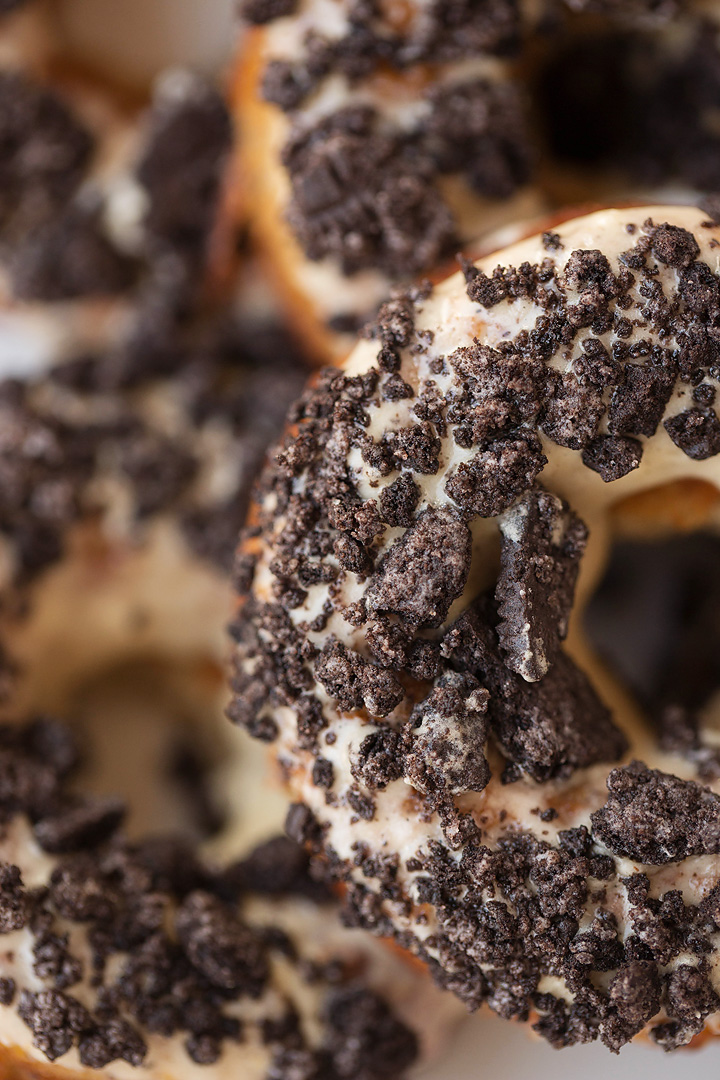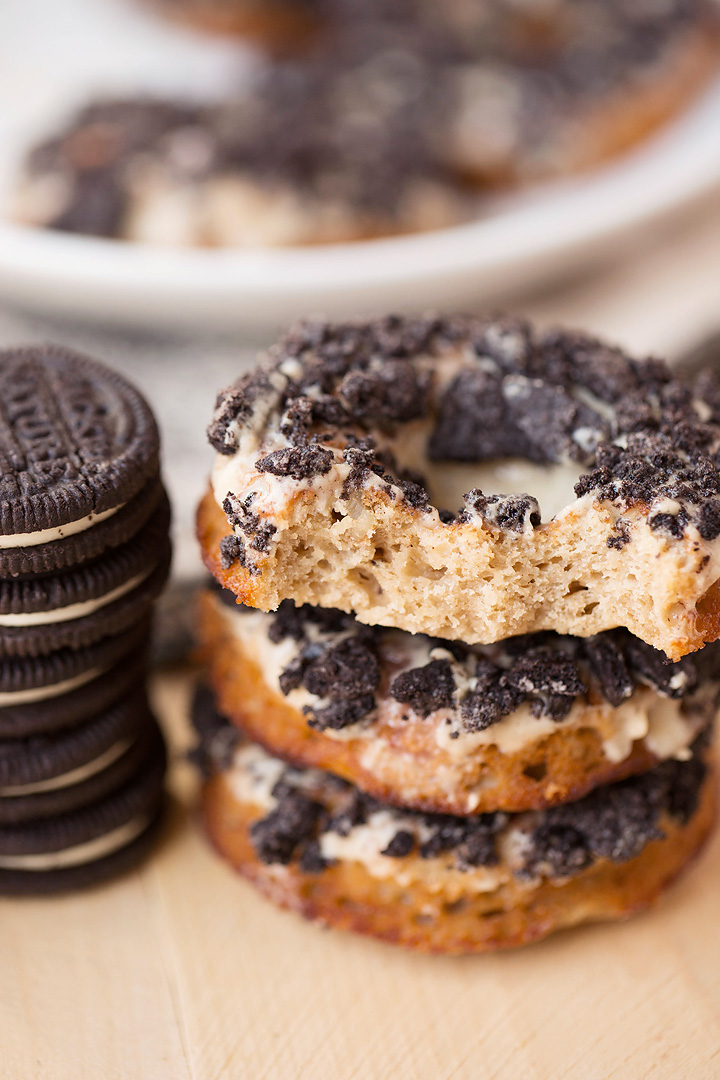 Gluten Free Cookies & Cream Protein Donuts

Print recipe
Ingredients
1/2 cup Gluten Free Kodiak baking mix
1 scoop PEScience Cookies & Cream protein
2 tablespoons coconut flour
1 teaspoon baking powder
1/4 cup Chocolate MuscleEgg (or 1 whole egg)
1 teaspoon vanilla extract
1 cup milk of choice
1/2 scoop PEScience Cookies & Cream protein (** TOPPING **)
2 tablespoons milk of choice (** TOPPING **)
6 crushed gluten free chocolate sandwich cookies (** TOPPING **)
Directions
Step 1
Preheat oven to 350 degrees and coat a donut pan (6) with non stick spray.
Step 2
In a large bowl or stand mixer, add Kodiak mix, coconut flour, protein, baking powder, MuscleEgg, vanilla, and milk. Mix until smooth.
Step 3
Pour and divide batter into prepared pan. Bake for 12-15 minutes until edges have begun to pull away from sides and edges are slightly browned. Remove from oven and let cool slightly. Prepare topping.
Step 4
In a small bowl, add protein powder and milk. Stir until smooth. Dip donuts in frosting and sprinkle with crumbled cookies.
Note
NUTRITIONAL INFORMATION (makes 6 donuts): calories- 143, fat- 4 grams, carbs- 17 grams, protein- 10 grams PER DONUT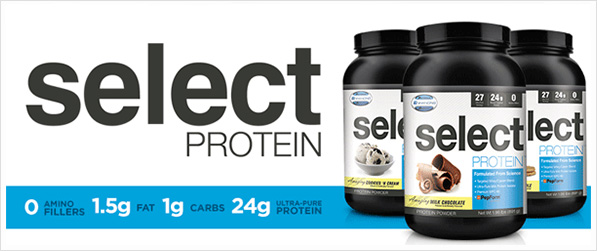 30% OFF PESCIENCE PROTEIN & ALL OTHER PRODUCTS USING COUPON CODE 'CORINA' AT CHECKOUT WWW.PESCIENCE.COM