'Make ahead healthy gingerbread pancakes and prepped daily school lunches will change your life!  Get your kids off to get a great start everyday with a balanced breakfast and fueling nutritious lunches!'
Been feeling all kinds of festive as the end of 2016 approaches!  Last year at this time, I was pretty much bed/couch bound due to my medical issues.  My family was still adjusting to my limitations and trying desperately to find a "new normal".  However even doing that was extremely difficult when you literally have no idea how you will feel when you wake up each morning and what the rest of the day will bring.  As a result of the overwhelming pain and unpredictable symptoms, I was unable to decorate the house properly, had NO Christmas spirit, and was literally hanging on by a thread.  I was bah hum bugging all over the place.
NOT this year though friends…
Oh no.  I've actually had the BEST past 2 months EVER with the changes I've made in my nutrition and feeling all kinds of awesome.  So much so that week before Thanksgiving, I was bugging my husband for some home holiday spirit!  A fully decked out Christmas tree and over the top decorating was definitely taking place this year and we were in full holiday mode a day before Thanksgiving!!!  I was totally robbed last year, so this year I'm on a mission to make up for it all (AND then some)!  Holiday planning was in full effect, lists were made, and I vowed this would be the BEST Christmas ever!
One of the first lists I made was of course planning out some meals, namely the Makena's breakfasts for the month.  First up for the month (yes I will be prepping even when she's out for break), were these "Dark Chocolate Gingerbread Pancakes"….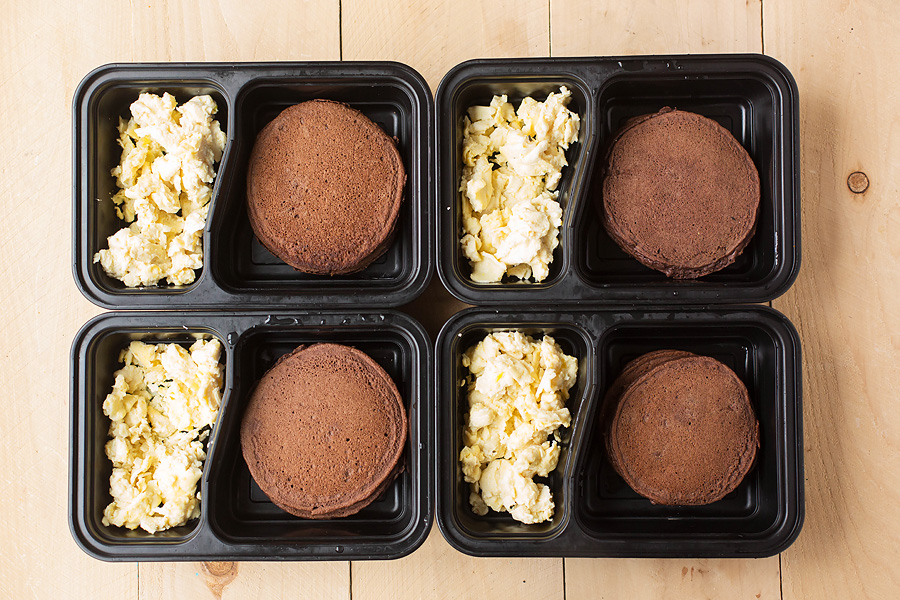 I've already mentioned how much I love making pancakes for make ahead breakfasts, SO easy and takes no time at all!  Whip up the batter, pour a couple of batches onto a griddle, pair it with some eggs or sausage, and BAM.  Healthy, delicious, AND balanced breakfast for the entire week in under 15 minutes!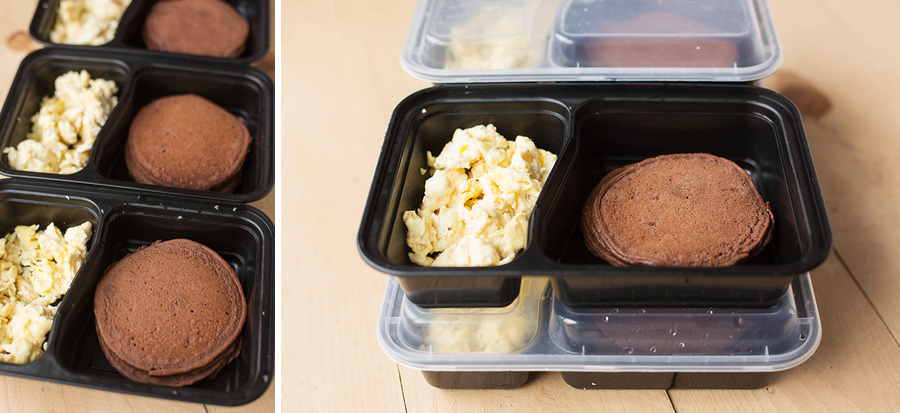 In the morning when its time for her to eat, we pop the pancakes in the toaster and eggs in the microwave.  You could easily put the whole container in the microwave, but we prefer the toasted pancakes because it brings back a better texture.  Either way, breakfast is served in under 2 minutes!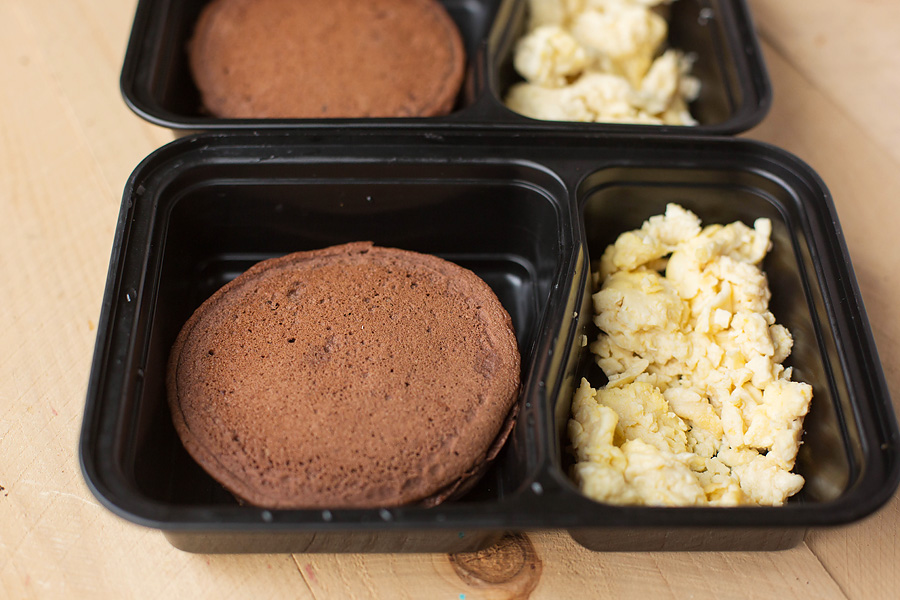 Containers get stored in the fridge and are waiting for us each weekday morning.  We typically have special, freshly cooked breakfasts on the weekends, but every other day… prepped is the ONLY way to go!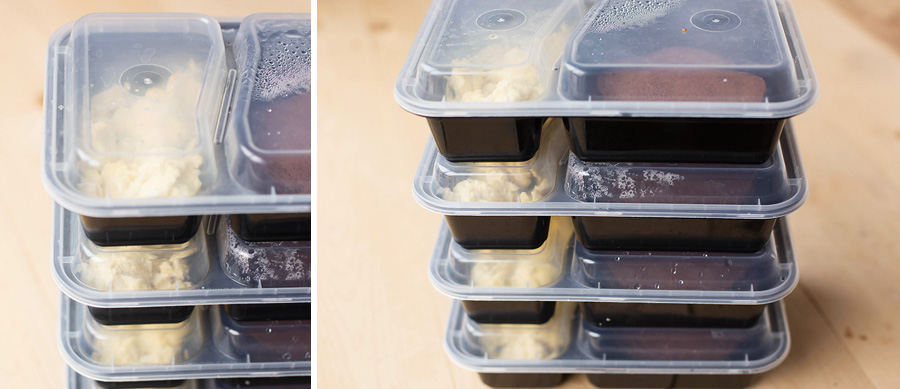 I love that I was able to think ahead this year and plan out the breakfast prep for the holidays.  Makena is SO happy and full of Christmas spirit… just like her mommy!  Holiday breakfasts are off to a great start and can't wait to share the rest of the month with you!
For now, I will leave you with the "Dark Chocolate Gingerbread Pacake" recipe and the lunches Makena took last week.
MONDAY:
Leftover BBQ dinner (chicken, roasted potatoes, grilled veggies), apple slices, cheese, and gluten free crackers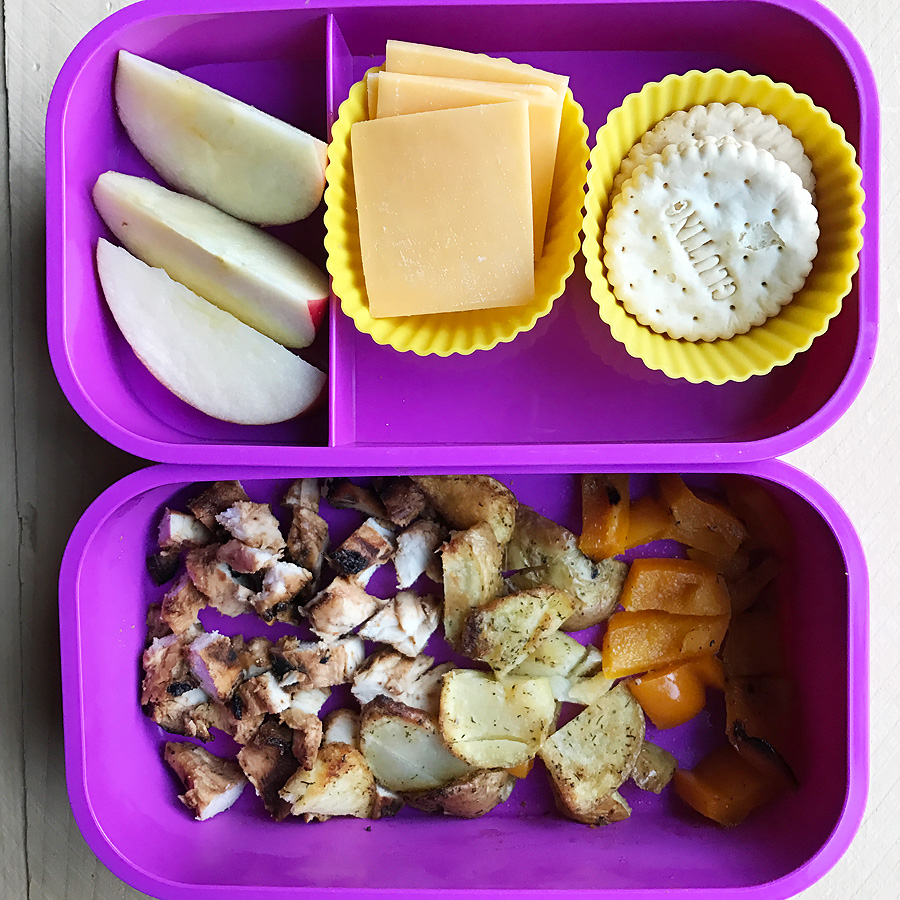 TUESDAY:
Leftover teriyaki chicken, rice, zucchini, bell peppers, grapes, and pistachios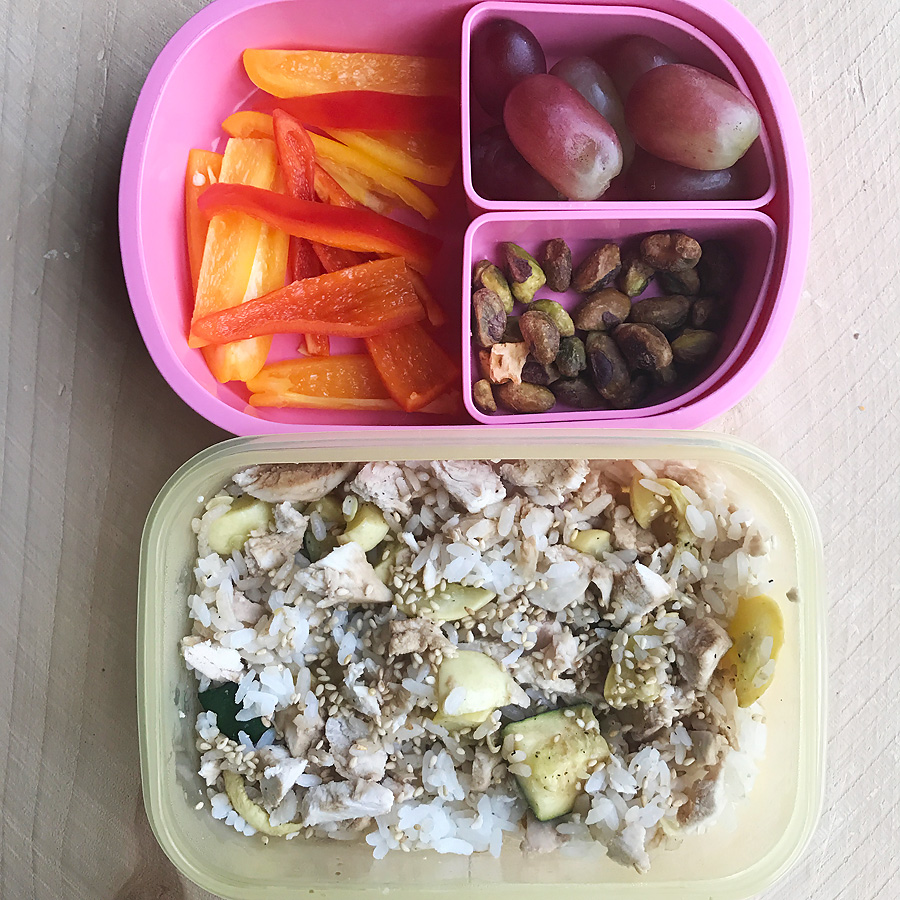 WEDNESDAY:
Leftover pizza, seaweed snacks chez its, and carrots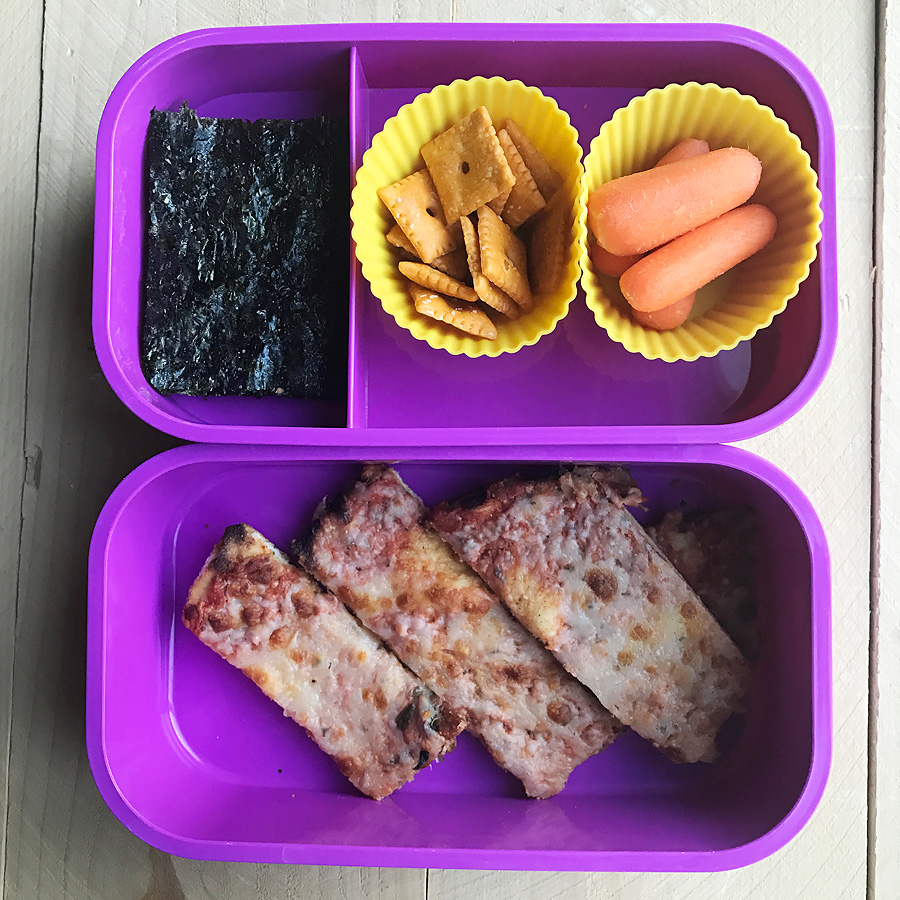 THURSDAY:
Salad with romaine, spinach, red cabbage, carrots, bacon crumbles, strawberries, cheese, gluten free crackers, and popcorn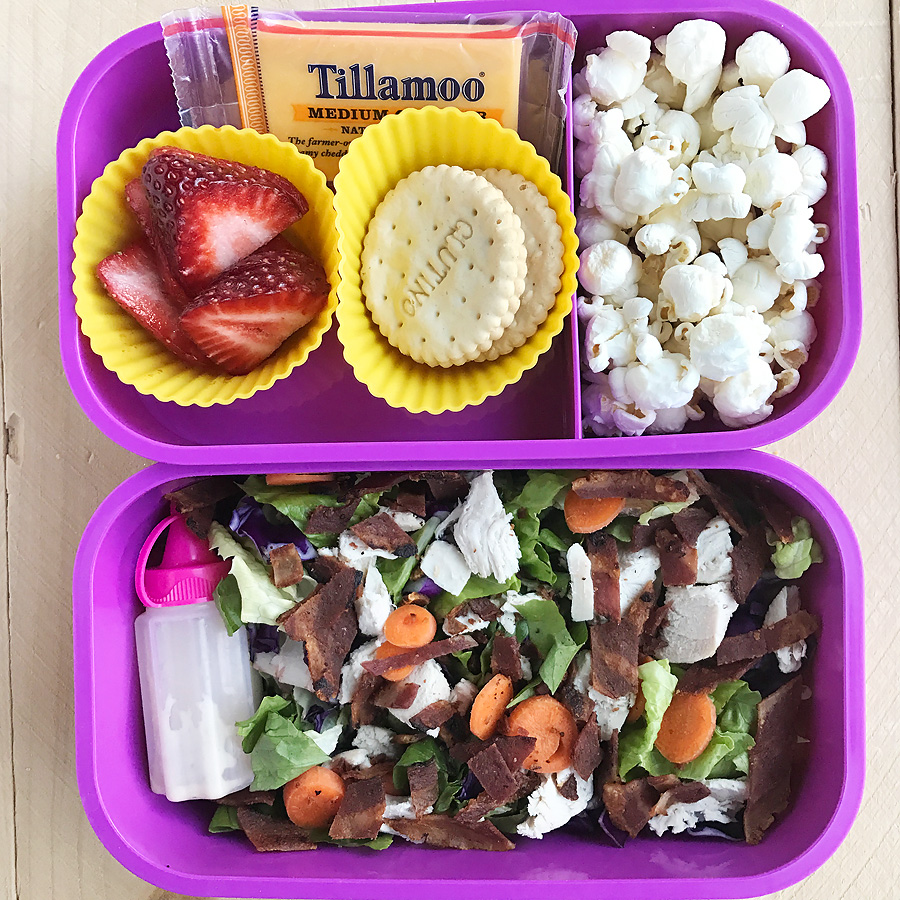 FRIDAY:
Leftover taco chicken casserole, tortilla chips, celery, and strawberries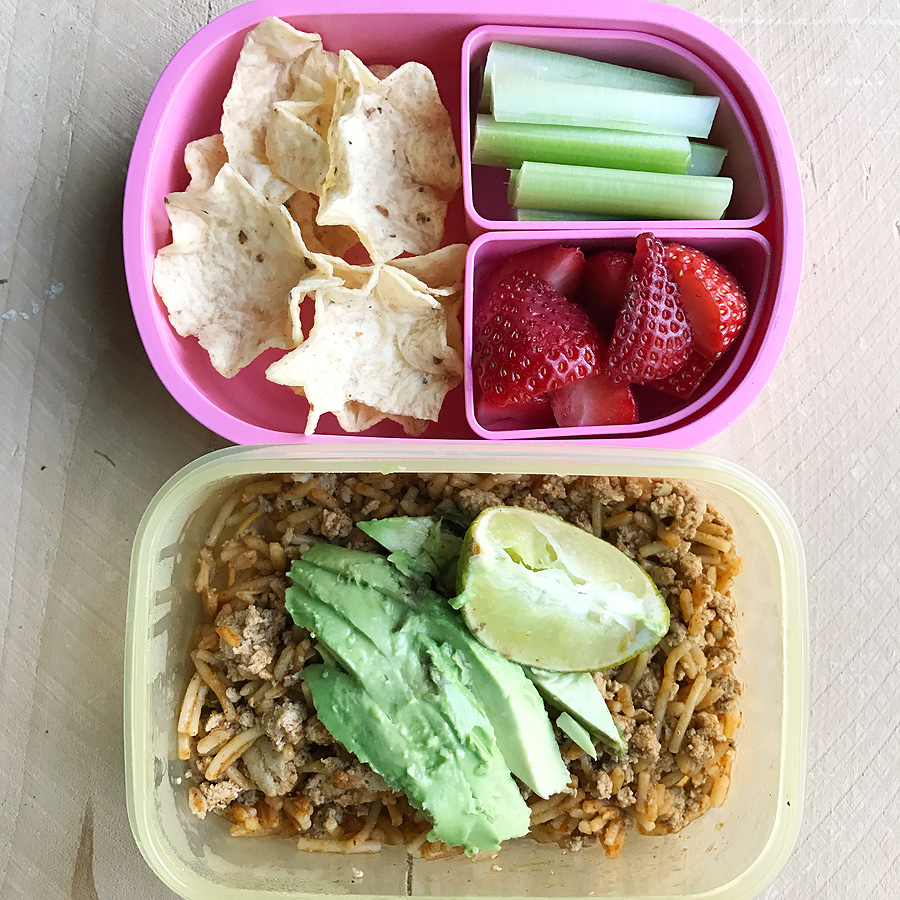 Dark Chocolate Gingerbread Pancakes

Print recipe
Ingredients
1 1/2 cup 'Dark Chocolate' Kodiak power cakes
2 tablespoons coconut flour
4 tablespoons Swerve or sweetener of choice
1/8 teaspoon cloves
1 1/2 teaspoon cinnamon
1/8 teaspoon nutmeg
1/2 teaspoon salt
1 Large whole egg
1/4 cup Chocolate MuscleEgg egg whites (or replace with whole egg or plain egg whites)
1 cup milk of choice
Directions
Step 1
Combine all ingredients in a large bowl or stand mixer. Mix on high until batter is smooth.
Step 2
Preheat griddle pan and coat with non stick spray.
Step 3
Portion and cook pancakes on medium heat until bubbles form on top. Flip and cook on remaining side for 1-2 minutes. Top with syrup and cinnamon.
Nutrition Facts
Serving Size 1
Servings Per Container 5
---
Amount Per Serving
Calories 149
Calories from Fat 36
% Daily Value*
Total Carbohydrate 21g
7%
---
*Percent Daily Values are based on a 2,000 calorie diet. Your daily values may be higher or lower depending on your calorie needs.
Find me on Facebook:


Find me on Instagram for daily food inspiration, ideas, and tips: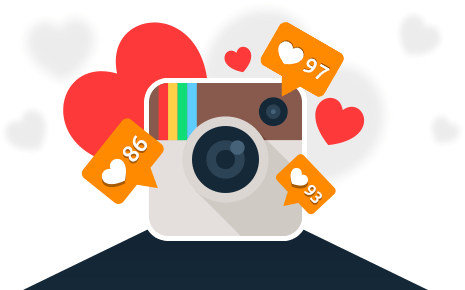 MY FAVORITE FOOD & MEAL PREP SUPPLIES