'Savory breakfast sausage cauliflower muffins will bring all of the comforts of Thanksgiving flavors into your home anytime of the year!'
Definitely a bit strange, but this is actually a follow up from my most recent kids breakfast prep posts!  I originally made these keto breakfast sausage cauliflower muffins for myself, but my daughter (and husband) ended  up liking them so much I had to make a whole new batches just for them!  The preparation is exactly the same, but I just changed up the rest of my meal to make it full keto/low carb/grain/gluten free/dairy free.
When I first came up with this idea, I was entirely unsure if I could pull it off, but I gotta say… these turned out even better than I could have imagined.  I knew I wanted to incorporate vegetables into them somehow (because thats I how I keto and eat :)), but couldn't decide between zucchini, yellow squash, kale, or spinach.  Those options all seemed a little too boring to me and if I was going to even get my family to try these, I knew the veggies couldn't be quite so 'pronounced' and in your face!  However using riced cauliflower not only provided a great texture, it also had a subtle savory taste, and the color is completely neutral as well so its virtually undetectable for those picky eaters in your life!
A HUGE bonus to this recipe is it works great for meal/food prep, it requires fairly basic ingredients, its EASY to prepare, AND these can even be frozen and stored for future use!  A winner on all accounts if I do say so myself!
Lets get the ingredients together:
riced cauliflower
nutritional yeast
eggs
spices
milk
melter butter
cooked sausage (turkey, pork, beef, chicken) and onions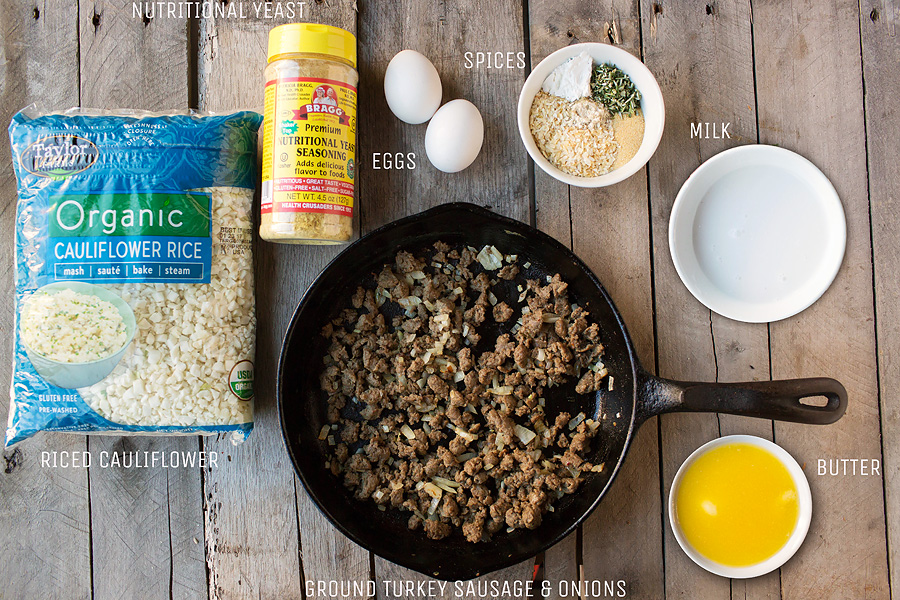 Cook off onions and ground sausage.  Once the the mixture is cooled, throw ALL ingredients into the bowl of a stand mixer.  Mix at medium speed for about a minute until everything is well incorporated and combined.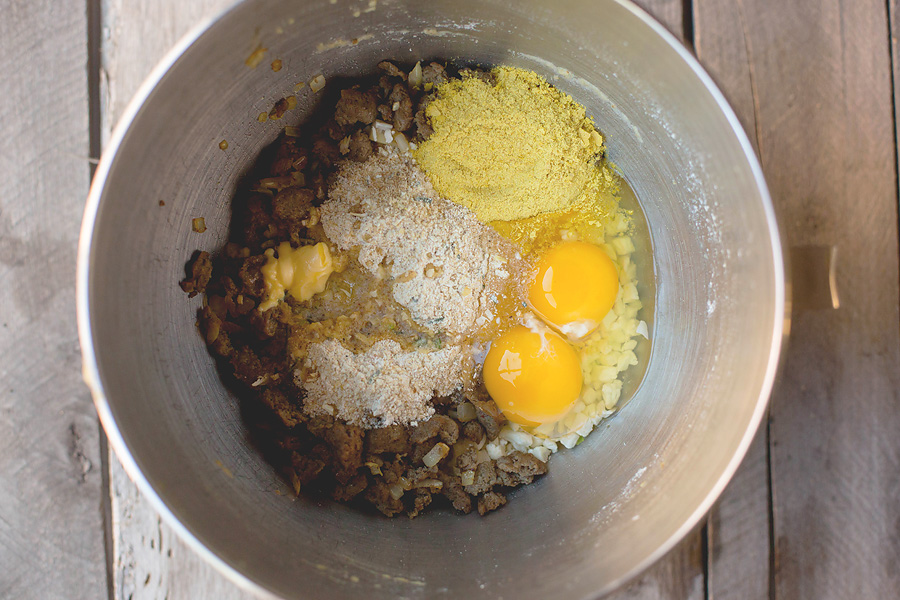 It will look like a big wet, sticky blob!
HOLD UP… I just realized these could also be made into quick little patties and fried up in some ghee or butter… mmm, that sounds good also 🙂  Cooked on a cast iron skillet to make an extra crispy coating.  Yeah, that would work too!!!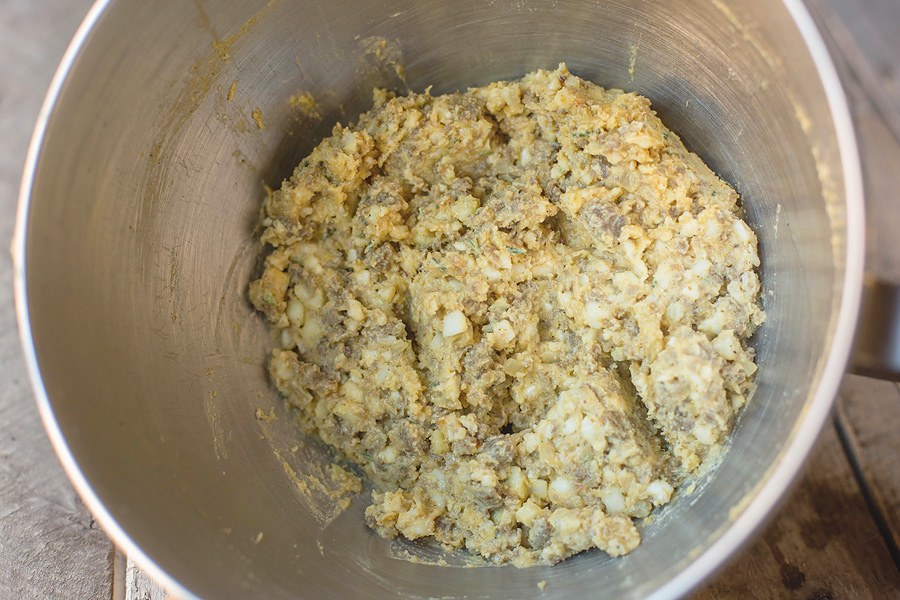 At any rate, whichever method you decide to cook these, you'll love them!  Let the "dough" sit for a couple of minutes to thicken up even more.  If you're sticking with the original cooking plan… then add about a teaspoon of butter or ghee the bottoms of a cupcake pan.  Coat the rest with non stick spray and pop this into the oven while it preheats.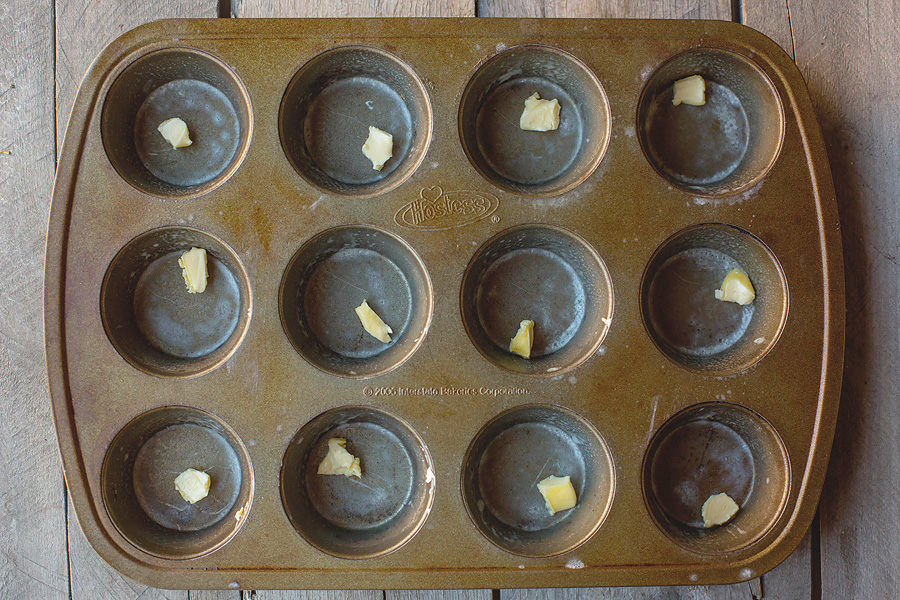 Once oven reaches temperature, pull the pan out carefully.  Divide and portion dough and add about 1/4 to 1/3 cup to the pan (right on top of the now melted butter).  Its going to sizzle and soak right into the bottom of these…. YUM.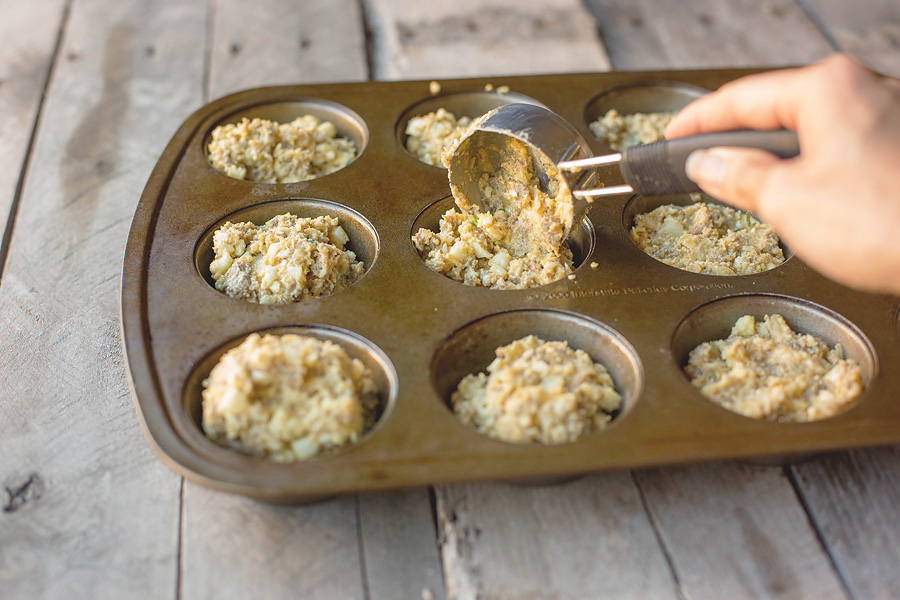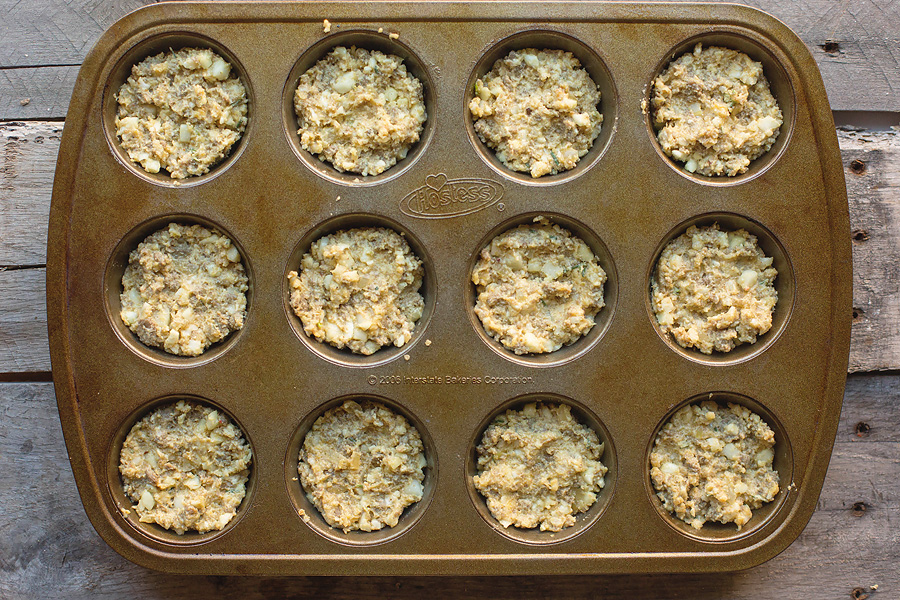 Pop the them in the oven and cook until the edges are ALL deliciously golden brown and crisped!  They will also slightly be pulling away from the pan.  You'll want to taste them immediately because the smell in your kitchen/house will be utterly overwhelmingly delicious, but resist the urge.  They are great just like this, hot right of the oven BUT even better with a little ghee melted right on top.  Oh. My God.  Ghee.  Best part of being keto, I swear.  If you missed that train, catch up.  You'll wonder how you ever lived without this beautiful clarified butter in your life!  I digress… always when it comes to ghee!!!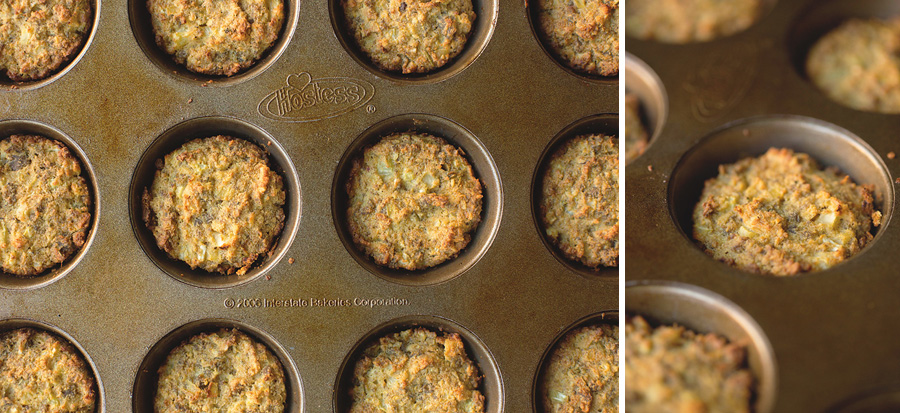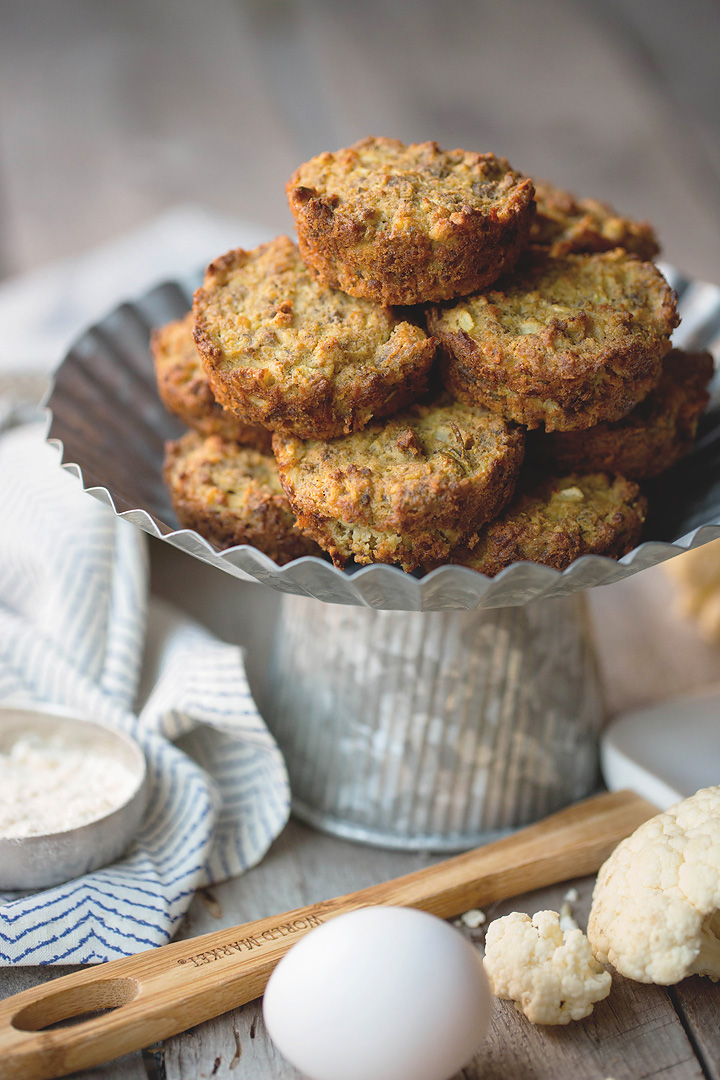 Oh happiness.
I LOVE that the spices and texture are so pronounced, yet they remain so perfectly balanced.  I swear these taste like "Thanksgiving"… so rich, warm, and comforting.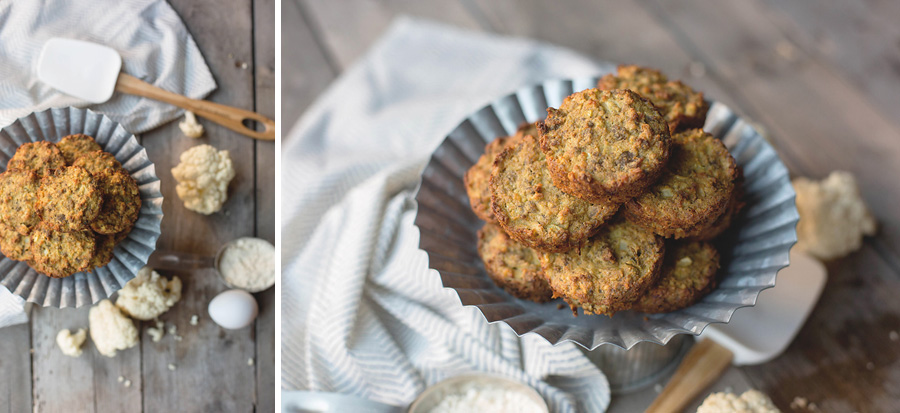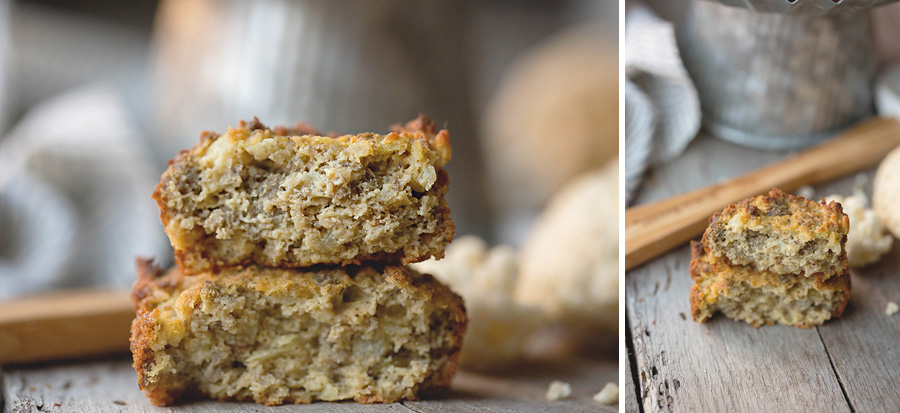 Eat them plain, reheated in the toaster oven, on the go, OR build your breakfast around them like I did!  These "hidden veggie" sausage muffins can take an everyday boring keto meal (eggs & bacon) up about 15 notches, easily.  They make you feel like you're having something far more substantial as well!  My daughters muffins were paired with some extra carbs, but for my husband and my portions I served the muffins on top of fresh baby spinach and alongside a couple of fried eggs!  Yeah, this was a pretty hearty meal even for me 🙂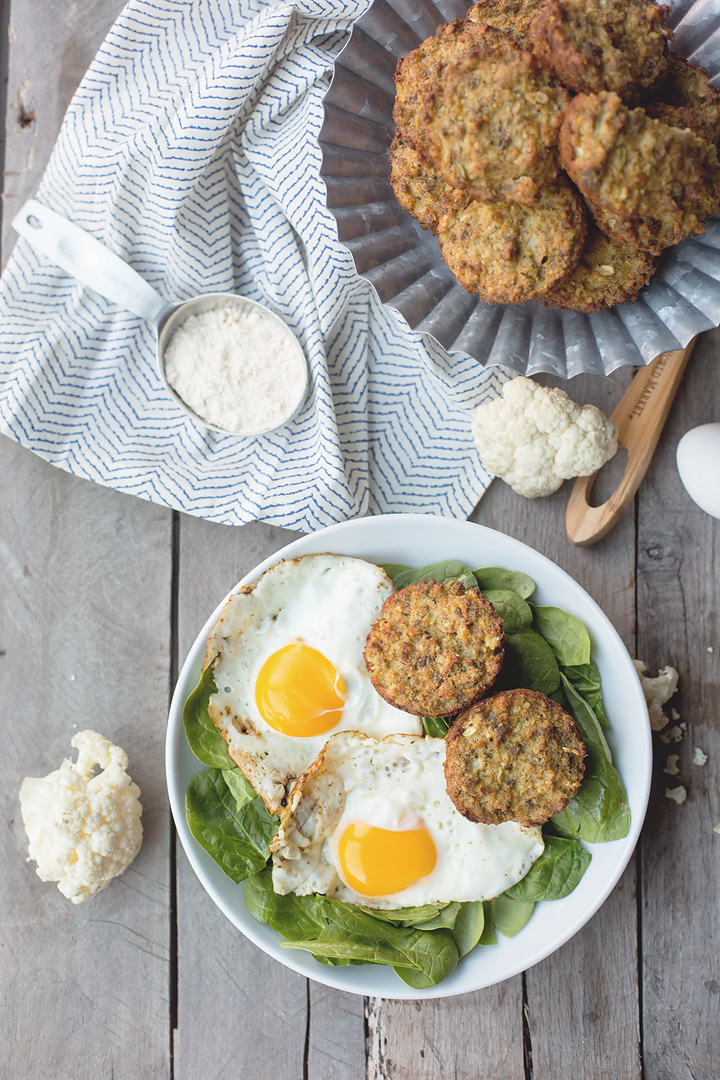 Breakfast Sausage Cauliflower Muffins

Print recipe
Ingredients
1 Large whole eggs
1 tablespoon garlic powder
3 tablespoons butter or coconut oil (melted)
2 tablespoons minced onion
1 tablespoon finely chopped rosemary
1/4 teaspoon pepper
3/4 cups milk of choice
3 tablespoons coconut flour
2 tablespoons psyllium husk
1 1/2 teaspoon baking powder
1 1/2 cup riced cauliflower
1/2lb cooked & cooled ground sausage
Optional
1/2 cup grated cheddar cheese
Directions
Step 1
Preheat a cast iron skillet or pan and coat with non stick spray or butter. Cook sausage thoroughly. Remove from heat and let cool.
Step 2
Preheat oven to 375 degrees and coat with non stick spray. Add 1 tsp of butter or coconut oil to the bottom of each 'cupcake' space.
Step 3
In a large bowl or stand mixer add egg, butter, and milk. Whip until frothy. Add remaining ingredients (cauliflower, cooked sausage, coconut flour, psyllium husk, and spices). Mix well until all ingredients are evenly incorporated. Stir in optional cheese if desired.
Step 4
Remove heated pan from oven and portion/scoop batter on top of melted butter. Cook for 30-35 minutes until top and edges are golden brown.
Nutrition Facts
Serving Size 1 muffin
Servings Per Container 12
---
Amount Per Serving
Calories 82
Calories from Fat 54
% Daily Value*
---
*Percent Daily Values are based on a 2,000 calorie diet. Your daily values may be higher or lower depending on your calorie needs.