'A healthier version of hummus that is low carb, nutrient dense, and makes for the perfect keto dip or sandwich spread!'
Hands down one of the BEST investments I have made in my health was having a PinnerTest food intolerance/sensitivity test.  Because over 80% of our immunity is located in our guts, its extremely important to keep it functioning in the most optimal way possible.  Some people think they know what foods they are sensitive to, but the vast majority of people have NO idea.  NO clue whatsoever.  Most people completely disregard the warning signs that their bodies are desperately trying to give such as bloating, gas, bowel issues, skin irritations, brain fog, fatigue, headaches, weight gain, depression, mood swings, and even respiratory problems like coughing/asthma/nasal conditions.
Take me for example.  I knew for certain that I was highly intolerant to soy… no question whatsoever.  Reactions would occur within 5-10 minutes of eating anything that contained soy (extreme bloating, severe abdominal pain, etc.)  However, I was extremely surprised to see things like pineapple, walnuts, and even sesame seeds on my results.  These are foods I have eaten my ENTIRE life without ever outwardly noticing any ill effects.  Sure I suffered with minor things like eczema flare ups, headaches that came out of nowhere, a runny nose here and there, and of course fatigue that I always attributed to my spinal or autoimmune disease, but alas no.  It most likely can all be attributed to the foods I was putting (and not putting in my body).  And unfortunately for me, the constant influx of these foods (nearly on a daily basis) have caused more "silent" damage over the years than I could have ever expected.
Once I received my results though and removed these foods that were causing my body so much distress, the entire course of my medical conditions changed dramatically.  Within two weeks of changing my diet (removing sensitivities and moving to a ketogenic lifestyle) ALL of my joint pain subsided, hips, ankle, and knee no longer gave me issues, and most importantly… the pain and symptoms from my incurable spinal disease even began to reduce.  I don't think you can comprehend how PROFOUND this is… going from level 7-9 pain (AND bed bound) down to 1-2 nearly every single day?  That's quite a significant improvement and change in the quality of life when someone lives' with a chronic illness!
Don't get me wrong here though.  Removing my food sensitivities completely has been hugely overwhelming and difficult!  Sure I can simply stop eating pineapple, brazil nut, sesame seeds, and walnuts (insert sad faces here), but if you aren't aware… soy is in just EVERYTHING packaged/store bought.  Literally, 98% of any and all "processed" foods contain soy or a soy derivative.  You know how people say to stick to the perimeter of the grocery store?  Yeah, thats pretty much the only place you'll now see me in order to avoid soy!
Another hurdle I faced over the past few months after learning about my sesame seed intolerance AND going keto was figuring out how on earth I would ever enjoy hummus again!  Hummus= garbanzo beans (not a keto food) +  tahini (made from sesame seeds).  A HUGE staple in my diet.  I literally made a fresh new batch of hummus every 4-5 days!  Our entire family LOVES it!
Sigh.  I've missed you the past few months my beloved hummus….
No more missing out now though!  I have found a way to not only make a hummus fully keto, but I've also managed to do it WITHOUT using tahini (sesame seeds) AND it's packed with all the healthy things!!!  It's even *almost* as easy as making a traditional home made hummus, but with a couple of extra simple steps at the very beginning of the process.
Take three medium sized zucchinis and slice them long ways into thirds.  Lightly coat them with a little olive oil, salt, pepper, and garlic powder.  And YES, you heard that right!  Grilled zucchini's are the base of this hummus!!!  No beans necessary whatsoever!!!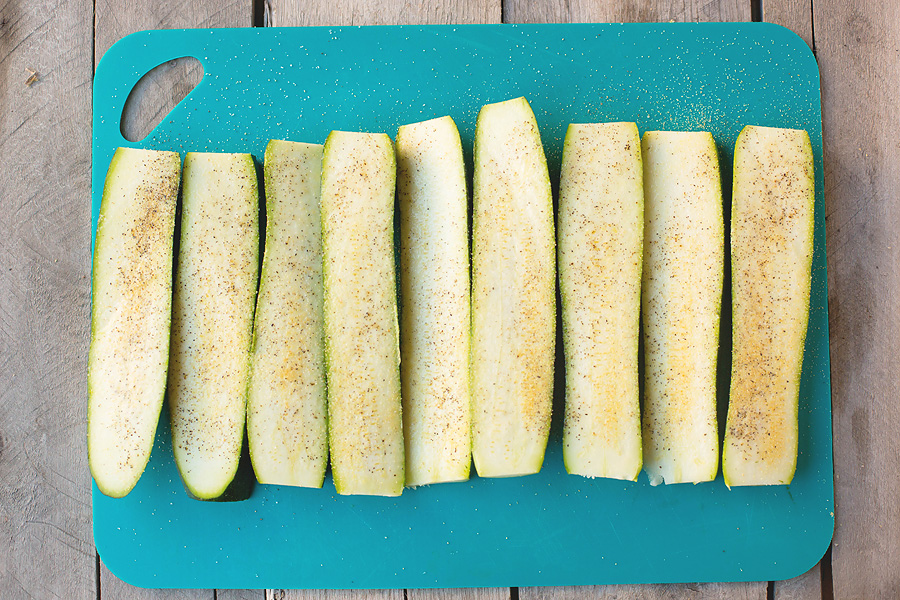 Throw them on a grill pan or the BBQ (you could also use a regular pan, but the char you get from the grill marks provides a deeper depth of flavor).  Cook them 3-4 minutes per side on medium heat until grill marks are perfect and zucchini is slightly tender.
** You do NOT want to cook these until they are completely soft! **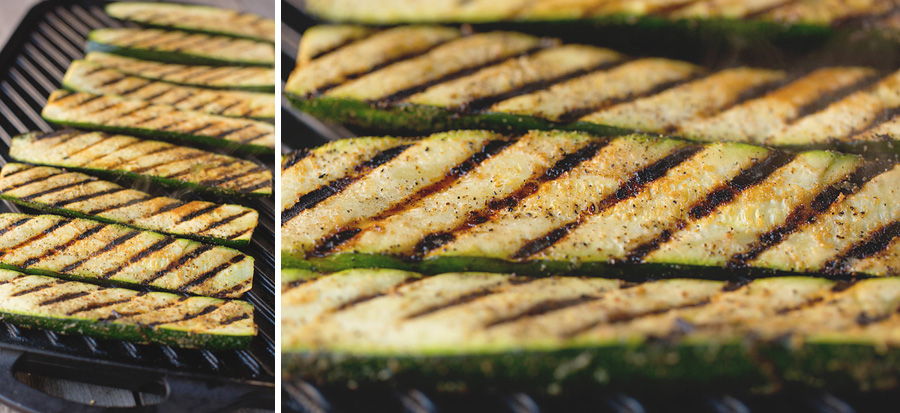 And thats it for the "extra" steps in this hummus… zucchini, slice, coat, grill.  Told ya it would be simple!
Then you just carry on like with a traditional homemade hummus.  Add all ingredients into a high speed blender or food processor!  EXCEPT instead of using tahini, you're going to use either sun butter (made from sunflower seeds) or plain cashew butter or even plain almond butter.  Peanut butter would work also, BUT that strong flavor may over power things a bit much.  I prefer sun butter for sure in this recipe!!!  The subtle roasted taste lends itself extremely well to the char from the grilled zucchinis!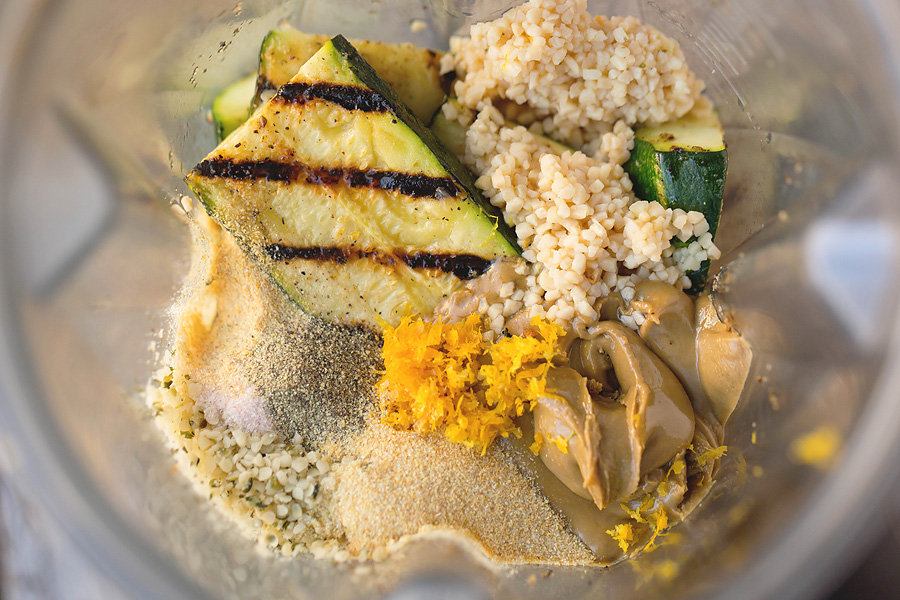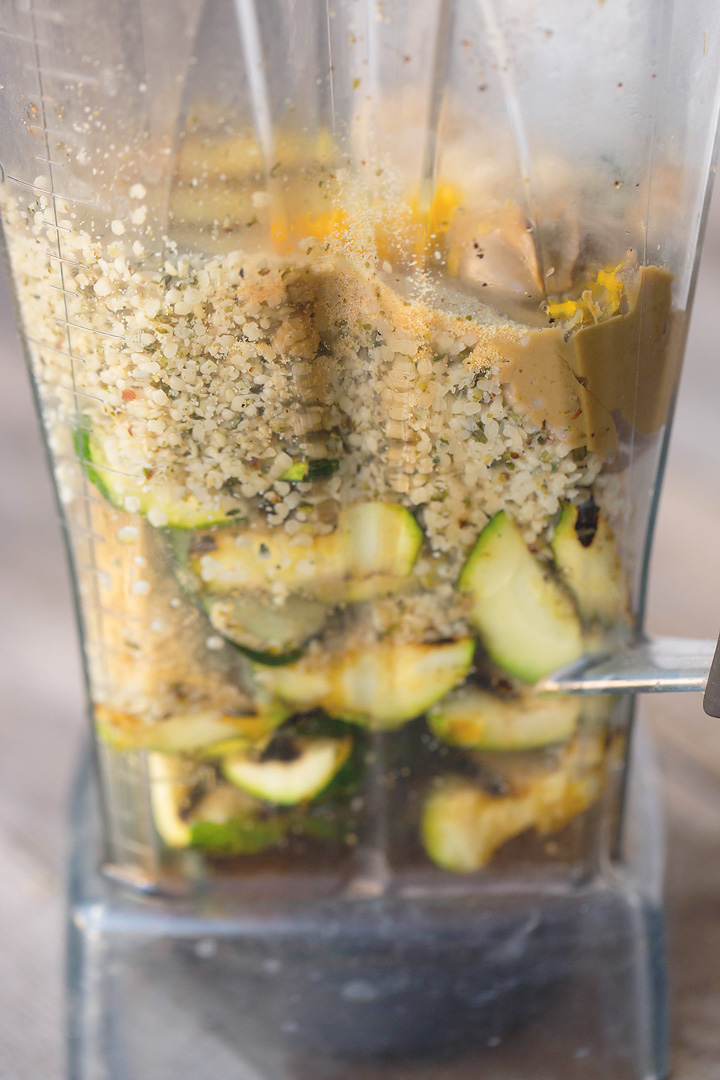 Blend/mix on high until smooth smooth smooth!  It may appear a bit thinner than desired at this point, but if you give it a few minutes the coconut flour will do some magic and soak everything up!  After about 5 minutes re check the consistency.  It should be pretty darn close to regular hummus, but if not and its too thin add 1 tsp extra of coconut flour at a time.  If yours is too thick, add 1 tablespoon of stock/water.  Test the flavor and readjust seasonings if desired!  I usually add a bit more lemon juice to mine because I like the tartness!!!  Keep in mind that this will probably tighten up even more after its been in the fridge for a few hours so don't go crazy with adding more liquid though!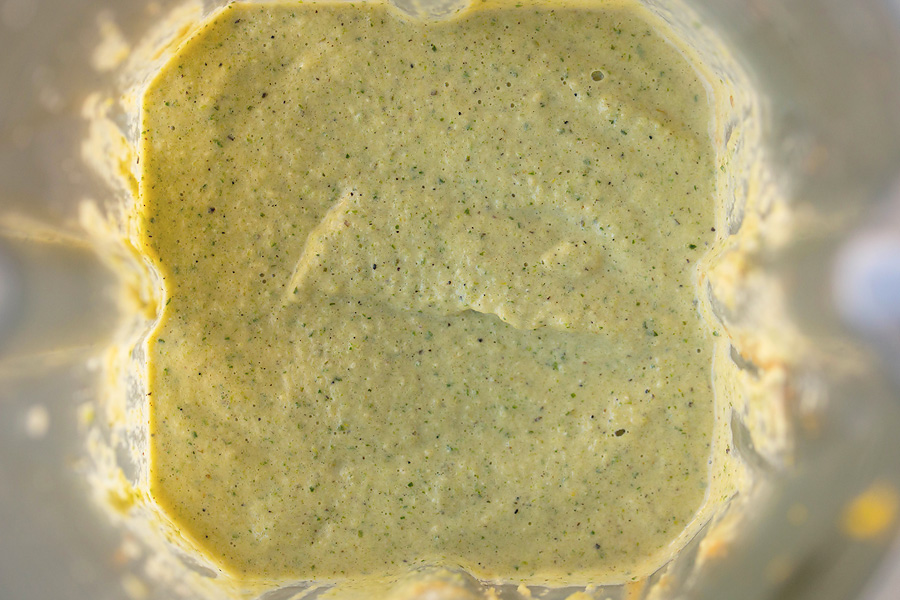 Place hummus in an air tight container, pop it in the fridge, and let it get even happier!  Then you can plate and serve!  I added a drizzle of extra virgin olive oil, finely freshly chopped garlic, and parsley!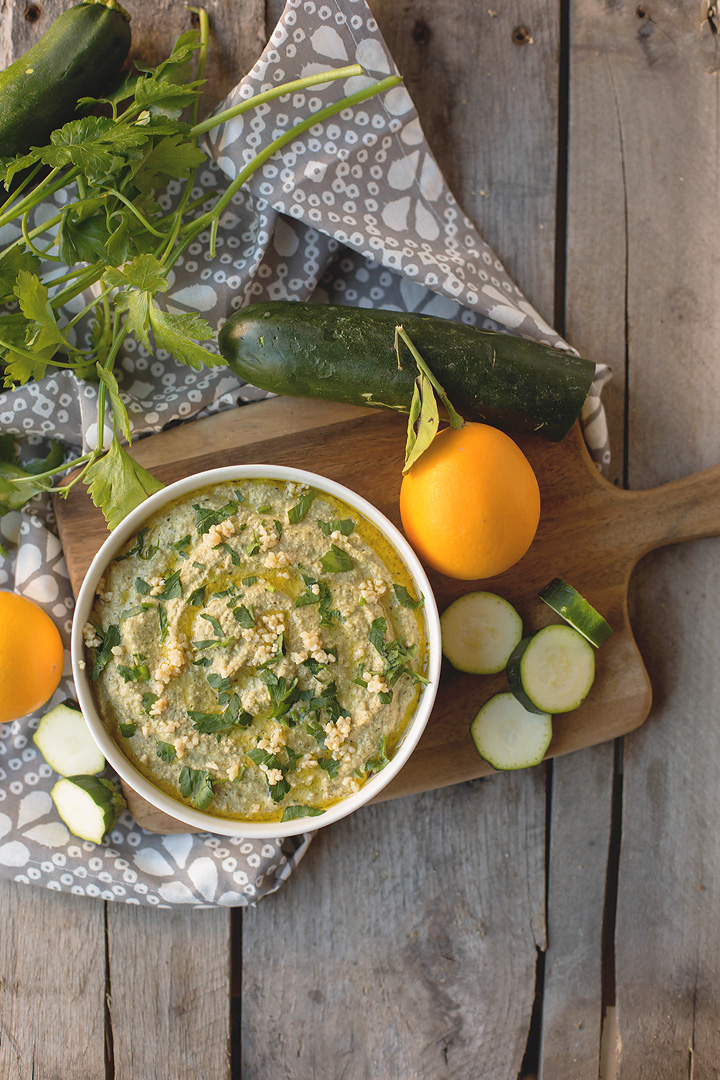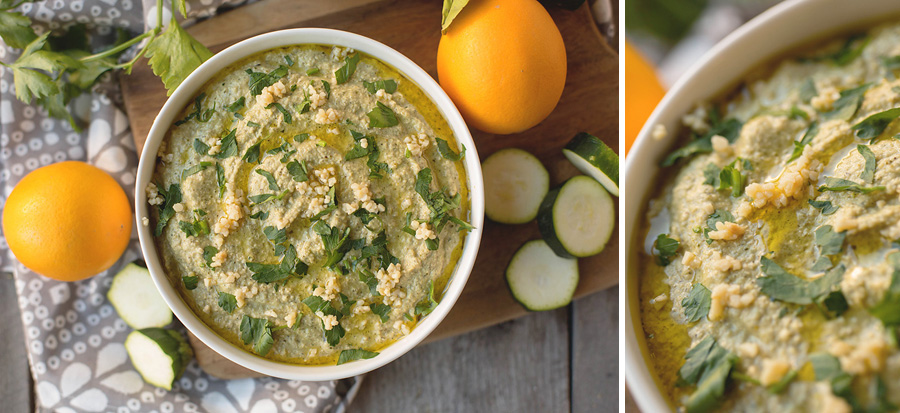 If you are keto, serve the hummus alongside your favorite veggies.  Celery, cucumbers, and jicama are my favorites for this!  Its also wonderful to slather on chicken, eggs, keto bread/crackers, or you could even thin a portion down more with lemon juice and make this into a vinaigrette for salads!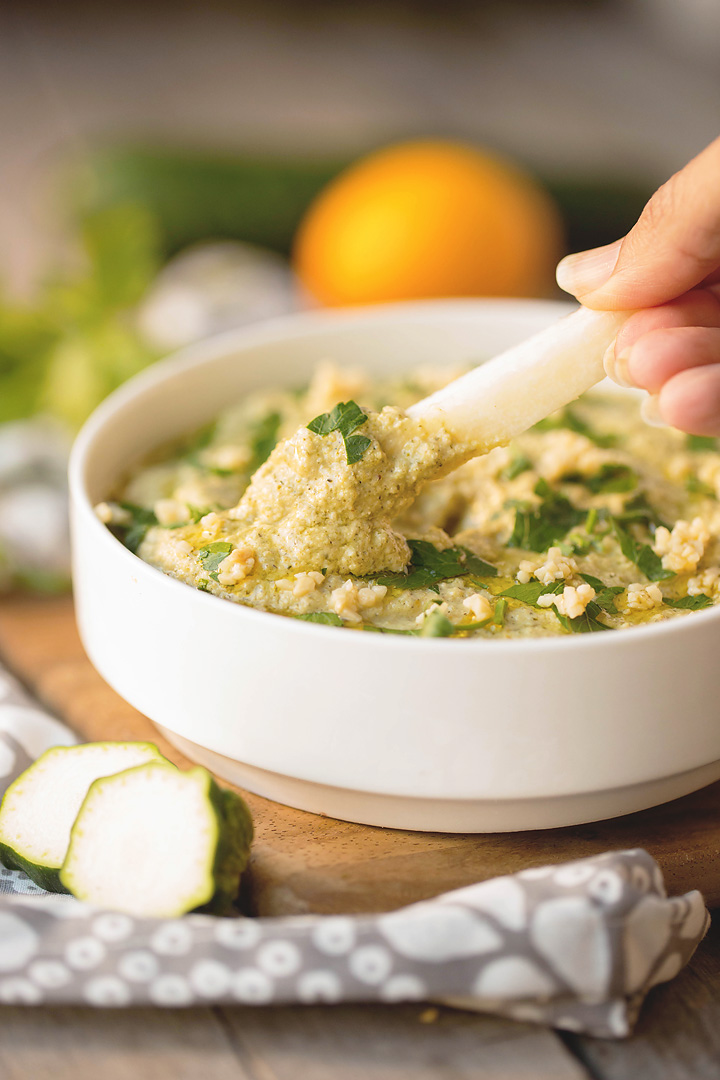 Pretty versatile just like traditional hummus and every bit as delicious… BUT with lot fewer carbs AND a better nutritional profile for a ketogenic and/or paleo lifestyle!  Another thing I LOVE about this is you can EASILY change the flavors of this basic hummus.  Here are some other variations you could try adding in:
roasted red pepper
spinach & artichoke
basil pesto
avocado, cilantro, & lime
jalapeno & cilantro
chipotle lime
kalamata olive
sun dried tomato & basil
The skies are the limit here with hummus!  Use my base recipe and then just go for it 🙂
Garlic Zucchini Hummus

Print recipe
| | |
| --- | --- |
| Serves | 22 |
| Prep time | 10 minutes |
Ingredients
3 Medium zucchinis (sliced and grilled)
1 tablespoon lemon zest
1/4 cup lemon juice
1 tablespoon olive oil (+ 2 tsp)
3 tablespoons sun flower seed butter
2 tablespoons garlic
1 1/4 teaspoon salt (+ 1/2 tsp)
1/2 teaspoon pepper (+ 1/4 tsp)
3 tablespoons hemp hearts
1 tablespoon coconut flour
Directions
Step 1
Slice each zucchini lengthwise into thirds. Drizzle with 2 tsp of olive oil and sprinkle with salt & pepper. Pre heat grill pan or BBQ and coat with non stick spray.
Step 2
Grill zucchini's for 3-5 minutes per side. Remove from pan and let cool slightly.
Step 3
Add zucchini and all other ingredients to a high speed blender or food processor. Mix on high until completely smooth. Wait 3-5 minutes before checking consistency. If mixture is not thick enough for your liking, add a 1 tsp of coconut flour at a time. If its too thick, add more lemon juice, water, or stock. Readjust seasoning as desired.
Nutrition Facts
Serving Size 1 ounce
Servings Per Container 22
---
Amount Per Serving
Calories 33
Calories from Fat 27
% Daily Value*
---
*Percent Daily Values are based on a 2,000 calorie diet. Your daily values may be higher or lower depending on your calorie needs.
** Find me on Facebook **