'These smoked chile lime salmon cakes are the perfect way to bring seafood into your life for the first time!  Big, bold flavors but not the slightest bit fishy.  Low carb, keto, paleo, and grain free fish cakes!'
I absolutely need to preface this post by saying that I lived almost 39 years HATING seafood.  If there were a stronger word than hate… I would use it in a heartbeat (insert dirty cuss words as well).  No fish, no lobster, no scallops, and nope… not even shrimp.  I couldn't even stand to be anywhere near it and growing up in a Filipino household where seafood was eaten at least a few times a week, there was a lot of gagging reflex going on.  The smell, the taste, the texture. Yuck, yuck, and lots more yuck.
Dramatic much?
Yeah, probably.
However, now that my approach to eating & nutrition have changed SO dramatically over the course of the past couple of years due to my growing list of medical conditions, I knew it was time to bite the bullet .  You hear over and over again how healthy fish is for you and how important Omega 3's are in your diet (especially balancing them with the Omega-6's).  It was time to suck it up and truly give some seafood a fair shot in my life.
Oh my!  Bracing myself hard, plugging my nose, and swallowing down fast!
Without any doubt in my mind, I knew I had to start off kind of slow though.  Ease my way into the whole seafood thing.  I couldn't eat a solid piece of fish with some sides like I do chicken or steak and I certainly knew I wasn't about to dive head first into sushi or anything raw from the sea (omg, gag gag).  Whatever I started with needed to be mild in taste, texture, and be accompanied by a sauce and other strong flavors to mask ANY and ALL things from the sea.
Again, the MAIN goal here for me is incorporating seafood into my diet at all are for those Omega- 3's.  What probably has the highest amount of this essential fatty acid?  Yup, salmon.  Now how do I mask the crap out of the strong fishy taste and flakey texture seafood lovers adore????
#1 cook it longer and over what any fish lover would eat
#2 STRONG accompanying flavors
and
#3 transform the solid piece of fish and make 'fish cakes' or patties to mask the whole fish thing
Ok here goes nothing…
When I went to the store to buy my salmon, I couldn't stomach the idea of getting a fresh one.  I know, fresh is best but cut me some slack here!  Easing my way in remember?  So I looked at the frozen varieties and came across this particular Orca Bay brand: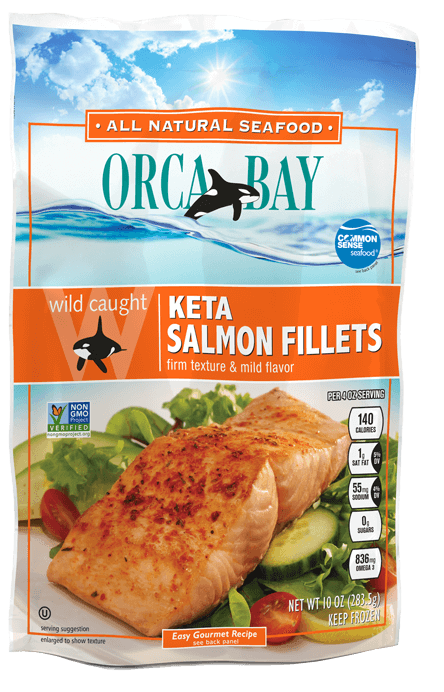 "Firm Texture & Mild Flavor"… sounds like a great FIRST choice for a non seafood eater like myself.  I grabbed a package and headed home to defrost and get my ideas together.  Granted I have never in my life cooked fish, nor do I have any idea what flavors go well with fish so this was definitely going to be an interesting experiment.  In some ways its kind of cool because I don't have the whole "Oh that doesn't work with fish" or "you aren't supposed to do that with seafood"… the skies are the limit and I have NO clue what's "right"!
I opted for VERY strong flavors (gotta make sure there is no fish taste remember?)!  Living here in southern California and with everything SO fresh around me, I opted for a little Tex-Mex kinda action.  Smoked paprika (SOOOOOO strong) & chile/lime!  And because I keep a ketogenic diet, bread crumbs used in traditional fish cakes would be out, what does a keto eater replace breading with?  Pork rinds!  I know, I know.  Most people are unfamiliar with this crunchy gas station kind of snack, but all keto-ers alike are aware of them AND when you are Filipino, you grew up with them anyways!!!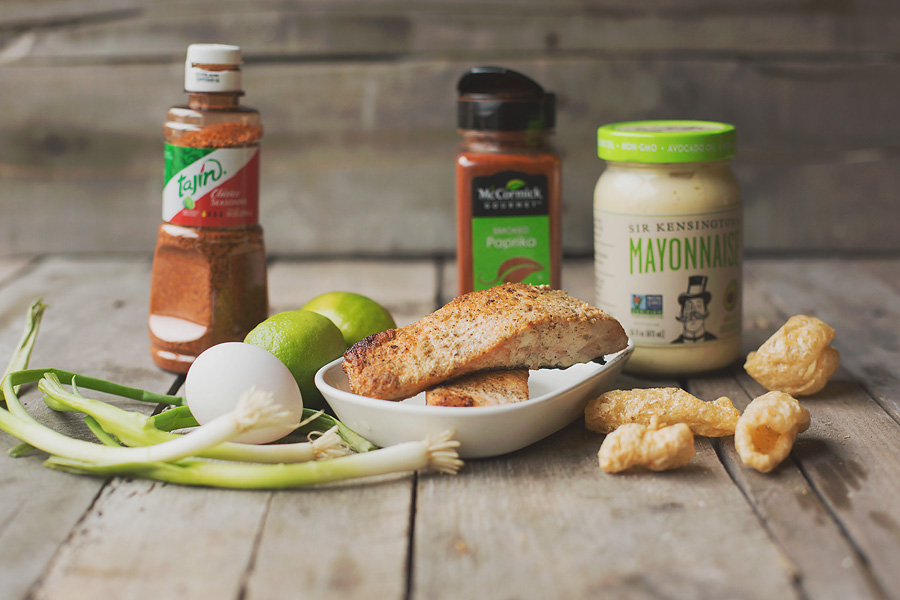 I cooked the defrosted salmon filets (and then made sure they were cooked even more, then more again LOL) and threw everything into a big bowl.  No idea if this would work out, but I was committed and all in!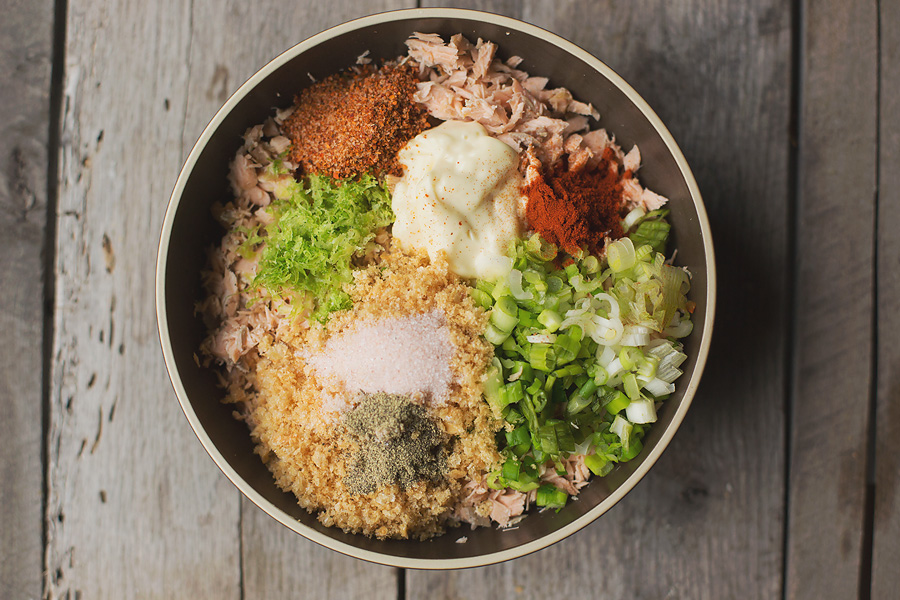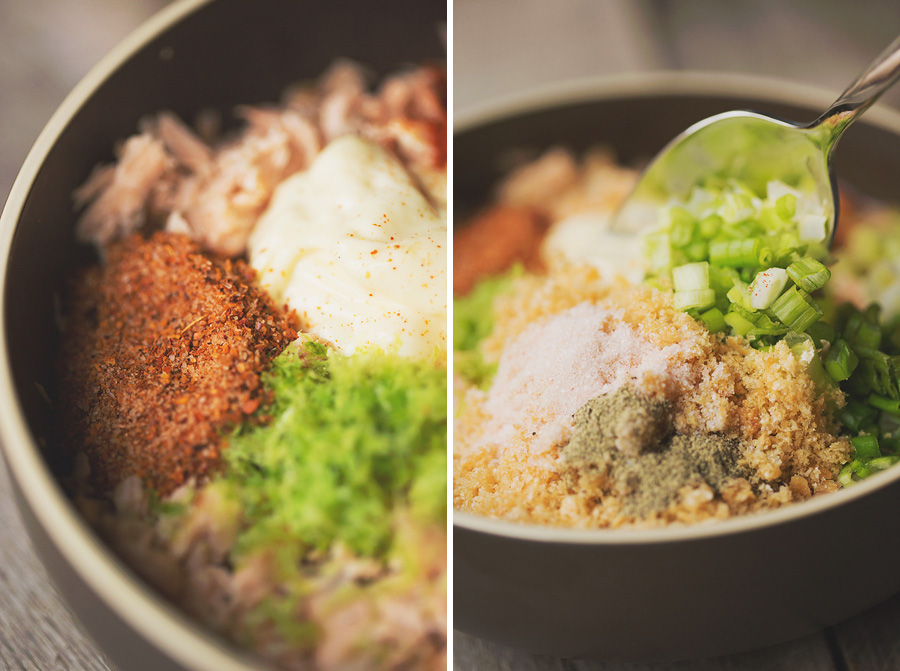 I mean, based just on how this looked and smelled?
Yeah, I think I can do this.  I think I can, I think I can….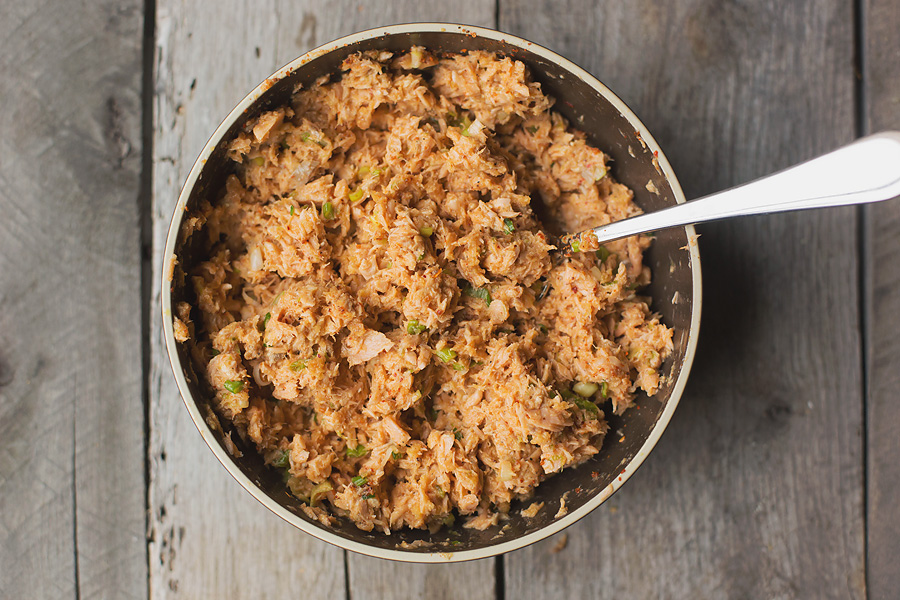 Ugh!  Yeah, I even had a hard time touching the mixture though.  See how dramatic I am?  Are you truly understanding my hate for all things seafood?  This is so disgusting I thought to myself.  But again, I was in.   I would be trying this no matter what, even if I had to swallow it whole to get it in me!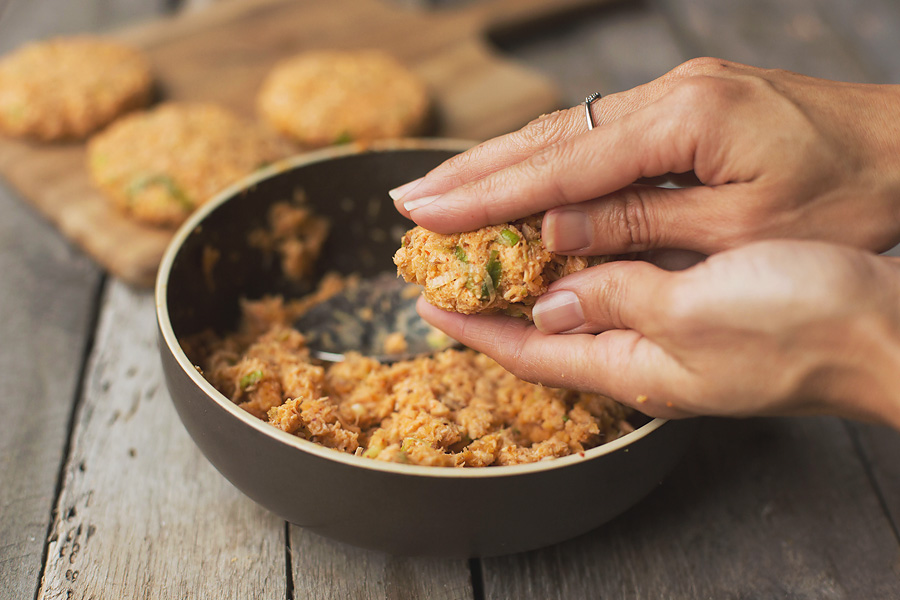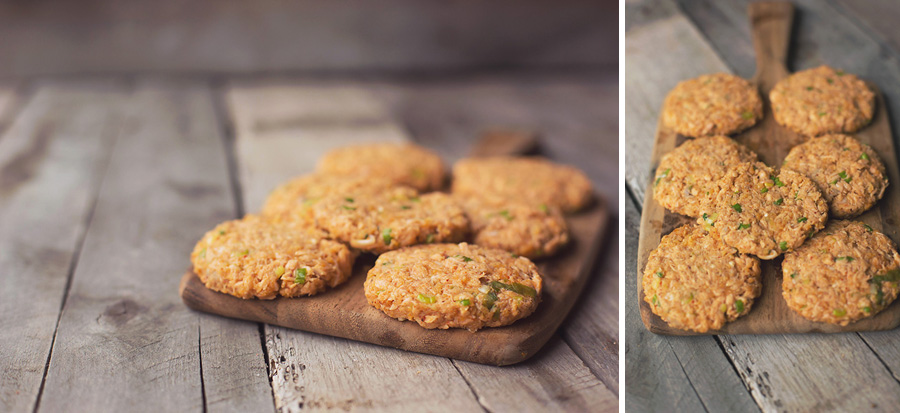 And away we go!  Let's fry them up… everything is better with OR in butter right?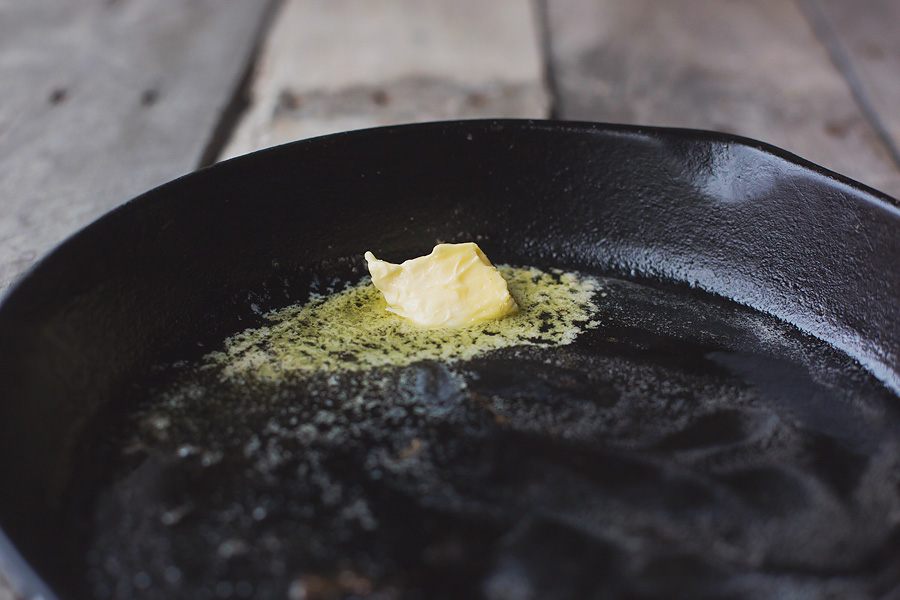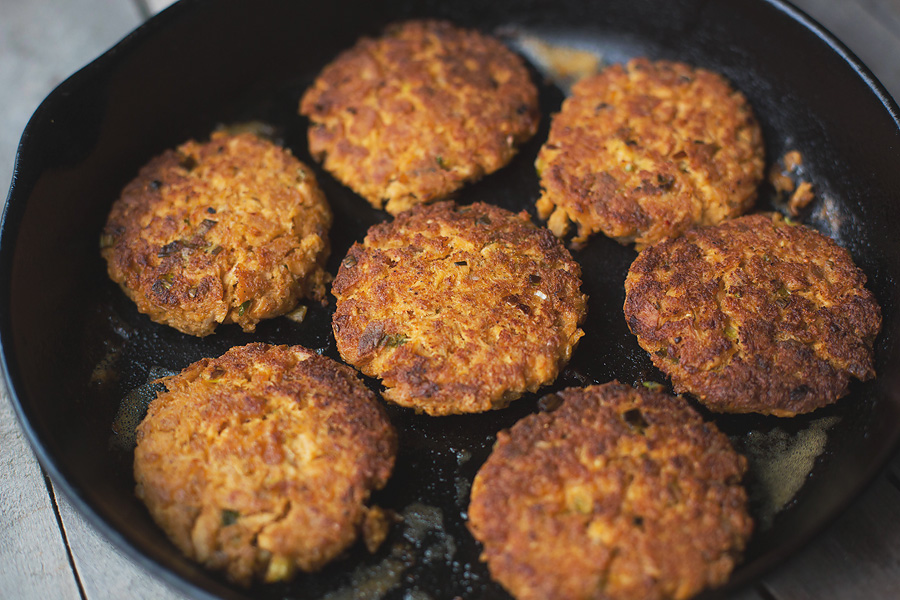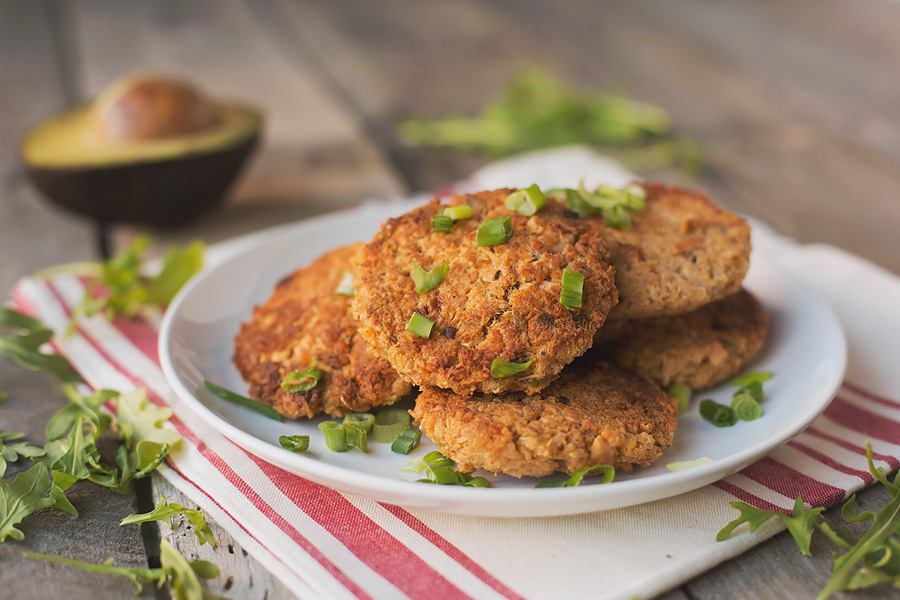 Well, they looked pretty damn good.  They didn't smell fishy.  The texture was pretty solid throughout.  And the nice extra crispy texture on the outside was a huge bonus as well!
I think I can, I think I can…
But first?  A sauce and other flavorful 'stuff'!  I'm not into thick sauces, so I made something very light and fresh.  Super easy single serving drizzle:
1 tablespoon mayo (add more if you like mayo and want a thicker mixture)
1 BIG fresh lime (zested and juiced)
1 tsp Tajin chile/lime seasoning
1/2 tsp of smoked paprika
1/2 tsp garlic powder
salt & pepper to taste
Mix sauce in a little bowl, throw some arugula or other favorite green on a plate (arugula has a very strong/spicy kind of flavor that works well here), add some fresh avocado & green onions, and then try very very hard to NOT think "this is fish, this is fish, this is fish"!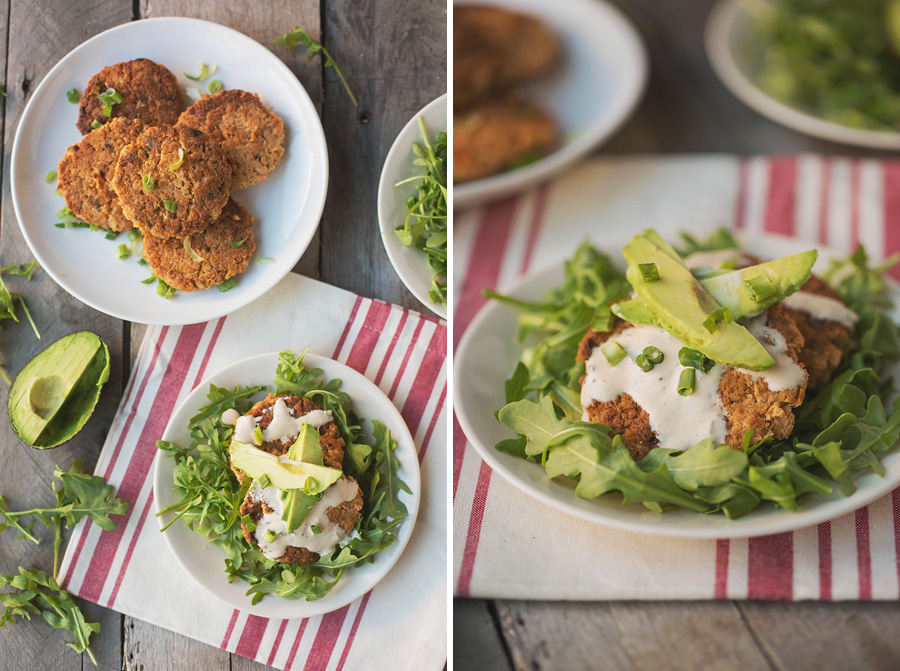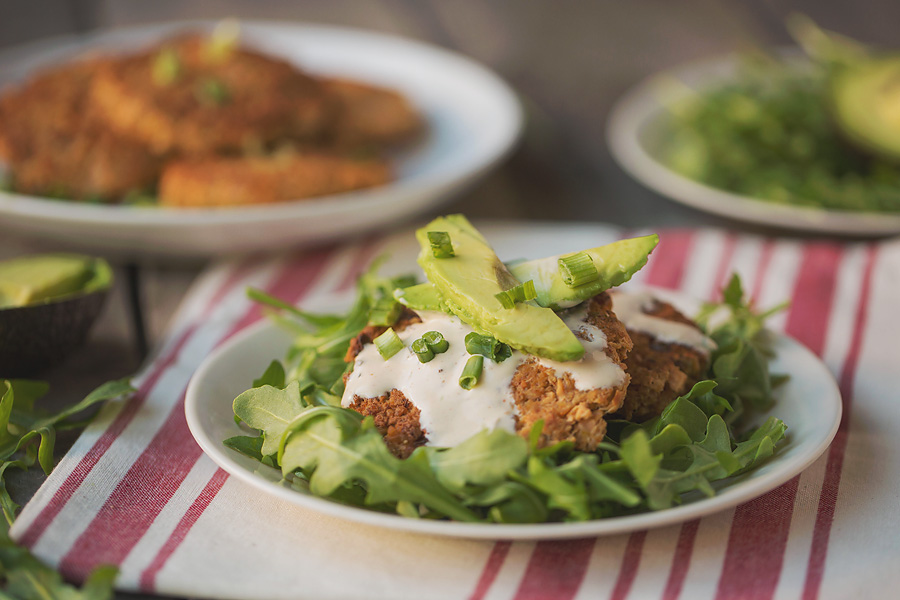 That first bite probably took me about 5 minutes to take.  I'd bring the fork to my mouth, put it down, take a deep breath, pick up my fork to try again, put it down… set on repeat about 15 times.
I'm going in folks. It's now or never.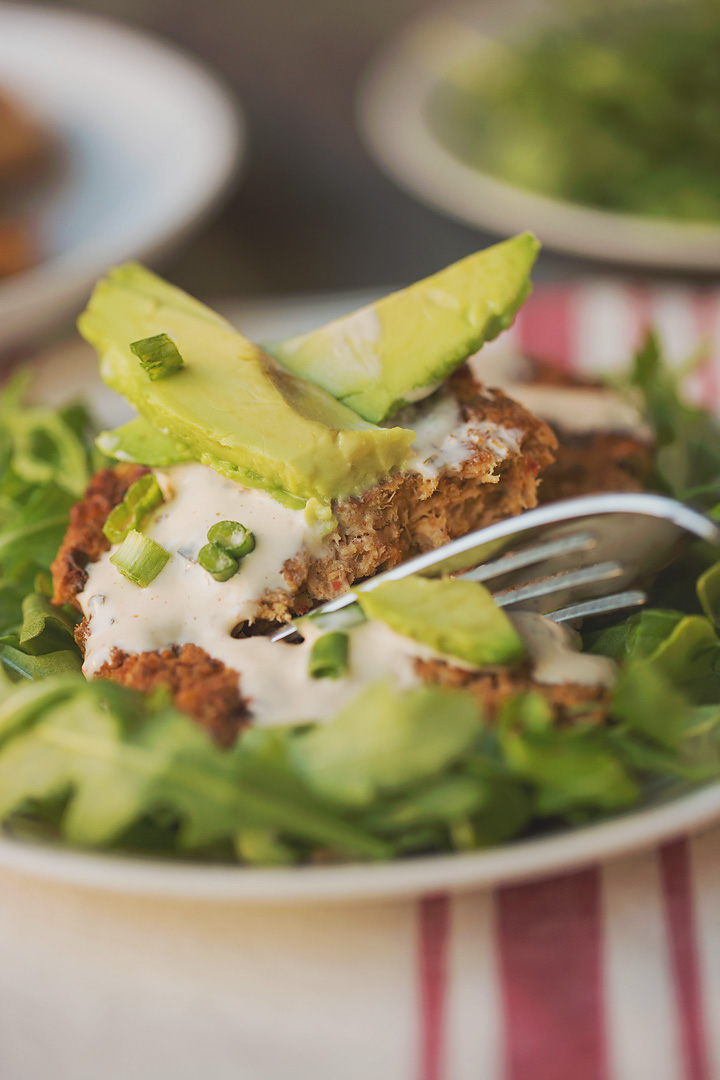 Guys, guys, guys!!!!
WOW!  Flavors were SPOT ON, texture was surprisingly "meaty", and I could barely barely even smell/taste anything fishy!  Initial bite lead to another which lead to another which lead to the entire plate being consumed within about 10 minutes!
YAAAASSSSS!
I thought I could, I thought I could and I did, I did, I did!!!!
Oh the feeling of pride on my face.  It was a pretty priceless moment.  39 years consuming NO seafood and just like that, I've officially consumed a full serving of SALMON!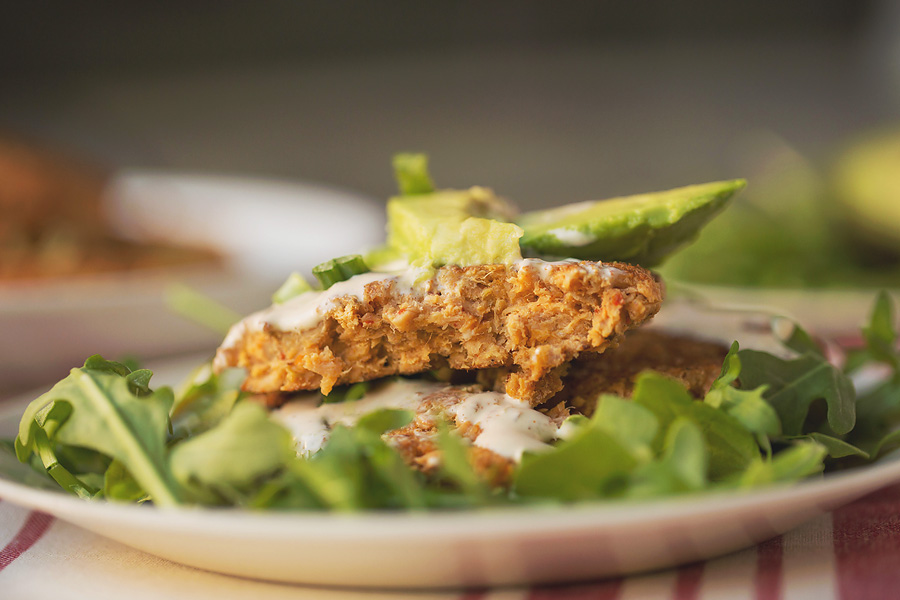 Granted it wasn't cooked properly and I masked it with 'all the flavors', BUT I ate it AND actually enjoyed it!!!!  Progress my friends, never perfection 🙂  This was a wonderful first start on my seafood adventures.  10/10 and truth be told… I've already made these at least 3 more times in the past couple of months!
Baby steps right?
Who knew I could get down on some seafood and not vomit or die after all?!  Stay tuned friends, more newbie seafood stories and recipes to share… surprising myself more and more these days with my foods choices!
Anyone familiar with this Sizzlefish company?  I've seen them floating around Instagram and am now intrigued (can't believe I just said that)… who am I even?????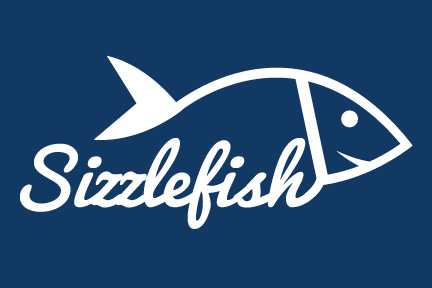 Smoked Chile Lime Salmon Fish Cakes

Print recipe
Ingredients
8oz salmon
3/4 cups pork rinds (or 1/4 cup bread crumbs)
2 Large whole eggs
2 tablespoons mayonaise
2 teaspoons Tajin
1/2 teaspoon smoked paprika
1 Large lime (zested and juiced)
2 sprigs green onion
Directions
Step 1
Preheat grill or cast iron skillet and cook salmon thoroughly. Let cool completely and prepare other ingredients.
Step 2
Place pork rinds into a small food processor or blender and mix on high until you have a fine powder. Zest and juice one large lime.
Step 3
Add cooled salmon to a large bowl (flake & break apart), then add eggs, mayo, seasonings, lime zest & juice, and pork rinds. Mix until all ingredients are well incorporated. Divide and form into patties.
Step 4
Preheat cast iron skillet and add butter/ghee or non stick spray to the pan. Cook each patty 3-5 minutes until golden brown on each side.
Step 5
Serve on a bed of fresh greens, add avocado, green onions, and drizzle on sauce.