'HEALTHY brownies?  Some would argue that those words cannot be used in the same sentence, yet here we are!  These are rich in healthy fats, antioxidants, and also happen to be very low carb!'
Avocado in brownies?  Uh.  Um.  YES!  Who'd have thunk it???  Fortunately I absolutely ADORE all things avocado anyways so I'm on board with the thought alone.  I could easily eat five a day and be a VERY happy girl.  I always find it funny (and sad and weird) when I hear people say how disgusting avocado's are… like my mother in law for example.  Hates the taste, hates the texture, just can't do them at all!  Me?  Oh my.  Mmmmmm, avocado.  YUM!  Gimme all the avocado things.
Since starting a keto lifestyle 6 months ago, my avocado consumption increased exponentially.  Not only do I find them delicious, but they are also a great healthy fat, are a good source of fiber, AND help to balance your electrolytes because they are rich in potassium.  Potassium is extremely important on a ketogenic diet because our bodies dump electrolytes so quickly.  It's a vital, naturally occurring mineral that helps with nerve & muscles, supports digestion and kidney health, regulates blood sugar, and helps to maintain normal blood pressure.  Avocado is probably the highest potassium rich food source available, so thankfully I adore them!
I eat avocados straight out of their skins with a little pink salt and lime, make guacamole with them, use them in salads and "bowls", use them in dressings in place of mayo to give LOTS of creamy richness, I make avocado pudding pretty regularly, and I even bake with them now!  Yup, you can totally bake with avocado!!!  I haven't experimented a whole lot, but these brownies were my very first attempt and are now a big hit around my house (specifically for my daughter).  I have even been able to replace the standard store-bought box brownie with these and the family LOVES them.
Winning!!!
Check these babies out.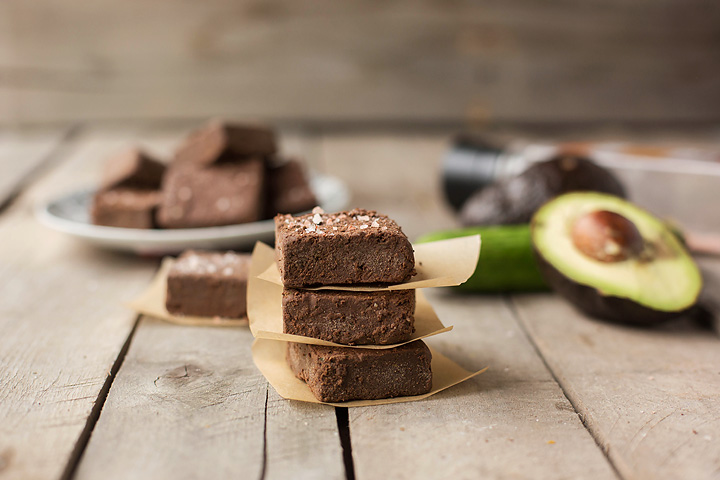 Totally rich.  Totally fudgey.  Totally dense and thick.  Totally yum.
Not only all of that, but they are actually GOOD for you!  Personally, I think the macros are kinda fabulous as well… only 2 grams net carbs, 9 grams of healthy fats, and 3 grams of protein.  Great balance regardless of what nutritional 'diet' you are on and far better for you than a traditional brownie thats PACKED with crap fat, an entire days worth of carbs, and no protein at all.  Need an extra boost of protein though?  Try adding in a couple of scoops of collagen powder (great for skin, hair, skin, nails, joints, boosts metabolism, improves liver & cardiovascular health, and will even help heal leaky gut).  If you go that route, just add some extra liquid to the batter… maybe 1/4 cup or so will do!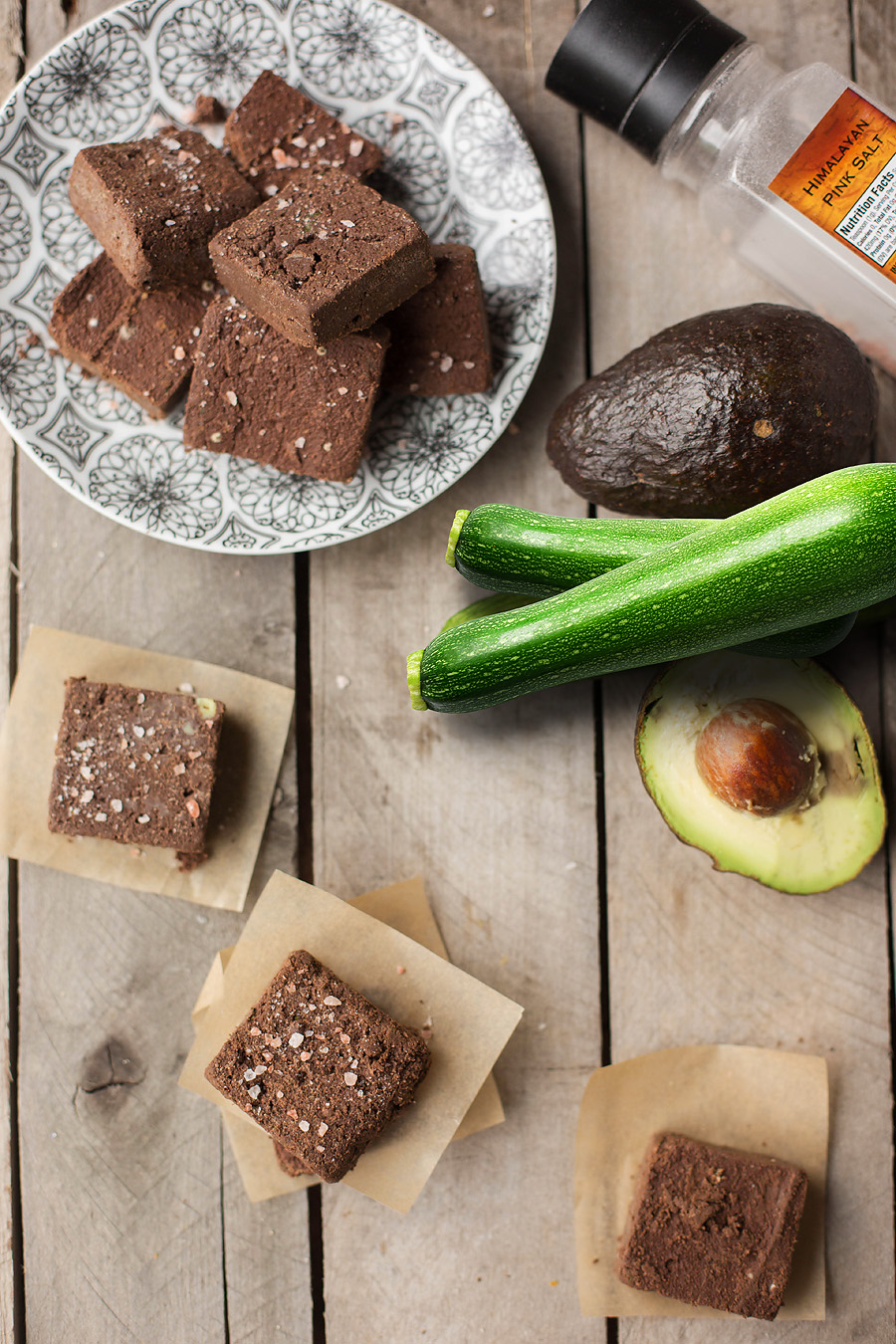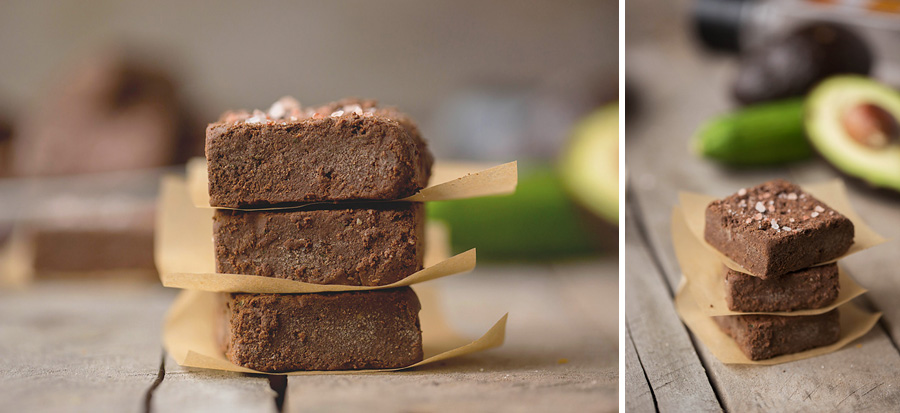 They look pretty darn fudgey though right?  I added a little bit of pink himalayan salt to the tops of some of them… I LOVE them even more this way, but the family preferred them without the salt (BOOOOOO-ring!).  Either way you choose though, this will be a recipe you will want to make over and over.
Serious chocoholics will swoon…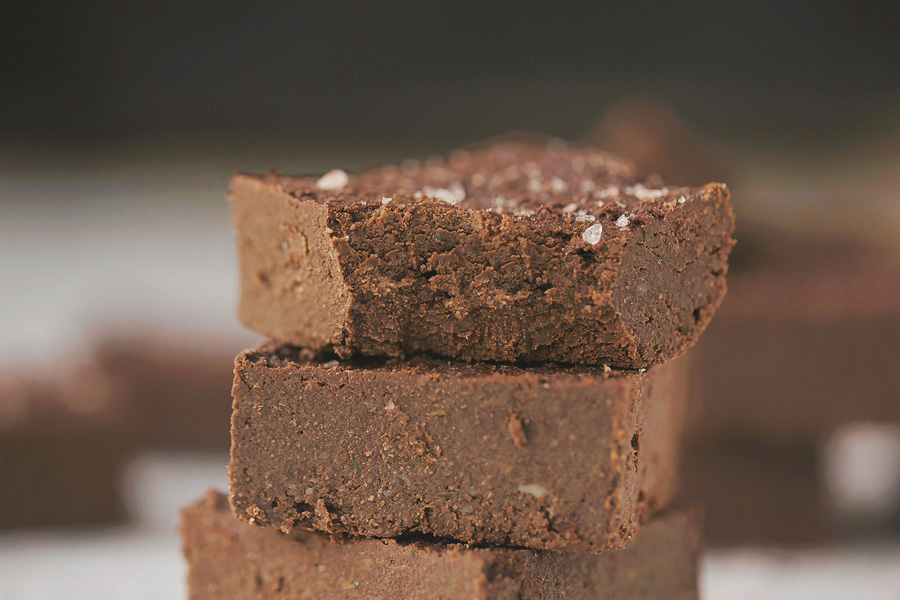 Something I do want to mention about the recipe is the use of cacao!  You could easily replace this with whatever bar of baking chocolate you like (preferably sugar free for keto/low carb), but there are SO many additional health benefits using raw organic fair trade cacao.  A few things that I personally LOVE about this powerful 'super food':
antioxidant properties- more powerful than even blueberries, cacao can help to absorb free radicals (toxins from the environment) and help you keep looking & feeling younger
hormonal balance- can help boost serotonin, dopamine, anandamide and phenylethylamine which are neurotransmitters responsible for our moods
magnesium- cacao is naturally rich in this vital mineral which aids in over 300 biochemical reactions within the body including nerve activity, energy production, formation of healthy bones/teeth/cells, nutrient metabolism, protects blood vessels, supports a healthy immune system, and helps regulate blood sugar
natural MAO inhibitor- shrinks appetite which can be helpful for those looking for weight loss
sulfur rich- supports healthy hair, nails, liver, and pancreas
fiber rich- helps keep you feeling fuller, longer and can aid in gut health by stimulating digestive enzymes to break down food and keep bowels moving properly
healthy fats- somewhat similar to olive oil, the monounsaturated fats can help with growth, immune and metabolic function
Again, you could use regular chocolate, but I'm all about the additional health benefits!!!  It also provides a very deep, rich, nutty chocolate flavor which lends itself well for that chocoholic fix!  Whatever option you choose, you'll still love these brownies!
Avocado Zucchini Brownies

Print recipe
Ingredients
4oz Baker's 100% cacao unsweetened baking chocolate
3 tablespoons coconut oil or butter
1/3 cup coconut flour
6 tablespoons almond flour
1/4 teaspoon baking powder
1/4 cup cacao powder
1/4 cup baking stevia (or sweetener of choice to taste)
1/4 teaspoon salt
1 Large ripe avocado (mashed)
1 Large whole egg
1/4 cup 'Chocolate' MuscleEgg egg whites (OR replace with one whole egg)
1/2 cup milk of choice
1 teaspoon vanilla extract
1 Medium zucchini (finely shredded) (about 125 grams with water squeezed out)
Directions
Step 1
Preheat oven to 350 and line an 9x9 pan with parchment paper or coat with nonstick spray. Finely grate zucchini and squeeze out liquid. Place chocolate and coconut oil in a double boiler and melt on low heat until smooth. Remove from heat and let cool slightly.
Step 2
Add coconut flour, almond flour, salt, and baking powder to a small bowl. Mix until combined. Set aside.
Step 3
In a separate large bowl, add eggs, vanilla, stevia, and mashed avocado. Beat on high until smooth. Slowly drizzle in cooled chocolate. Add dry ingredients in two batches. Mix well.
Step 4
Stir in shredded zucchini and pour into prepared pan. Bake for 20 minutes, just until set.
Nutrition Facts
Serving Size 1 brownie
Servings Per Container 16
---
Amount Per Serving
Calories 120
Calories from Fat 81
% Daily Value*
---
*Percent Daily Values are based on a 2,000 calorie diet. Your daily values may be higher or lower depending on your calorie needs.