'Make ahead breakfast casseroles are quick to prepare and a healthy option for your kids!  Save time during the week using this quick and easy salsa verde breakfast bake recipe!'
This is going to be a quick, short, and to the point post here!  Between Makena's diagnoses a few months ago, doctors appointments, imaging appointments, my sisters cancer diagnoses, my son dealing with some personal issues, volleyball practices 3x a week, and a trip to Vegas for JNO's (junior national olympic qualifiers) I'm surprised my head is on straight AND that I'm able to move at all.  The words hectic & chaos don't even begin to describe life right now!
Fortunately, I think things are slowing down for the most part though.  We've fallen into a new routine, a new "normal", and with the run of good health & pain days for me… the fog is slowly moving on out.  First order of business after dealing with all of my personal crap is getting back on track with the blog, getting the 30+ recipes I have sitting on my computer, and finishing out my "Fit Kids Breakfast & Lunch" series for the 2016-2017 school year!  Technically we only have 4 weeks left of school around here, but I'm behind in posting about 14 weeks.
Crap.
Doing that math is daunting…
I WILL get it done though!  After today's post, I actually have two more ready to go so you'll be seeing installments snuck in here and there, doubling up for a few weeks.  Let's get to WEEK 21 first though!
With life so crazy recently, I've been on a mission to come up with EASY and FAST breakfast preps.  While this one takes some veggie chopping time, it's still a winner in my book because start to finish (prep, chopping, assembling, and cooking) is still under 25 minutes.  Use whatever veggies you like.  If you have a picky eater, stick to mushrooms, peeled zucchini/squash, cauliflower because those you can easily hide in whatever you are making.  Just chop them up small enough where you won't find your kiddos trying to poke through to pick them out!  Luckily my daughter LOVES a big variety of veggies so anything and everything goes for her (on most days anyways)!  I also had some leftover turkey sausages to throw in.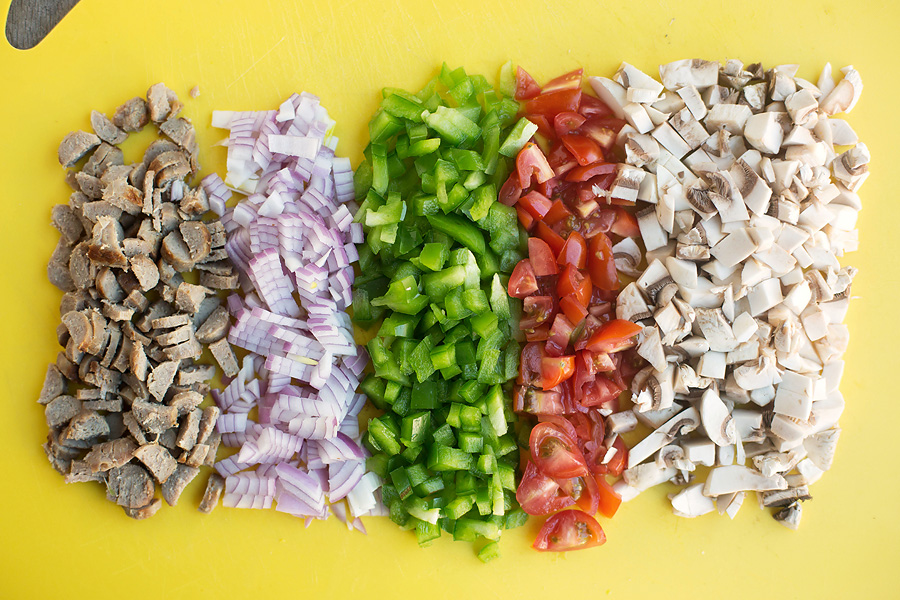 Eggs, egg whites, seasoning, and coconut flour into a blender.  Mix on HIGH until smooth.  Let it sit for a few minutes while you get everything else ready to go.  The coconut flour will slowly begin to absorb the liquid.  Using coconut flour gives the casserole a bit more structure.  You can omit it if you like, but the texture and body it gives the eggs?  Worth using 🙂

Grease a baking dish with coconut oil, butter, or non stick spray.  Then lay down corn tortillas.  You could use flour ones, but again… the texture and taste of the corn tortillas works better for this in my opinion.  I also wanted to make this a gluten free recipe 🙂
Once you get the layer of tortillas down, add 1/2 of the egg mixture right on top.  Then sprinkle in your veggies (and sausage).  Make sure everything is uniform as possible so yeah bite will have what you need (I'm OCD like that)!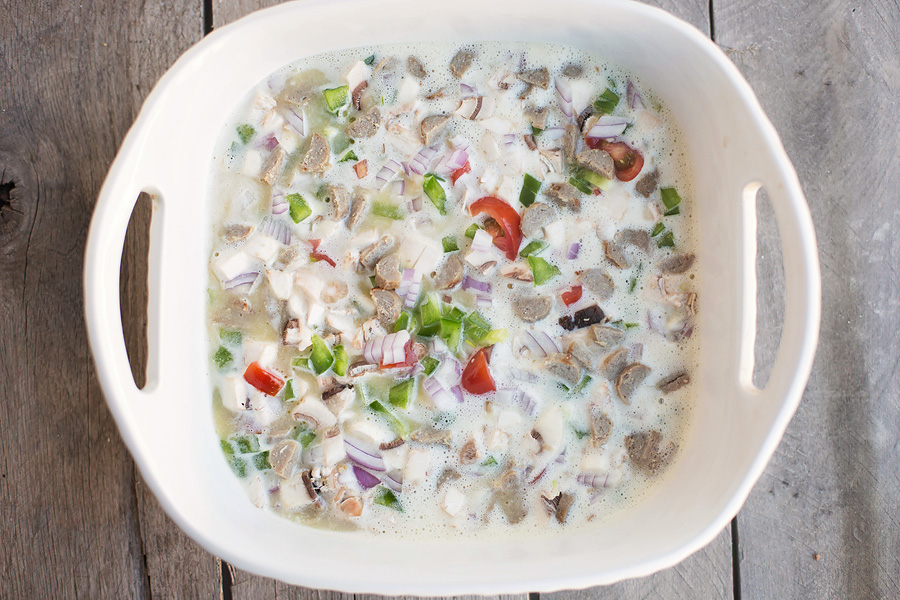 Another layer of tortillas.
Another layer of egg.
Another layer of veggies (and sausage).
Down.
X2 more times.

You'll begin to wonder if you'll even be able to differentiate between the layers here.  It will basically look like one big dish of eggs.  Fear not friends.  Just wait for it…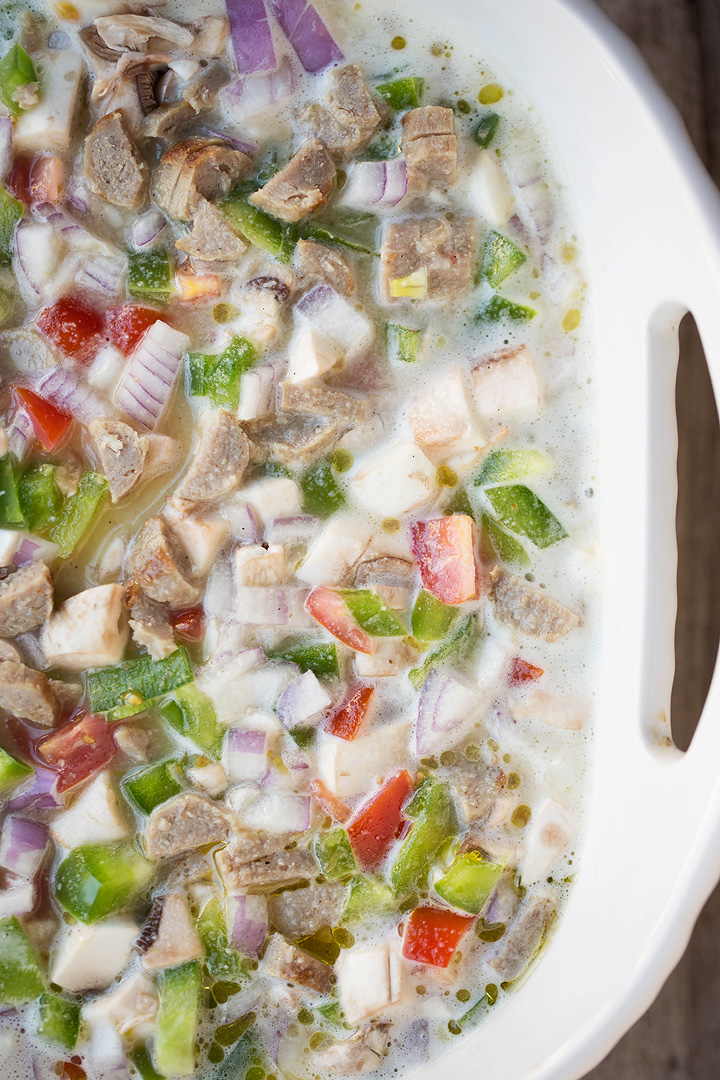 Final layer in this breakfast bake is cheese and salsa verde (or salsa of choice)!
Since Makena's diagnoses, we have been moving her more towards a dairy free diet.  Most dairy is highly inflammatory to the body.  Inflammation is what you are trying to bring down and avoid at all costs when it comes to SJIA, autoimmunity, chronic illness, and a whole long list of other diseases.  Not only is dairy inflammatory, conventional dairy is also FILLED with hormones and antibiotics.  Again, not ideal for optimal health regardless if you are sensitive/intolerant to it or not.  There is a reason why people are becoming less and less responsive to antibiotics these days… when you get pumped full of it through food every single day, our bodies simply become immune to it.  God forbid we get sick and need a round of it… it may just not work anymore for us!
OK dairy rant over.
My dairy free alternative for shredded mozzarella cheese is usually Trader Joe's "almond cheese shreds"!  It melts beautifully and tastes great.  If I'm not using this, there are quite a few other day free options.  Just search pinterest… so many ideas!  I've made my own sharp "cheddar", herbed "cream cheese", and even grated "parmesan"!
LOVE Trader Joe's salsa verde also… great macros, super tangy, and a wonderful bit of Mexican flare for your dishes.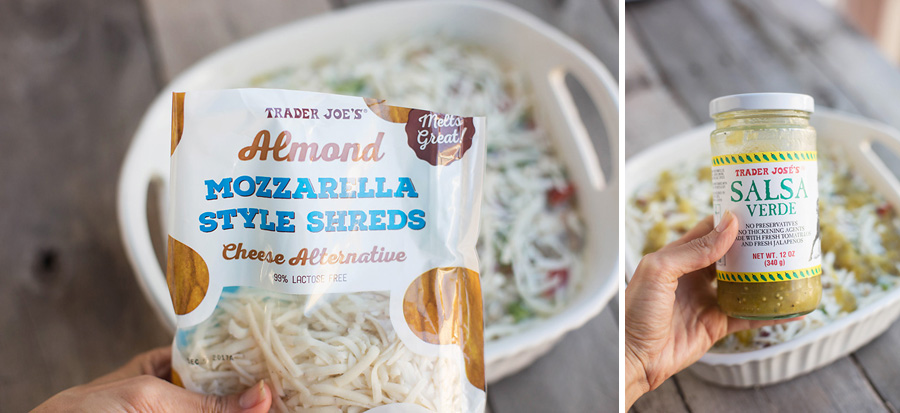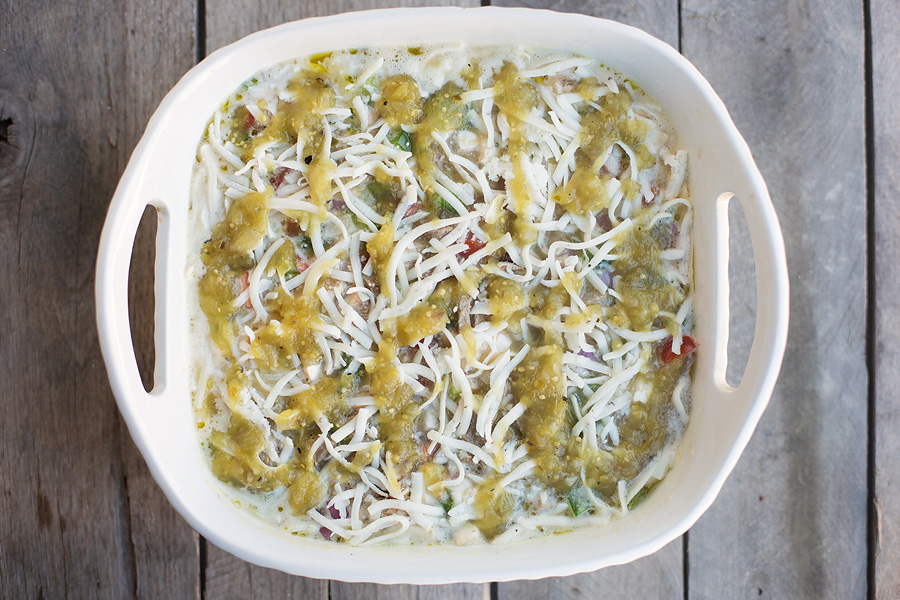 Bake until the edges are deliciously golden brown and the center is JUST set.  A little big of "wiggle" is fine, it will continue to set up a bit as it slowly cools in the pan!  Add some freshly cut cilantro or parsley for beautiful color and the last bit of freshness.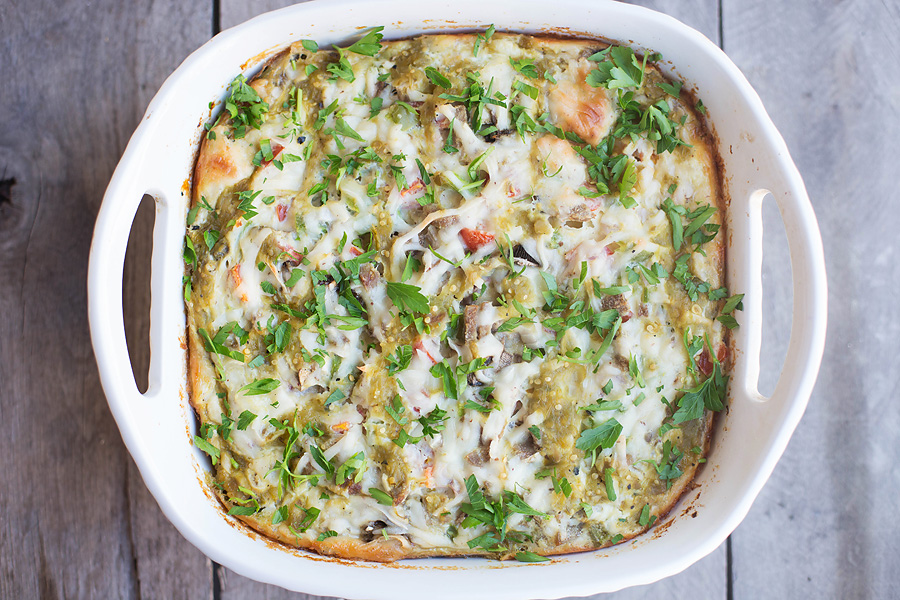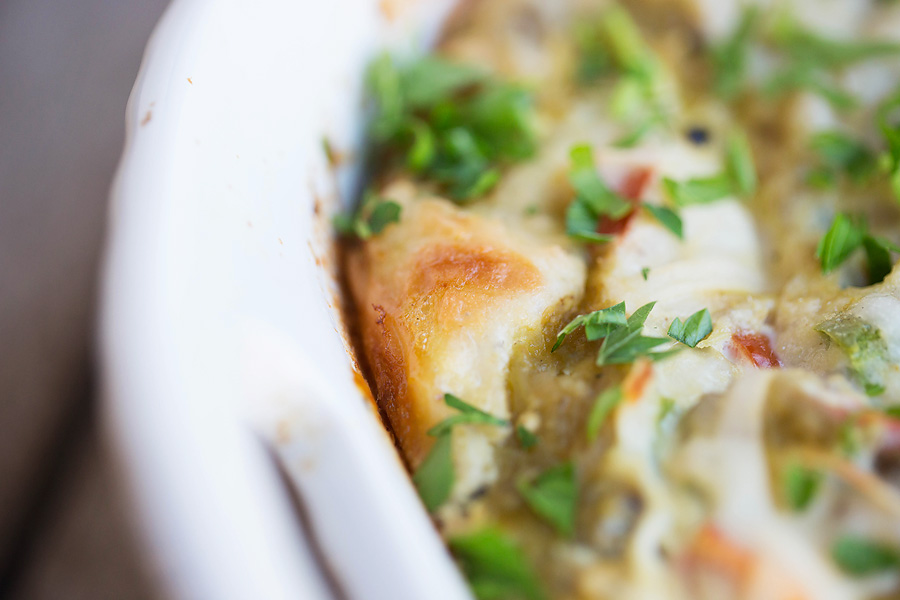 Remember those layers I mentioned?
Yeah, about that…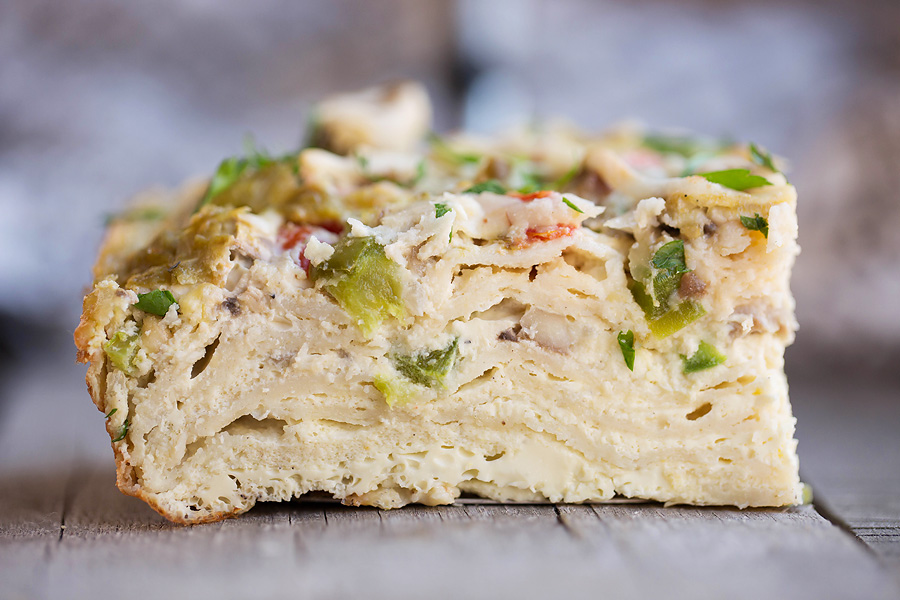 I don't know how it happens, but between the time you assemble and the time it's fully cooked… you end up with more layers than you thought!  I only did 3 layers of tortillas, yet in this cross view it looks like I have at least 6!  I'll take it though… Makena is a sucker for tortillas!
Once completely cooled, portion up and get your meal prep containers filled!  I have veggies and proteins covered in the breakfast bake, so fruit was the perfect accompaniment.  Raspberries and pineapple… wonderful to aid in digestion and a nice serving of antioxidants as well!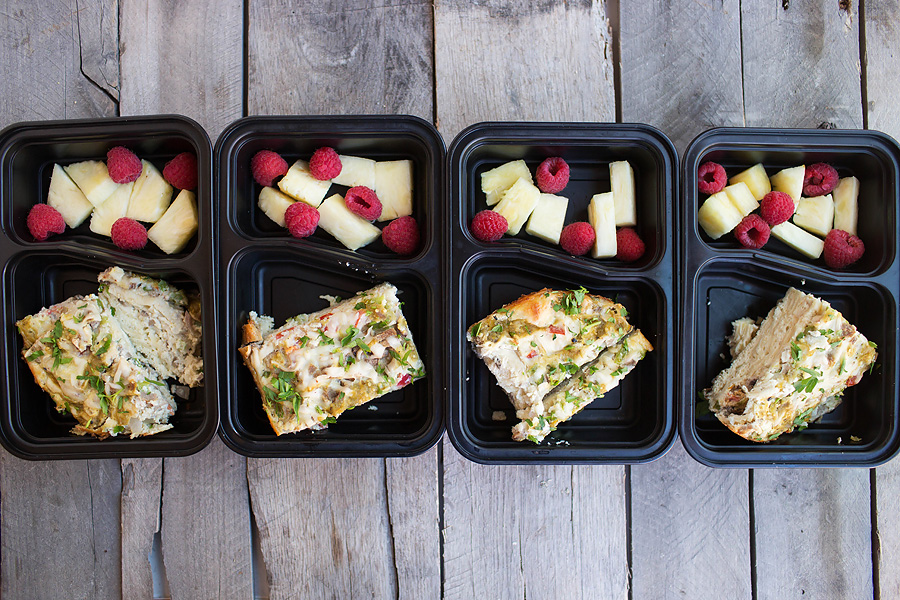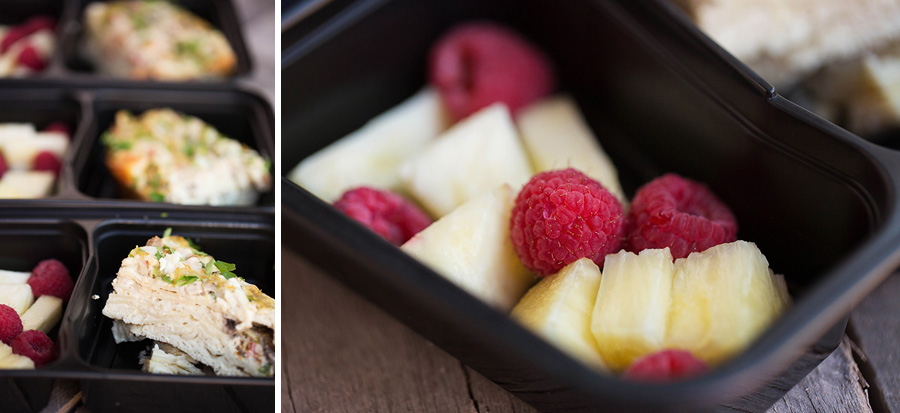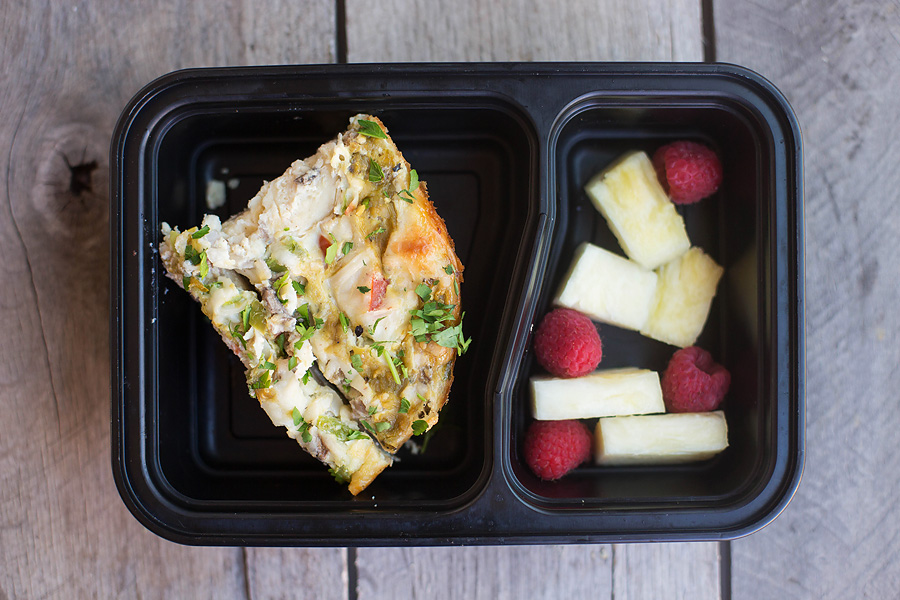 Cover, store, and these are ready to go for the week!  Just remove the fruit each day to reheat the breakfast bake!  I also like adding another touch of salsa verde AND some avocado for some health fats… avocados are our weakness in this house.  We easily go through 2 a day, every day.  Mmmmm.  Avocado 🙂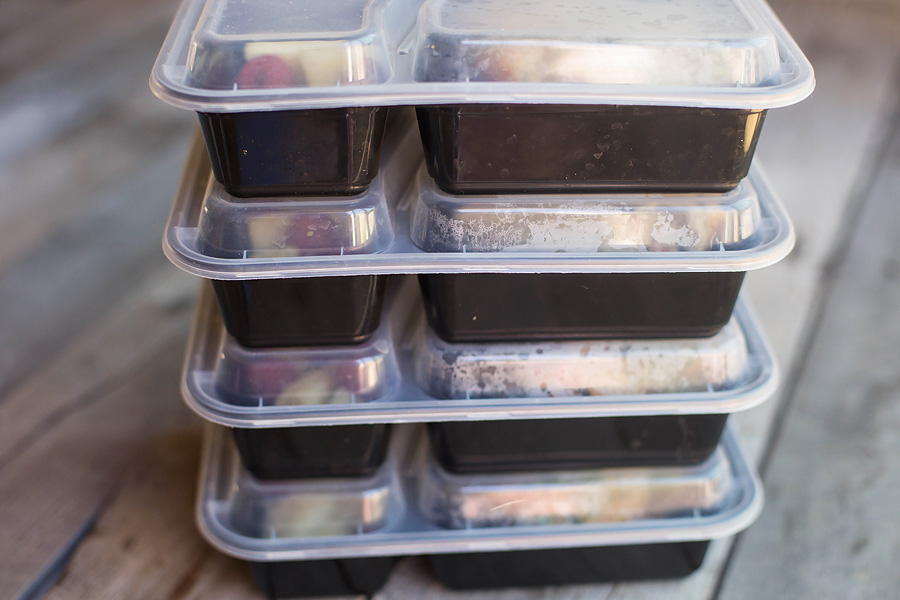 Salsa Verde Breakfast Bake

Print recipe
Ingredients
2 cups egg whites
3 Large whole eggs
3 tablespoons coconut flour
1 teaspoon salt
1/4 teaspoon pepper
1/2 cup salsa verde (3 tbsp reserved)
1 1/2 cup veggies of choice (mushrooms, bell peppers, onions, tomatoes, etc.)
8 Small corn tortillas
8 cooked turkey breakfast sausages
1/2 cup mozzarella or almond cheese
1/4 cup cilantro
Directions
Step 1
Add eggs, egg whites, salt, pepper, coconut flour, and 3 tablespoons of salsa verde to a blender. Mix on high until smooth. Let sit 5 minutes.
Step 2
Preheat oven to 350 degrees and coat a casserole dish with non stick spray. Finely chop veggies of choice.
Step 3
Add 4 tortillas to the bottom of casserole dish. Cover with 1/2 of egg mixture and sprinkle with chopped vegetables. Layer with 4 more tortillas, remaining egg mixture, and remaining veggies. Top with shredded cheese.
Step 4
Bake for 3-35 minutes until center is set and top is golden brown. Drizzle with salsa verde and top with cilantro. Serve with fresh guacamole or avocado.
Note
NUTRITIONAL INFORMATION (makes 9 servings): calories- 142, fat- 5 grams, carbs- 11 grams/fiber- 3 grams, protein- 12 grams PER SERVING
Lunches for the week:
MONDAY:
Shredded salsa verder chicken/rice/asparagus, celery, wheat thins, and blueberries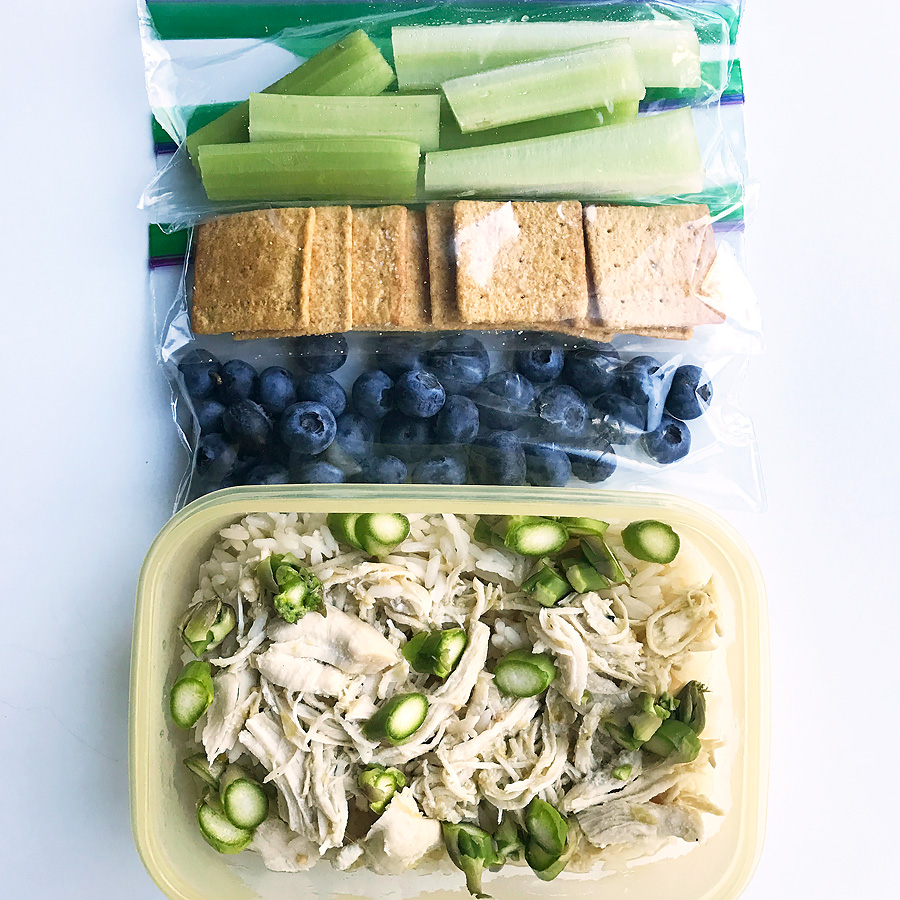 TUESDAY:
Chicken taco, tortilla chips, guacamole, and grapes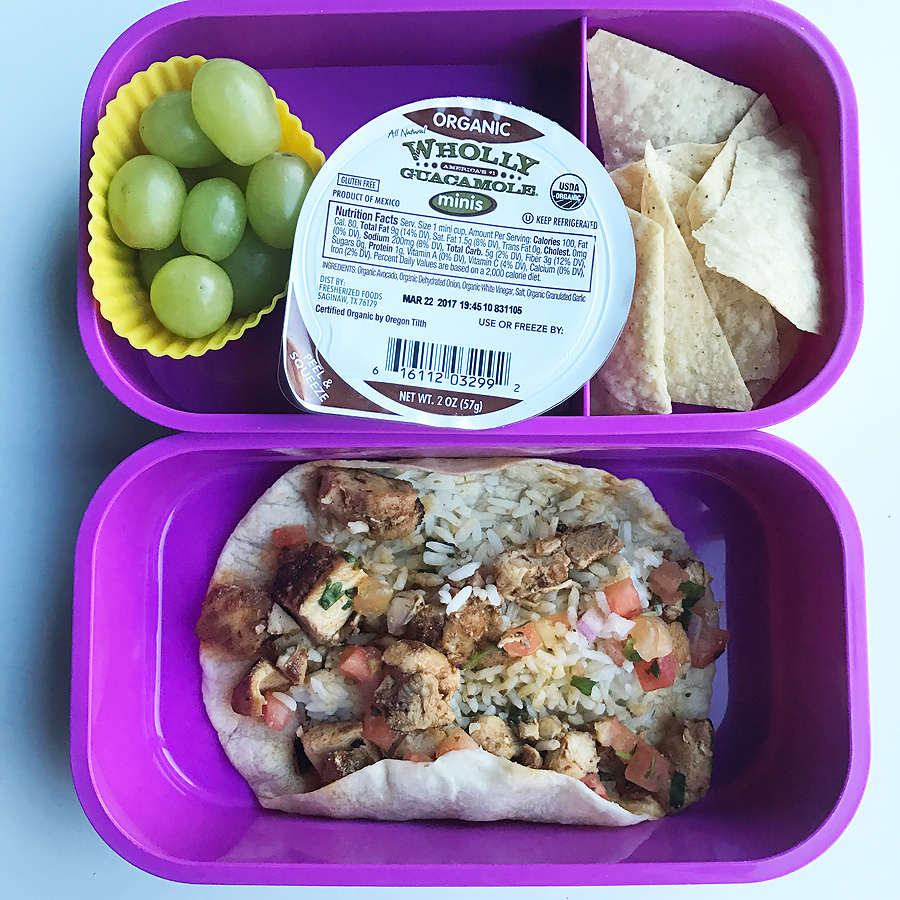 WEDNESDAY:
Turkey & cheese sandwich, apples, flax crackers, peppers, and hummus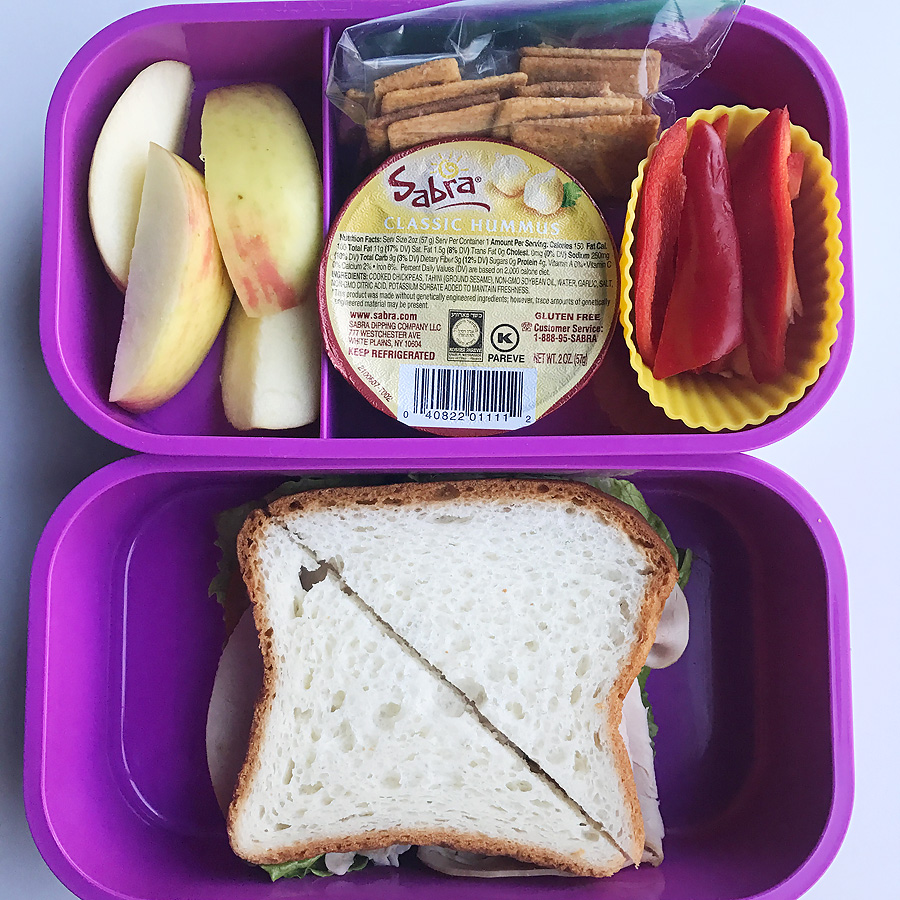 THURSDAY:
Chicken/rice/broccoli, strawberries, Snackimals, and seaweed snacks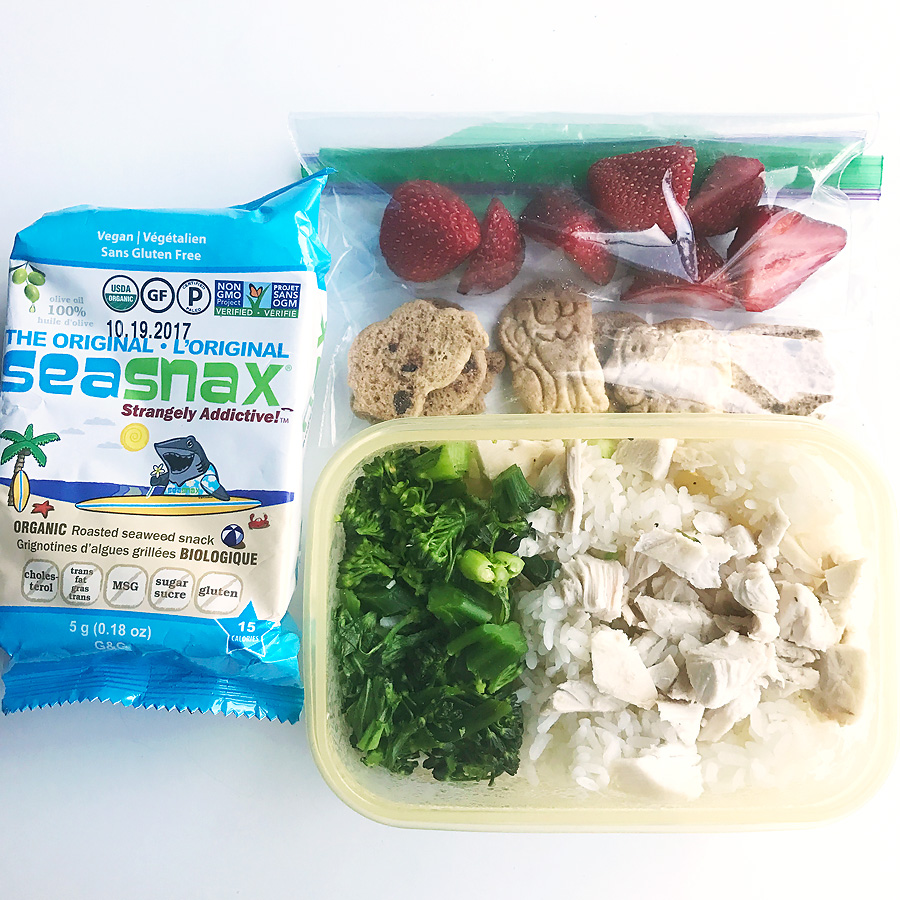 FRIDAY:
Taco salad, brown rice tortilla chips, smokehouse almonds, and grapes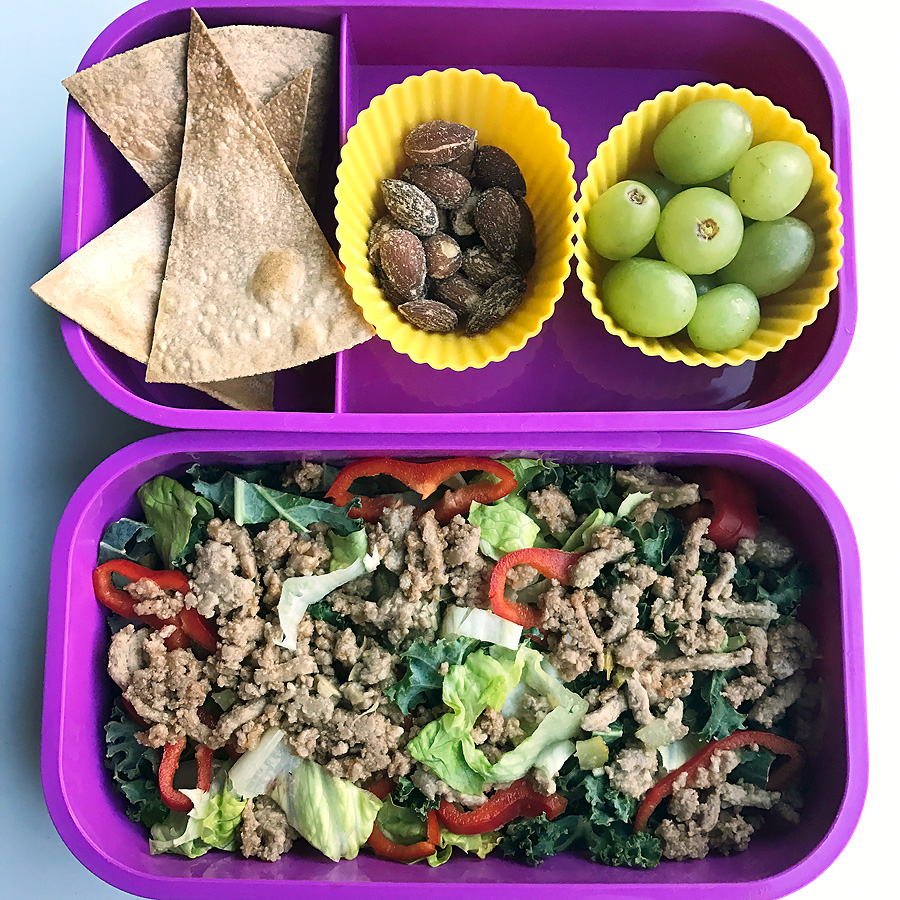 Find me on Facebook:


Find me on Instagram for daily food inspiration, ideas, and tips: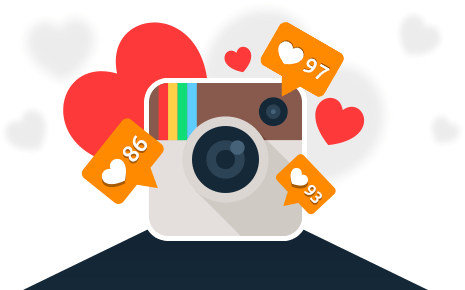 MY FAVORITE FOOD & MEAL PREP SUPPLIES