'Love potatoes for breakfast, but don't love the carbs?  With only 3 grams of net carbs per serving, these jicama hash browns will be your new breakfast best friend!'
Hash browns.  Who doesn't love those fried, golden, warm, buttery, amazingly mounds of potato deliciousness?  They serve as the perfect accompaniment to any breakfast.  Whether you are eating an omelet, fried eggs, scrambled eggs, a sausage & cheese sandwich, or even a breakfast casserole… hash browns pair well with any and all of them.
However, anyone living a low carb lifestyle will tell you that typically potatoes are going to be a hard NO-go.  Unless you incorporate a carb up or re-feed here and there on your low carb plan, you can kiss potatoes goodbye.  With a very high glycemic effect, all varieties of potatoes are off limits.  So what do you do when you are craving that heavy carb filled root vegetable?
You turn to JICAMA!
** note… see serving size!  959 grams is a LOT of jicama and still over 1/2 is fiber! **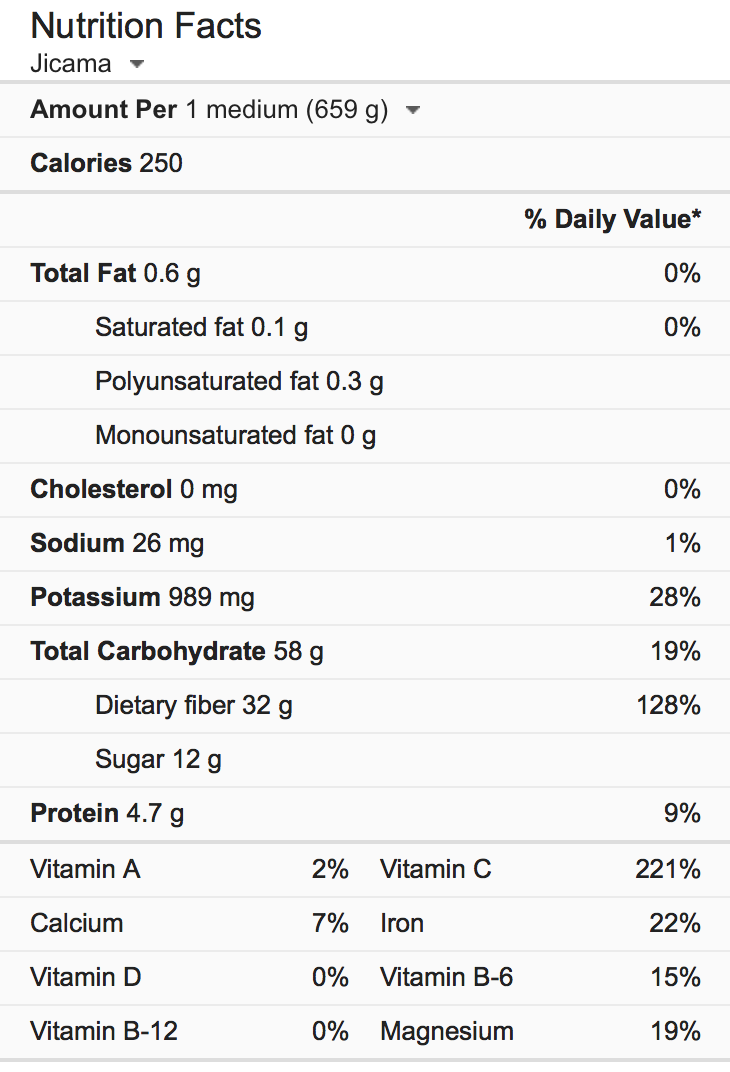 I feel fortunate to have stumbled upon jicama very early on in my keto journey.  While jicama still has quite a few carbs, most of them are fiber which most people will subtract anyways on a ketogenic eating plan.  Jicama has a similar texture and crunch to raw potatoes, and virtually tasteless.  They are a great snacking alternative as well.  Just peel off the skin using a peeler or pairing knife, slice/chop, and chomp away!  Our family LOVES eating these alongside hummus (traditional for them, my own veggie version for me) as well as with my favorite homemade pate.  Mmmm. Best crunch ever!
Because the texture is so similar to potatoes, I figured I might as well try to grate them.  Turns out it grates PERFECTLY just like any other root vegetable.  Grated jicama for hash browns?  Yup.  Its a thing!  A beautiful, glorious, perfectly golden fried thing!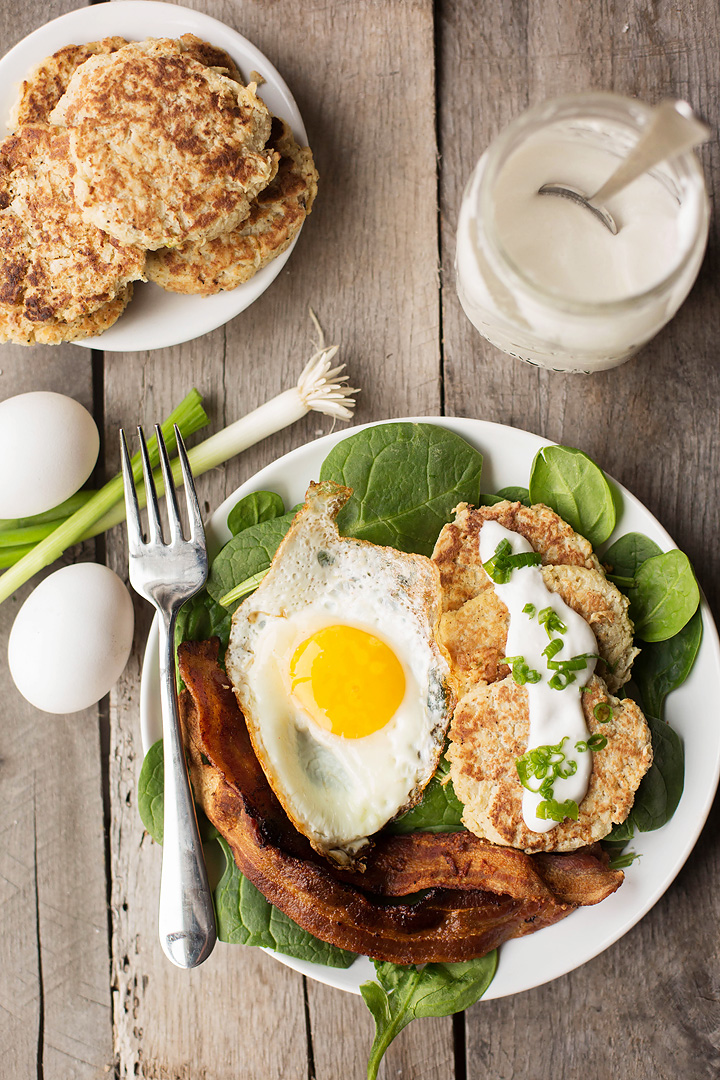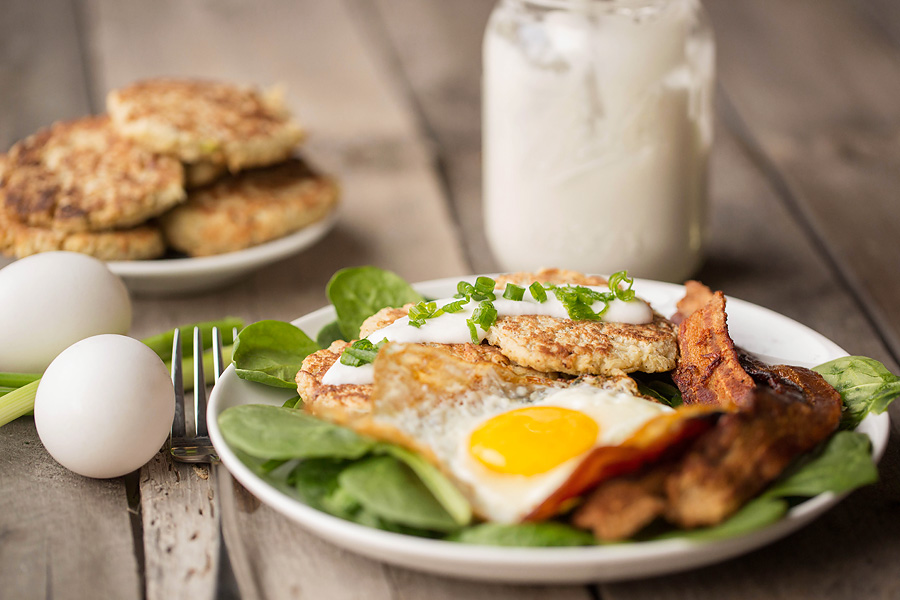 Served my hash brown jicama patties alongside a fried egg, bacon, and a big bed of spinach.  I also added a little drizzle of some simple coconut milk yogurt sauce (coconut milk yogurt, nutritional yeast, salt, pepper, garlic), then topped it off with some freshly chopped scallions!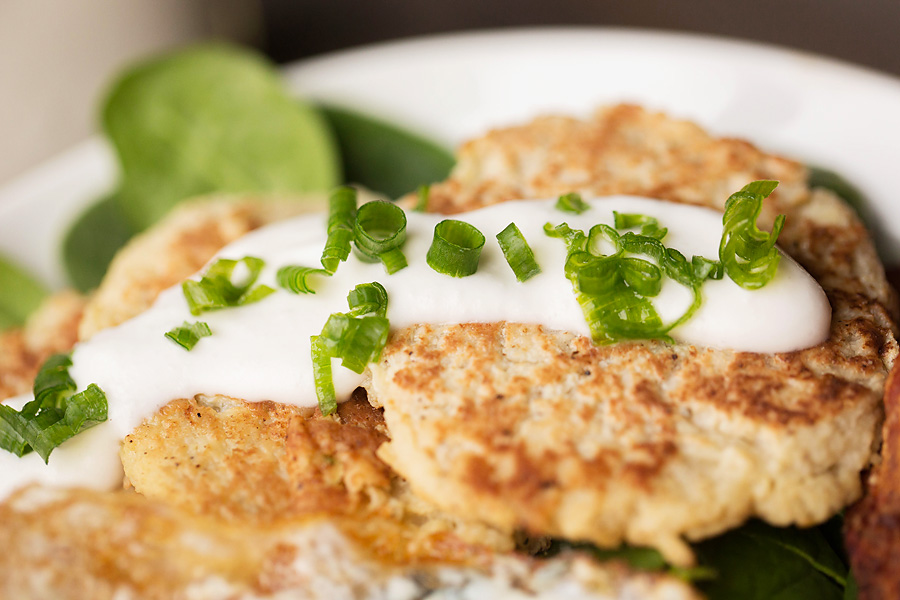 So easy to make and truly does satisfy the craving for hash brown potatoes!  And you know I'm a huge fan of my large cast iron grill/griddle pan right?  Makes frying these up go by even quicker.  Just grate the jicama, add it to a large bowl, add your other ingredients, mix it up, form patties, and fry until perfectly golden & delicious!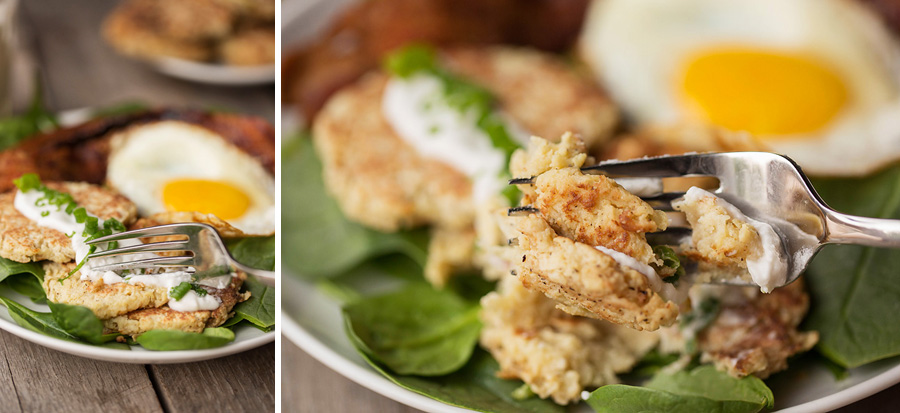 Nope.  You'd never guess by looking at that texture that its JICAMA and not potatoes!  Again, grates the exact same way 🙂  Such a wonderful low carb, high fiber option for potatoes.  Who knew?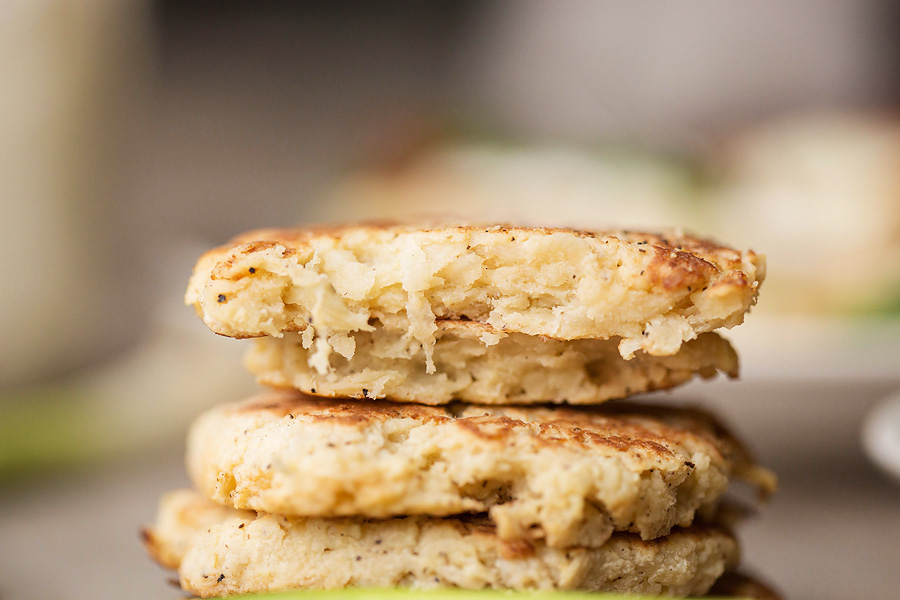 These would work great as "buns" also!  Just use them to sandwich up some sausage/egg/cheese or ham/cheese or even a regular burger.  They are extremely hearty AND filling which is a big bonus for anyone dieting.  Next thing I want to try is a sweet application of these jicama hash browns… might have to give that a go this weekend for meal prep!  Oh meal prep… these are a WONDERFUL idea to prep at the beginning of the week.  The cook up quickly, reheat well, and travel brilliantly.
So much good here friends!
Low Carb Jicama Hash Browns

Print recipe
Ingredients
1lb jicama (grated)
1 Small onion (finely grated)
1 teaspoon rosemary
1/2 teaspoon salt
1/4 teaspoon pepper
3 tablespoons almond flour
2 Large whole egg
1/4 cup green onions
1/4 cup coconut oil, butter, or ghee
Optional
1/2 cup shredded cheddar cheese
4 tablespoons sour cream or coconut milk yogurt
Directions
Step 1
Peel and rinse jicama. Using the large side of your box grater, grate jicama. Using the small side of your box grater, finely grate onion. Place grated items in a large kitchen towel and squeeze out any excess liquid.
Step 2
Place grated jicama and onion in a large bowl. Add all other ingredients (except greasing/cooking option and optional sour cream/coconut milk yogurt). Mix well until all ingredients are incorporated.
Step 3
Preheat skillet and fat of choice (my preference is butter).
Step 4
Form patties and carefully place them on the hot skillet. Leave enough room in between each so they crisp properly. Fry until golden brown on first side, then flip and cook an additional 2-3 minutes on remaining side.
Step 5
Serve with sour cream, coconut milk yogurt sauce, and freshly chopped green onions.
Note
NUTRITIONAL INFORMATION (makes 8 servings): calories- 101, fat- 8 grams, carbs- 6 grams/fiber-3 grams, protein- 2 grams PER SERVING
Nutrition Facts
Serving Size 1 pattie
Servings Per Container 8
---
Amount Per Serving
Calories 101
Calories from Fat 72
% Daily Value*
---
*Percent Daily Values are based on a 2,000 calorie diet. Your daily values may be higher or lower depending on your calorie needs.