'Take a quick 20 minute trip to Southeast Asia with this flavorful Thai Curry Chicken Soup using your Instant Pot'
Thai Curry Chicken Noodle Soup…
Oh. My God.
THIS Thai Curry Chicken Noddle Soup…
Yes, we all know by now that the Instant Pot is magical and performs amazing wizardry in very short periods of time, but this dish right here?  You will be instantly be catapulted directly to Southeast Asia.  No lie.  AND in under 25 minutes.  For real.  Flavorful, healthy, filling, and toppings are customizable to suit your every textural desire!
Now it may look like a lot of ingredients, but the depth of flavor that is achieved (with the help of the Instant Pot of course) is well worth the shopping trip to gather what you need.  Also everything is EASILY accessible and can be found at any local grocery store.  The majority of these ingredients I have on hand anyways except for maybe fresh cilantro, chicken thighs, and lemon grass.  Everything else is pretty much staple around here!
Chicken thighs (or breasts would work also), coconut aminos (or regular soy sauce), coconut milk, some herbs & spices, and a little fish sauce (don't panic… I grew up with this stuff and still get grossed out, but the flavor becomes VERY muted when it parties with everything else in the pot).  This is the hardest part of making this dish friends.  Really getting everything together and chopping will take the longest and thats what a few minutes max?  I promise.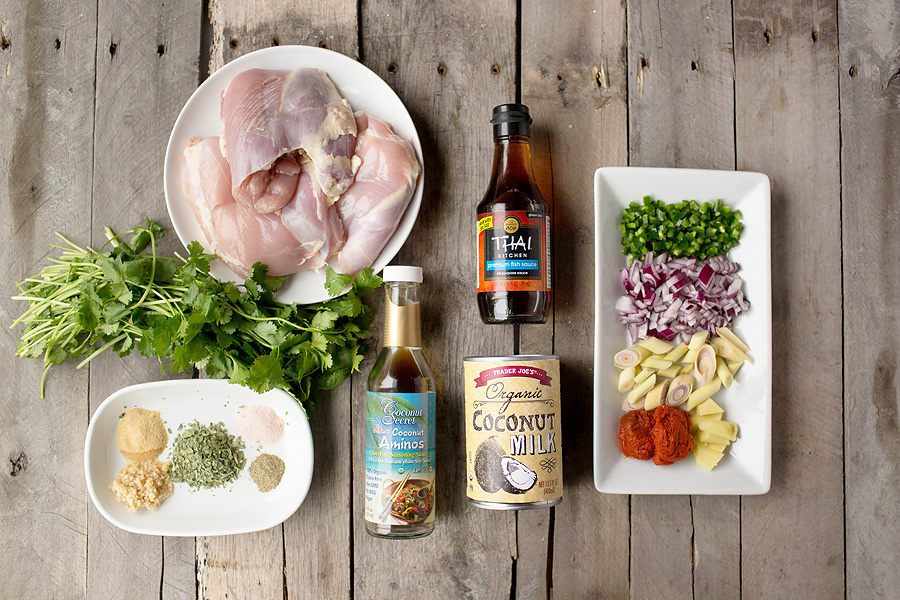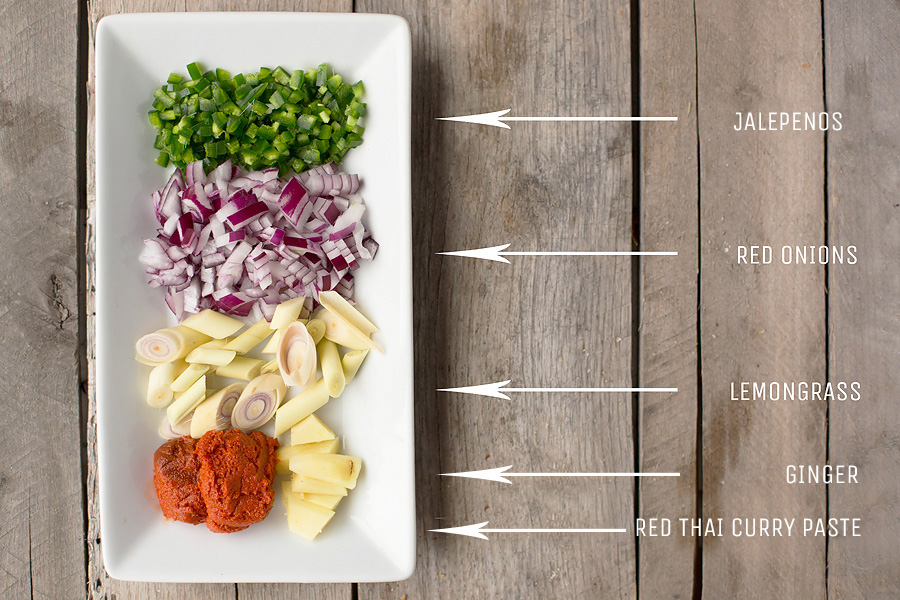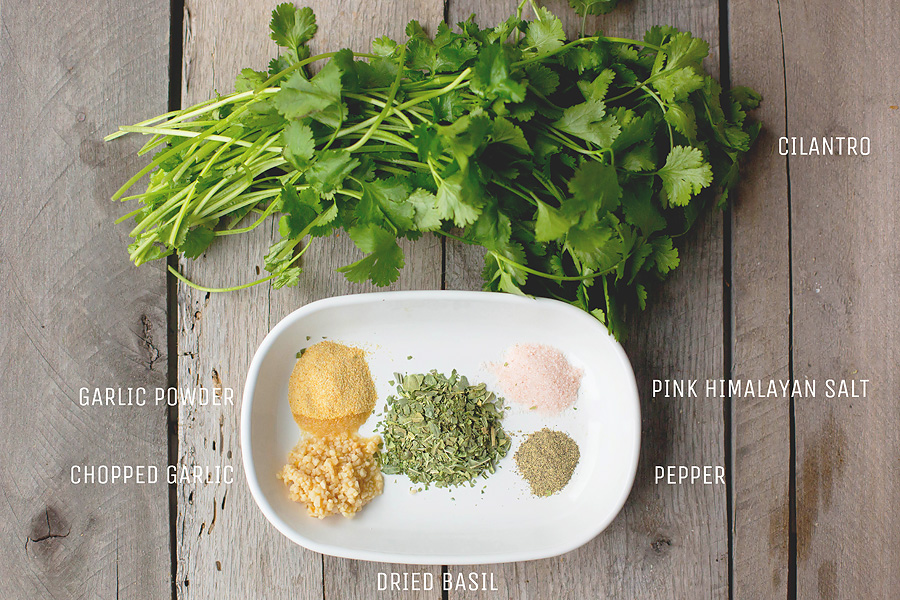 Literally just dump everything into the Instant Pot now.
Yeah, I'm serious.
Throw it all in, plug the Instant Pot in, cover, seal to close.
Then press MANUAL + 20 minutes.
Walk away.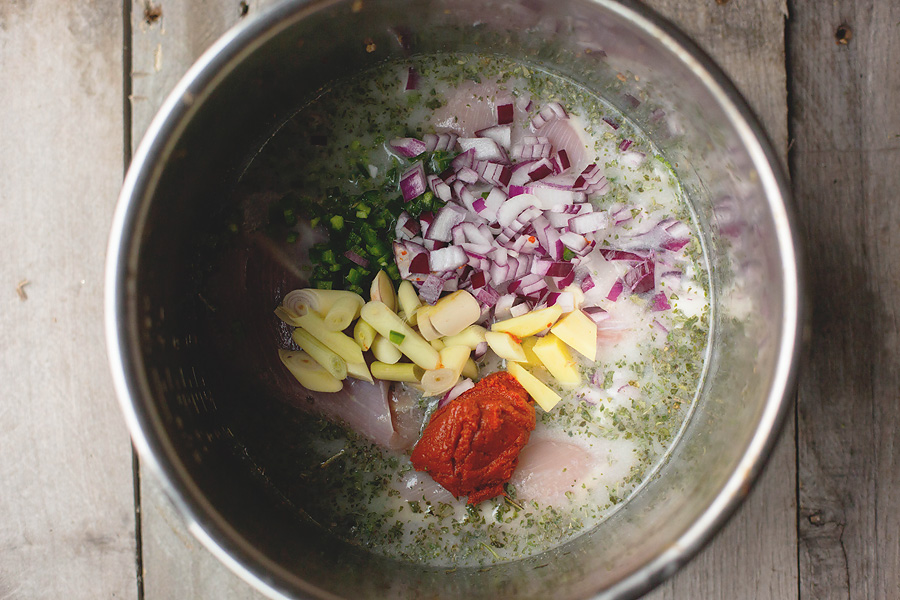 When time is up, you can manually release pressure or let it go longer if your hands are tied, on the phone, doing dishes, taking a shower, walking your dog, can't peel your eyes away from Real Housewives.  Either way, the soup will be waiting for you!  Me?  Quick pressure release every single time.  Even after only 20 minutes, the aroma in your house will be so intense you simply cannot wait to dive in AND eat!  All you need to do is shred the chicken a bit (its like BUTTAH baby), stir it up, and serve.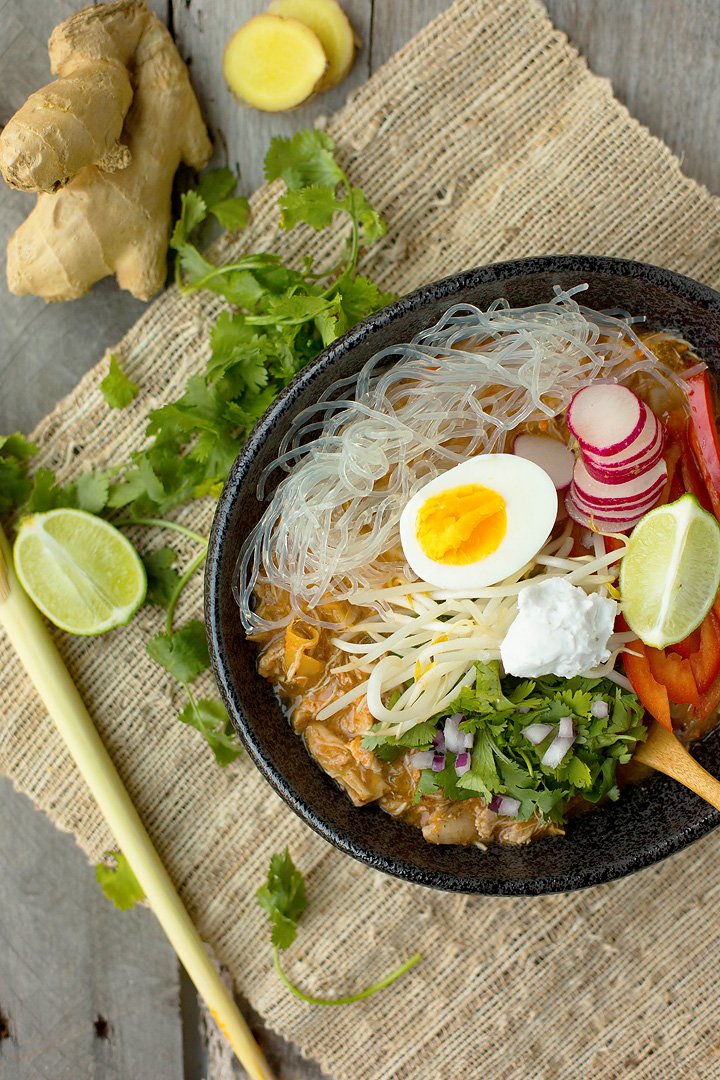 Again, you can use whatever toppings/add ins you like but this is my favorite combo for this dish:
red pepper
radishes
noodles (more on these ZERO carb noodles below)
cilantro
bean sprouts
red onion
coconut milk yogurt
hard boiled egg
squeeze of fresh lime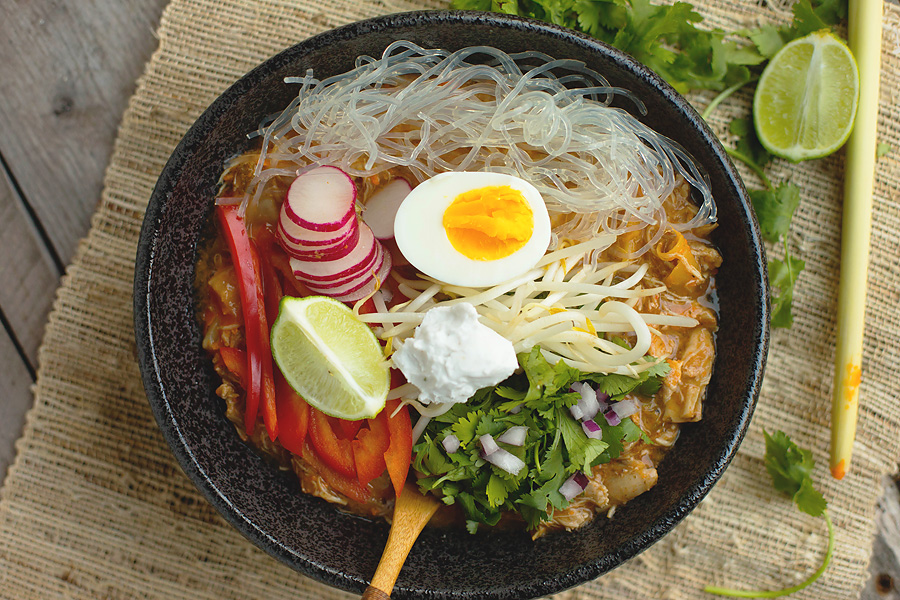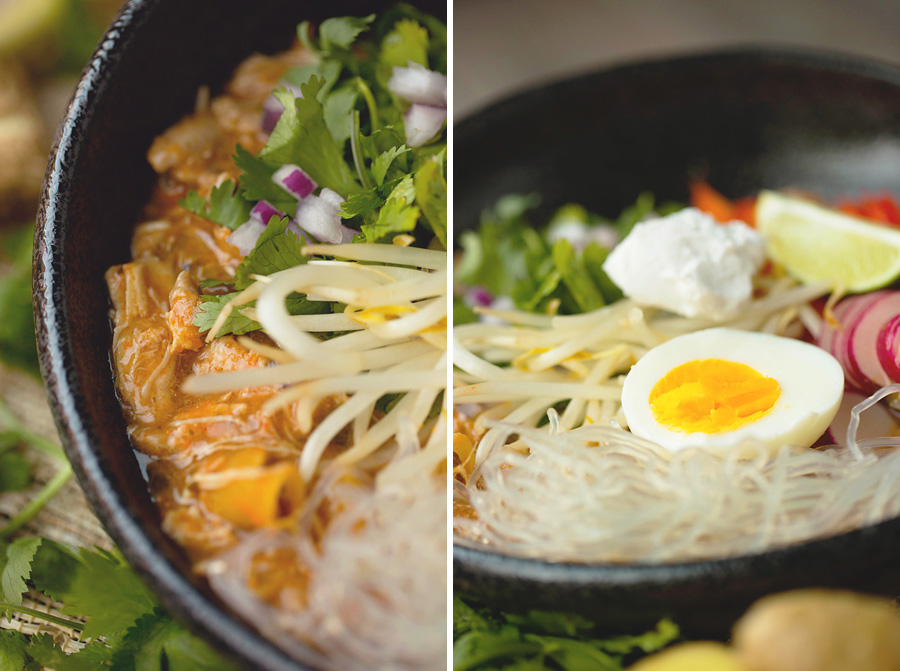 It's so Asian perfection.  You can stir everything up or if you are like me and need equal-ish amounts of each ingredient in every bite (I'm OCD like this), leave the toppings where they are in poke & scoop your way through your bowl!  This may be a low carb dish, but I assure you will quickly get full & satisfied!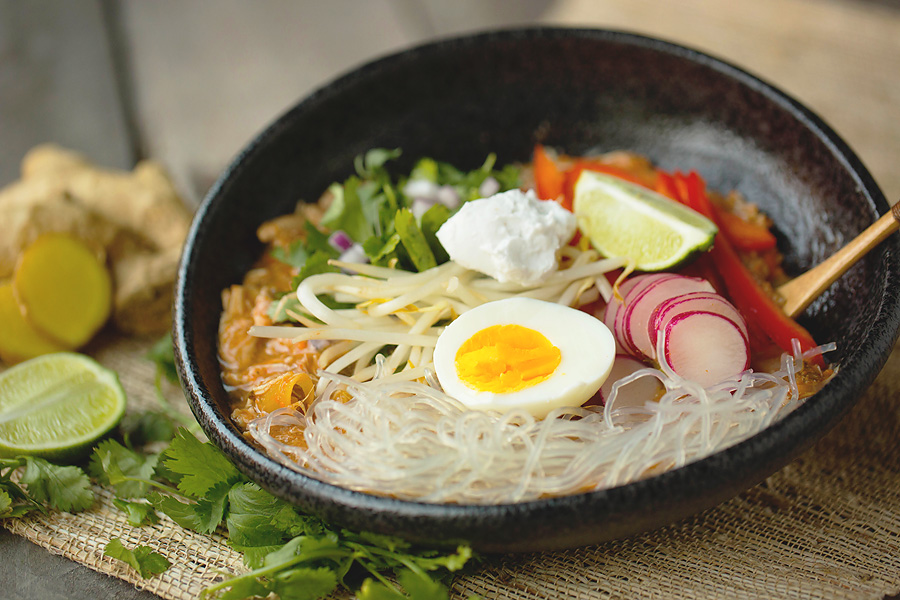 About these low carb, completely KETO noodles…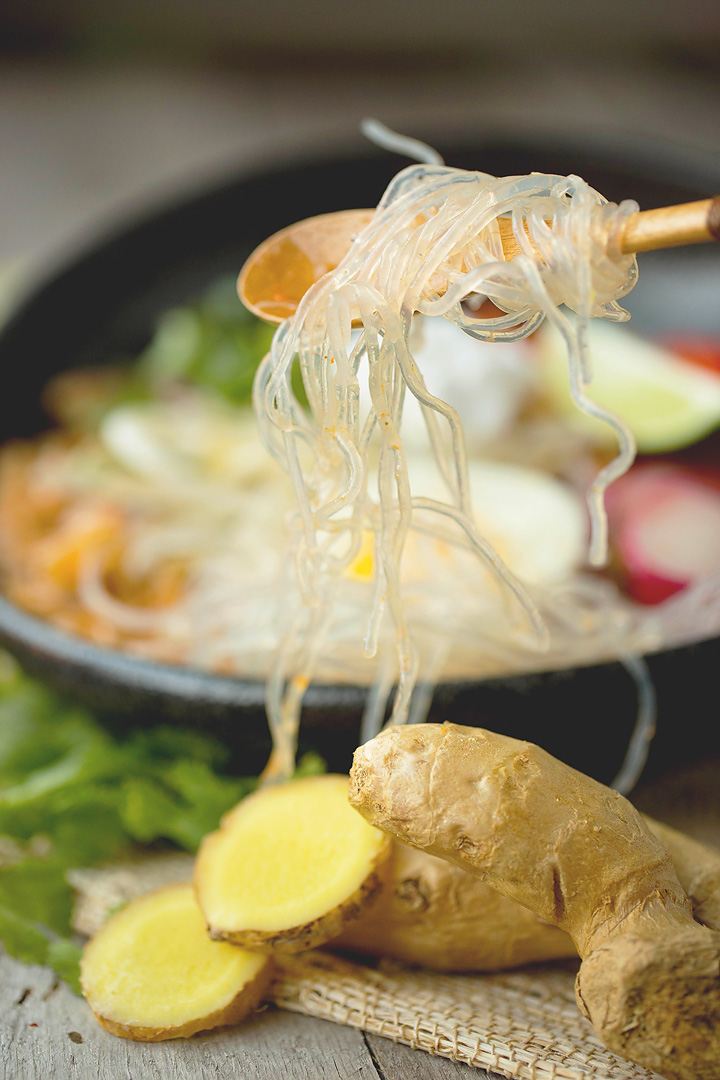 If you don't do low carb, feel free to use whatever noodles you like.  Ramen, rice noodles, black bean noodles, edamame noodles, udon, soba, lo mein would all be perfect here, BUT for my keto friends I have something I need to share with you that will change your low carb life forever.  Serious game changer.
Some low carber's like using Miracle Noodles (shirataki), but I cannot stand them.  I've done the whole rinse, rinse, rinse thing and that smell/taste/texture STILL has me gagging and plugging my nose.  So disgusting.  You could also easily use your spiralizer to make zucchini or other vegetable noodles which would boost the nutritional AND micronutrient profile even further, but when you are really wanting something more noodle-y these will be your God send.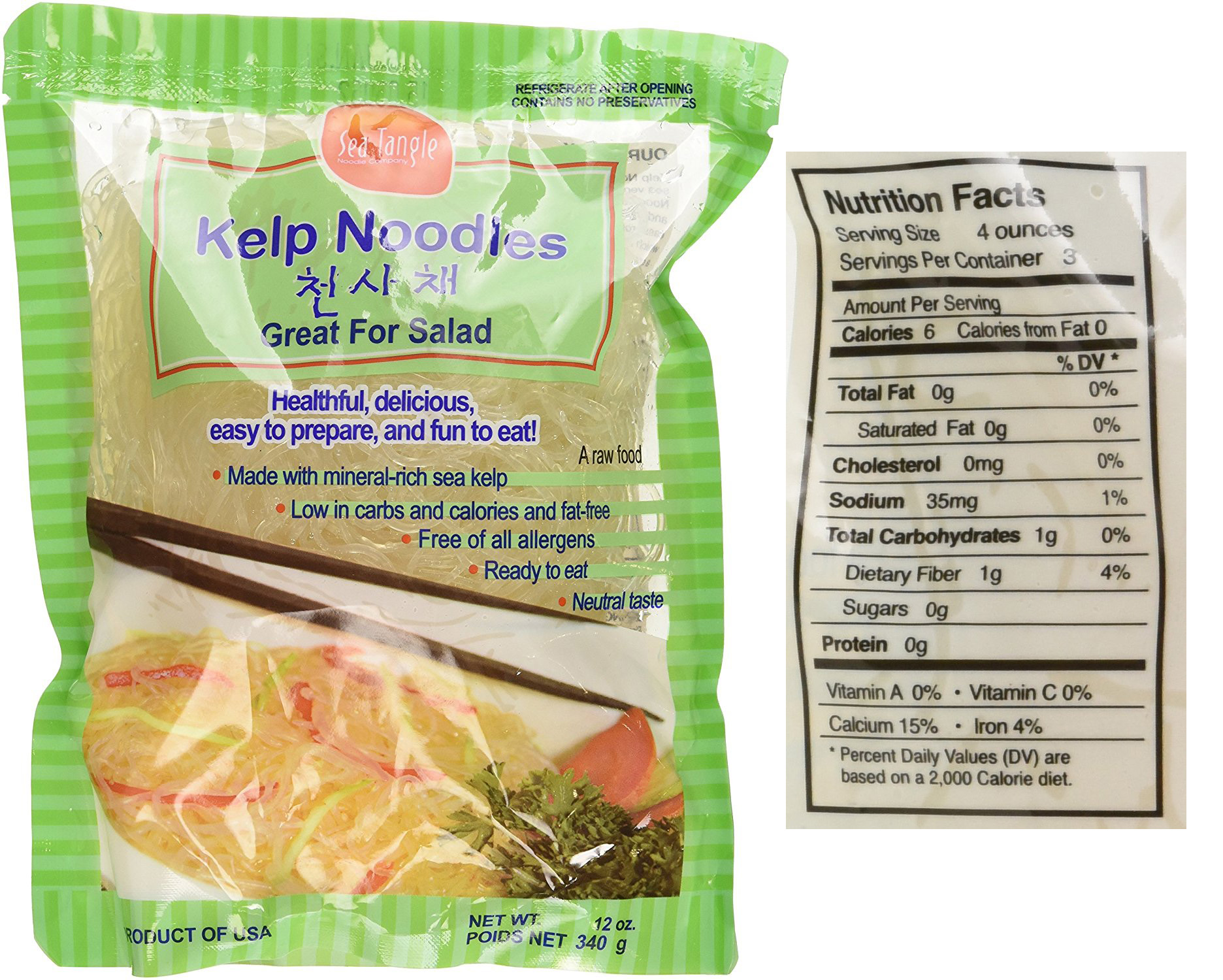 These things are like magic.  ZERO net carbs, absolutely ZERO taste, can be used cold or hot.  Right out of the package they are similar to glass noodles… slight crunch to them, but when they are heated through, they become just like any other noodle.  When you add them to hot soups, they soak up whatever flavors you have going on as well.  Cold in salads gives a nice crunch!
And did I mention KELP noodles were ZERO net carbs?  Easily one of the greatest ketogenic food finds I've made in the past 8 months.  I keep a regular stock of these in the fridge at all times!  Fortunately I have a store that carries them so have access anytime I want, but good ole Amazon has everyone else covered also!  So yeah, these noodles though!!!  A definite MUST have!
Ready to be transported to Southeast Asia?  Get to cooking this favorite Instant Pot recipe ASAP!
Make It Now:
Thai Curry Chicken Noodle Soup

Print recipe
| | |
| --- | --- |
| Serves | 4 |
| Prep time | 5 minutes |
| Cook time | 20 minutes |
| Total time | 25 minutes |
Ingredients
4 chicken thighs or breasts
1 can coconut milk
1 tablespoon coconut aminos or soy sauce
2 teaspoons fish sauce
2 heaped tablespoons red Thai curry paste
3 tablespoons finely chopped jalepeno or mild pepper of choice
2 tablespoons finely chopped garlic
1/4 cup chopped lemongrass
1/2 cup chopped red onion
1 " piece of sliced ginger
3/4 teaspoons salt
1/2 teaspoon pepper
2 teaspoons garlic powder
2 teaspoons dried basil
Directions
Step 1
Place all ingredients into Instant Pot, close, seal, turn on, and press MANUAL +20 minutes.
Step 2
When timer goes off, carefully use quick release pressure. Remove lid. Shred and stir soup. Serve with any fresh vegetables, herbs, and/or noodles you like.
Nutrition Facts
Serving Size 1 cup
Servings Per Container 4 cups
---
Amount Per Serving
Calories 194
Calories from Fat 72
% Daily Value*
---
*Percent Daily Values are based on a 2,000 calorie diet. Your daily values may be higher or lower depending on your calorie needs.