'A grain free granola that's rich in protein and low in carbs.  The maple, cinnamon, and hint of coconut flavor combination will have you sprinkling this on everything!'
I'm not sure if I'm more excited about this delicious grain free granola OR the fact that I have begun to dip my toes into the world of video OR that I am officially on a new exciting journey!  Over the past two weeks or so I've made some VERY big decisions about my life, what I want to do with it, and the new journey that is now underway.  It was one of those life moments I will never forget… an idea was sparked which lead to another idea which snowballed into MANY ideas.  I have not felt this passion and excitement in a very very very long time.  BIG life changes are underway friends and I cannot wait to share and unfold this new path.
It feels good.
It feels right.
But in the meantime though while I get my ducks in a row… back to my granola!
One thing I have severely missed recently being on keto has been granola.  I was never one to really eat granola like cereal per se, but it was always the perfect addition to top yogurt with or as an on the go snack to nibble on.  The problem with store-bought granola on keto though is most of those store bought ones are typically very high in carbs from the sweeteners and grains.  Also, as with most 'processed' foods they will also contain soy in some capacity which is by far my biggest nutritional and health no-no.
A couple of weeks ago when I was enjoying some homemade coconut milk yogurt my first inclination was to grab a bag of granola and top myself off.  Nope, not that easy.  I had found one brand that could be considered keto and was also soy free.  SO yummy, but at $12 a bag… uh yeah, that wouldn't be a regular thing.  So, I was on a mission to create my own version!  Turns out it was SO simple to do, now I'm kicking myself for not trying it sooner.
Don't be intimidated whatsoever friends… it truly is one of the easiest recipes ever.  What's even better is it's very "forgiving", pretty hard to mess things up here.  AND you can customize the flavors to your own liking.  Not a fan of cinnamon?  Take it out.  Not a fan of coconut?  Replace the shredded coconut with another type of nut or seed.  Can't tolerate butter, use coconut oil.  Love hazelnuts?  Use them and even add a little hazelnut extract.  Don't be afraid to change things up and experiment!  I plan on keeping stock of a few different flavors myself 🙂
Alright so here we go.  Nuts and seeds in a food processor to mingle.  Again, choose a combo you have on hand or that suits whatever limitations you may have.  Personally, I can't have walnuts so chose pecans instead.  I chose macadamia nuts because, well, YUM.. AND they also happen to be very low in carbs (easily the lowest carb nut).  Pumpkin seeds because they are #1 high in magnesium (good for you heart, relaxation of your muscles, and helps with bowel function), #2 high in zinc (good for immunity), #3 high in Omega 3's (keeping the balance with Omega 6's has been a game changer in my health), #4 rich in tryptophan which helps promote better sleep.  Pumpkin seeds are definitely a daily staple for me so of course I added them in here!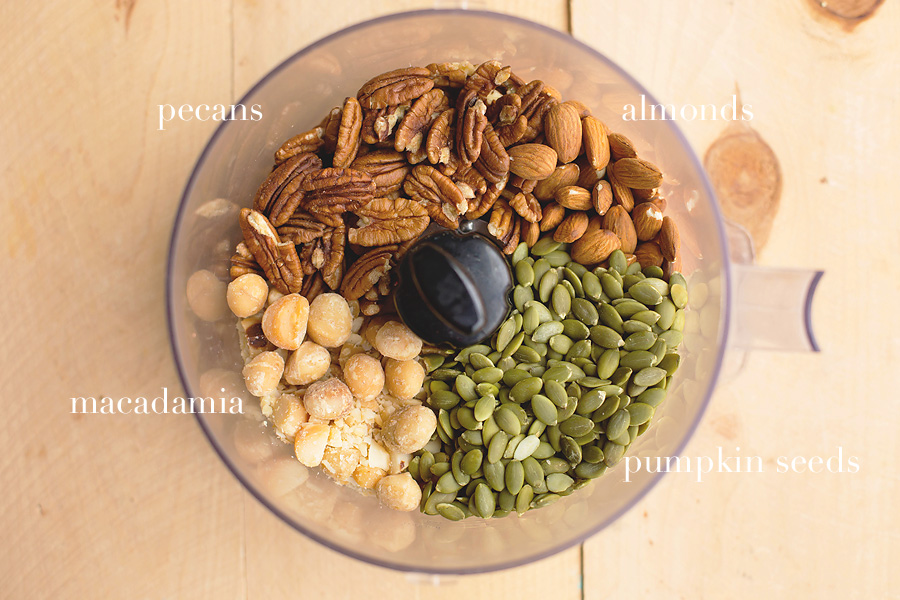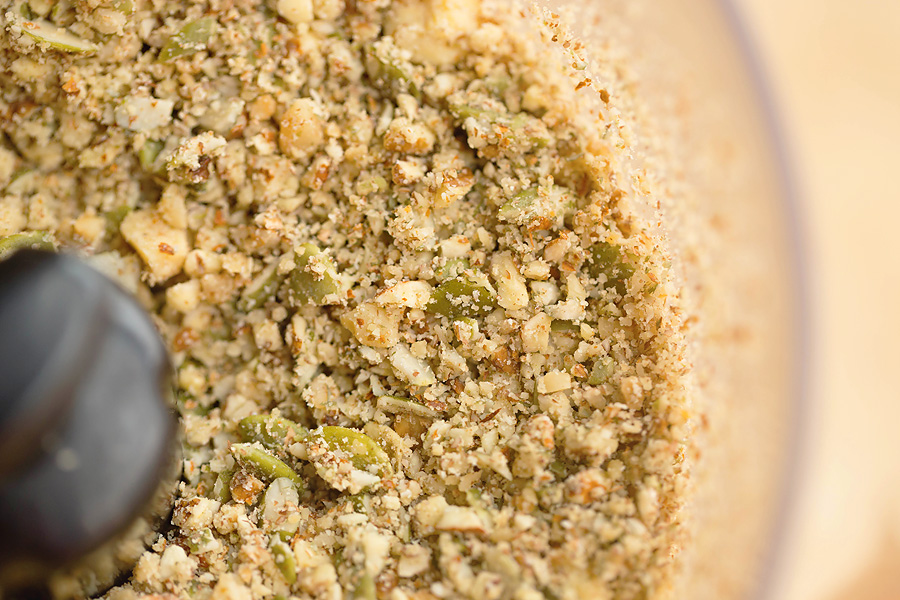 Process to a course crumble.  You don't want to completely pulverize this though.  I prefer having some bigger chunks here.  Having a big of variety in the consistency will give great texture when eating this!  I added mine to two separate sheet pans to ensure it all goes out in one THIN, even layer.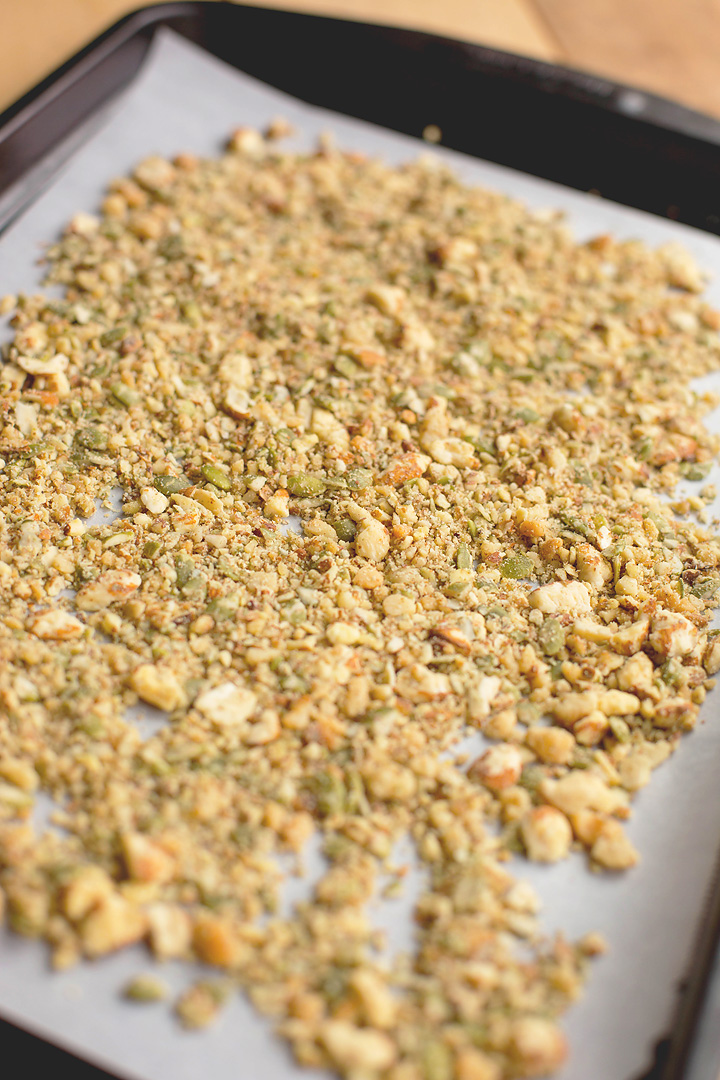 That process took about 2 minutes?
Next, just gather the rest of the ingredients and watch how easy this part is…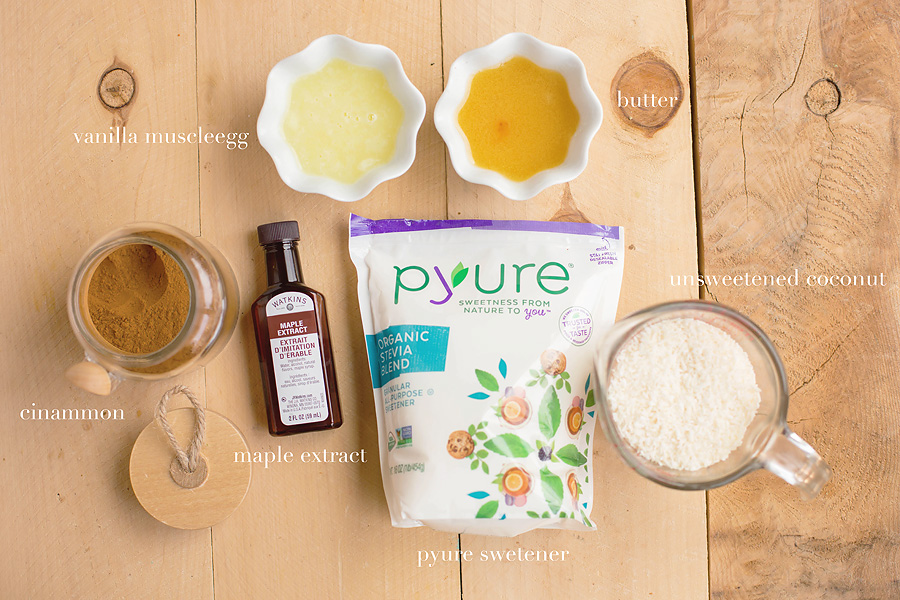 Dump them all over the nut/seed mixture and get your hands dirty.  Really really try to get that melted butter (or coconut oil) covered and soaked into the mixture.  The more it clumps together, the better (in my opinion anyways).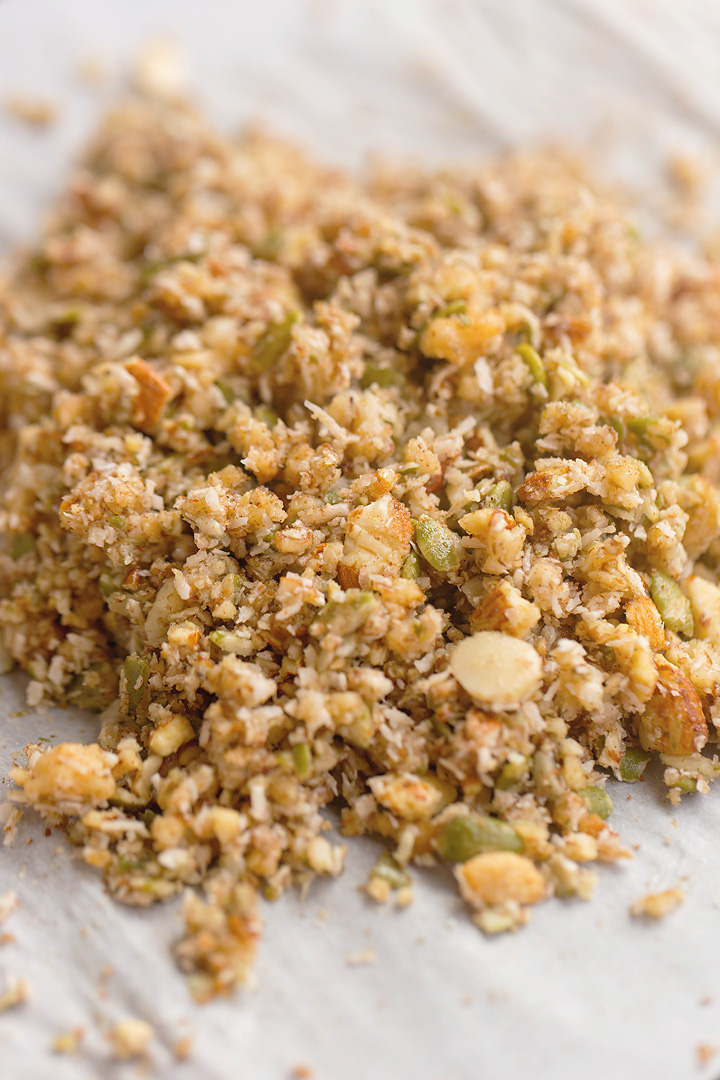 Bake until perfectly, deliciously, and amazingly golden brown!  Little bits, big bits… all the yummy bits!  Wait for it, wait for it…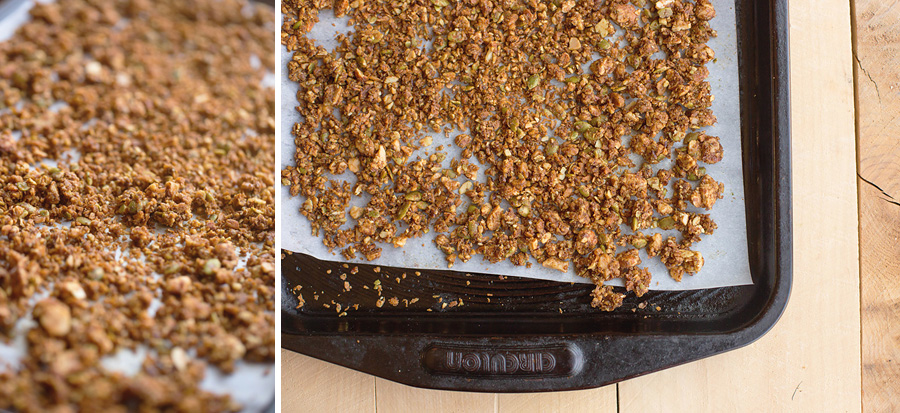 Ahhhhh, granola!  How I've missed you.  Did I mention my favorite part are those big chunks?  Perhaps its because thats where I really really got the butter soaked into?  Next time I will be spending a couple of extra seconds working it all together even more!  For now though, I have my keto approved granola that I can top my coconut milk yogurt with, enjoy as a bowl of "cereal", or throw into a ziplock baggy to hide in my purse for nibbling.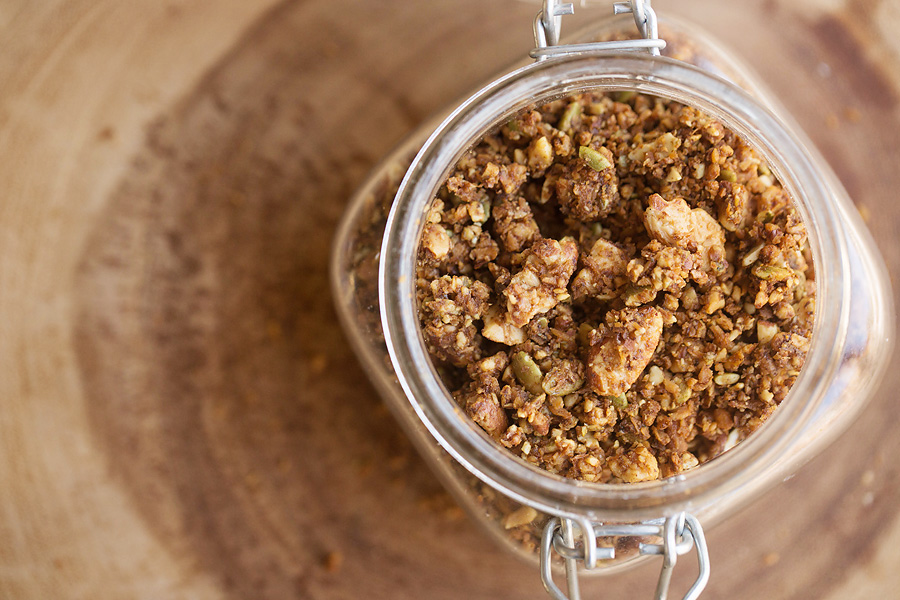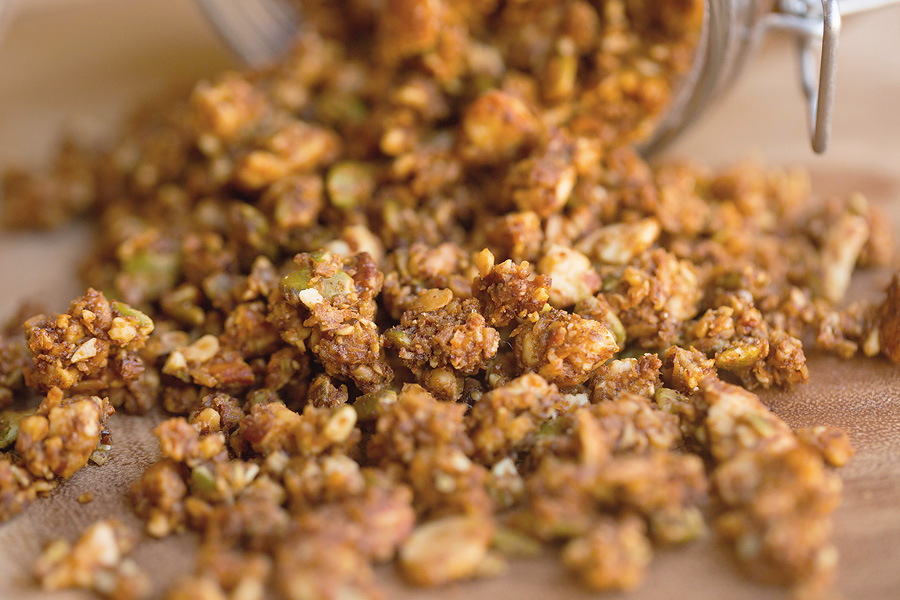 Maple Cinnamon Granola

Print recipe
Ingredients
1 cup almonds
1 cup macadamia nuts
1/2 cup pecans
3/4 cups pumpkin seeds
1 cup unsweetened shredded coconut
1/4 cup coconut oil
3 tablespoons ghee or butter
1/2 teaspoon salt
2 teaspoons maple extract
2 teaspoons cinnamon
3 tablespoons Pyure or sweetener of choice (maple syrup, honey, etc.)
Optional
1/3 cup 'vanilla' MuscleEgg egg whites (add for extra protein if desired)
Directions
Step 1
Preheat oven to 300° and line two cookie sheets with parchment paper.
Step 2
Add nuts and seeds into a large food processor. Pulse for 30-45 seconds to produce a course crumble.
Step 3
Remove blade carefully and divide contents onto prepares baking sheets.
Step 4
Add remaining ingredients and massage mixture well with hands. ** Egg whites are option, add to increase protein content and flavor **
Step 5
Bake for 45 minutes until golden brown. Turn oven OFF and let granola crisp thoroughly with oven door slightly open.
Actually, you get a double recipe in one post today because I also want to share how I've enjoyed 95% of this grain free granola since it was made, also my transition to showing you my very first VIDEO!
CHIA SEED PUDDING
2 tbsp chia seeds
1 tbsp hemp hearts
1/2 cup unsweetened coconut milk
1/2 tsp maple extract
8-10 drops of stevia
1/4 cup of maple cinnamon granola
Combine all ingredients in a mason jar or bowl… eat immediately or let thicken in the fridge!