'A grain free AND low carb coconut shrimp recipe with the most perfect healthy sweet chili sauce."
Oh man I have a good one for you guys today… I wasn't sure if this would work properly because breading anything on keto/low carb can be pretty tricky!  Also wasn't sure if it would taste good, but yup and yup. These little things are addictive!!!  I think I could probably scarf up at least 15 in one sitting.  They do require a couple of extra steps for the "breading" but aside from that which you would do with traditional fried shrimp, the cooking process only takes a couple of minutes!
First just grab some unsweetened coconut flakes and coconut stevia drops.  All you need to do is add some drops into the coconut and then massage it in gently or carefully stir it up with a spoon/fork.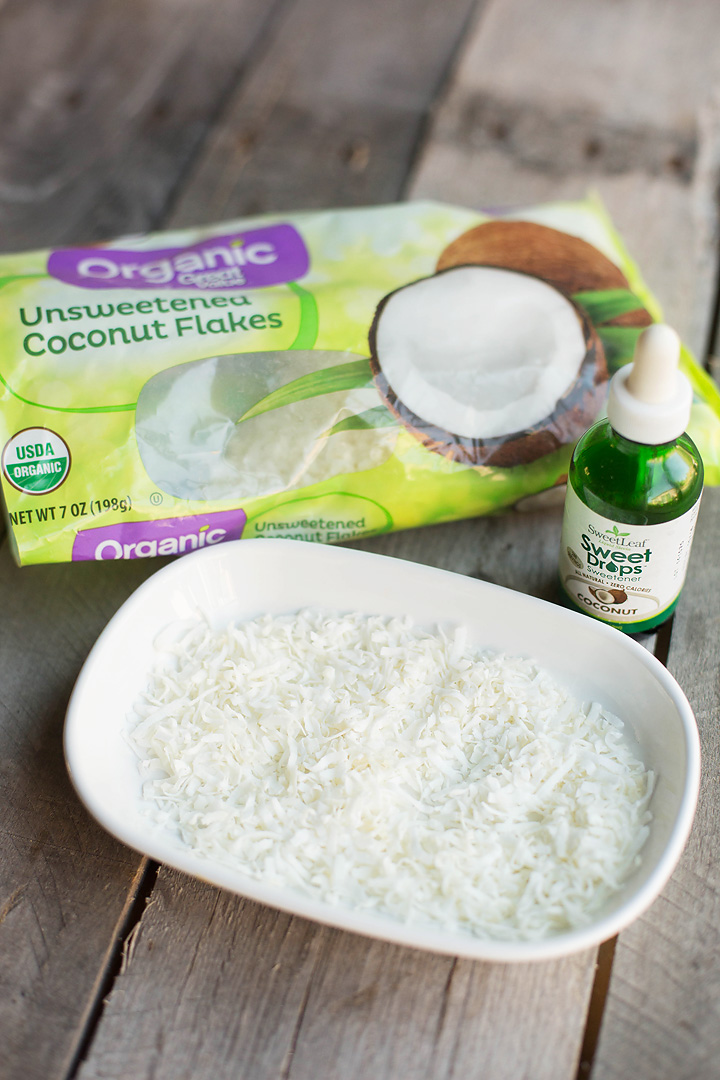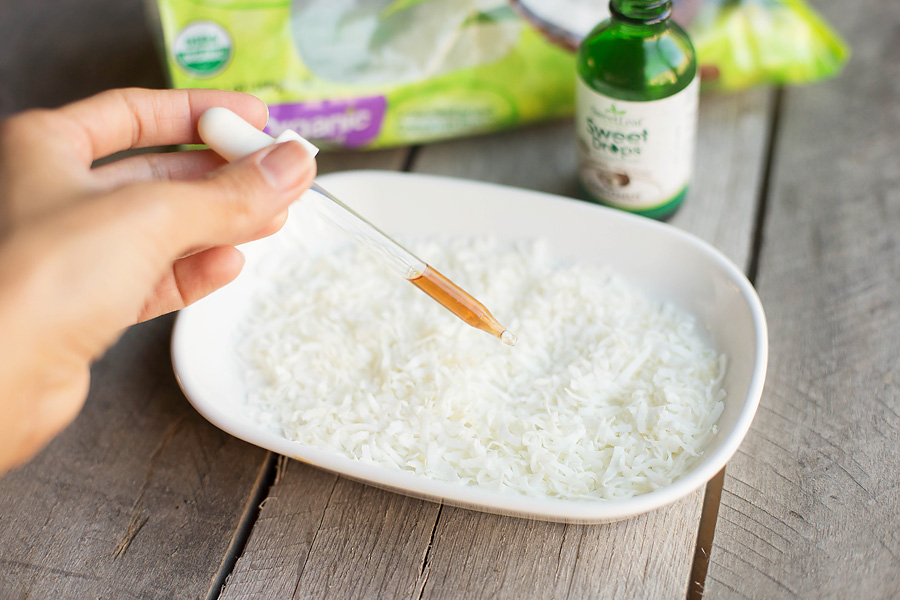 Grab the rest of your "breading" ingredients and it's time to get your hands a little dirty.
your shrimp (lightly seasoned with a little salt and pepper)
1 whole egg
coconut flour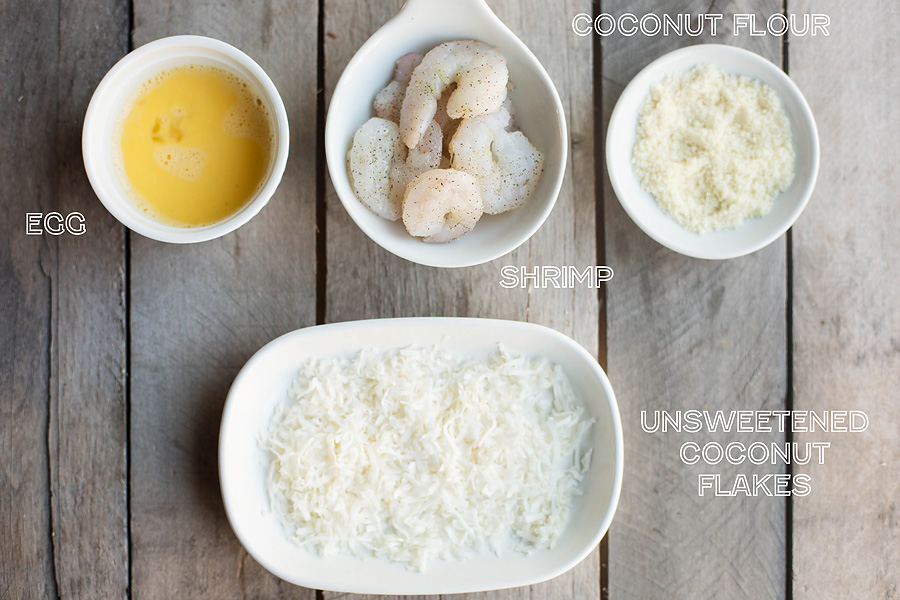 Lightly coat each shrimp with the coconut flour (don't mind the order of the pics, they are wrong LOL), then egg, then the coconut flakes.  Place them on a plate until the batch is all breaded and ready to get cooked!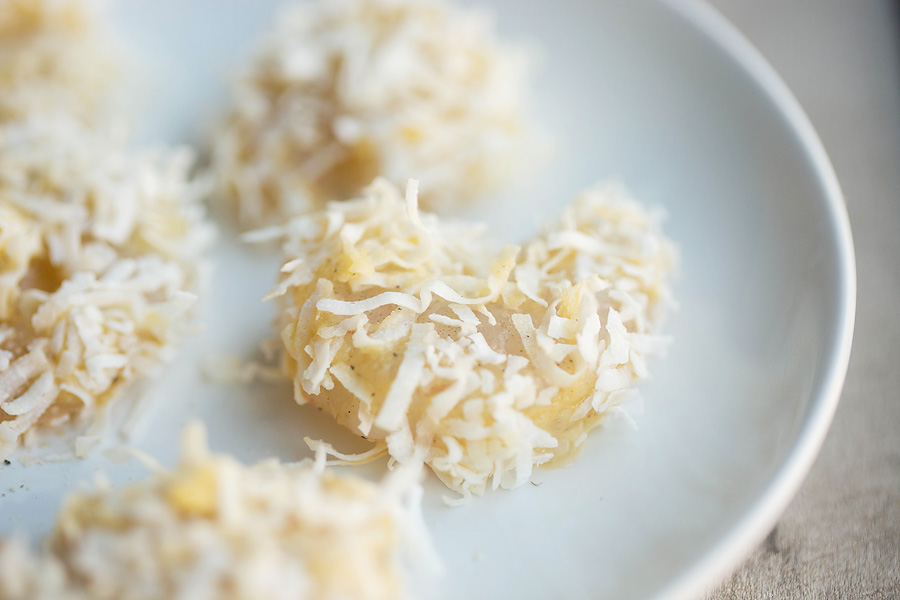 Heat your skillet/pan to medium high heat and melt 1 tablespoon of coconut oil.  Carefully place shrimp into pan and let cook for 1-2 minutes until golden brown…  wait for it…. wait for it…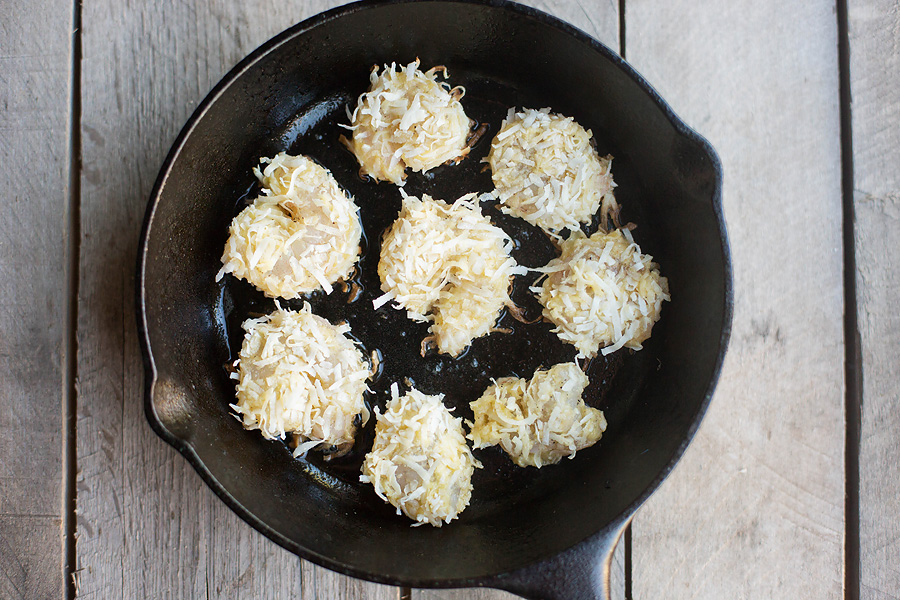 OH the gloriousness of a perfectly fried coconut shrimp!!!  Look how amazing and perfect these little guys are!
Literally drooling right now… I'm about 99% sure that I will be making these again today for lunch!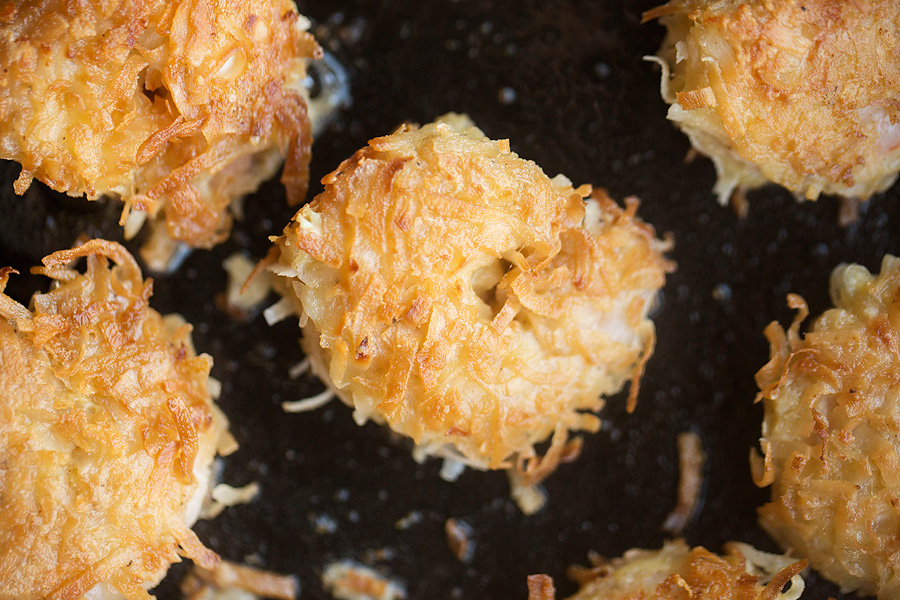 Once they are cooked through, remove them from the pan and lightly sprinkle them with some pink salt.  Garnish with fresh parsley if desired and they are ready to be devoured.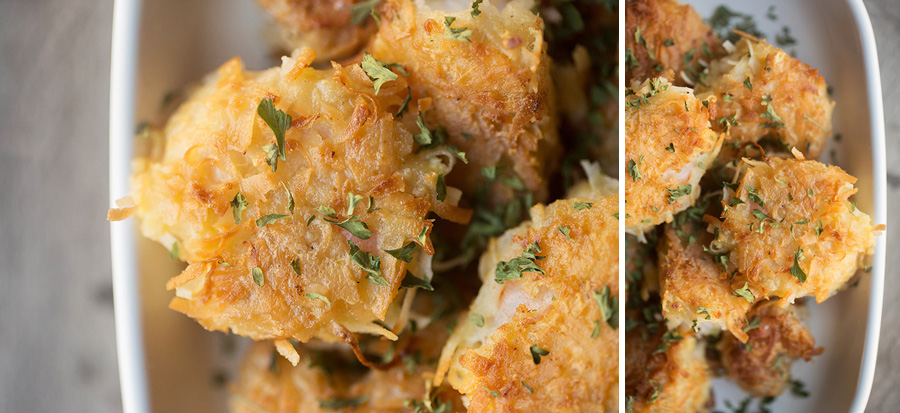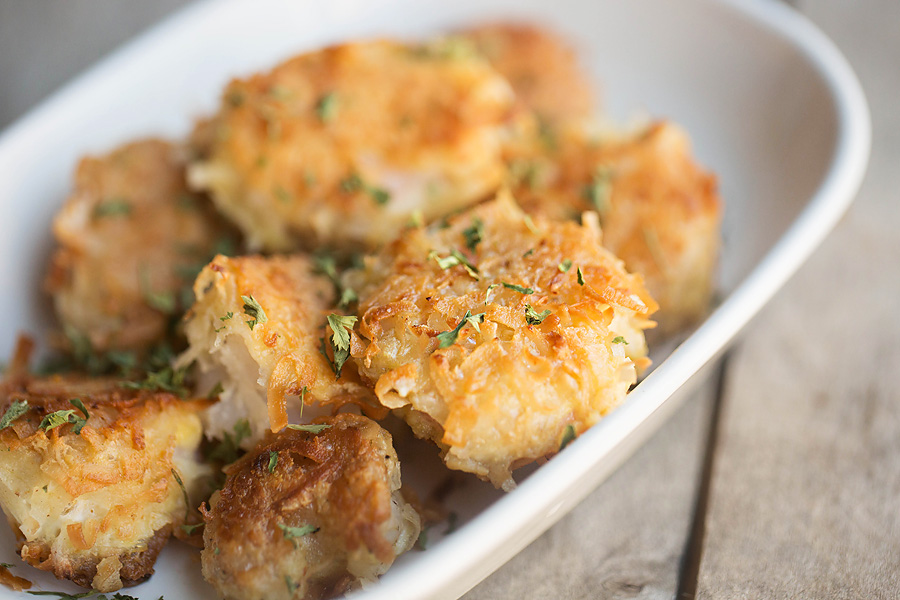 If you are so inclined to make a HEALTHY and delicious dip for them… I suggest my sweet chili sauce.  This goes SO perfect with the coconut shrimp!  A breeze to make as well of course.  Recipe(s) will be below the post!  For now, take a look at my favorite way to enjoy this.  Served very simply as "tacos" on butter lettuce with a few extra veggies to boost the nutrients and give that amazing pop of color!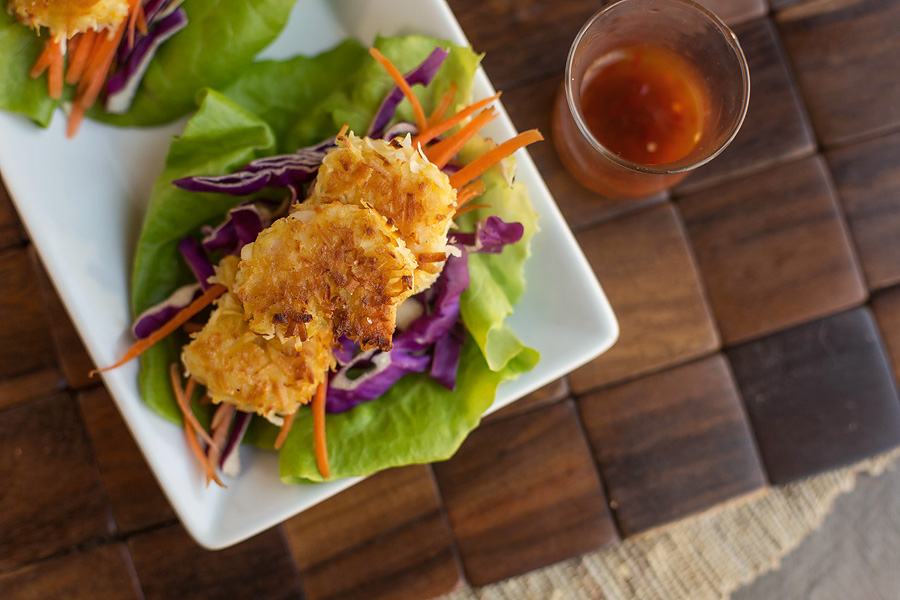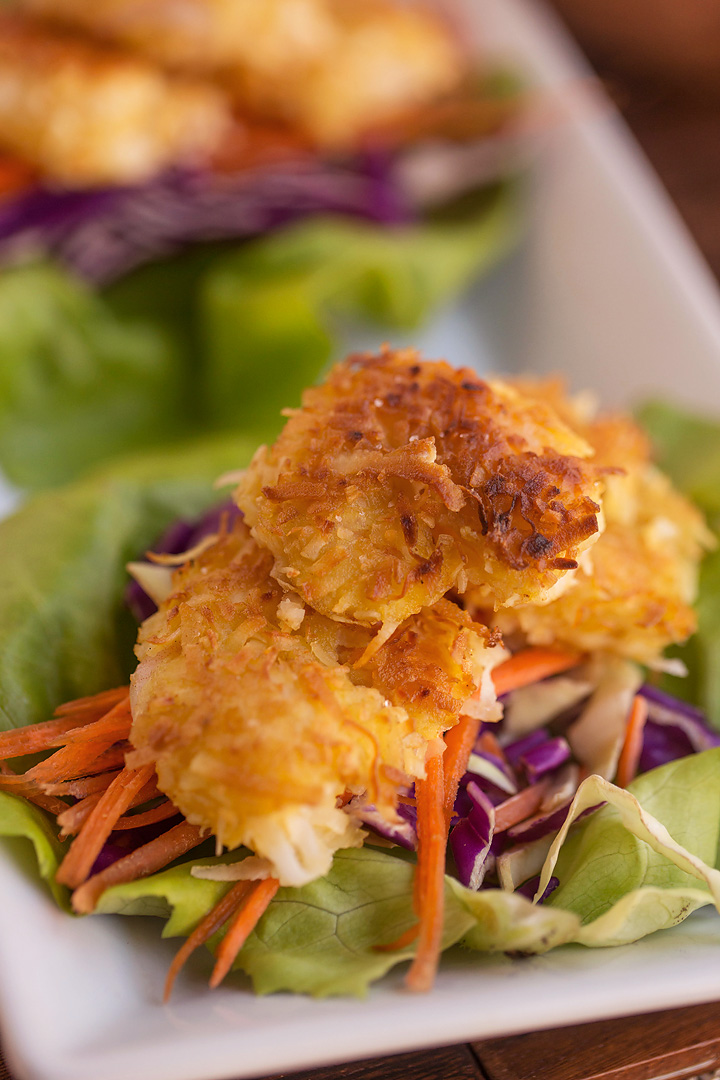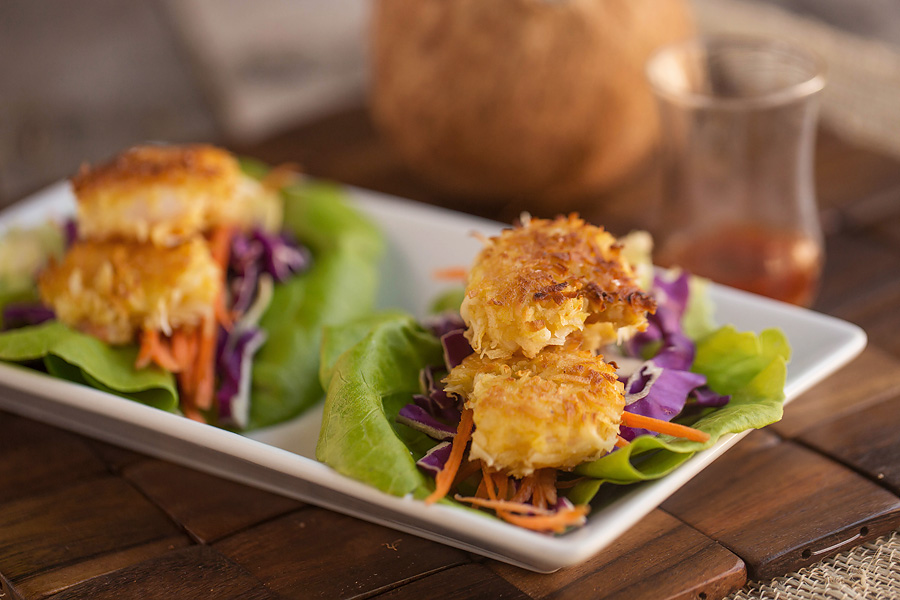 You in???  I certainly am.  All in!  Yes, yes, YES!  By far one of the most favoritest (yup, I made that word up) dishes I have made in a long long time.  And again, like I have mentioned before… for someone who hated seafood her whole life yet I can still say this is a new staple for me?  Should say a lot!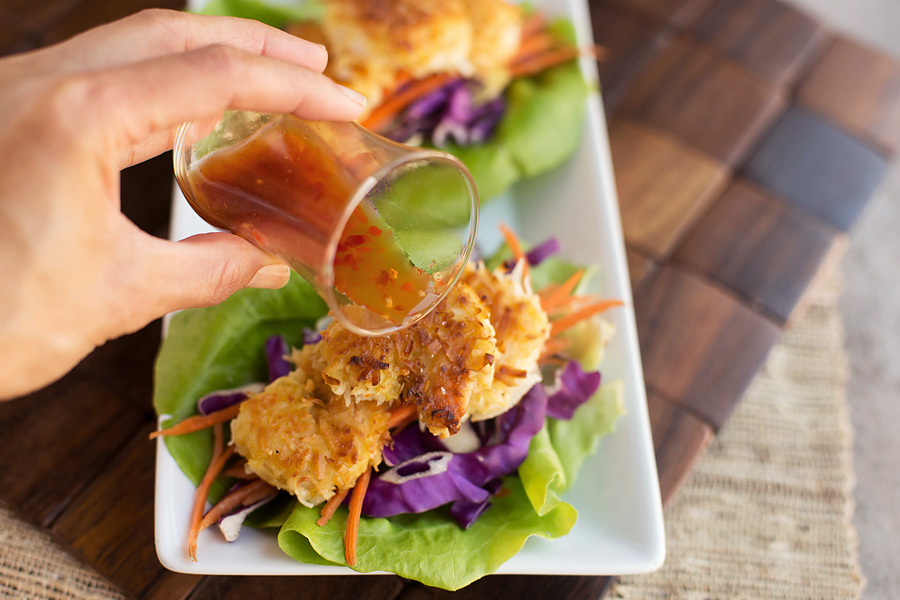 Grain Free Coconut Shrimp With Sweet Chili Sauce

Print recipe
Ingredients
1lb shrimp (rinsed and deveined)
1/4 cup coconut flour
1 cup shredded coconut
10-12 drops stevia
1 Large whole egg
1/2 teaspoon salt
1/4 teaspoon pepper
1 teaspoon garlic powder
4 tablespoons coconut oil
8 Large butter lettuce leaves
1/2 cup shredded cabbage
1/2 cup shredded carrot
1/4 cup rice wine vinegar (** SAUCE **)
1/2 teaspoon Sambal Chili Paste (** SAUCE **)
1/2 teaspoon finely chopped garlic (** SAUCE **)
8-10 drops stevia (** SAUCE **)
1 teaspoon coconut aminos or soy sauce (** SAUCE **)
salt & pepper to taste (** SAUCE **)
Directions
Step 1
In three separate small bowls, add (1) coconut flour, (2) slightly beaten egg, and (3) shredded coconut. Divide seasonings and add to coconut flour bowl and egg bowl. Mix gently. Add stevia to coconut flakes and gently stir around to incorporate.
Step 2
Preheat a large skillet and add coconut oil under medium/high heat.
Step 3
Coat each shrimp in coconut flour/seasoning mixture, then egg, then shredded coconut. Add shrimp to heated pan and cook just until golden brown on each side.
Step 4
Remove from pan and place on a wire cooling rack. Sprinkle with a pinch of additional salt if desired.
Step 5
Combine all sauce ingredients and stir well. Build lettuce wraps and serve.
Note
NUTRITIONAL INFORMATION (makes 4  servings): calories- 335, fat- 25 grams, carbs- 23 grams/fiber- 3 grams, protein- 30 grams PER SERVING