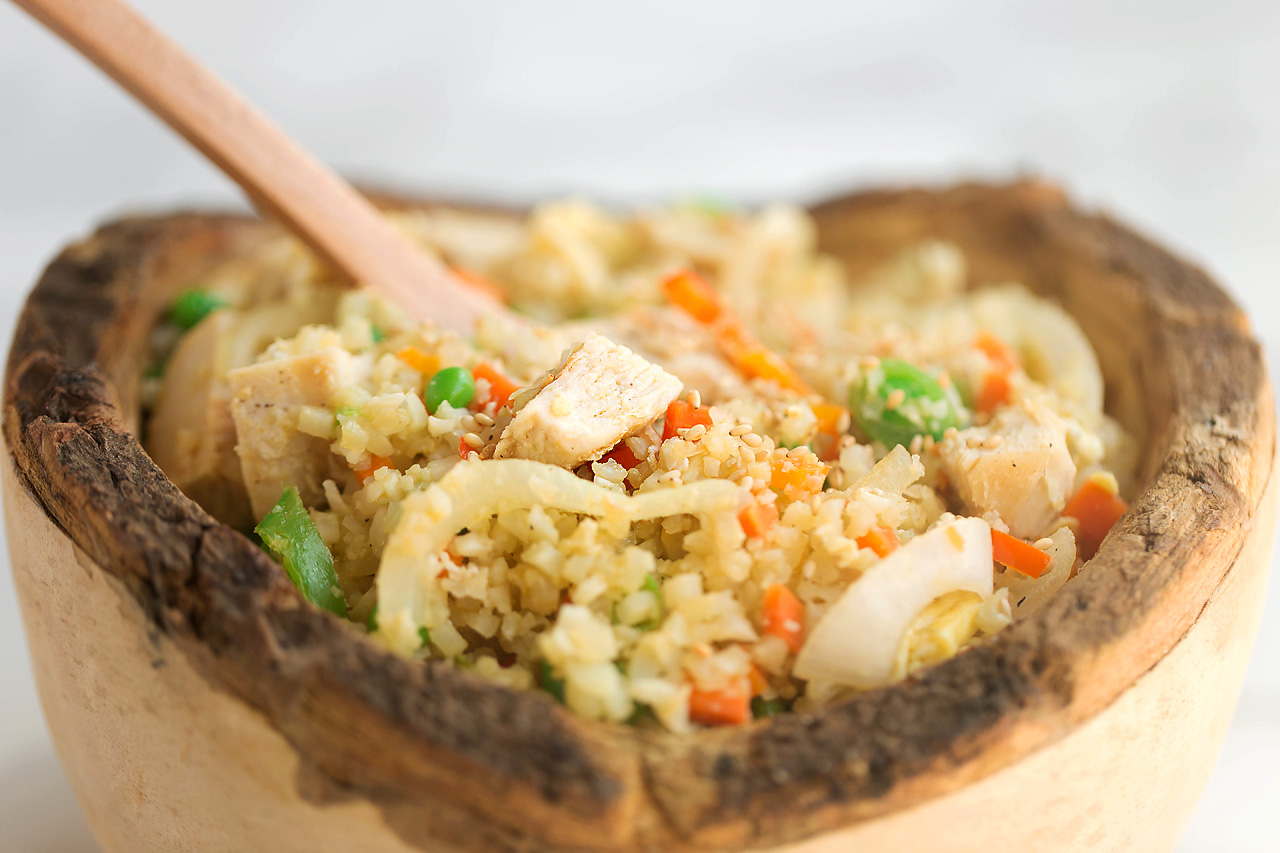 If someone asked me to list my top 5 favorite low carb/keto meals, THIS cauliflower fried rice would be listed at the very tip top!  No question at all.  I could eat this dish daily, no joke.  And one of the BEST parts of this dish is it can be on the table in about 10 minutes OR even quicker!
First step is grilling/cooking off your chicken breasts.  I lightly season mine with a little olive oil, salt, pepper, and garlic powder.  Fire up you stove and get the chicken onto a cast iron grill pan or preferred pan of choice.  While thats cooking, heat up a saute pan and add 1 tbsp of olive oil or coconut oil.  Roughly chop your veggies of choice (onions, carrots, peppers, snap peas, broccoli, etc.).  Add your onions and carrots to the saute pan and cook for 2-3 minutes.  Add remaining vegetables and cook for an additional 2-3 minutes.  Stir in chopped garlic, riced cauliflower (we buy from Trader Joe's, Costco, or Target), and coconut aminos (or soy sauce).  Add cooked & chopped chicken breast and scrambled eggs.  Turn off heat and stir in green peas.  Season with salt and pepper to taste.  Top with sesame seeds if desired!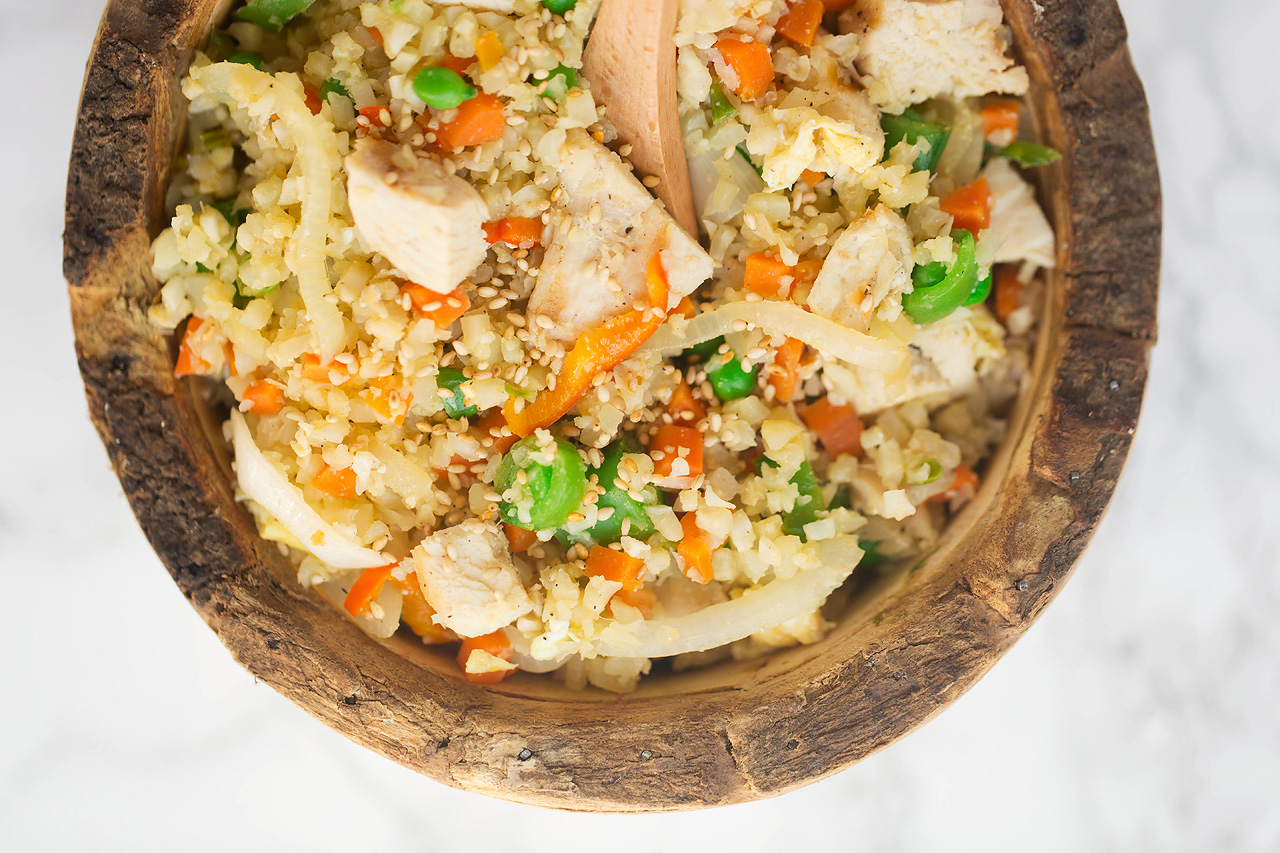 Not a fan of chicken?  No problem.  Add shrimp.  Really pressed for time?  Use a store bought rotisserie chicken!Don't like red peppers?  Easy, don't use them.  Want broccoli?  Sure, add them in!  This recipe is SO incredibly versatile.  Another thing I love about this dish is its actually extremely filling.  All those amazing vegetables will add plenty of nutrients and fiber to your diet!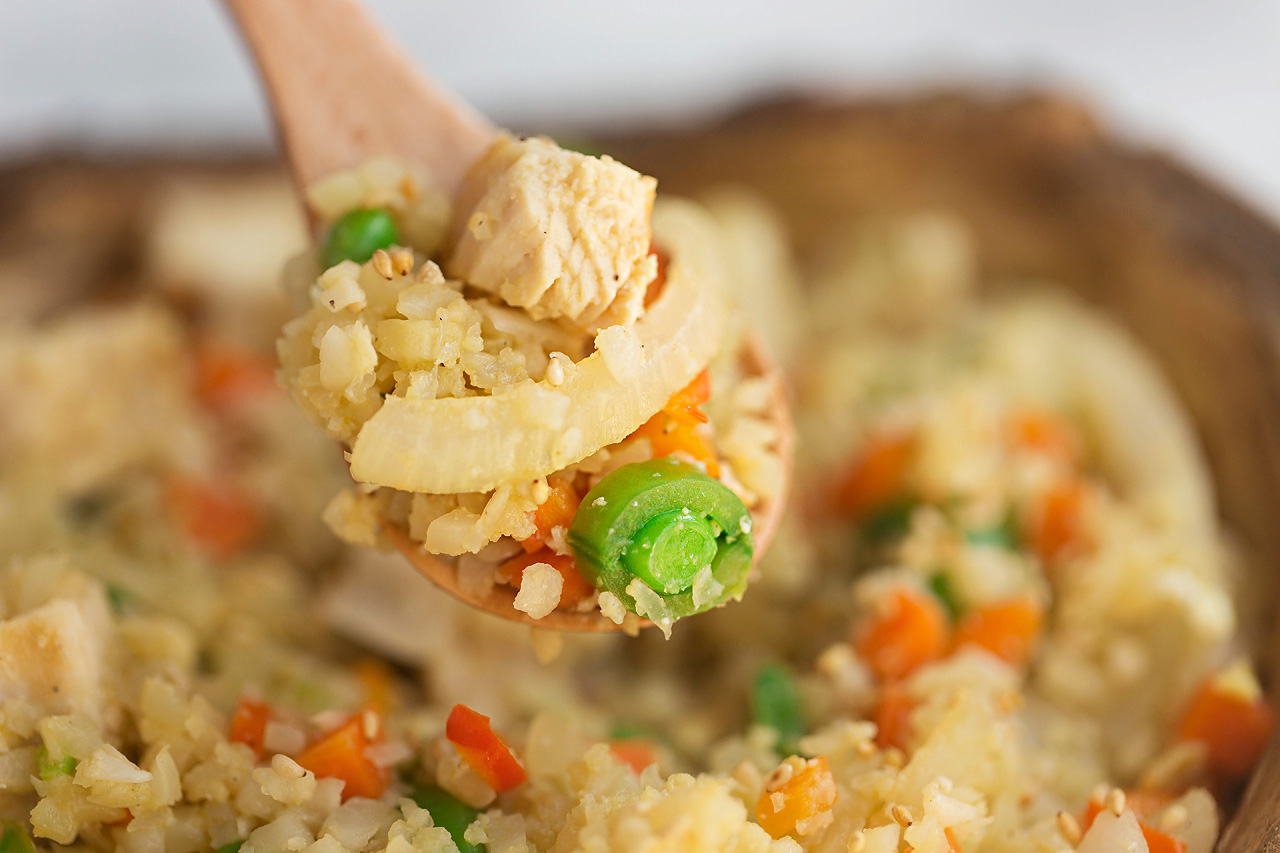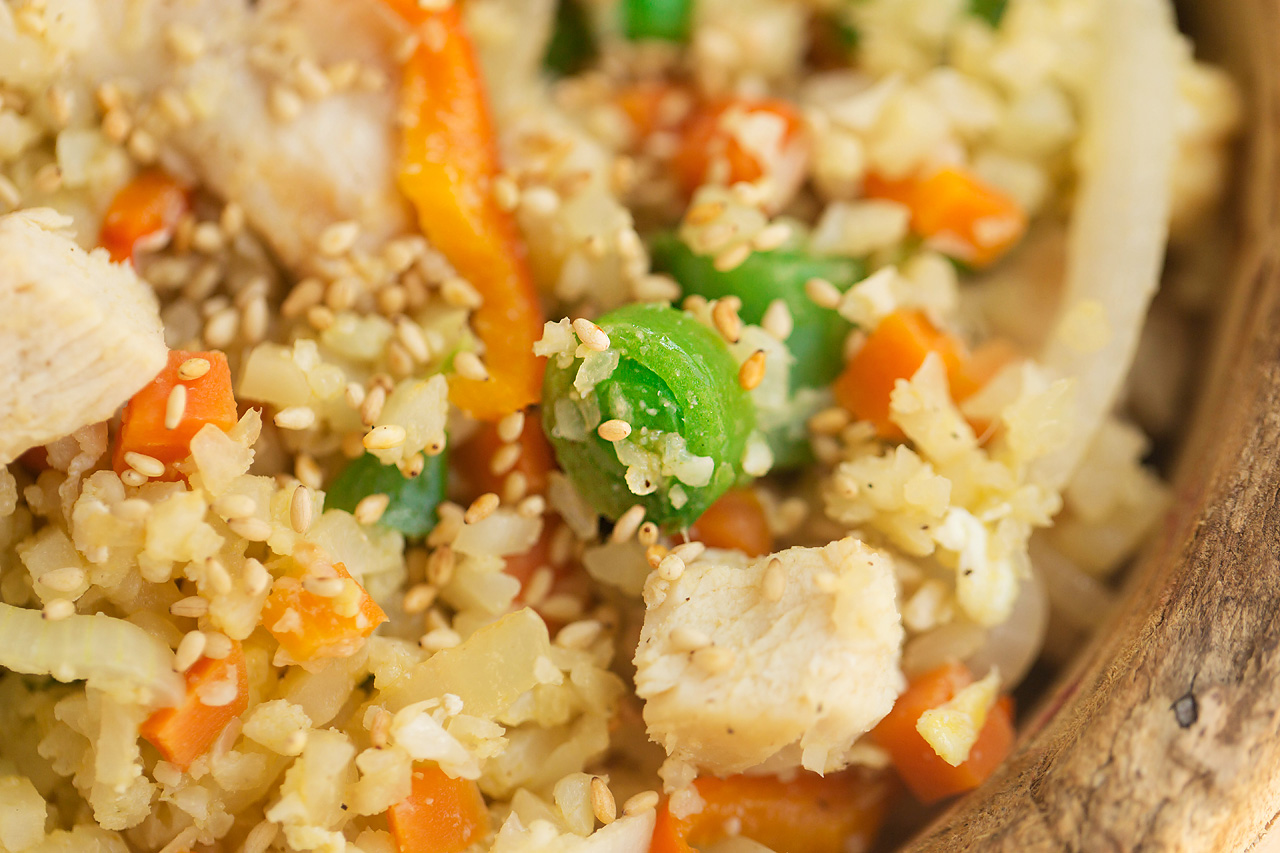 10 Minute Chicken Cauliflower Fried Rice

Print recipe
Ingredients
1/4 teaspoon sesame oil
1 tablespoon avocado or coconut oil
1 Small onion (finely sliced)
1 Medium carrot (chopped)
1/2 cup red peppers (finely sliced)
1/2 cup snap peas (chopped)
1 tablespoon garlic (finely chopped)
1 teaspoon salt
1/2 teaspoon pepper
2 teaspoons garlic powder
3 cups riced cauliflower
4 Large chicken breasts (cooked & chopped)
2 Large eggs (scrambled)
1/3 cup green peas
Directions
Step 1
Lightly season chicken breasts with 1/2 tsp of salt, 1/4 tsp of pepper, and 1/2 tbsp of olive oil. Begin cooking chicken on grill pan or pan of choice.
Step 2
Heat a large wok or pan under medium-high heat. Add sesame oil and remaining coconut/avocado/olive oil. Saute onions and carrots together for 2-3 minutes. Add remaining vegetables, salt/pepper/garlic powder, and cook for an additional 2-3 minutes until tender. Add fresh garlic, riced cauliflower, and coconut aminos/soy sauce. Stir well. Add chicken and scrambled eggs. Mix until combined. Turn off heat and stir in green peas. Re-season to taste. Top with sesame seeds if desired.