'This healthy single serving TRIPLE chocolate skillet cake is so moist and rich you'll never guess it's also very low in carbs.'
This recipe is going to make all of you chocolate lovers very, very happy.  This skillet cake is low carb/keto friendly, dairy free, and of course gluten & grain free as well.  Although I have paired mine with some dairy free ice cream, this cake can stand up completely on its own… nothing additional necessary.  It's a stand alone cake for sure.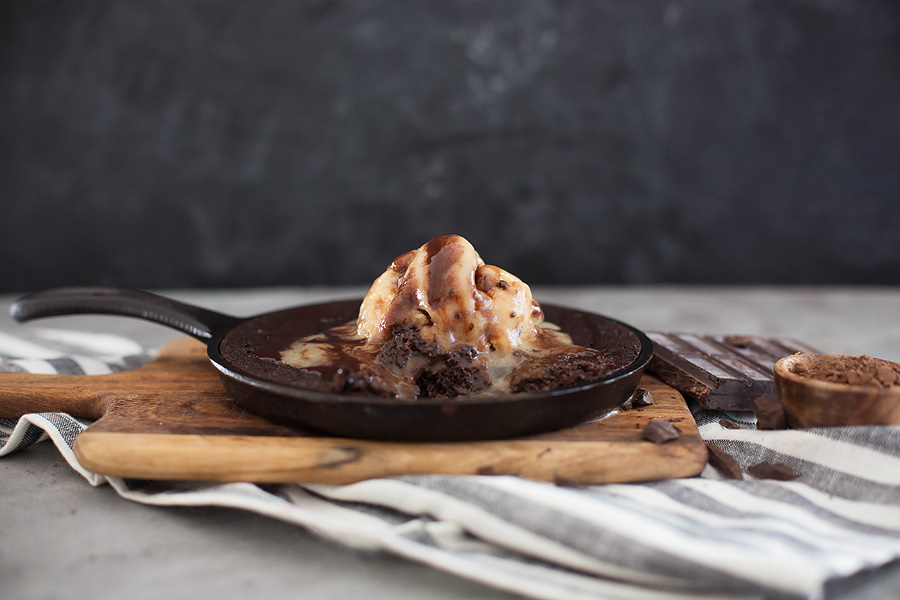 Now did I really say triple chocolate?  Oh why yes, yes I sure did.  And I don't think I would have it any other way.  Cacao powder, Perfect Keto chocolate collagen powder, and extra dark chocolate chunks (or chopped 100% cacao).  I have to be honest though.  This was originally intended to be a skillet brownie when I first wrote up the recipe, but when it was all baked up and fresh out of the oven the texture was EXACTLY like the most moist chocolate cake I have ever had.  It was far too light and airy to be a brownie which is usually much more dense and thick.  So skillet cake it is.
To add even more chocolatey goodness, I also mixed a little 100% dark cacao powder with some unsweetened cashew milk and a couple of drops of stevia and drizzled that right on top.  The mixture of the warm cake, cold ice cream, and thick chocolate drizzle is pure heaven.  Didn't add nuts on top, but those would have given some great texture as well.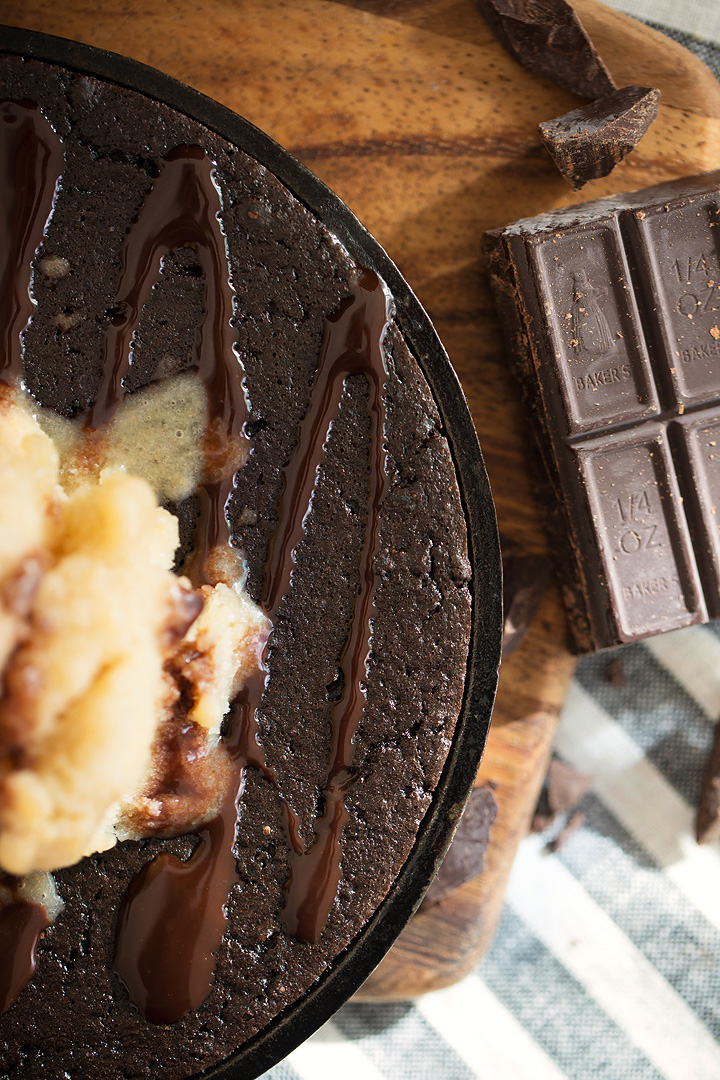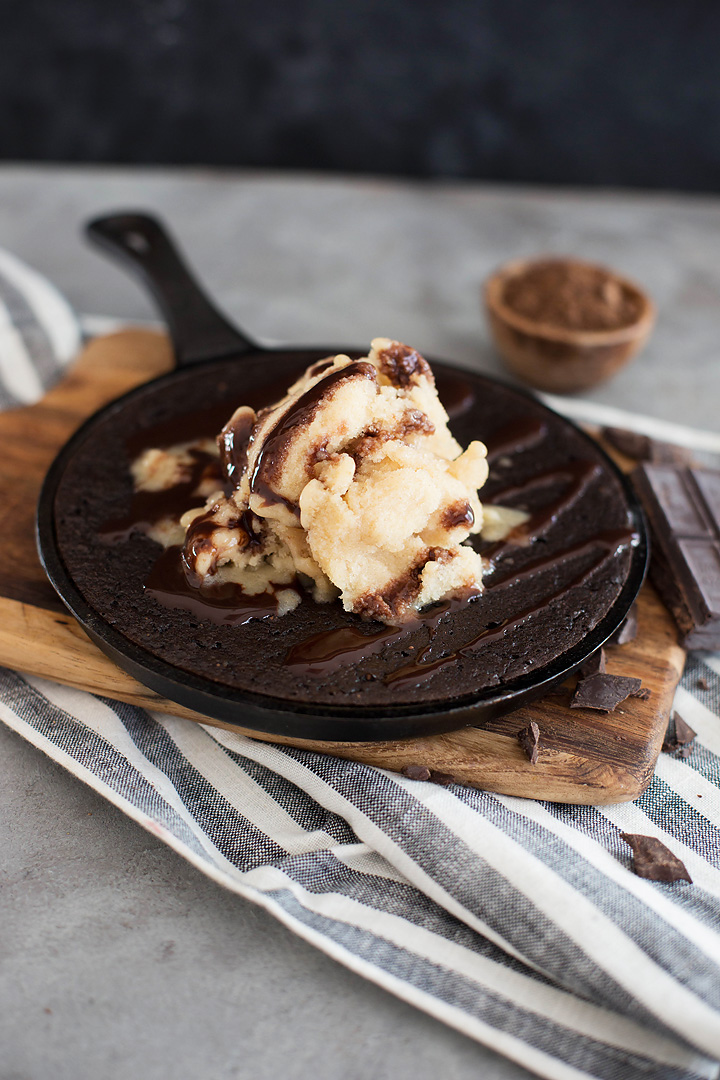 And you did happen to see this was a SINGLE serving cake right?  I mean sure you could easily split this with someone, but why in the world would you want to do that?  Really.  Why?  It would be just as easy to make a double batch and bake two skillets at the same time though.  Sorry, I'm not very good at sharing especially when it comes to desserts!
Go ahead. Give this EASY skillet cake a try.  It doesn't matter if you are making a handful of batches of this at one time for a special occasion or for you to curl up on the couch with Netflix.  I know this cake will hit the chocolate spot… and you can feel really good about ALL of it!!!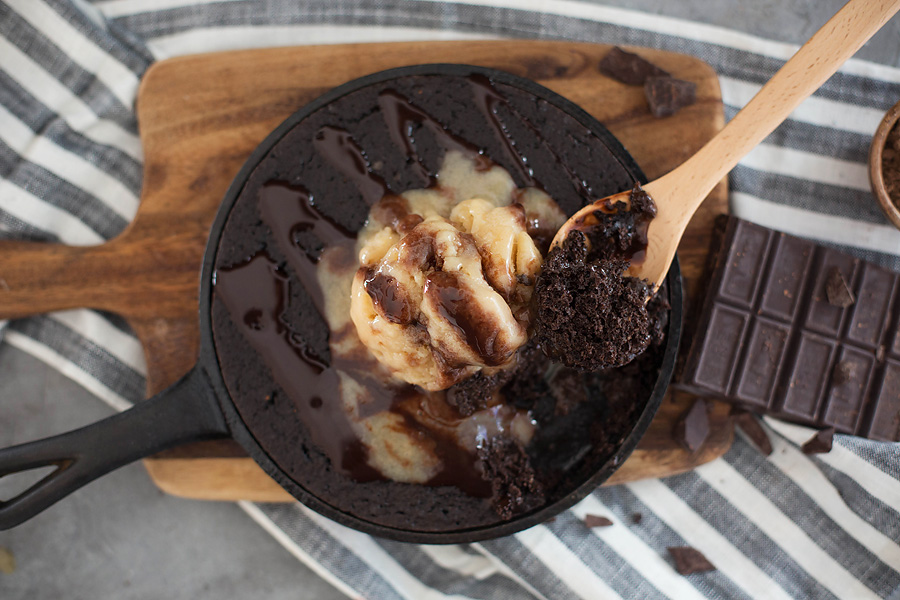 Triple Chocolate Skillet Brownie (low carb, keto, paleo)

Print recipe
Serving Size

1/2 skillet
Per Serving
Calories
213 kcal
Protein
11g
Total Carbohydrate
7g
Total Fat
16g
Fibre
4g
Ingredients
3 tablespoons almond flour
2 tablespoons cacoa powder
1 scoop Perfect Keto chocolate collagen (20% off coupon below)
1 tablespoon lankanto golden sweetener ((or sweetener of choice to taste))
1/2 teaspoon baking powder
3 tablespoons milk of choice
1 tablespoon melted butter
1 Large whole egg
1/2 teaspoon vanilla extract
1 heaped tablespoon dark cacao chips or sugar free chocolate chips (roughly chopped)
Directions
Step 1
Preheat oven to 350 degrees and coat an individual sized cast iron skillet pan with butter, coconut oil, or non stick spray.
Step 2
Combine all ingredients in a small bowl. Mix well until smooth.
Step 3
Pour batter into pan and bake for 12-15 minutes. Edges will be set and firm, center should be slightly loose.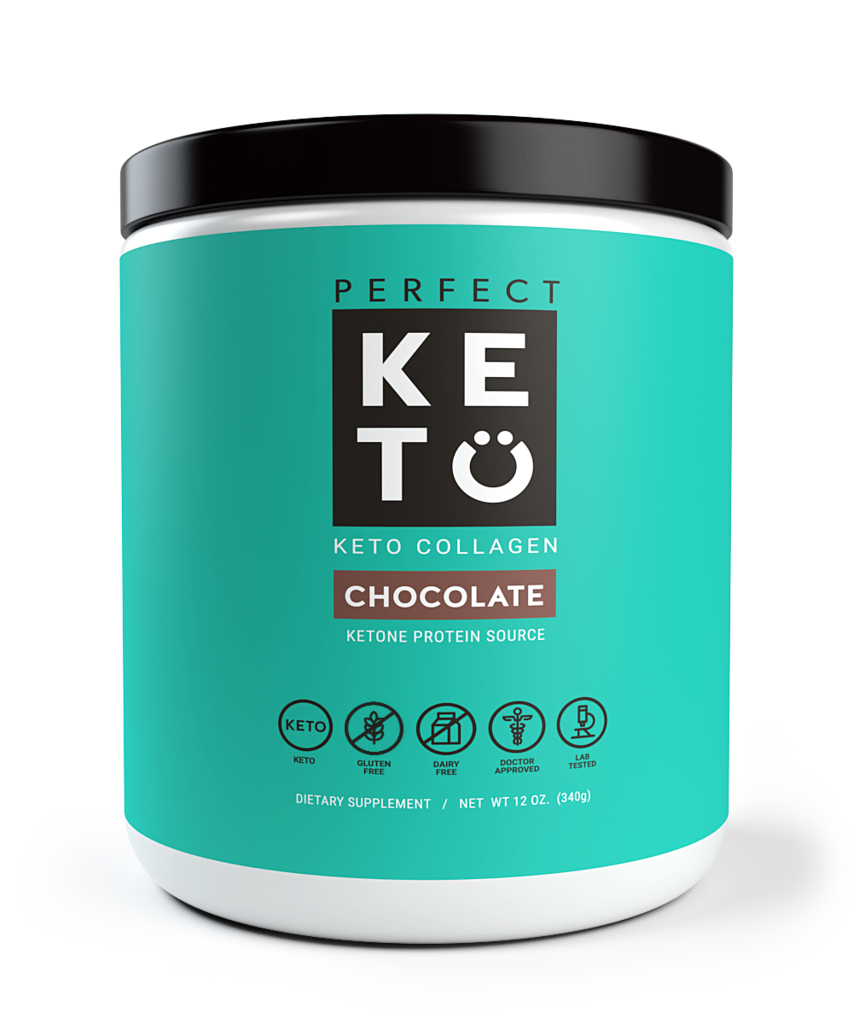 GET PERFECT KETO PRODUCTS FOR 20% OFF: