'A paleo and keto friendly recipe for the most moist carrot cake ever.  These low carb carrot cake muffins are also gluten & grain free, dairy free, and of course refined sugar free.'
I cannot contain my excitement for today's recipe post friends.  I am so over the moon happy with these carrot cake muffins I whipped up a couple of weeks ago.  I've actually made TWO more batches of them since then because they are THAT good.  I am certain you will feel the same after eating just one of these extra moist, extra fluffy, extra delicious muffins.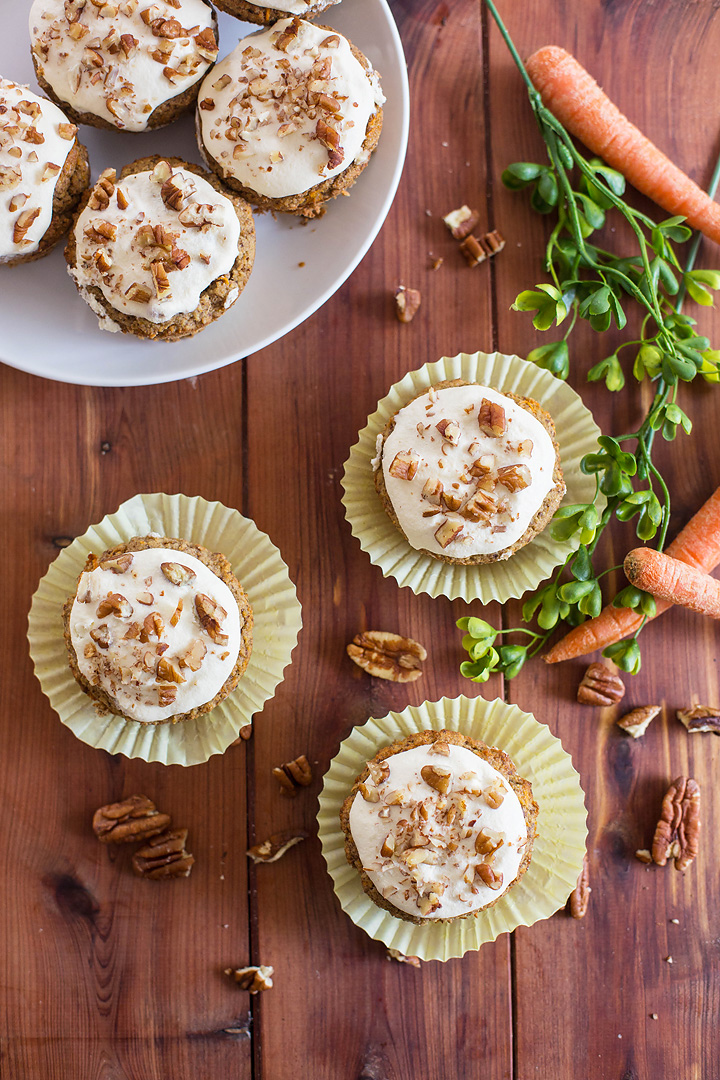 With Easter around the corner I knew I needed to stay ahead of the game and come up with a low carb and keto dessert option for myself.  I never want to be left without any sweet options at holiday parties and family gatherings at the end of  a meal so I always take it upon myself to bring something I know I will love.  Fortunately these muffins will be a complete crowd pleaser.  Everyone will want to snag a muffin.  The texture on them is absolutely perfect.  They are light and fluffy, moist, and nobody will ever know they are completely keto and low carb.
Let's talk a little about the ingredients here.  One of main things I dislike about the recipes I see everywhere online for keto baked goods is they all use a ridiculous amount of almond flour.  Now I'm fine having nuts in moderation, but I so always try and make sure its kept to a minimum AND I balance those omega 6 fatty acids with omega 3's.  Coconut flour is great for low carb baking as well, but it's simply too dense to produce a really good fluffy baked good.  Recipes that use coconut flour tend to be very very dense.
My remedy for the low carb flour issue is combining almond flour and coconut flour with flax meal and psyllium husk.  Surprisingly the mix of "flours" in this recipe ended up producing the absolute BEST muffin/cake texture ever!  It's moist, light and fluffy without being at all dense.  So I realize the list of ingredients does look quite large here, but it really is just a matter of gathering a bunch of spices and the mix of flours.  Start to finish, you can have these muffins made within 30 minutes, frosted and ready to eaten within 40!  Another wonderful thing about these carrot cake muffins is they get even better after they are stored in the fridge… that frosting thickens up and the flavors blend even more after a day or so.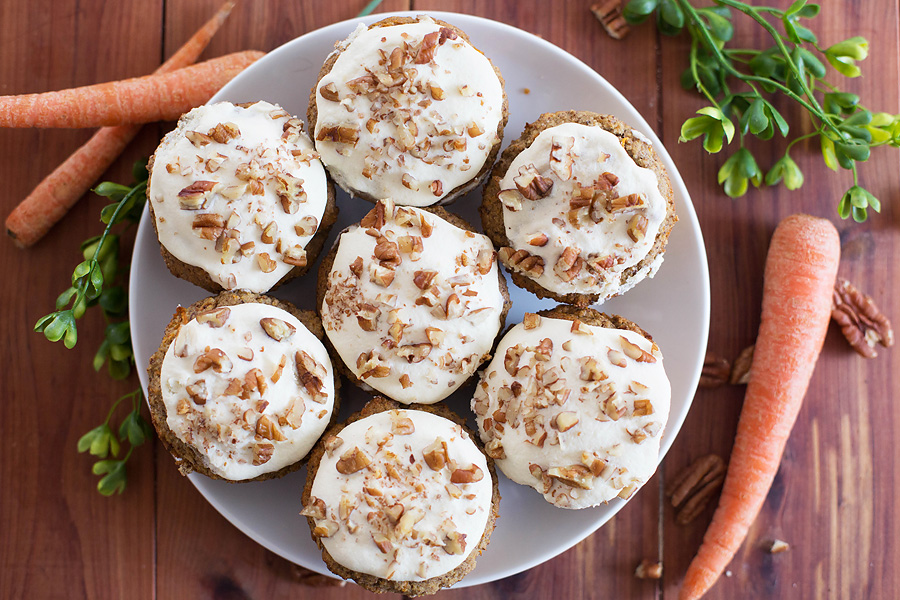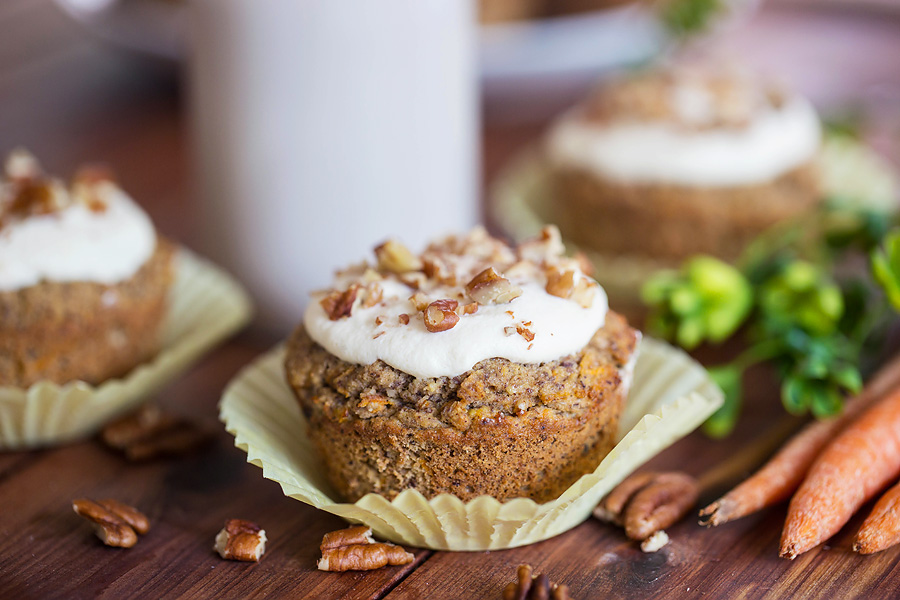 And last, although these muffins certainly do not need the frosting, they are amazing on their own… the frosting and chopped nuts on top really really REALLY make a huge difference.  They provide variance in texture, an added sweetness, and the extra little bit of special.  I'm also pretty proud to say they are completely dairy free thanks to the new Kite Hill cream cheese I have been obsessed with recently.  I haven't really missed dairy at all this year, but honestly having an option for certain cheeses really makes me super thankful.  Of course you can use regular cream cheese as well though.  Dairy or not, do yourself a favor and MAKE THE FROSTING for these.  You're welcome.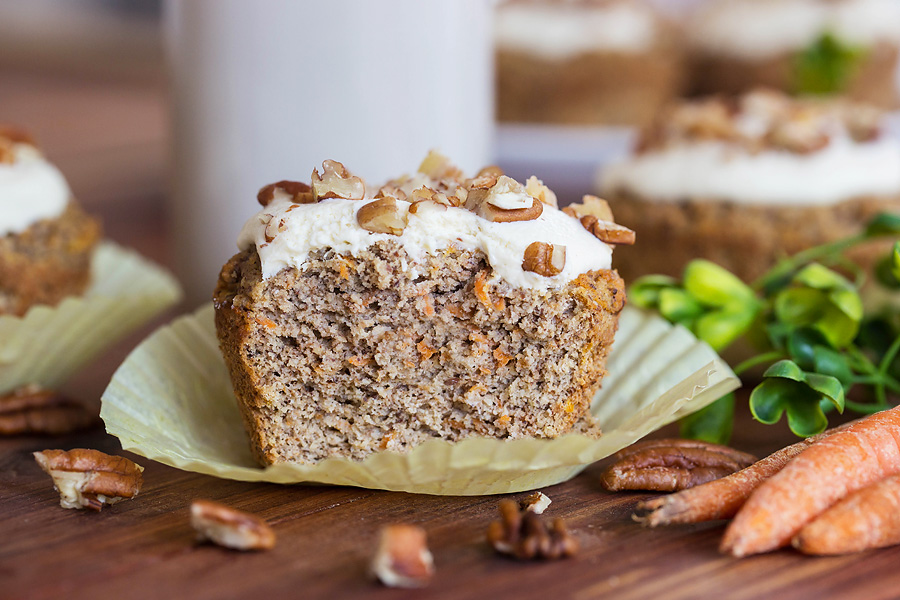 Have just one, I dare you.  No really. you won't be able to contain yourself either.  I can almost guarantee that after making one batch of these carrot cake muffins, you will make them again within a weeks time (or less).  You'll definitely eat them leading up all the way to Easter.
Keto Carrot Cake Muffins

Print recipe
Serving Size

1 muffin
Per Serving
Calories
246 kcal
Protein
6g
Total Carbohydrate
8g
Total Fat
21g
Fibre
4g
Ingredients
3 Large whole eggs
1 teaspoon vanilla extract
3 tablespoons melted ghee or butter
1/3 cup Lakanto or Swerve sweetener of choice
1 cup milk of choice
6 tablespoons coconut flour
4 tablespoons flax meal
3 tablespoons almond flour
1 tablespoon psyllium husk
1 teaspoon baking powder
1/2 teaspoon salt
2 teaspoons cinnamon
1/2 teaspoon ground ginger
1/4 teaspoon ground nutmeg
1 pinch ground cloves
1 Medium finely shredded carrot
3oz softened dairy/dairy free cream cheese (** FROSTING **)
2 tablespoons softened butter (** FROSTING **)
4 tablespoons coconut cream or heavy cream (** FROSTING **)
1/2 teaspoon vanilla extract (** FROSTING **)
2 tablespoons Lakanto or Swerve sweetener of choice to taste (** FROSTING **)
1/2 cup chopped pecans or walnuts
Directions
Step 1
Preheat oven to 350 degrees and coat a muffin tin (6) with non stick spray, butter, ghee, or coconut oil.
Step 2
Add dry ingredient together in a small bowl (coconut flour, almond flour, flax meal, psyllium husk, baking powder, salt, cinnamon, ginger, nutmeg, cloves). Whisk well to combine.
Step 3
Add eggs and vanilla extract to a large bowl or stand mixer. Beat on high for 1-2 minutes until light and fluffy. Pour in melted ghee/butter and milk.
Step 4
With mixer on low, slowly add dry ingredients to wet ingredients. Turn off mixer and stir in shredded carrots.
Step 5
Divide and portion batter into cupcake tin. Batter will continue to thicken so work quickly. If it becomes to thick, stir in an extra 1-2 tablespoons milk.
Step 6
Bake for 22-25 minutes until edges turn golden brown and a toothpick comes out clean when poked through the center. Remove from oven and let cool completely.
Step 7
Make frosting by adding cream cheese, butter, and vanilla extract to a stand mixer or bowl. Beat on high for 1-2 minutes. Add sweetener. Slowly drizzle in coconut cream or heavy cream. Beat an additional 1-2 minutes until fluffy. Adjust sweetener to taste.
Step 8
Frost muffins and add chopped pecans or walnuts.
SaveSave