'If you are looking to boost the growth of your hair and nails, improve the condition and youthfulness of your skin, and even reduce joint pain this collagen article is for YOU.'
Today I'm sharing another installment of my "Foods With Benefits" series and focusing on all things collagen.  This has made such an impact in my hair, skin, nails, joint pain, and overall health I knew it would be something I needed to highlight here on the blog and my YouTube channel.  Collagen is absolutely vital to our health considering it is the most abundant protein in your body.  It's found in the skin, muscles, bones, tendons, brain, and even the heart.  At least 30% of our total protein make up is collagen.  Pretty important to make sure we incorporate it into our daily diets don't you think?!
So, I just got done chopping off over 12″ of hair.  This is actually something I have done yearly now for the past handful of years and in order to donate hair, it has to be a pretty substantial length.  Now I wasn't always blessed with long, healthy hair at all.  When I was younger I had very fine, thin hair that would never do anything.  Literally, it was flat, boring, and I hated it.  I was never that girl who had cute hairstyles and no matter how much heat I even used on it, it would never hold a curl or any type of style.  It got somewhat thicker as I got older, but it wasn't until I changed my diet that magic happened with my hair.
A diet rich in a variety of health fats, proteins, vegetables, nuts, seeds, specific nutrients, and of course a ton of water can really make the biggest difference in the condition of our hair, skin, and nails.  Now I am able to do my yearly 12″+ cuts without fail.
Collagen Benefits
Skin health-

When it comes to skin health, collagen is key.  It improves elasticity, boosts hydration, prevents UV damage cause by the sun, reduces wrinkles, , prevents early aging, and it will also prevent the breakdown of collagen as we age.

Muscle Growth & Regeneration-

 Collagen is vital for our muscles.  It helps to convert glucose into energy that fuels out muscles.  It can help increase strength, make training more effective, repairs our muscles, and can also help prevent muscle disorders.

Improves joints, tendons, and ligaments-

 Collagen makes up most of these tissues in our bodies.  Deficiencies in collagen will effect flexibility, range of motion, pain, swelling, and repair.

Strengthes bones-

 It isn't all about calcium when it comes to our strengthening our bones. Collagen offers the framework for our bones.  It will help stimulate cells, improve the absorption of calcium, and can prevent osteoporosis.

Tissue repair-

Since collagen is responsible for skins strength, texture, and elasticity it is the optimal biomaterial for tissue repair. Collagen serves as a type of glue when we get cuts and scrapes in our skin.  It activates cells to help regenerate and repair wounds.

Eye health-

Collagen is a major part of eye health. A specific type of collagen makes up a good portion of our eyes and it also helps maintain its pigmented layer.

Heart health-

 Collagen is the most abundant protein in the heart.  It provides the structural framework, the amino acid proline helps release fat build up in the bloodstream, helps control blood pressure, and helps it to pump more efficiently.

Gut health-

Aside from all of these roles collagen plays in the body, one of the most impactful ways collagen has helped me specifically has been to heal leaky gut. Regular use of collagen peptides helped seal the holes in my stomach that were causing a ton of distress.
Foods Rich In Collagen
It isn't enough just to put these amino acids into our bodies.  We actually need a wide variety of nutrients to make sure the collagen is doing what its supposed to.  To get all of the necessary building blocks for collagen, you have to have get a wide variety of nutrients coming from proteins, vegetables, and things like seeds and nuts.  I'll talk about my favorite collagen supplement in a minute, but for now here are some of the top proteins that contain the amino acids needed to form collagen.
gelatin
salmon
deer and veal
bacon
pork chops
tuna
pumpkin seeds
beef liver
cheese
Here are some other nutrients and low carb sources needed for collagen production:
Vitamin C:
limes
lemons
chili peppers
parsley
kale
red bell peppers
broccoli
Vitamin E
almonds
sunflower seeds
hazelnuts
avocados
spinach
Beta Carotein & Lutein
turnip greens
kale
dandelion greens
spinach
Lycopene
sun dried tomatoes
red peppers
asparagus
red cabbage
Calcium
spinach
kale
bok choy
poppy seeds
parmesan cheese
romano cheese
Copper
beef liver
almonds
cashews
shiitake mushrooms
sesame seeds
avocado
Selenium
shiitake mushrooms
brazil nits
sunflower seed butter
flax
Omega 3 Fatty Acids
flaxseed oil
walnuts
hemp hearts
Another one of my favorite ways to get a natural source of collagen into my diet is with bone broth.  You can find out how I make that in my Instant Pot HERE… so easy, so delicious, and SO good for you.  Anytime I'm not feeling 100% or having any digestive issues, bone broth is one of the first things I turn to.
One of the last ways I easily incorporate collagen into my diet is with my Perfect Keto Collagen powders.  I have replaced ALL of my protein powder usage with these powders and anywhere I would have incorporated them before, they are now replaced with Perfect Keto collagen.  I use them regularly in my smoothies, baking, in my decaf coffee/tea, and even simply when I'm on the go and need some easy protein.
Here are two of my favorite recipes using Perfect Keto collagen powders:
Green Energy Smoothie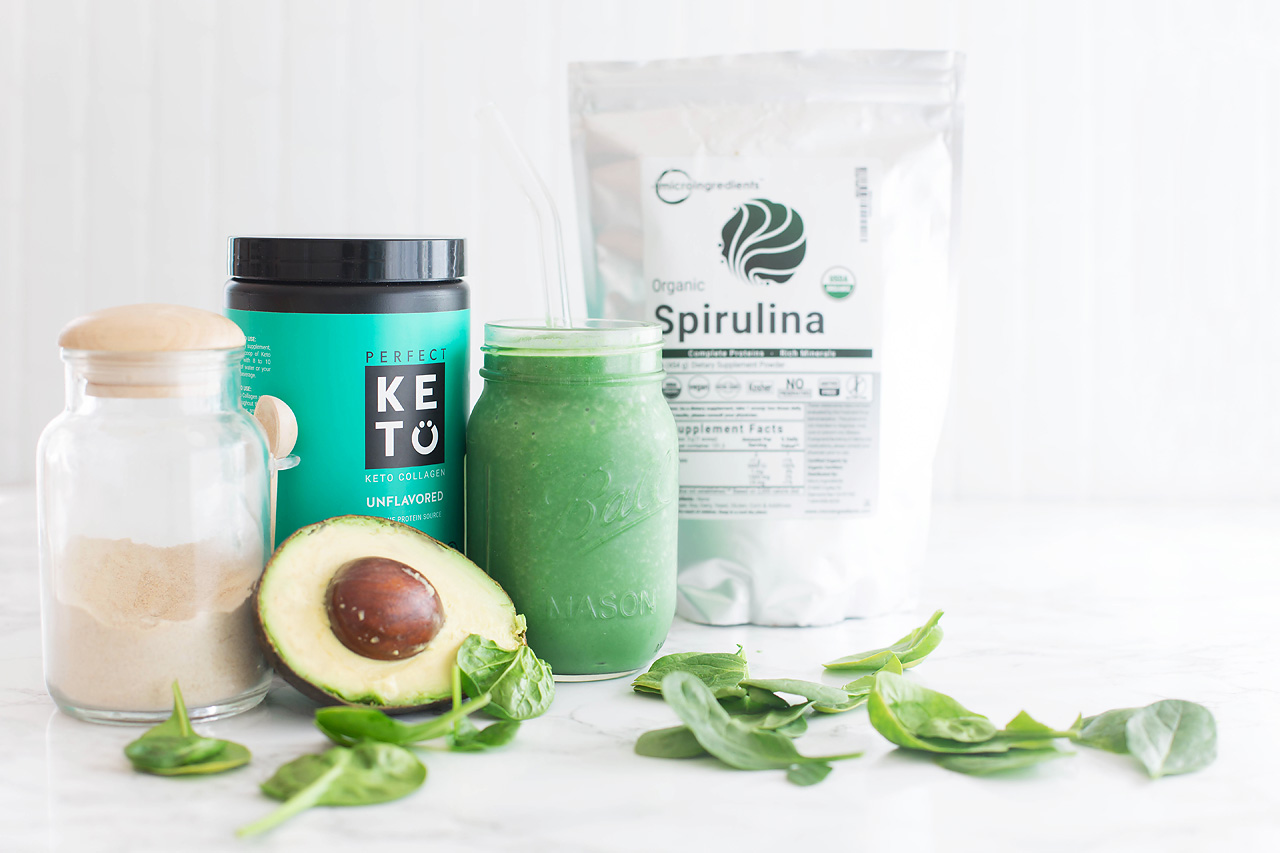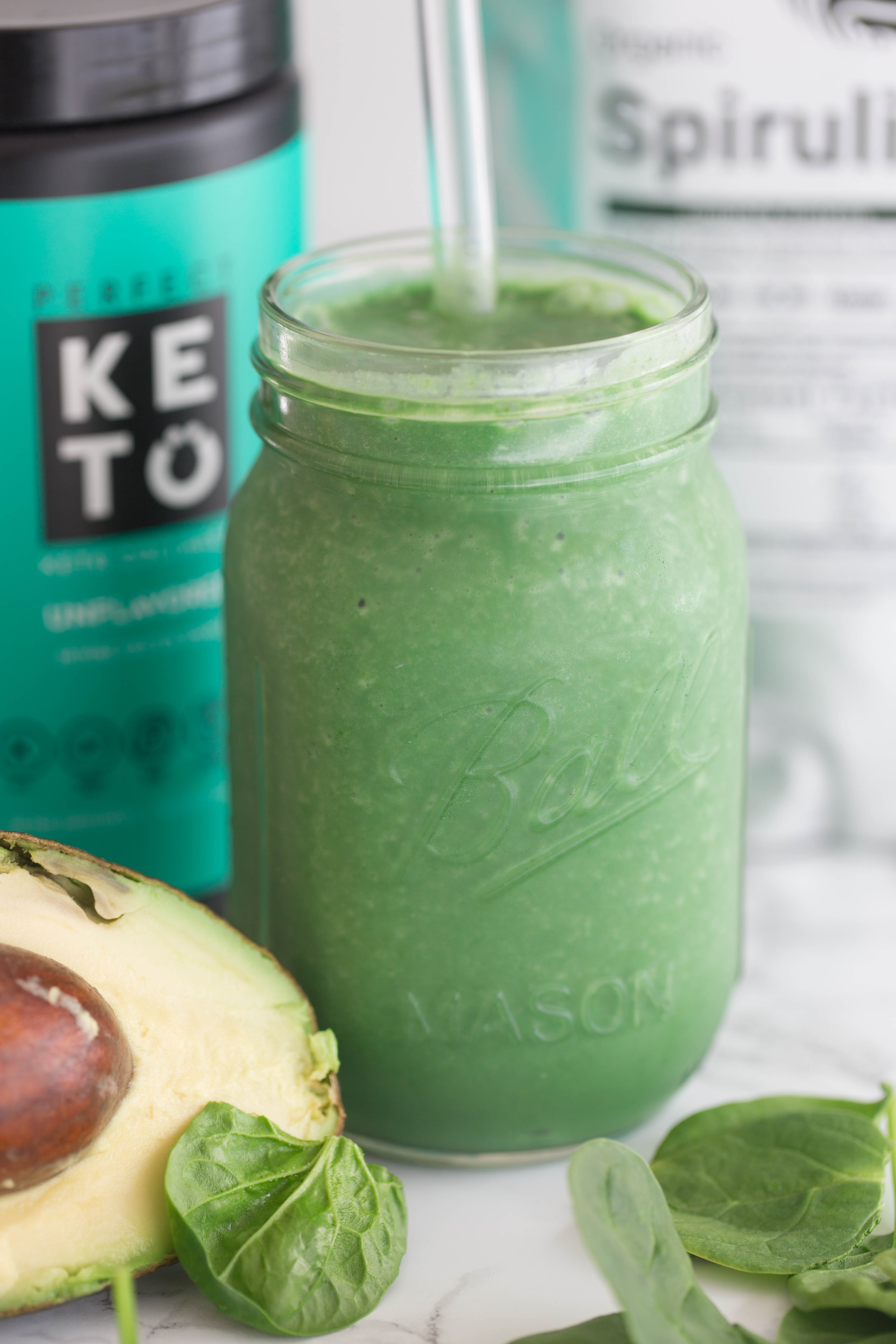 Green Energy Collagen Smoothie

Print recipe
Serving Size

1 smoothie
Per Serving
Calories
242 kcal
Protein
15g
Total Carbohydrate
14g
Total Fat
15g
Fibre
6g
Ingredients
1 cup milk of choice
1 handful spinach
1 Small avocado
1 teaspoon spirulina powder
1 teaspoon maca powder
1 scoop Perfect Keto 'vanilla' collagen powder
sweetener if desired to taste
Directions
Step 1
Add all ingredients to a high speed blender and mix on high until smooth. Add ice if desired or serve over ice.
Keto Maple Pecan Mug Cake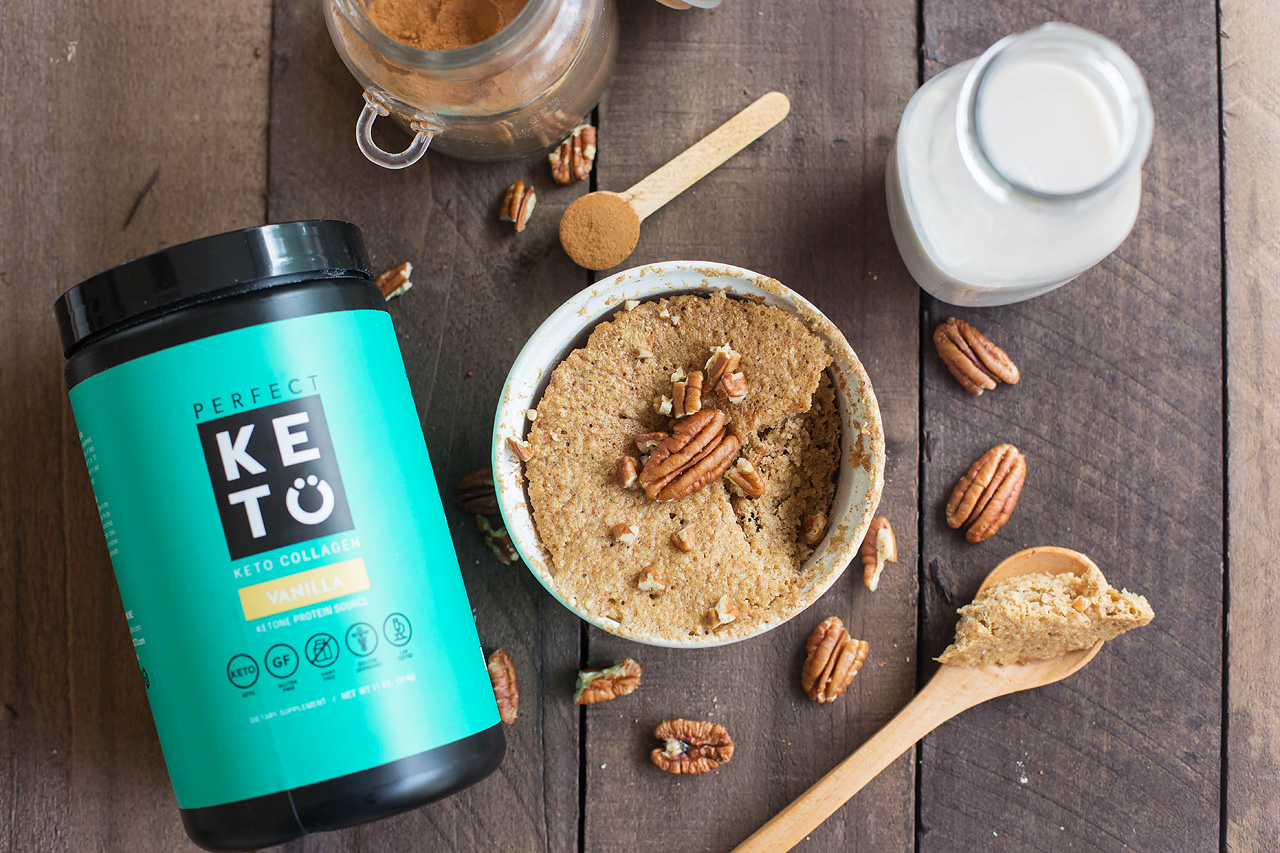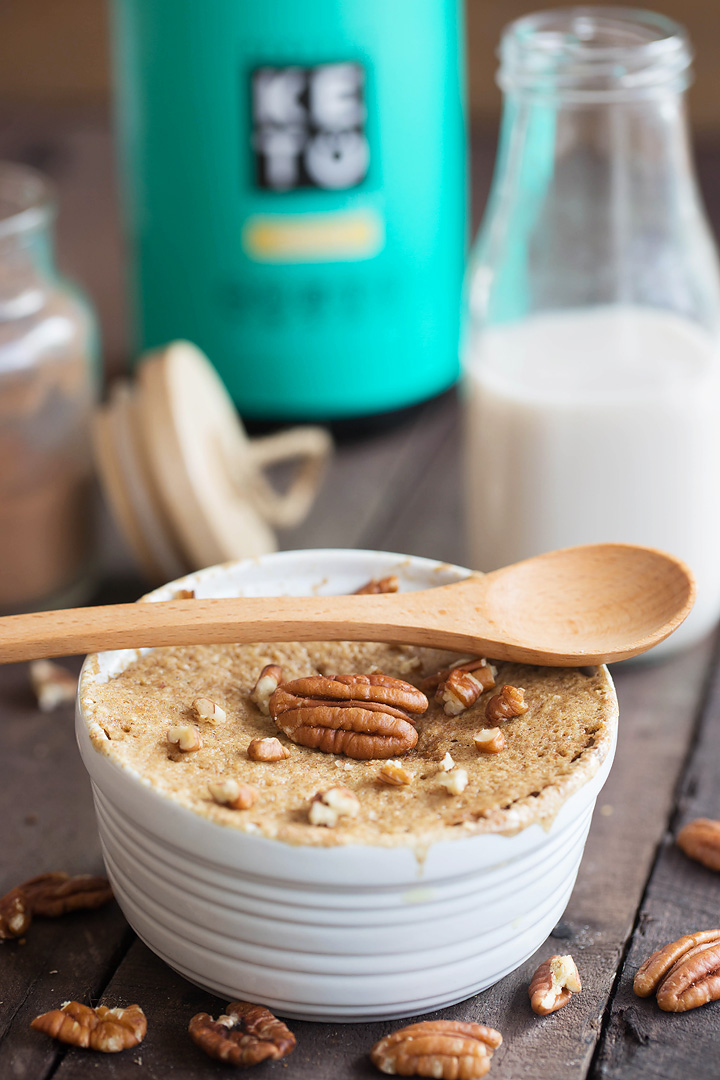 Maple Pecan Mug Cake

Print recipe
Serving Size

1 mug cake
Per Serving
Calories
304 kcal
Protein
18g
Total Carbohydrate
5g
Total Fat
24g
Fibre
3g
Ingredients
1 tablespoon almond flour
1/2 tablespoon coconut flour
1/4 teaspoon cinnamon
1/4 teaspoon baking powder
1 scoop Perfect Keto collagen powder (20% off coupon below)
1 Large whole egg
3 heaped tablespoons milk of choice
1 tablespoon melted butter or ghee
1 splash maple or vanilla extract
Optional
sweetener of choice to taste
1 tablespoon chopped pecans
Directions
Step 1
Add all ingredients to a small bowl and mix well until smooth.
Step 2
Grease a ramekin or cup and pout batter in.
Step 3
Microwave on high for 2 minutes and 30 seconds.
** GET PERFECT KETO FOR 20% OFF **
HERE
PROMO CODE: LIVEKETOFIT20
SaveSaveSaveSave
SaveSave