These flourless keto fudge cookies that are a breeze to make, only require a handful of ingredients, and will please an entire crowd.  So rich, chocolatey, and dense they will become your new easy go to cookie recipe of all time.
Very early on when I first started keto, my family was very apprehensive about eating certain foods around me.  Regardless of how many times I told them it didn't bother me at all, they couldn't shake feeling guilty that I wasn't going to enjoy things they were about to dive into.  My husband always seemed to feel especially bad when it came to desserts.  Our family fell into a bad habit of always having a little something sweet at the end of the night after dinner, so when I went full on gung ho keto this posed a bit of a problem in our household… not on my part mind you, I truly was 100% OK not eating the same foods and desserts as them.  #1 I knew how much my body was thriving on this way of eating, why go and mess that up and #2 my body and head simply didn't crave the sweets and foods they were eating.  I could easily look at fresh baked cookies (and a tall glass of milk) and walk right on by it without giving it a second thought.
However no matter how many times I reassured them that not eating the cookies they had planned on having that night didn't even phase me… my husband really just felt the need to lessen his own guilt.  So instead of foregoing their dessert every night, my husband decided to make two batches of recipes: a regular one for him and the kiddo PLUS one just for me that was 100% keto friendly.  The end result for his first  attempt at a keto dessert (of quite a few now) was a huge success AND these cookies have ended up being dessert for the entire family simply because EVERYONE loved them!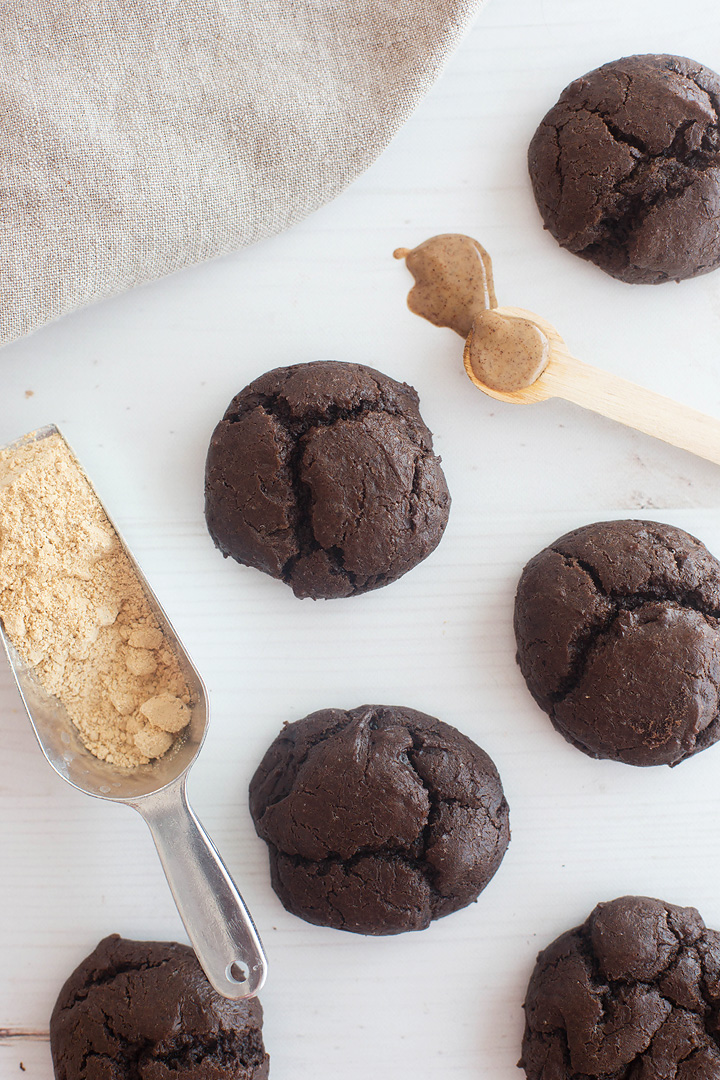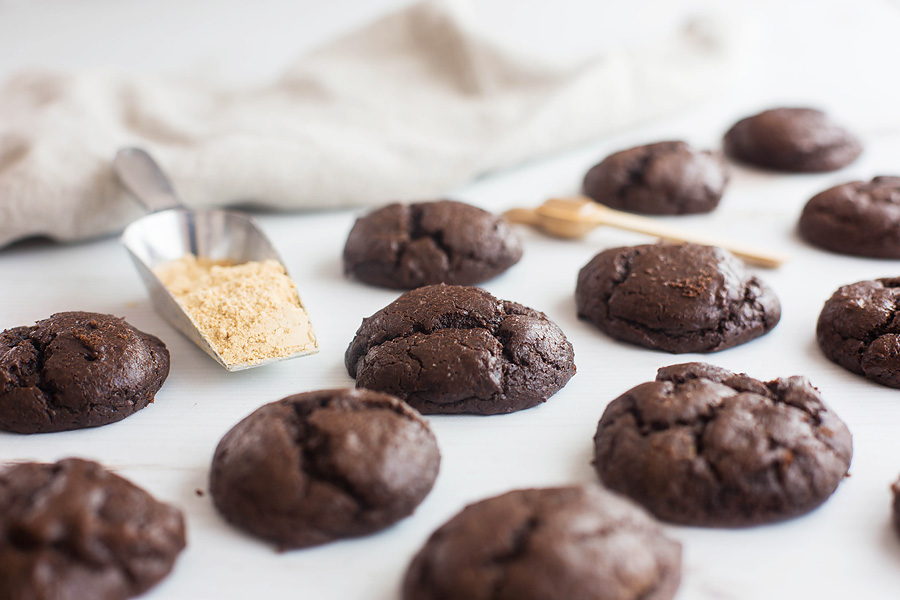 Ain't my husband the greatest?  I could eat these flourless chocolate fudge cookies every single day and be a happy camper.  He did such a great job perfecting this recipe.  It literally gets made once a week in our home now and they are staple for my desserts. He even makes batches of them for me/us when we travel or go out of town so that I never have to go without dessert if I don't want to.  They are soft, rich, fluffy, and my favorite way for them to get baked is slightly under done because they are EXTRA fudgey in texture.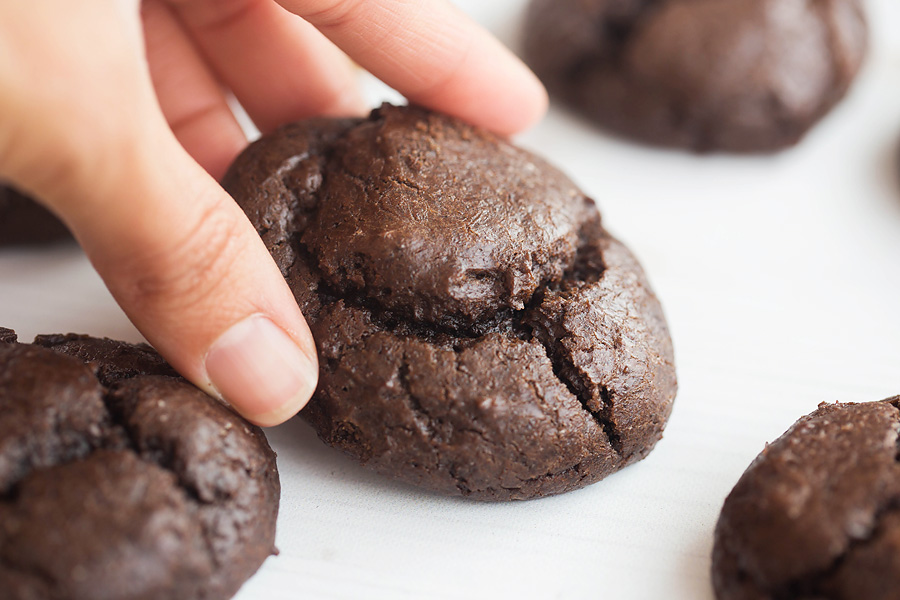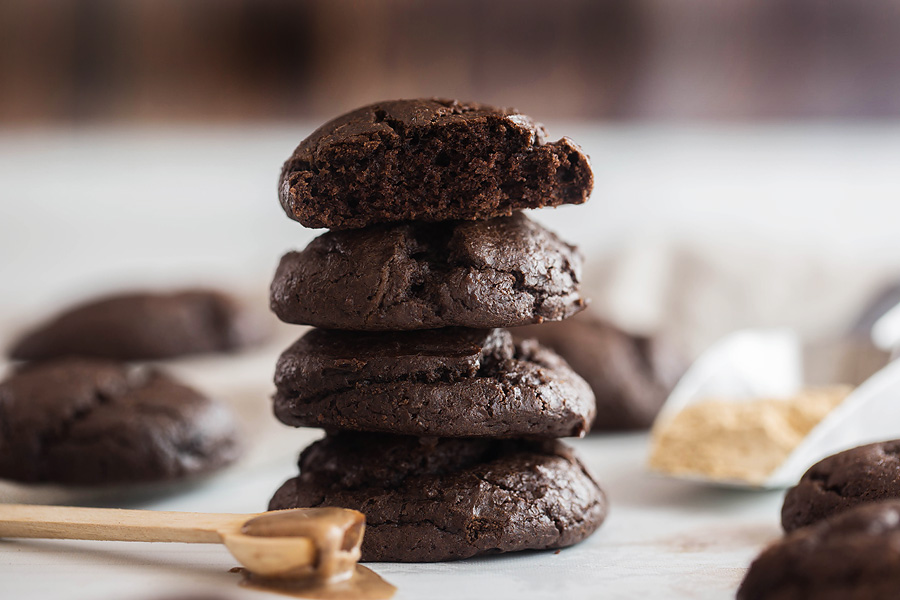 Personally I don't think any cookies should be over baked, but if you happened to leave them in the oven just a bit longer they are still phenomenal… texture just changes slightly and they will be more cake like VS brownie like.  Other great things I LOVE about them besides being delicious: they are SO easy to make, they only require a handful of simple ingredients, they will please an entire crowd regardless of diet/way of eating, AND they are better for you than the processed cookies that are filled with crap and loads of less than desirable ingredients!
Special thanks to my husband for being so amazing and always looking out for me… also thanks for creating and making "my" special cookies so often 🙂
Flourless Keto Fudge Cookies

Print recipe
Ingredients
2 Large whole eggs
1/3 cup Swerve, stevia, monk fruit sweetener
1 teaspoon vanilla extract
2 tablespoons milk of choice
1 tablespoon melted butter
1 cup peanut butter, almond butter, or sun butter
2 tablespoons cacao powder
2 tablespoons PB2/powdered peanut butter
1 teaspoon baking soda
Directions
Step 1
Preheat oven to 350 degrees and line a baking sheet with parchment paper.
Step 2
Add dry ingredients into a small bowl, set aside. Add eggs, sweetener, milk, and vanilla extract into a stand mixer or large bowl. Beat for 1-2 minutes until light and fluffy. ingredients to the bowl of a stand mixer in the order listed. Add nut butter and mix just until incorporated. Slowly add dry ingredients. Mix until smooth. Do NOT over mix.
Step 3
Portion and divide dough onto prepare baking sheet. Bake for 10-12 minutes until cookies puff up.
SaveSave
SaveSave