'When the weather heats up, cool down and enjoy this decadent dairy free, keto butter pecan ice cream.  It's rich, creamy, and you'll never know it was low in carbs.'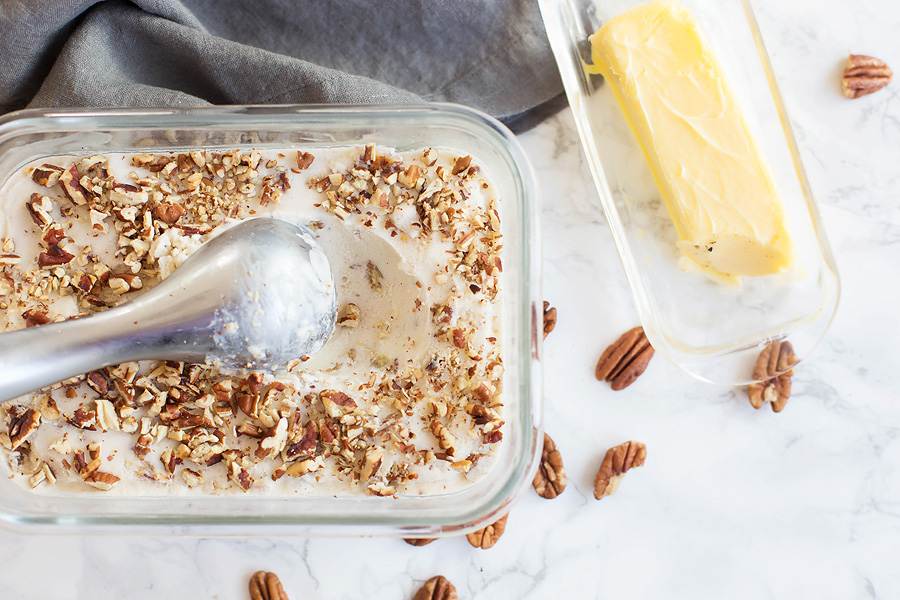 San Diego didn't really have too many days of Winter this year and Spring seemed a lot warmer than normal as well.  It's sad we don't see too many seasonal changes here in SoCal, but it ends up working out when a craving kicks on for ice cream.  It typically isn't my go to favorite dessert of all time and being mainly dairy free and keto for almost two years now, there aren't many options for this sweet cold treat.  Store bought brands that are both keto friendly AND dairy free are slim, next to none, so when I did have an urge for ice cream over the winter attempting to make my own was really the only option in sight.
Why in the world did I wait so long?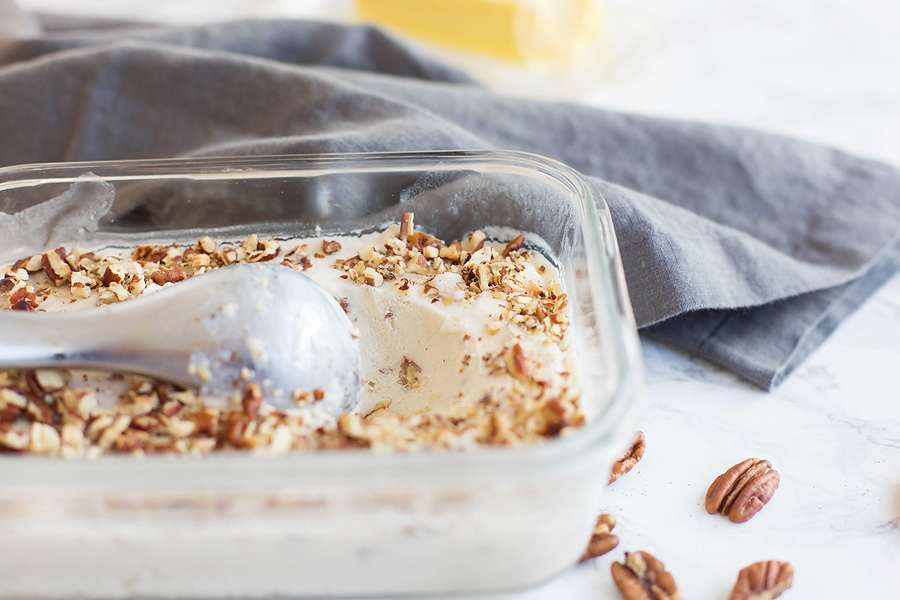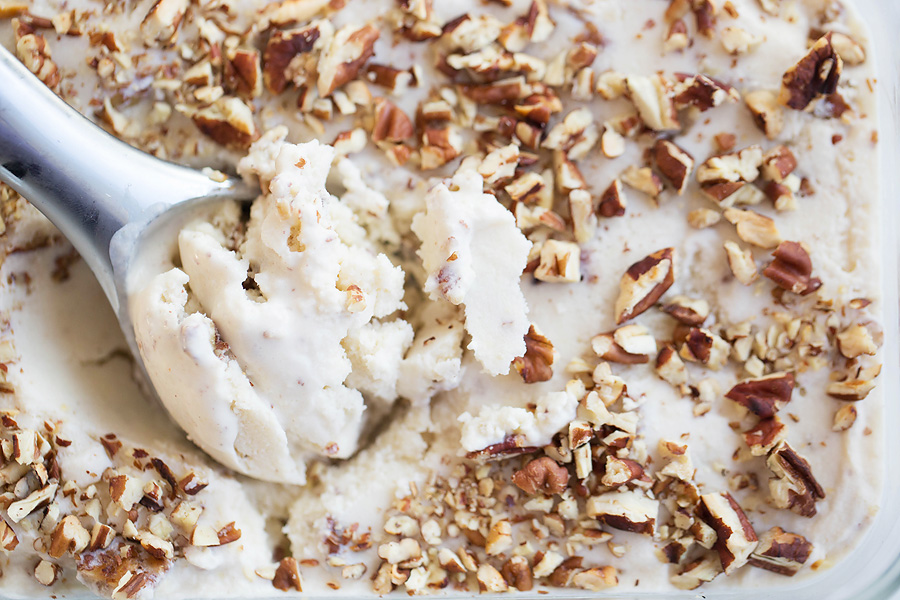 The hardest part about making ice cream is picking your flavor.  Vanilla, chocolate, mint chip, mocha, lemon, and peanut butter cup would be great keto/low carb options but something in my stomach was screaming BUTTER PECAN!!!  Does it get more keto though?  Butter + pecans.  Nope.  Not only is making ice cream crazy easy, but I'd actually pick this homemade ice cream over regular ice cream any day.  First and foremost, I know exactly whats in it.  NO funny ingredients, fillers, soy, dairy, or sugar.  And even if you don't own an ice cream machine (which I highly suggest you invest in because… well… ice cream), this can easily be made without one.  It just requires a bit more effort to get it nice and creamy.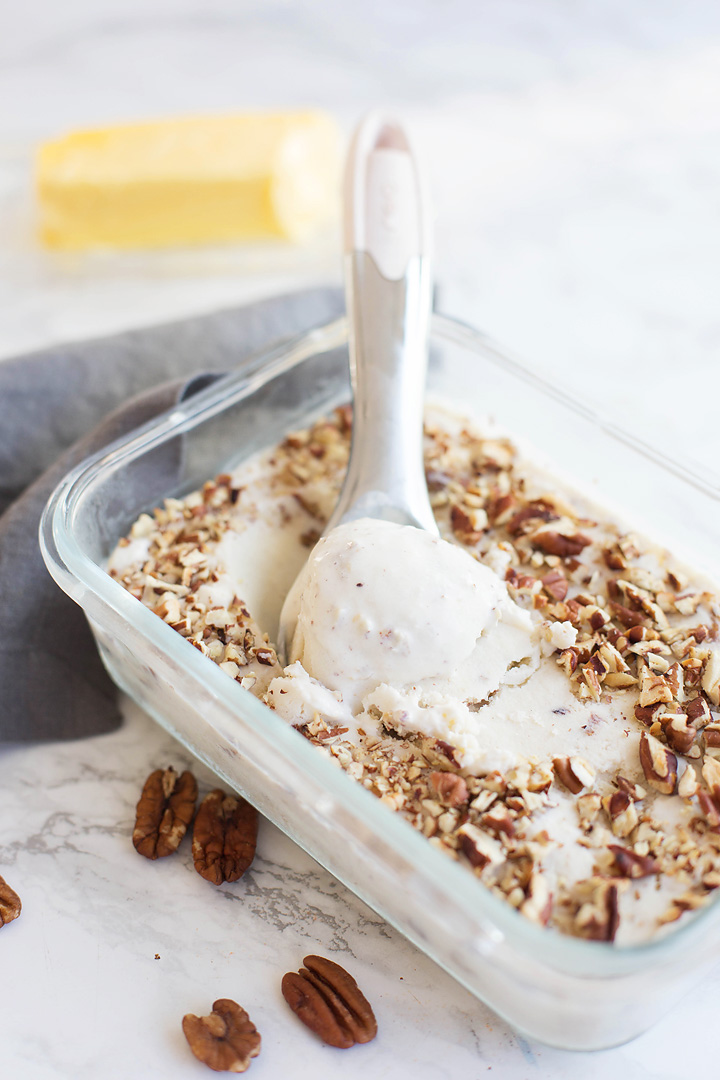 This was MONEY… on target, creamy, delicious, with the perfect balance between the rich flavor of the butter and crunchy pecans.  I enjoyed it so much it was gone in 3-4 days, had it nightly (plus a spoonful here and there because thats how I roll).  No need for any extra toppings either.  All of the flavor was in the ice cream and in the sprinkle of chopped pecans mixed throughout.
Homemade butter pecan ice cream.  I think I'll be using my ice cream make a whole lot more here in sunny San Diego.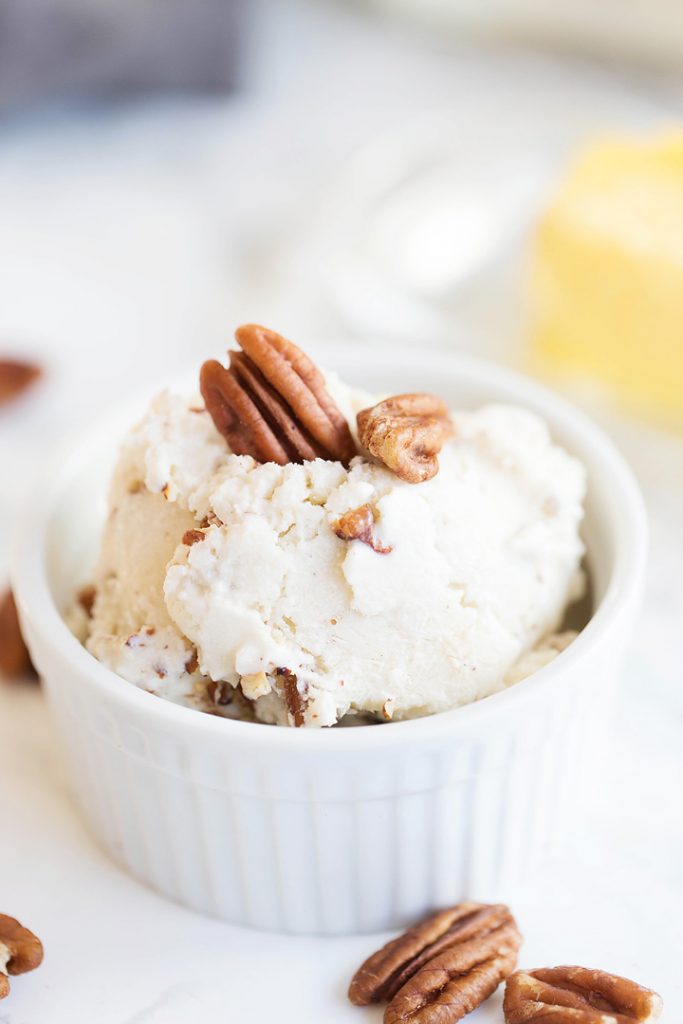 SaveSave