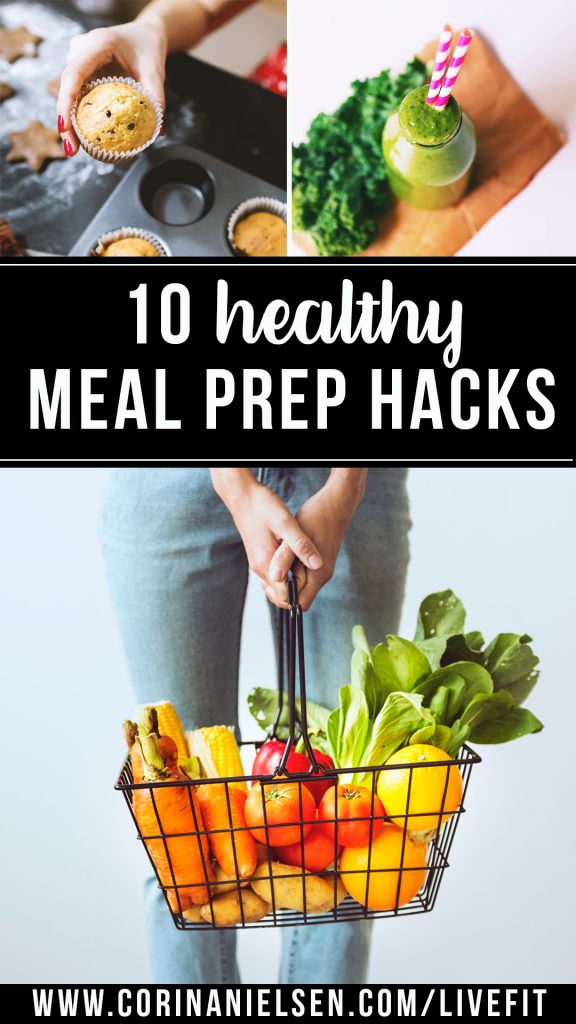 The most daunting thing about meal prep is actually just getting started.  When someone decides to make meal and food prep a new habit, they will initially get overwhelmed.  People tend to do a lot of "research" and passive "work" which includes pinning recipes on Pinterest, scrolling and saving posts on Instagram, marking pages in cook books, and even buying new containers.  That is all wonderful, but now its time to get down to business!  The sooner YOU take your nutrition more seriously, the sooner you will see results you are wanting and the sooner your body will thank you for taking proper care of it.
Today I am sharing my BEST food and meal prep hacks.  These tips will:
change the way you approach meal prep
make your life SO much easier
keep you on track each week with nutrition
save you money
1. Get Organized
Before you even think about the meals and foods you want to prep, you must get organized.  Despite the plethora of information available everywhere you look, it really is very simple.
plan your dinners for the week- if you have one meal planned out each day, its dinner!  No more resorting to spending money on take out or wasting precious time asking the family what they want to eat or standing in front of your fridge trying to piece a meal together.  All dinners written down on the calendar, recipes printed out or bookmarked, and shopping list ready to go.
plan ahead- look at your week ahead and putting ideas in specific places.  For example if your kids do sports and have activities on certain evenings, utilize easier recipes and/or recipes for the Instant Pot/Crock Pot.  Throw everything into the pot before you play chauffeur, then dinner will be ready by the time you get back home.
keep everything together- get a binder or planner to keep everything in.  The difference I have made in consistency each week simply by using my digital planner has been TREMENDOUS.  On Friday nights I ask my family for 1-2 dishes they want for dinner the following week.  I put them down in my digital planner, then fill in the rest with recipes I need to make for work or just dishes I'm craving.
stick to a schedule- break steps apart.  Set aside days/times each week to tackle everything        you need to do.  I plan on Friday nights, shop on Saturdays (and clean/chop any produce), Sundays cook and prep.  When you do things in steps, each task is far less daunting and will not take huge chunks of time out of each day.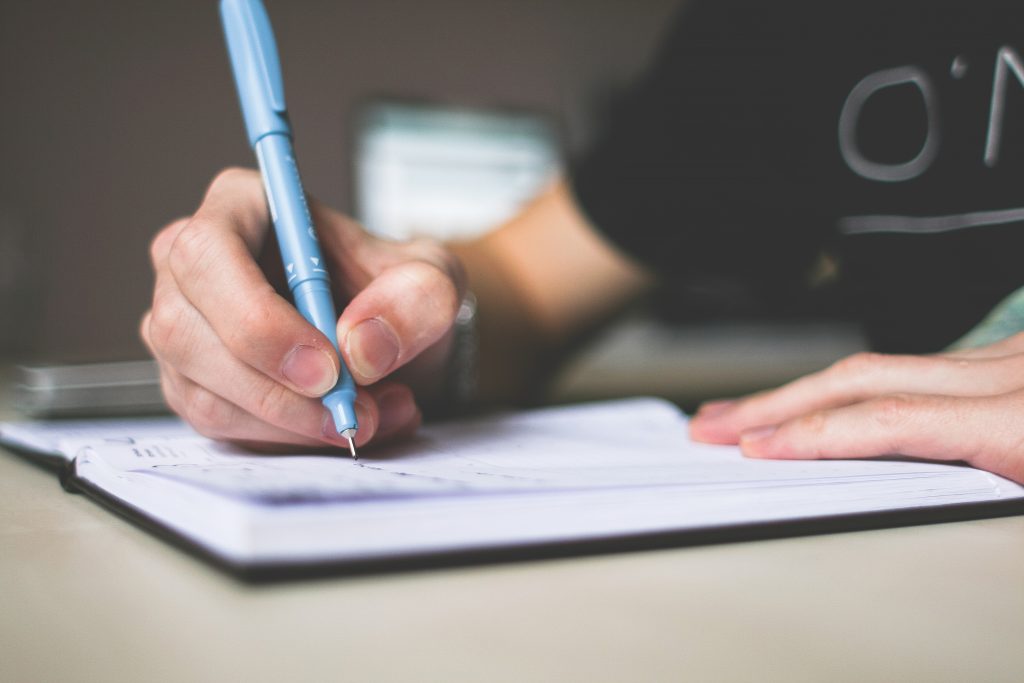 2. Food Storage
Nothing makes my OCD any happier more than seeing the fruits of my labor all pretty and ORGANIZED.  I feel 100% accomplished when I see meals separated for the week in bags (ready to be cooked), produce cleaned & chopped & spiralized, and completed meals nicely stacked if someone needs to eat on the go.
There are TONS of options for food storage and ultimately it just comes down to what works for you and your family.  We are personally moving further and further away from plastic in our home, so glass is my first choice.  They last longer, you are less likely to lose lids and have mismatched pieces, AND food is VISIBLE!  Its so much easier looking in the fridge and seeing what you are looking for!
I use these for meal prep & food storage: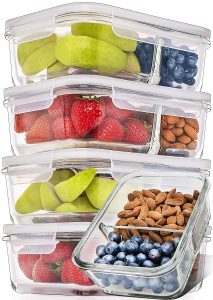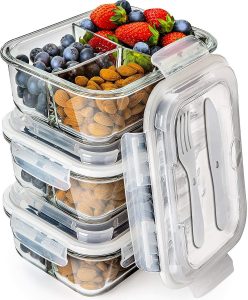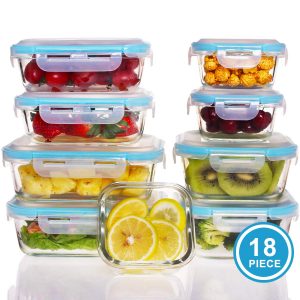 And if you are not ready to invest in glass, these containers also worked well for our family until we made the switch: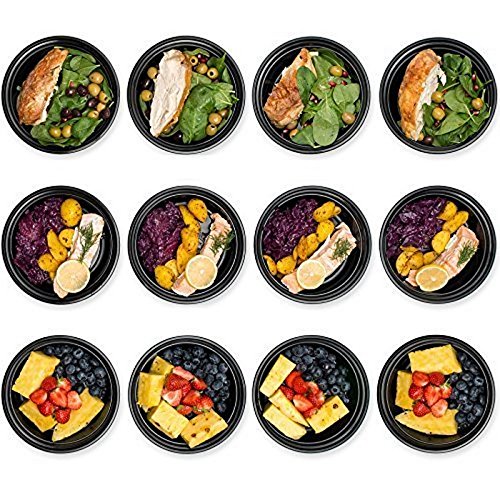 Another favorite meal storage are these "salad in a jar" containers!  Most of the time when I see this concept, people are using little mason jars.  I can't speak for anyone else, but my salads are usually triple the size so mason jars just won't cut it.  These containers pack in quite a bit and having a separate spot built in for the dressing is awesome.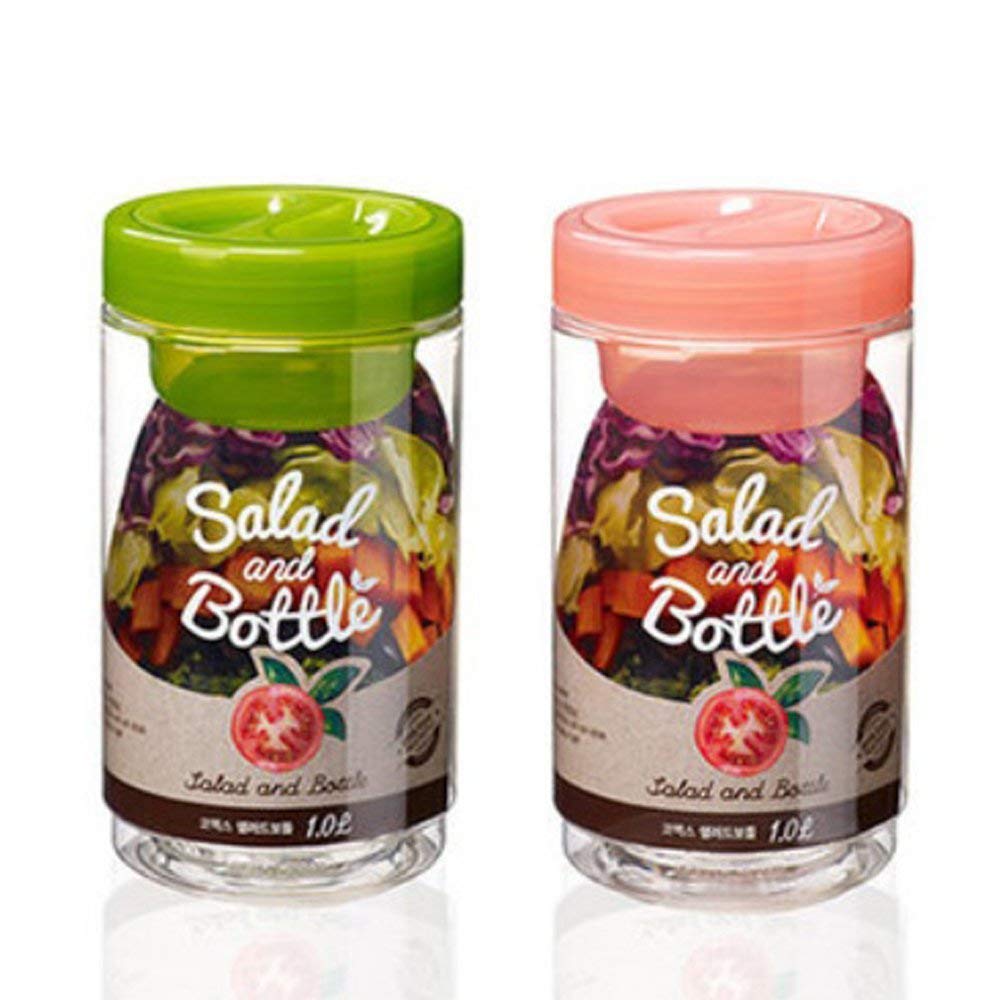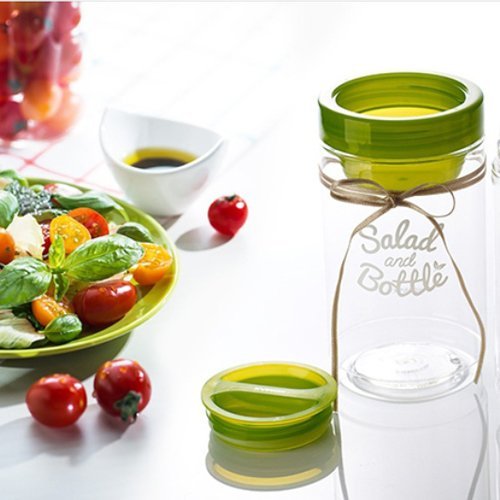 I even have a separate post (and a video) with FIVE awesome salad ideas you can use.  SO tasty.  You can find all of the recipes and info on THIS post!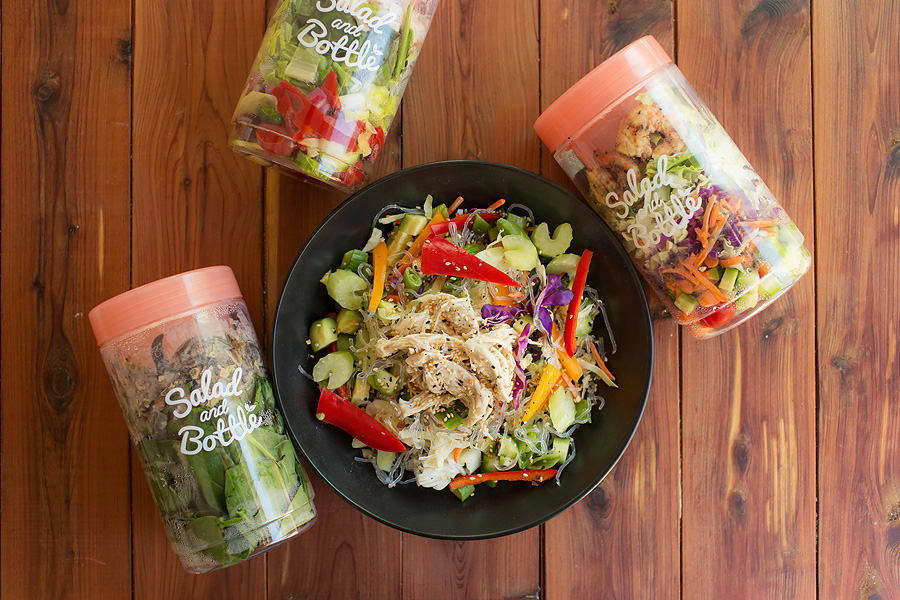 3. Packaged & Frozen Produce
Fresh is always better, but there is nothing wrong with utilizing pre-packaged produce.  Many say that its just as good because its cut/picked AND packaged at the peak of freshness.  Another bonus is that there is so many options available.  Since many vegetables and fruits are seasonal, you can usually find frozen options all year long.
99.9% of the time, I will always buy packaged greens simply because it saves time.  Greens like arugula, spinach, kale, mixed greens, etc. are washed, trimmed, and ready to be eaten.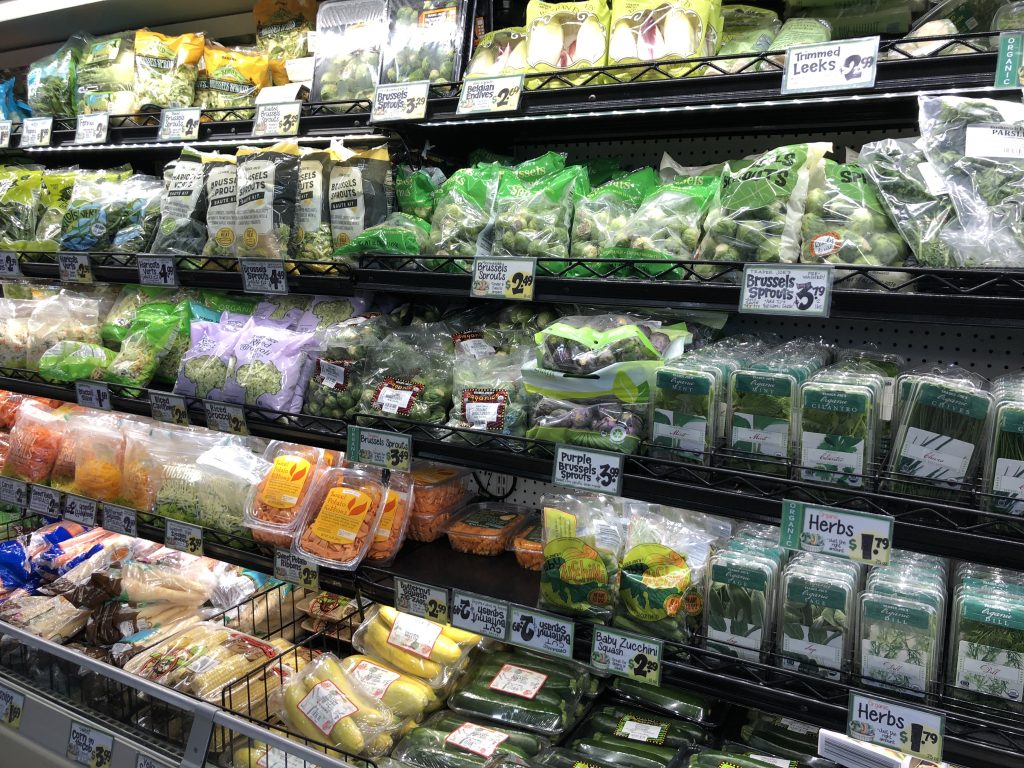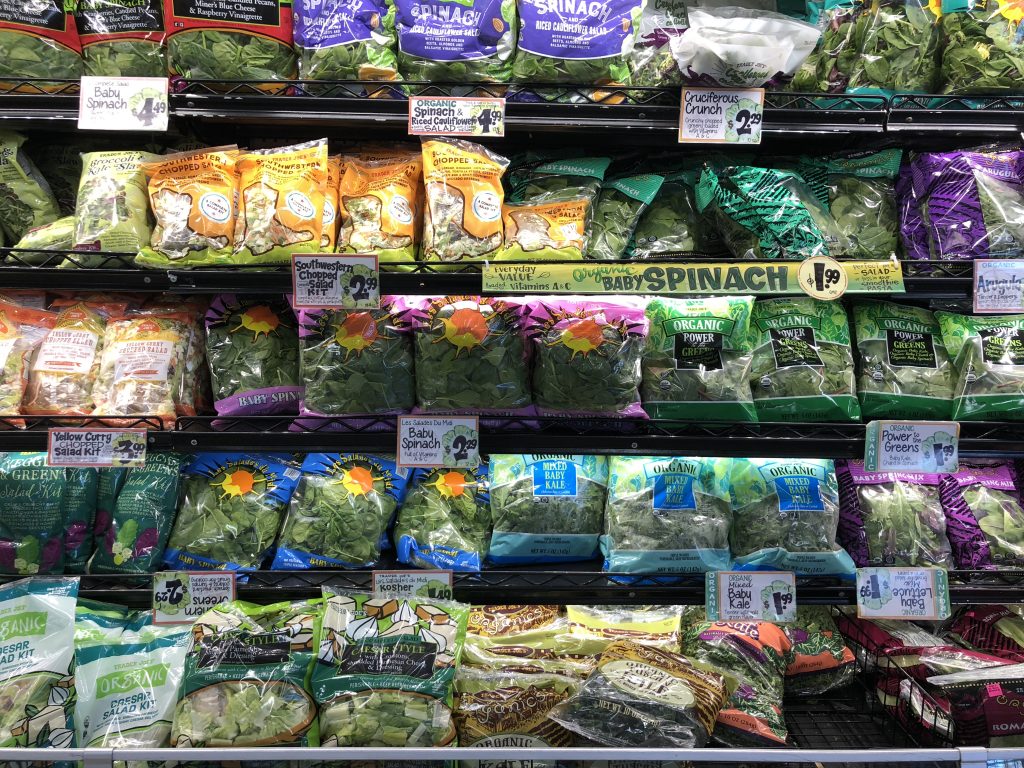 Another trick I use every week is buying frozen veggies like riced cauliflower and broccoli florets that can defrost in the fridge.  I bring them home and empty them right into a glass container.  No need for chopping or processing them down and they are ready to go when I'm ready to eat.
4. Freeze Your Food
Knowing how and what to freeze can double or even triple your efficiency in the kitchen.  You will never be left without food when you have a few meals, snacks, and produce just waiting for you to thaw out and cook off.  Freezing food will help you save money, time, energy, stress, reduce waste, and a bonus is you can eat foods that are out of season anytime you want.  Here are great things to freeze:
smoothies
casseroles
pancakes, waffles, and muffins
soups and stews
leftovers
miscellaneous ingredients from cooking (tomato paste, broths, sauces)
produce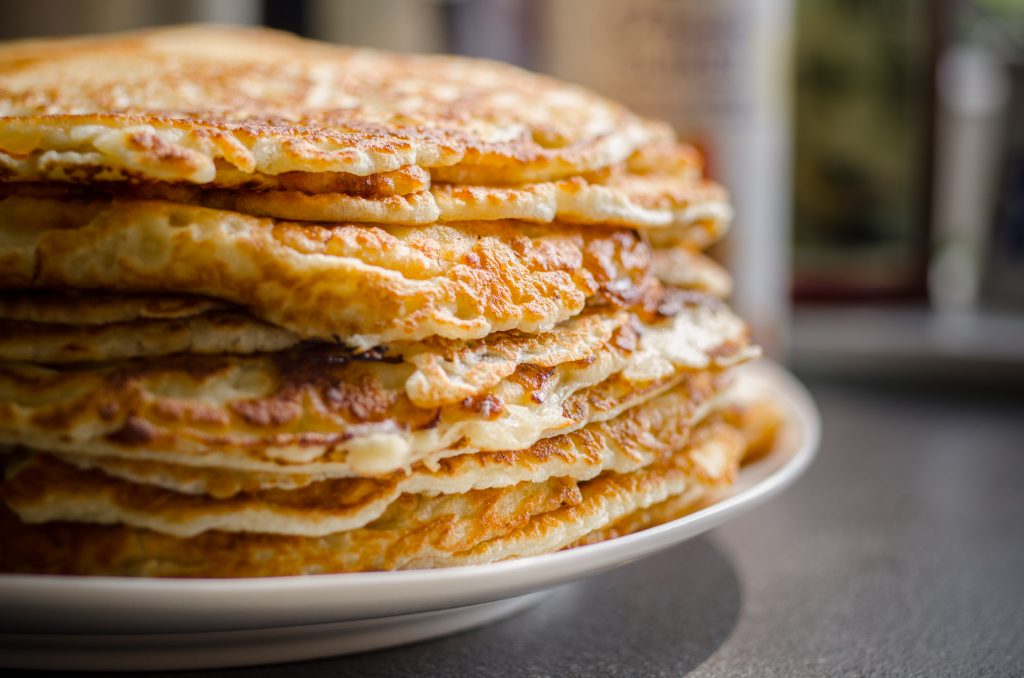 5. Chop Produce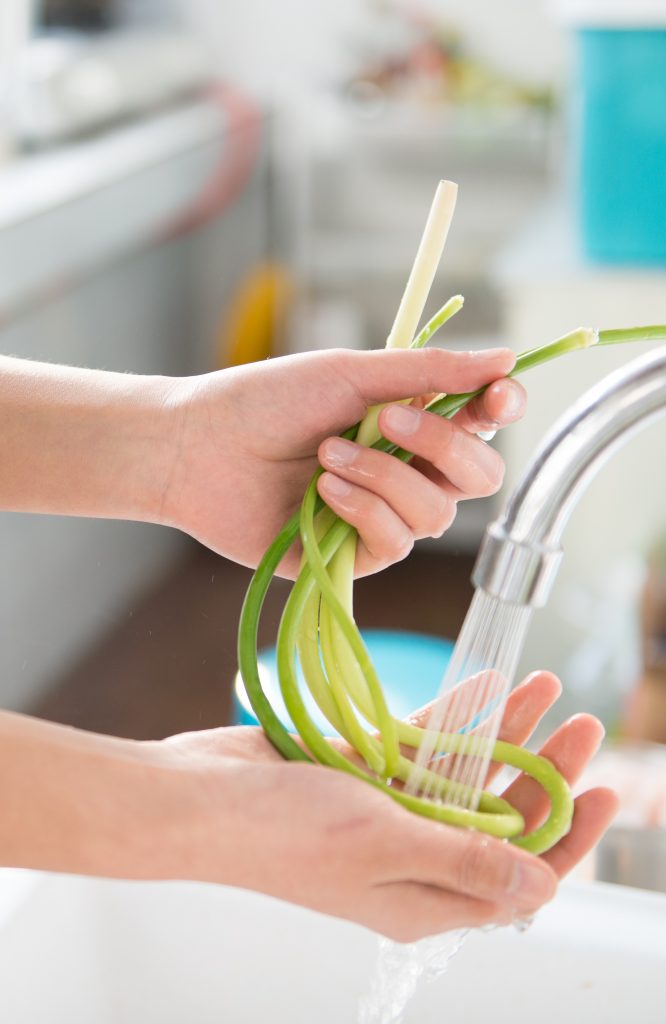 Once you get all of your produce home from the grocery store or farmers market, put it straight into a filled sink of water.  I also add a little baking soda and vinegar to really clean everything properly.  Let it all soak for a bit, rinse, dry, store, and prep/chop at least 4-5 veggies.  When you have veggies like celery sticks, carrots, cucumbers, chopped onions, peeled garlic, and even pre-spiralized zucchini whipping up meals will be faster.  Also, instead of going for a snack in the cupboard, you can munch on whatever fresh food you have waiting for you.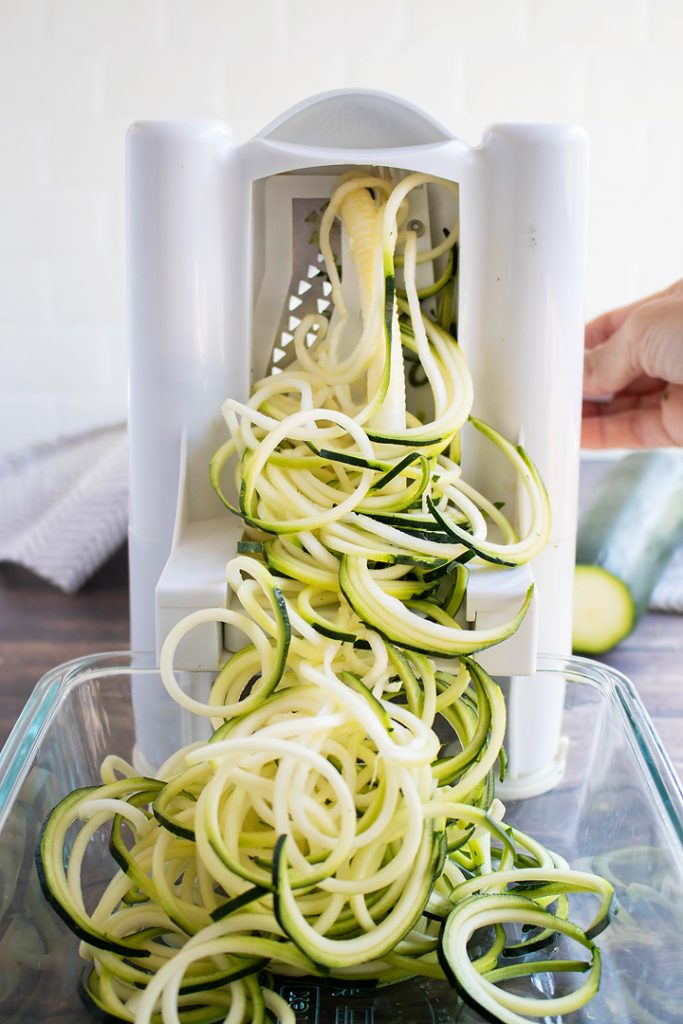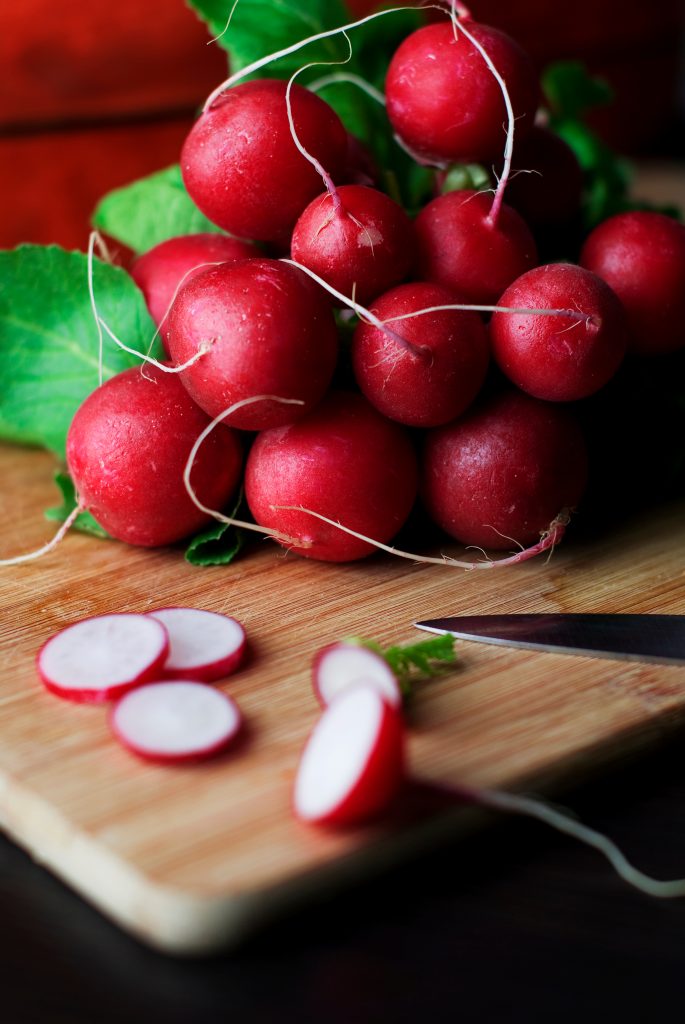 6. Cooking Methods
One of the biggest pieces of advice I can give you when it comes to meal prep hacks is utilize ALL cooking applications that you can AND at one time.  Start prepping with the meals and items that will take the longest such as anything that needs to go in the oven (bonus tip… use BOTH racks and set the oven to convection).  Sheet pan meals are always AWESOME so take some time to prep at least one each week.
With something in the oven, you can cook a few things on your stove top like grilled chicken or burgers.  We LOVE cooking on our cast iron grill/griddle pan.  It's perfect for batch cooking proteins and for pancakes.
And the BEST investment you will ever make in your kitchen?  An Instant Pot… hands down, NO question at all.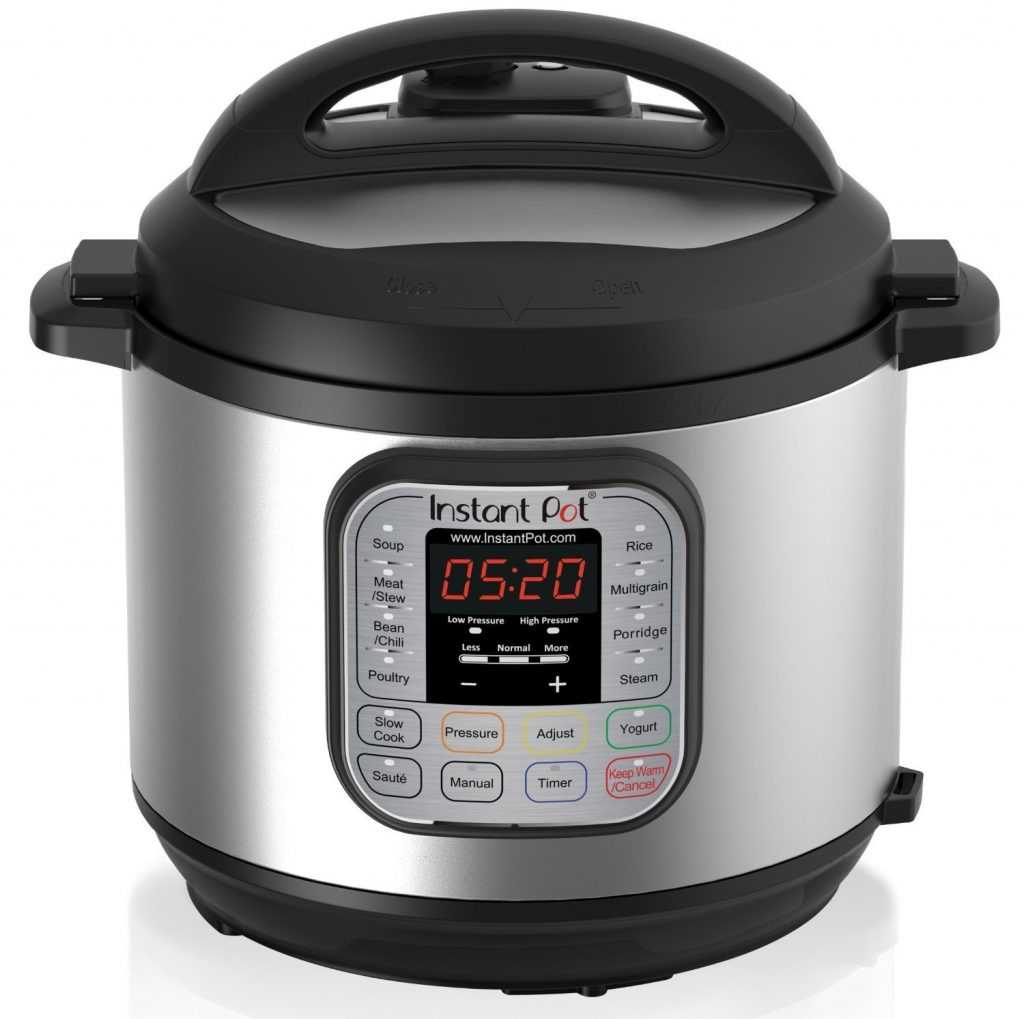 If you don't already own one, you need to buy one today.  Yes, today.  I cannot tell you how magical this thing is.  The Instant Pot is the one piece of kitchen equipment that will save you the most time, energy, stress, and money.  You can throw just about any combination of meat and seasonings into this and it comes out delicious every time.  Here are a few key things to use this for during meal prep:
hard boiled eggs (4-6 minutes depending on how you like yours cooked)
shredded chicken (from FROZEN to cooked in less than 30 minutes)
simple soups (10-15 minutes)
reheated frozen stews (15-20 minutes)
rice and grains (10-12 minutes)
7. Zip Lock Bags
Zip lock bags filled with ready to cook meals are a life saver.  All you need is 5 minutes to put an entire meal together that can get cooked off at some point during the week.  Meals for the Instant Pot, Crock pot, and sheet pan are perfect for this.  Simply put all (or most) of the ingredients for the recipe in a large zip lock bags with a label.  You can add what the dish is, cooking method, cooking time, and any additional notes it might need.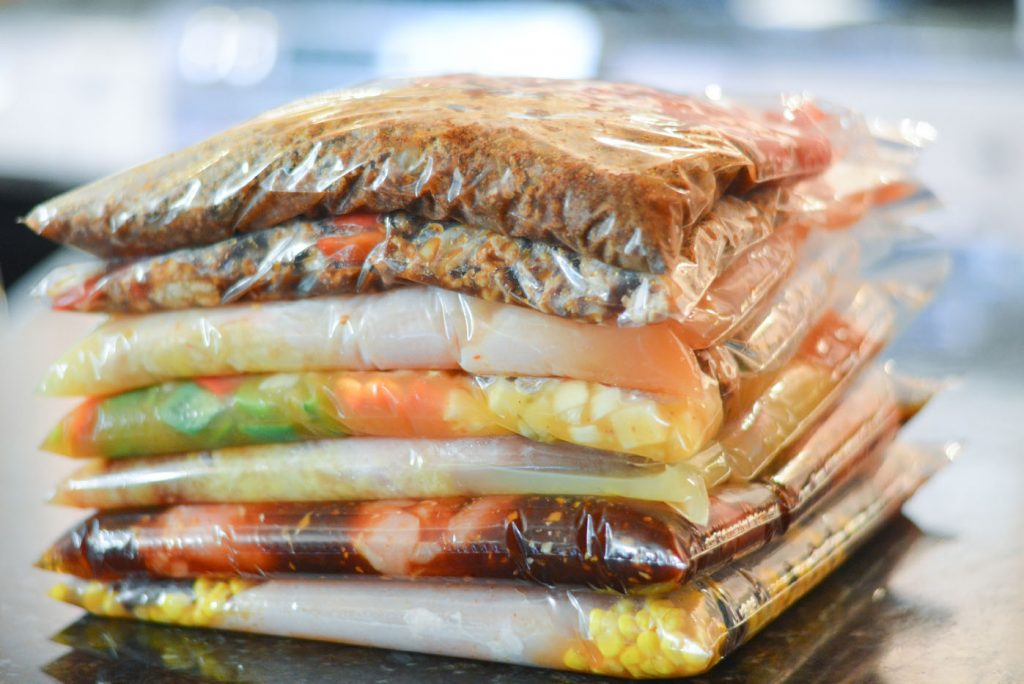 (image courtesy of www.mommysfabulousfinds.com)
8. Prep A Variety of Foods
You have to do whatever works best for your family and needs, but I like to prepare a little bit of everything each week.  This would include:
a few chopped veggies
something spiralized
1-2 cooked proteins (usually ground turkey and some type of chicken)
1-2 meals
a dessert or baked good
To keep things fresh so you don't get bored, always rotate what you prepare.  Some people (like myself) can eat the same thing day in and day out for weeks (or months), but others (like my husband and daughter) get bored quickly.  Keep it simple though.  Choosing different a few different veggies, fruits, proteins, and baked goods each week will  help keep you on track AND keep you looking forward to the following weeks ahead.
9. Stick to the Basics
Instead of overwhelming yourself so much that you quit the first time out, keep things SIMPLE.  Follow this simple guide each week and you're golden for all of the weeks (and months) ahead.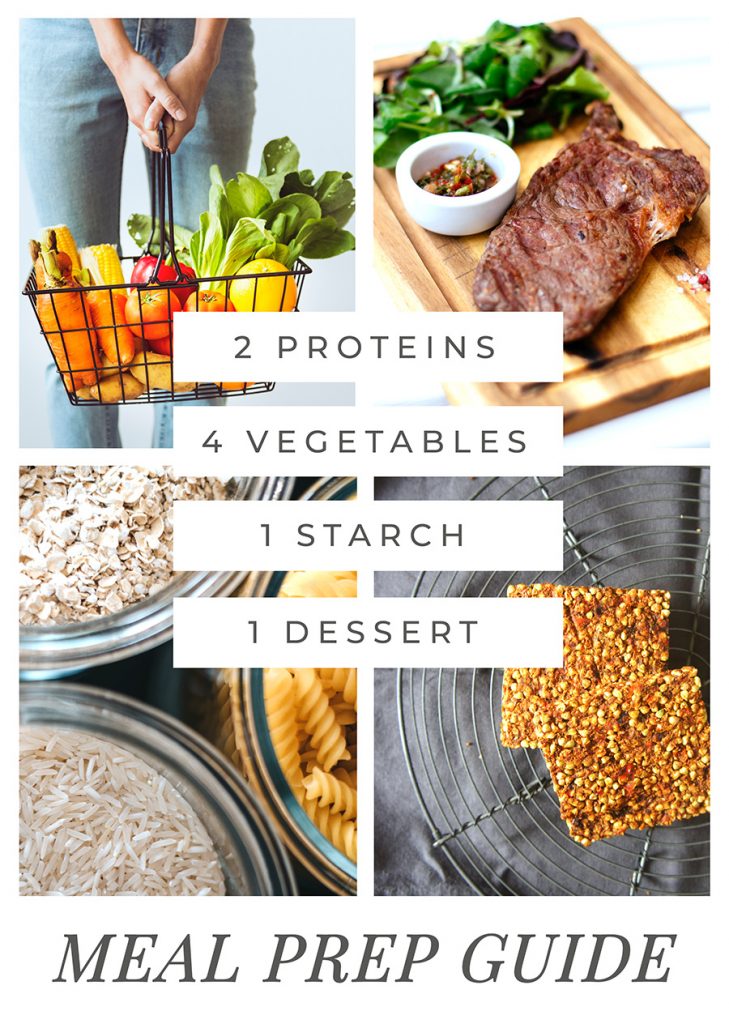 10. Clean As You Go
One of the worst things about food and meal prep can be the clean up.  You feel proud and accomplished by your efforts, then take a look around your kitchen and it looks like a bomb went off.  The BEST tip to save you from the meal prepping aftermath is cleaning as you go.  Each time you use a dish, utensil, bowl, baking sheet, or any kitchen equipment rinse it off and throw it right into your dishwasher.  And don't fret in the beginning, when you get really efficient at food and meal prep, the amount of dishes that pile up in the sink are drastically reduced!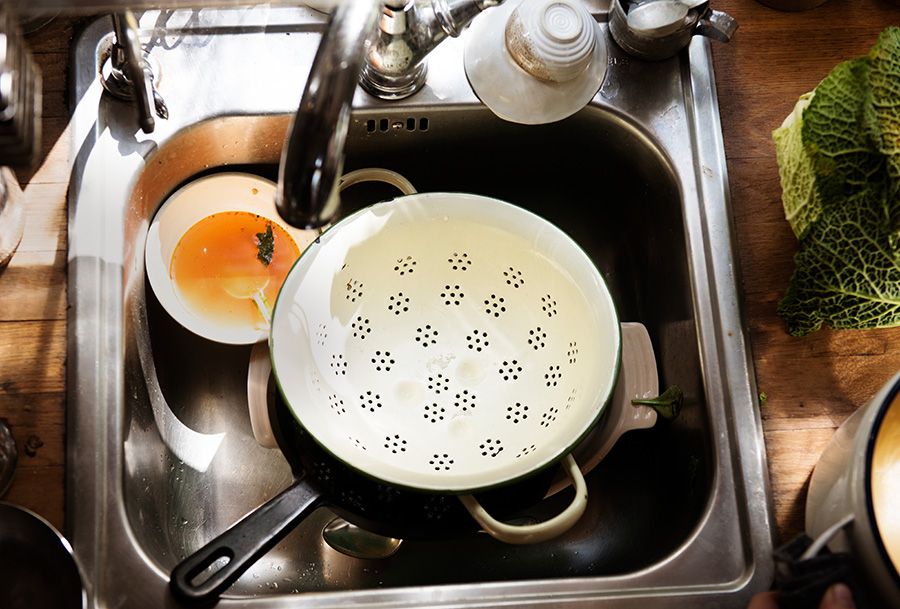 So there you have it!  My best food and meal prep hacks that will change how you approach this adventure.  Eventually you will find what works specifically for you and can make tweaks based on your owl goals.
Now I would LOVE to know YOUR best meal prepping hacks!!!  Please let me know in the comments or if you have any questions I can help you with!