Quick and easy side dishes are the best!  This simple artichoke and kale saute is a fantastic healthy side dish for any meal.  It is bursting with flavor and prepared in under 10 minutes.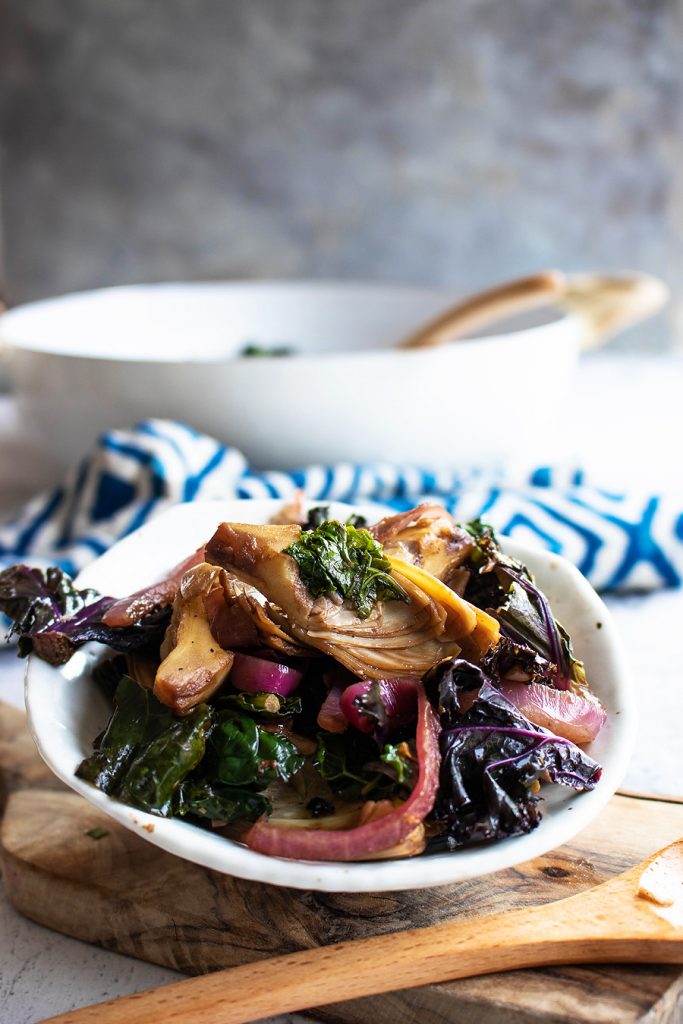 One of the hardest things about putting meals together is coming up with a side dish to accompany your protein.  Plain vegetables are great, but get boring real quick.  Riced cauliflower can only be served so many times (in so many ways).  And let's face it things are definitely a bit more limited when you do not eat a ton of starches in a lower carb way of eating.
The day I first made this I had no idea what to expect and it came from zero inspiration.  Our family had plain chicken breasts defrosted and due to the time restraints of a busy afternoon, I knew our side dish had to be made fast.  Therefore I basically needed something to cook the same time that the chicken was being grilled.  Above all it needed to be healthy, nutrient dense, and packed with so much flavor nobody in the house could complain.
Frozen bags of veggies to the rescue, always!
Less than 10 minutes later, there was magic in my skillet.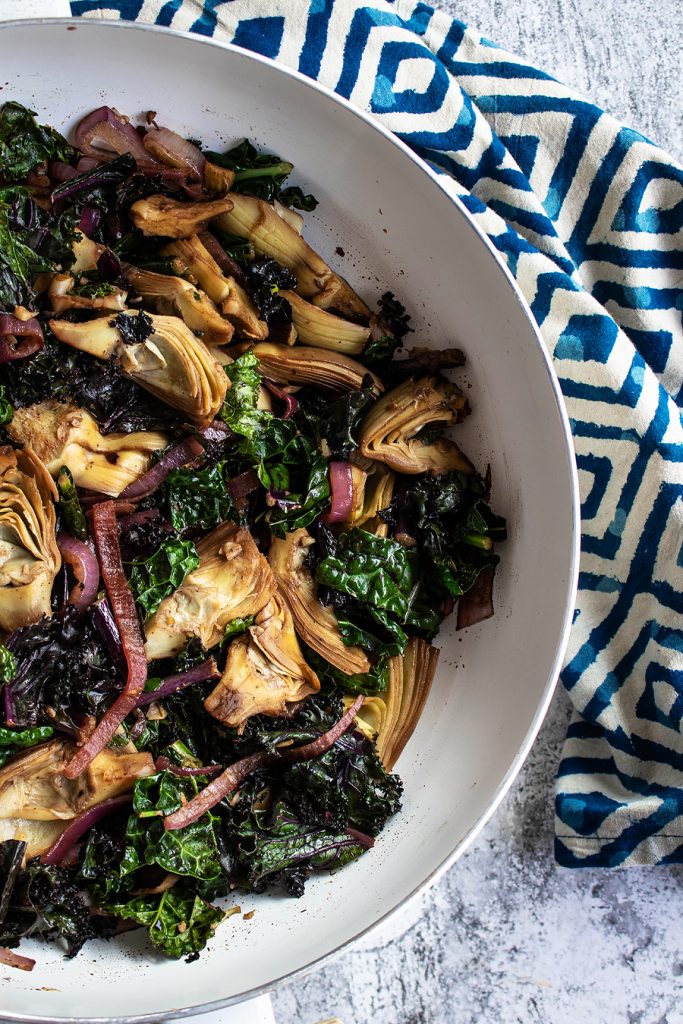 Added bonuses to this side dish:
only requires a handful of ingredients
easily served hot OR cold
versatile and can be served with any protein
hearty and filling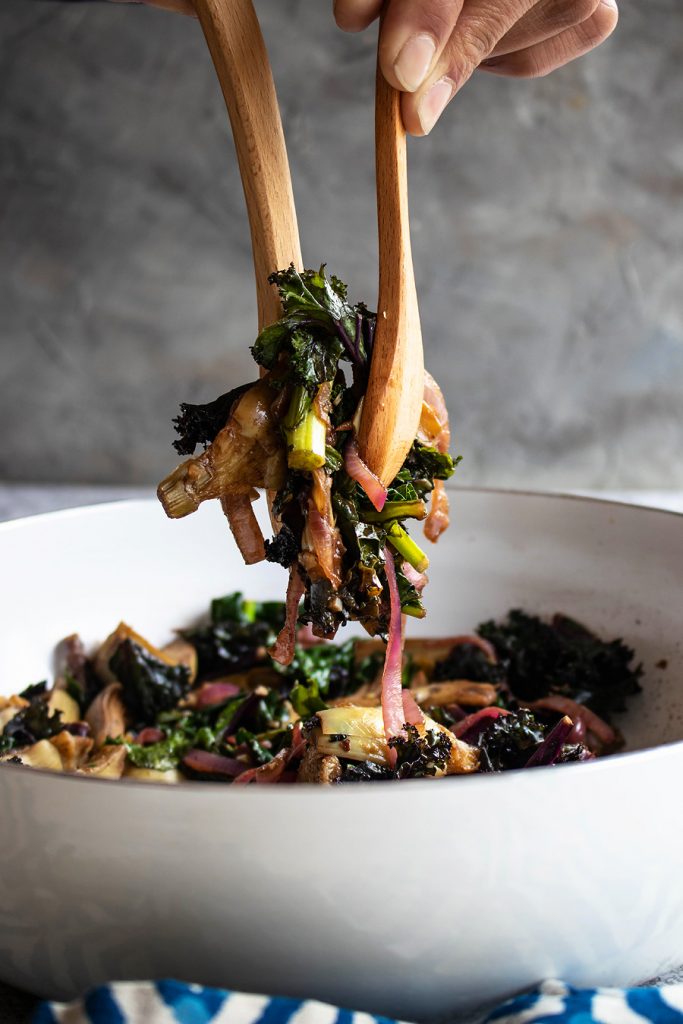 Did I mention it is made in less than 10 minutes?  Hard to believe something packed with so much flavor  requires so little time to prepare.  This just goes to show you that you don't need extravagent ingredients, hours of cooking prep, or complicated recipes for your meals.
Quick. Simple. Delicious.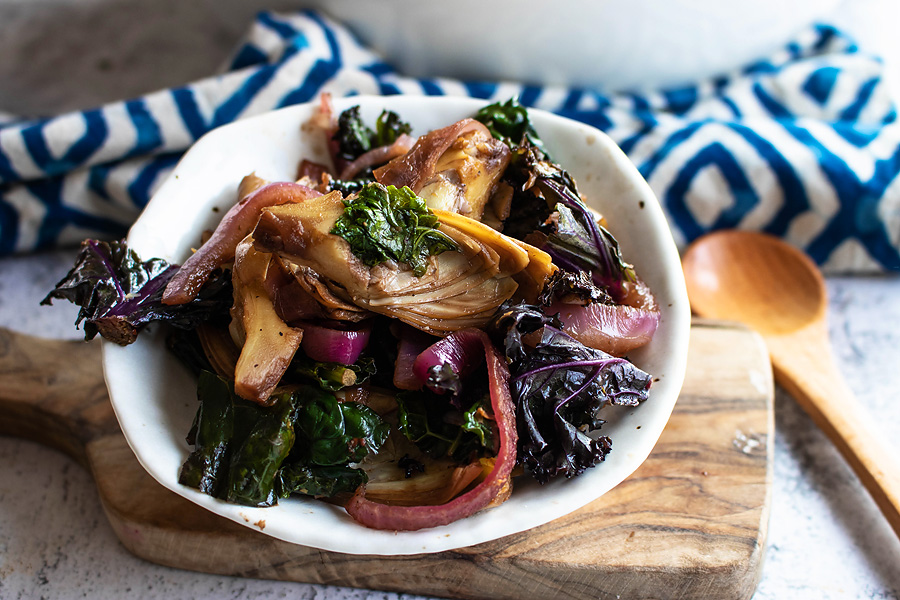 Print Recipe
Balsamic Artichoke & Kale Saute
This is a quick an easy side dish perfect for any occasion. It's rich, tangy, and quick to prepare.
Ingredients
4 cups kale (chopped and stems removed)

12 ounces frozen artichoke hearts (thawed and drained)

1 tablespoon olive oil

2 cloves of garlic

1 small red onion (thinly sliced)

1/2 teaspoon salt

1/4 teaspoon pepper

1 pinch red pepper flake

1/4 cup balsamic vinegar
Instructions
1
1. Heat olive oil in a large cast iron skillet or pan set to median-high heat. Add thawed artichoke hearts, sliced onions, 1/4 teaspoon of pepper, and a pinch of salt to pan, saute for 5-6 minutes. Add garlic and cook for an additional 30-45 seconds until fragrant (do not burn).
2
2. Add chopped kale. Season with red pepper flakes, remaining salt, and pepper. Cook for 2-3 minutes.
3
3. Deglaze pan with balsamic vinegar and cook until veggies are all softened to desired taste.
4
4. Preseason if necessary.