All of the things you love about oatmeal, but without the extra carbs.  Cozy up to this warm bowl of savory "N'Oatmeal" that is jam packed with flavor.
Is there anything more comforting than a big bowl of warm oatmeal?  Unfortunately when you maintain a keto way of eating, traditional oats are out because there are too many carbohydrates for you to remain in ketosis.  When I decided to change my nutrition to more keto/paleo based, one of the main foods I missed so dearly was oatmeal.  I missed the creaminess, the warmth, and of course all of the toppings and add in's.  Savory or sweet, I missed my oats.
Fortunately though, very early on though in my transition to keto I came up with the perfect replacement for my big oatmeal bowls and I'm so excited to share it with you!  Now don't get me wrong here.  This of course is NOT the exact same as oats, but its as damn close as you can get it AND it will always satisfy ANY oatmeal craving.  Truly.  By replacing oats with riced cauliflower and adding in hemp hearts and chia seeds, the texture is also extremely similar.  A HUGE bonus to these savory "oats" is its filled with nutrients and foods that your body will LOVE and thank you for.
And who are we kidding anyways?  Oatmeal is almost always about those toppings anyways!  For some crunch, I first crisped up some bacon.  Just chop it up into 1/2″ pieces and fry until desired doneness (I like mine SUPER crispy)!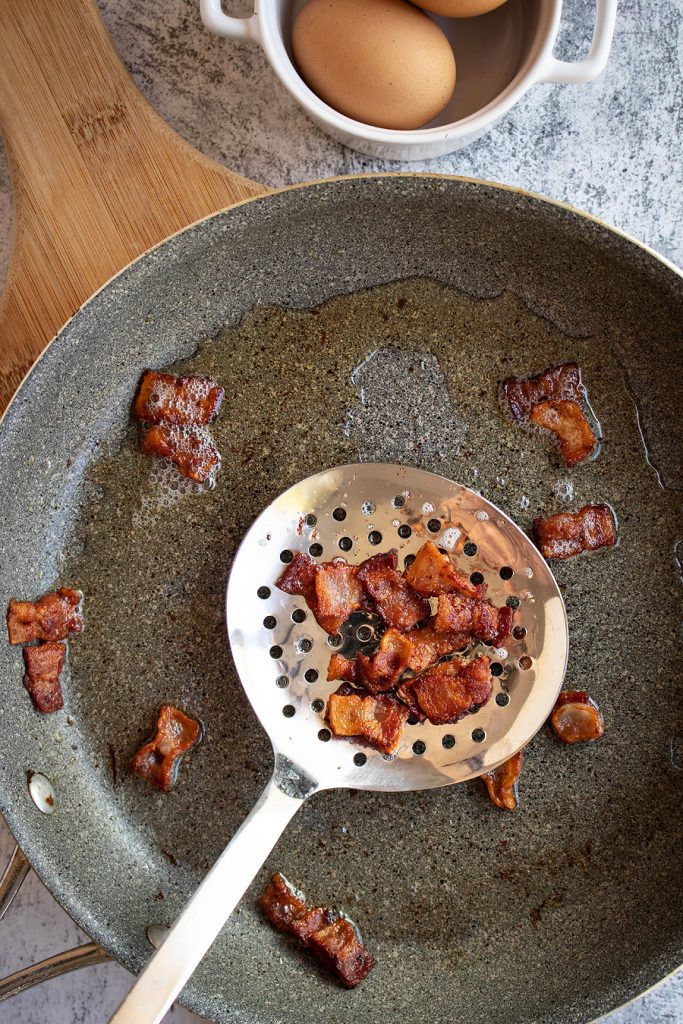 Remove the bacon from the pan and reserve that bacon grease.  For added creaminess and protein, I also like to add a fried egg (or two).  Using that same pan with the bacon grease, crack in a couple of eggs.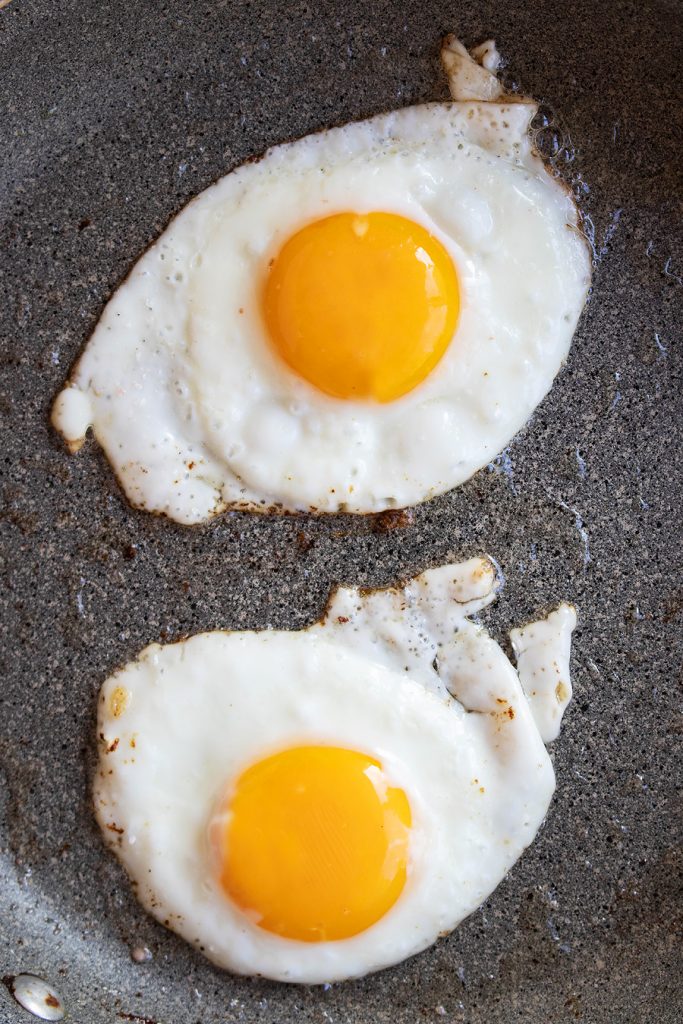 Then get your "oats" cooking!  Remove your eggs and add in your riced cauliflower, hemp hearts, chia seeds, seasoning, and unsweetened milk of choice.  Stir stir stir until all of the liquid has dissolved.  The chia seeds will soak up lots of the milk, so if you find the cauliflower isn't tender enough for your liking, simply add more liquid until you reach desired consistency.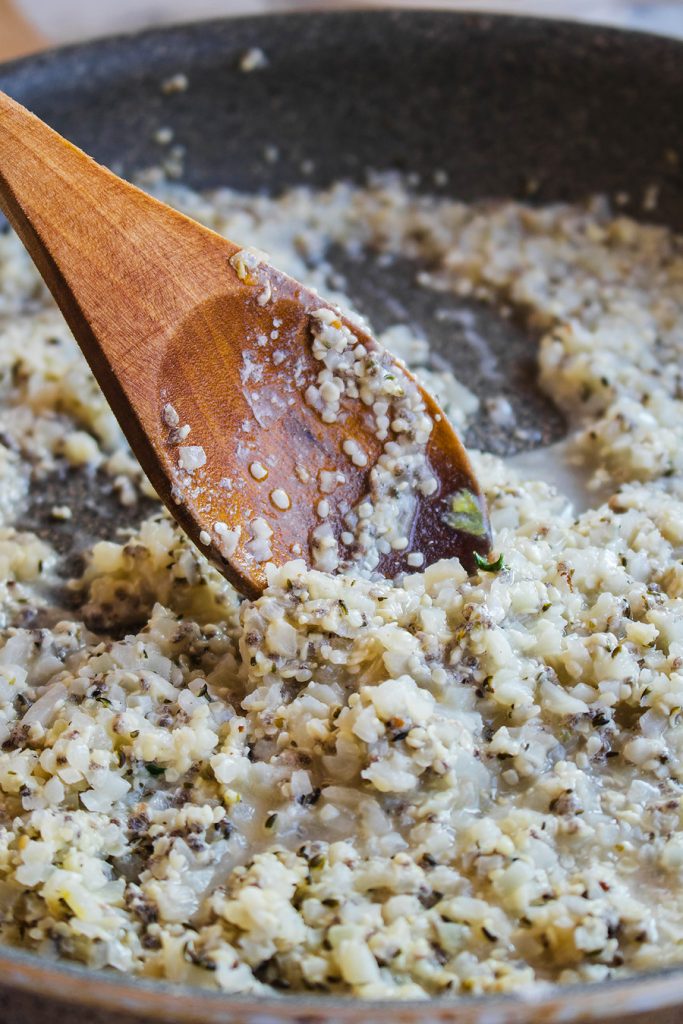 To get the greens in I have with EVERY meal, I also like to stir in some kale to this dish.  Spinach or arugula would work also, but I find those options get a bit watery and kind of just melt into the "oats".  The kale gives a great added texture and makes your bites more interesting.  Not to mention, it has loads of nutritional benefits.  It truly is one of the healthiest foods on the planet.
Kale Benefits:
fiber-

keeps your regular, flushes out toxins in the body, helps you feel more full

vitamins & minerals-

 vitamin A, K, C, B6, manganese, calcium, copper, potassium, magnesium

antioxidants-

contains alpha-lipoic acid which can lower glucose levels, improve insulin sensitivity, and prevent oxidative stress on the body

disease fighter-

green leafy vegetables like kale contain chlorophyll.  This compound binds to harmful things like carcinogens and prevents the body from absorbing from them
Now adjust your seasonings and you are ready to rock & roll!  Get your "oats" into a great big bowl.  Traditional oatmeal is great, but everyone knows its actually ALL about the toppings and stir ins.  This is where the bacon and egg come in.  Sweet oats are great, but can they really compare to bacon and a runny egg?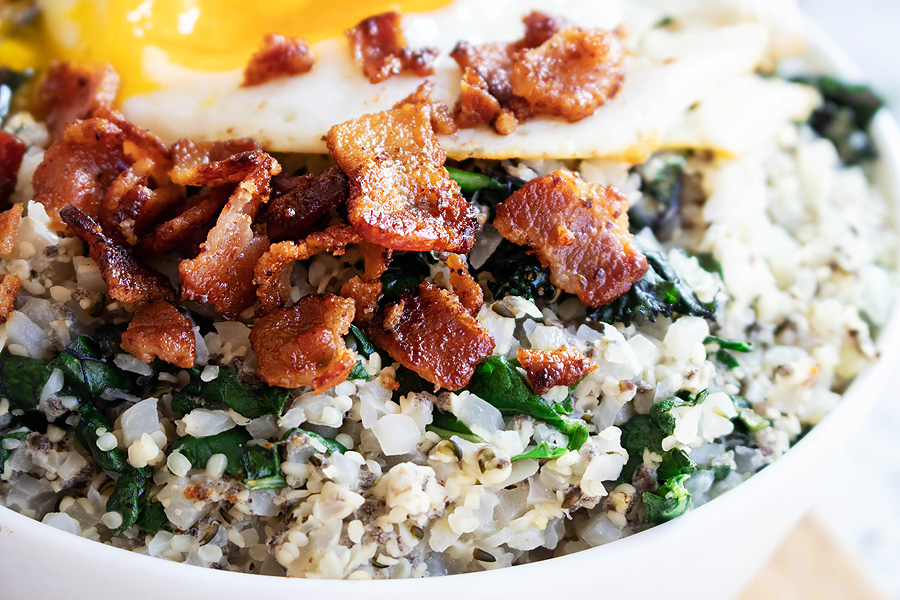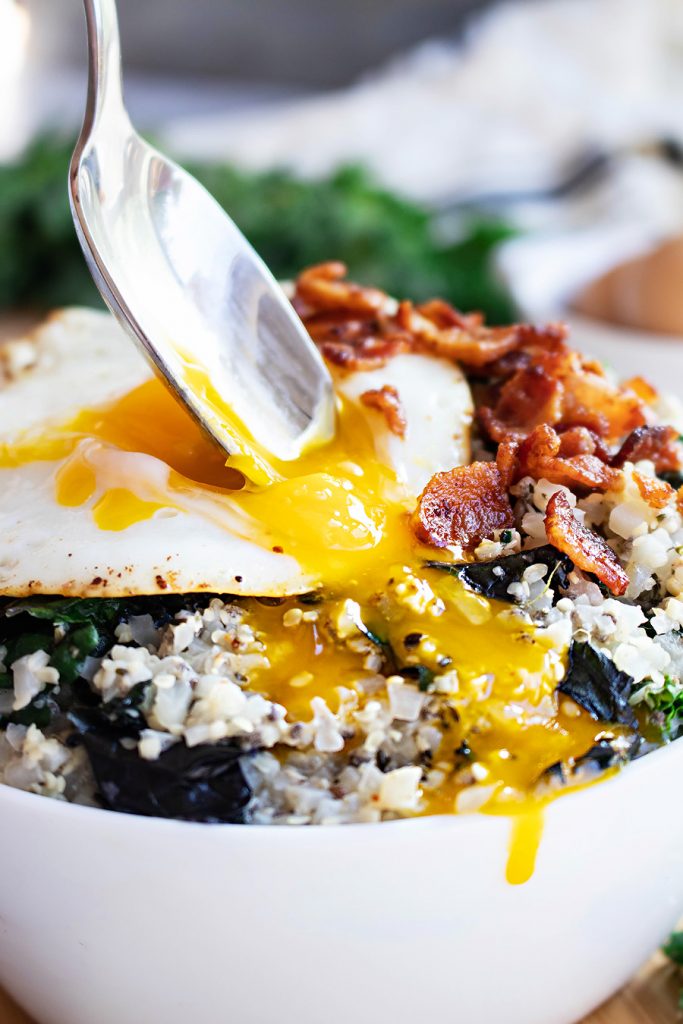 I think not.  Not at all.
I will go out on a limb and say that this bowl of savory "N'Oatmeal" might be the healthiest you have ever seen.  It is so jam packed with healthful nutrients, vitamins, minerals, fiber, and a variety of protein sources.  The next time you feel a little bit bored of your plain scrambled eggs and bacon, think about this satisfying bowl of yumminess.  You will be blown away and the recipe will easily find its way into your heart (and tummy)!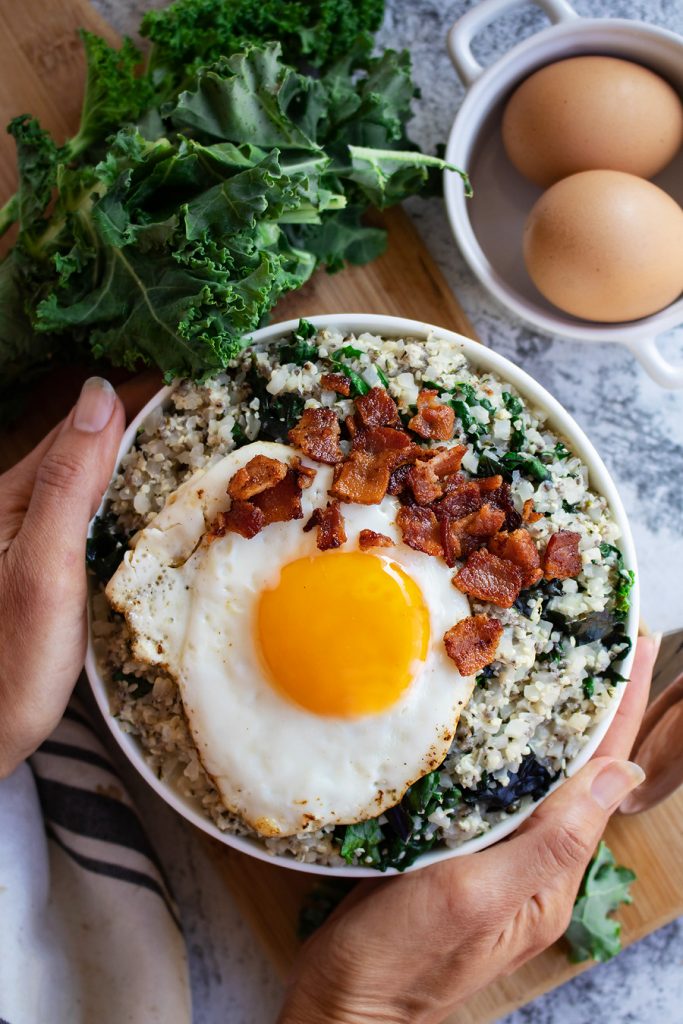 Print Recipe
Savory Cauliflower "Oatmeal" Bowl
If you've been missing a big, piping hot bowl of comforting oatmeal on your low carb or keto diet, this is the recipe for you! This is packed with nutrients, completely grain and gluten free, paleo friendly, and keto. You'll never look at oatmeal the same!
Ingredients
1 cup riced cauliflower

1 1/4 cup milk of choice

1/2 tablespoon chia seeds

1 tablespoon hemp hearts

1 tablespoon dried chopped onion

1/4 teaspoon salt

Pinch of black pepper

2 eggs (cooked to preference, shown with over easy eggs)

1 cup greens of choice

2 slices of bacon
Instructions
1
Fry bacon in a shallow skillet or small cast iron pan. Cook until crispy. Remove and reserve fat.
2
Fry eggs in bacon grease. Remove cooked when you reach desired doneness.
3
Add riced cauliflower, chia seeds, hemp hearts, salt, pepper, and to the pan and set to medium heat. Simmer for 9-10 minutes until cauliflower has softened.
4
Stir in desired greens until softened.
5
Top with cooked eggs and bacon.
Notes
This also works great with breakfast sausage. Easily change this to a sweet bowl of oats by omitting the greens, eggs, and bacon. Add stevia, monk fruit, honey, or maple syrup to sweeten "oatmeal". Stir in a pinch of cinnamon and top with fruit if desired.