Fall in love with this healthy low carb chocolate chip zucchini bread recipe! It is gluten free, grain free, sugar free, dairy free and paleo.  Enjoy it along side a cup of coffee or as a sweet treat any time of day!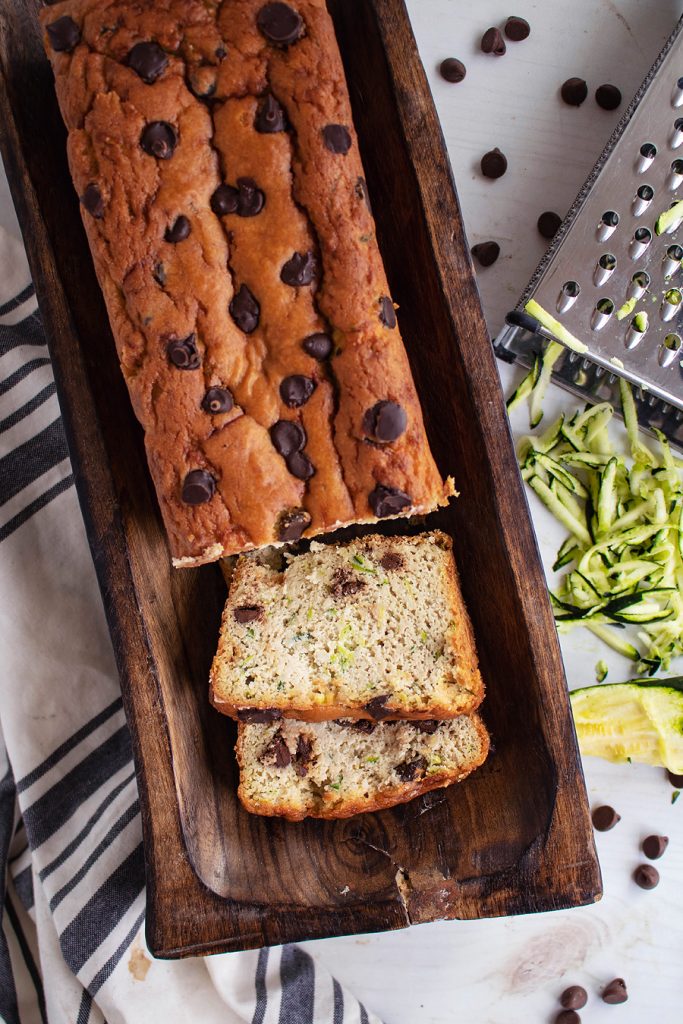 The search for a healthy zucchini bread recipe is over friends.  Now do not let the chocolate chips fool you here.  This low carb baked good will become a favorite that the whole family can enjoy: keto diet or not.  It is loaded with dietary fiber for your tummy, healthy fats for optimal health, and even some hidden vegetables.  The shredded zucchini just melts into the batter as it bakes so no cause for concern for any picky eaters.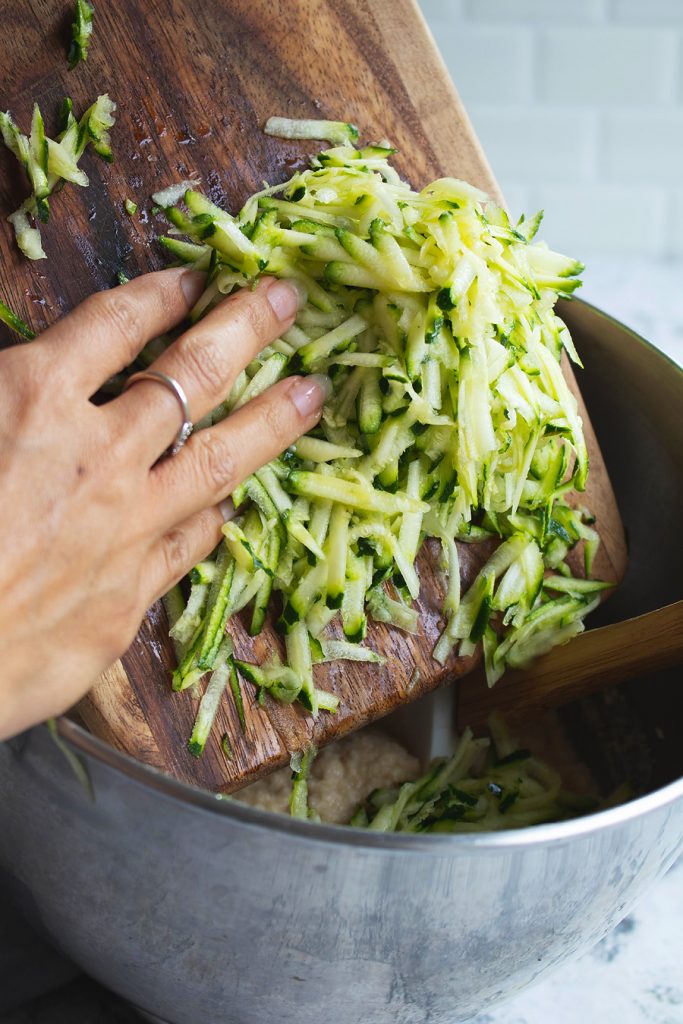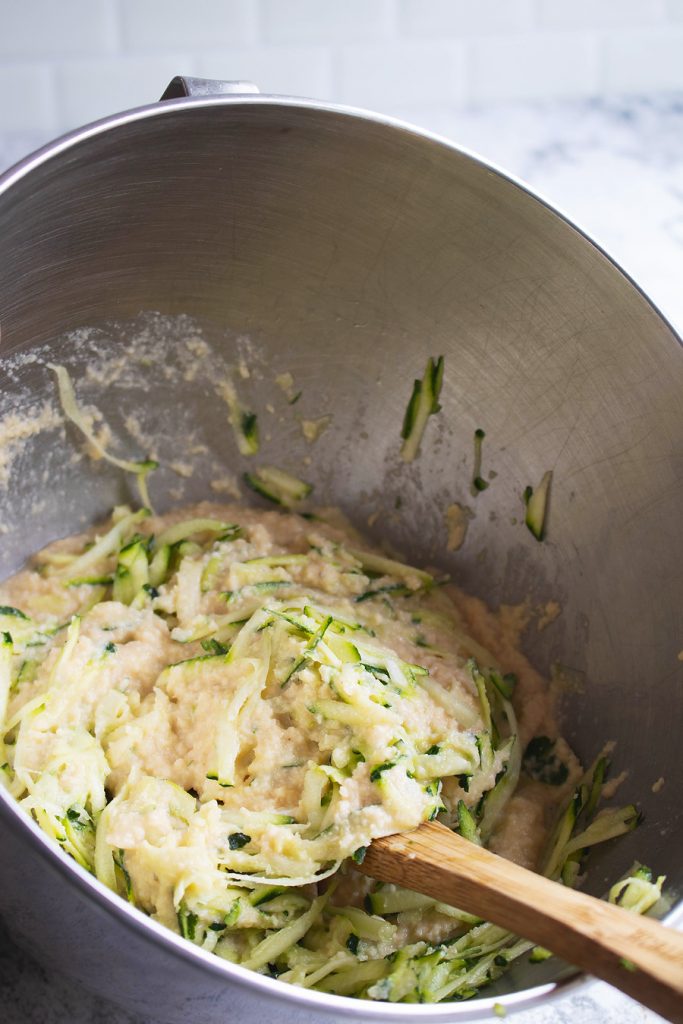 I have tried other low carb zucchini bread recipes and nothing hit the spot quite like this.  It took me a few tries and ingredient swaps to get it perfect, but I am here to fill you in on all of the details!  One thing I have learned about low carb baking and cooking is for every "traditional" recipe there is always a healthier alternative.  Always.  Let's chat about it shall we?
Flour Alternatives:
The key to working with these options is getting the amounts and proportions right.  Keto and paleo alternatives tend to make baked goods less fluffy and more dense because they do not contain gluten, so something has to offset that extra moisture that is retained.  My favorite approach to these dry ingredients is a combination of flours.  To keep things keto, I like almond flour PLUS coconut flour.  For paleo, I like cassava or arrowroot PLUS coconut flour.  Coconut flour goes a long way, therefore just a touch will do you in most low carb recipes.
Sweeteners:
These low carb sweeteners are my go to options simple because they taste the best and have the least impact on blood sugar.  For the majority of my baking, again I actually like to use a combination of them.  And depending on the low carb recipe, the Lakanto monk fruit sweetener is the BEST because it provides a much more rich and deeper flavor.  For everyday sweetening, Pyure and stevia drops from Trader Joe's is what I use 90% of the time.
Chocolate Chips:
This is where it gets trickier for me.  Because 99% of the chocolate chips available contain soy, finding a soy free AND low carb option is next to impossible.  I usually don't even waste time anymore hunting and go straight to bars of dark chocolate and cut them into small chunks (or melt them).  The good thing cacao and dark chocolate is they contain a ton of fiber.  The downside is they are not sweet.  If you are a fan of dark chocolate and a more bitter taste, there are great options:
Keto options (contains soy):
Paleo & Everyday (NO soy):
That pretty much covers my favorite low carb keto and paleo baking alternatives!  For this keto chocolate zucchini bread recipe though.  So moist.  So rich.  Enjoy a slice (or two) with breakfast, as a snack, with a cup of coffee, or even for dessert.  Any way you slice it, this zucchini bread will be made over and over again in your house.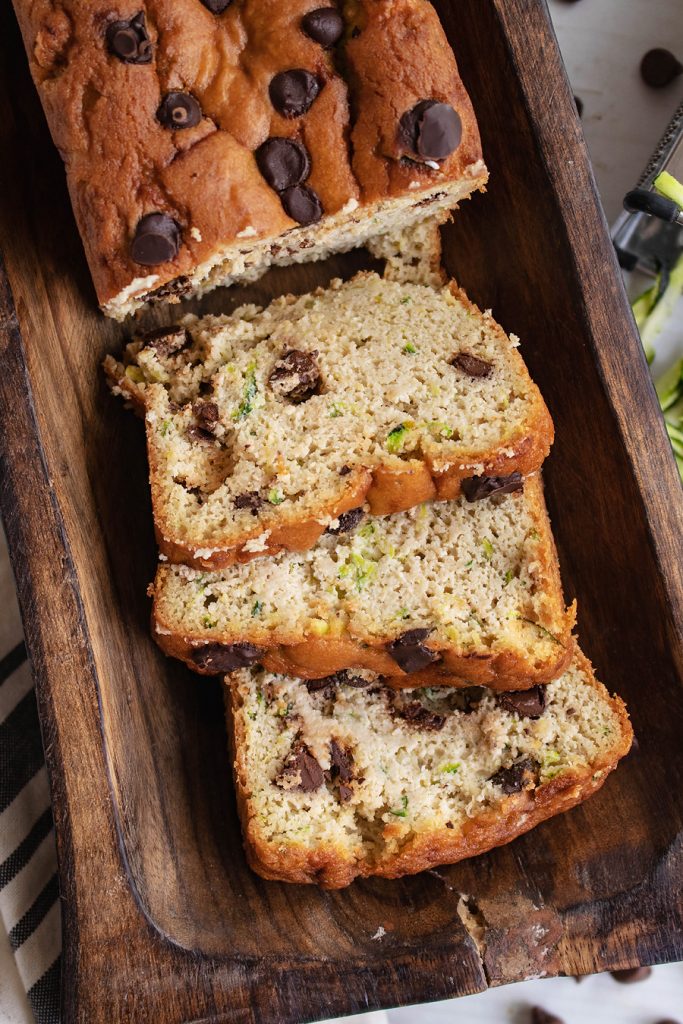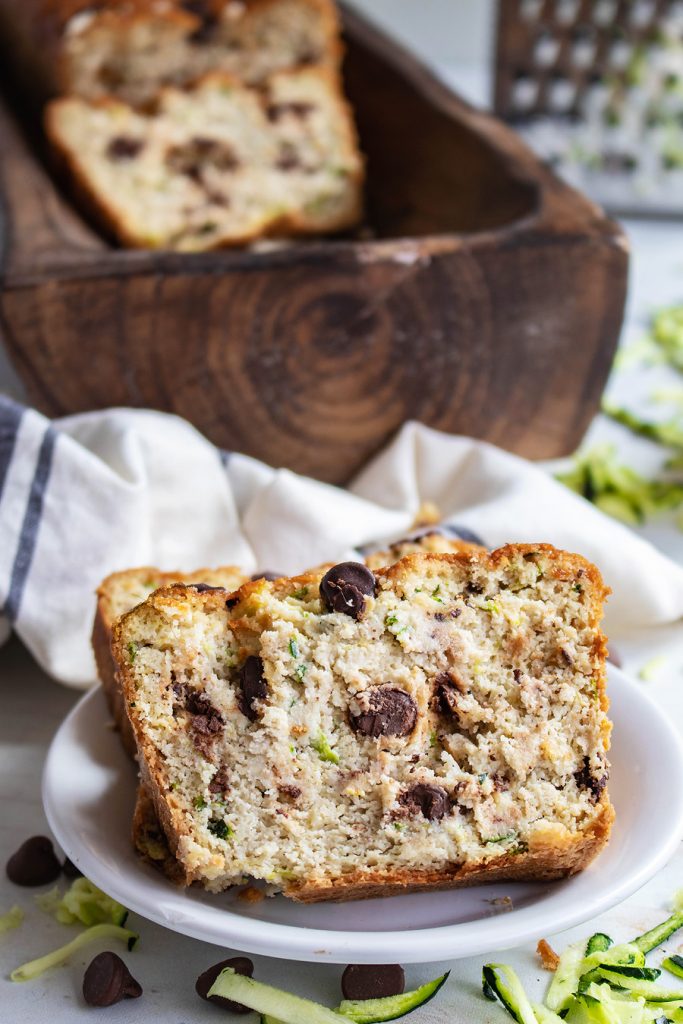 A bonus tip for serving a slice of this low carb zucchini bread is firing up a small pan or skillet on the stove, add a little butter or coconut oil, then fry it up until its golden brown!  You've never had a slice quite like this!!!
Print Recipe
Ingredients
2 cups almond flour

1/4 cup coconut flour

1 teaspoon baking powder

3/4 teaspoon baking soda

1/4 cup avocado oil or olive oil

2 eggs

1 cup grated zucchini

1/3 cup Pyure, or Lankanto monk fruit sweetener

1 teaspoon vanilla extract

1 1/4 cup milk of choice (I use unsweetened cashew milk)

1/4 teaspoon salt

1/2 cup sugar free chocolate chips
Instructions
1
Preheat oven to 350 degrees and coat a 4x7 loaf pan with non stick spray or butter. Additionally, you can line sides and bottom of pan with parchment paper for easier removal of cake.
2
Add dry ingredients (almond flour, coconut flour, baking powder, baking soda, and salt) to a small bowl. Whisk well to combine. Set aside.
3
Add eggs, sweetener, and vanilla extract to a large bowl or stand mixer. Beat on high for 2-3 minutes until light and fluffy.
4
Add dry ingredients to wet ingredients, alternating with milk.
5
Mix just until combined and batter is smooth.
6
Stir in grated zucchini and chocolate chips (add more if desired). Pour batter into prepared pan and bake for 40-45 minutes until edges are golden brown and toothpick comes out clean when poked through the center of the cake.