Unfortunately, while on any journey you sometimes have to take 2 steps back in order to move forward.  You will more than likely need to change your course multiple times simply because there is no one path that will work for everyone.  When I first started out earlier this year, I vowed to eat 100% "clean".  No processed food, no refined sugar, I made the majority of all of my meals each and every single day for approximately 14 weeks.  I was convinced that the only way I was going to get in better shape, build a better body, and feel better was to go this route.  I made my family crazy with my lectures on eating processed food, I looked at EVERY single ingredient on EVERY single packaged item I bought,  I had a list of rules and do's and dont's for everything, I had to order special meals when my family ate out at restaurants (please take this off, please take that off, add more of this instead, can I have a side of this but not that, etc.), and I was completely obsessed with all things pure, wholesome, nutrient dense, and of course from the Earth.
As I began to resent my "clean" meals and feeling guilty about wanting to add unclean "treats" every now and then, I knew this "clean" lifestyle would not be something that I could maintain long term.  I had always had a good relationship with food up until this point in my life.  Never had an eating disorder.  Never binged.  However, when it comes to a point where you don't even want to eat an apple cinnamon rice cake because its technically "processed", you know you have a problem.  Really?  A rice cake?  I recognized there was an issue and knew it was a time for a change.  At the time, I didn't know what I was going to do BUT I did know there had a to a better way.  I was in search of something more balanced for myself and stumbled upon Layne Norton, specifically THIS video on his youtube channel as well as THIS one that 100% changed my life and my fitness path.
When I began to do more research on IIFYM (if it fits your macros) and macros in general, I saw an overwhelming amount of people eating pop tarts and Skinny Cow ice cream sandwiches (really, do a search on Instagram for IIFYM, it's really quite funny looking at the posts now).  You will make judgements…. I know I did.  You can't help but be completely apprehensive of a program that "allows" these kinds of foods, I literally turned up my nose at them initially and thought they were crazy.  Surely, they will gain weight and get off track.  Back to clean eating for me I guess.   However the more I learned and the more people I began to follow who did "IIFYM", I was seeing consistent AMAZING results.  Flat tummy's, growing muscles, tons of energy for training, feeling SO good every day… AND getting totally shredded.  At 14 weeks into my journey, I thought maybe, just maybe I could try it.  What's it going to hurt if I stopped eating totally clean for a couple of weeks?  I was still committed to getting fit so I knew I wasn't going to get off track regardless of what happened.
I went to a few websites to figure out my macros, came up with a split and intake (calories/carbs-protein-fat-fiber) I thought was HEALTHY & suitable for me (taking my previous caloric intake, daily training, height, weight, age, etc. ALL into consideration) and got with the new program.  While I didn't jump in head first, I did get my toes wet so to speak.  Obviously, I was still cautious of the whole pop tart movement but I did finally work up the courage to start incorporating some foods that I hadn't eaten in about 4 months.  I think one of my first "treats" was those yummy apple cinnamon rice cakes and some cereal… again, something is really wrong when you consider these items off limits in your "diet".  That's just crazy.  What was I thinking.  Live and learn right?
Over the course of the following few weeks, I could not believe what was happening to my body, my training, and most importantly my overall mental state.  Not only was I getting leaner & tighter with each passing day, I was eating a ton more food, had energy upon energy to train, hitting PR's,  I was also incorporating foods I NEVER thought I would eat again AND not feeling the slightest bit of guilt about it.  It was a hard process to trust the first couple of weeks but I stuck through it and I found myself looking at some of my meals just smiling (or in some cases laughing) at how crazy it was that I was able to eat like that and still reach goals.  At week 6 into tracking my macros, I was up to over 2100 calories with over 245 grams of carbs and get this…. I LOST weight!  While that has never been a goal of mine because I didn't have technical weight to lose (always wanted to just lose the body fat and gain muscle), I couldn't help but laugh.  More food, more energy, tighter stomach AND I'm eating pop tarts now?  Crazy.  Simply crazy I tell you.  Even my husband and kids look at some of the things I eat and think "Yeah, thats not very healthy.  You sure about that?"  YES, I am.  Watch me eat it all myself and enjoy every bite!
Before you go making those judgements about my switch or the whole pop tart movement in general (I know you will because I did too initially remember?)… at least 95% of my daily intake/meals are SUPER nutrient dense.  I hit all of macros & fiber every day, I'm normally over in vitamins and minerals and I still eat a lot of broccoli, asparagus, brown rice, sweet potatoes, spinach, and oatmeal.  The difference now though, is that you will now see me out with my family eating a hamburger & french fries, eating birthday cake at a family event, having a pop tart every now and then, enjoying a good old hot dog at my son's football game, and NOT feeling the slightest bit of guilt about it.  I plan for these things and typically have my "treat foods" calculated into my day and eat my healthier meals around them.  It was hard to wrap my brain around the concept, but really & truly… if it fits within your macros, you can eat it and still reach goals.
Here is a little iphone snap shot sequence of my mid section the past 3 weeks.  First picture, I was eating 1700 calories and approximately 175 grams carbs.  Second picture, I was eating around 1900 calories and 205 grams carbs.  And third picture is from this morning eating over 2100 calories and nearly 250 grams carbs.  I  know it may be a little hard to tell from the picture, but I lost 2 pounds between picture two and three.  Hello metabolic capacity!!!!  I even had to cut my cardio sessions from 2-3 times per week to ONE 20 minute session simply because I saw my muscle mass going down… muscles are important to me and I worked too hard thus far to lose them, even if it means sacrificing my tummy!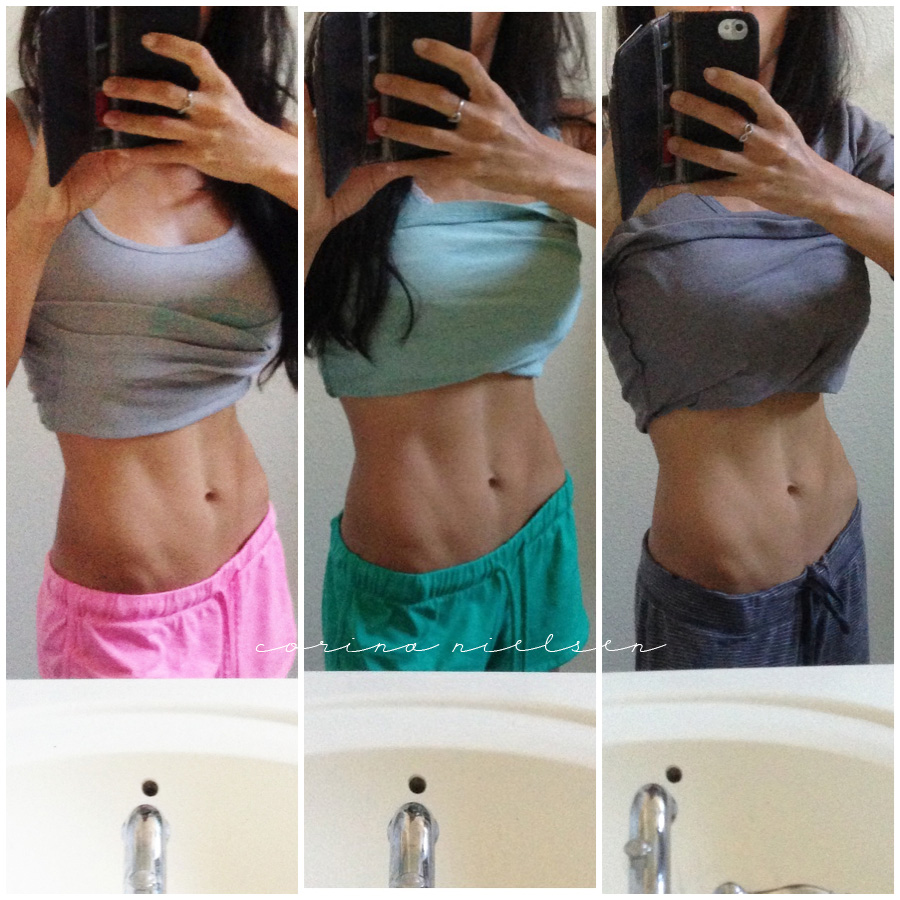 So back to my original post now that you have the history behind my lifestyle and how it came to be!  If you are interested in starting IIFYM or even just tracking your macros (filling with whatever you choose: clean or unclean foods), please see my FAQ in the menu for some suggestions on how to get started.  I offer a list of people I trust to give healthy advice and break downs.  Or if you choose to do them yourself and have them figured out, here is an outline on how I set up my tracking on MyFitnessPal.
Let's get started:
set up your account at 

MyFitnessPal

 on your desktop computer.  You will be able to download the app as well on your mobile device but to set up your actual macro spit, you need to do it on a regular computer.
once you have your account set up, go to your main page and click the "GOALS" button in the 2nd row down from the top

scroll down a bit and click "CHANGE GOALS" and then "CUSTOM"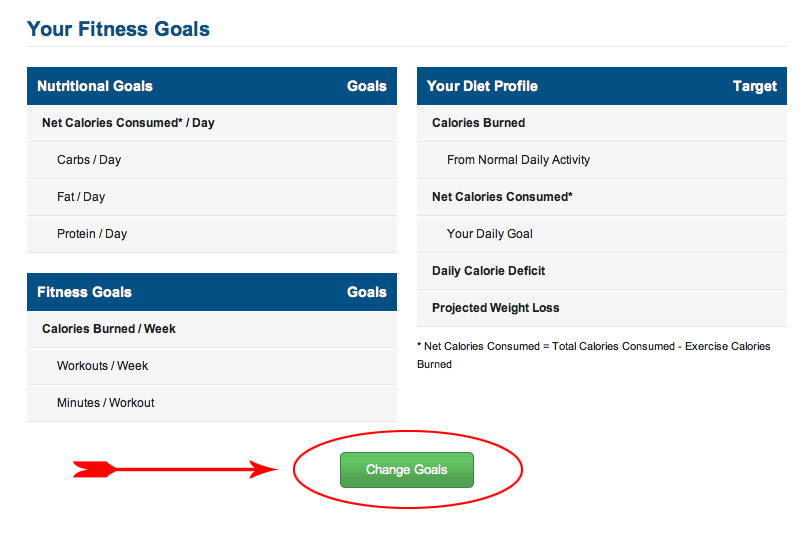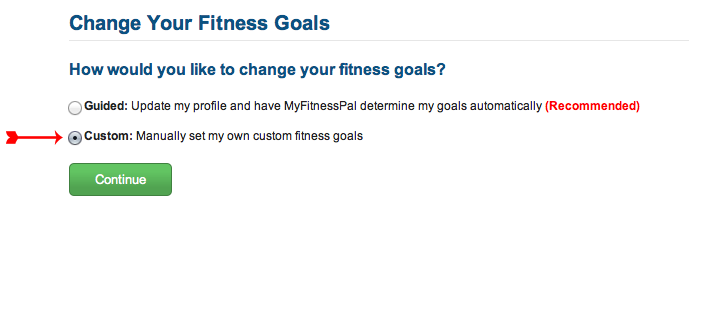 Enter your daily caloric intake and the macro split you have been given OR generated for yourself.  These 4 items (calories, carbs, protein, and fat) are the only things I touch and most of the time, I actually leave my calories at zero then just make sure to hit the goal for that particular day.  If you hit your macros, you will hit your calories if that makes sense.
Click "CHANGE GOALS" and my fitnesspal will automatically sync to your mobile when you download the app and log in.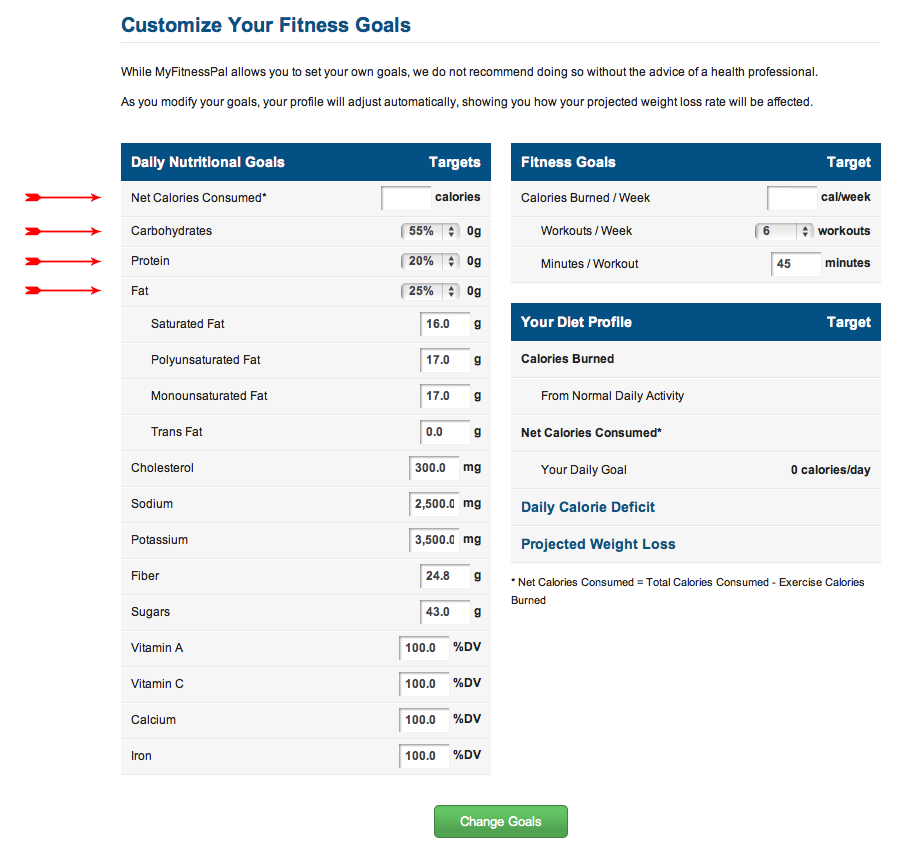 In some cases, your macro split may be super customized like mine where it's more beneficial to have the actual grams needed.  For example, one day my carb intake might be 57.5% but using the regular myfitnesspal settings I would need to pick 55% or 60%.  For the first couple of weeks, I rounded my numbers but then found this nifty little script that would let me get my split dead on target.  I know a lot of people I follow on Instagram switched away from MFP since the %'s weren't specific enough, so adding this enhancement should take care of that issue for you.
Follow the instructions on that page and then once you log into myfitnesspal on your desktop you will automatically see the "enhancements" in your menu bar.  Once you have the script installed and log into myfitnesspal, you will be able to change the % or use the actual g (grams) in your split.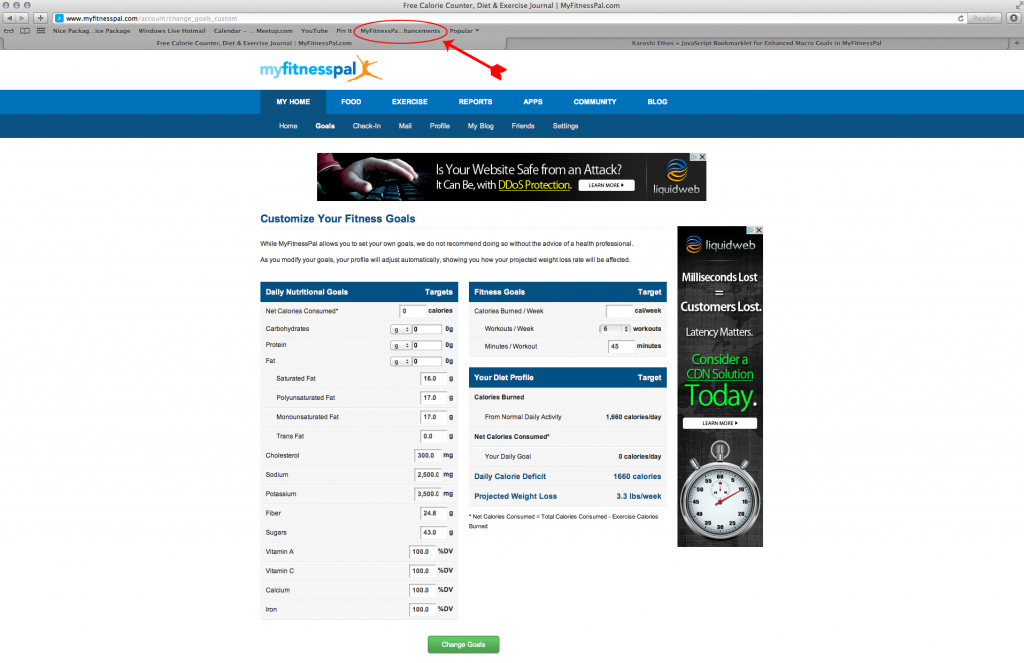 Once you have your macros set in MFP on your desktop, they will now be visible on your handheld device/mobile phone.  Log in and on your main screen click "DAILY" and then the little PIE CHART in the caloric breakdown section.  The set of numbers to the right represent your targets for the day and the numbers on the left are the actual numbers you have taken in.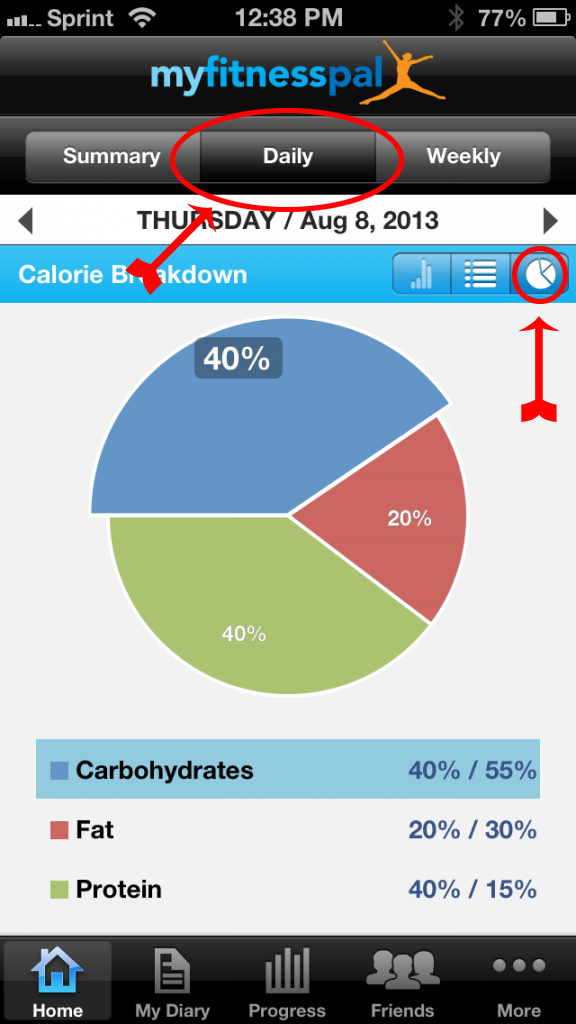 Now let's take a look at how you get tracking and logging. From your main page, click "MY DIARY" at the bottom of your screen then "ADD" in the top right corner.  You will be able to pick whatever meal you need to (you can rename these in MFP on your desktop of you like).  I typically have 3 larger sized meals and then 3 smaller-ish ones throughout the day.  I don't time them anymore.  I don't eat every 2 hours on a schedule.  I eat when I am hungry.  I "graze" during the day.  The beauty of learning to rid your mind of all those myths we have been taught for all these years is a wonderful thing.  Trust the process….
OK, back to tracking.
This is how my app looks when I'm ready to log for the day.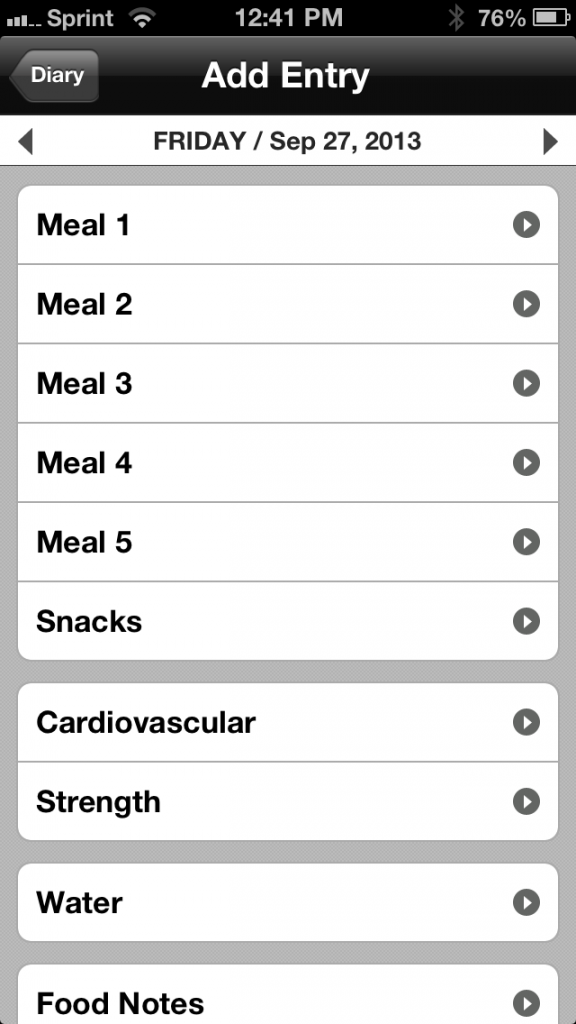 And finally, this is typically how I go about tracking my meals and the thought process involved.
*  If it's a normal training day (no special family events, kids football games, parties, etc. where I would partake in some "fun" food), I usually always log in my dessert first (Meal 5 for me).  Gotta get those extra important carbs & fat logged first so I am assured ZERO deprivation on my journey and ALWAYS have something extra special to look forward to each day.  My dessert, eaten around 10pm is usually around 350-500 calories.  Carbs after dark never tasted so good.
*  If we do have something special going on that day, I would log whatever I might be having at the event like a hot dog, hamburger, cake, etc.  Or if I know the family is going out to dinner, I would try and figure out what I might be having at that particular restaurant.  These meals normally end up taking up a lot of my fat and/or carbs for the day (that's typically just how it goes) so I know the rest of my meals will most likely be packed with protein.
*  Next, I would put in my supplements which normally end up accounting for a small percentage of my fat for the day (fish oil, evening primrose oil, and flax oil) and also my multi vitamins.  These I just log in "snacks".
*  Breakfast.  Aside from dessert or a meal out with my family, this is the only other meal I don't really "restrict" on.  I always have a ton of carbs and protein because I feel like I need that fuel and energy to get my day started off right.  A typical breakfast for me would include anywhere from 400-600 calories and again, I just eat whatever I might be craving.  Most of the time its a bowl of egg white oatmeal with chia seeds, hemp hearts, fruit, peanut butter, and granola but I may want a bagel, eggs, and bacon or French Toast.  Doesn't matter, as long as I eat a big, healthy breakfast.
* Post workout meal.  Since my days are normally pretty full with work, kids, and a husband who has an extremely odd schedule, I like having my post workout meal prepped at the beginning of each week.  On Sunday's when my husband and I prep his meals for the week for work, I normally put together 4-5 of the same meal that I use for post workout.  As soon as I'm done at the gym, I can come home, grab it from the refrigerator, pop it in the microwave, grab some fruit, and eat within 5 minutes of getting in the door.  Huge time saver.  This meal would typically include brown rice or sweet potatoes, chicken, and a vegetable.  Simple and easy to log.  In MFP, you can even just copy meals from day to day or even meal to meal so once I log for Monday, I can copy this meal for the rest of the week.
* The next few meals/snacks get a little trickier to figure out.  After these previous items are logged for the day, I take a look at my pie chart and see where I am at.  I normally need to fill in somewhere, take less of something the next meal, or more of something else at some point.  This is where I may need to get creative with my snacks/smaller meals.  Sometimes the next meal ends up looking like a big messy pile of food (yet still very delicious) but something like coconut milk yogurt mixed with some protein powder, a sprinkle of high fiber cereal, nuts, fruit, peanut butter, and whatever else I can find to help hit the macros.  I'm almost always guaranteed a couple of these bowls each week and I love them.
*  Last would be fillers to really hit my numbers properly.  I might need 1/4 cup of nuts or 1/2 of an avocado for some last fat.  A piece of Ezekiel bread with some fruit/jam.  A rice cake with some peanut butter.  A banana or other small piece of fruit.  It changes daily and NO day is EVER the same.
And my last little MFP tip was taught to me by my 14 year old son.  I have no idea how he even knew about this since he obviously doesn't use the app for anything, but one day when I was trying to search for a food to log and couldn't find it, he told me to use the bar scanner.  Huh?  What in the world are you talking about?  Grabbed my phone, clicked the bar code button on the app, and BOOM found my Arctic Ice Cream like a champ.  It looks like this….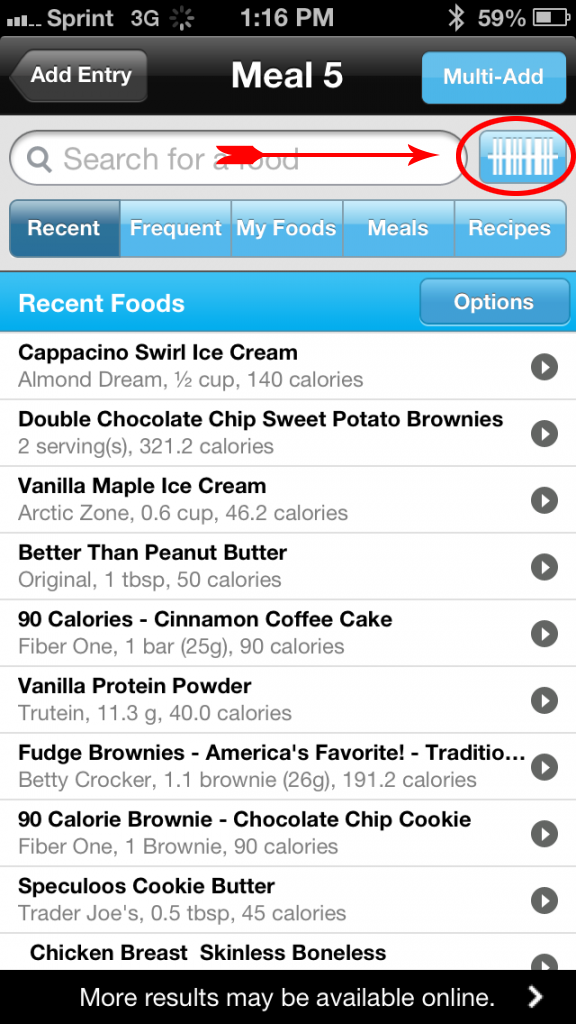 Then you simply take a snap shot in the app of the item's bar code and all of the nutritional information and servings will pop up.  Genius.  I actually use this feature quite often now since it's SO much easier to locate new food items and it's guaranteed to be accurate for my macros!  Love it.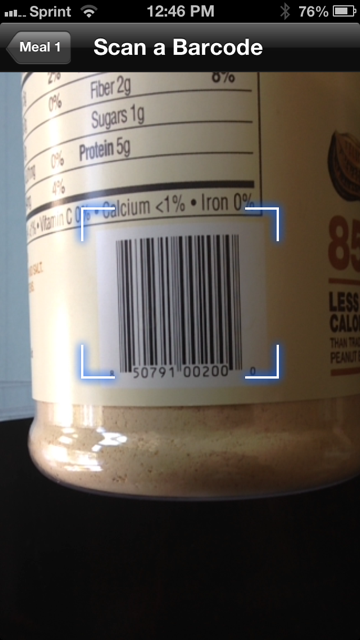 So, does tracking your calories and macros take up a lot of time and energy?  Yes and no.  I won't lie.  The first couple of weeks there is a pretty big adjustment getting used to it all.  I had never been a calorie counter and hated to even think about the stress of all those numbers, feeling "restricted" or eating according to any kind of rigid plan. Living that way just sets people up for failure in the long run. Counting had never been my style but then again, neither was my commitment to getting fit and seeing my abs (one of my main goals during this whole process).  I knew clean eating wasn't going to work for me anymore (especially after gaining 5 pounds during those first few months) and honestly, I really had nothing to lose.  I wasn't on a timeline for anything so I thought "Why the hell not?"  It can't hurt to just give it a try, even if it was only for a couple of weeks to see if anything would change.  After the first few days of logging, it does get much much easier.  I can probably log my whole day within a matter of 2-3 minutes now.  So, no, it is not difficult to do once you get the hang of it.  And for me, the counting and tracking has 100% been worth it.
And as it turns out, tracking my macros for the past 5 weeks or so has 100% boosted my metabolism, fixed any damage that may have been done during the first few months of my journey, and set a truly STRONG foundation for the rest of it.  Now I have a much better idea of how much I should be eating every day, the correct portion sizes for my meals, and how to properly balance my intake. My metabolism was doing so well after 4 weeks of counting that I was able to go over maintenance level in my caloric intake and LOSE weight.  Again, that wasn't my goal but it did happen.  That just shows me that my body was literally burning through everything I was putting inside of it and could tolerate more than I thought.  It's an amazing feeling.  Science rocks.
Will I continue to count calories and hit macros every day for the rest of my life?  Of course NOT.  My plan is to be done with numbers, tracking, logging, and planning within the next month or so.  "Intuitive Eating" is on the horizon for me.  For now, I'm totally fine with my lifestyle and as long as I can keep pushing a ton of food (both "clean" and "unclean"), train hard every day, and reach fitness goals I'm A-OK!  This is obviously no way to live long term, but for someone like me who is totally OCD, plans everything, and writes list's every day, tracking is right up my alley 🙂
Have you been dieting and feeling like a yo-yo, eating under 1200 calories a day, doing endless hours of cardio and STILL not losing weight?  Watch the videos I posted at the beginning of this post.  They may change your life.  Find a trainer who can calculate HEALTHY macros for you and give it a try.  You have nothing to lose and SO much more than you think to gain!  If you only give it a few weeks, it will be worth it.  At the very least, you will learn that you do not have to fear food (or carbs) and that most of all that crap people talk about when it comes to losing weight are entirely false.  I assure you that my results and progress are not isolated.  There are thousands of women (and men) following the same "program" and amazing things are happening to them.  It's worth the trouble, I promise.
So what in the world are you waiting for????
**  As with everything contained in this blog, please note that I am NOT a trainer, nutritionist, or licensed in anything regarding health/fitness.  I am a 35 year old working mommy getting in the best shape of my life and the information I share are ALL based on my own beliefs, research, and findings.  Always make educated decisions regarding your health and before beginning any program, please consult your physician.  I don't claim to be an expert in anything but I do love sharing my journey  **