Tis the season for pumpkin everything right?
I always know that when I start seeing pumpkin this and pumpkin that at the market and specialty stores, Fall is just around the corner.  I can't help but get excited thinking about all that fabulous traditional holiday food one always consumes around this time.  Fall is definitely my favorite season and as soon as the weather starts to cool down from those Summer months, holiday baking immediately starts.  When I made my pumpkin spice cookies a couple of weeks ago, I had bought a few cans of pumpkin and knew immediately I would eventually be attempting a pumpkin bar (or two) very soon.  Normally, I would use a really unhealthy recipe that calls for a couple of sticks of butter and a ton of sugar, but I figured I might as well attempt to make a "cleaner" version this year that I wouldn't feel guilty eating (especially since nobody else in my house likes pumpkin so I normally end up eating the WHOLE batch myself).  I think I did pretty good with these and with a little bit of tweaking, I ended up with a pretty solid pumpkin bar if I do say so myself…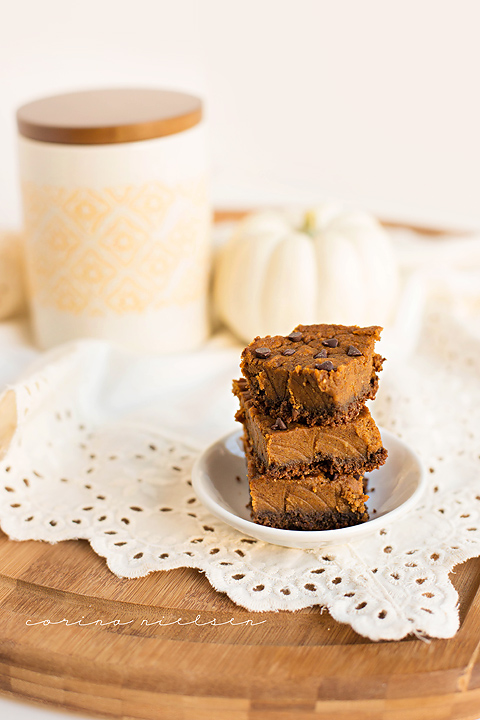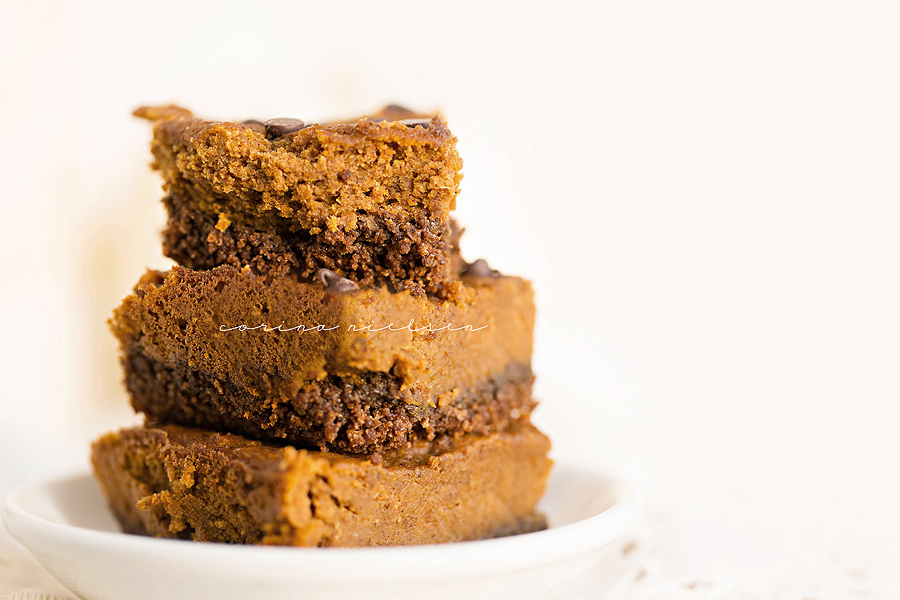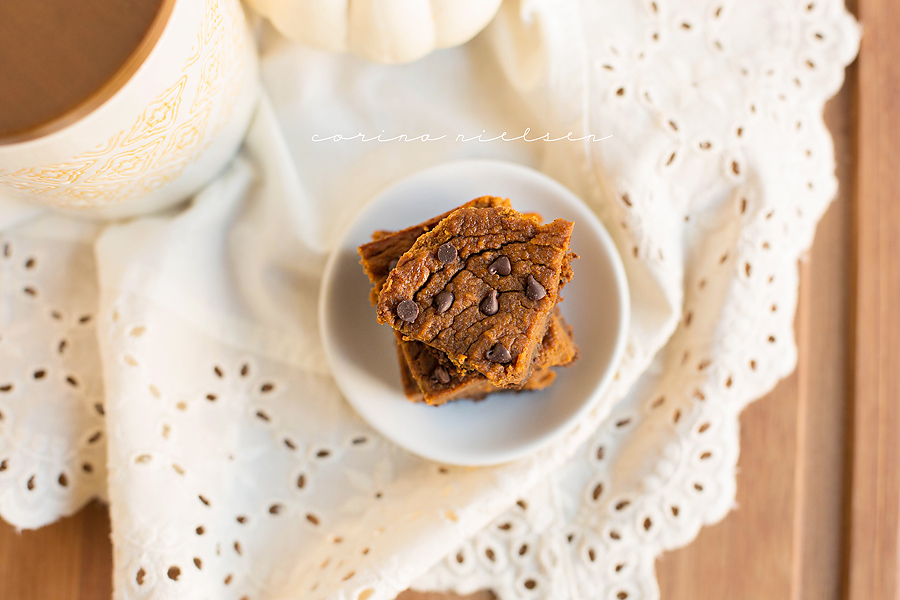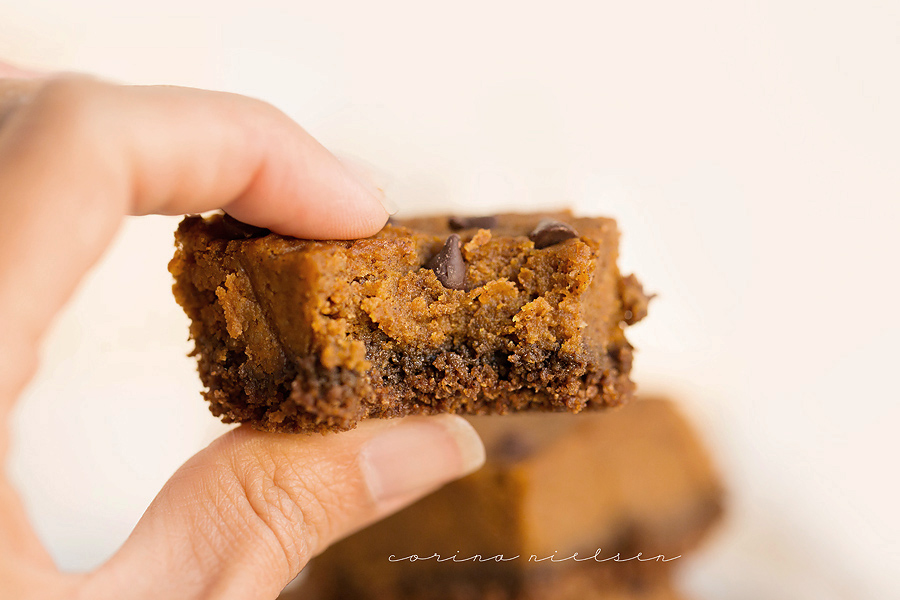 Chocolate Chip Pumpkin Bars

Print recipe
| | |
| --- | --- |
| Serves | 12 |
| Prep time | 15 minutes |
| Cook time | 40 minutes |
| Total time | 55 minutes |
| Meal type | Dessert |
Ingredients
1 can no salt added garbanzo beans (** shells removed and beans rinsed **)
3/4 cups canned pumpkin
2 Large whole eggs
4 heaped tablespoons Trader Joe's Pumpkin Butter
1 teaspoon vanilla extract
40 drops vanilla cream stevia
3 heaped teaspoons ground cinnamon
1/4 teaspoon pumpkin pie spice
1/4 teaspoon baking soda
pinch salt
1/2 cup dark cacao chips or mini chocolate chips
3 cups Fiber One chocolate cereal (** CRUST **)
1 heaped tablespoon dark cacao powder (** CRUST **)
2 tablespoons coconut oil (** CRUST **)
1/4 cup maple syrup (** CRUST **)
Directions
Step 1
Preheat oven to 350° and grease an 8x8 pan with non stick spray.
Step 2
Place all crust ingredients into a large food processor (Fiber One cereal, coconut oil, maple syrup, and cacao powder). Pulse until well combined.
Step 3
Press mixture into the bottom a slightly up the sides of the pan and set aside.
Step 4
Add garbanzo beans, pumpkin, eggs, pumpkin butter, vanilla, baking soda, salt, and spices to a large food processor. Blend until smooth.
Step 5
Remove blade carefully. You can either add all of the chocolate chips at this time by stirring them in now OR I chose to bake the bars without the chocolate chips and then pressed them on top once cooled OR you can add 1/4 cup to the batter, bake, and then press 1/4 cup into the top once cooled.
Step 6
Pour batter on top of crust and bake for 35-40 minutes until edges come slightly away from the pan and are golden brown.
Note
NUTRITIONAL INFORMATION (per bar):  calories- 130, protein- 3, carbs- 24, fat-4