'So perfectly decadent, sweet and rich… this healthy gluten free cake batter bread pudding is loaded with protein and will have you begging for more servings!'
The lines between dessert and breakfast have officially been crossed friends.  After getting this grand idea to mix "cake batter" with bread pudding, I'm asking my brain why it took so long to carry this recipe out.  It's ridiculously easy to make, only requires a handful of ingredients, and will have EVERYONE trying it asking for MORE.  Oh and did I mention it was "cake batter" flavored?  That alone should be adequate information to make this immediately!
Gluten free bread cubed and tossed in a greased baking dish…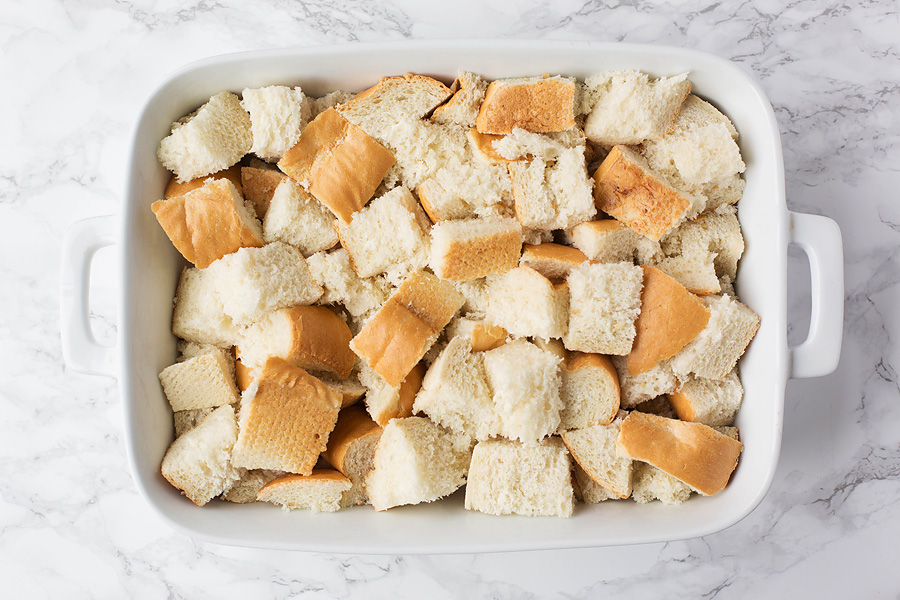 Make batter… in a blender because its easy and gets everything perfectly smooth…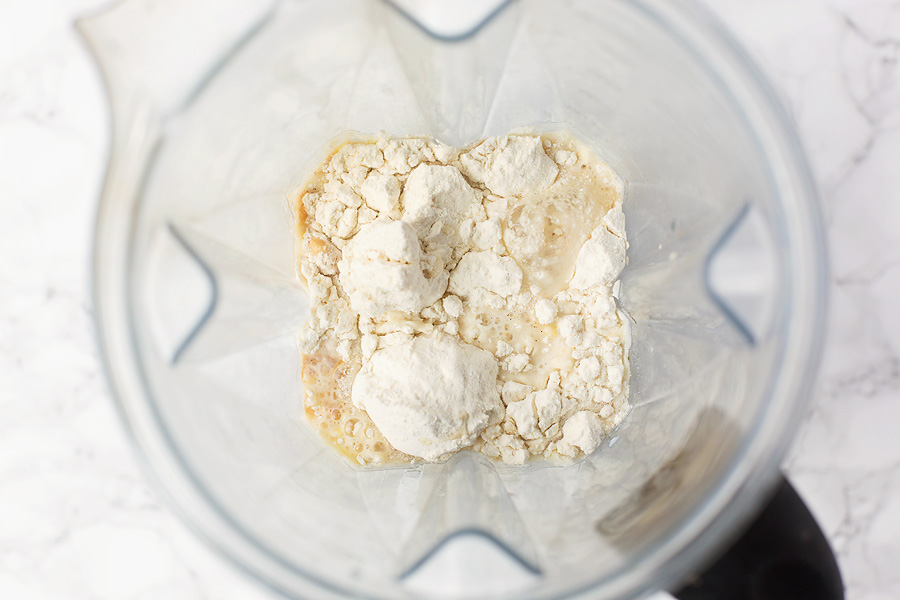 Stir in sprinkles… lots of them…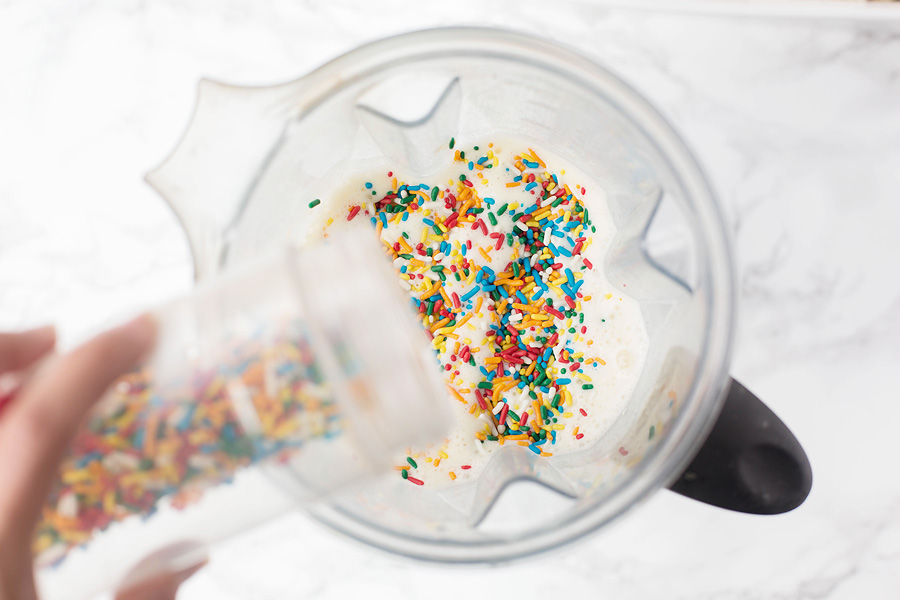 Pour batter over bread and stir around to submerge each piece…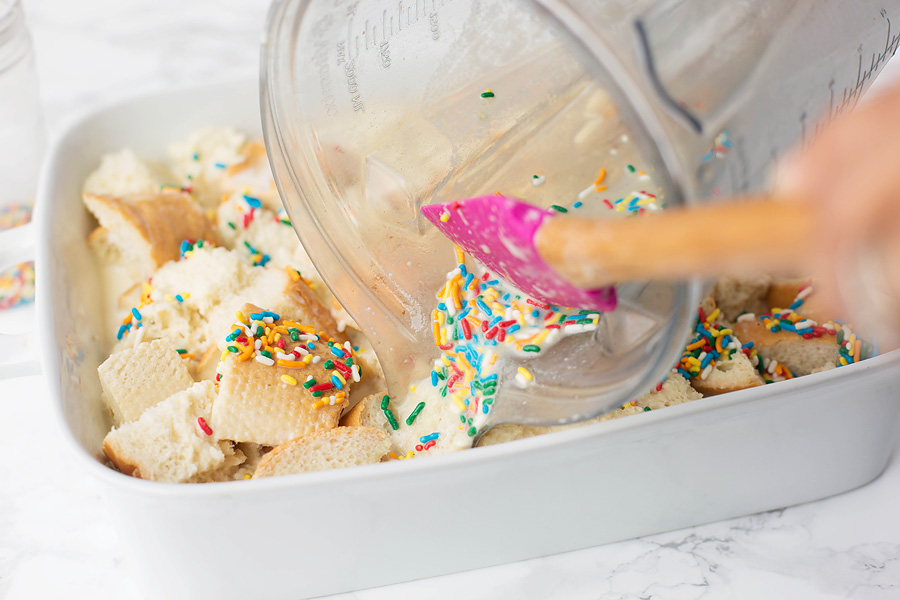 You may or may not add more sprinkles if you like… I like…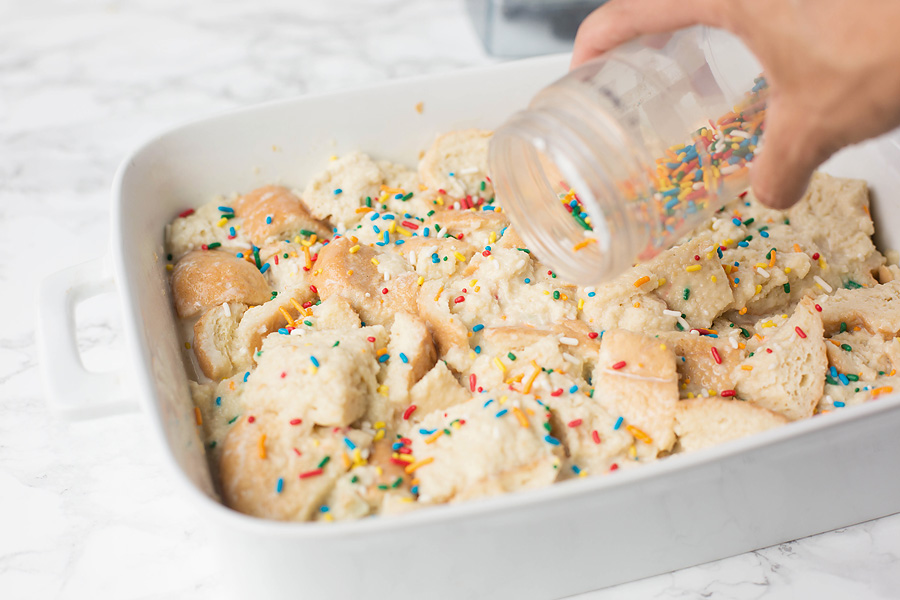 In the oven and wait for it….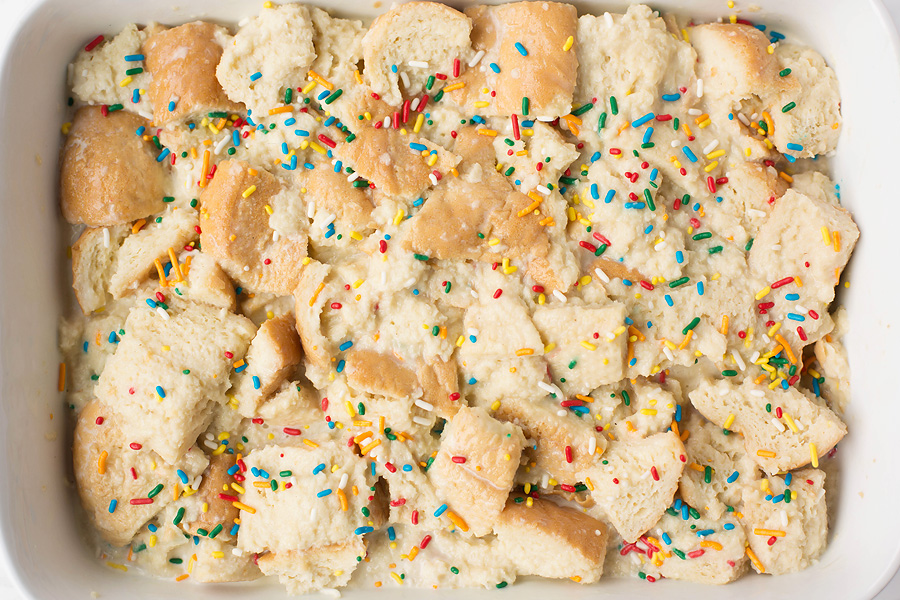 Wait for it, wait for it….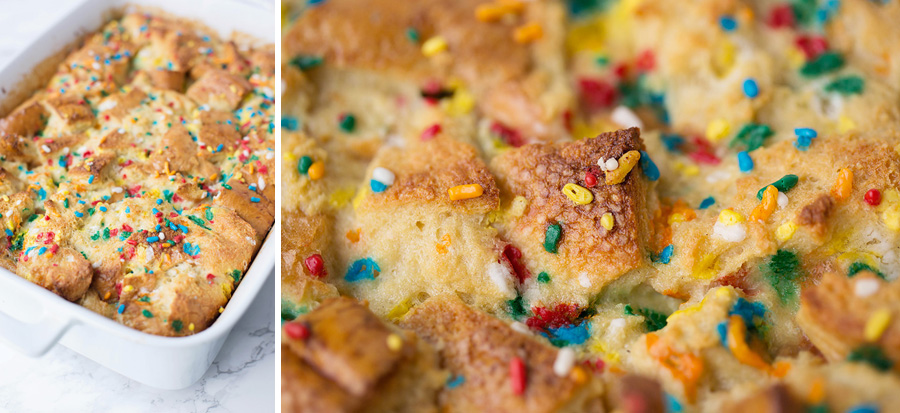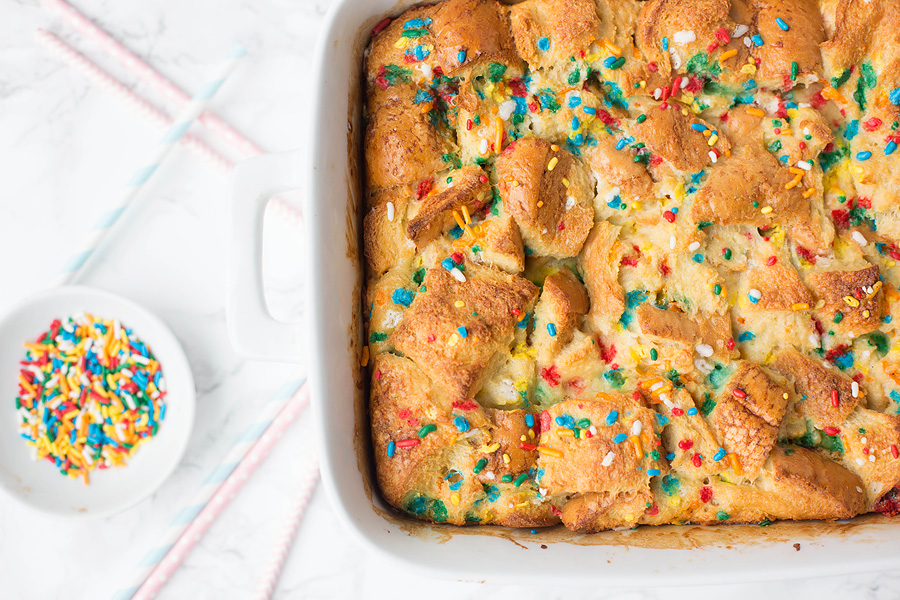 Uh yeah, pretty much as close to perfection as anything I've seen!  If given the choice between a slice of cake or this bread pudding, I would honest to God pick this… every. single. time.  Tops and edges are SO crisp and crusty, insides are soft and FULL of flavor, and sprinkles… nuff said.  I know I had you at sprinkles awhile ago!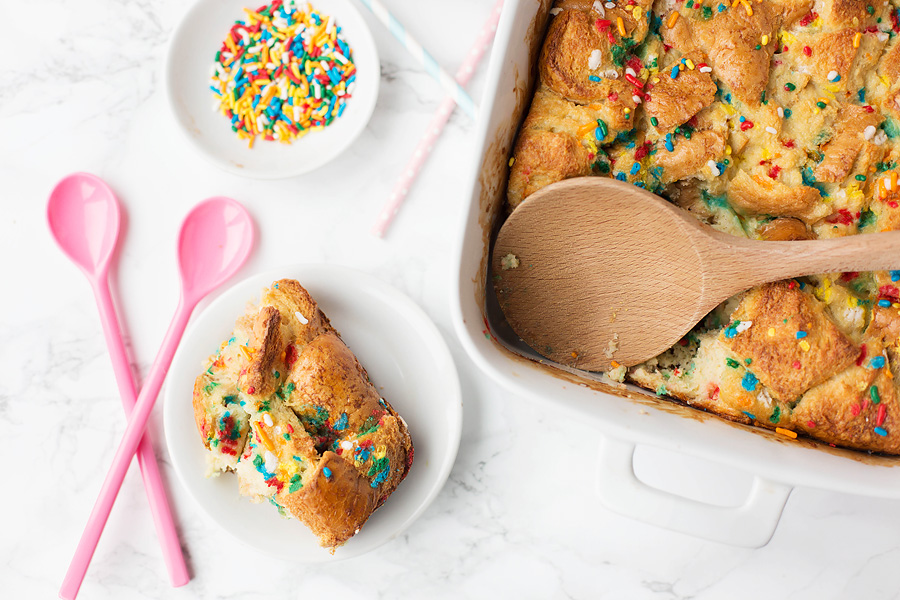 Portion, lick the spoon, take a bite, and then take another bite just to make you like it of course.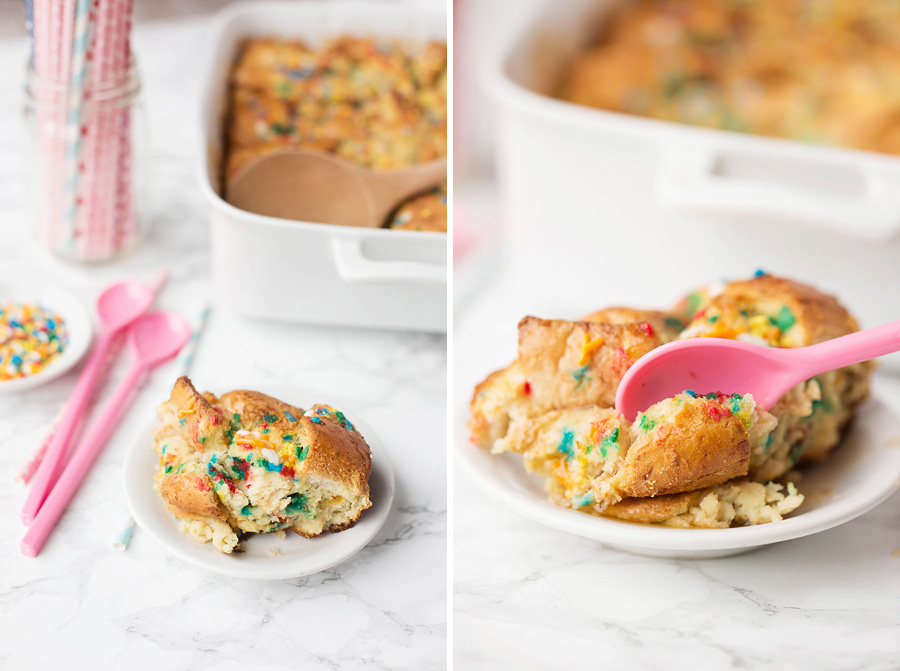 And THEN you can add some syrup and really go to town!  Not absolutely necessary, but since its breakfast… throw some on there just for good measure.  Brings a level 10 dish to an easy 15-20 morning, noon, or night!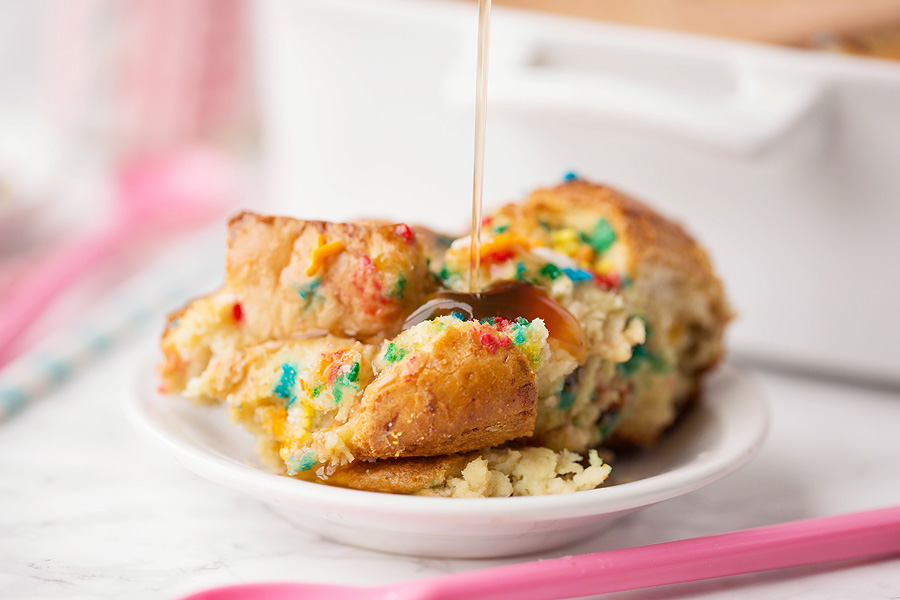 Cake Batter Protein Bread Pudding

Print recipe
| | |
| --- | --- |
| Serves | 12 |
| Prep time | 5 minutes |
| Cook time | 45 minutes |
| Total time | 50 minutes |
Ingredients
1 loaf gluten free bread
3 Large whole eggs
1/2 cup Cake Batter MuscleEgg egg whites
1 1/2 teaspoon vanilla extract
1 teaspoon butter extract
2 cups milk of choice
2 scoops PEScience Gourmet Vanilla protein
4 tablespoons sprinkles
Directions
Step 1
Preheat oven to 350 degrees and coat a 9x13 baking dish with non stick spray.
Step 2
Cut bread into 1" pieces and place into baking dish.
Step 3
In a blender or large bowl, beat eggs, egg whites, extracts, and protein powder. Stir in sprinkles.
Step 4
Pour egg mixture over bread. Stir to ensure everything is coated and evenly distributed.
Step 5
Bake for 40-45 minutes until edges are golden brown and center is set.
Nutrition Facts
Serving Size 1
Servings Per Container 12
---
Amount Per Serving
Calories 130
Calories from Fat 27
% Daily Value*
Total Carbohydrate 17g
6%
---
*Percent Daily Values are based on a 2,000 calorie diet. Your daily values may be higher or lower depending on your calorie needs.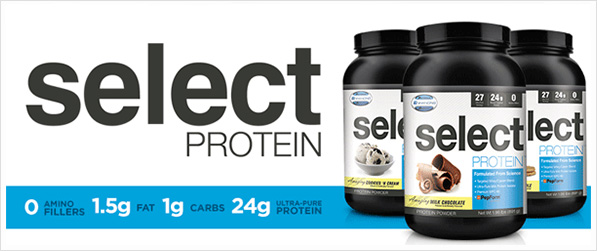 30% OFF PESCIENCE PROTEIN & ALL OTHER PRODUCTS USING COUPON CODE 'CORINA' AT CHECKOUT WWW.PESCIENCE.COM