This past weekend, my husband and I took a much needed 1:1 trip up to Northern California together.  No kids.  No dog.  No work.  Just us spending some quality time with one another.  We try to do something like this at least once a year and figured with the holidays right around the corner, we would squeeze the trip in before it gets really hectic with the hustle and bustle that surround the season.  Earlier this year, when my family took our annual trip to Hawaii, I had SO much anxiety about how I was going to stay on track with what I was going to eat (I was 100% clean eating at that time).  I literally almost packed my juicer and Vitamix to bring with me… only reason I didn't was because my bag was already full and I wasn't about to spend another $35 on the airline luggage charge.  Anyways, the ENTIRE trip I really did stay on track but it was at the expense of my family.  Instead of spending all of my time with them, I was literally in the kitchen at the townhouse 1/4 of the time preparing my meals for the following day, cooking my meals that I had to do separate from everyone else's, and avoiding eating out because of course that would not be "clean eats".  At the time, I felt like I was doing the right thing for myself and was proud I stayed on track but really, in retrospect, I would have much rather ENJOYED that 1/4 amount of time with my family. I felt good, but stressed out and didn't enjoy my trip & food like I should have.  Zero moderation to that lifestyle.
I know a lot of people who are in contest prep mode (or even my "clean eater" friends) often stress out about vacations and staying on track.  They do a ton of planning, food prep, packing, and stressing out over every little detail PRIOR to them even leaving.  While this certainly can help you in terms of the ever popular "Fail to Plan.  Plan to Fail" mentality, I personally don't really want to spend that time before or during my trip to focus on my food intake.  If I was single and had no kids, this story would probably be entirely different because I would have more time on my hands for "myself" and prepping everything.  And don't get me wrong either though, staying on track in terms of eating and training are still important to me but I just rather not begin my trip with any of that stress or taking the time to plan every single detail out.  Even with my Type A personality, it just wasn't going to happen anymore.
This trip with my husband was going to be completely different.  It was going to be solely about him & I.  Yes, I would prepare some meals/food at our hotel.  Yes, we would be eating out and enjoying fun food.  Yes, we would still continue to train and work out.  And yes, I would still stay on track (or at least make every effort to).  SO much easier to accomplish this when you simply track & calculate your macros VS. having to eat completely "clean" 100% of the time.
So did I do any planning?  Did I pack anything to bring with me?  Did I stay on track?
Yes.  Yes.  and Yes.
First thing I did before we left was pack my absolute necessities.  These are things I use/need on a daily basis or I know would come in handy while away from home & my normal gym.  This only included: my shaker, a little protein powder, BCAA'S, Dr. Dre Beats, Gym Boss timer for cardio HIIT's, jump rope, and my supplements/vitamins.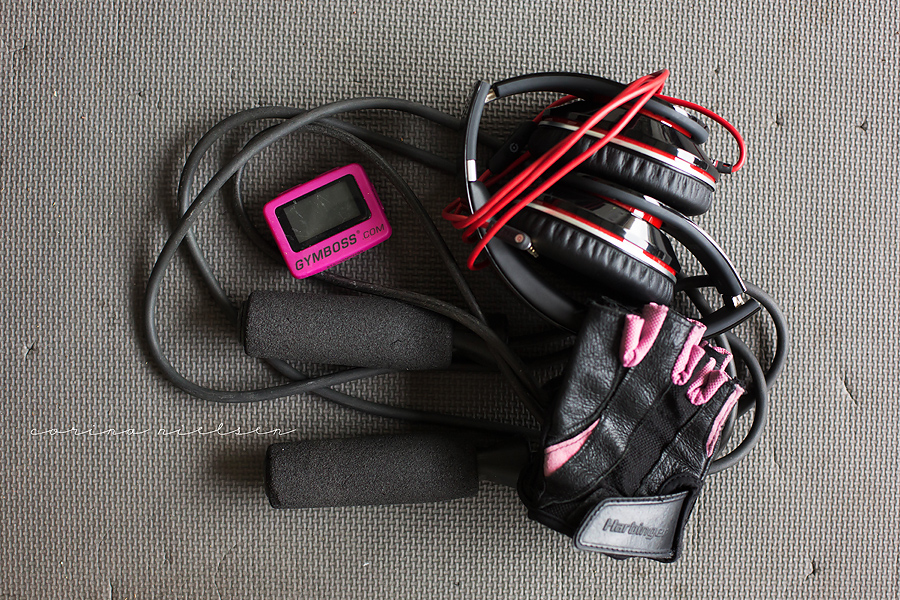 Powders I measured out and placed into baggies.  Took me all of about 2 minutes to throw these things together and pack em.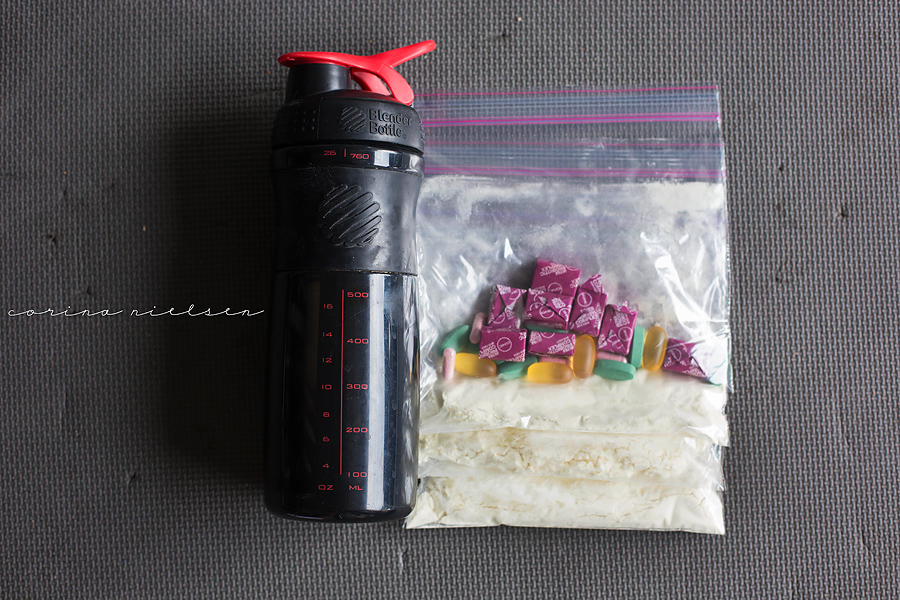 Supplements included: Green multi vitamin, fish oil, B12, Probiotics, and Evening Primrose Oil.  These are the only supplements I take daily.
Now on to food…
When traveling, I would normally take some snacks (especially for the plane ride) but #1 we didn't really have anything in the house, the plane ride was technically only supposed to be an hour long (surely I can survive and hour without eating right?), and #3 and I did not feel like taking a trip to the market before we left.  It was already so hectic with work, getting the to/from kids from school, packing, etc.  the day we left.  In retrospect though, I 100% should have been more prepared with a few things to eat, even a Quest protein bar in my purse would have been a good option. Because of the rain here in San Diego that day we departed, our plane was actually delayed and we were grounded for at least an hour and a half before we even took off.  I was SO hungry and it was already so late.  Kicking myself for not prepping something for the plane!  In the past when I ate "clean" I would always have my 6pack bag.  Both hubby and I have our own and it came everywhere with me if I was going to be away from the house for more than 5-6 hours.  Meals were prepped, stored, and carried with me…. ah the good ole planned out meal days.  I would have LOVED one of those meals or my snacks on that plane!!!!  Oh well.  Live and learn!  That will not happen again…. my fuse when hungry is far to short to play it by ear!
Anyways, at 10:30pm we finally landed!  Unfortunately, because of poor planning on my part and not having some food prepped for the airport/plane, I came in way under calories on that first travel day 🙁  Nothing I could do about it at that point though.
Since we stayed at this hotel/condo last year, we knew the grocery store was only a couple of miles away so before we even checked in, we loaded up on some food.  When traveling now, we always make it a point to find accommodations that have a kitchen.  It's an even bigger must when you have kids.  Because my husband and I eat so much, we just cannot rely on grabbing food here and there and everywhere while on the road.  It gets far too expensive too and most of the time you don't even end up eating things you really like or want to eat.  Having that kitchen is a MUST when traveling in my opinion.  Even if we did eat out a couple of times each day (as you should when on vacation), I absolutely cannot go more than a 2-3 of hours without shoving food in my face so we went ahead and bought some things for breakfast, lunch, and some in between snacks.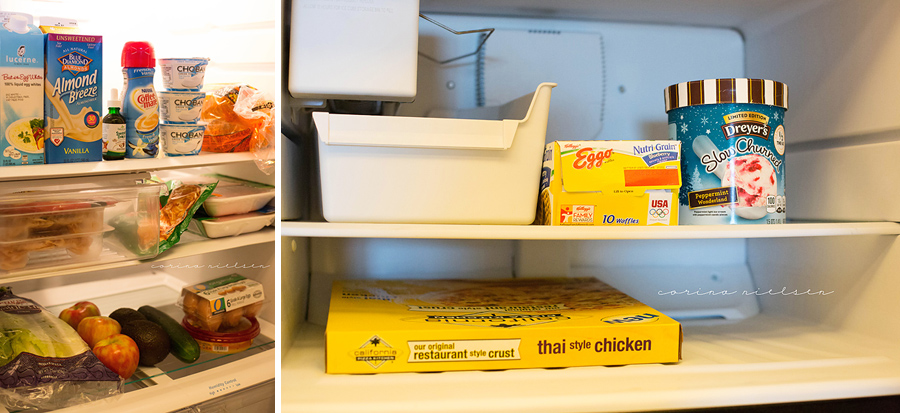 Cereals (Kashi for me, Frosted Flakes for hubby), oats (plain for me, maple/brown sugar for hubby), bread (Ezekiel & bagels for me, Buttermilk for hubby), lunch meat, a little fruit, some fun snacks (popcorn, hummus, pita's & chips), Eggo's (we literally go through a box a day at my house), eggs/egg whites, almond milk, Greek yogurt, ground turkey, turkey sausages, a few vegetables, hash browns, ice cream, stevia for my H2O intake (which I actually brought from home), and that pizza there was mine but I didn't eat it (hubby ate his the night we got in while I had a sandwich because I could NOT wait another 20 minutes)!  This was enough for both of us for 4 days, only eating out for dinner each day… $150 well spent I think!
Here is what most of my meals looked like the first few days at the hotel.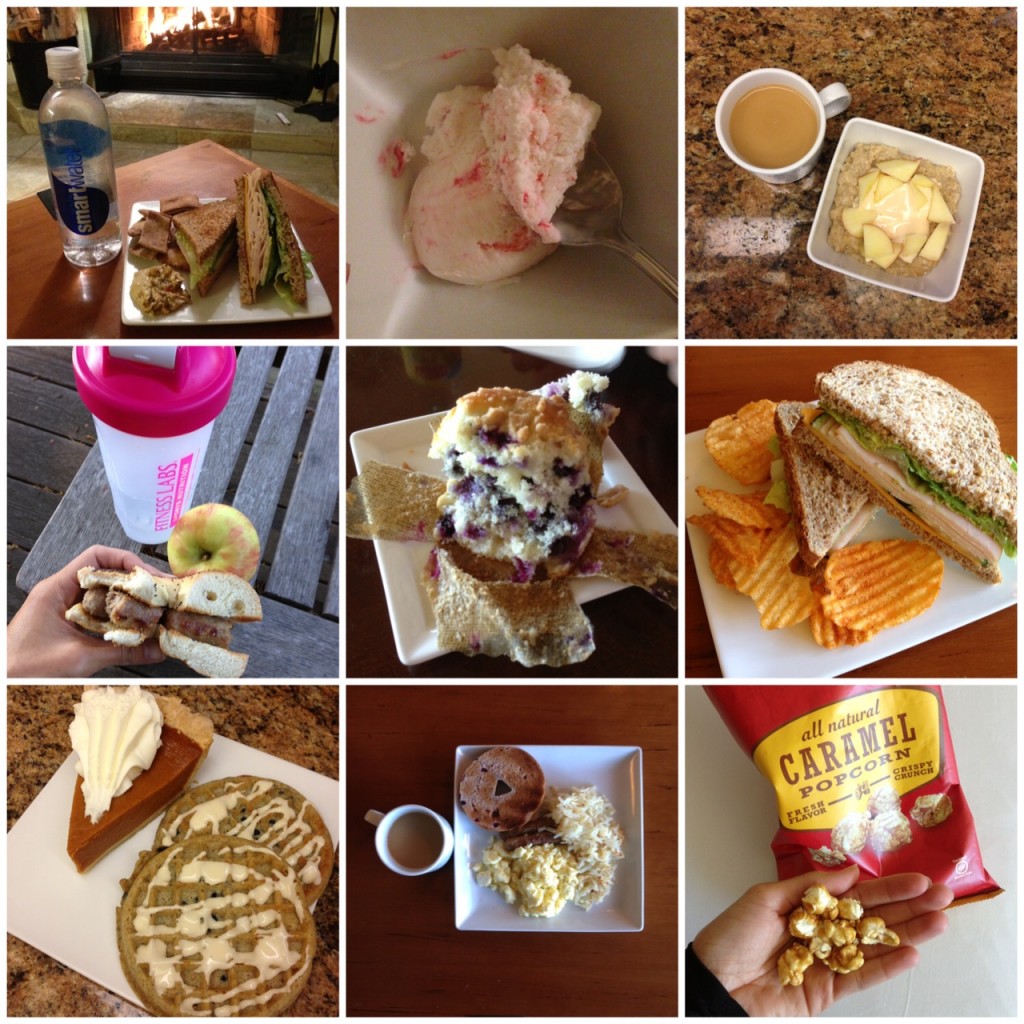 We ate out each night and I pretty much ordered & ate everything I wanted to… we had known where we were going to have dinner so I tracked those meals first at the beginning of the day and then filled in my macros around them.  Absolutely the BEST way to enjoy eating out while tracking.  Get all of that important fat and sugar out of the way first then add the nutrient dense food before and after 🙂
Unfortunately, we had to change hotels on the last night due to poor planning on my husbands part.  This was your standard hotel room with no kitchen… just a coffee maker and a small fridge.  Luckily, we only had to be here for about 18 hours total so it wasn't too bad.  I took some of the food with us like the bread, cereal, sandwich stuff, greek yogurt, snacks, fruits, and veggies so we didn't waste a whole lot.  Making my lunch that day took a little more effort though.  Had to get resourceful with no silverware and cucumbers were a must for that sandwich 🙂  Our room key came in handy huh?  Worked like a charm…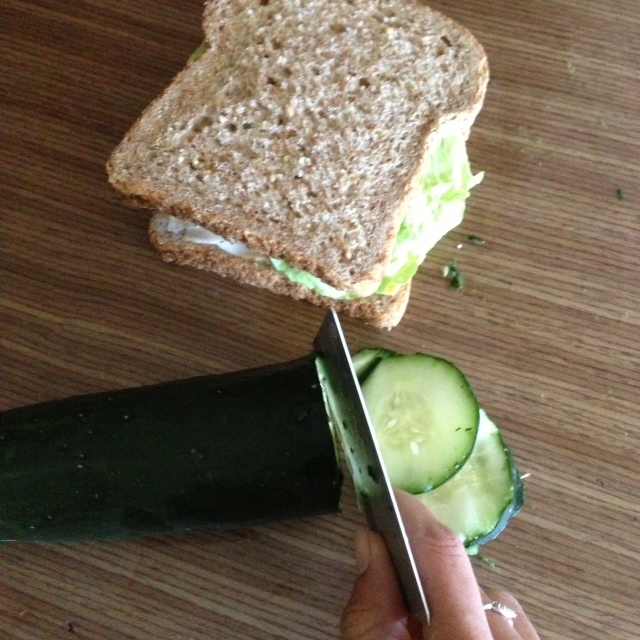 Next, I knew we would still be training when we got up there (or at least attempting it).  Both of us really do love working out together and regardless of where we are at and what we had available, we would figure something out even if it was just a little cardio, HIIT, and/or a good ab workout.  Nothing fancy at all.  Our hotel gym had dumbbells and cardio equipment and we knew there was no LA Fitness within 150 miles.  No problem though I guess… just did easy workouts and looked at our trip as our "deload" week lol.  It is what it is.  Hard to lift hard and heavy on leg day being so limited but I did what I could and still got some things in.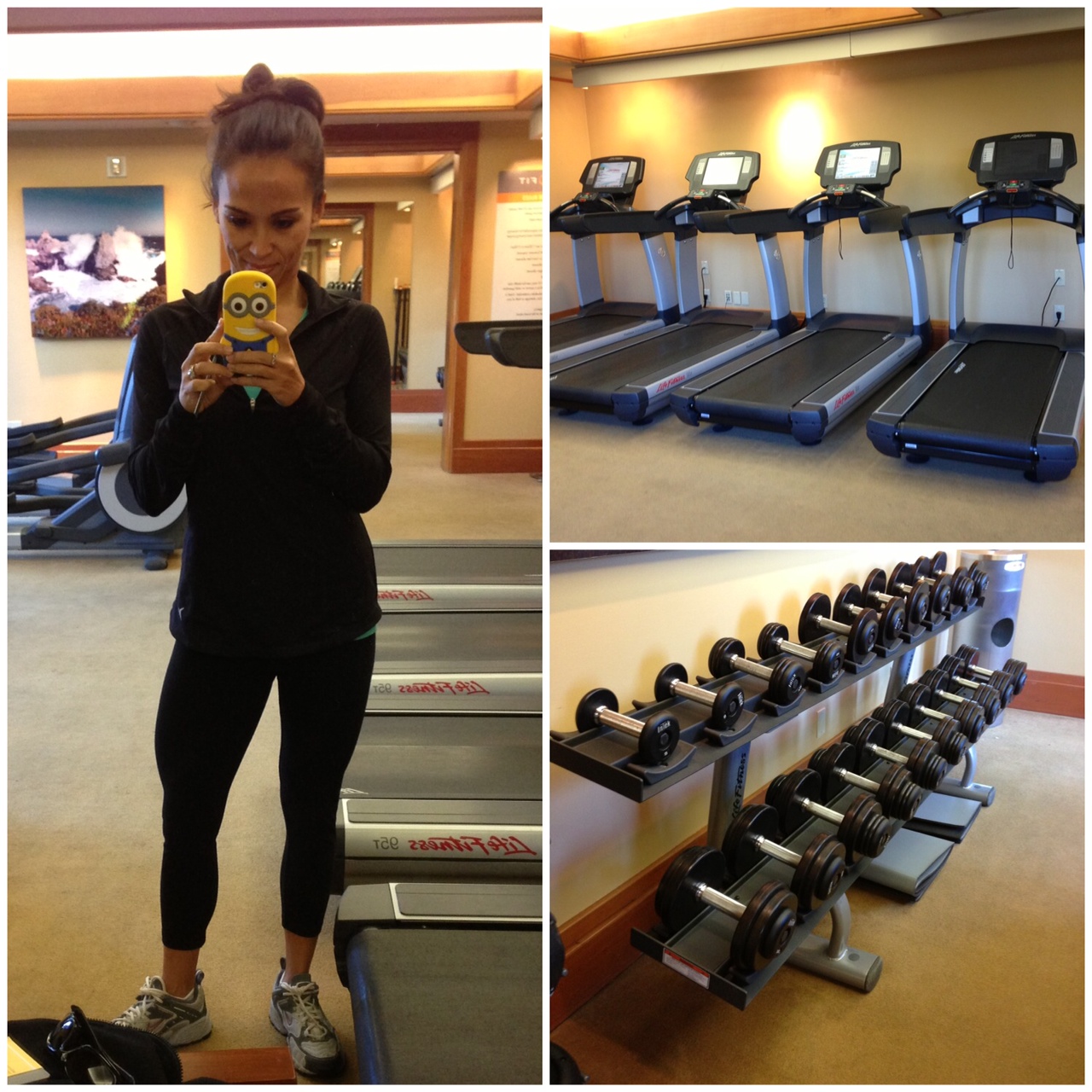 The first day I did light legs (sumo squats, high steps ups, calve raises, and side leg lifts all using dumbbells) and an interval HIIT on the treadmill for 25 minutes.  The second day I used my Gym Boss timer and did a HIIT circuit (jump side lunges, push ups, squats, jump rope) and then we also went on a 3 hour hike in the mountains and adjoining beach.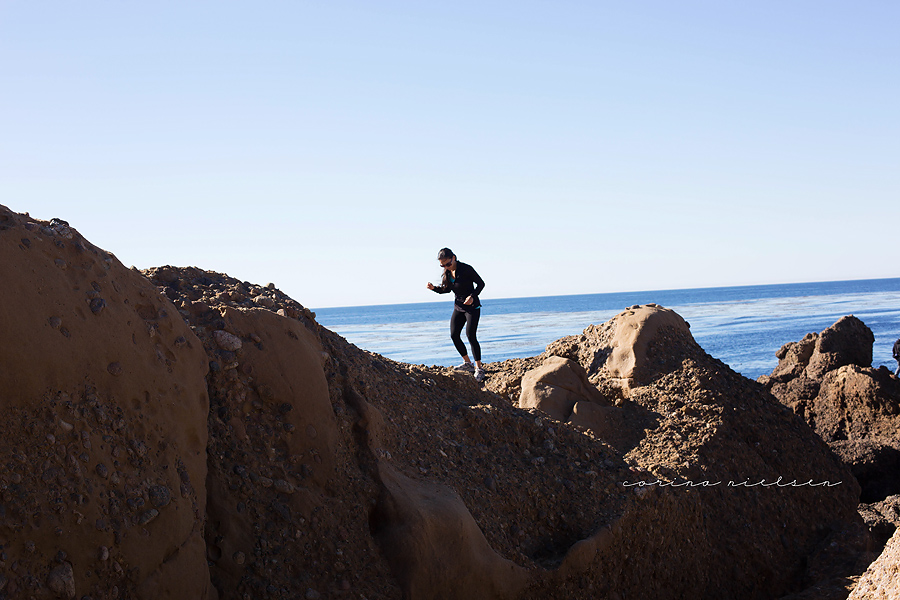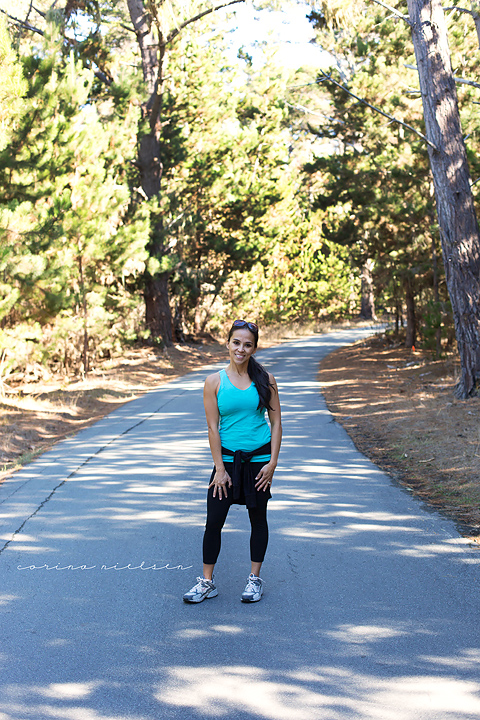 Had fun, remained active, ate exactly how I wanted to, enjoyed restaurants, and most importantly the quality time spent with my husband was never comprised by my prep OR "diet"…. all in all it was one of the best trips we have taken together without the kiddos!  I was pleased with staying on track.  I came back relaxed and happy but in all honesty, the lack of my usual heavy lifting left me feeling weak and small when I returned.  I could not wait to get back in the gym and hit it hard!!!
A few things I would change and/or will do differently for the next trip we take:
prep & pack a couple of meals to take for the departing days
find an actual gym to train/lift at (doing cardio and light weights are just NOT for us)
have accommodations with a full kitchen the ENTIRE time
That's really it though!  It was absolutely great BUT in all honesty, I am glad to be home now and back to my regularly scheduled program!!!  Not being able to really lift for a week is BRUTAL 🙁  Not only was it hard each day not feeling that pump, but I came back from the trip feeling like I lost any gains I had made (total mental thing, but I don't like it lol)!   Today is my first power leg day in almost 2 weeks and I am going to KILL IT!!!!