I will admit that when I first had this idea, I was extremely skeptical of the dish.  I have done many sweet French toast casserole's and bakes, but never attempted a savory one (I didn't even know they had a formal name like "strata/stratta").  When you think about the ingredients, it totally makes sense though… bread, eggs, meat, veggies, and cheese.  I mean really, what more could you want?  Still, I wasn't quite sure how things would turn out and to be perfectly honest with you, I 100% winged my ingredients.  I knew I wanted to make it super high in protein so using my P28 bread was a no brainer and I had a big bag of sun dried tomatoes from Costco that had been calling my name for days.  Other than that, I used what I had on hand: eggs, egg whites, sausages from Trader Joe's, asparagus, onion, fat free feta cheese, and mozzarella cheese.  With ingredients and flavors like that, I think it's pretty hard to mess things up and I was more than surprised at not only how easy this was to make but how AMAZING it tasted.  Each bite was just perfect.  Feast your eyes on this.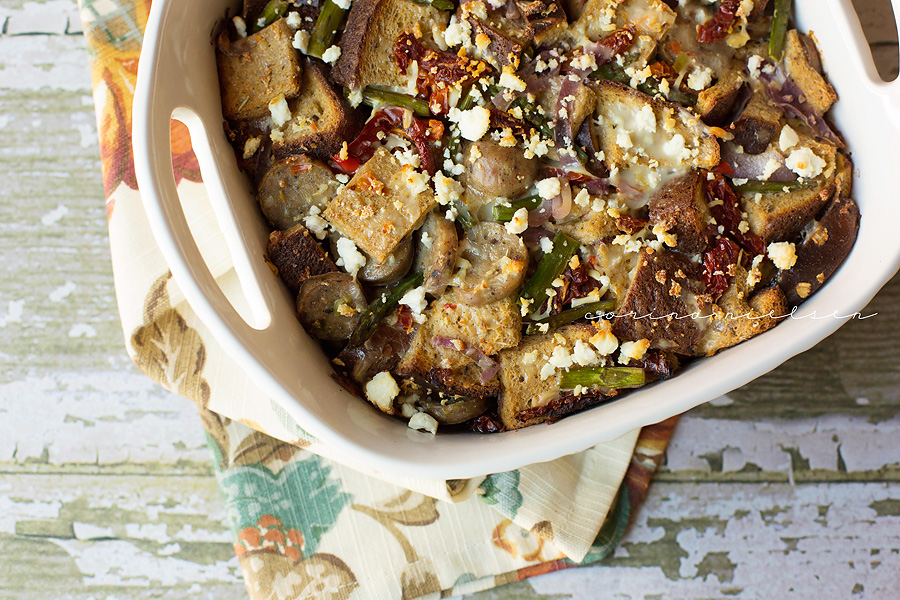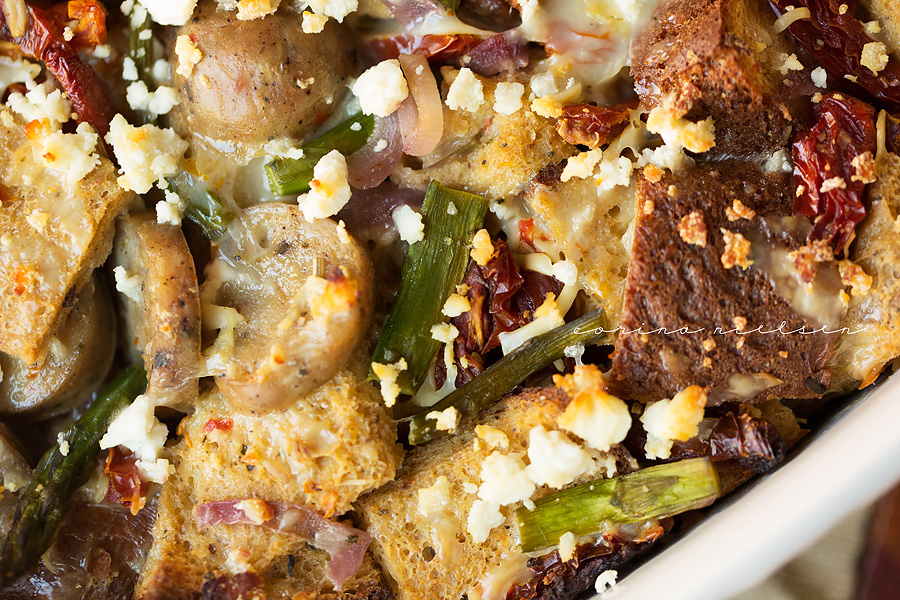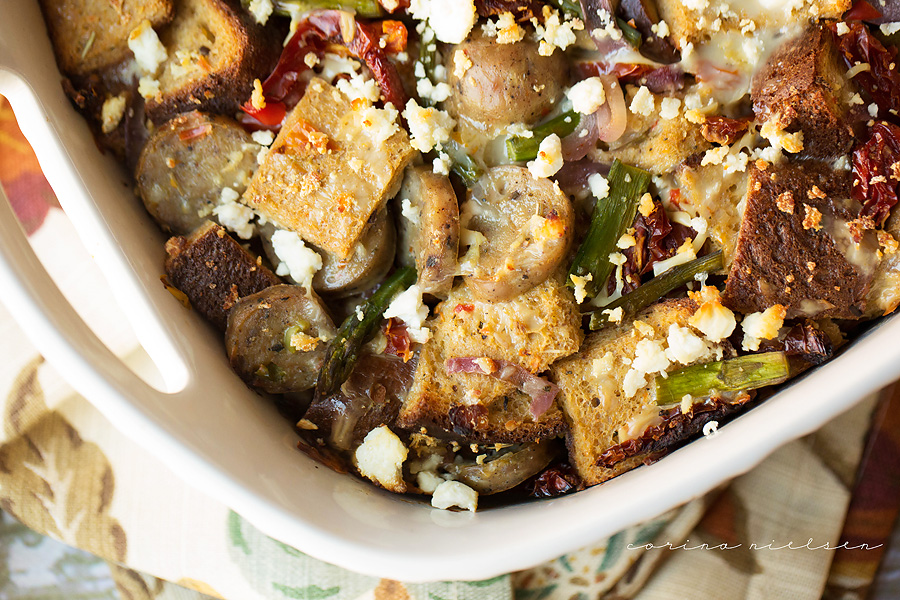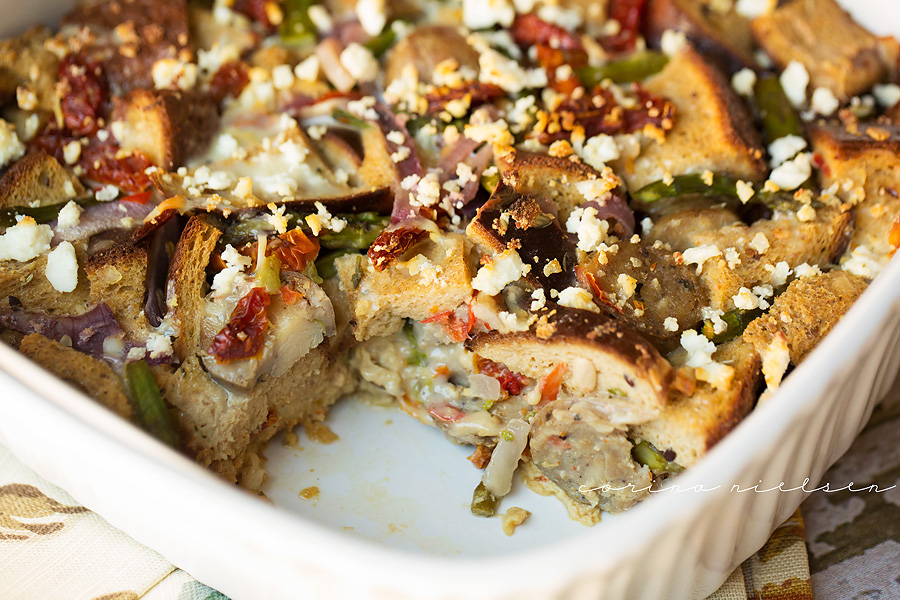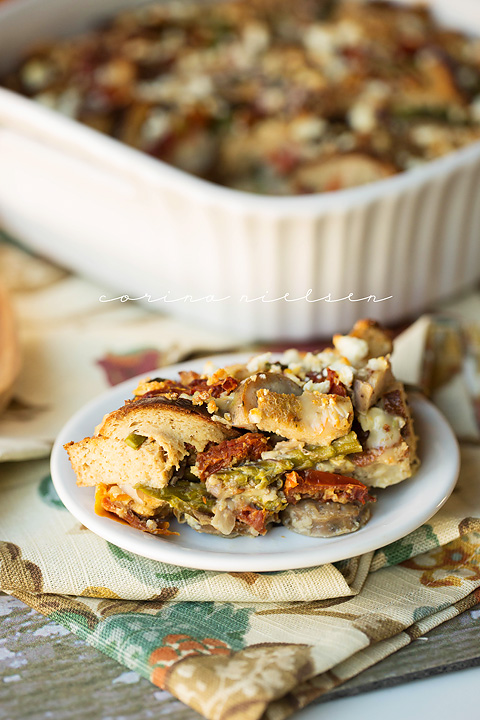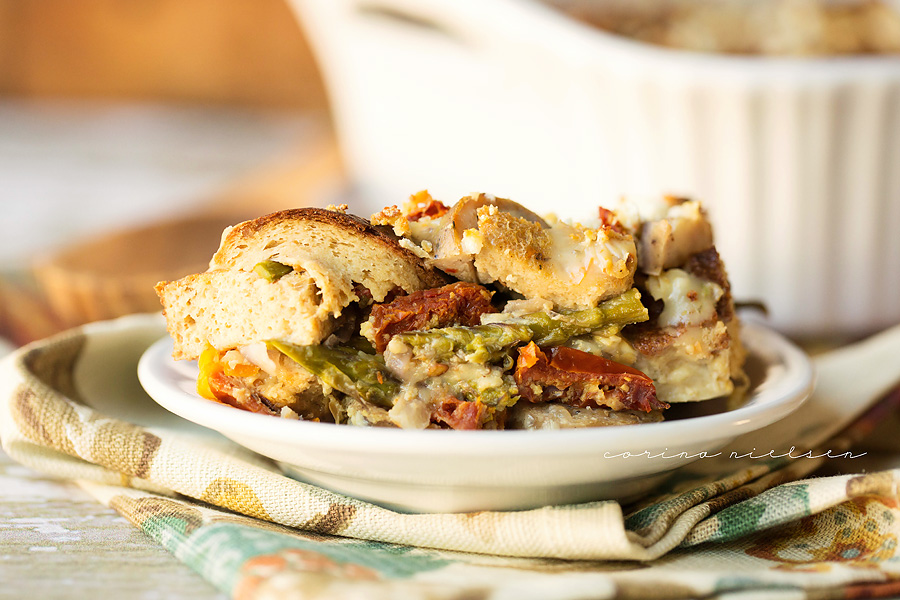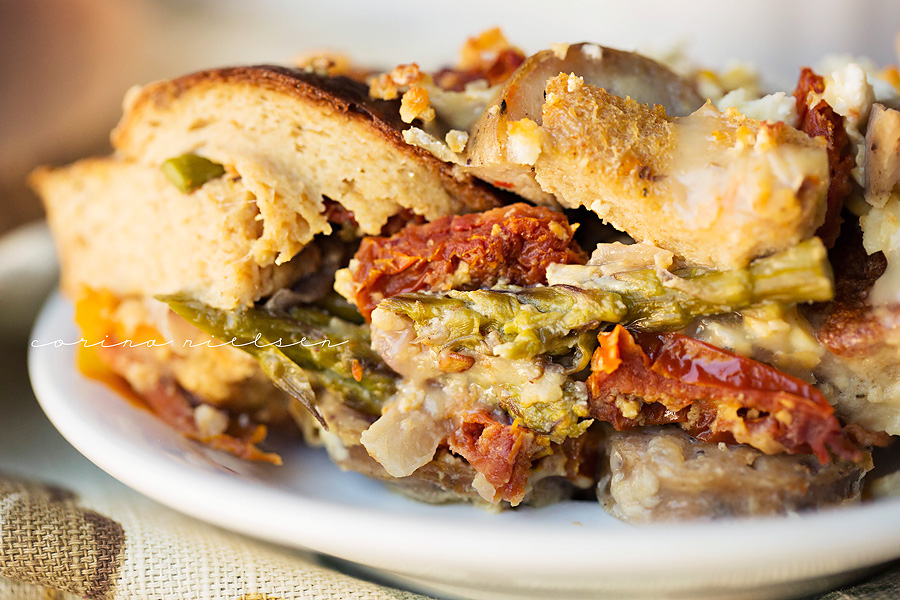 Mouthwatering huh?
It's such a great dish for breakfast, brunch, lunch, or even dinner.  Served with a small side of mixed greens and a mimosa though?  Yeah, that sounds about right!!!  This is honestly best served fresh out of the oven BUT I think it would also be great for meal prepping as well!  Prep the dish on Sunday night, bake it off on Monday for lunch or dinner, then you have a nice serving for lunch each of the following days.  It's brilliant!  Don't have the same ingredients on hand?  No problem.  Use whatever veggies you have, use the same spices, same bread/egg/milk ratio, whatever meat you have (chicken, ham, bacon), throw it all together in a dish to get acquainted, bake it off, and enjoy!
Sundried Tomato, Italian Sausage, and Veggie Strata

Print recipe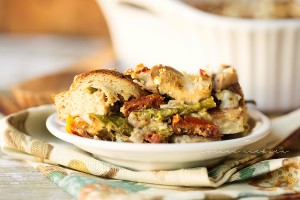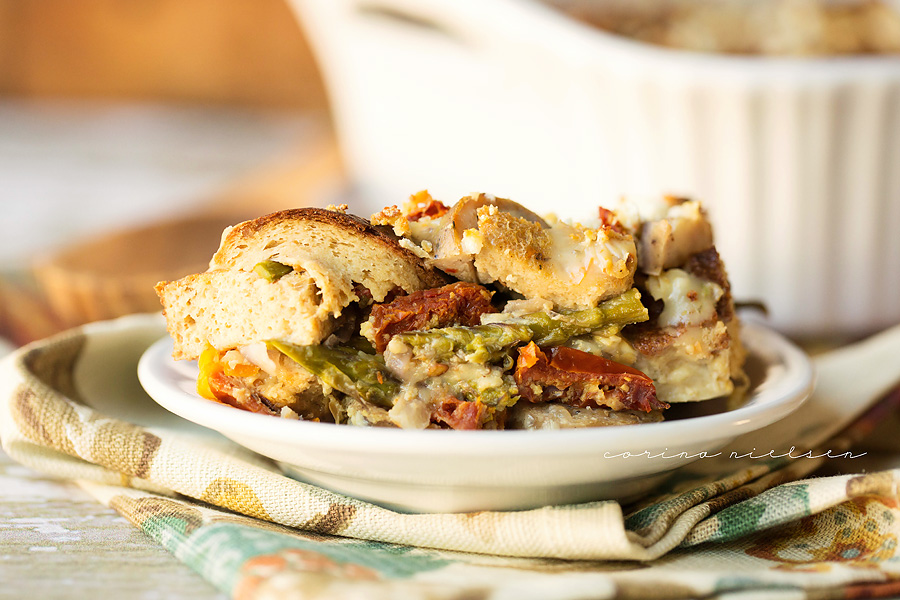 Ingredients
2oz red onion (sliced)
4oz asparagus (roughly chopped into 2)
2.5oz Sun Dried Tomatoes
3 cloves of garlic
8oz Trader Joes Sundried Tomato Basil Chicken Sausages
3 Large whole eggs
1/4 cup egg whites
1 cup unsweetened almond milk
1/4 teaspoon pepper
1/2 teaspoon salt
1/2 teaspoon garlic powder
1/4 teaspoon red pepper flake
1/2 teaspoon rosemary
1/4 teaspoon oregano
1 cup Fat Free Mozzarella cheese
6 slices P28 Protein Bread (chopped into 1)
1/4 cup Fat Free Tomato Basil Feta Cheese
Directions
Step 1
Heat a pan under medium heat and coat with non stick spray. Chop sausages into small pieces and heat until cooked through. Add veggies (onion, asparagus, sundried tomato, and garlic) for 3-5 minutes until slightly softened. Remove from heat and set aside.
Step 2
Combine milk, eggs, egg whites, and all seasonings in a large bowl. Mix well. Stir in Mozzarella cheese. Add chopped bread and mix thoroughly until all liquid is absorbed.
Step 3
Pour into a greased 8x8 or 9x9 pan. Sprinkle crumbled feta cheese on top and cover with foil and let set 4-6 hours in refrigerator, preferably over night.
Step 4
When you are ready to bake it off, remove from fridge, and let sit on counter for 1 hour. Bake at 350 degrees for 1 hour until top is bubbly and golden brown. Let rest 5 minutes before cutting & serving.
Note
NUTRITIONAL INFORMATION (makes 6 servings): calories 271, protein 32 g, carbs 16 g, fat 9 g (PER SERVING)