Sweet Jesus… a banana split on a bed of cinnamon sugar "pita" chips?  Yes, please, and thank you.
I actually don't quite remember what made me put these things together, but all I know is I had a big banana split on my mind this particular day (it was a high carb day for me).  While I was tempering my Halo Top ice cream for my banana split, I was totally sidetracked (it happens often when I am in the kitchen), I do remember opening my P28 high protein flatbread package and thinking to myself "OK, I know I can do something else with these besides a plain old sandwich wrap!"  I had baked pita chips before from other flatbreads, so I saw no reason why I couldn't make them with the P28.  Obviously a salty/savory chip wasn't going to work with the banana split that was on my mind so I grabbed one of the sweetest ingredients I had in my pantry (my beloved Sweet It Vita Fiber) and got to work.  The syrup served as the perfect "glue" for the small sprinkling of coconut sugar and cinnamon I was going to use on my chips and also added an extra boost of overall sweetness without needing to add more of the actual sugar.  They came out perfect… crisp, sweet, and an ideal vessel to hold a banana split!
God, I love it when the most random ideas just come together and make the most sense!
This may look picture perfect now, but once I was done taking these shots, I threw it all on a big plate, chopped up the banana, and got to work on my "nachos".  If I wasn't already salivating while taking these pics, I would have remembered to add some chocolate syrup and maybe even a few marshmallows…. definitely will HAVE to remember that next time!!!  However, even without any extra toppings… this dessert?  Again, yes, please, and thank you….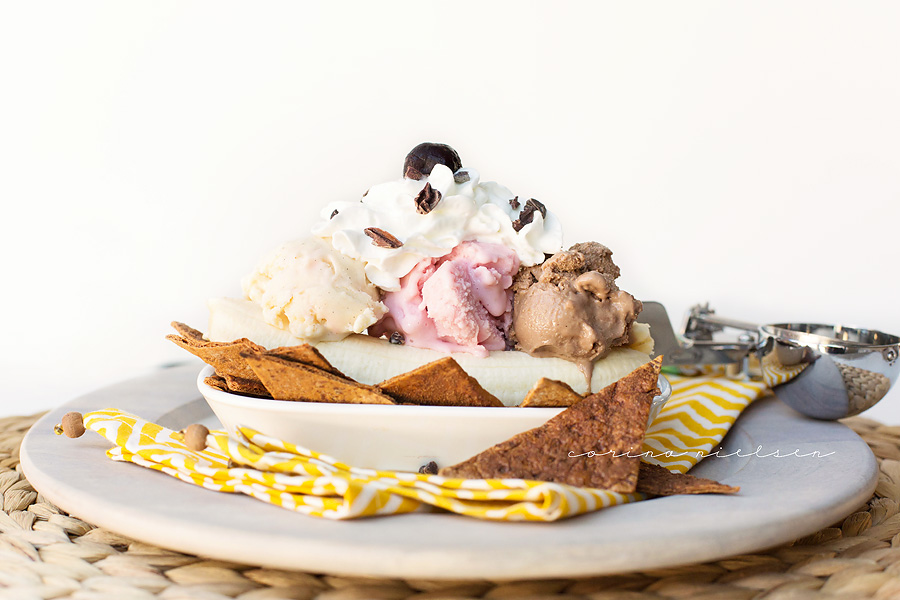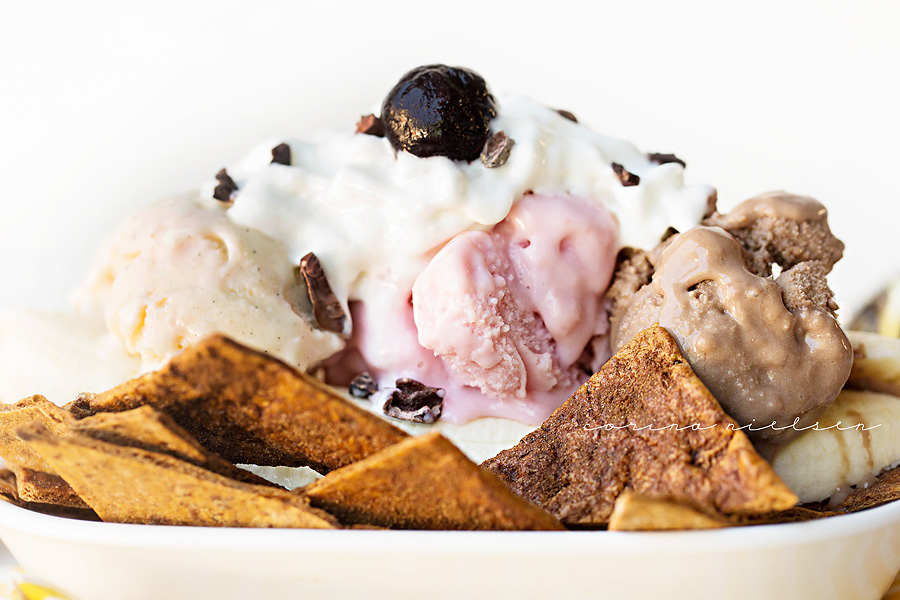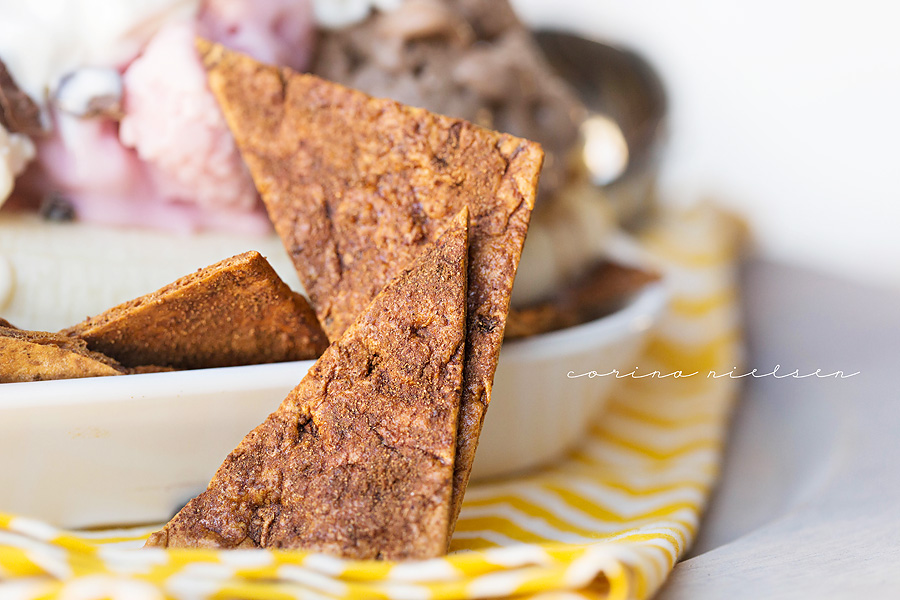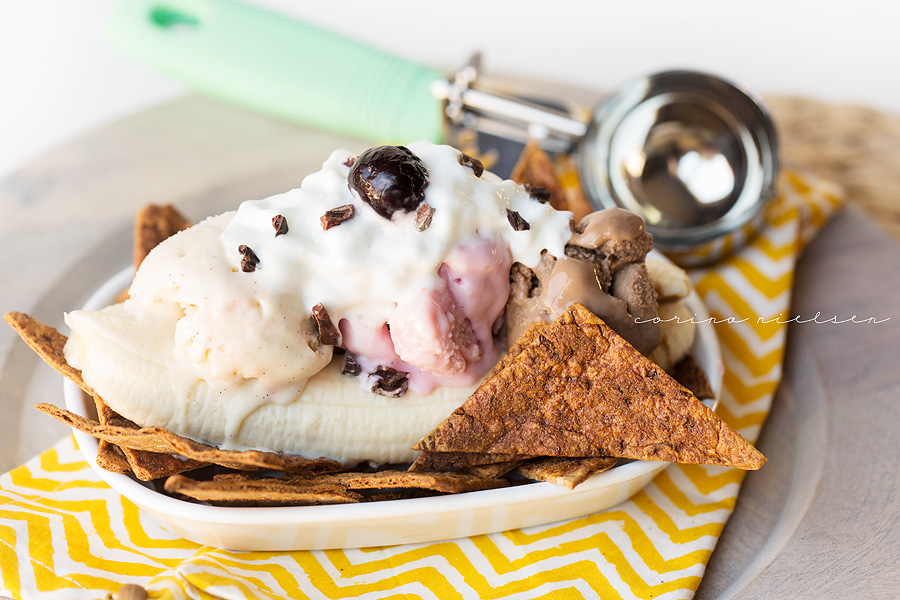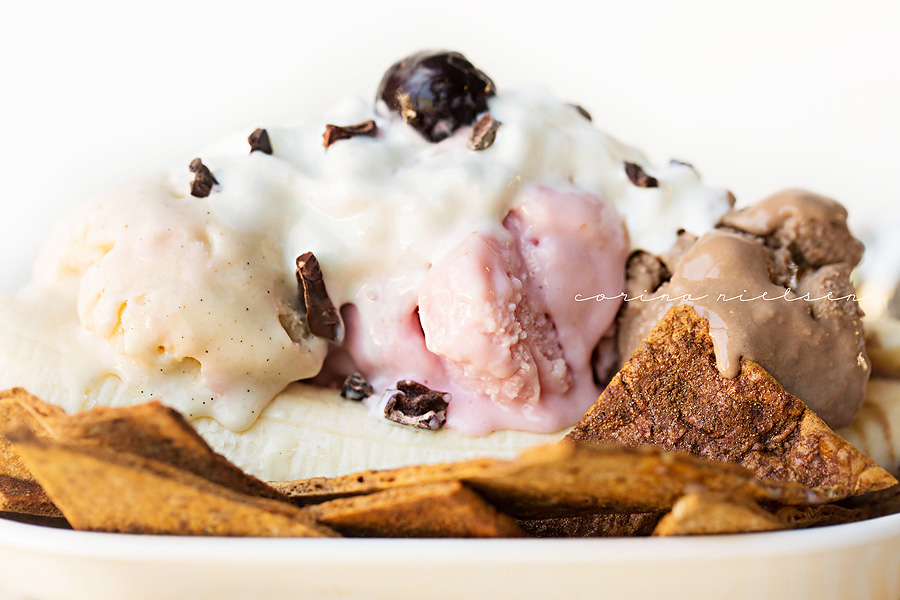 Banana Split Nachos

Print recipe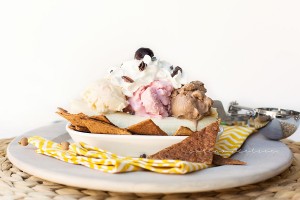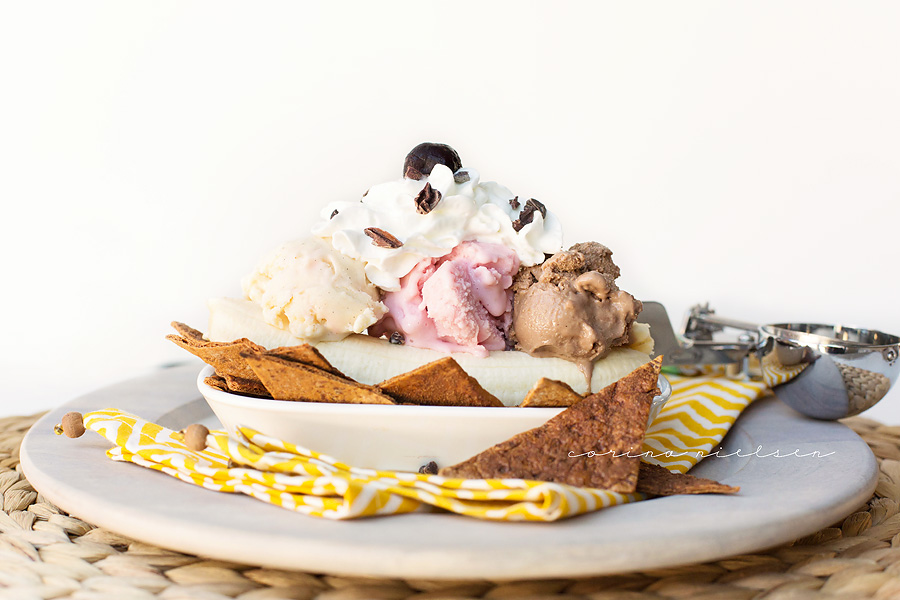 | | |
| --- | --- |
| Serves | 1-2 |
| Prep time | 15 minutes |
| Cook time | 10 minutes |
| Total time | 25 minutes |
| Meal type | Dessert |
Ingredients
1/2 P28 Flatbread
tablespoon Sweet It (Vitafiber)
2 teaspoons coconut sugar
1/2 teaspoon cinnamon
1 Medium banana
3 scoops Halo Top Creamery Ice Cream
2 tablespoons Fat Free Whipped Cream
2 tablespoons Walden Farms Chocolate Syrup
Cacao Nibs
Directions
Step 1
Preheat oven to 375 degrees.
Step 2
Cut P28 Flatbread into chip sized triangles/pieces, brush with Sweet It syrup, and sprinkle with coconut sugar and cinnamon on both sides.
Step 3
Bake for 5-10 minutes, flip, bake an additional 5 minutes until pieces are crisp and golden brown. Remove from oven and let cool.
Step 4
Slice a banana in half, add ice cream, whipped cream, cacao nibs or chocolate chips, chocolate syrup (if desired), and top with a dark cherry.
Note
NUTRITIONAL INFORMATION: calories 389, protein 24 g, carbs 80 g, fat 8 g for entire serving ("chips", 3 small scoops Halo Top Ice Cream, and whipped cream)