Nothing says Fall like #pumpkineverything right?  I'm not really sure why I always feel the need to wait until Fall to break out the pumpkin and spices, but it always seems to work out that way.  As soon as I started seeing those Fall flavors hit the shelves in markets and my favorite speciality stores, I fell right in line this year (as always).  Never fails… September arrives and BOOM.  Pumpkin everywhere you look.  It's time to pre heat that oven and get baking.  Unfortunately, up until this past week here in California, our temps have been in the high 80's to mid 90's.  I adore our moderate So Cal weather but every now and then I do get an urge to pick up the family and move somewhere that has actual seasons.  Someplace where it actually gets cold cold and kids have to take snow days. I love seeing friends from all over the country post pics of changing leaves, cold temps, roaring fires, hot chocolate mugs, and cute cold weather gear.  Meanwhile, here in San Diego I'm rocking flip flops 355 days a year.  I suppose I can't complain though and 99.9% of the time I would keep our weather and wouldn't have it any other way!   Anyways, back to my cupcakes here…
I was absolutely itching to get in the kitchen and I knew as soon as my shipment of MuscleEgg arrived with the limited edition "Pumpkin Spice" that as soon as it was defrosted, cupcakes were on deck!  These came out perfect and because I prepped them over the weekend, I got to enjoy them as a post workout snack the entire week.  That's winning if you ask me!!!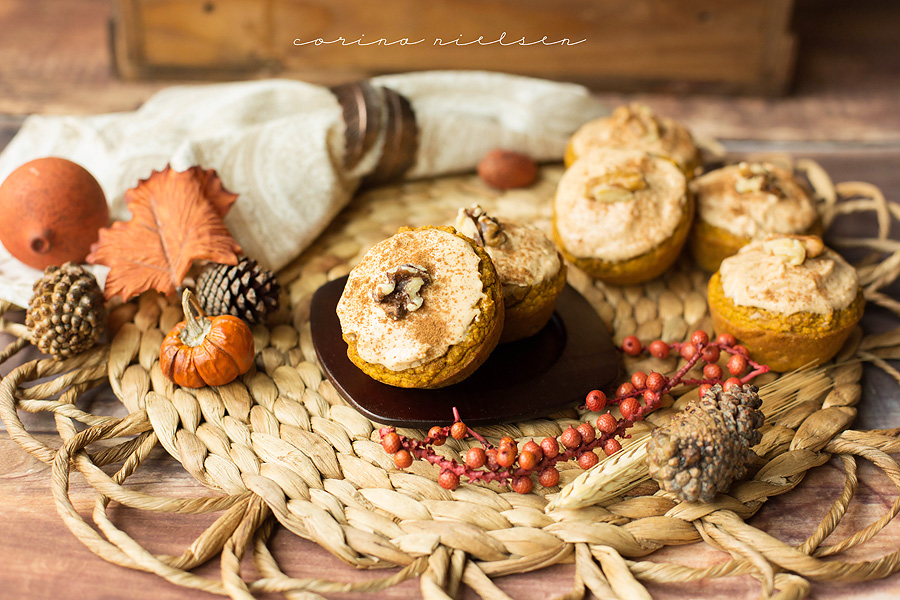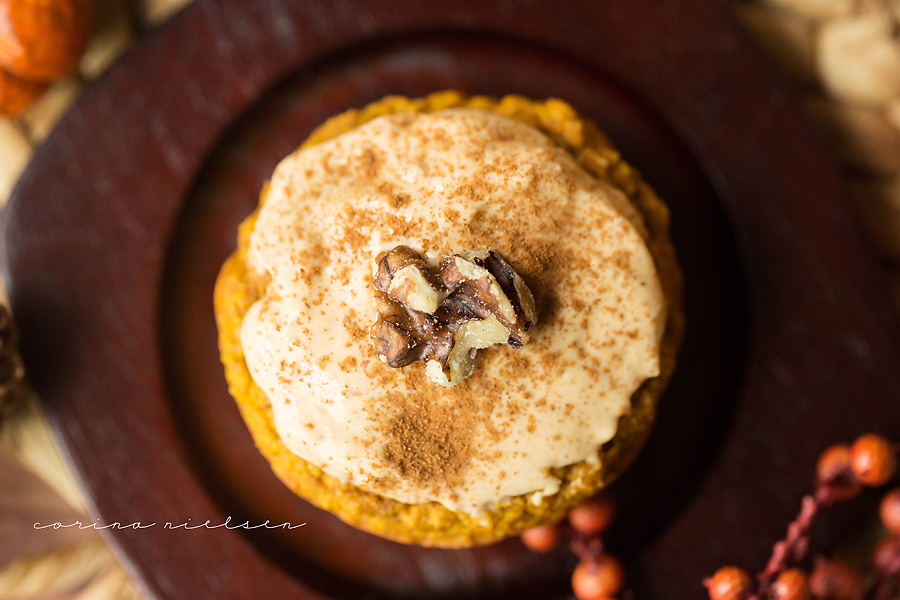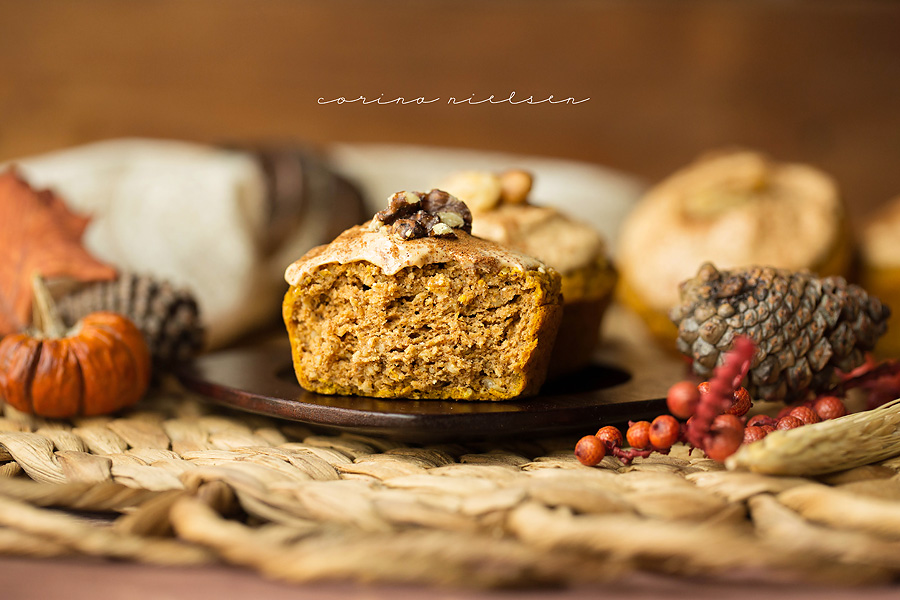 Pumpkin Spice Cupcakes

Print recipe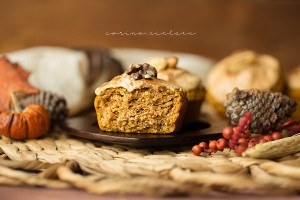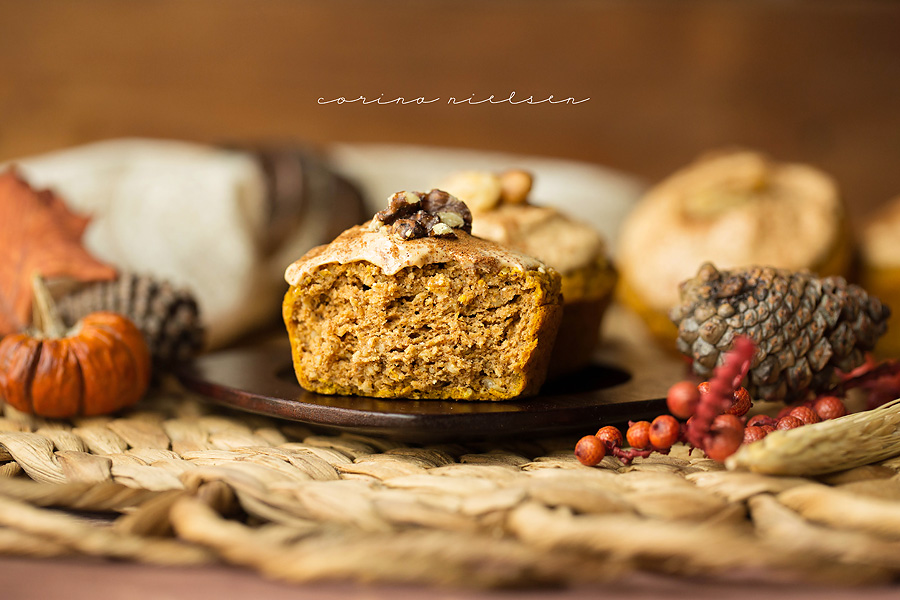 Ingredients
3/4 cups oat flour
3 tablespoons coconut flour
2 scoops Cinnabun Trutein Protein
1 teaspoon baking powder
1/2 teaspoon baking soda
1 1/2 teaspoon pumpkin pie spice
2 teaspoons cinnamon
1/2 teaspoon salt
15oz canned pumpkin
1/2 cup Pumpkin Spice MuscleEgg Egg Whites
20 drops Pumpkin Spice Sweet Leaf Stevia
1 1/2 teaspoon vanilla extract
2 heaped tablespoons softened maple almond butter
1/4 cup melted coconut oil
1/2 cup unsweetened almond milk
4oz softened fat free cream cheese (** TOPPING **)
2.5 tablespoons Trader Joe's Pumpkin Butter (** TOPPING **)
1 teaspoon cinnamon (** TOPPING **)
12 walnut halves (** TOPPING **)
Directions
Step 1
Preheat oven to 350F and coat muffin tin with non stick spray or line with cupcake liners.
Step 2
Combine all cupcake ingredients in a large bowl and mix well. Batter will be thick. Scoop evenly into cupcake pan (a little over 1/3 cup in each). Bake for 25-30 minutes until sides have just come away from the edges. Remove from oven and let cool.
Step 3
Prepare topping by combining softened cream cheese and pumpkin butter in a small bowl. Mix very well until no lumps remain. Divide and spread onto cooled cupcakes. Sprinkle each with cinnamon and top with a walnut halve.
Note
NUTRITIONAL INFORMATION (makes 12 cupcakes): calories- 121, protein- 8g, carbs- 9g, fat- 6g per serving.