Ever since I discovered I was extremely sensitive to ice cream, I have been on the hunt for something that still allowed me to regularly get my frozen treat fix on.  Up until recently, I had only found 2 options for ice creams that I can tolerate with few issues but recently I stumbled upon another company that takes things even further with their quality ingredients and commitment to those who suffer from food allergies and intolerances.  On the agenda today is something I found a couple of months back that not only gives me an ice cream fix but I can also eat a LOT of it at one time because the nutritional profile is SOOOOOO amazing!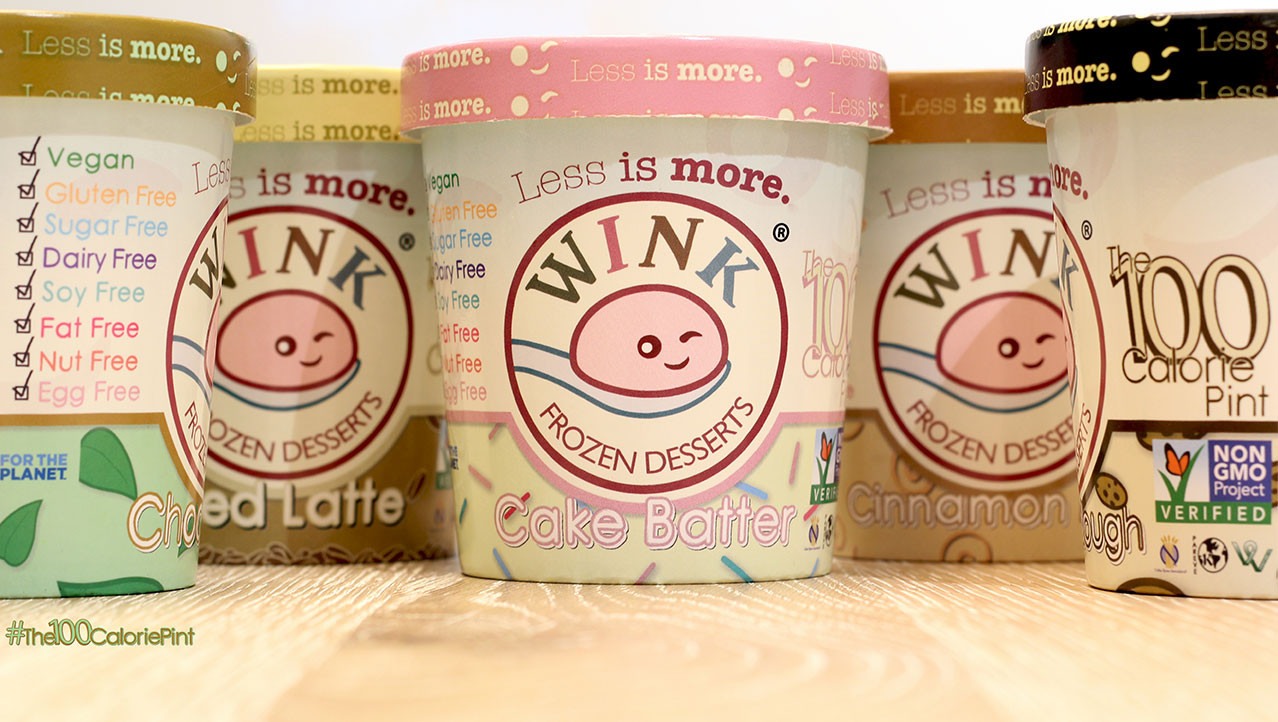 Not only is this brand ideal for those with food intolerances (dairy free, gluten free, soy free, tree nut free, egg free, and peanut free), it's also NON GMO certified and FAT FREE!  Also, Wink gives me an ice cream fix for under 100 calories per pint (hence this being a VOLUME FOOD) and because my stomach is highly sensitive to certain ice creams, I'm limited in the choices I have when I'm craving ice cream.  I've found that I do well on 100% natural ice creams made with very limited ingredients but those typically won't have a great nutritional profile that would allow me to eat 3+ servings at one time.  I would either have to limit myself to a very small amount or sacrifice eating something else during the day.  Those options don't really sound that great to me.   No problem now… Wink to the rescue!!!  I can either have the ice cream on its own or mix it in with other ice creams I can tolerate to produce an BIGGER serving! While the texture is not rich and "creamy", the sorbet/frozen ice type consistency offers a nice little contrast and GREAT flavor.  I LOVE adding a scoop (or two) to my stacks of waffles, pancakes, and even oatmeal!  There is NOTHING like mixing a nice warm baked good or dish with a cold scoop of ice cream.  Of course, fresh gooey brownies and cookies are equally delicious this way! After about a month with my first shipment of Wink and many ice cream and waffles sundaes later, I decided it was time to whip up something a bit more interesting.  Don't get me wrong, sundaes are always great especially when I get to add a ton of different toppings AND it's on top of waffles, but my mind eventually started racing with ideas for my next shipment (can I just say how fun it is getting ice cream delivered to your doorstep… the best).  First up on my list was a little ice cream sandwich action!  I was still dieting at this point when I made these, so knew I had to come up with something that was fairly macro friendly that I wouldn't have a hard time fitting into my intake on any given day.  I think I did pretty darn good with these.
Banana "Doodle" Ice Cream Sandwiches!
 It's kinda like a snicker doodle meeting a chocolate chip cookie, a cinnamon bun, and a banana then partying together, hard…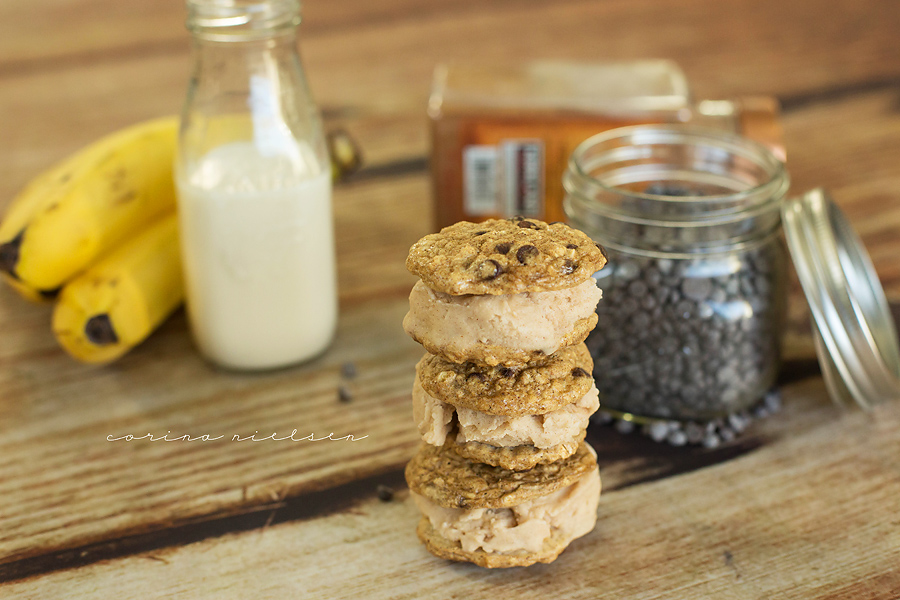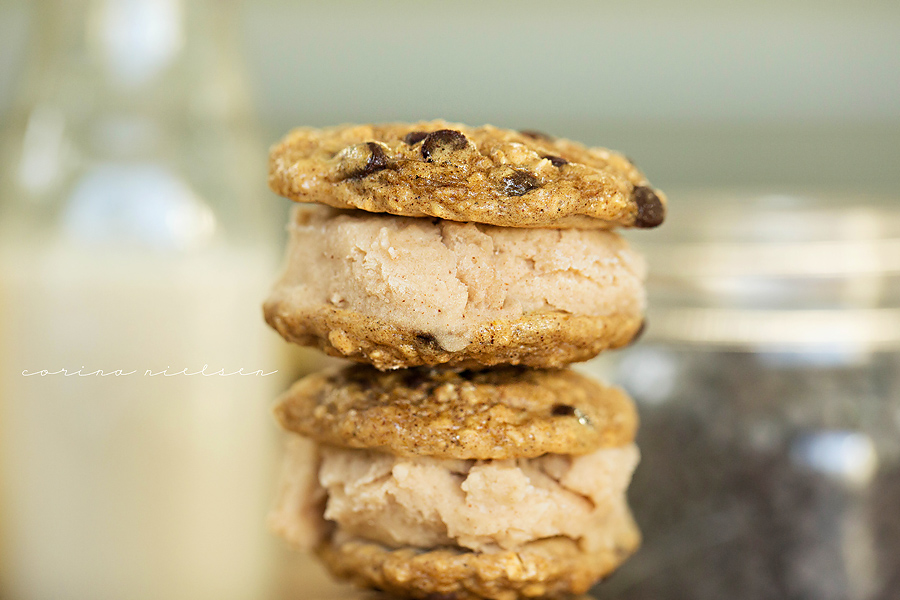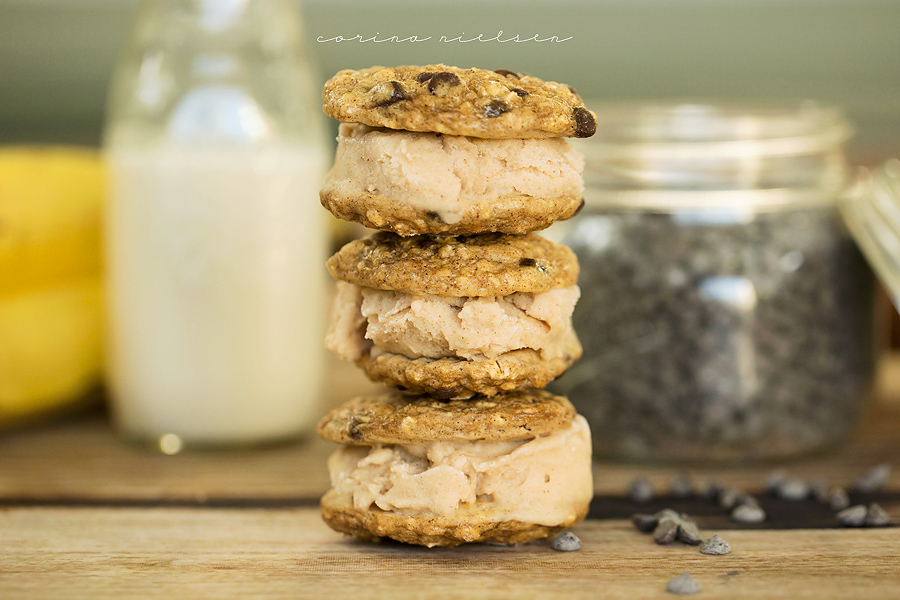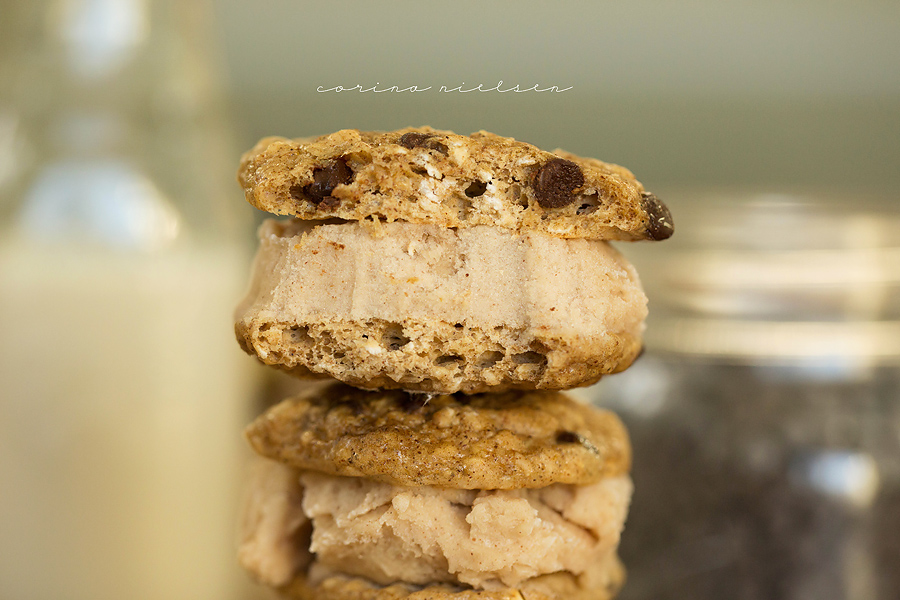 Aren't they adorable?  They look like a plain chocolate chip cookie sandwich BUT the flavors are quite different in these… cinnamon, banana, and chocolate!  The Cinnamon Bun Wink paired SO amazing with these cookies!  It may be February now, but one taste of these immediately took me back to Fall.  It might be a frozen treat, but the flavors are so warm and cozy!
And really? Get a load of those macros/nutritional profile PER ice cream sandwich:
calories 91, fat- 3 grams, carbs- 10 grams, and protein- 7 grams
Crazy!!!  No problem eating these while dieting whatsoever!!!
10% OFF on WINK ICE CREAM, using coupon code: CORINA
Bananadoodle Ice Cream Cookie Sandwiches

Print recipe
| | |
| --- | --- |
| Serves | 6 |
| Prep time | 5 minutes |
| Cook time | 7 minutes |
| Total time | 12 minutes |
| Meal type | Dessert |
Ingredients
1 Medium ripe banana (mashed)
1 scoop PEScience Snickerdoodle Protein
1/4 cup Oat Flour
1/2 teaspoon baking powder
1 pinch salt
1 teaspoon cinnamon
3 tablespoons Vanilla MuscleEgg egg whites
1 teaspoon vanilla extract
30 drops English Toffee Sweet Leaf Stevia
1/4 cup Enjoy Life Mini Chocolate Chips
6 scoops Cinnabon Wink Frozen Desserts ice cream
Directions
Step 1
Preheat oven to 350 degrees and line a baking sheet with parchment paper or non stick spray.
Step 2
Combine all ingredients(except chocolate chips and ice cream) in a bowl and mix until well combined. Stir in chocolate chips until evenly distributed.
Step 3
Divide dough into 12 cookies and place on cookie sheet. Bake for 7-9 minutes until edges until set.
Step 4
Remove from oven and let cool completely. Once cooled, form sandwiches and place in the freezer until completely set and ready to serve.
Note
NUTRITIONAL INFORMATION (makes 6 sandwiches): calories- 91, fat- 3 grams, carbs- 10 grams, protein- 7 grams PER  SANDWICH