Banana bread is one of those baked goods that I absolutely love and adore with all of my heart.  The problem is that if I have it anywhere near me, I can't stop eating it!  I could easily eat 1/2 a loaf (or more) at one time and not think anything of it.  I'm perfectly content only eating one slice of cake, 1 slice of pie, or even a little ice cream sundae here.  Banana bread though?  There is no stopping me.  It's something I could hoard and binge on like there is no tomorrow (same concept as my love affair with corn bread).  So, even though I love it and will make it on occasion, it's probably a much better idea to not keep it in the house very often.  In order to remedy this problematic situation, I needed to come up with an alternative.  Something to satisfy the banana bread itch in my soul, but not allow me to totally go off the deep end.  My solution???
Banana Bread COOKIES of course!!!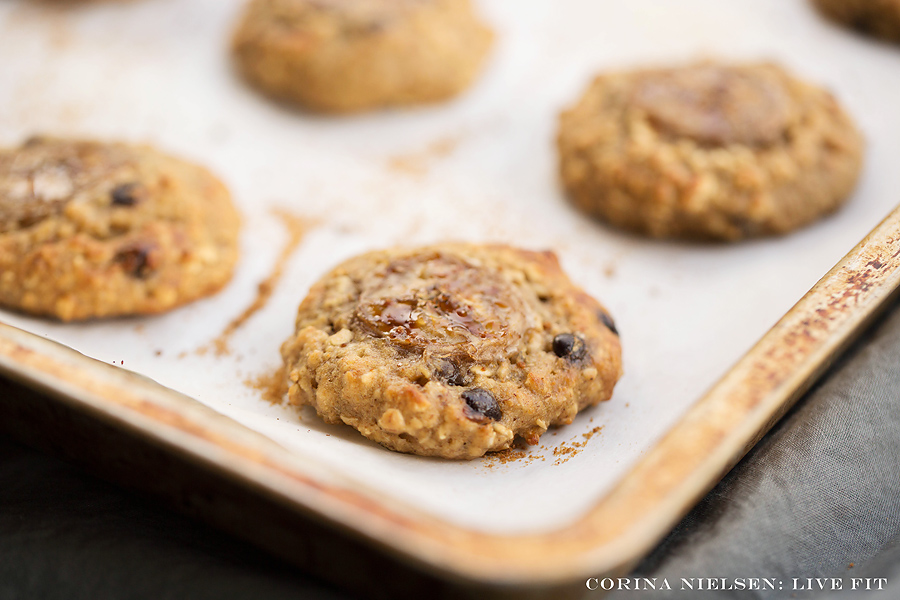 Chocolate chips are optional, but not really though.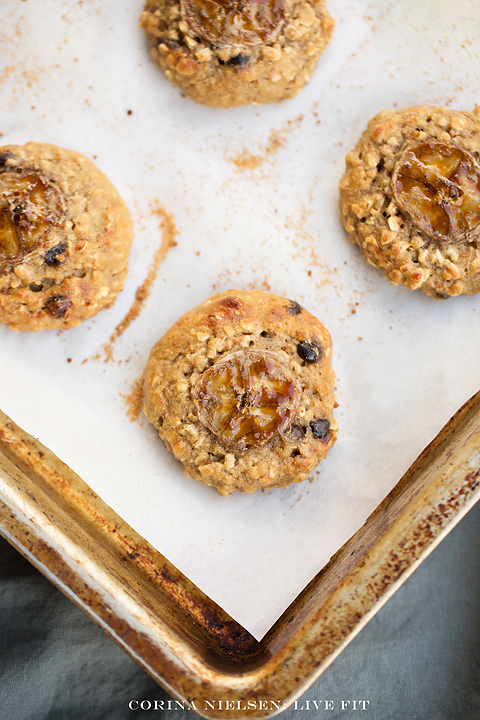 Usually when I make this recipe, I don't use the additional sliced banana on top, but for blog cookie aesthetics I thought they added a nice little touch!  A thin slice of banana, a little sprinkle of coconut sugar, place them under broil for just a quick minute, and viola… a whole new level of banana bread cookie amazing-ness.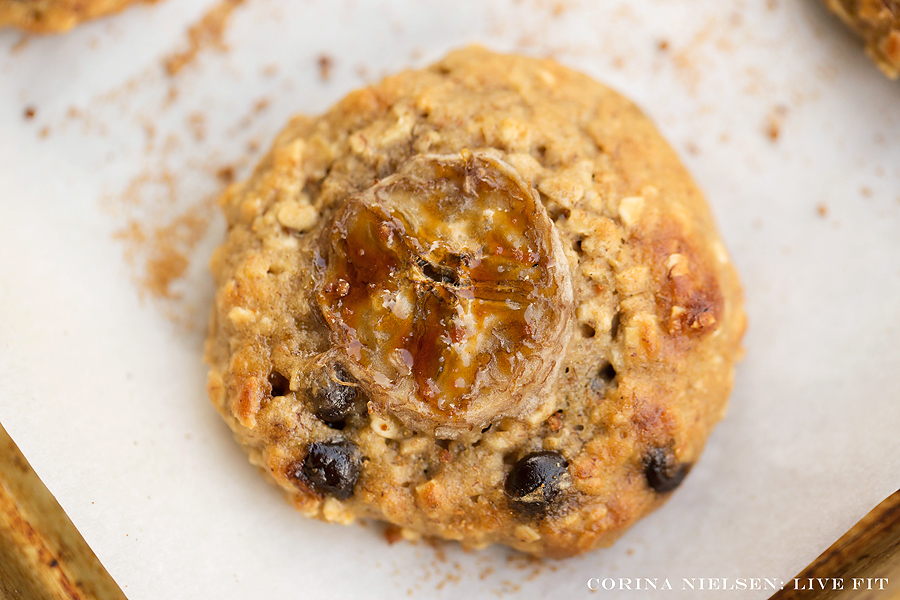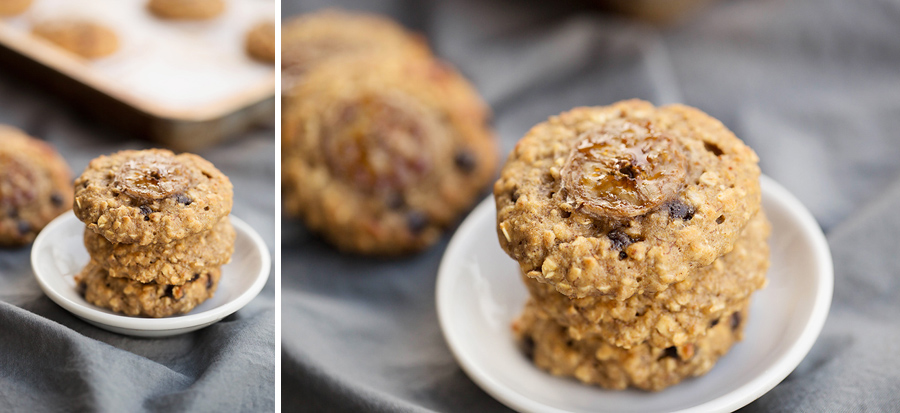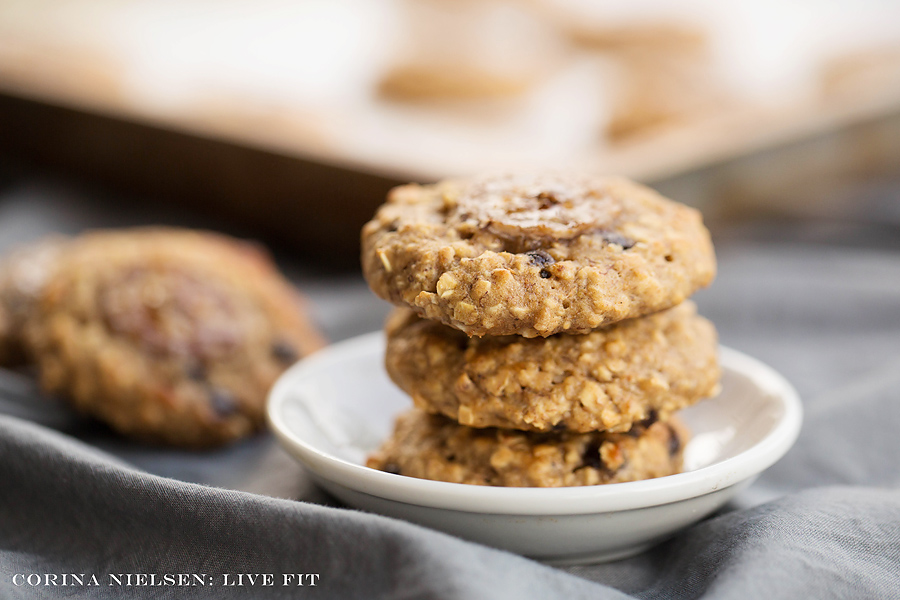 If that wasn't enough for you, let's add some of that crazy, amazing, words can't describe how good it is You Fresh Naturals "Chocolate Chip Banana Bread" cashew coconut butter!!!  It's already IN the cookies so why not add it on TOP also… just for good measure of course.  Dead!  I could literally eat the entire jar of this stuff in the blink of an eye.  Hands down one of the BEST nut butters I have ever tasted.  Flavor is SPOT ON and how fitting that it goes perfectly with my cookies?!  Unlike other a lot of other flavored nut butters that get overpowered by the actual nuts, the banana and bits of chocolate chips in the You Fresh Naturals butter are the stars.  The coconut cashew butter is simply just the vehicle and it's perfect.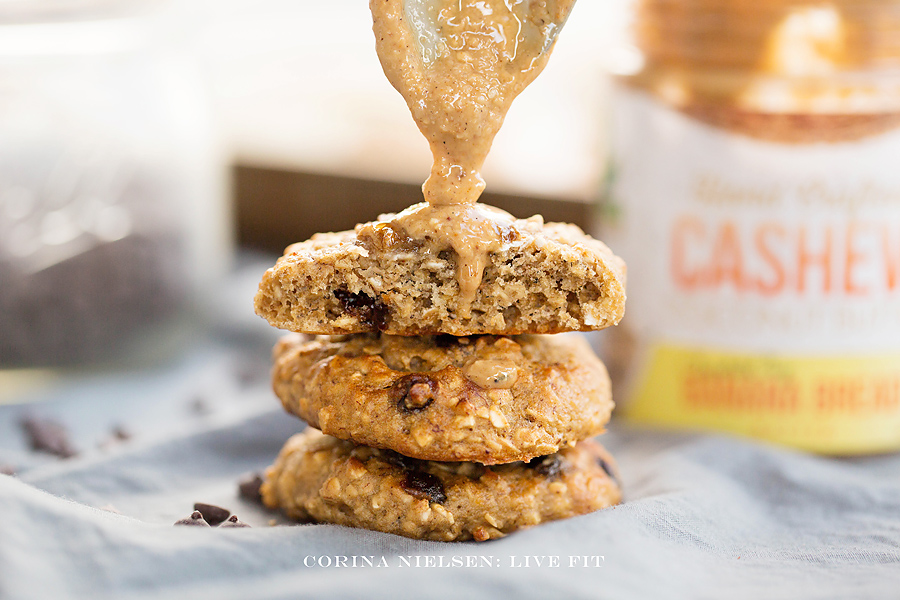 Madly in love with this nut butter, these cookies, and of course I still have a love affair with banana bread!!!  I love combining favorites into a few bites!
** EDITED TO ADD **
I just took a look at the You Fresh Naturals site and saw that this exact nut butter is on SALE right now!!!  Only $9.99!!!!  This is the lowest price I have seen it and I'm almost positive that means it will soon be out of stock (I think the company only sells a certain number of units on the speciality flavors)!  Seriously, grab it before it's gone gone gone!!!  Last year, the company had red velvet and a donut flavor that I wanted so bad but never got.  Once I was ready to jump on it, the flavors were gone 🙁  So sad.  Anyways, Chocolate Chip Banana Bread won't disappoint you!!!
Chocolate Chip Banana Bread Cookies

Print recipe
| | |
| --- | --- |
| Serves | 22 |
| Prep time | 5 minutes |
| Cook time | 12 minutes |
| Total time | 17 minutes |
| Meal type | Dessert |
Ingredients
1 cup quick oats
1 cup Kodiak Power Cakes Mix
1/4 teaspoon salt
1/2 teaspoon baking soda
1 Medium banana (mashed)
1 Large whole egg
3 tablespoons Vanilla MuscleEgg egg whites
1/8 cup You Fresh Naturals Chocolate Chip Banana Bread
1 teaspoon vanilla extract
1/2 cup stevia
1/2 cup milk of choice
1/4 cup Enjoy Life Mini Chocolate Chips
1/4 Small thinly sliced banana (* TOPPING *)
1/2 tablespoon coconut sugar (* TOPPING *)
Directions
Step 1
Preheat oven to 375 and line a baking sheet with parchment paper.
Step 2
Combine dry ingredients in a small bowl (oats, Kodiak, salt, baking soda). Set aside.
Step 3
In a large bowl or stand mixer, combine mashed banana, egg, egg whites, vanilla, almond butter, stevia, and milk. Mix until smooth. Slowly add dry mixture until combined. Stir in chocolate chips.
Step 4
Divide and scoop onto baking sheet. Bake for 10 minutes, remove from oven and add a thin slice of banana. Sprinkle with a little coconut sugar and place back in the oven under broil for 1-2 minutes just until coconut sugar has crystalized.
Note
NUTRITIONAL INFORMATION (makes 22 cookies): calories- 65, fat- 2 grams, carbs- 10 grams, protein- 3 grams PER COOKIE