I think about my old baking days often.  All those recipes filled with refined sugar, white flour,  tons of butter, powdered sugar.  Don't get me wrong, I'm the first one to encourage moderation and you will still catch me enjoying store bought cupcakes, cake, pies, and other desserts but now that I'm on an overall healthier track in life, I have given up the majority of that good ole "bad" baking.  My family misses those days to be perfectly honest with you.  Everyone here has a HUGE sweet tooth so when I swapped my sugar for Stevia, well, everyone else in the house was hit pretty hard.
Fortunately for me, I don't really miss most of the things I used to bake because  I can usually come pretty close to making something equally as delicious, but just a little healthier.  Case in point with these carrot cake muffins here.  My old recipe had some ridiculous amount of sugar, something like 2 cups?  And that wasn't including the 2 cups of powdered sugar in the frosting!  This new version I came up with last week are made with NO refined sugar, flours, or butter and I promise they tasted almost identical to the sugary filled goodness.  I was pretty shocked to tell you the truth.  Just look at them?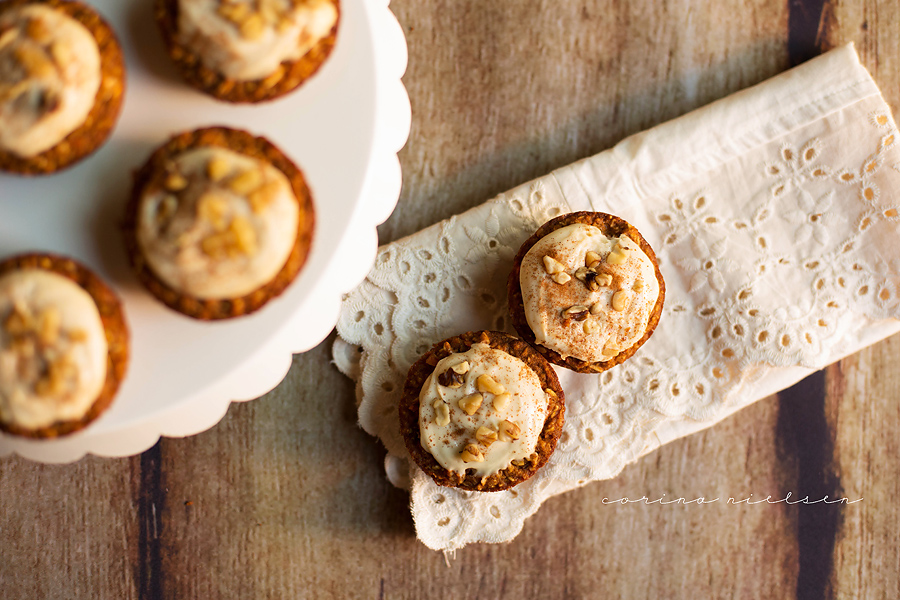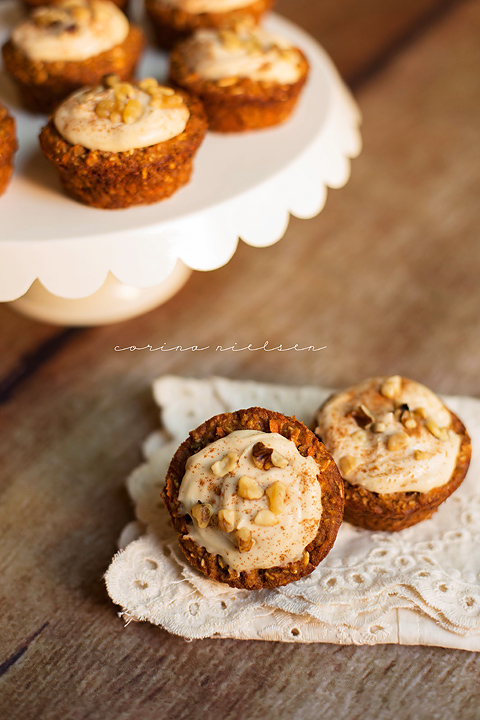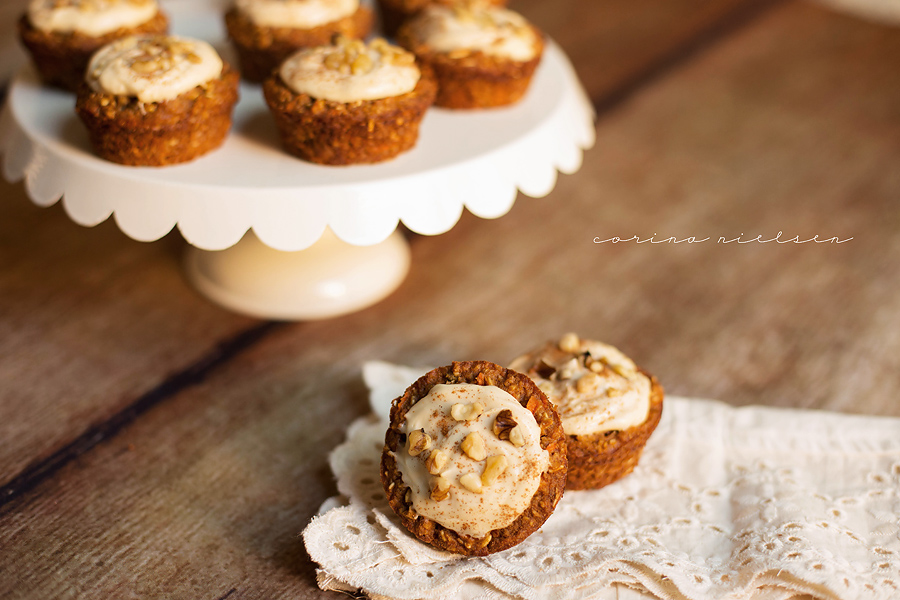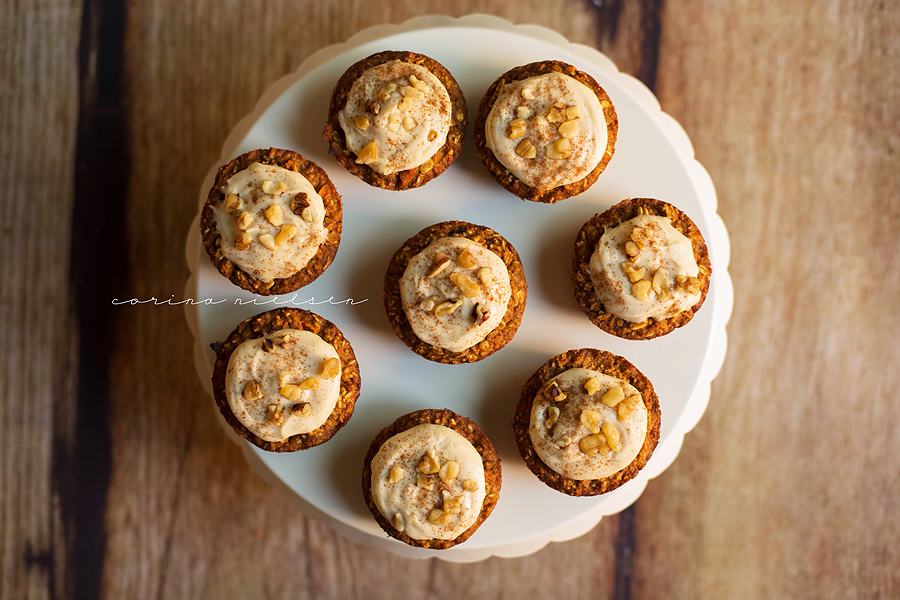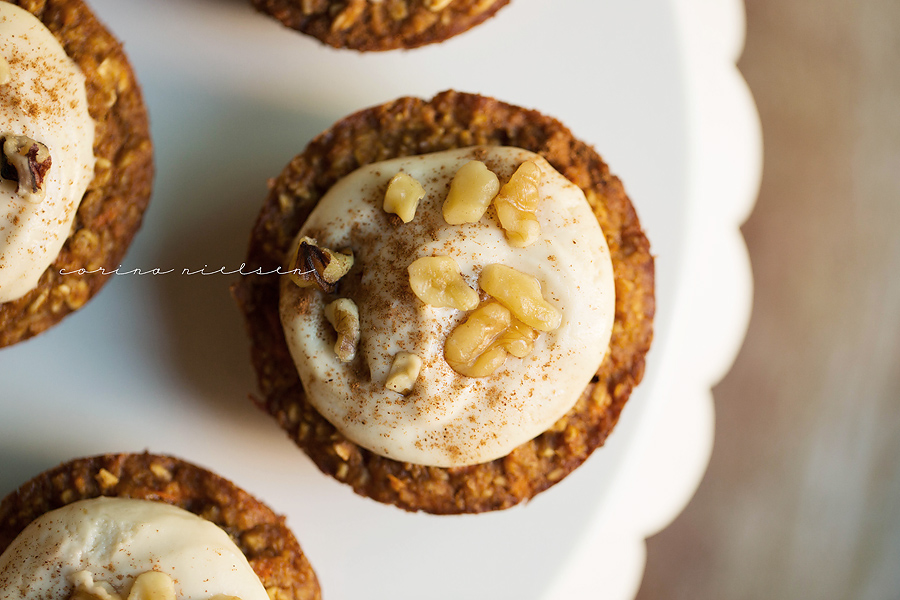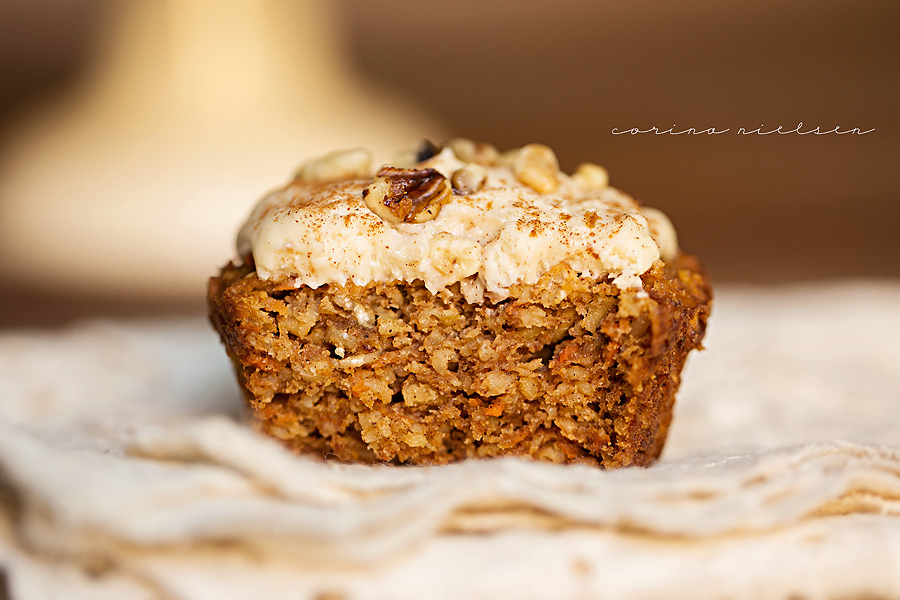 Kinda proud of these little guys.  I'm always out to prove that healthy can still be delicious… but rest assured, I still very much believe in a life of moderation and enjoying ALL food so if you ever hear about me ordering chocolate lava cake at a restaurant, don't be surprised.  I won't ever deprive myself of enjoying the truly sweet things in life.  In between those times though, I have treats like this to enjoy and drool over.  Best of both worlds!!!!
Carrot Cake Muffins

Print recipe
Ingredients
1 1/2 cup rolled oats (** blended to flour**)
2 tablespoons coconut flour
2 teaspoons cinnamon
1 1/2 teaspoon baking soda
1 teaspoon salt
2 cups freshly shredded carrots
3/4 cups unsweetened apple sauce
1/4 cup 0% Greek Yogurt
1 Large whole egg
2 tablespoons egg whites
1/4 cup honey
1 teaspoon vanilla extract
45 drops vanilla cream stevia drops
2 scoops Vanilla Protein Power (** FROSTING **)
2oz softened cream cheese (** FROSTING **)
2 tablespoons 0% Greek yogurt (** FROSTING **)
1/8 cup unsweetened almond milk (** FROSTING **)
15 drops vanilla cream stevia (** FROSTING **)
1/2 teaspoon vanilla extract (** FROSTING **)
1 teaspoon cinnamon (** TOPPING **)
1/4 cup chopped walnuts (** TOPPING **)
Directions
Step 1
Preheat oven to 350º. Grease muffin tin pan with non stick spray.
Step 2
Combine dry ingredients in a small bowl (oat flour, coconut flour, baking soda, cinnamon, salt).
Step 3
Combine wet ingredients in large bowl or stand mixer (apple sauce, yogurt, egg, egg whites, honey, stevia, and vanilla.
Step 4
Add dry ingredients to wet ingredients and mix until well combined.
Step 5
Stir in shredded carrots. You can also add 1/4 cup of raisins and 1/4 cup of walnuts if you like.
Step 6
Scoop batter into tins until 3/4 full. Bake for 20-25 minutes until tops are golden brown and a toothpick comes out clean when poked in the center of the cupcake. Let cool completely before frosting.
Step 7
Prepare frosting by combing all ingredients in a small bowl (cream cheese, protein, stevia, vanilla, unsweetened almond milk).
Step 8
Spoon frosting on each cupcake and sprinkle with cinnamon and chopped walnuts.
Note
NUTRITIONAL INFORMATION (per cupcake): calories 121, carbs 18 g, fat 3 g, protein 8 g