** Interested in winning a $25 gift card of your very own to Dick's Sporting Goods???  Well, I'm giving one away this weekend!!!  Be sure to read the details at the end of this post!   **
Some people turn to food when things in their lives' aren't going quite as planned or simply just aren't having a good day.  Food makes them feel better, it comforts them, and helps to reset their minds.  While I definitely love food and eating, my 'drug' of choice is either working out OR  retail therapy!  Better yet, buying things FOR working out!  You will rarely ever see me stocking up on fancy purses, jewelry, high heel shoes, or make up.  I much rather buy clothes to work out in and/or equipment for our growing 'home gym'!  It had been awhile since my husband and I invested in some equipment for our garage, but I felt like we were long overdue.  Since Dick's is the closest sporting goods store to us, we figured we would check it out and pick up a few things!
Before we hit the weights and fitness equipment, all those gorgeous clothes were calling my name.First stop?  Nike of course!  DUH!  It just so happens to be the very first section you see when you walk into our Dick's Sporting Goods store!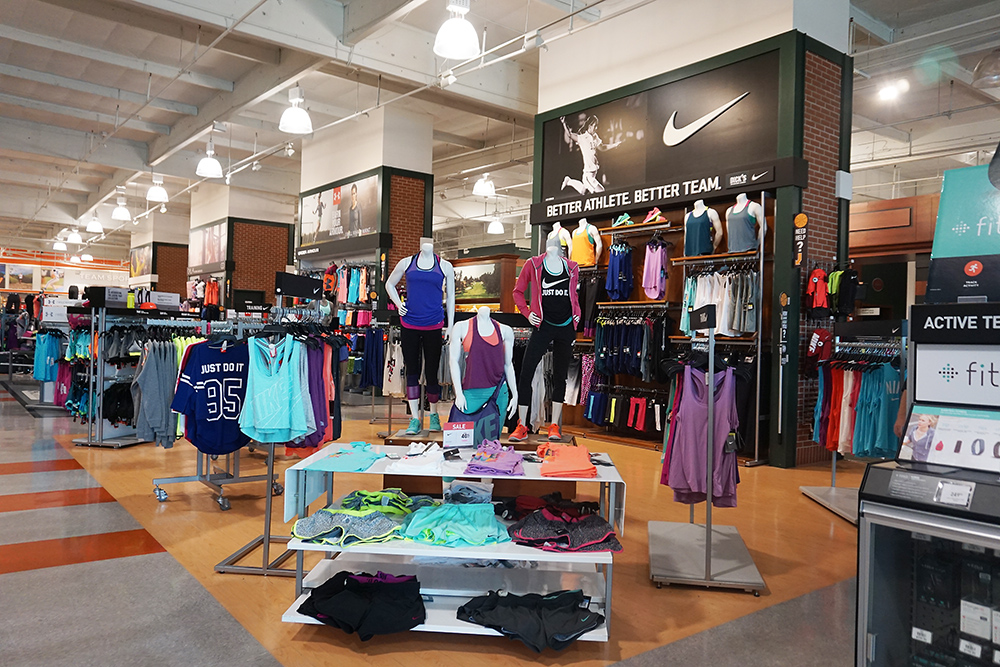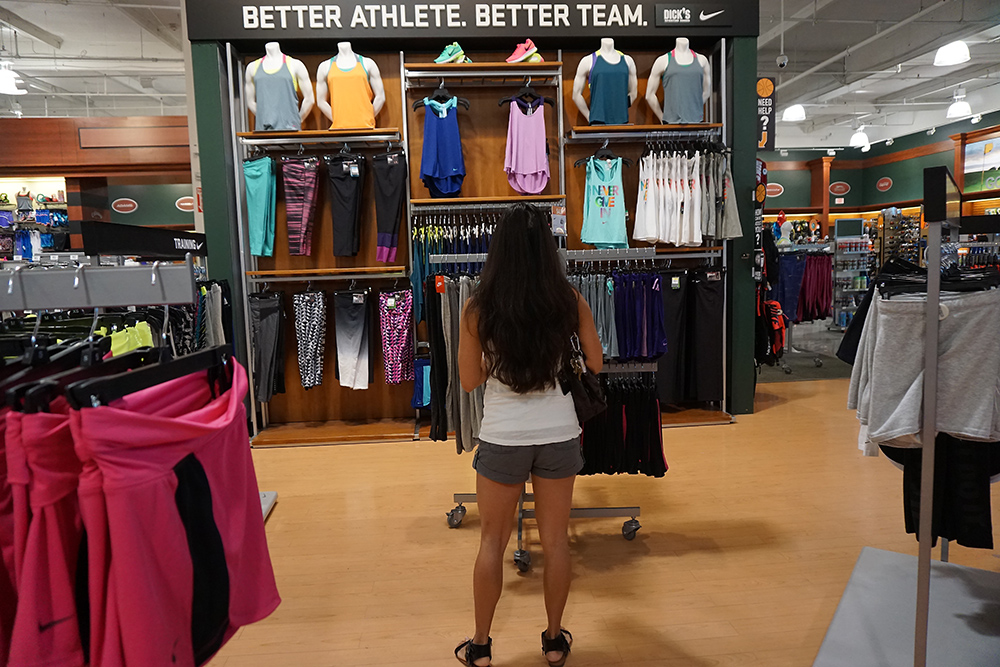 So many pretty colors and patterns!  I've always been a huge fan of Nike.  Aside from the shoes I train in for lower body work, the ONLY tennis shoes I wear are Nike's.  I love them, I can always count on them to fit & feel right, and the selection is always great.  I only have a few articles of Nike clothing, so on this particular shopping adventure… new gear was going to be  a must!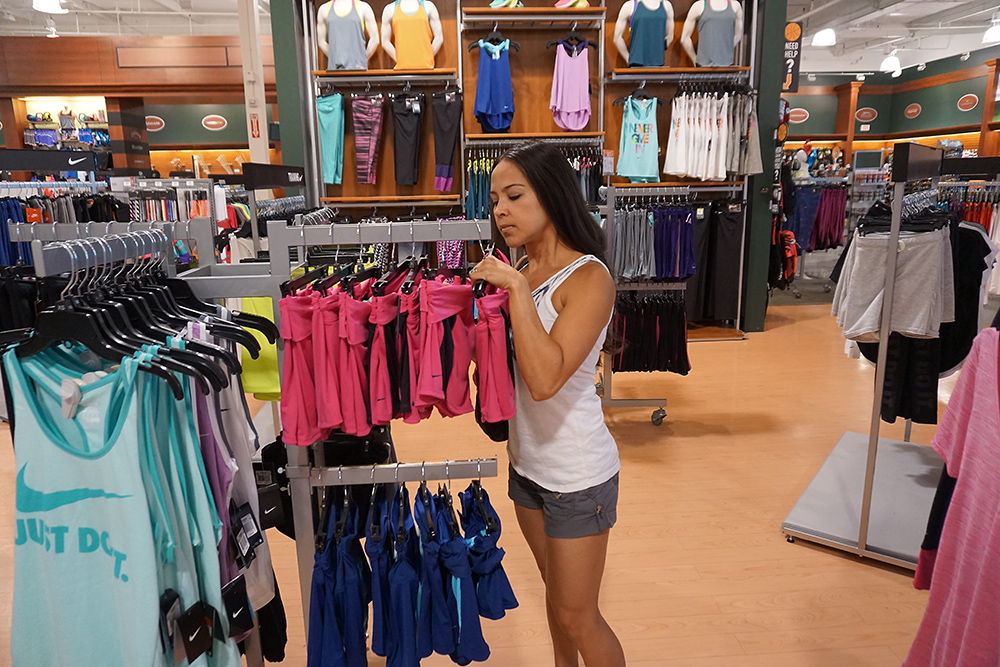 Next up was Under Armour & Reebok!  Truth be told, as much as I love Nike for my tennis shoes, Under Armour clothes (specifically the shorts, crops, and pants) fit my particular body far better.  Nike shorts either fit me too small or too big… I always feel like a kid in between sizes haha! Under Armour I can always count on though for bottoms.  They ALWAYS fit me like a glove!  And Reebok, oh Reebok!  I fell in love with all of the new tanks they had!  I may have 20 pairs of plain black crops and pants, BUT I have about a hundred different tank tops in every color under the rainbow.  I LOVE tanks with cute quotes and fitness lingo!  If I didn't grab bottoms, I knew I would end up with at least 1-2 new tops!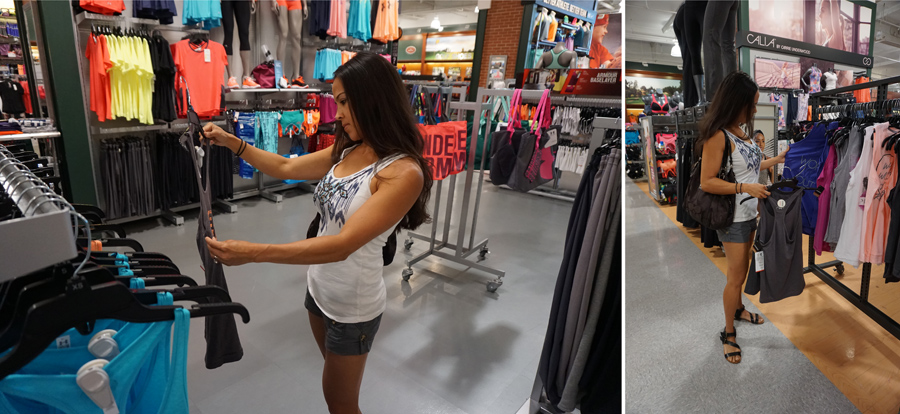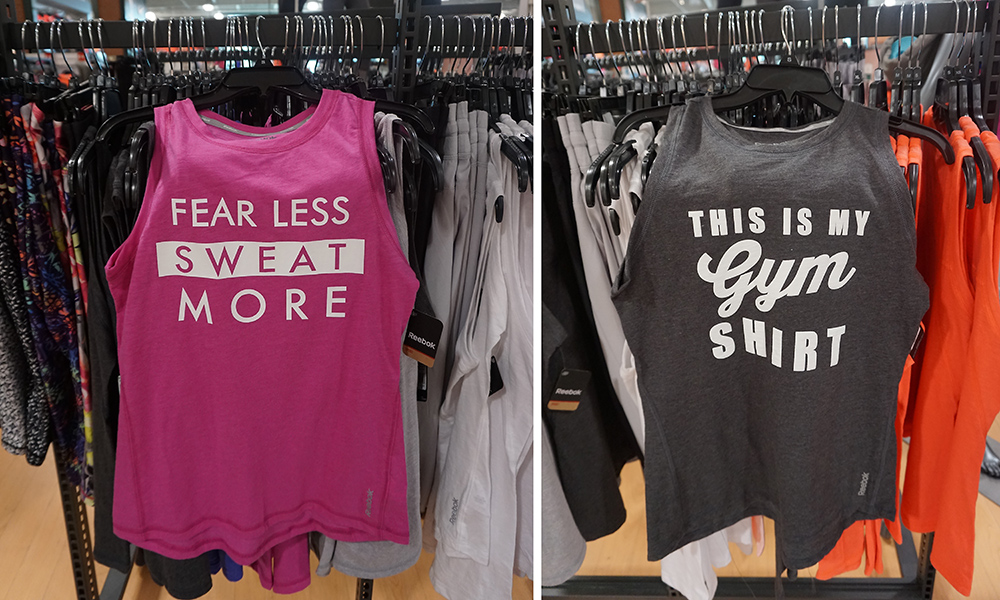 A couple of dressing room selfies… it's a must!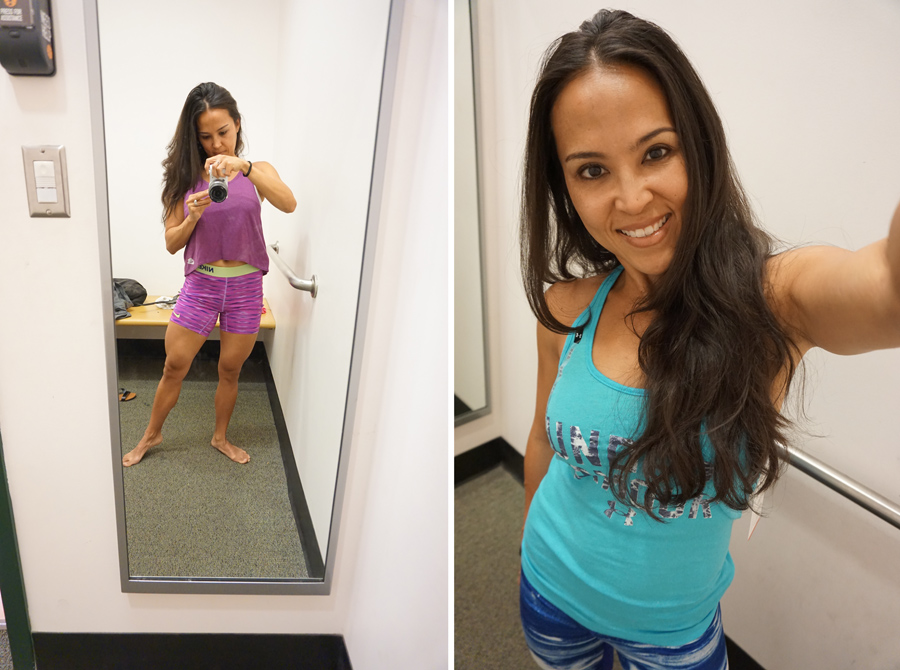 Didn't fall madly in love with those two outfits and the other things I tried on from 'women's' Nike didn't quite fit (I figured they wouldn't though). However, before throwing in the towel on clothes, I thought I would swing by the 'kids' Nike section first.  Initially I was only looking for my daughter, but being someone who is #funsized (only 5′ tall), maybe just maybe an XL here might fit me?!  Why not?  If it fits, wear it!!!  My husband thinks it hilarious that my 9 year old and I can shop in the same clothing section. You should see when he does our laundry!  Our clothes are ALWAYS mixed in together lol!  XL for me and S for the little!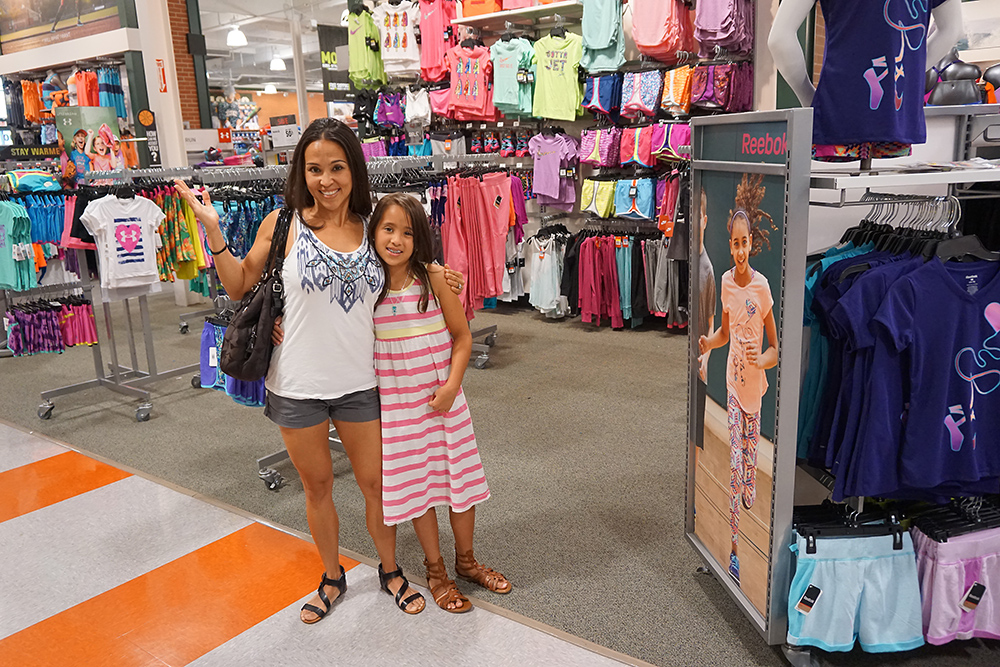 After more dressing room shenanigans with my kids Nike gear, I hit up the shoes… I may not like heels, but get me around some tennis shoes and I get all weak in the knees!  Like I said earlier, Nike of course… and I'm a sucker for all things brightly colored!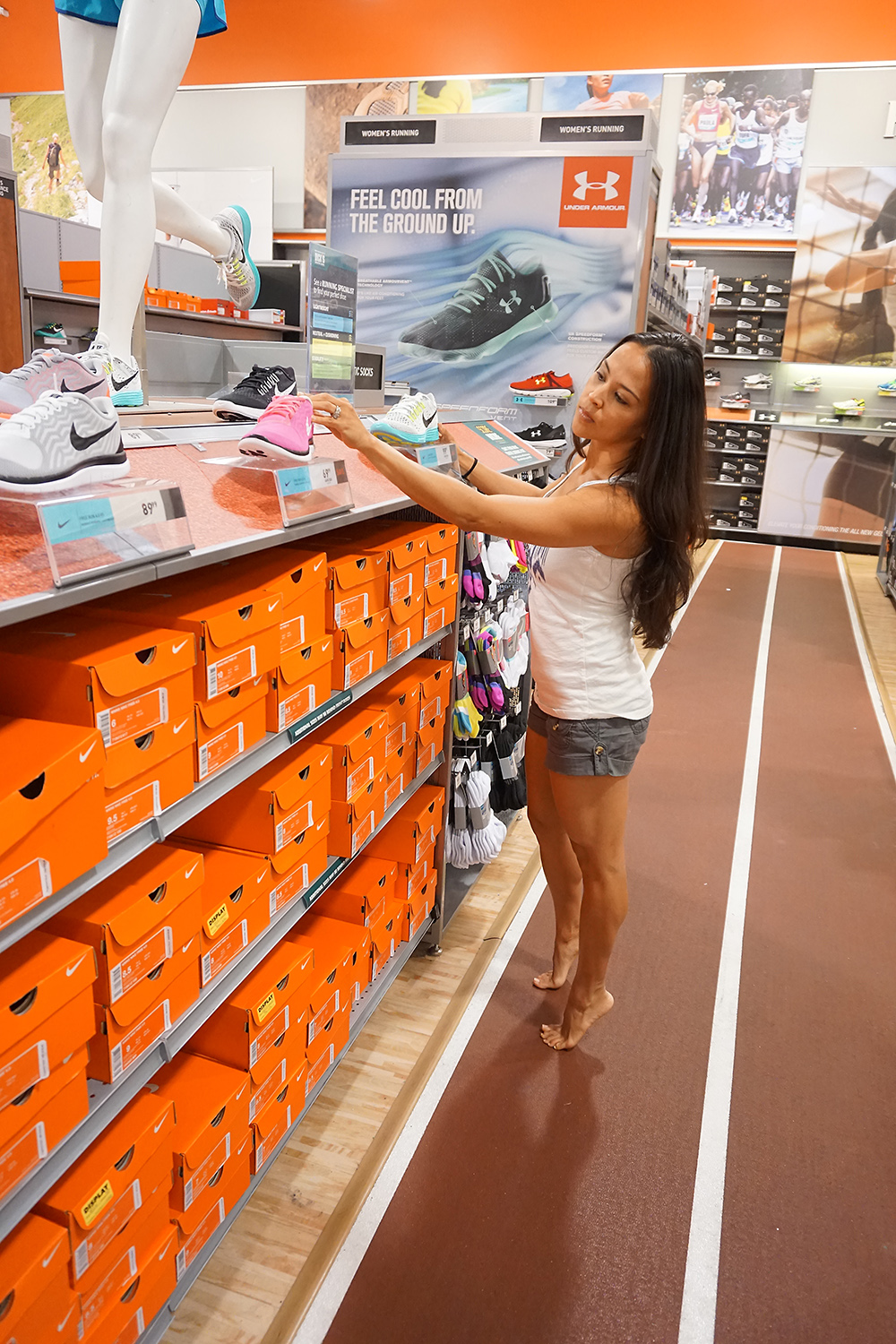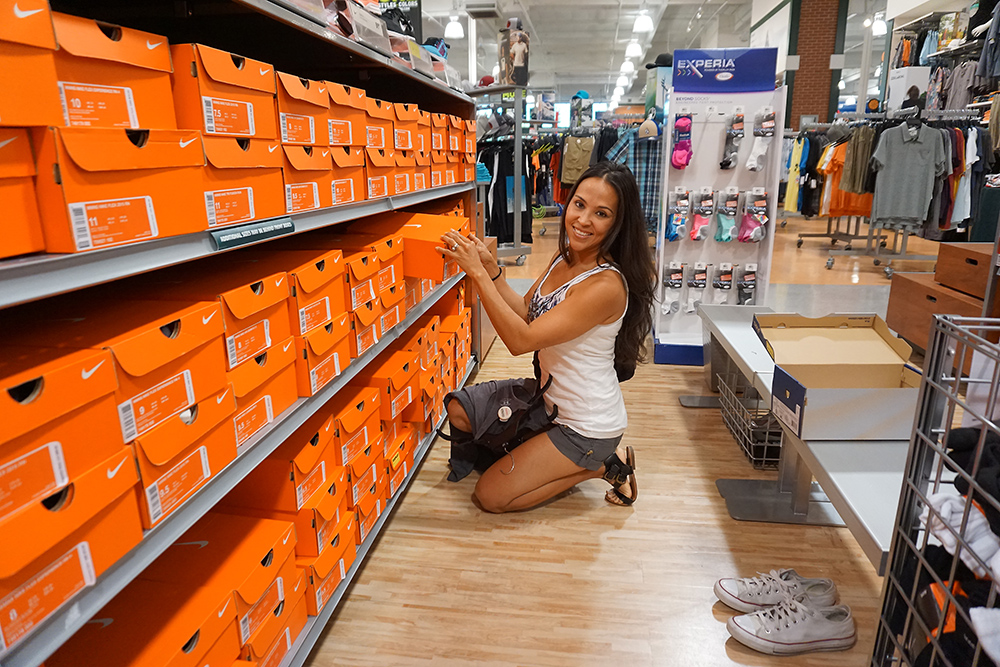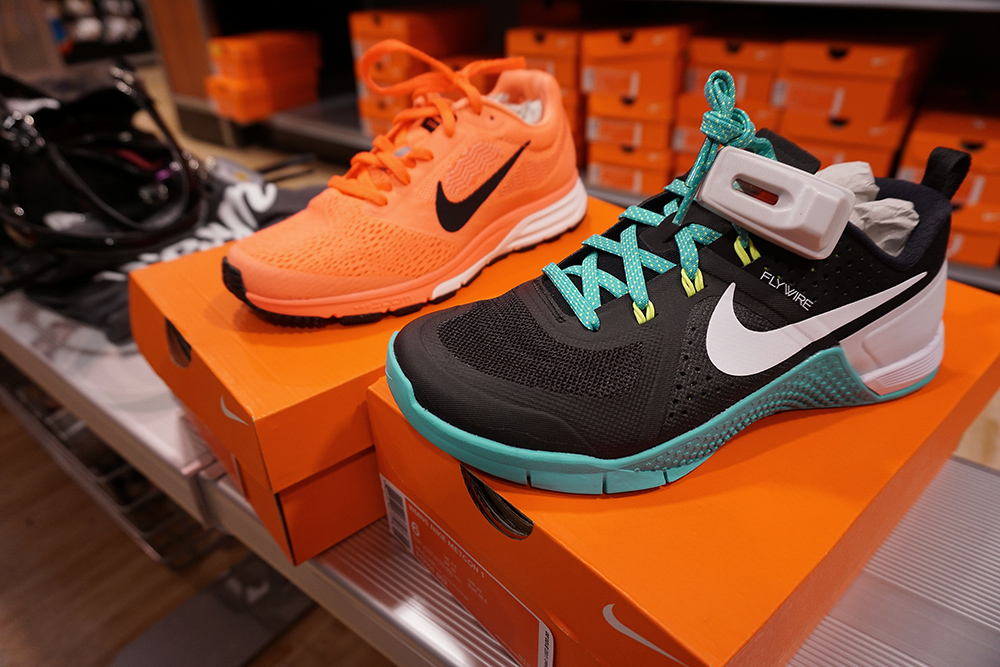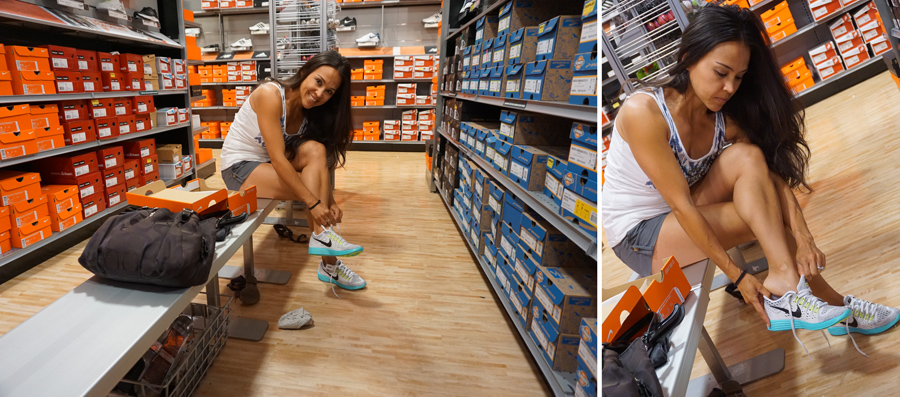 With a new outfit and fresh kicks in hand, I finally hit up the section I had actually come to see in the first place!  Fitness & exercise!!!!  For fitness chicks like myself, this is like being in a candy store!  Just looking at this section, my heart skips a beat (or two)… so many possibilities, so many hours of training, so much progress to be had, so many gains to be made!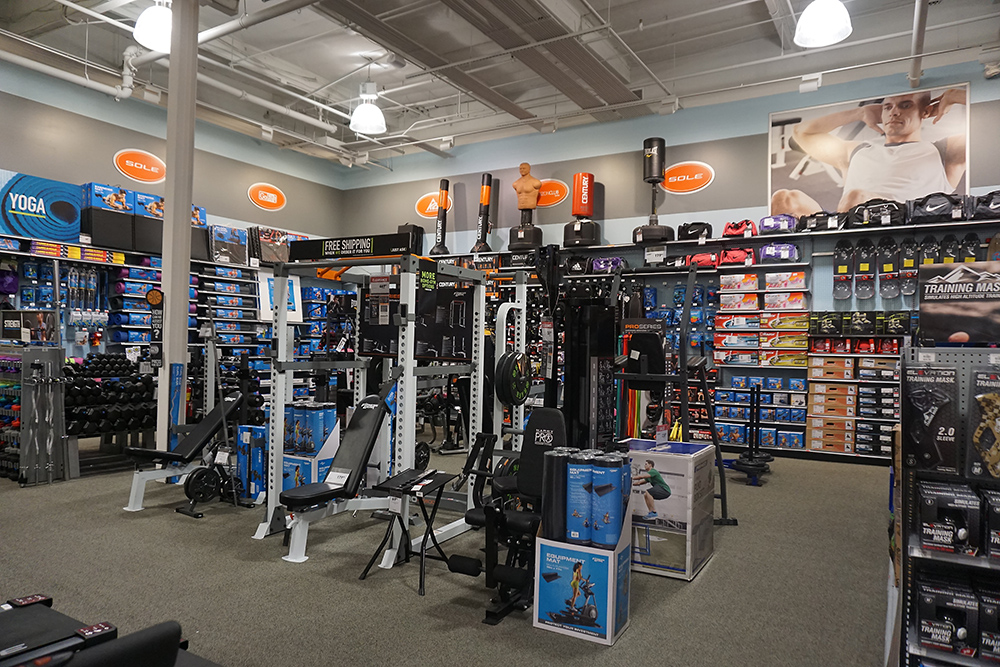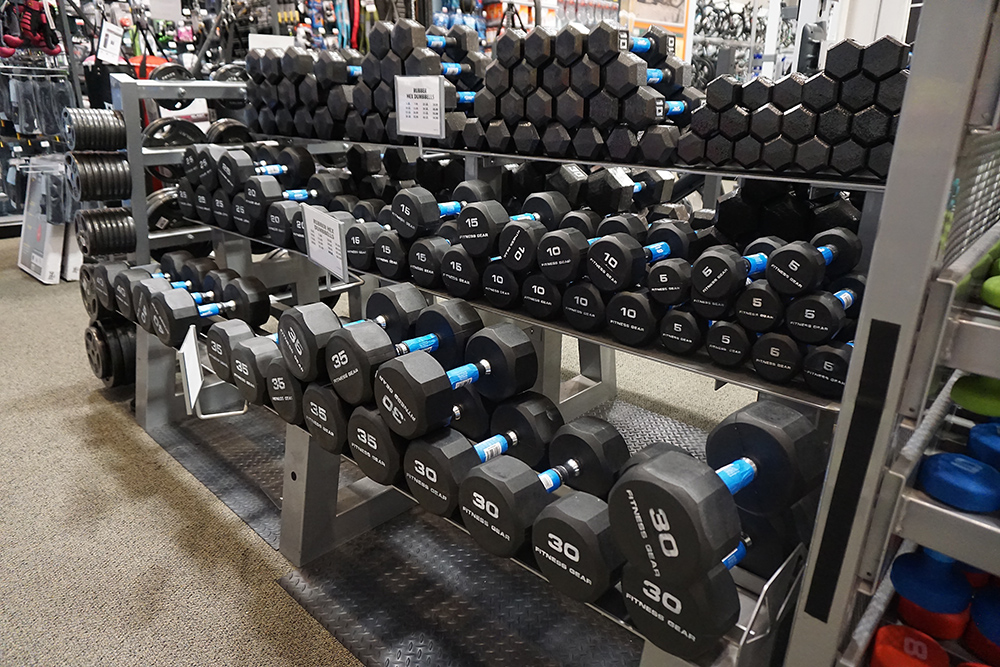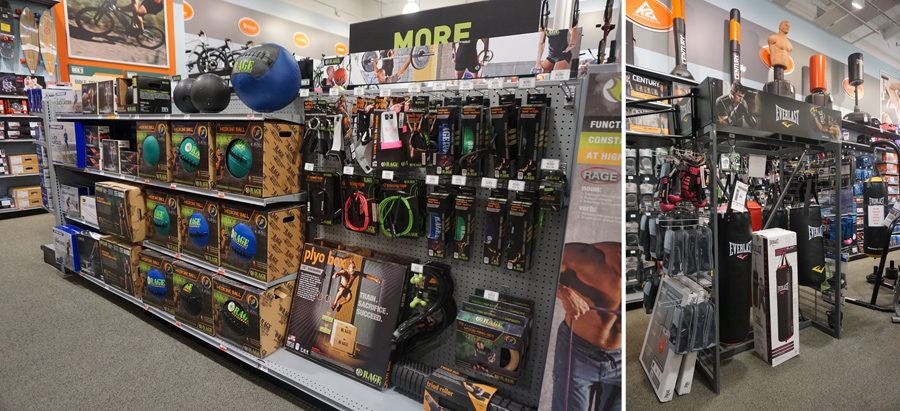 Weights, dumbbells, heavy equipment, resistance bands, boxing gear, foam rollers, mats… you need to stock up on a few things for a home gym?  This area will get you off to a GREAT start!  I'm proof that you don't necessarily need a gym membership and equipment to get a good workout in.  I train at home 95% of the time now.  The only days I go to the actual gym are on certain lower body days where I need the big equipment like the leg press.  A rack, bar, bench, and some dumbbells will work perfectly especially for those just getting serious about their fitness and training.  Once you master a few exercises and proper form, you can build your program AND home gym equipment as you need to!
So as it turned out, Dick's ended up having two of the main things my husband and I had been wanting for a LONG time.  A prowler/sled and a new rack for our dumbbells.  We were actually getting ready to buy these items online last week, but now I'm glad we waited!  Unfortunately though, I was hesitant to buy the prowler at Dick's because I wanted to test the size and shape out first.  I've used a few other sleds in the past and they were all slightly different from one another.  Again, being as short as I am, I wanted to make sure the equipment felt "right" to me.  I was so sad to find out they didn't have one on display at our store.  The last thing I wanted to have happen was buying it, taking it home, building it, it not feeling like a good fit, and then not being able to return it.  That would NOT be fun.
LUCKILY though… my new buddy 'Art' came to the rescue and was more than willing to accommodate my needs!  I casually asked if the store had plans to build one for display and when he said "No, I don't think so." my heart sank.  Art must have felt my pain because just as he was turning away, he came back and said even though he was super busy that particular day, he could put one together for me the FOLLOWING day!!!!  YES!!!!!  Words can't express how thankful I am for his help and willingness to go out of his way for little old me.
Big up's to my man Art!!!!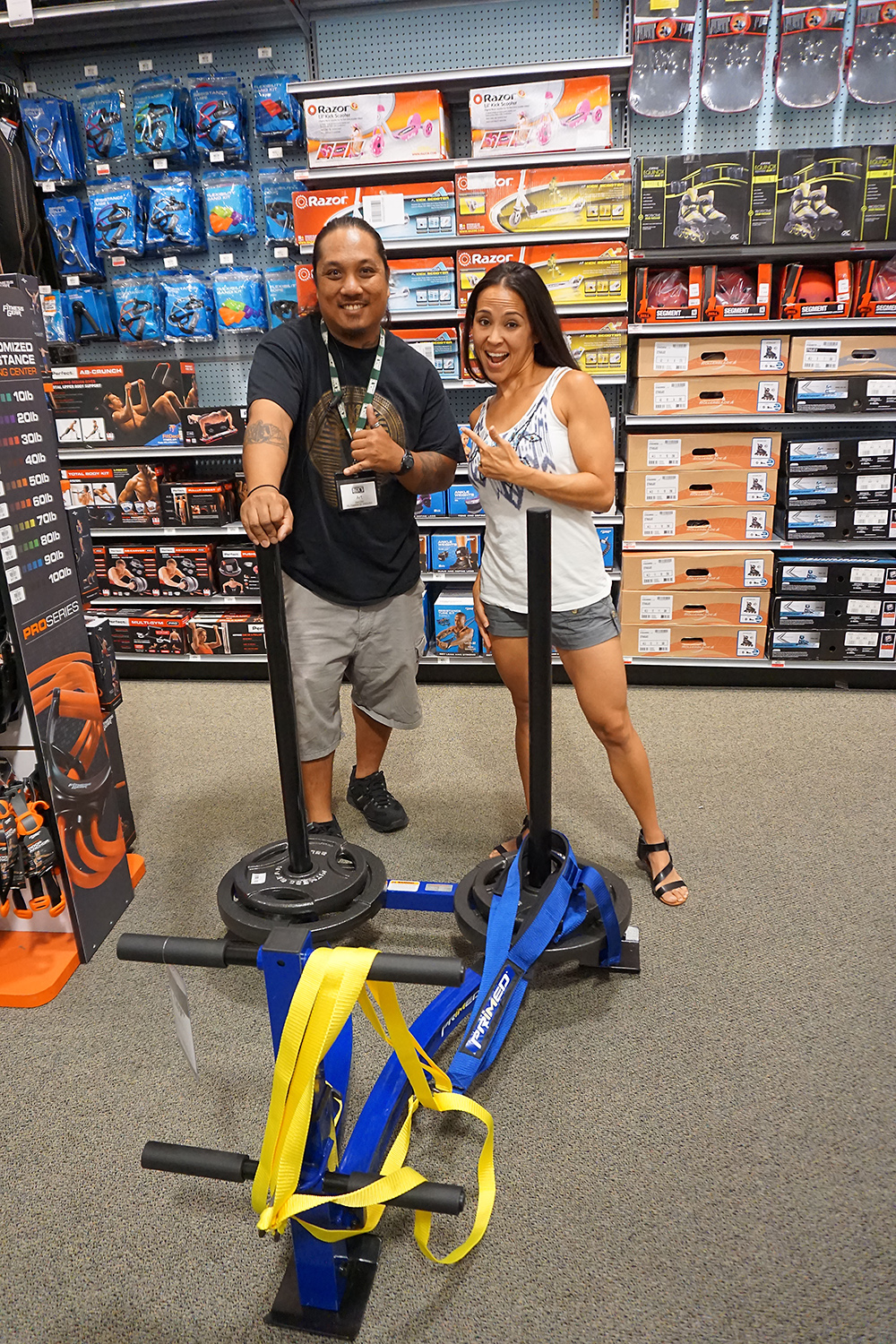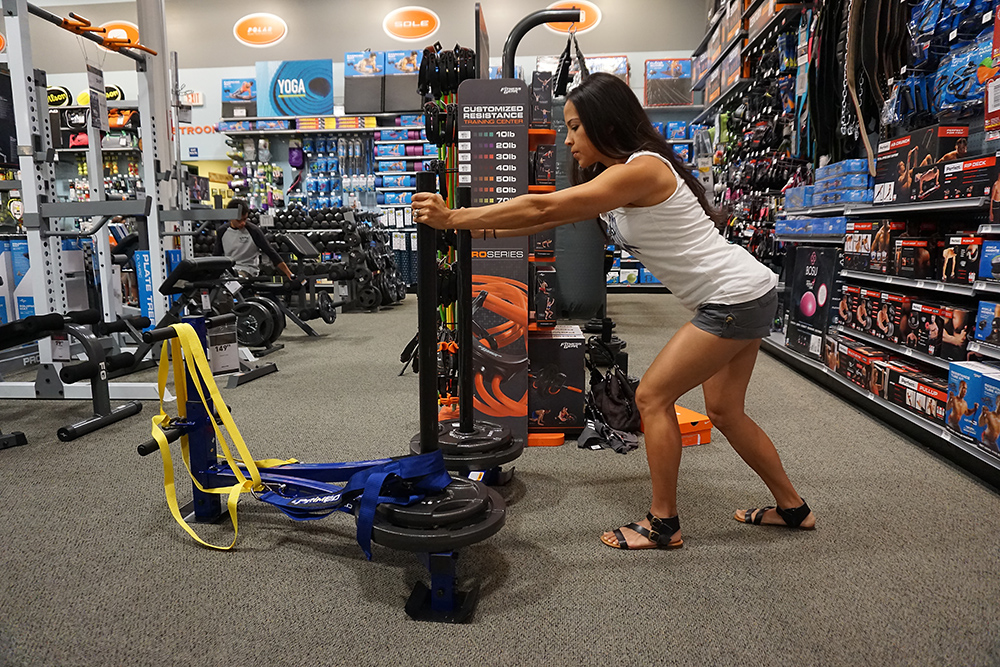 Obviously I couldn't test the prowler out completely, but having it assembled gave me a really good idea if it was something I really wanted to invest in or not.  I may not be doing any formal cardio right now during my current building phase, but this piece of equipment might just come in very handy next year!  I'm not a fan of using any machines for cardio and you will NEVER catch me doing steady state anything so something like a prowler/sled is perfect to use at home.  If I need something intense for HIIT, I can add on plates/weights and go for shorter bursts of effort.  If I need something a little more moderate, I take off the weights and go for a slightly longer stretch of area.  If I need to change things up even more for variety, I can use the straps to pull the sled.  Or I can do a combination of things that will hit and target different areas and goals!  This is a GREAT option for anyone looking change things up.  It can be stored in the garage and when it needs to get used, simply pull it out on the street and GO GO GO!
Overall, I would say my shopping adventures at 
Dick's
 was successful!  Next post I'm planning to show off everything we got, images of our home gym, and possibly even everything I got… in action!!!!  Stay tuned!
And now are you ready for your own little retail therapy session at Dick's Sporting Goods???  Rules & details for the giveaway are going to be EASY and painless!
Simply leave me a comment on this post letting me know what

YOUR

fitness goals are and how

YOU would spend $25 at Dick's Sporting Goods to help achieve those goals

Entries must be made by AUGUST 2, 2015 11:59pm

Winner will be chose at random and contacted by me on August 3, 2015
DISCLAIMER: this post is sponsored by Vocalpoint and DICK's Sporting Goods. All opinions expressed are my own.