The day we learned about my condition, I remember going on Instagram and searching for "tarlov cyst disease".  You know you have something rare when you end up with less than 130 hashtags!  As I scrolled through the small amount of pictures, I came across this meme and could not stop laughing.  No idea why, but it cracks me up EVERY single time I read it!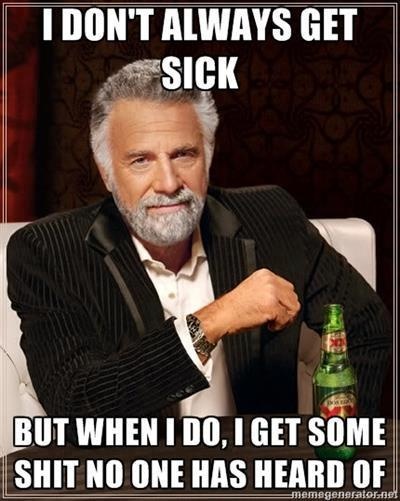 Leave it up to me to end up with something like this!  Seems so ironic!!!
So, after the last visit with my primary care physician, my hopes were extremely low in finding a Kaiser neurosurgeon (or any in network doctor for that matter) who truly understands the pathology, complexity, effects, and debilitation that Tarlov Cyst Disease can have.  In all honesty, my PCP was still under the impression that all of my symptoms (localized lower back and tailbone pain, shooting pain in my hips/buttocks, headaches, urinary disfunction, dizziness, shooting & stabbing pains, weakness, numbness, sciatic pain, etc.) were still being caused by a muscle strain.  My husband and I couldn't help but laugh when we she told us what she thought my problem was.  Literally, we laughed when we asked her what she thought my pain and symptoms were coming from.  She didn't even mention the Tarlov Cyst MRI finding to us at my follow up ER visit.  We had to ask her about it and then she proceeded to tell us that Tarlov Cysts don't really cause symptoms.
The days leading up to this first neurosurgeon appointment were filled with SO much anxiety.  Would this doctor even know what the condition is?  Would they dismiss my symptoms and send me on a wild goose chase with other doctors and specialists to attempt to treat everything separately?  My husband and I knew that no matter what came of the appointment, the first 5 minutes would set the tone for the care I would receive for my condition.  Either way, we already knew Kaiser would not perform surgery so were prepared for that confirmation.  Our eyes were wide open and we braced ourselves for the consult.
Dr. Rhoten, please prove us wrong…
After a few questions and going over the chain of events that lead me to the ER, he went over my MRI in detail.  He started at the top of my spine, worked his way down through my lumbar, and then asked us to look closer at my sacrum.  Dr Rhoten said "Do you see this white thing here?"  Before anyone said anything else, I blurted out "That's a Tarlov Cyst".  He confirmed what it was and proceeded to tell us that I actually have a cluster of 3 cysts running through my sacrum, the largest being roughly 1-1/4″.  He said that looking at the rest of my spine, he would have thought it was the back of a 15 year old though!  Yup, I already like this doctor 🙂  Thanks doc!
He went over the basics, brief history, the pathology of Tarlov Cysts, etc.  Then much to our surprise, Dr. Rhoten proceeded to tell us he was totally familiar with Dr. Tarlovs work, research, and findings.  This was amazing news for us because it showed us that Dr. Rhoten knew exactly what he was dealing with.  Although Tarlov Cyst Disease and treatment are extremely "controversial", Dr. Rhoten made NO questions about my diagnoses and made no other judgements on my symptoms or where they stemmed from.  I felt 100% heard and understood.
Huge huge huge relief to us!
Alright, so 3 cysts instead of the 1 which means a larger collection of spinal fluid.  Aside from the pain and other symptoms I already have, my concern was that there was already significant erosion that had already started to take place.  Erosion in your spine could lead to fractures or even permanent damage which would obviously make my condition and symptoms worse, especially in the future.  Unfortunately, Dr. Rhoten confirmed that some erosion had already taken place.  He gave estimates on how much bone I had compared to what I should have.
Tears began to softly stream down my face and Dr. Rhoten kindly handed me a tissue.
Dr. Rhoten then proceeded to tell us that there was basically not much he could do, he was sorry that he "didn't have better news", and in his opinion, surgery was not recommended.  Again, fortunately we already knew and were prepared for all of that.  We went ahead and told him about Dr. Feigenbaum's work, that he was the leader in Tarlov Cyst disease, has treated over 1,300 patients, has an extremely high success rate with his specific surgical technique, and that we would like to get his opinion on my condition.  Surprisingly, Dr. Rhoten was entirely open to us seeing him and even encouraged us to see him.  SHOCKED!  He said he would go over Dr. Feigenbaum's report once we were done in Dallas next month and go from there!!!  When we asked about Kaiser covering the costs though, he had no idea how that process even works.  I'm guessing since he is fairly new to Kaiser (from Cedar Sinai I believe), we would need to contact member services for more info.
And so begins the battle with Kaiser… something we already anticipated though.  I emailed Dr. Rhoten the following day and told him that member services informed me that he would need to speak with the head of the Kaiser neurosurgery department about getting the out of network referral.  It was then suggested that I see a Kaiser spinal specialist in Los Angeles.  While I definitely want to get other opinions (the more information we have, the better), I also don't want to be forced to see a ton of different doctors who will all basically tell me the same thing… "surgery is not recommended."  We are already aware of their position and appreciate the opinion, BUT these doctors also are not familiar with Dr. Feigenbaum's work and his success rate with HIS technique.  I think if more neurosurgeons researched Dr. Feigenbaums method, they might just change their minds regarding surgery and treatment.
Sigh… so our November trip to Dallas, travel expenses, and the office visit with Dr. Feigenbaum are still a go, but also still coming entirely out of our own pocket.  It's a shame that we have paid THOUSANDS and THOUSANDS and THOUSANDS of dollars into our insurance and still can't get the medical care we need for my specific condition.  Up until now, the entire family has been fairly healthy and only needed a few minor things throughout the ALL of these years.  We realize that Kaiser doesn't recommend surgery, but that should still ultimately be the patients choice AND patients should have the opportunity to see out of network doctors in cases similar to mine where there little that can be done.  I'm still crossing my fingers that Dr. Rhoten advocates for me and since he knows he can't help much, he will try to get me in with someone who might be able to.
Bottom line is we LOVED Dr. Rhoten and feel fortunate to have been paired with him specifically by the head of neurosurgery.  We appreciated his honesty, his knowledge, his bedside manner, his kindness,  his willingness to help, and the time he took to help ease my fears and concerns.  Very very grateful we found someone with Kaiser who can help me through this difficult time.  Dr. Rhoten has been great thus far with referrals, medications, and emails we have sent.  Truly a blessing!!!  Furthermore, Dr. Rhoten also wants to make sure my kidneys are functioning properly so wants me to see a neurourologist.  Absolutely fantastic that he is taking a proactive approach to my care!!!!  Kaiser… you did good getting your hands on this one!!!
For now, we wait a few more weeks until we see Dr. Feigenbaum.  We should know SO much more after that appointment.  Prognosis, the damage that's already done to my spine, if I'm a candidate for surgery with him, etc.  Until then, life goes on.  Not the life I had 3 months ago of course, but life nonetheless!  We are all adjusting even though everyday is usually different from the previous and settling into somewhat of a "new norm".  Slowly but surely and taking one day at a time!  Some days my pain, fears, and concerns are greater than others, but with the support of so many people around me… I know we will get through this!!!