Every. Single Time…
I make protein cheesecake, I think to myself "Why in the world don't I make this more?"  It honestly baffles me that I don't make a version EVERY week.  It only takes a handful of ingredients, less than 5 minutes prep time, and under an hour in the oven for a larger cheesecake.  Don't have an hour?  No problem!  If you do the mini cheesecakes, baking time is cut down by at least HALF!!!  Really, the most difficult part of making ANY cheesecake is waiting for it to cool and set in the fridge!!!
After making all of the traditional flavors like plain topped with fruit, chocolate, cookies & cream, chocolate peanut butter, and two of my personal favorites… Strawberry Lemonade & Birthday Cake I was in the mood for something a bit more tropical this time around.  Nothing says tropical like coconut right?  Obviously coconut and pineapple go together hand in hand, but I wanted to make this extra special and "fancy"!
Luckily when I was out at the store grabbing my ingredients, I noticed that Von's (Safeway) actually had a neat little section of produce dedicated to all things tropical!  They had things like guava, starfruit, papaya, rambutan, and even PASSION FRUIT!!!!  Since I wasn't entirely familiar with the other fruits they had and/or I knew the flavor wouldn't be strong enough in a cheesecake, I immediately grabbed a handful of passion fruits!  Absolutely gorgeous and delicious!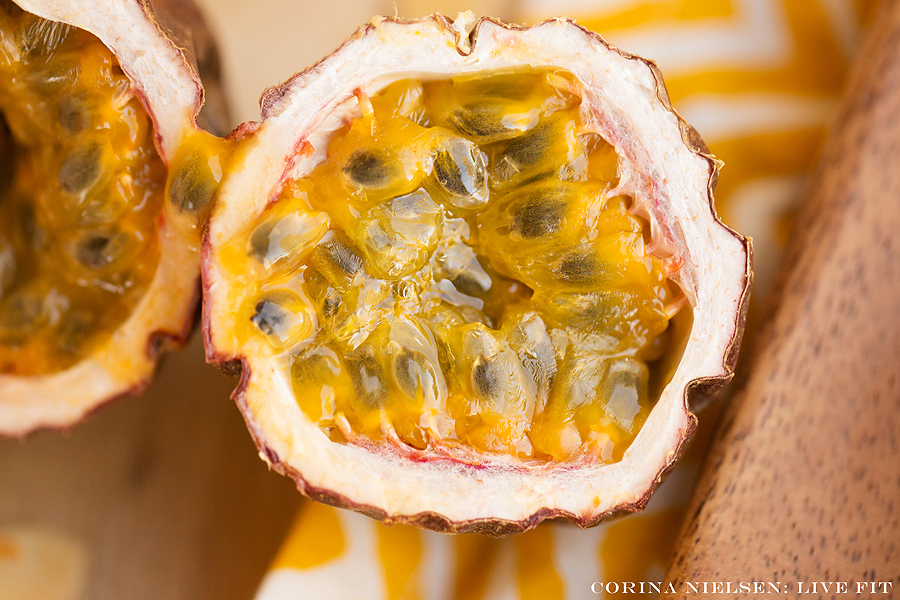 If you aren't familiar with passion fruit, you NEED to find them and try it out.  It's such a strong and distinct flavor.  They are tart yet, still somehow sweet and although there isn't much in each 'pod', a little passion fruit goes a long way.  Another thing I like about using them in this particular recipe is once you cut them in half, you can pour out the 'juice' in them to use IN the cheesecake and then scoop out the rest of the flesh to use as a topping.  I'm not sure if others eat the seeds, but I like em'!  They aren't very hard at all so it just offers the perfect amount of crunch and texture!
I also decided to add in a crust for this recipe which worked out great!!!  Truth be told, I actually did half of the batch with a crust and half without.  That way depending on where my macros/calories were each day that week, I had both options (I usually do one slice/piece a day).  Clearly, the version WITH the 'Coconut' Detour Smart bar was my favorite… more texture, more flavor, and more food!

I love the bars on their own and they make a great snack to eat on the go/stick in your purse, BUT these bars make the easiest, fastest, and best crust!!!  Why bother with traditional crust ingredients like oats, butter, sugar, etc. when you can just grab one of these bars to use?!  No need to dirty and extra dish!
And here is the finished product!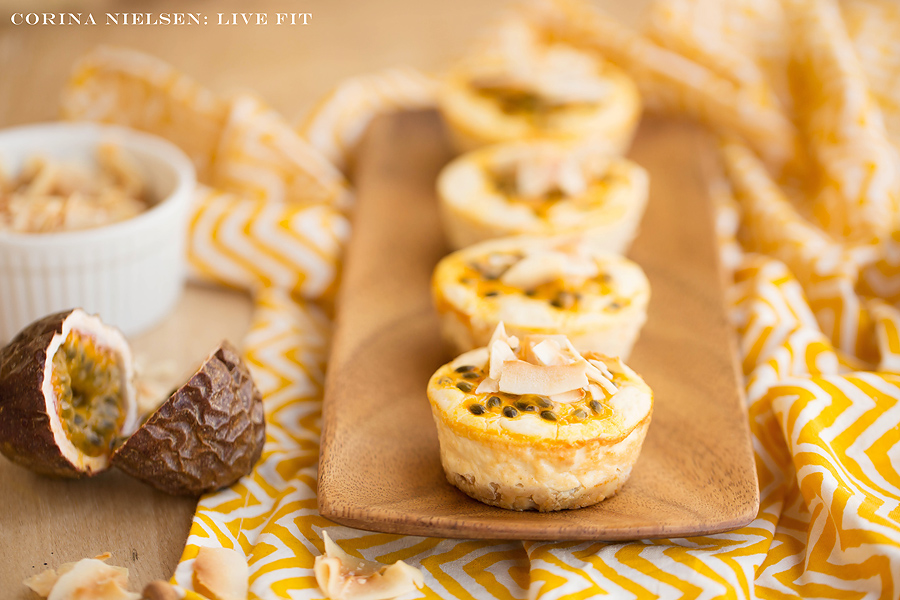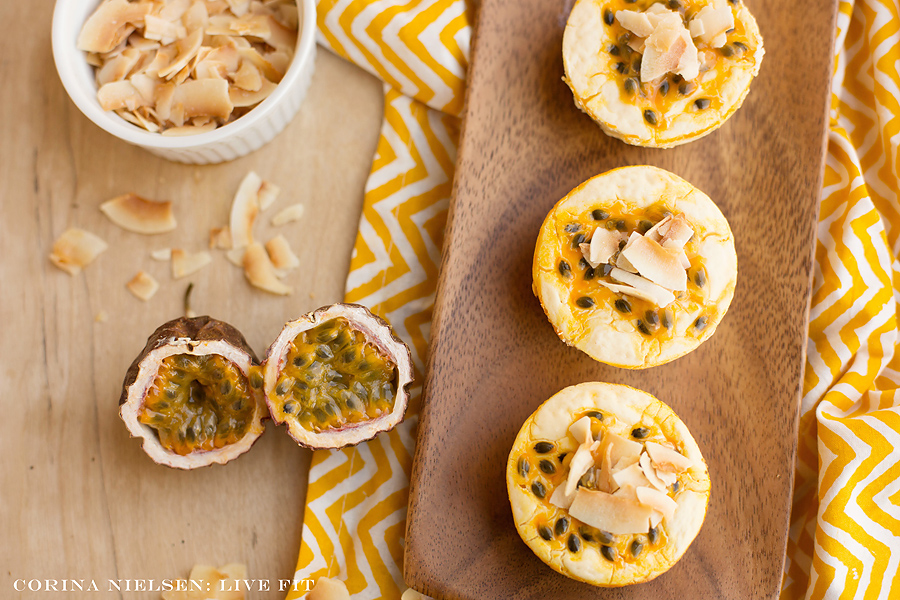 Kind of stunning if I do say so myself!  In addition to the actual passion fruit I used on top, I also decided to add a little of my favorite toasted coconut chips!  I buy them at Costco and they are DANGEROUS!  Sweet, crunchy, and freaking delicious!  Having them on top lets everyone know the exact flavors of the cheesecake as well!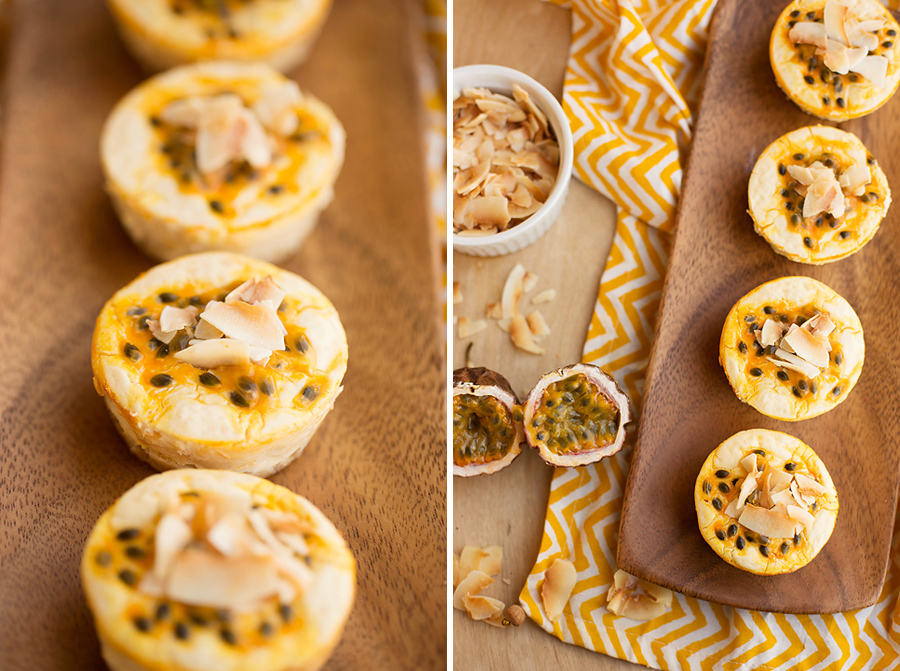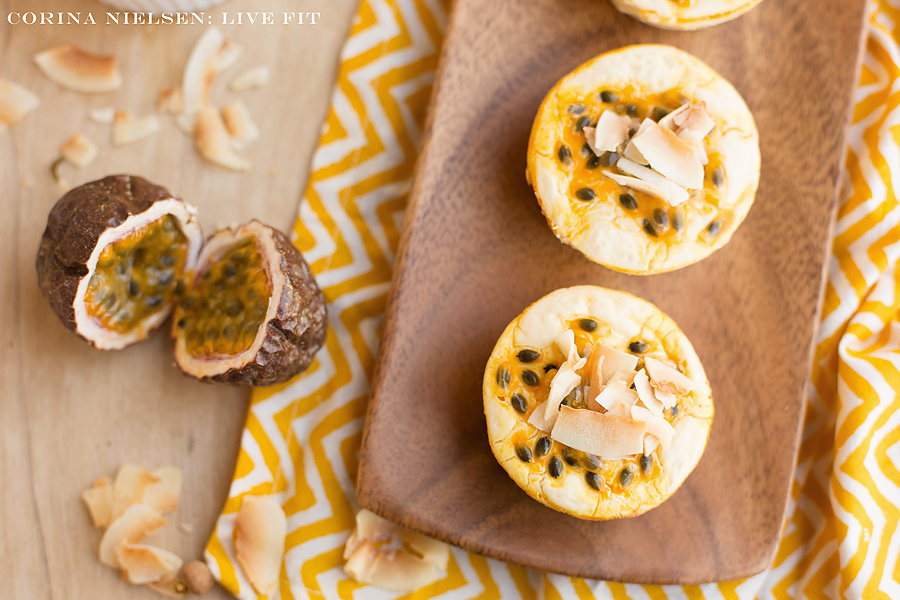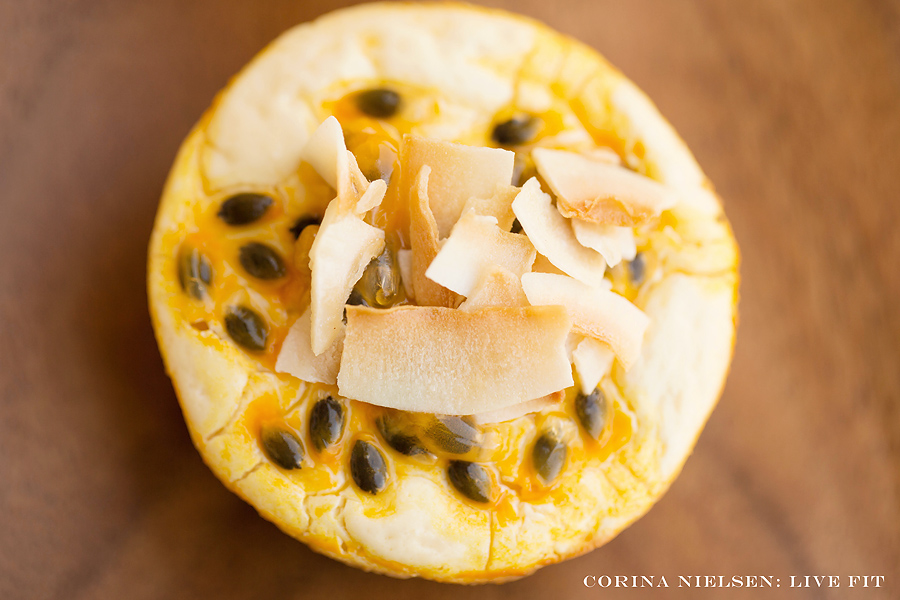 Yup.  Pretty much YUM all over the place!!!!  And get a load of the cross view…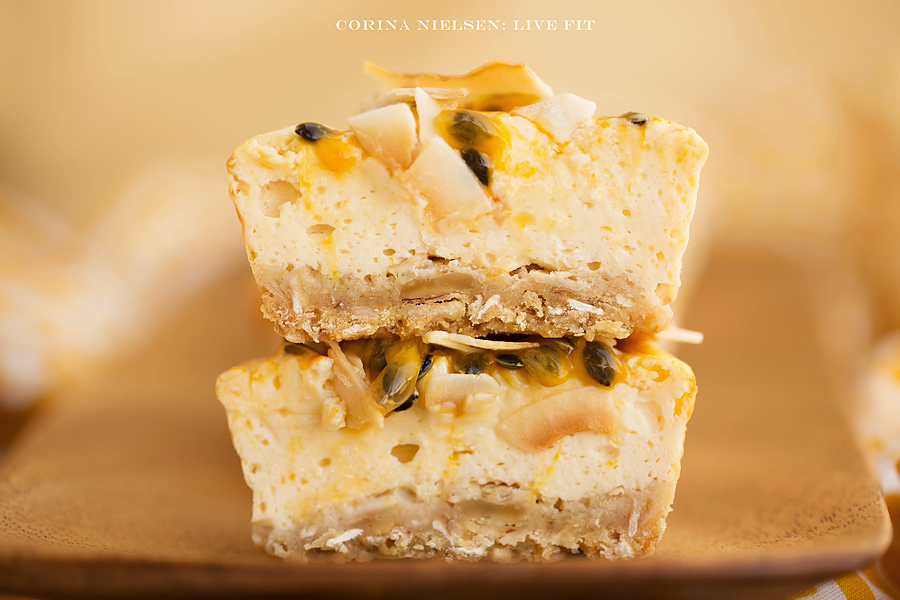 We have our annual Hawaii trip already booked and planned, but for now… I have these again just to help me get through the next 6 months!!!  I foresee this protein cheesecake version being made at least 3-4 more times until June 2016!!!!
Coconut Passion Mini Protein Cheesecakes

Print recipe
| | |
| --- | --- |
| Serves | 12 |
| Prep time | 10 minutes |
| Cook time | 20 minutes |
| Total time | 30 minutes |
| Meal type | Dessert |
Ingredients
12oz Fat free cream cheese
2 'Passion Fruit' Dannon Light & Fit Greek yogurts (2- 5.3 ounce containers)
2 scoops 'Gourmet Vanilla' PEScience protein (30% off coupon below)
1/3 cup Sweet Leaf stevia (or sweetener of choice)
2 Large whole eggs
1/4 cup Vanilla MuscleEgg egg whites (www.muscleegg.com)
1 teaspoon vanilla extract
2 teaspoons fresh lime or lemon juice
3-4 Large Passion Fruits
6 'Coconut' Detour SMART bars (to be used as optional crust)
Directions
Step 1
Preheat oven to 325 degrees and coat a muffin tin with non stick spray.
Step 2
In a large bowl or a stand mixer, combine all ingredients EXCEPT passion fruit and Detour bars. Mix for 3-4 minutes until well combined and smooth. Set aside.
Step 3
To make crust, remove Detour Smart bars from wrappers and microwave each bar for 10 seconds until soft and pliable. Cut bar in half and press each into of the muffin pan. Repeat with remaining bars.
Step 4
Pour cheesecake mixture on top of crusts and bake for 18-20 minutes until sides are set and middle is still very soft. Do NOT over cook (it is better for these to be slightly undercooked).
Step 5
Top with fresh passion fruit and toasted coconut if desired.
Note
NUTRITIONAL INFORMATION (makes 12 mini cheesecakes): calories- 145, fat- 2 grams, carbs- 15 grams (fiber- 2 grams, sugar- 5 grams), protein- 14 grams PER SERVING as shown
30% OFF PEScience Gourmet Vanilla Protein & ALL Other Products using coupon code 'corina' at checkout www.PEScience.com